For Julie and I, this was our first European trip together. And like most people who visit Europe for the first time, we visited multiple countries. In this case, we visited Greece, Croatia, and Switzerland.
This itinerary was the last part of the three-part 30-day journey. We broke up the itineraries and modularized them in this way because each country could have been its own itinerary. That way, you can decide how to mix and match the individual countries yourself.
Regardless, we're describing this section of the itinerary in the manner that we followed on our own trip, which means we're flying in to Zurich from Dubrovnik and leaving Zurich for home. Of course, in your own itinerary, you could easily substitute Dubrovnik and home with whatever other source and destination of your choosing when you do your own trip planning.
One curve ball to this trip was that we completely relied on public transportation. We knew the Swiss were known for being timely and precise, and so we were putting that to the test. Therefore, this itinerary also reflected some of the limits of what we were able to do in traveling in this manner as well as show off what could be possible considering we didn't have our own set of wheels.
Here are some highlights and the logistics of how we made this Swiss leg of the trip happen…
Trip Highlights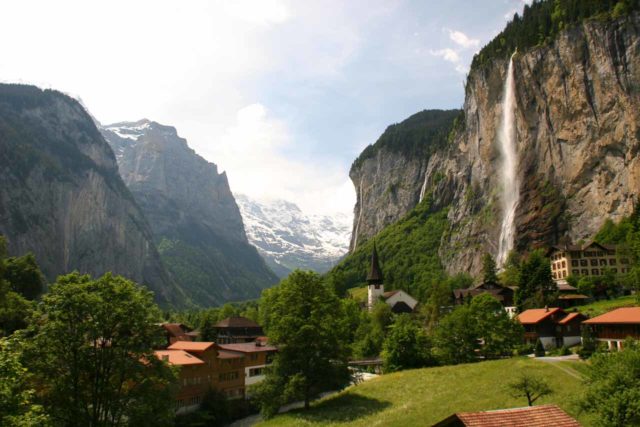 Lauterbrunnen – The Swiss Alps were already majestic as a whole, but it seemed like an unfair amount of the beauty was concentrated in this one valley where a reported 72 waterfalls could be found. Of course, we just focused on the major waterfalls, which included Staubbach Falls, Murrenbach Falls, and Trummelbach Falls among others. In addition to the waterfalls, there were also farms and hamlets clinging to steppes and cliffs perched high above the valley along with happy cows providing that milk and cheese for the famous Swiss fondues and chocolates. Perched even higher were the three peaks of Eiger, Monch, and Jungfrau as well as other cable cars taking us high up to other peaks like the Schilthorn.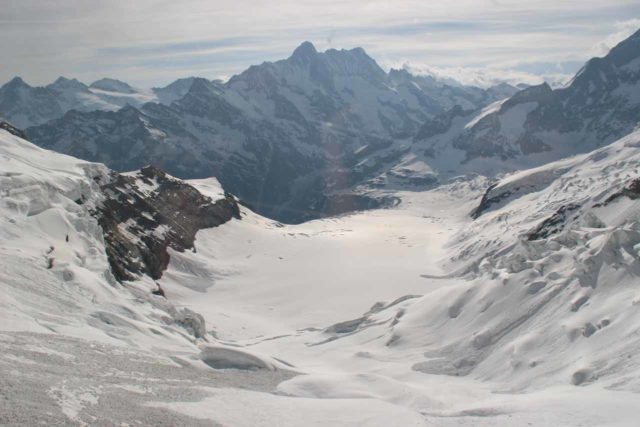 Jungfraujoch – While the snowy peaks of Eiger, Monch, and Jungfrau were one thing to behold from ground level within Lauterbrunnen Valley, it was another thing to get up to their peaks via a combination of trains and cable cars in order to make it up to the so-called "top of Europe." For up at these altitudes, snow and glaciers rule, and we were even able to walk through some ice tunnels with ice sculptures to drive home the point that we were indeed some place very cold yet very magical.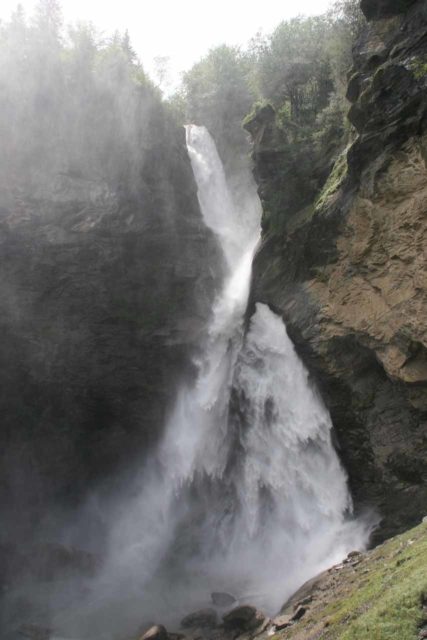 Reichenbach Falls and Meiringen – Little did we know that this attractive waterfall was also the setting of an apparently famous scene in the Sherlock Holmes story. The town was even known for the crusty sweet dessert known as a meringue (named after the town). And while the funicular wasn't working on the day we showed up due to high winds, the walk to get up to the top of the falls then back down to the other side of the funicular allowed us to experience it in a way that I doubt we could have had it been so convenient.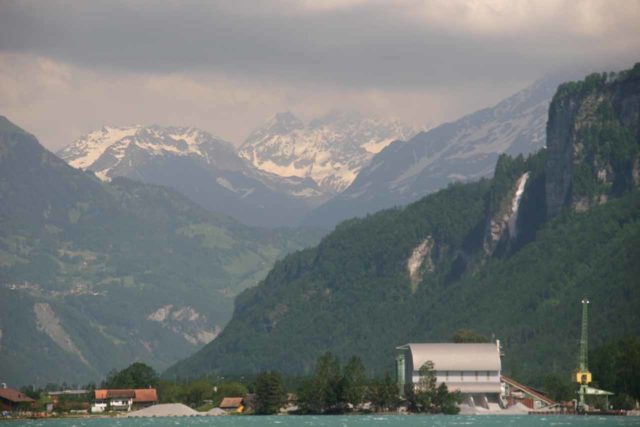 Lake Brienz and Giessbach Falls – While touring outside of Interlaken and Lauterbrunnen, our time cruising the Lake Brienz (surrounded by beautiful mountains and waterfalls) was definitely a highlight. Of course, we didn't do it just because. We did it because we were also visiting Giessbach Falls, which spilled into the lake.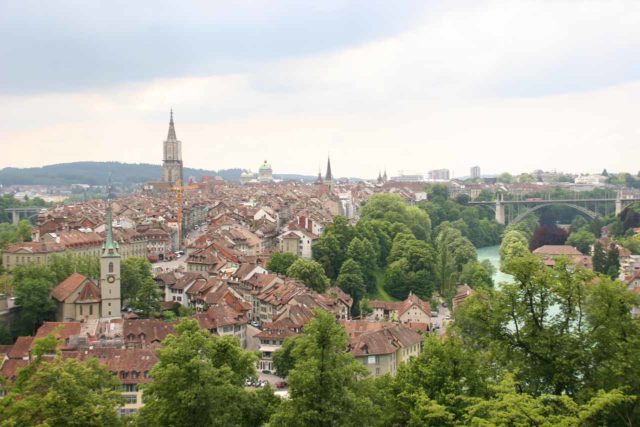 Bern – The Swiss Capital also doubled as a charming city with a bit of Einstein history within. In fact, it was said that this was where Einstein was inspired to come up with his special theory of relativity, and when you see all the giant clocks in the city center, it's hard not to see the connection. Of course, the charming city also featured a meandering colorful river, a captive grizzly bear, plenty of churches, and a nice break from all the waterfalling that we had done to this point.
[expand title="MORE" swaptitle="LESS" trigpos="below"]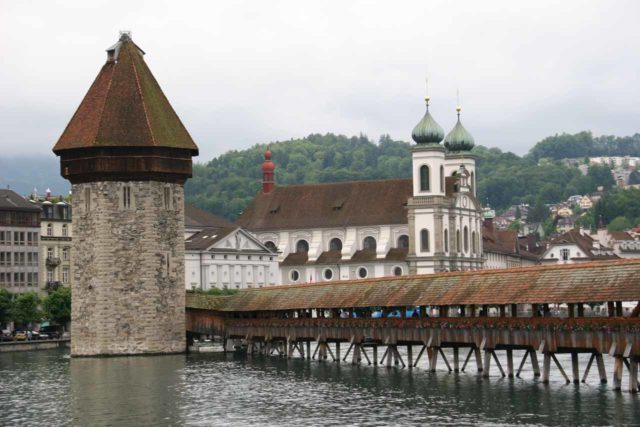 Lucerne – Even though the weather wasn't kind to us when we made our visit to this charming city with its extensive and historical covered bridge, we still made the most of it as we explored the city's charming walking streets as well as went up the hill towards its walls for a more panoramic view. The city also featured a lion carving into a giant alcove as a memorial of those who lost their lives during the French Revolution.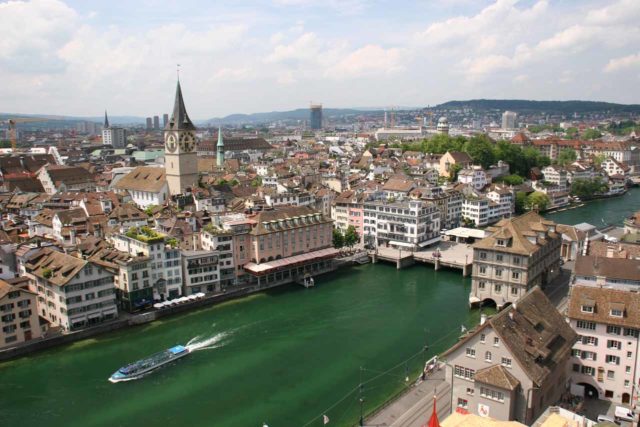 Zurich – This was the largest city in Switzerland, and it took on a completely different personality than most of the rest of this mountainous nation. While window shopping and walking along the river, we also went up one of the cathedral towers for an inspiring view over the city as well as got caught up (literally) in the World Cup celebrations (or riots depending on how you look at it) when the Swiss beat the Spanish in round-robin play.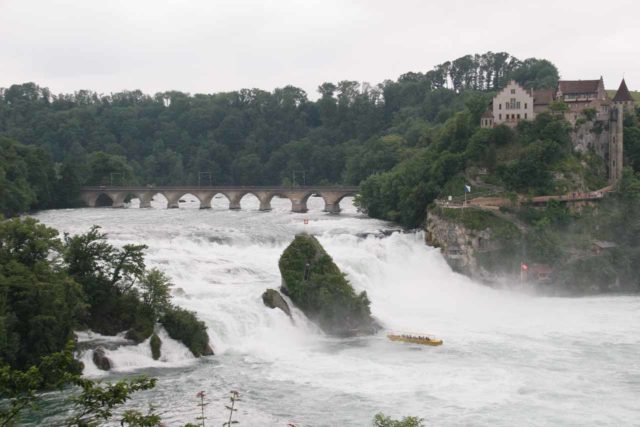 Rhine Falls – While the Rhine River maybe the romantic river running through a large part of Germany, it actually gets its start in Switzerland. And this was the namesake waterfall where the river made its tumble before continuing north across the border in between both Germany and France. There were also a pair of small castles on either side of the river near the falls, which we were able to check out while also doing all the walks, the boat ride to the middle, and even noticing a natural arch within the turbulence of the Rhine.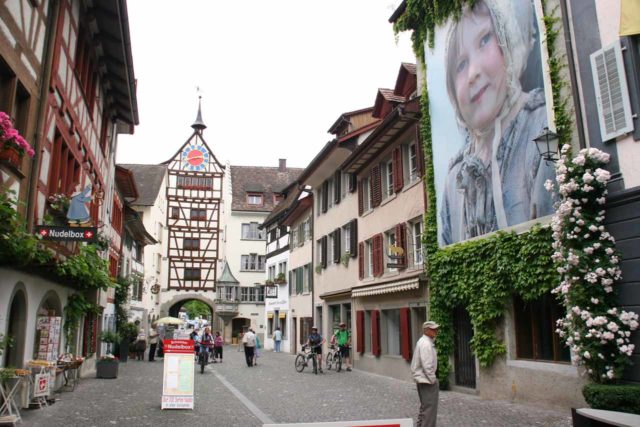 Stein am Rhein – On a lark, we decided that we should check out this town on a train stop a short distance east of Schaffhausen and the Rheinfall. And when we went into the town and were surrounded by buildings with frescoes and half-timbered facades, we were charmed. We had never experienced a place quite like this before (not knowing that Germany and Austria were full of more of these kinds of towns), and the word "cute" kept coming to our minds over and over again.
Indeed, this was one of the happy accidents on this trip, and we hope to come back here to experience it once more in a bit of a more relaxed pace.
[/expand]
Trip Advice

With this being our first European trip together, we had a lot to learn about what we were capable of doing, especially when we're on our own. Here's some of the other lessons learned from this trip both pertaining to the trip overall as well as some of the specifics regarding this country…
Bad Weather: In Switzerland, it seemed like they tend to get most of their precipitation in the Summer months so contrary to popular belief, early Summer in the Alps may not be the best timing. While the most reliable performing waterfalls happened to be fed by snowmelt, those who had lesser snowpack (Seerenbach Falls came to mind) may have been better visited later in the Summer based on our observations. In hindsight, Switzerland might have been best visited for hiking starting in mid- to late July through September, and that's probably how I'd do it over again if given the chance.
Public Transportation: While the Swiss mass transit system was pretty extensive, we still wished that we had self-driven a lot of our trip. It's generally a trade-off between time versus money. While mass transit can save you the headaches of parking and toll roads as well as high gas prices, we've found that the flip side was we spent a lot of time waiting or coordinating (fighting) with train and boat schedules even if we did buy a rail pass to save money. The flexibility alone with self-driving would have been worth the added cost in my mind.
Cigarette Smoke and Thin Air: Smoking is everywhere you go in Europe. I believe it has something to do with the belief that it somehow makes you thinner (whether that's true or not is another story). And since personal appearance matters a lot in Europe, smoking kind of goes hand-in-hand with that image and personal appearance. Unfortunately, with a pregnant wife, we were very wary about second-hand smoke having a negative effect on an unborn child.
We were also worried about high altitudes (especially in Switzerland) where oxygen is more scarce. So by controlling what was in our control by limiting our exposure to pollution and high-altitude the best we could (note I didn't say we didn't cut out these things because that would defeat the purpose of coming here to Europe in the first place), we hoped that our child would not have been adversely impacted by this trip.
Travel Itinerary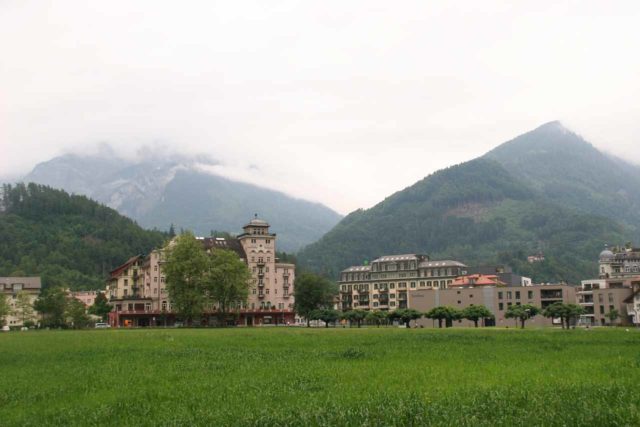 Day 20: Fly from Dubrovnik to Zurich, then transport to Interlaken
Overnight: Hotel Lotschberg (Interlaken, Switzerland)
This was a travel day, where we wouldn't get to Interlaken until very late in the afternoon. We spent the remainder of the time there just having dinner and doing a little exploration of the well-touristed town.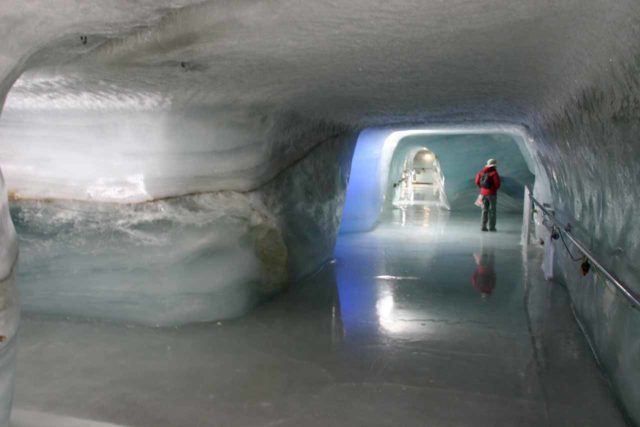 Day 21: Lauterbrunnen Valley
Overnight: Hotel Lotschberg (Interlaken, Switzerland)
On this day, we got an early start and proceeded to take the train up to the Jungfraujoch where we knew the weather would be agreeable in the morning then become variable in the afternoon. Afterwards, we then took the train towards Lauterbrunnen Valley, where we then visited the main waterfall there – Staubbach Falls.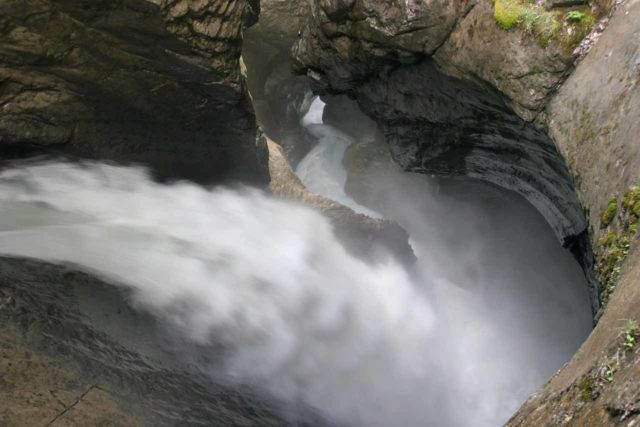 Day 22: Lauterbrunnen Valley
Overnight: Hotel Lotschberg (Interlaken, Switzerland)
On this day, we explored more of the scenic Lauterbrunnen Valley, including going up Schilthorn, visiting the Murrenbach Falls, AEgertenbach Falls, and Trummelbach Falls.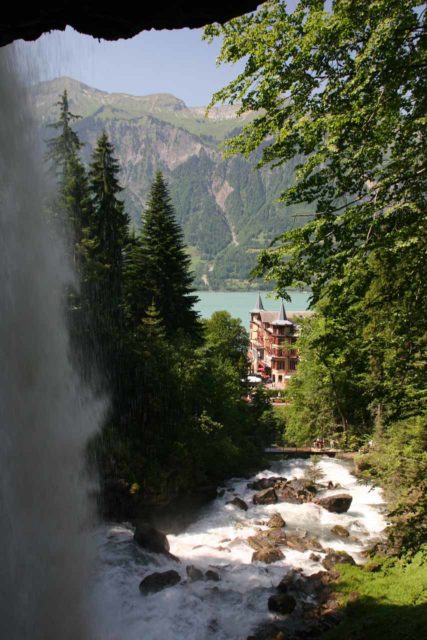 Day 23: Lake Brienz and Meiringen
Overnight: Hotel Lotschberg (Interlaken, Switzerland)
On this day, we went outside of Lauterbrunnen and headed east. The better part of the day was spent visiting Reichenbach Falls before going back to the lake to visit Giessbach Falls. We also saw numerous other waterfalls on this day as well.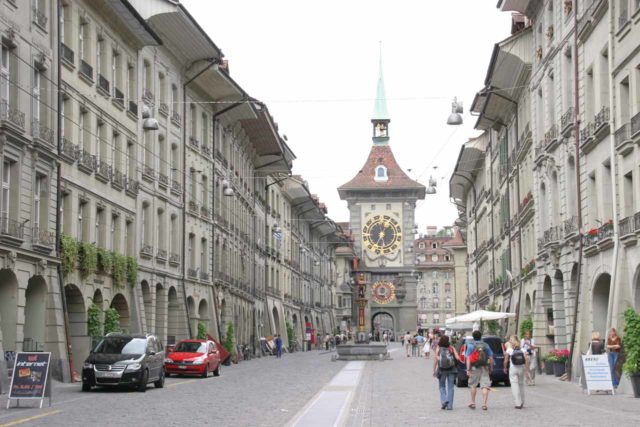 Day 24: Day trip to Bern
Overnight: Hotel Lotschberg (Interlaken, Switzerland)
We took a break from waterfalling on this day and did a day trip to the Swiss capital of Bern. Whilst there, we absorbed a lot of the history around us from its 12th and 13th century clocks, buildings, and churches to the captive bear as well as the city's panoramas and squares. We also went inside the Einsteinhaus to see how he lived and worked here.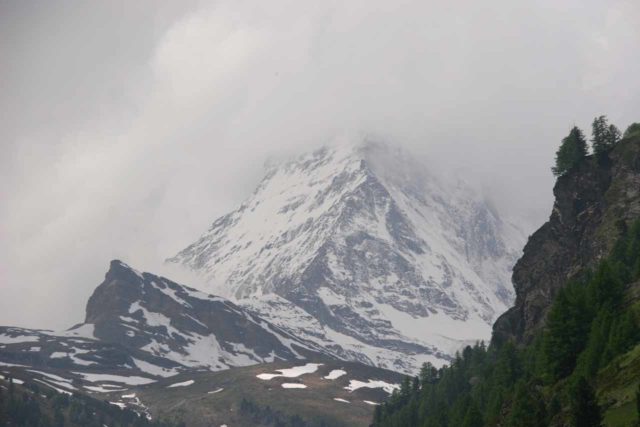 Day 25: Day trip to Zermatt
Overnight: Hotel Lotschberg (Interlaken, Switzerland)
This was the very last full day we had in Interlaken, and we tried to wait for clear weather in Zermatt (as seen from the web cams). Unfortunately, the weather still didn't cooperate so we never really got to see the entire pointed peak of the Matterhorn.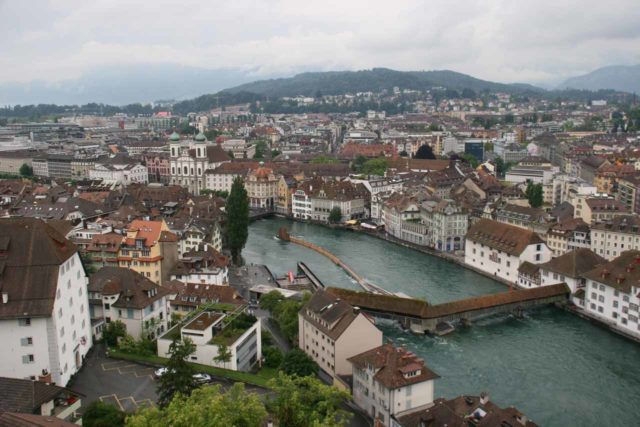 [expand title="MORE" swaptitle="LESS" trigpos="below"]
Day 26: Transport from Interlaken at Lucerne
On our second full day in Athens, we visited the Acropolis Museum, the Temple of Olympian Zeus, and stolled the walking streets in the city of Athens itself.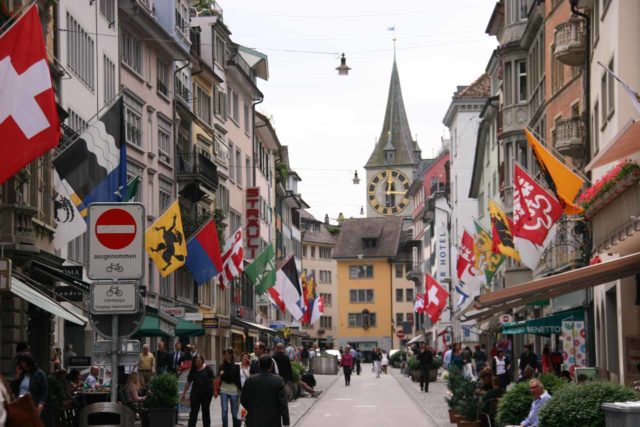 Day 27: Transport to Zurich
Overnight: Hotel Montana (Zurich, Switzerland)
On this day, we picked up another rental car hire, then left Athens to head north. Along the way to Meteora, we stopped for Ancient Delphi.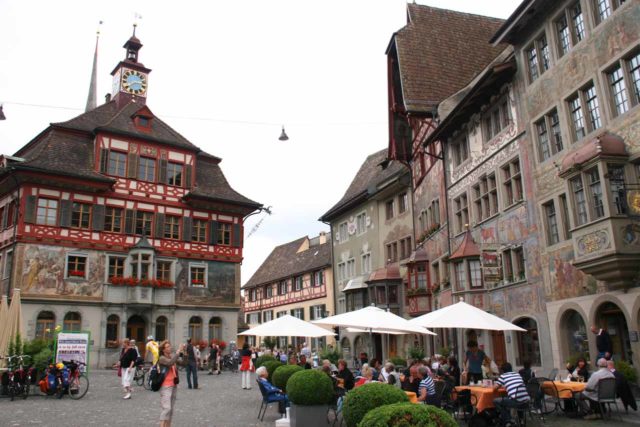 Day 28: Rhine Falls and Stein am Rhein
Overnight: Hotel Montana (Zurich, Switzerland)
We started off by going right to Schaffhausen to check out the Rhine Falls. We then visited Stein am Rhein before returning to Zurich.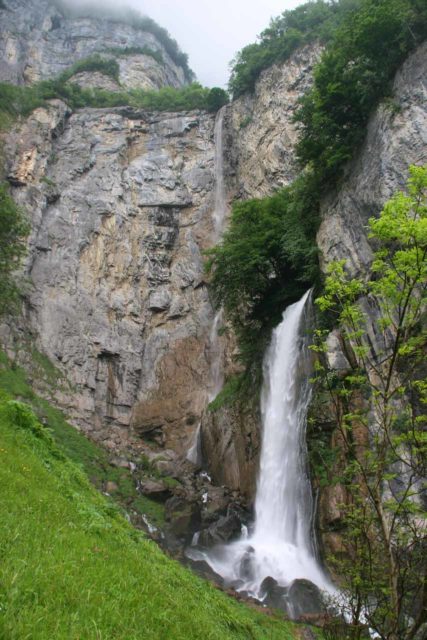 Day 29: Day trip to Walensee
Overnight: Hotel Montana (Zurich, Switzerland)
On our last full (and rainy) day in Switzerland, we did a day trip out to Lake Walen, where we walked all the way to the Seerenbach Falls and Rinquelle.
Day 30: Fly Home
This was a travel day where we took the train to the mass transit to the international airport, and then proceeded to fly home.
[/expand]
Related Trip Reports
Waterfalls included in this itinerary
Visitor Comments:
Got something you'd like to share or say to keep the conversation going? Feel free to leave a comment below...
No users have replied to the content on this page