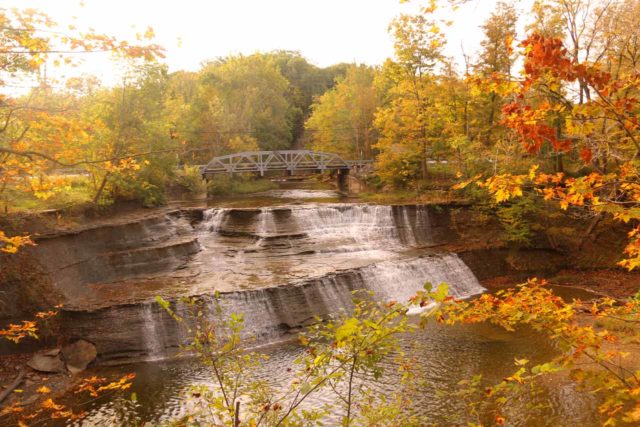 3-October 2015 to 9-October 2015:
In any case, Julie had the bright idea of having Tahia hand over the bag of potato chips to the homeless person. His reaction to Tahia's gesture was priceless. He smiled widely, and called Tahia "Little Princess." He gladly took the potato chips and kept smiling as we said good-bye to each other.
There was a lesson learned here. While Tahia was a little apprehensive at first, in the end, we asked Tahia how she felt after doing the selfless gesture to the homeless person. She said it felt "good" and we didn't even put the words in her mouth. She came up with the answer herself. So there was a fundamental principle behind helping people and making them feel better. It wound up making her feel good about herself, and this was one of those life lessons you simply don't get in the classroom. Who knows what other intangible things she picked up on this trip?
Day 9 (October 3, 2015 – Cleveland, Ohio): "5 O'clock World"
It was 6am when Julie and I awoke. Knowing that we had a long day of driving ahead of us to get from Mackinaw City, Michigan to Cleveland, Ohio, we were motivated to get packing and out the door as soon as possible. As we looked out the window, we could see there were more clouds above us.
We suspected that it was probably going to rain when we get into Ohio on this day, and the clouds made it seem like that was indeed going to be the case. Of course, the benefit of having these clouds in the morning was that the sunrises (or sunsets if at the end of the day) would be better than if there weren't any clouds.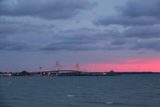 And sure enough, we were getting purples and pinks in the skies thanks to the clouds and the yet-to-breach-the-horizon sun.
After having the included breakfast once again, we were in the car at 8am. At that point, the long drive commenced as we headed south on the I-75. The first 90 minutes of the drive was familiar as we had done it yesterday before heading west to Traverse City. However, this time, we were headed south as we were set to leave Michigan for Ohio.
The drive was pretty uneventful though I was trying to get sports talk radio and the reception seemed to be worse than it was yesterday. In any case, it wasn't until about 12pm when we decided to have lunch in Ann Arbor, Michigan. Knowing that this was a college town for the University of Michigan, we figured that there must be a good mix of trendy eateries with ethnic fusion rolled in there given the student populations.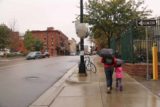 At this time of the day, it was definitely raining. Julie was busy Yelping for restaurants while I was busy driving, and we wound up eating at this place called Frita Batidos. Apparently, this place was a Cuban street food place with a bit of a fusion flair to it. It was definitely a bustling place where most of the clientelle were students, of course. However, we did notice families and even some parents, who must've been here visiting their child who was an attendee of U of M.
We had ourselves a pretty good Gulf Shrimp sandwich as well as a good pulled pork sandwich. Julie also got the so-called "Best Snack Ever" cup, which was a cheese-covered beans with some spices. We enjoyed our food and continued on the road by 12:50pm.
The rain was really coming down as we went further south on the interstates. There were definitely a lot more cars on the road as we had been used to driving the relatively quiet highways and interstates in the Upper Peninsula.
When we got close to Toledo, Ohio, we had to make a toilet break as Tahia did her usual last-minute "I have to go peepee right now!" warning, and so we had to go a little out of the way to a McDonald's that happened to be at least 3.5 miles away from the interstate. That was annoying.
Anyways, the driving continued on the Ohio Turnpike, but I was also fighting road fatigue at the time. In a couple of instances, I had drifted into the adjacent lane, but fortunately, no one was around. I would eventually recover once we paid $5.25 for the turnpike toll (not bad considering that we had been driving from one side of the state all the way to the other).
Given the rain and foul weather, we opted to go straight to our hotel instead of going to Paine Falls before checking into our hotel. I worried about putting too many things to do for tomorrow, but we figured that with such the long drive and the bad weather, we just weren't up for extending our time in the car for much longer on this day.
Eventually by 4pm, we parked in the Public Parking structure next to the Hyatt in Cleveland. The city of Cleveland looked a bit rough as we were heading downtown, then we saw that there seemed to be some significant construction going on. Anyways, once we parked and checked in, we could see that the hotel featured a very attractive atrium or arcade as apparently it used to be a mall seemingly reminding us of the kind we saw in Milan, Italy.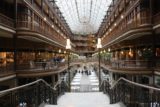 And as we had suspected, there was a wedding going on in that atrium. Since we had arrived and checked in before 5pm, we were able to move about the atrium. Unfortunately, since it was also getting close to 5pm when most of the museums would close, we'd have no shot at doing things like the art museum nor the rock and roll hall of fame (about 15 minutes walk away). So we'd have to stuff those activities somehow into tomorrow.
Also, the wedding party would begin after 5pm, and the atrium would be off limits to public access until 11pm. Julie and I figured that this hotel must be making a killing on this place being a wedding venue. They could probably care less about the guests since the big money maker was this wedding gig. I don't think this Hyatt would do away with that arcade anytime soon.
Anyways, it seemed like things would be shut at 5'o clock, which reminded me of the Drew Carey Show song "5 O'clock World".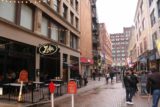 Well, once we were settled in to our spacious maple-smelling room, we then went back downstairs at 4:45pm. At that point, we walked into this narrow walking street, where we would ultimately find the restaurant called "Lola". Apparently, it was a famous restaurant because the chef was said to have been on Iron Chef or one of those programs on the Food Network.
So we decided to give it a go and dine in right when they opened for dining at 5pm. The food was priced like fine dining, but it would turn out that it was surprisingly casual despite the dimly-lit decor. We stuffed ourselves with 3-4 appetizers and one main. The appetizers were some crudo of hamachi (yellow-tail), beef cheek pierrogi, foie gras truchon, and butternut squash soup. Julie also got some green beans.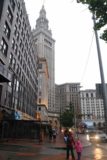 Needless to say that for the $125 we spent on this meal, we were stuffed. However, the food itself didn't seem to be anything that extraordinary to us. So we decided that for tomorrow, we were probably going for the pho place that we saw a couple doors down from Lola.
At 6:30pm, we were done eating, and we decided to spend some time walking around the downtown Cleveland area since it looked very charming in a surprisingly old school kind of way. It was kind of reminiscent of how Boston was like given that there was church surrounded by high rise buildings, and there were some of the classic buildings like the Tower at the Horseshoe, which was very attractive to photograph.
We went into the Tower, where it appeared that there was a mall in there. Yet the interior also looked grand in a very Grand Central kind of way. The further into the mall we went, we noticed there were large courtyards with fountains and tall ceilings. Indeed, we were surprised by the charm of this area, and it was definitely not the "mistake by the lake" we thought Cleveland would be.
In any case, it was getting dark, and with all the drifters out and about in this downtown area, we were concerned about safety. So by 7:40pm, we were back in the room. It was a shame that the public square was under construction because it could've been even more charming and worth spending more time lingering about even despite the rain and the cold.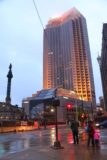 Finally, after checking out the atrium and the wedding reception going on down there, we noticed that any room beneath the 6th floor seemed to be quite noisy thanks to all that commotion down there. Good thing we were given a room on the 7th floor on the Euclid Tower so we wouldn't have to deal with finding alternate routes to get to our room as the Superior Tower seemed to be where most of the commotion was going on.
At 8:15pm, we were finally back in the room again. And that pretty much ended the day. It looked like we're going to have a lot of activities for tomorrow, and that would begin with Paine Falls, then Brandywine Falls. After that, we'd have decisions to make about whether we should pursue Cuyahoga Falls and Lanternman Falls before going back to Cleveland to try to catch the Rock and Roll Hall of Fame or other museums so Tahia would have something to do. At least we knew from today that most of those places would be closed at 5pm. Now it's another question whether they'd be open on Sunday…
Whatever the case is, it's going to be a really busy day!
At about 10:30pm, we heard a lot of commotion outside, and when we peered towards Jacob's field, we saw fireworks were going off. At first I thought it was a one-off because the home team hit a home run. But then the show kept going on. That was when I realized that perhaps they were throwing a big fireworks show because it was probably the last homestand or last game of the baseball season. I know the Cleveland Indians were playing a home game today, and so this commotion must've been related to that.
And so ended this day. I wonder what other surprises Cleveland would have in store for us…
Day 10 (October 4, 2015 – Cleveland, Ohio): "Cleveland Rocks"
It was 7am when we awoke. It was still dark outside, but it was quickly starting to get lighter. There were still clouds above us, and I wondered if the forecasts were wrong in that it was supposed to be sunny today.
In any case, we had a pretty stacked day (in terms of activities) so after getting freshened up at 7:45am, we quickly made our way downstairs, walked through the now-ghost-town-like arcade (Julie picked up a croissant for a quick brekkie) before getting to our car at 8:05am.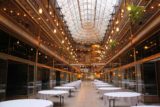 It was chilly this morning, but somehow it didn't feel as frigid as it had been during our time in the UP. Still, we needed our thick jackets. And as we were driving east on the I-90, I was cognizant of black ice. And as we made this sharp 35mph turn on the I-90, we saw that there were cops around some totaled car that must've taken this turn too quickly and slammed into the wall.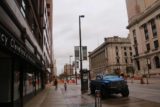 Aside from that, we uneventfully headed east on the I-90. We continued following the GPS as it led us onto the Vrooman Road exit, where we saw clear signposts for Paine Falls (as well as other sights like the Indian Rock Point or something like that). As we got to Carter Road, we saw another brown sign pointing the way to Paine Falls. Eventually, we'd find the Paine Falls Park and stop the car at 8:50am.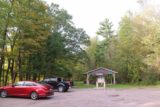 We could see that even though the I-90 freeway was right next door to this park, it still couldn't be accessed immediately from the highway. So that meant that this park was pretty quiet though we did smell something like gas or exhaust-related fumes given the proximity to the interstate. After a couple who were already here had left, we pretty much had this park to ourselves. And after a short 0.12-mile descent on some steps, we'd get to the lookout platform where we finally were able to see the elegant Paine Falls beneath the road bridge we had just crossed to get to the car park a few minutes earlier.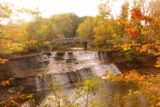 Adding to the scenic allure were Fall colors. Even though it wasn't quite peak colors yet, there was enough at this waterfall to make it appear real attractive. It turned out that the lookout was the best place to see the falls because everywhere else that was sanctioned pretty much yielded obstructed views of Paine Falls.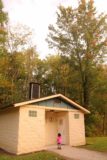 By 9:20am, we were back at the car. We noticed that the toilets here also doubled as tornado shelters. It was interesting that even in these parts, apparently tornados were a real possibility.
Next, we drove along some local roads as we continued following the GPS as it led us towards Lanternman's Falls, which was the next waterfall we targeted today. Eventually, we'd connect with the route 322, and then that led us straight to the Hwy 11, which was two lanes in each direction. So that allowed us to go pretty fast as we headed south towards Youngstown.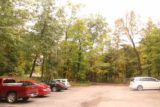 Although the GPS had us go on a somewhat indirect route to get to the Mill Creek Park, we did eventually get to the car park for Lanternman's Mill and Covered Bridge at 10:35am. It seemed quite busy for something that didn't seem to be all that well-signed, but perhaps it was because we either followed the wrong route or it was a Sunday or something. But whatever the case was, we managed to claim one of the few remaining spots in the limited car park.
The short walk to the falls was beneath some pretty Autumn foliage before passing beneath the road bridge, where on the other side, we finally saw the impressive waterfall adjacent to the historic mill. While Julie and Tahia used the facilities, I took advantage of the time to take photos from the covered bridge just upstream of the falls as well as learn that the mill actually costed $2 to go inside and tour.
Well, we were pretty content to take our family shots as well as to document the falls, and so we didn't feel the need to go inside. It turned out that we managed to get more balanced views of the waterfall, mill, and surrounding foliage from the road bridge above the small gorge. And even though this waterfall seemed to be a little on the small side (probably around 30-40ft), it had good volume, and it had nice surroundings.
Once we had our fill of the falls, we were back at the car at 11:25am. As we were making our way back to the interstates, we saw that much of the buildings in Youngstown seemed to be run down. So we started to get this impression that perhaps Youngstown might have been a casualty of the shift of factory-related jobs to overseas where third world labor could be exploited as first world wages could be circumvented to keep up profit margins that ultimately keep executives richer and middle classes squeezed.
Next, we targeted Brandywine Falls as the last waterfalling excursion for the day before returning to Cleveland. Originally, we had contemplated visiting Quakertown Falls in Pennsylvania as well as Cuyahoga Falls near Akron. But there were still museums we wanted to visit, and I had this curiosity about visiting the Rock and Roll Hall of Fame.
Anyways, the drive on the Ohio Turnpike on the I-80 west was pretty straightforward. However, once we got off the toll road near the Cuyahoga Valley National Park, it appeared that the I-271 was under some construction. That meant that practically all the exits near the reserve were closed. And so we were on this ridiculous detour that had us going some 5-6 miles north on the OH-8 then we had to go back on the OH-8 in the other direction before eventually getting off for East Boston Mills Road.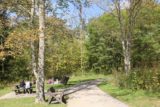 When we finally wound up in the very busy car park for Brandywine Falls, it turned out that the detour we were on had taken a whopping 20 minutes!
Anyways, the walking to get a view of Brandywine Falls was pretty straightforward as it was pretty much almost entirely on boardwalk. After checking out the falls from its top and near its brink (where we saw that this falls was once harnessed using water power for electricity), we then went down to the main lookout deck where we got nice angled views of the falls.
There were already a handful of people here, and Julie and I tried to take what photos and movies that we could. I had even brought a tripod so we could take some family shots (especially since Julie's selfie-stick seemed to have stopped working). But when we were done doing our deeds (it took longer than we wanted because Tahia wasn't really cooperating), the lookout platform was now quite crowded with people from numerous other people wielding tripods and DSLRs as well as groups of people belonging to large families.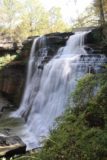 Considering that this reserve seemed to revolve around protecting the heritage and natural scenery of the falls and perhaps the Cuyahoga Valley as a whole, Julie had read on TripAdvisor that this place really should be a state park instead of a national park. And I guess I could totally see their point. It seemed like a pretty frivolous use of federal funds, but then we figured that whoever lobbied for this protection must've done quite a good job.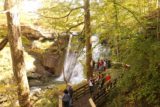 At 1:25pm, we were back at the car. Now, the day was quite warm as the sun was pretty much out. The thermometer in the car said that the outside temperature was now in the low 70s! That was actually quite warm considering that we had been used to highs less than 60 degree F!
In any case, we now drove towards the eastern side of Cleveland as Julie had a Vietnamese food craving. We'd eventually be at this pho place at 1:55pm. The food was the typical Vietnamese fare though it was nothing like what we were spoiled with in Little Saigon in Santa Ana. The meat nem nuong was strange in that the meat itself had food coloring on it (almost bright red like what they do with non-authentic Tandoori Chicken in the Indian Food places).
We were back in the car at 2:35pm. Next, we continued going east on the I-90 until we would eventually find street parking at 2:50pm (and save $10 for not having to park in a structure) as we pursued the Museum of Art. We had read that this place was free, and we figured that we mind as well spend a few minutes checking this place out.
In any case, we made a quick visit primarily dominated by the main floor. We didn't go upstairs nor downstairs, and Tahia started getting antsy. Still, we were surprised at some of the art exhibits and treasures and trinkets that were on display. One thing that I thought was striking about this place was that we were allowed to take whatever photos we needed. But in Europe, I could totally see how photos would be prohibited here.
At 3:20pm, we were back in the car. As we exited, we enjoyed the fountains and park area nearby. But time was running short as we knew that most museums would close at 5pm (though the Rock and Roll Hall of Fame was set to close at 5:30pm).
We would eventually make it back to the car park next to the Hyatt at 3:45pm. Then, we promptly got back up to the room to change into city clothes while also relieving our bladders and guts.
At 4:15pm, we were back downstairs where we next sought out both the Science Center as well as the Rock and Roll Hall of Fame. Along the way, we noticed some church as well as the Cleveland Brown's Stadium. Since it was getting real close to 5pm and it took us at least 15 minutes to get to at least the Rock and Roll Hall of Fame, we decided to divide and conquer where I'd visit the Rock and Roll Hall of Fame solo (to save on their steep ticket price of nearly $24 per adult).
This had better be good, I thought.
Anyways, Julie and Tahia were going to check out the commotion on the lakefront near the museum. I figured they might also check out the Science Center while we were doing this dividing and conquering again. Meanwhile, inside the Rock and Roll Hall of Fame, I found myself in a giant pyramid-shaped building where I promptly bought my tickets and was quickly reminded that I only had until 5:30pm to get my visit done and over with.
I wound up with the suggestion to try the lower level exhibits first, where they focused on the evolution of rock and roll. The exhibit down here was quite extensive as they covered the usual suspects like the Beattles, Rolling Stones, Madonna, Michael Jackson, etc.
Going through these exhibits was kind of like that feeling of deja vu where I was essentially walking through a VH1 documentary of rock and roll now presented in a series of displays in a museum. Anyways, they also delved into the Midwest influence to rock as apparently Cleveland was the birthplace of rock and roll.
Once I had my fill of the downstairs area, I then went upstairs to check out the Hall of Fame inductees as well as the strange Pink Floyd Wall and even some photography exhibits of rock icons. With all of these cultural icons essentially defining what's cool or rebellious, it was strange to see these things now in museums, which really made me feel a bit on the old side.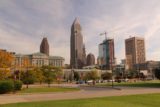 By 5:30pm, I was kicked out of the facility as they were closing and that was when Julie and Tahia were waiting for me right outside the door.
So with that, we then slowly walked towards the Greenhouse Tavern, but we embarked on a surprisingly nice walk across a lawn area near the Key Tower, where there was some green statue looking up at the sky. Continuing on this walk, we were back around the construction site. We could see from the mock ups that this place was going to be huge once the work would be over by Summer 2016. Right now, the construction equipment and fences were unsightly, but I'm sure this place would be tremendously transformed when finished.
Julie thought that the early adopters and investors of this remodeling effort would probably stand to benefit the most. Indeed, Julie thought Cleveland had great bones with all this history and attractive greenspaces amidst skyscrapers. The question then becomes how in the world did this place be allowed to decay so deeply in the first place?
At 6:15pm, we found ourselves at the Greenhouse Tavern. Even though Julie's reservation was for 7pm, it turned out that they could seat us at this moment. It was a strange place where bicycles were precariously hanging from very tall ceilings. We ended up getting this really delicious chicken wings as well as this very rich Flintstones Short Rib. That rib had three giant shanks, and it was full of fat. We knew there'd be no way we could finish this meal. Not only that, but this short ribs dish was a bit over the top, and it didn't have the contrasting bold flavors we came to expect from dishes priced over $50 like this!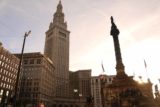 Meanwhile, Tahia was napping as she hadn't taken a nap all day long. So we would have to go back to our room and try to feed her there and bring leftover food with us. Eventually when we paid our bills and were ready to leave the joint, Tahia woke up cranky and that was the time to get back up to our room. Now, it was 7:45pm.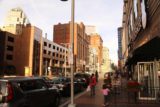 Back at our room, Julie was busy feeding Tahia the leftover short ribs. Meanwhile, the TV was on and Tahia was captivated by the Disney Channel (as opposed to Disney Jr).
We made one last indulgence for dessert at 9pm where we wound up eating fudge and cookie sundae while Julie and Tahia were sharing the fondue of chocolate dipped strawberries. The fudge was a bit on the chewy (almost peanut-butter or caramel-like) and it wasn't like the hot chocolate fudge sundae that I was hoping for.
Once we were back at the room at around 9:35pm, we were finally able to cease activities and call it a day. Although there were some things we wanted to do in and around Cleveland, we felt that we had gotten a pretty good sampling of the highlights of the Cleveland area.
Tomorrow, we were faced with another long drive but to Indianapolis this time. Sunday night also seemed dead in the downtown area. Jacob's Field was lights out as well. So I guess those fireworks we saw yesterday was to honor the conclusion of the 2015 season for the Cleveland Indians. Hopefully, we'll be able to visit our lone waterfall in Indiana while also checking in at a reasonable hour as well come tomorrow…
Day 11 (October 5, 2015 – Indianapolis, Indiana): "National Mall Indy Style"
It was 6am when Julie and I awoke. Knowing that we had a very long drive ahead of us, we were motivated to get our stuff together so Julie could go to "Pour" downstairs and across the street to satisfy her coffee craving. That place had been closed on Sunday as well as late Saturday afternoon when we first showed up to Cleveland so she was itching to give this place a try, especially since she had Yelped that they had gotten really good reviews.
Anyways by 7:25am, I had loaded up the car while Julie and Tahia went to Pour. I could see that Cleveland was a much busier place than it had been all weekend simply based on how many cars were pulling into the car park that we were parked at. I guess the city of Cleveland really comes alive on the weekdays.
It would be about 7:45am when we finally got into the car and were on our way out of Cleveland. The drive out west was mostly along the I-70 after going south on the 271 in the direction of Columbus, Ohio. Along the way, we could see the long line of traffic heading towards downtown Cleveland. Meanwhile, we were moving away from the city so traffic was comparatively light though still much busier than what we had faced while in the Upper Peninsula of Michigan earlier on in this trip.
At 12:30pm, we stopped at this place called Goose The Market in Indianapolis. It was still too early to check in, and we had feared that the parking situation wouldn't be conducive to going in and out. And since we still had to visit Cataract Falls before checking in, we would continue with our waterfalling for the day before finally checking in later.
Anyways, Goose was a sandwich deli that had apparently gotten really good reviews. They actually had quite wholesome food as well as healthy stuff. And when we got our "Goose" sandwich and "Batali" sandwich, they turned out to be quite tasty as expected. The Batali sandwich was actually on the spicy side so Tahia couldn't have that one, but they were all pretty good.
We also noticed many different professionals coming in for the lunch break. So apparently this place hit that sweet spot of healthy and tasty yet quick. So we felt good about eating at this place (as if we had stumbled upon a nice local boutique joint), and when we were done at 1:10pm, we were energized and ready for the hour-long drive from Indy to Cataract Falls before returning to Indy to check in.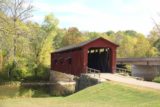 At 2:10pm, we finally made it to the Cataract Falls State Recreation Area. We first pulled up to the closest car park, which was signposted for the Upper Falls. We also immediately saw that there was a covered bridge. And that playground in the picnic area nearby didn't escape Tahia as she was totally looking forward to playing in it.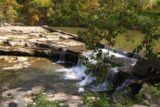 The lookouts of the Upper Falls were angled and profiled. From what we could see, it was pretty clear that the falls had seen higher flow before. Right now, the falls' seemingly lower-than-average flow was segmented. I guess the rains from two days ago weren't enough to make the falls flow even more fully than what we were hoping. But at least the falls did have somewhat satisfactory flow regardless. Regardless, it wasn't anything like what our pre-trip research was indicating.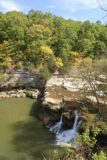 That said, since this was towards the end of the year, we'd imagine that this must be a year-round waterfall. So even though the flow wasn't what we thought it could be, it was still saying something that this falls could flow year-round. I mean, back at home, we're dealing with drought for several straight years, and it has prevented us from finishing off our California Waterfalls survey in the far north of our state.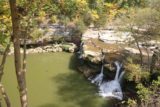 Furthermore, Cataract Falls was probably the only waterfall in the state of Indiana when we did our pre-trip research as we considered what was worth visiting within reach for our Midwest trip. I had also considered visiting Clifty Falls, but that was closer to Kentucky, and that was way too far south of where we were going.
After getting my fill of the lookouts for Upper Cataract Falls, Julie and Tahia went to the playground. And during that time, I followed a trail of use that ultimately descended to the banks of the river, where I then scrambled along the riverbed until I got a more frontal look at the Upper Cataract Falls. It was a little bit slippery and muddy in stretches, which I'd imagine would be much trickier when wet.
However, with today being a hot day (at least by Midwest standards since it was like 78 degrees F), I made that descent and subsequent ascent without issue. I was just a bit sweaty when I finally got back on the sanctioned area.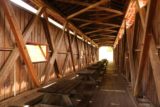 At 2:50pm, I rejoined Julie and Tahia at the covered bridge, where we took a few more shots before returning to the parked car. We saw that there was a sign indicating there was a Lower Falls so we drove the car and followed the other road towards its car park, where we'd arrive at 2:55pm.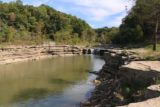 And like the Upper Falls car park, this Lower Falls car park was pretty quiet. There was one other car here, and it appeared that it belonged to some Hispanic guys where a lady was sitting in their truck waiting for them. The two guys were actually fishing both at the top of the Lower Falls as well as further downstream from it. And they were doing this despite the signs prohibiting fishing.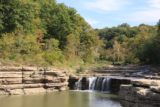 Anyways, this waterfall was similar in size and character as the Upper Falls. However, reaching the banks of the river for a more frontal view of the Lower Falls seemed to be more easily accessed than the Upper Falls. With the fading light of the afternoon, there was quite a bit of shadow around the falls.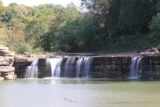 And so we spent time documenting the falls while a handful of other people managed to pull up and also examine the falls. It didn't take long before we had our fill of the falls and decided to head back to the car. We tried to take a potty break at the bathroom here, but the toilets were disgusting (probably amongst the dirtiest we've seen). In any case, we were back at the car at 3:20pm.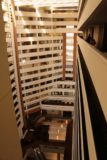 Now, we could finally head towards downtown Indianapolis so we could check into the Hyatt then explore the city. At 4:20pm, we had finally parked at the structure beneath the Hyatt and the PNC Bank (both sharing the same building), and then we were checked into our room at 4:40pm. They had put us up on the 17th floor, and since the room was facing the atrium with the railings being only waist high, looking over the railing definitely induced butterflies in the stomach as we could see it was a very long way down to the atrium floor.
After getting settled, we then headed back downstairs at 5:15pm. With the fading afternoon light, we wanted to at least see the best of downtown Indy before having dinner. And so we walked past the Capitol Building before heading towards the Indianapolis World War Memorial, which was an impressive structure. We got there at around 5:50pm, and that was when we saw there were a lot of people working out doing burpees at the top of the steps, then running down and back up the stairs!
I guess with all the heavy eating that we've been doing on this Midwest Trip (where large portions seemed to be the norm), perhaps that workout regimen would be what we needed. I know I'm due to resuming cross training like that when I get back to work. In any case, we were running out of time as the shadows were growing longer. So we took photos of the memorial, then walked behind the memorial where we saw an obelisk.
Beyond the obelisk, there seemed to be a Lincoln Memorial-like building with columns across a long stretch of lawn. And this place really reminded me of the National Mall in Washington DC except this was done Indy style (i.e. smaller scale). Anyways, it didn't take long before we had our fill of this place, and it was time to get dinner.
So we left the obelisk at around 6pm, and then we walked towards the impressive Memorial Circle, where there was a large statue in the middle of a circle surrounded by tall buildings as well as a church on one side. There were horse-drawn carriages that Tahia said were like Cinderella.
By about 6:45pm after going back and forth between places like Palomino or Yard House, we eventually decided to dine at Oceanaire. I was getting toxic burp from something bad I must've eaten in the last couple of days, but I really wasn't feeling the effects until this morning. Fortunately, I wasn't nauseous as the toxic burp was the only symptom I was having. So we were in the mood for something light and not terribly heavy like last night.
And so at Oceanaire, we had ourselves escargot, twin tail lobster tails (not the freshest, but the $39 deal they had was too good to pass up), and a pretty good Hawaiian seared ahi tuna. We got Tahia some kid-sized shrimp with broccolis. Then, we topped it all off with sticky toffee pudding, which was the kind of dessert that we hadn't had since the UK a couple of summers ago.
It turned out that we wouldn't leave the restaurant until about 8:20pm (which meant the dinner was at least 90 minutes long). In any case, we weren't in any particular hurry on this night, and eventually by 8:35pm, we were back at the room at the Hyatt. And so ended this pretty long day of driving and our lone waterfalling experience for the day (which would also be our lone waterfalling experience in the state of Indiana).
Tomorrow, we were headed to Chicago to end off our Midwest trip. But not before checking out Cascade Falls in a similar arrangement like today, where we'd visit a waterfall before checking into our hotel. Though we'd also be dropping off the car before settling in Chicago so we'd be on our own with mass transit for our final three days starting tomorrow…
Day 12 (October 6, 2015 – Chicago, Illinois): "Road Works"
It was 6am when we awoke. Once again, we tried to get an early start to the day so we could wrap up our packing and get to our rental car so we could leave Indy and head towards Chicago by way of Mathiessen State Park, where we'd try to witness the last waterfall of this trip. That said, I was kind of apprehensive about this one because I recognized that Cascade Falls was on a very temporary stream. I was just hoping that the rains prior to our arrival on this Midwest Trip might give this falls some life.
That said, we were delayed because it seemed like the elevators weren't coming up. We probably waited around 15-20 minutes before someone took the initiative and pushed the "up" button even though we were going "down". And that turned out to do the trick as one of the elevator doors finally swung open and we all packed into the elevator.
Anyways, it wouldn't be until about 7:35am that we finally paid the $26 to enable our ticket to exit the PNC Bank car park, and then start loading up the car. Julie finally rejoined us at 7:45am after she was done checking out and picking up a coffee from the Starbucks in the atrium.
Then, we faced a little bit of the Indianapolis traffic on our way out of downtown as we navigated the local streets before getting onto the highways. It took us a bit of time to get onto the correct highways before we finally got onto the I-74 headed northwest into Illinois.
The drive was somewhat uneventful except for a couple of things. First, the drive was through fog. Even though the speed limit was 70mph, we were hesitant to go faster than that given the limited visibility. At the same time, we kept running through sections where there was road work, where the lanes would narrow down to a single lane and the speed limits went from 70 mph to 45 or 55 mph depending on the kind of road work going on. In fact, we noticed this in a lot of spots yesterday and the day before as well.
We don't know what the deal with all this road construction was, but somehow it seemed to be occurring much more frequently in both Ohio and Indiana. But now that we were heading into Illinois, it appeared that these annoying road work zones (some of them were due to lawn mowing) were quite annoying and even more frequent. I wondered if this was what federal stimulus dollars were being spent on, and like all government-related work, there was no worthwhile incentive to get the work done on time so they just drag out the work.
At 10am, we had made it to Champagne-Urbana, which I knew was where the University of Illinois was. Of course, we weren't visiting the campus here though I was reminded of a co-worker who went to school here. In any case, we wound up doing a bagel stop that was kind of spontaneous as we were really looking for a restroom break. Instead, we went to this place called Einstein Brothers Bagels. We picked up a Nova Lox (salmon bagel) while Julie and Tahia got plain bagels.
Bagels aren't usually my thing, but this was pretty good. At 10:15am, we left.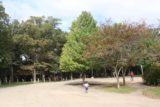 The drive continued for a while (going by even more sections of road work and lane closures) until we finally wound up at the Mathiessen State Park at 11am. When we saw on the GPS that we had driven nearly two hours more but the clock only showed 45 minutes, we knew that we had fallen back another hour. So we had to go through yet another time change on this trip! But at least we were getting back an hour.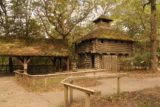 There were quite a few cars already parked here so that kind of indicated to us that this was a pretty popular spot.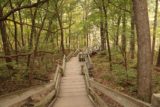 That said, there were some unnerving signs here indicating that there had been recent incidents of burglary even when stuff was hiding in the trunk of the car. So for sure, we would be making this visit as short as we could make it. We'll just have to see how the falls experience turns out.
There were quite a few families already in the car park either going on the trail or coming back. There were some picnic tables, some restroom facilities with a soda machine, and an interesting log cabin that I had seen a kid go in and look out the window (so I was wondering if it was like a play house or something). Still, we kept going, where we then saw a series of wooden steps.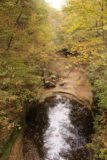 Once we got down to the bottom of the steps at 11:25am, there was a bridge. On the far end of the bridge, there were signs pointing the way to the Upper Dell and the Lower Dell. While on the bridge, there was a sign that said "Cascade Falls" facing downstream. That was when I recognized that I was above the brink of the falls. However, since there was no sound, I knew that this waterfall had no water.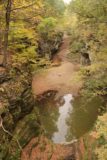 Then, I noticed that there were people at the bottom of the gorge. I made a mental note to get down there by following the trail further downstream along the rim of the gorge. I figured there had to be a way down there because there were more than a handful of people down within the gorge.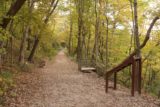 When Julie and Tahia noticed that there was no water, they immediately headed back up to the car park. Julie figured that while I would be busy finding a way down into the gorge, she and Tahia could go back up to the car park to tidy it up since we would be returning the car before winding up in Chicago after this excursion.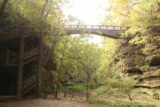 She also speculated that this waterfall might have had a longer life in the past, but the surrounding area was all corn fields, which surely must've robbed most of the water feeding this creek. Thus, she might be right in thinking that the waterfall might be more of an ephemeral phenomenon or maybe lasting just during the early Spring months. I've read in other trip reports that by July or August, this falls would typically have nothing left. But I was holding out hope that the rains that hit the northern Midwest and quite possibly this area might have given this waterfall some renewed life. I guess it just wasn't meant to be on this visit.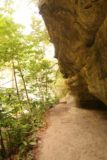 Anyways, I followed the trail always looking for a way down. But it was clear that there were drop offs and I was better off continuing on this trail towards what appeared to be this thing that the maps labeled as Strawberry Rock. Along the way, I had noticed that some of the trees had already exhibited some attractive Autumn colors.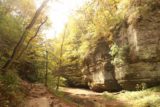 Shortly after a horshoe bend, where it appeared there might have been a scrambling path down, there was a labeled series of steps leading to another bridge as well as more steps leading down to the bottom of the gorge. At last!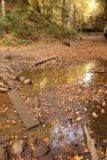 Once I was in the bottom of the gorge, I was immediately impressed with the curved walls giving me the sensation that I had somehow stumbled into something that was reminiscent of what I might find in the slot canyons of Southern Utah. After all, I had noticed coves and striated patterns on the gorge walls. Within the silence of the gorge, I heard some sudden splashing sounds in the standing water beneath the curved walls.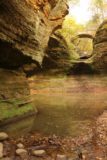 I couldn't see what was causing the splash given how murky the standing water was. However, I figured they were probably frogs or something.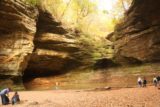 Hiking within the gorge pretty much followed along the right side of the gorge walls, which was fairly straightforward (though somewhat rough) hiking. However, there was one small section where I had to cross over a muddy stretch that I'd imagine would have been a stream crossing had there been more water here.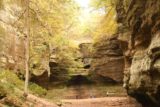 Once I got past the muddy crossing, I was then at the dead-end, which was fronted by a larger body of water, which I'd imagine to be the plunge pool of Cascade Falls. There was even a fence put above where the brink of the falls would be, which I'd imagine would prevent people who had accessed the Upper Dell to try to get down to the Lower Dell via this unsafe shortcut.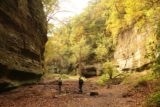 Anyways, it was too bad there wasn't any water flowing here, because it was in such a scenic spot as it was surrounded by the curvaceous gorge walls with overhanging cliffs as well as alcoves. I was glad I went down here to witness this spot even though this was the one waterfall fail on this trip.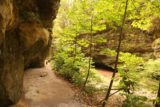 But it didn't take long before I had my fill of this spot, and now I had to get back up to the car park to rejoin Julie and Tahia so we could finally make our way to Chicago. At 12:15pm, I was back at the car, and now it was time to get moving.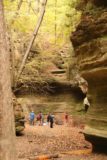 We started off by following the I-80 due east. Once again, there was more road work going on, and there were even stretches of stoppages. I knew that this would mean we wouldn't get into Chicago as soon as I was hoping for.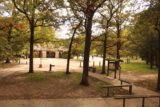 Eventually, we'd leave the I-80 then get onto the I-55. When we got onto the I-294, we recognized that we had gotten onto toll roads, but unfortunately, none of these toll stations took credit cards. There was one that only took coins, and it only costed 60 cents. Fortunately, we were allowed 7 days to pay IllinoisTollways online so we didn't have to fret about this inconvenience of not having change on us.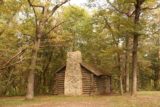 At 2:10pm, we made a stop at a Target after exiting the I-294 at Balmoral Avenue. There were hardly any exits along the way, and Balmoral was the only one we could do. Then, we had to drive another 5 miles or so on very busy surface streets before getting to the store. We had to make this stop because we had to return the car seat that we couldn't take with us to the plane on the flight home. If they had a car seat bag, then we could've checked it in. But instead, Julie was determined to pick up such a backup child seat online when we get home – probably from Target again.
It took some time to disassemble the car seat, then 15 minutes later, Julie returned successfully. At 2:35pm, we finally left. We made one quick stop to fill up the tank of the rental car, then by 2:55pm, we finally made it to the Alamo Rental Car Return at the O'Hare Airport.
After emptying out the car, we took the shuttle to the Terminal 2 at the O'Hare Airport, then we mulled over taking the Airport Express before we were told that all there weren't enough seats to accommodate us and our luggage. It would've costed $29 "for the two of yous", said the guy we spoke with. But we opted to take the CTA to the city.
At 3:25pm, we finally found our way into the CTA station, which was considerably hotter and muggier than the rest of the airport. We wound up buying a pair of $25 transit tap cards, which was good for unlimited use for 3 days (Tahia was free). I sure hoped that this would last through Friday morning when we'd have to return to O'Hare from downtown and within the 72-hour window. We were never really sure whether this 3-day pass worked for only three calendar days as opposed to 72 hours. But if this would work out, we would get the round trip price included in our transit ticket plus we could use the transit system at will while touring Chicago for the next two days. Then, I'd say this pass would really be worth it (especially when you consider each single-use ticket was like $3 a pop). Then, by 3:45pm, we boarded the blue line and were on our way to "The Loop" in downtown Chicago.
It took a while to get to the Monroe Stop (some 18 stops or so), where I then had to carry up the luggages up a long flight of steps before finally reaching street level. And within a couple blocks walk, we were in the Hyatt Centric The Loop Hotel. At 4:30pm, we finally checked into the room, where we managed to get a room on the 21st floor where we got two queen-sized beds, which was perfect for us.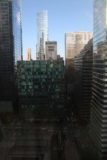 I was glad that we were finally car free and free to move about Chicago. Julie's suggestion of dropping off the car at the airport first, was a good one. I had originally thought it might've been wise to check in first, then return the car, but after seeing the amount of traffic heading into the city throughout this train ride, it was nice to know that I didn't have to fight all that traffic.
Once we got dressed into our street clothes, we then decided to taxi to the Girl and the Goat Restaurant. We were told that it was either a one-mile walk, or that the trains weren't that close to the restaurant. So we thought we could take the taxi and pay $10 to get there. Well, we were newbies at hailing taxis, and the porter saw our struggles and helped us hail one.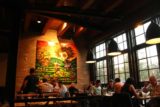 We wound up being at the Girl and the Goat at around 5:15pm. It turned out that our fare was $12.65, which was a bit more than the $10 the receptionist had predicted. I found it troubling to see that the meter had said $9.65 plus $1.00 in "extras". I guess the extra dollar was because we used credit card since we didn't have exact change on us. So that experience pretty much convinced Julie and I that we should give "the L" (what the locals call the mass transit system here) a try on the way back (btw, Julie was told not to call it a "Metro" because they sounded like "Metra" which were different train lines going to the suburbs).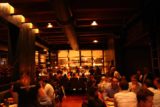 Even though Julie had made reservations for 9:45pm, we walked in to the restaurant early so we wouldn't have to wait so long for dinner. Julie had called on the way there when she was told that they do accommodate walk-ins though we knew that the closer to prime time you get, the more infeasible that that strategy would become.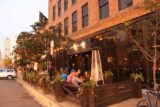 And it turned out that we were able to be seated straight away. We wound up getting diver scallops, crudo, pig's face, chick pea fritters, and goat belly. We even got roasted cauliflower. And then we capped it all off with a dessert that was chocolate truffle cake.
The food was a wonderful blend of textures as well as unique blending of flavors. Even the dessert was very good, which used coconut gelato, which we could hardly tell it wasn't vanilla. In fact, I was hesitant to get this dessert because I wasn't into coconut gelato as opposed to vanilla a la mode. But we were glad we got this dessert. Even Tahia got into the act with the dessert. It was that good!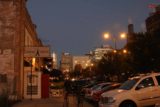 By 6:30pm, we were done with the dinner. I'd have to say that my co-worker's recommendation at trying this restaurant was pretty spot on. Julie and I still didn't think it was as good as Bazaar (Jose Andreas), but it was pretty close in quality and we didn't spend as much money (though it was still nearly $150 total with tax and tip). I guess Julie and I like bold contrasting flavors, and that was probably due to our propensity for a southeast Asian palette. The Midwest palette was a bit more bland and too hearty for our liking, but this was definitely one of the best if not the best of the restaurants we've tried on this trip.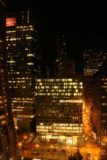 Once we left the restaurant, we walked over to the Morgan Station, which was only about three blocks or so away. Perhaps the most annoying thing about this walk was having to cross Randolph Street, where it seemed like vehicles driving by don't stop for pedestrians crossing the crosswalk. They really should have traffic lights here.
Anyways, by 7:20pm, we were back at the Hyatt. We took the Pink Line to the Blue Line, and it wasn't that bad. So from here on out, we were going to take trains to get around town now that we were getting the hang of this experience.
And with that, we were done with this day. But now we looked forward to the next two full days of checking out Chicago without having to vagabond it. Plus, I could use a couple of mornings of sleeping in as well. And so begins the last leg of our Midwest Trip…
Day 13 (October 7, 2015 – Chicago, Illinois): "Wild Card Sightseeing"
It was about 6:55am when I awoke. I didn't need an alarm as I had allowed myself to sleep in knowing that we didn't need to drive anywhere on this day. Julie had already been up, and she was busy trying to do last minute research on places to go to see as well as places to eat since she was pretty much in charge of the activities in the city. So with all this going on, it took a while to get out of the room as Julie was continuing to do her research while Tahia was taking her time to wake up.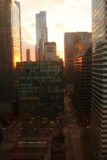 It wasn't until about 8:15am when we finally went downstairs. And about ten minutes later (seems like with high rise buildings like this Hyatt, elevators tend to be bottlenecks), we ate at the adjacent restaurant called Cochon Volant (which probably means "flying pig" in French). Julie and I don't really understand the obsession with pigs as we'd observed pig-related themes in other restaurants in Chicago as well as in Indianapolis and in Cleveland. So we figured that it must be a Midwest thing.
The brekkie we had was a bit more high class fare compared to the chain hotel brekkies we had been having the entire trip. So we wound up eating something like avocado with poached eggs and toast along with some kind of ham with poached eggs under Hollandaise sauce. We were tempted to get chocolate fudge waffles, but we refrained.
At 9:05am, we were done eating and finally we were ready to start the day.
From our hotel, we walked a few blocks all the way to the Millenium Park, arriving there at 9:35am. We were aiming to see the reflective giant bean, but we were pleasantly surprised by how this park was surrounded by attractive high rise buildings. And along the way to the bean, we were also intrigued by this fountain with two big blocks of animated faces (and for one instant, spitting out water out of puckered lips showing on the screen). It was pretty funny, and Tahia was laughing at it, too.
The bean as expected was popular. A lot of people were trying to take photos of it – whether they be fun shots of trying to hold up the bean or trying to somehow take advantage of the reflections, or even trying to take context shots with the skyscrapers towering above this giant bean.
Next, we walked towards some kiddie park another block or two towards Lake Michigan but not quite getting all the way to the lake (which turned out to be called the Maggie Daley Park). While on the way towards the park, we were once again impressed with the skyline looking back towards downtown Chicago. We thought the toddler playground by the Brooklyn Bridge in New York was one of the most scenic urban playgrounds, but this one here in Chicago seemed to be much bigger and better. In fact, I had never seen anything quite like this, and the amazing thing was that this giant playground was free!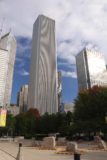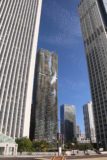 In any case, Tahia was itching to play in the massive playgrounds here, especially a pair of giant slides. And play time commenced at 10:15am.
The first thing Tahia spent time at was this big lighthouse with an enclosed twisting slide that was taller and longer than any slide that Tahia had previously been on before. So she was chomping at the bit to ascend the lighthouse then go down the slide (though she tended to slow herself down while in the tube). She managed to go down a little faster when I taught her to cross her arms. Apparently, she also took her time between some slide attempts as she was having fun with the vortex at the very top of the lighthouse.
When she had her fill of the lighthouse, she then headed over to this suspension bridge-looking contraption with two big towers. At the top of one of the towers was another slide that was even taller and longer than the lighthouse. However, Tahia first went up the tower without the slide, and when she realized there was nowhere else to go up there, she had a little trouble descending the ladders.
I tried to coerce her to figure it out, but when she got to the last level before the bridge level, I had to assist her down. Anyways, she then went up and down the huge slide, and it looked like so much fun that I even joined her up to that slide even though I was a bit oversized for it. So after she had her fun sliding down, I made my attempt, but I think my extended legs got caught and I eventually emerged from the covered slide upside down.
I guess there's a reason why there's an age limit (of 12 years) for things like this.
Anyways, play time ended when Julie saw on her iPhone that this Chicago deep dish pizza place was known for having long lines and it was said to be better than Gino's so she wanted us to have an early lunch there. And thus, we left the Maggie Daley Park (Julie said that last contraption was reminiscent of the Brooklyn Bridge), walked across this Guggenheim-Bilbao-like bridge (mostly because of the shiny curvy things flanking the bridge itself) over some highway, then wound up back at the Millenium Park, where we then continued walking towards the nearest L line stop at Randolph.
We then took the train towards Merchant Line or something like that, where we left some mall and walked north towards this place called Lou Malnati's. We got there at 11:30am, and we were able to be seated right away. Apparently, we had beaten the lunch rush just as Julie had hoped for. And we were told by the waitress that the pizza would take about 40 minutes to prepare.
So we stuck with the classic deep dish on butter crust. We also got some salad that had a nice texture to it thanks to the inclusion of bacon bits. When we were done eating the lunch at 1pm, neither Julie nor I were impressed with the pizza as it was high on cheese but light on the sauce. And I guess Julie was chasing that saucy pizza that she last had at Gino's some 20 years ago.
We were debating whether to try another deep dish lunch tomorrow, but right now, we were fully stuffed and we needed to walk it off.
So next, we walked towards the Chicago River Walk, which was basically several blocks of impressive high rise skyscrapers flanking the Chicago River. Perhaps the most iconic shot was the view towards the Chicago Tribune building looking in one direction or the Trump Tower and some parking structures looking in the other direction.
We probably spent quite a bit of time in this area, especially noticing other things like abstract statues of a group of folks carrying umbrellas as well as another one where there was a group of businessmen.
Next, we continued walking along Michigan Avenue, where we went looking for the famed 900 block. We weren't sure what this was all about so we just kept on walking along the street while paying attention to the tall skyscrapers here. I didn't know what the Sears Tower looked like, but there appeared to be this Water Tower (actually, it was the John Hancock Tower) that was this black trapezoidal tall building where its top floors were now started to get covered in clouds as apparently some fog was rolling in from Lake Michigan.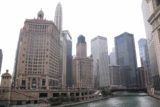 Meanwhile, we also noticed some castle-looking buildings that were apparently from the Chicago Water Works. Plus, there were some other skyscrapers but I honestly couldn't tell one building from the next. So in the end, Julie decided we shouldn't bother with the 360, which was on her list of things to do, but with the clouds rolling in, it seemed like a waste of money on this afternoon.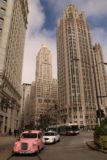 And when we came to that realization, we then made our way back to the nearest mass transit stop, where we then took it back towards the Loop, where we'd eventually be back at the Hyatt Centric at 3:30pm.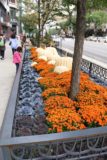 All of us had taken siestas as one point or another, and it wouldn't be until about 6:20pm when we were finally leaving the room once again. It seemed like any hopes of catching the Chicago skyline at twilight was not going to happen, especially if we were going to have dinner first thing. And we ultiately decided on eating at the Cochon Volant again, which we got to at 6:25pm.
This time, we had ourselves an escargot (seems like in the Midwest, they like to cover the escargot with bread and cheese, which was a style we didn't really care for). Then, we had whitefish with capers as well as a duck confit with a couple toast with foie gras moose (nice) as well as some kind of hearty stew with the remainder of the duck. We were stuffed, but we still treated ourselves to smooth creme brulee dessert where they actually used real vanilla bean custard.
At 7:10pm, we were done with the dinner. Now, we could go back to the river walk for night shots of the iconic skyline flanking the Chicago River. Once we got there, we were basically using the bridges and railings to help steady the SLR camera for long exposure night shots. That was fun, especially with some of the skyscrapers putting out purple or orange colors.
When we had our fill of the night time skyline shots at a little before 9pm, we then took the train towards the State/Lake stop, where we then tried to photograph the iconic Chicago Theater. We took a few moments of doing that at around 9:30pm before we finally got back to our room at 9:55pm.
We noticed from some of the TV screens in the Hyatt Centric that the Chicago Cubs had won their one-and-done Wild Card Playoff Baseball Game against the Pittsburgh Pirates. So that created a bit of a buzz in Wrigleyville, which Julie commented that she wondered why there were so many cops out on the streets, and now she knew why.
Still, we weren't anywhere near Wrigley Field though it looked like tomorrow we might be as we'd be seeking out more activities for Tahia to do in addition to some sightseeing that we didn't get a chance to do today.
Now, we could finally call it a night on this very busy day. However, we still had to stay in the moment tomorrow as it looked to be yet another busy day; the last full day of our Midwest trip…
Day 14 (October 8, 2015 – Chicago, Illinois): "Marathon Diversions"
It was 7am when I awoke to the alarm. Having slept at around 2am last night, I probably could've slept in a little longer. But when I saw there were pink clouds kind of hiding behind the high rises around our 21st floor room at the Hyatt Centric, that kind of motivated me to get the camera and take some morning shots to start off the day.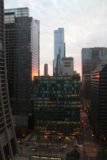 Speaking of pink clouds, it was definitely cloudier this morning than yesterday morning. So we were fearful that our 360 experience this morning might not be worth doing.
Anyways, it was about 8:15am when we went downstairs to the Cochon Volant restaurant again. This time, we had ourselves the avocado toast, kale-mushroom-gruyere omelette, and a nutella waffle. With this being our second time eating breakfast here, we noticed once again that there were lots of business meetings going on around us. Indeed, it seemed like we were underdressed here as most of the clientelle were dressed like what my co-workers would refer to as "ballers". In any case, the food was delicious, and by 9am, we were done eating and ready to start the day.
We went through the familiar transit lines, and by 9:45am, we made it to the 360 at the John Hancock Tower. This time, as we looked up towards the top of the building, we could clearly see that there were no clouds around. So for sure, we were going to make the visit up to the observation deck.
Once we paid the money to get in (probably close to $50), we then went through a slow moving queue mostly because they made everyone go through some photo booth. Boy were they really making sure the captive audience was going to get the sell on. In any case, we had no intention of buying any of these green screen photos so we just sucked it up and then eventually made our way to the elevator going up to the 94th floor.
Once at the top of the elevator, we were now on the observation deck, which was indoors. And so we got to look in all directions over the city of Chicago. Perhaps the most compelling views were towards the north where the morning light was perfect for looking down at the beaches against Lake Michigan just to the north of the downtown of the city. Looking kind of towards the sun, we were looking down at the impressive skyscrapers along Michigan Avenue.
We also saw in one section of the observation floor that there was a sky walk area, which was really nothing more than an indoor part with a netting instead of windows, which allowed us to hear the sounds of the city. In an adjacent section, there was this thing called "Tilt", which consisted of people leaning against a window as it tilted and allowed the riders to look right down at the ground through the tilting window.
It seemed kind of gimmicky, and we wouldn't bother with it.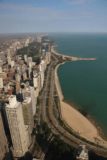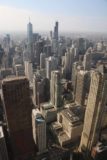 So with nothing else left to do up at the 360, we were back down at street level at 10:35am. We then walked towards Downtown Dogs thinking that we might go for a Chicago Dog before eating at Eataly. But it turned out that we were too early (it was 10:50am when they didn't open until 11am) to eat at the Downtown Dogs, and we wound up continuing our walk towards Eataly.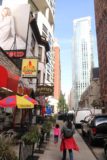 We got to Eataly at 11:10am, and it was clear that we had beaten the rush. There was a huge food court on the second floor, and we ended up eating at this area called La Pizza, where we got ourselves a Napolitano-style pizza as well as some mini foldover raviolis.
After having this meal, we then went back downstairs where we each got ourselves a gelato at 11:55am. By 12:10pm, we were finally done with the gelato and we then decided to head back to our room at the Hyatt in order to check in our flight since we had forgotten to do it earlier this morning.
We got back to our room at 12:50pm, and fortunately, we were able to change my seats so we all could sit on the same row. It was just that we were all separated as we were now assigned in seats A, C, and D. But we could just have Tahia sit in B and give someone assigned that seat our aisle seat on D. So we were pretty certain that we'd all be sitting together.
Once that was done, we were headed back downstairs at 1pm. We were at the blue line stop near Monroe, but it seemed to take forever for an O'Hare train to show up. In fact, it wasn't until about 1:40pm that we had finally seen a train show up. I don't know what the deal with these blue line trains were, but they always seemed to take at a minimum of 15 minutes or longer.
So it wouldn't be until about 2:30pm when we had finally arrived at the Field Museum. We had to take the Blue Line to the Orange Line, which then allowed us to get all the way to the Roosevelt stop. From there, we had walked quite a ways to the Field Museum, but that was when we started to notice fencings and infrastructure being set up for the Chicago Marathon that was taking place this weekend.
From the Field Museum North Entrance, we could see part of Lake Michigan in the distance. There was also the Adler Planetarium as well as a nice garden area. But with time running out on this day (Julie still wanted to see the Art Institute later on), we then went into the Field Museum, pay the near $50 in admission for all three of us, and then promptly start exploring the exhibits that didn't require us special tickets for the "special exhibits".
We noticed while waiting in the queue to pay and get into the museum itself that the screens were sneaky about not even mentioning the basic entrance rates as they only revealed the Discovery Pass and the All Access Pass or something like that. It was only because we had done research on-line that we knew there was a basic ticket. Kind of unethical if you ask us.
Anyways, we then started with the Egyptian exhibit before checking out the Children's Play Lab just before their last entry cutoff at 3pm. Then, we checked out the really neat Evolving Earth exhibit, which walked us through the history of life on the planet while also walking through six mass extinctions, where the sixth one was the one that's going on right now as it's caused by humans.
Julie found the exhibit to be quite informative as she hadn't been aware of multiple mass extinctions in the evolution of life. So she got just as much out of this experience as Tahia had gotten, I bet.
At 3:50pm, we were done with the exhibit, and soon thereafter, we left the Field Museum.
The afternoon skies were now a bit cloudier though it was still on the warm side. We then decided to walk towards the Art Institute though Tahia was really looking forward to playing in the playground at the Maggie Daley Park (the same one we had played at yesterday morning). However, we wound up walking at least over a mile or more as we had to go around the marathon setup work-related closures.
Along the way, we had finally found the Buckingham Fountain though it was not running (and it hadn't been running since September 26). It was said to be a seasonal stoppage of water, but there also seemed to be some work going on. That was a shame since there were nice skyline views with the fountain acting as the foreground.
At 4:45pm, we were near the Art Institute. We decided on doing a divide and conquer approach (like what we did on the very first day of our trip in Minneapolis) so Julie went to the museum on her own while Tahia and I returned to the Maggie Daley Park. We spent some time doing all of the giant slides (including one that we hadn't done yesterday just to the corner beyond the Brooklyn Bridge-like apparatus) before Tahia spent the majority of her time on the ship while interacting with other kids.
By about 5:30pm, Julie texted us that she was done with the museum. So now we were leaving the park and rejoining Julie a few minutes later. At 6:05pm, we would eventually make it to Gino's East, which was our last try at Chicago Deep Dish Pizza since we weren't very impressed with Lou Malnati's yesterday. We were hoping that at least the pizza here would be saucier.
Anyways, I had resigned myself to the fact that we weren't going to get twilight river walk shots as the twilight hour was pretty much now. And sure enough, by 7:30pm, we were finally done with dinner though it seemed that our pizza took forever to get out (it seemed to be way longer than the requisite 45 minutes for the Chicago Deep Dish).
At least this pizza was saucier than Lou's as we had hoped, but it wasn't as saucy as the Tony's Pizza in Fullerton that we recalled having back at home. And when we left the restaurant, it was dark outside so for sure there'd be no more checking out the river walk.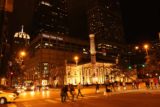 On our way to the Chicago Station stop, we tried some Chicago Dogs at Downtown Dog, which was ok. Their dogs came with a bag of potato chips though none of us had the room to eat it. So we brought it along thinking that it might have use when we're on the plane tomorrow.
As we were about to cross the street right before the stairs leading down to the subway, there was a beggar that we had passed by. We had seen a lot of these throughout both Cleveland, Indianapolis, and especially Chicago. We couldn't have stopped for every person and given something away for we'd have nothing left if we stood by the principle of leaving no one without anything. In a way, it's kind of a damning testament to the system we have that we can't take care of our own or have a system that ensures everyone lives within their means and you don't have a system that continues to concentrate wealth to the very few who also get to call the shots.
In any case, Julie had the bright idea of having Tahia hand over the bag of potato chips to the homeless person. His reaction to Tahia's gesture was priceless. He smiled widely, and called Tahia "Little Princess." He gladly took the potato chips and kept smiling as we said good-bye to each other.
There was a lesson learned here. While Tahia was a little apprehensive at first, in the end, we asked Tahia how she felt after doing the selfless gesture to the homeless person. She said it felt "good" and we didn't even put the words in her mouth. She came up with the answer herself. So there was a fundamental principle behind helping people and making them feel better. It wound up making her feel good about herself, and this was one of those life lessons you simply don't get in the classroom. Who knows what other intangible things she picked up on this trip?
By 7:50pm, we took the red line and some connecting lines towards the Randolph/Wabash stop so we could indulge in our last dessert at Mrs Fields cookies. We opted not to have a dessert at Gino's and we figured that we ought to indulge our sweet tooth this one last time before ending off our trip as this was our final evening.
When we left Mrs Fields cookies, it started to rain. And by 8:50pm, we had finally made it back to the room. On the walk back from the Monroe Station to the Hyatt Centric, it was now definitely raining a bit harder. But at least we didn't have far to walk, and we could finally call it a day as we were quite tired from this very full and busy day of sightseeing. I guess with this being our last full day on this trip (let alone Chicago), we made it count as best as we could…
Day 15 (October 9, 2015 – Los Angeles, California): "Heavy Lifting"
It was 4am when we awoke to our alarms. We wanted to get the early start because we knew that there was some final packing to wrap up on before checking out of the hotel, then we still had to catch the blue line to O'Hare before dealing with the usual airport activities of getting boarding passes as well as getting through security.
And despite the early start, Tahia even brought herself to get up as she was really looking forward to going home. She was clearly homesick by this part of the trip, and she was eager to see grandma again.
By 5:05am, we were done checking out of the hotel as it had served us well for the last three nights, and then we lugged our stuff to the Monroe Station. We refused the taxi offer since we were quite comfortable with taking mass transit at this point, and we had already paid for our relatively cheap three-day CTA pass.
The thing that I was anxious about was having to lug our luggages down several flights of stairs since we were quite aware that the Monroe Station didn't have elevators or escalators going down. Plus, the nearby Jackson Station elevators were said to be down.
Still, I managed to get down the steps no problem, and then we had to get through the second test – seeing if our CTA passes still worked. They did, so for certain, our 3-day pass purchase was well worth it.
After going down another long flight of steps with the luggage, we then boarded the next blue line train to O'Hare which came in less than five minutes (pretty fast for a change).
And we'd take the blue line train for the next 18 stops to the O'Hare Airport, where it was still dark outside. Once we got to the airport at Terminal 2, we then made our way past a busker to Terminal 3, where we were quite alarmed at how many people were already in the terminal.
At first, we saw giant queues that we thought were for international departures. But after cutting through so we could check in a bag and get our boarding passes printed out, we then realized that these giant queues were really for the TSA security line!
This line was pretty much all chaos as apparently, all of the possible entrances to the concourses for G,H,J,K gates had big lines and they were pretty much touching each other. The line we ended up on was actually snaking before it even got to the controlled snaking section. There was a poor guy in front of us who was worried he was going to miss his 6:45am flight, and he got no sympathy from the American Airlines workers here as she told him, "Hun, you're supposed to be here 3 hours before your departure."
It was 6:05am when we first got into the back of the security line. We saw the sea of humanity before us, and we could also see a lot of confused looks on peoples' faces from passer-bys to those in line wondering where the line started or even continued. Clearly, the attention to line management was lacking here.
When we got to a part of the line where it appeared that people either continued forward or followed the very long S formation, we opted to go for the S formation thinking that those who went forward were unknowingly hitting a bottleneck. With the way the line management was going, I wasn't going to take that chance even though Julie questioned me why I didn't follow those people. That guy that was in front of us actually did follow that informal line so I guess he was taking his chances. I guess he really had nothing to lose and it was worth the try if doing it the way you're supposed to do it would mean he'd miss his flight anyways.
And after all the chaos and confusion, we still stuck to our line though we frequently peered back to see how that other line was doing. At one point, I started to see a stream of people from there continuing on the S like they were supposed to from the outset. And that poor guy in front of us was now way behind us. So I guess we did make the right decision after all.
At 6:55am, we had finally gotten through security. I guess it looked a lot worse than it turned out to be as we were through in about 50 minutes. It was still something that we didn't see all that often (and certainly not as disorganized as what we saw this morning), but now we still had nearly 90 minutes before boarding time (at 8:15am) so we took our time looking to get some decent breakfast.
Julie made the mistake of spending too much at this bagel place, where the quality was not very good. However, as we got further into the concourse at 7:30am, Julie then found and Yelped this place called Tortas Frontera by Rick Bayless, where there were really positive reviews, and we went ahead and bought this food even though we had enough for brekkie from that subpar bagel place.
It turned out that the chorizo sandwich we got was very good. I really wished we could've bought another sandwich of a different flavor in lieu of the bagels. But in any case, we were satisfied with our food, and then by 7:55am, we had finally made it to our gate at H18. And about 30 minutes later at 8:25am, we were finally on the plane. Even though American Airlines didn't do priority boarding (not good for families), we still had no issue in terms of us sitting together and letting the staff hand-check my carry-on luggage since we still to check in Julie's larger luggage anyways so there was no time savings in not doing this.
When we were on the plane, the first thing that Tahia noticed was that there was no personal screen. She asked, "Where's the TV?", as she was obviously used to the Delta Airlines experience. I guess the takeaway from this flying experience was that perhaps we should accrue more Delta SkyMiles and try not to be too dependent on American Miles. When it comes to these things, it's hard to stay loyal to a carrier, but for sure we're not real fond of American Airlines even though we had been pretty loyal to them over the past decade.
The flight pretty much took off on time at around 8:45am, and no one bothered us about the middle seat that we weren't assigned between A and C. In fact, the guy who was probably supposed to sit there didn't even bother asking and just took the aisle seat that we vacated. Good deal for everyone all around I guess.
At 10:45am, the plane had finally landed. Apparently, it was 40 minutes versus the scheduled arrival time of 11:25am. That's quite rare. But it turned out (unsurprisingly) that most of the waiting was for the airport parking shuttle from LAX to where we had parked the car. It's the most frustrating thing about coming home, and there's really no excuse for not having mass transit connecting to the airport like our Chicago O'Hare experience earlier this morning.
I guess that's a pretty damning reflection of just how our politicians or city planners cave into special interests. Money talks in a greedy capitalistic system. And there's really not much we can do about it.
Anyways, it was 12:15pm when we were finally home. Tahia had missed grandma dearly, and she was thoroughly excited to see her. And now begins the work after the vacation, where we'd have to clean up and tidy our things while also getting caught up on the stuff we missed in these last two weeks. Ah, fun times…
Visitor Comments:
Got something you'd like to share or say to keep the conversation going? Feel free to leave a comment below...
No users have replied to the content on this page