Jamaica Waterfalls are abundant in this island full of freshwater rivers radiating out from its lush and mountainous interior. In fact, many of these rivers are used as political boundaries between the island's 13 or so parishes (kind of like municipalities).
[expand title="MORE" swaptitle="LESS" trigpos="below"]
The falls in this island are also world famous for their ability to let you play in them. Of all the places we've been to around the world, it seems that the greatest concentration of waterfalls you can play in (or even climb) are packed in this island nation. Such waterfalls that fall in this category are Dunn's River Falls and YS Falls. Much of this probably has to do with its bounty of limestone.
There are also less touristed pristine waterfalls where you'll have to earn your visit. We were fortunate to track down one of these waterfalls in Tacky Falls (though I'm sure there's many more you can find with persistent searching and asking around).
But in addition to the country's waterfalls, Jamaica has an influential and dance-inducing reggae music scene, jerk spices and sauces that go well with most fishes and meats, and some of the world's most scenic beaches and reefs.
There's much to see and do here, and as you can see from our humble sampling of waterfalls, there's much that we (let alone most visitors) haven't seen. For doing so requires you to get out of the resorts and go on a bit of an adventure where you might see for yourself the richness of Jamaica and its people.
[/expand]
User-submitted Waterfalls from this Country
No users have submitted a waterfall writeup
Visitor Comments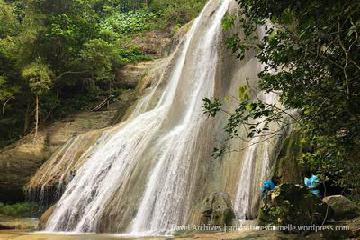 Excited by your Jamaican waterfall review
December 22, 2017 2:03 am
-
I'm Jamaican so it makes me really happy to see my tiny island home so well represented here. As you say, you did a sampling of our falls because your time here was limited I'm sure. It's not just visitors who miss out on our falls but even the locals ourselves! Certainly we see less… ...Read More
Share your thoughts about what you've read on this page
You must be logged in to submit content. Refresh this page after you've logged in.
[ultimatemember_social_login id=75766]