Day 5 (April 22, 2019 – San Jose, California): "All About The Redwoods"
It was 5:20am when I awoke. I spent the better part of the early morning cleaning Julie's Pyrexes and utensils as well as pressure cooker. I also wrapped up my packing.
Julie eventually got up at 6am and that was when we were moving quickly as now it was more than just me doing the preparations to leave the Hyatt and San Francisco in general.
I had aspirations of getting an earlier start by leaving by 6am, but I had to settle for leaving at 7:10am. Our checkout bill was $161 for the parking and something that Julie bought on the property. It was still a good value considering that we had used our Hyatt points and that we were so well situated. Plus, the in-and-out privileges at will certainly helped with my flexibility in getting hikes done.
We'd definitely do this again if given the chance. Perhaps, we could finally get to experience the rest of Frisco that we didn't get to do this time around.
Anyways, once again, the morning was beautiful in the city by the bay. It was too bad that we had to leave because we could have easily enjoyed the scenery here once more.
But alas, today was the first day back at work from the Easter Weekend as well as Spring Break for a lot of people, and so we sought to avoid a lot of that morning rush hour by taking the scenic route through Pacifica and Half Moon Bay en route to Pomponio Falls.
I had originally thought about visiting Tiptoe Falls, but I figured that it was going to be tight if I tried to fit in too many things into today. And that tiny waterfall had to be sacrificed.
The drive south along Hwy 1 was very scenic this time around, unlike two days ago when it was raining (or at least drizzling hard) in Pacifica as I was doing Brooks Falls.
The drive was pretty uneventful until we headed inland towards La Honda. Then, we followed the GPS
, which led us to the entrance of Memorial County Park. We got there at about 9:15am.
The entrance fee here was $6 per vehicle. And after taking care of the self-help envelope business, we then tried to follow Ann Marie Brown
's directions as we searched for Pomponio Falls.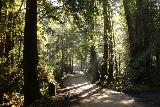 Her instructions had us going to the Sequoia Flat Campground, but we saw that there was a gate blocking access to that campground. So after driving around the Azalea Campground, we eventually circled back to the road closure, and then parked at the nearest campsite, which was the Azalea Campsite 35.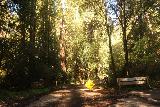 After taking about ten minutes to get ready, we finally walked past the closure gate and then descended the road towards a concrete ford or bridge over Pescadero Creek.
Along the way, we saw attractive god beams as the sun was piercing through some of the humidity caused by the cool and crisp morning air penetrating the forest canopy caused by the impressively tall coastal redwood trees.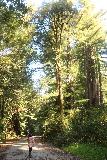 This place had a real serene calm about it, and we wondered what a nice place to camp this would be, even though there didn't seem to be much in the way of waterfalls besides Pomponio Falls to keep us here. But if we were camping for the sake of camping, why not here?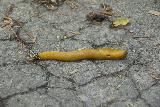 We eventually went up the road and into the empty Sequoia Flat Campground. Ann Marie Brown
had us look for some trail near campsite 12, but it turned out that whatever trail we were looking for was nowhere to be found.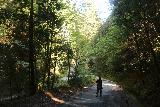 Perhaps things have changed over the past 20 years or so and thus perhaps this trail no longer exists or campsite 12 was now something else.
So after walking around Sequoia Flat Campground in a futile manner, we then headed back to the concrete ford over Pescadero Creek. Then, upon inspecting the trail descriptions more closely, we saw a faint and broken concrete path along Pescadero Creek.
It looked very slippery and dicey, and it barely passed as a valid trail.
Nonetheless, we went downstream from the concrete ford and pursued the waterfall. We could definitely hear it and see a small bit of it from the Sequoia Campground so we knew that this scramble wasn't far.
But it didn't take long before Julie and Tahia saw a badly eroded section of the trail that was very difficult to get across without likely taking a spill. Even though the dropoff was maybe 10ft or so, it was still high enough to sustain an injury.
So they decided not to go further, and I took a lower approach which involved me going right through some foliage in order to get to the other side of the badly eroded section.
From there, I managed to follow the trail the rest of the way to the Pomponio Falls with the bridge above it that Ann Marie Brown talked about. I got there at 10:20am, and this excursion definitely took much more time than I had anticipated.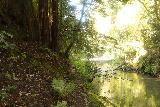 Maybe in hindsight, I could have brought Chacos and something I could get wet in, then wade my way downstream from Pescadero Creek to get to Pomponio Falls. The dry land portion just seemed to dicey. I was also curious about getting up to the footbridge, but with this falls being so small, I wasn't interested in spending any more time nor taking any more risks.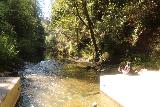 We still had to get to Big Basin Redwoods State Park before checking into San Jose today.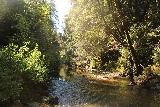 Upon returning to the concrete ford, I actually managed to get across the dicey slippery eroded part, but not before taking one slip and cutting my thumb.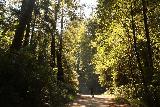 Anyways, when I rejoined Julie and Tahia (who were busy throwing rocks at the concrete ford into Pescadero Creek), Julie then put on a bandage for me to keep that wound from getting infected.
By 10:50am, we returned to the car and then proceeded to drive to the Big Basin Redwoods, which apparently was only 8 miles as the crow flies according to the GPS
. But I could tell that it predicted that it would take at least an hour to get there given all the curvy roads.
Sure enough, the drive not only was slow, but it was narrow and winding as we were cutting across to the Hwy 9. Unfortunately, Tahia was getting car sick, and she almost hurled until we luckily got to straighter roads when we got to the Hwy 9.
After going south a bit on this road, we then continued on the 239 into the Big Basin Way, which was once again narrow and winding. But this time, there were quite a few cars in front of us so we pretty much followed the caravan of cars into the parking lot by the Park Headquarters. We got there at about 12:10pm.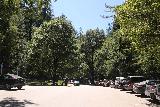 After paying $10 for the vehicle day use fee, we then found parking that I knew would eventually be shaded. It was somewhat warm on this day as the sun was bright and out in full effect.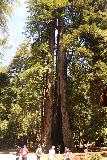 The last time Julie and I were here, it was under cloudy skies. This time around, there were lots of shadows due to the sun. Sometimes I wondered if this place would be better under cloudy skies especially from a photography standpoint.
Anyways, it took us about 20 minutes before we finally got geared up and ready to go. I knew that there'd be no chance we'd be doing the Berry Creek Falls and Golden Falls Loop on this day (I had to save that for my solo hike tomorrow), but we could at least do the Sempervirens Falls hike, which was said to be 3.4 miles round trip.
I was hoping there would be a shorter and easier way to visit the falls, but the lady said we had to walk from the park headquarters and follow the Sequoia Trail to get there. So I knew at that point that we were probably going to spend at least two hours or more.
So we followed the Sequoia Trail, which passed amongst many giant coastal redwood trees. Some of them had hollow bottoms that you could walk through like a tunnel though Tahia was too scared to pass through one of the more obvious ones.
The trail then undulated as well as gone through some muddy patches as it paralleled the park road. Given the quantity of vehicles driving by, we wondered if there was a way to still drive closer to the falls instead of hiking such a long distance.
Regardless, we still enjoyed the trail as Tahia and I were noticing a lot of the coastal redwoods with blackened trunks as well as some leaning or toppling over (or at least on the verge of doing so).
That was a teaching moment for Tahia since redwood trees like these could be 2,000 years old or greater. Since trees like these had to have seen multiple wildfires, we realized that such trees must have some degree of fire resistance. And that the primary way these trees lose their life is by toppling over due to shallow roots and being top heavy from continuing to grow taller.
Some managed to die by lightning strike as we did notice a few without tree tops.
Anyways, the trail eventually entered the Watashi Campground, which would have been a much more convenient parking spot. However, the gate to that campground was closed, and the parking spaces were dedicated or assigned to campsites anyways.
So we kept walking, and eventually after 0.2 miles from the campground, we finally descended and crossed the road towards the signed Sempervirens Falls trailhead. Actually, we saw one vehicle pull up where there were 15-minutes parking only spots.
And apparently that was what they did. I even wondered if they drove there, didn't pay the park fees, did the falls, then took off.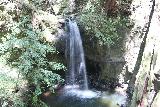 Regardless, we managed to finally arrive at the Sempervirens Falls at 2pm, which was way longer than anticipated. Still, we had it momentarily to ourselves before a big group of people started showing up.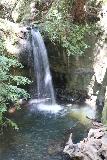 The thing with this falls was that it was probably best seen under overcast skies. With the sun, there were too many harsh shadows and blow-out light-exposed spots. So I'm sure that didn't make for the best photos, but at least we finally got to see this waterfall that we hadn't seen before.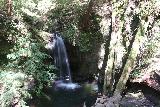 After having our fill of this spot, we then decided to walk on the road instead of taking the Sequoia Trail back.
At least we knew that walking along the road would be even and gently downhill so it would go much faster. We also wouldn't have to deal with mud.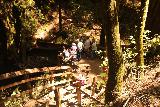 We then got to a junction with the main park road. However, that road seemed to support slightly higher speed of traffic and still didn't have a legitimate shoulder to walk along.
So we decided to get past Loos Grove and rejoin the Sequoia Trail, which was a bit more uphill than the roads.
Finally at about 2:55pm, we finally returned to the parking lot at the park headquarters, where we now could finally head to San Jose to check in while also unwind on the day.
However, I kind of suspected that there was going to be quite a bit of a drive plus the possibility of getting stuck in rush hour traffic.
So once we got phone reception after an extensive mountainous drive towards Saratoga, we finally were able to route to this Rooster and Rice place that Julie wanted to try out (kind of a Thai take on something like Hainan Chicken Rice).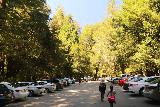 It was definitely going to be a lunner (i.e. a late lunch that could also double as dinner).
By 4:20pm, we'd finally arrive at the Rooster and Rice place while it also shared the same plaza as Sprouts, which was quite convenient. But as we got out of the car, the first thing we noticed was how hot it was in San Jose.
The temperatures had to have easily been in the 80s, which was definitely not the case at the Big Basin Redwoods State Park nor was it anywhere near this warm in San Francisco and Marin County.
The chicken and rice along with the brown sauce which was thick with ginger were quite good. We even tried crispy chicken skins for $5.
All in all, this place hit the spot. And then we had to do some grocery shopping since Julie now could finally have a full kitchen and full sized refrigerator.
So after finishing our meal at 5pm, we then got done with all the errands, and we finally checked into the Hyatt House in Santa Clara at 6pm. It took us some time to get all the produce and the stuff that needed cooling into the freezer and fridge.
And eventually by 6:10pm, we finally got settled. We still had to make one last grocery run at Whole Paycheck since Julie still couldn't find a few things in Sprouts. But when all was said and done, we were finally in the Hyatt House for good at 7:15pm.
Then, we spent about 30 minutes in the pool so Tahia could have her fill of the swimming facilities. And finally after 8pm, we were back in the room for good for a late dinner.
And all in all, we finally had a family day out in Nature, and in this particular day, it was all about enjoying such moments in the presence of majestic coastal redwood trees.
Tomorrow, I was going to be on my own back in the Big Basin Redwoods while Julie and Tahia would remain in San Jose on their own. We'd then meet up with Julie's good friend Kim for dinner. And so the plan was set, and it was time to unwind for the moment…
Visitor Comments:
Got something you'd like to share or say to keep the conversation going? Feel free to leave a comment below...
No users have replied to the content on this page