Day 4 (April 21, 2019 – San Francisco, California): "A Bit Of Deja Vu"
It was about 5:15am when I awoke to the alarm. I spent about an hour getting caught up on the blogging since I was too tired to finish it last night.
So that put me to about 6:30am when I finally got some chips and apples as well as filling up on water to get moving on the pair of hikes that I was about to do.
Knowing that Tahia and Julie had no interest in doing the hikes nor waking up early, I was once again on my own.
In any case, I proceeded with the usual routine of getting out of the garage and following Marina Drive towards the US101 right before the Golden Gate Bridge.
I then followed the GPS
directions all the way to an offramp near Fairfax, which then headed briefly west on St Francis Drake Blvd before going left onto the Fairfax-Bolinas Rd.
Then, I followed this curvy and narrow road for a bit (passing by at least three deer en route, especially near the gold course) before finally getting into the Mt Tamalpais Watershed area.
Eventually at about 7:20am, I made it to the Cataract Falls Trailhead at the familiar hairpin turn. I was about the third car that showed up this early in the morning, and there was a bit of a sense of deja vu since the last time I was here was with Julie back in 2010 in just as good weather.
The morning was cool comfortable hiking weather, and after gearing up, I proceeded to go onto the familiar hike, which skirted Alpine Lake before getting to the artificial lake's headwaters, where the numerous waterfalls of Cataract Falls ultimately fed into.
After the lake at 7:45am, the trail then started to encounter the first of the cascades that made up the Cataract Falls. This was also the time when the trail also started to climb steeply and relentlessly.
Along the way, I encountered at least three significant cascades kind of in succession. Then, I crossed a bridge and did another climb where I saw a fourth waterfall spilling into an attractive plunge pool.
Beyond that falls, the trail started to flatten out (or at least the climb became less arduous). So far, I saw just one couple that was on their way back down at this point. So I clearly wasn't alone and I'd imagine they were one of the two vehicles that were already at the trailhead before me.
At 8:30am, and eventually, I encountered what I thought was the fifth waterfall. This particular one was secluded and off the main trail.
Ten minutes later, I encountered what I thought was the sixth Cataract Falls. This one looked like the trail around this falls was re-routed. It appeared that the old trail used to pass by this waterfall, but now the official trail bypassed it.
What was left of the views was something quite overgrown.
Eventually at 8:50am, I reached what I thought to be the seventh Cataract Falls. This particular one seemed to only be visible from afar. There was a sloping cascade then disjoined cascades fronting a set of steps leading to a dead-end with a view of it.
Beyond this waterfall, the trail climbed once again as it ultimately junctioned with the High Marsh Trail. I kept to the right to proceed above the last of the Cataract Falls, then continued the next 0.2 miles to get to the Laurell Dell Picnic Area.
It was said to be about 1.6 miles round trip to get from the Cascade Trail to Laurel Dell. Beyond the dell and its half-dozen picnic tables by the serene creek, there was a four-way trail junction. I didn't pursue any of those trails as I was quite content with reeturning to the dell and having a picnic by myself.
It was about 9am when I was enjoying the babbling brook supplying the calming sounds as I was munching on an apple and some Siete Chips. The scene was so calming and tranquil that I could have lingered here for a lot longer if I wanted to.
I saw one couple coming back from beyond the Dell, and when I started to head back down at 9:15am, I saw a couple more hiking parties – one eating at a different table while another was with a dog and going beyond the dell.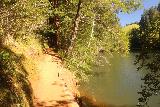 In returning to the trailhead, it was fairly smooth going because the hike back was mostly downhill. However, I did notice a waterfall I didn't notice earlier that was hidden from the trail, which I dubbed Cataract Falls 5.5 (I was running out of integers to name such falls).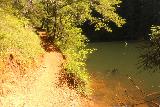 It really seemed like on my return hike that there were way more people heading up than coming down. Boy was I glad I had my early start.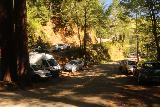 In any case, I ultimately returned to the trailhead parking at the hairpin bend. By 10:05am, I was back at the trailhead. There was certainly many more cars and people at the trailhead at this point.
With the good progress, I then went back the way I came for about four miles, where I then found plenty of parking space for the Azalea Hill Trailhead. That was a bit of a surprise to me considering it was 10:20am on a Sunday (Easter Sunday no less), but then again, I wasn't complaining.
Having done this particular hike with Julie before (just like with Cataract Falls), I knew what I was getting myself into.
But without Julie with me, I could go very quickly or in a more disciplined manner.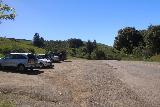 So knowing that this trailhead was close to the previous trailhead, I didn't need to change shoes. I also had the backpack pretty much packed and geared up for this excursion. And I used my other water bottle, which was nearly full.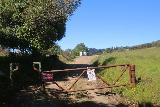 I then crossed the road and proceed up the Pine Mountain Road, which was a beat up 4wd road that was closed to public vehicles (not that anyone was going to drive this road anyways).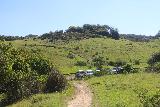 It was also the start of a pretty long uphill that was exposed to the sun, especially on a day like today which was pretty warm with a bit less wind than yesterday.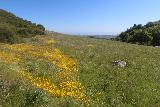 At least I took advantage of the open air and proximity to the golf course below to place a cell phone call with Julie. I suspected that I'd be back in San Francisco earlier than anticipated and I was hoping that we could do stuff together for the rest of this Sunday afternoon.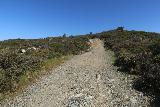 I even offered up the suggestion for them to Uber to the Marin Headlands and I'd meet them there to get that sought after signature view that Julie wanted to re-experience (she didn't recall our original experience).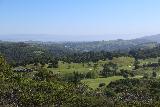 Anyways, Julie said that she wasn't feeling well from histamine reactions that seemed to have been the worst it had even been. We suspected it came from the Chinese food yesterday. Perhaps Julie's FODMAPs count exceeded with eating the Trader Joe's food regarding the collared greens for dinner as well.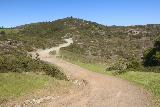 So I had the feeling that when I would return to San Francisco, we weren't going to do much on this day, which was a shame because it was today was such a beautiful day and we should experience Frisco not from the hotel room.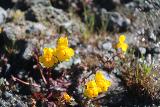 I also had it in my mind that perhaps I should forego doing the Marin Headlands again at the conclusion of this hike.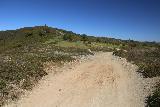 I spotted a few wildflowers flanking the Pine Mountain Road, including more California Poppies. Plus, I caught glimpses of the North Bay as well as the Richmond Bridge way in the distance.
The Pine Mountain Road part of the hike was definitely relentless. But knowing where I needed to go and what it took to get there, it didn't take long before I reached the apex of the hike near the Oat Hill Road junction. I got there at about 11am.
Next, I descended the Oat Hill Road for about five minutes before reaching the signed Carson Falls Trail junction. Along the way, I noticed some more attractive wildflowers en route.
I also wondered if there were shorter trails leading to this Carson Falls Trail. GoogleMaps stated that the Liberty Trail was one such shorter trail to get here. I wasn't sure what else was along the Oat Hill Road had I kept going.
Anyways, I continued the descent on the much narrower Carson Falls Trail. It descended a few switchbacks under the shade of trees. Then it went back out in the open again where it then junctioned with a trail leading to the Bolinas Road just a mile away.
I wondered where that trailhead was because I didn't recall running into it nor seeing it on the maps.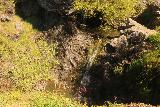 Regardless, the trail then went back into the trees briefly before emerging at the top of Carson Falls. And like the first time we came here in 2010, this falls wasn't flowing that well.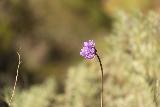 In fact, it was probably flowing thinner than that first time we were here.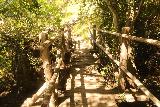 After having my fill of this top part, I then continued past a bridge and descended alongside the Carson Falls before I descended a spur path leading to a frontal view of one of the upper tiers of the Carson Falls.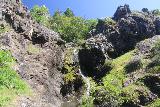 And like before, I looked downstream where there were still more tiers though I could only see the brink.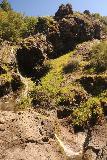 I then went downhill briefly before reaching the familiar lookout of the main part of the Carson Falls, which had the tallest two drops in succession.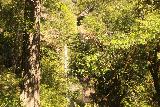 However, unlike the last time Julie and I were here, this lookout was a lot more overgrown than before. So this view wasn't as satisfying as that first time we were here back in 2010.
Plus, there wasn't a decent place to sit down and have a picnic, so I went back up to the trail junction by the spur with the first frontal view of Carson Falls. That was where I sat on some steps and let hikers walk around me as I was snacking on an apple and more Siete chips.
I had my lunch at 11:45am, and I resumed my hike at 12pm. This was right around the time when there were even more hikers making their way down. That said, they seemed to continue their hike further downstream, but my memories of doing that was such that there wasn't anything worth stopping for way downstream of Carson Falls. So I wasn't going to bother.
By 12:15pm, I sweated my way back up to the Oat Hill Road. I knew this wasn't going to be comfortable considering that I had to descend to get down to Carson Falls so I had to get back all that elevation gain.
However, this wasn't the end of the climb. I still had to take another five minutes to get back to the Pine Mountain Road.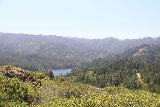 Then, after a brief incline, I finally reached the apex and the rest of the way was pretty much all downhill to the Azalea Hill Trailhead.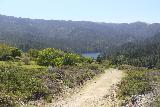 Finally at 12:50pm, I returned to the car. By this time, the Azalea Hill Trailhead was completely full.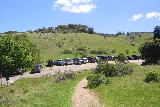 I also paused to check out the North Bay views as well as slightly better lighting to peer towards the Richmond Bridge.
Towards the end of the hike, I also saw parts of the Alpine Lake, which was what I saw earlier this morning en route to the Cataract Falls.
After cooling off and driving back towards Fairfax, I had already decided to head straight back to San Francisco while skipping the Marin Headlands. The traffic to get back wasn't bad, and eventually at 1:45pm, I made it back to the Anchorage Parking Structure by the Fisherman's Wharf.
When I returned to the room, Julie and Tahia had already had their lunch, but Julie was resting.
I ate some chicken legs left over while Tahia was busy watching YouTube videos. She was dressed in a swimsuit and it was clear that she was really looking forward to playing in the pool.
Unfortunately, all morning long, she never got the chance to play in the pool so we'd have to eat into our SF enjoyment time in order to accommodate her. On top of that, Julie wanted me to buy stuff for her at the Trader Joe's before they close for the day.
When we got to the Trader Joe's, Tahia was busy asking me about the sweets she'd see on the shelves.
Other strangers overhead me telling Tahia that she wouldn't want to waste her sugar quota on junk like this. And that instead, if she's gonna eat junk, she mind as well make it count.
The cashier gave me a knowing nod and a smile, and a lady behind us told Tahia that "You're gonna thank your Daddy when you grow up".
So with that, we got back to the room while Julie was done heating up broccoli for me. I gave Tahia a choice of swimming for 15 minutes now or waiting until after dinner where she can swim for an hour.
She opted for the 15 minutes now. And thus, I brought the food to the pool and ate the rest of my lunch (with some banana chip snacks) while Tahia was busy swimming between 3pm and 3:15pm.
When she was done with that, we got back up to the room at 3:20pm. Then, there was a little more dilly dallying before we finally left the room at 3:55pm. It really felt like we were wasting a perfectly good last day in San Francisco with such a late start…
The first thing we did was to walk towards a classic car bus stop. We intended to take it all the way towards the Bay Bridge area, and then we'd walk all the way back. And that would be how we'd spend our last bit of sightseeing in Frisco.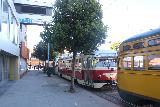 However, at 4:05pm, there were three such classic cars with a lot of people waiting to get on. When one worker finally showed up several minutes later, Julie was asking what was the situation.
And that was when she was getting lectured by the guy about him needing to use the toilet and the Fisherman's Wharf area was the only place where he could do so. And apparently all three drivers (there were three such cars) did the same.
Julie tried to defend herself by saying, "I was just asking a question."
But that driver definitely didn't appreciate the line of questioning. So with that, he waved everyone in. We thought we had to pay in cash for the ride, but this employee didn't seem to care nor check.
So we took this train all the way to around the Pier 1 area. We got off at around 4:20pm.
We weren't quite close enough to the Bay Bridge at that point, so we walked a little further away as we went past the Ferry Marketplace, and then I eventually went forward and took some leading lines shots of the Bay Bridge with the SF Fire Department boat fronting it.
The bridge looked flatter the further away from the bridge we made our shots.
Anyways, after having our fill of the Bay Bridge, we then entered the Ferry Marketplace, where a lot of shops were just closing for the day as it was now past 5pm.
Of the places that were still open, Tahia and I picked up some macarons from Miette, and Julie picked up for us a small helping of ice cream (compliant) that Tahia and I also shared.
It wouldn't be until about 5:30pm when we finally left the Marketplace and we continued walking along the Embarcadero area, which definitely lacked the energy and action Saturday morning.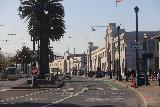 Still, we were spending quality time as a family, and we were getting good exercise while experiencing a part of San Francisco that we didn't get to do before.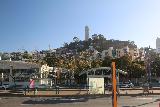 Eventually, we made our way back past the Embarcadero and we then entered the Fisherman's Wharf area.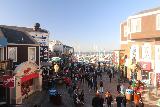 Based on how busy and atmospheric it was here, I really wished that we could have spent more time here earlier on in the trip. After all, we had so many opportunities to do so, but we never really made good on it. In fact, we spent last night at Cannery Row and that was disappointing compared to Fisherman's Wharf.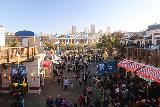 It felt a lot different here than what I recalled back in the day when we'd have bread chowder bowl and there were crab markets throughout. But now, it seemed a bit more developed and touristy, and there were a lot of restaurants back-to-back that sold chain fare. I wondered when this transformation was made because even as recent as about 7 years ago, I didn't recall Fisherman's Wharf being like this.
Regardless, I was getting a happening vibe as I took pictures from the bridges and balconies looking down at all the foot traffic just as the sun was casting longer shadows.
I also managed to get a good view of Alcatraz Island fronted by a marina. I even took an against-the-sun shot of an archway framing some battleship.
At 6:20pm, we then went into a CVS so Julie could pick up some supplements.
And eventually at 6:40pm, we finally returned to the Hyatt Centric. We knew that there'd be no more sightseeing in Frisco especially since we had to pack for our departure to San Jose tomorrow.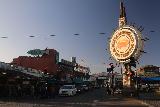 I was anticipating an early departure tomorrow to allow more time for us to get things done before arriving in San Jose. I suspected there wasn't much to do in the city so the greater priority was to get through the waterfall hikes en route as well as at the Big Basin Redwoods State Park.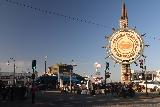 Better to avoid the rush hour traffic since tomorrow would be a Monday.
Meanwhile, Julie prepared her own chicken thighs while she prepare steak and veggies for both Tahia and I. Based on our prior two experiences, eating out just wasn't going to work. So Julie had to take matters into her own hands and prepare her own food so she knows what went into them.
And so ended our time in San Francisco where we had much we wanted to get to experience but didn't – like Alcatraz Island, the Painted Ladies, Lombard Street in the morning, Angel Island, going inside City Hall, and climbing Coit Tower among others.
But at least we knew what to expect in the city now that we finally made a concerted effort to really experience this place. It's like that saying – "Nothing ventured, nothing gained". And we certainly did a venture in our own way over the past four days…
Visitor Comments:
Got something you'd like to share or say to keep the conversation going? Feel free to leave a comment below...
No users have replied to the content on this page