Day 3 (April 20, 2019 – San Francisco, California): "The Urban Charm Equation"
It was about 4:30am when I awoke. Having slept early last night, I felt very well rested.
I took some time to get the blogging and photo selecting that I didn't get around to last night.
Then, by 6:25am, I finally got into the car. It was cold, windy, and very overcast. I swore I even felt a raindrop or two.
Knowing that Julie and Tahia would take a bit of time to get ready for the day, I knew that I could get to Brooks Falls before returning to San Francisco and they'd still be in the hotel room.
The question was whether the dreary morning weather was going to persist for the rest of the day.
Well, the hope was fading rapidly as the drive south towards Pacifica turned out to be nothing but drizzle and even rain (it was hard to tell the difference).
The skies were still a gloomy dark gray, and I was wondering if this was going to be the fate of the weather in San Francisco today, which was not good news considering we were supposed to be doing things as a family on this day.
So the drive south from the Hwy 280 to the Hwy 1 was a scenic coastal drive that would otherwise be very beautiful in more benign weather. But it had a tinge of drama as the skies continued to darken and the droplets continued to grow and be more frequent.
At least I noticed some gas stations, including a Shell that charged at least 20-30 cents less per gallon than the rest of the stations. So I kept a mental note to stop there when returning to San Francisco after the Brooks Falls excursion.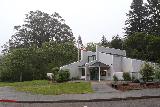 It wouldn't be until about 7:10am when I finally arrived at the San Pedro Valley Park. There was no one manning the entrance booth but there was a park ranger and a couple of parked cars.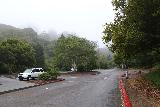 When I finally parked the car, the drizzle was pretty much like rain and I was already starting to get wet. It made me even more pessimistic about touring SF later today, and it made me wonder if I should use today to do the Cataract Falls and Carson Falls hikes instead.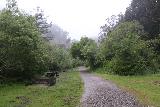 After spending about 15 minutes trying to figure out how to pay with the self-help envelope (the ranger helped me out with that one), and I surrendered the $6 vehicle fee, I then started on the trail to the left of the restrooms.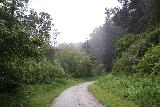 The trail started off in an open valley with some picnic tables to the right side of it. But without much shelter in this open area, the drizzle or rain was definitely making things a bit uncomfortable.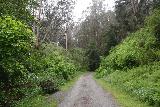 The trail eventually bent to the right (there was a seemingly false trail continuing straight into some side valley that signage had me ignore though I wasn't sure if that was the way to Brooks Falls or not), it then bent again to the left as it started to go up a bend then veer back into the coverage of a forest.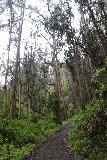 The trail then continued climbing and it started to make me wonder if I had somehow missed Brooks Falls or something because I was already getting the feeling that this trail was going to be more than a mile as I was certain I had already gone at least a half-mile to this point.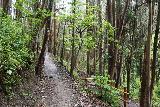 The trail ultimately reached a trail junction stating that the visitor center was 0.4 miles back in the other direction via a different trail (clearly they could be combined into a loop).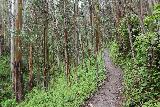 As I proceeded uphill to keep going on the Brooks Creek Trail, I couldn't help but notice some old trail that the authorities here didn't want the public to go on. I wondered if that trail was supposed to get to the Brooks Falls Lookout.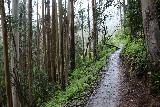 In any case, I proceeded up the main trail, and the higher the trail went, the more I was questioning whether I did indeed make the right choice in terms of seeing Brooks Falls.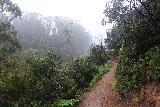 Well, it turned out that as the trail continued its climb as it passed through a gully then hugged an eroding ledge, I was still having doubts about whether I'd find Brooks Falls at all.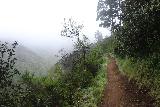 Indeed, the trail kept climbing and I'd eventually get to a clearing area with a bench at about 8am. It was in this spot that I finally started to see the thin flow of Brooks Falls across the canyon.
With the increasing drizzle now seeming turning into bona-fide rain, as well as the low clouds threatening to block the view of Brooks Falls (it was already obscuring the uppermost tiers of Brooks Falls), this was quite the disappointment considering the fee I had to pay, and the non-trivial uphill trek to get up here.
As I was busy taking pictures and videos while also trying to manage the wet camera, a couple of Korean seniors passed by me. Clearly, they were continuing onto the Montara Mountain Trail.
But I doubted what the point of that trail was if the weather would remain rainy or drizzling at this time. After all, where would the views be?
Eventually, I had my fill of Brooks Falls as the low clouds continued to descent and cause viewing problems for Brooks Falls. As I was heading back down, I had noticed more Korean retirees or something who might have been part of the same hiking group.
I had to watch my step because of how slick all the wet rocks and wet dirt could be, especially with dropoff exposure to one side.
Nonetheless, by about 8:25am, I had returned to the car park at the San Pedro Valley Park. I had taken the continuation of the loop trail back to the visitor center (not the much longer Montara Mountain Trail), and when I got back to the car park, I noticed a few more cars showing up.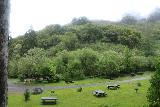 As I was leaving the park and eventually heading north from Pacifica back to San Francisco, I saw that the fog situation wasn't nearly as bad as it was in Pacifica. In fact, I could see sun breaking through and making the weather quite promising and gorgeous given this turn in the weather.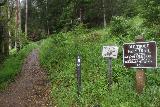 The GPS
had me drive along King Street then along the waterfront of the eastern peninsula. I believe this part was called Embarcadero.
It turned out that the drive was so scenic that I wished I had time to enjoy the ambience of the morning looking east at the Bay Bridge (reminding me of how the Brooklyn Bridge would have looked at from the area near Grimaldi's).
The golden rays of the sun piercing through the foggy haze with farmers markets and lots of pedestrians on this side of SF made me want to be part of all that action.
I had resigned myself to perhaps not being able to do this because I knew Julie had plans. But I certainly wanted to be out there in the action and not in the car.
Regardless, I eventually made it back to the Anchorage Parking Garage at 9:10am. We then spent the next hour or so finishing up on pressure-cooked breakfast with some fruits bought from the Trader Joe's around the block.
Eventually, we'd finally be prepared and out the door by 10:05am.
But when we got downstairs to the concierge and asked about Alcatraz tickets, it turned out that they were sold out for the whole weekend. So it wasn't likely that we were going on this excursion on this particular trip. I guess we just didn't have the advanced planning that we were supposed to have had we wanted to do it.
Well, that at least freed up a good chunk of the morning, and we ultimately went to the Big Bus Tour, which was a Hop On Hop Off (HOHO) tour.
When one bus rocked up at about 10:30am, we had to relegate ourselves to sitting in the lower deck and not in the open air above. That was a bummer because this narrator had a pretty good sense of humor and he was pointing out all sorts of tidbits about the city.
I really wished I was upstairs taking pictures of the downtown scene here, but alas, it wasn't meant to be.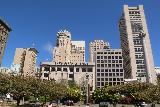 It wouldn't be until a good chunk of the city part of the tour was over that people got off at Union Square, and then we went upstairs so we could finally enjoy one of the upper deck seats for photos.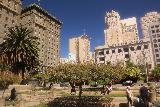 By that time, the tour continued with passing by the attractive town hall building, which looked very much like a Capitol Building except there was apparently real gold on its roof.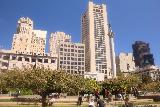 Julie mentioned something about the interior of this building being really worth visiting, but it was only on weekdays and I doubt we'd straddle around San Francisco just for this building.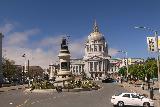 Like with Alcatraz, it would have to wait another time.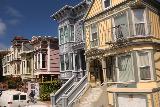 We then passed by more interesting buildings like some kind of opera house as well as some building whose windows were supposed to resemble a piano.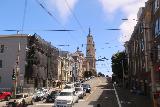 Really, the bus went along so quickly that most of the photos I tried to take didn't really pan out.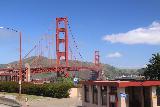 Then, when the bus got into the traffic waiting to get across the Golden Gate Bridge, that was when the camera clicks started going again.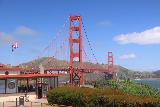 Indeed, it got really windy and really cold really fast. I tried to take what shots I could of the area as well as shooting towards the beach that was more in the direction of a park on the front side of the Golden Gate Bridge.
I was pretty certain that Julie told me her cousin Linda took her family to that beach when they were living in San Francisco.
Eventually, the Big Bus got off at the obvious stop at the far end of the Golden Gate Bridge. Indeed, parking looked as chaotic as it did the first time we were here back in 2002 when we took Julie's cousin from Paris to here, and I recalled not having a good time driving around and trying to find parking everywhere we went.
By 12:20pm, we got off at the very busy park and scrambled to a slippery hilly section which was probably where the best photos of the Golden Gate Bridge could be had.
There were some attractive wildflowers on the hillside allowing us to add a little depth to our Golden Gate Bridge photos but looking back towards the city by the bay was a bit on the flat side.
We had our fill about 15 minutes later, and then we got back onto the bus. Boy were the lines quite long to get to both Sausalito as well as back to San Francisco, but luckily we didn't have to wait for long.
At 12:55pm, we got off at the Museum of Fine Arts stop and proceeded to walk towards the familiar building with Roman like columns surrounded by a pond and some expensive homes.
Like with other known SF sights, this place was also quite busy. Still, I used the people as subjects to convey the overall scale of the grand architecture on display here, but there really wasn't much else we could do here except to take pictures and try to relax.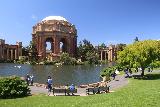 Julie and Tahia noticed there were a few cherry blossoms still alive around here, but the wind was still quite strong and blustery that it posed quite the challenge to take pictures of them as they were dancing about on the trees.
It was about 1:40pm when we had our fill of the Museum of Fine Arts and now it was time to pursue a late lunch. So we managed to crowd in on a rather crowded bus where the guide on there allowed for limited standing room though he probably wasn't supposed to.
That said, we kept going all the way towards the stop right after the Chinatown Gate. That was the one that took us closest to the R & G Restaurant which was apparently a rare Michelin rated restaurant.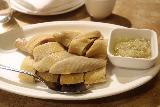 Julie was looking forward to coming here because she wanted to try their Hainan Chicken. Tahia was also looking forward to it because she wanted something similar to what we were used to back at home when Julie's mom made some killer Hainan Chicken Rice.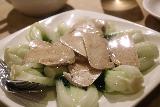 But when we placed the order, we saw that we had cold chicken that was kind of like what you'd expect at a Chinese banquet. That was quite unexpected but then again, this was probably Cantonese style and not Singapore style that was a case of misplaced expectations.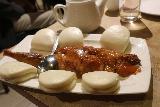 At least their Peking Duck was very good. It was so good that both Tahia and Julie devoured that order and I was left having to eat Julie's cold chicken.
Same went with the Vegetarian Abalone Bok Choy dish. It was another case of misunderstanding and I probably ended up with more than my share of soy on that imitation abalone instead of the real deal.
The lunch ended up being about $78 with tax and tip, which was another reminder of how expensive eating out can be in San Francisco.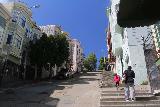 By about 3:20pm, we left the R & G restaurant and we decided that instead of taking the bus all the way back to the Fisherman's Wharf, we mind as well go for a walk up to the Coit Tower seeing that it was just up ahead of us. Then, we could walk back to the Fisherman's Wharf area to recover the car to go to the Marin Headlands.
The walk towards the tower from Chinatown was a very steep affair. The sidewalks along the road were so steep that they made the whole sidewalk into steps. Had it been a ramp, it would have been a pretty brutal climb.
During the steep climb, we couldn't help but notice some of the cars were parked perpendicularly instead of parallel, especially given how steep the street was. Trying to imagine ourselves being residents here, we concluded that space had to have been at a premium just like with all tight cities.
Then, we had an epiphany. We realized that the charming cities in the world tended to have high density and small area. They also tended to have vehicle-free zones.
Well, San Francisco had the first factor but not the second. That alone put it high up on the charming list as far as US cities are concerned, but they had nothing against the European cities which also had the latter as well as the history.
But that still didn't stop us from considering San Francisco one of the great American cities, and I could see why some Northern Californians might have a bit of a superiority complex when compared against Southern Californians.
As we got up towards the top of the road, we noticed more steep streets looking back against the sun towards the west. But we instead walked up more steps towards the Coit Tower itself. At first, it looked like people were leaving and very few were going up to the tower like we were.
But when we got to the tower, we overheard the worker tell them that it was about five minutes to get in and about 45 minutes to an hour just to get to the top. No thank you, was our thinking as we had other important things to do besides just waiting in line.
So we eventually got our fill of the outside of the Coit Tower though we managed to look west towards Lombard Street and north towards Alcatraz Island before heading down the steep streets towards the familiar Fisherman's Bay area. There were also steps and walkways towards the Embarcadero but that wasn't the focus of the moment for now.
Finally at 4:40pm, we returned to the car in the parking structure. Julie commented that it was the first time in nearly two days that she saw the car, which reminded me of how much city touring they had been doing without me on this trip.
We then drove over to the Marin Headlands where we took the Alexander Rd exit and followed a line of cars through a five-minute-delay tunnel before facing the crowds and the lack of parking spaces to at least check out the Golden Gate Bridge.
We got there at about 5:10pm, but this time, Tahia was asleep. So Julie and I got to check out the Golden Gate Bridge in its entirety with the city of San Francisco backing it. It was quite a regal scene though it wasn't quite what we had experienced a few years back when it was just Julie and I attending a former co-worker's wedding in Napa after spending a single night in San Francisco.
After having our fill of the uppermost viewing spots of the Marin Headlands, we then headed back down as we saw that at least the traffic died down near the lower parking areas for the so-called Hawke's Hill lookout. We wanted to go down there for a more intimate look at the Golden Gate Bridge.
Unfortunately, when we got down there, it was packed at each of the parking spots. We had no shot at being down there unless we drove all the way to the bottom and hiked the 1.6 miles back up. No thank you to that.
The thinking now was to go back here (and face the $8 toll which I still had to pay for each time I've crossed this bridge) and try again when hopefully things wouldn't be so busy on a late Sunday afternoon when people should be going to the work the following morning.
We'll see how that goes. And if it wasn't meant to be, then it wasn't meant to be. But trying to do this on a Saturday (an Easter weekend no less), it just didn't seem to make sense.
So by 5:50pm, we got back to the 101 Freeway and back across the Golden Gate Bridge. We then headed into downtown San Francisco again to go to a Whole Foods so Julie could get some supplements while also some healthy snacks.
I'm sure I could use some of that as tomorrow's plan was to divide-and-conquer once again so I could visit Carson and Cataract Falls while they might visit Angel Island or something.
By about 6:15pm, we finally got through the traffic and into the Whole Foods on Franklin Street. Then, we wound up eating in the downstairs limited seating for eating where we had a whole rotisserie chicken, some collared greens, some broccoli, and some beets.
Then, we went back upstairs to shop for the snackies and supplements. Still with no refrigerator, we had to limit our shopping.
Eventually at 7:30pm, we returned to the car. At least with our meal inside Whole Foods, Julie wouldn't have to cook anything back at the room with her pressure cooker.
By 7:55pm, we had returned to the parking garage at Fisherman's Wharf. We decided to do a little more walking (at the protest of Tahia who just wanted to play in the swimming pool), and we seized the moment to at least checking out the Cannery Row and part of the Ghiradelli Square as well as the San Francisco Marine Park.
It was a good thing we got what shots we could which took advantage of the twilight lighting. But by the time that faded, we then took our stuff from the car and headed back to the Hyatt Centric.
We finally got back at about 8:40pm, and that was the end of the day where all of us were pretty exhausted from such an action-packed day even if we wouldn't be able to do Alcatraz on this trip. We figured there'd always be another time we could do this now that we knew what it takes.
At least that helped to free up today and allow us to spend a full day as a family in the city by the bay. And that helped to enable me to do the last bit of hiking in the San Francisco Bay Area before we head off to San Jose tomorrow…
Visitor Comments:
Got something you'd like to share or say to keep the conversation going? Feel free to leave a comment below...
No users have replied to the content on this page