Day 2 (April 19, 2019 – San Francisco, California): "Thank You For Being Nice"
It was 5am when I awoke. I had a bit of anxiety about whether the kefir that I had prepared and brought for this trip might survive in that cooler so the first thing I did after brushing my teeth and getting dressed was to open it up and see how well the ice kept up.
But to my horror, the interior of the cooler was hot! All the ice was melted!
Someone (was it Tahia?) had switched the cooler from cool mode to heater mode! I knew that I never set that switch, and I couldn't check while driving. So all this time (even during our long drive up), we had never been cooling our food!
I knew at that point that everything that was in there (including the stuff that would have fit in the mini cooler; which Julie inexplicably didn't put in) was gone. So much for bringing her leftovers on this trip. Her kale was gone, her meat balls were gone, and so were my two full bottles of self-made kefir.
Anyways, that put a rather sour tone to the start of this day. Even my laptop wasn't booting up at one point while the portable USB hard drive didn't seem to be working either. I had to force a reboot before I got that working again (phew).
However, one of the electrical outlets stopped working. Something must have burned it out so now the lights that were connected to it stopped working. Anything else that could go wrong this morning?
Anyways, I now had to wait for Julie to pressure cook her stuff before I could head out and do three waterfalling excursions alone.
They had their sights set on doing some city stuff throughout this day. I guess they were not going to do any nature stuff as long as we were in San Francisco.
At least once I was out the door, there shouldn't be delays. Regardless, it was still dark outside, and with the events that happened first thing this morning, I guess I had a little more time than I had originally thought since brekkie was pretty much out of the question.
At about 6:20am I got into the car just as the daylight was starting to break through the dawn.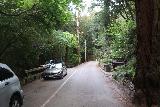 With such an early start, it didn't seem like I had to contend with much traffic. So by about 6:55am, I arrived at the familiar Baltimore Canyon Trailhead, which I was just scouting out.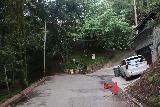 Like before, there was very limited parking. But it was nice and serene here, and I could only imagine for the residents here how convenient it must be to experience this canyon full of coastal redwood trees with a waterfall to boot!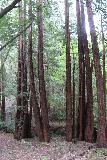 In any case, Mom and I did this hike three years ago when Dawn Falls was dry. I also knew how long this trail would be doing it through Baltimore Canyon so I was keen to try the alternate approach.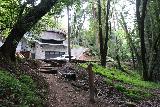 That said, I returned to the car then continued the drive to Crown Road. It was actually surprisingly non trivial to make it to the other trailhead, which was also at the end of some residential area, but it seemed to support more parallel parking.
The road involved lots of climbing up narrow switchbacks and there was clearly no signage to even get to this trailhead. Indeed, without the GPS
in this instance, I wouldn't know how to access this place as I'm sure it was a locals only kind of spot.
I'd ultimately get there at about 7:15am where there were already four cars parked along the sanctioned part of the dead-end. I made it number five.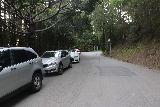 During the drive, I also found out that today was Good Friday so I wasn't sure if that was going to amp up the crowd factor no matter which excursion I was doing today. We'll see.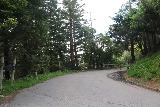 After gearing up and getting started on the hike, I immediately saw that there were pretty views as soon as I crossed the fence blocking further vehicular progress. There was also a sign about the Southern Marin Line Fire Road. I'd imagine that there trails here were mostly for the views.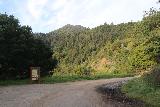 But in my case, I was merely content to see how doing Dawn Falls on this approach was going to be like so I didn't anticipate this taking long.
As the trail veered to the right, I was also pleasantly surprised to see lots of wildflowers blooming along the hillsides. That seemed to be the theme of this year's Spring season throughout the state of California. While we had superblooms back home in the Southland, I saw a greater variety of flowers up north even though I didn't see crazy mats.
As I was looking towards the Baltimore Canyon and the homes perched above, I was looking against the sun. I'm sure in the afternoon, this view would have been quite photogenic.
The trail then curved eventually to the left, where I encountered a signed trail junction with the Dawn Falls Trail. I then descended a steep path full of switchbacks and steps.
Finally at about 7:40am, I found myself looking down at Dawn Falls. But unlike the visit with my Mom three years ago, this time the waterfall was actually flowing!
So I spent some time capturing the falls though as much as I wanted to get down to its base, there didn't seem to be a good way to do this given the steepness of the terrain here.
I'm sure it's possible, but I didn't find the risk reward to be in my favor in this case.
With all the descending to get to this point, I knew the climb back up would be a breathtaker.
In any case, I continued down into Baltimore Canyon knowing that there was a big grove of densely-packed thin coastal redwood trees there. And when I got there at 7:50am, it was still as idyllic as I had recalled.
I also made this descent trying to see if it was feasible to get into the base of the canyon then scramble back upstream to Dawn Falls. Well, the amount of overgrowth and buskwhacking involved definitely made that out of the question.
So after having my fill, I climbed back up to the fire road and ended the steep ascent at 8:05am. And fifteen minutes later, I made it back to the trailhead at the Crown Road. This time, there were lots more cars parked along the sanctioned part of the road.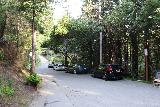 I guess this place was more popular than I thought but it seemed like the waterfall wasn't the focus because I only saw one other trail runner around the falls.
Next, I decided to do another suburban-fringed waterfall. This time, it was for Cascade Falls but the last time Julie and I saw it, it was 9 years ago at least – before Tahia was born.
So I was curious to see how it was now.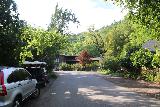 It took me until about 8:45am of lots of suburban driving to finally get to the end of Cascade Drive. The traffic en route going towards the city seemed pretty bad (or was it because there was still school on this Good Friday) causing the congestion.
Anyways, unlike the Dawn Falls excursion, it seemed like there were plenty of spaces available for parking despite all the No Parking signs. I happened to pick a fairly long pullout with room for three cars of which I was the second car there.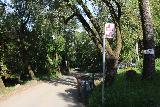 Since I didn't anticipate the drive to be long, I was already geared up for the hike. So I promptly got my stuff together and walked to the end of Cascade Drive where there was a fence and a sign declaring the Elliott Nature Preserve.
With the sun out, it was already heating up and there were also some mosquitoes in the area. I could hear them buzzing around but since I was wearing long sleeves, I wasn't sweating them too much.
Next, I followed the walking path which then immediately forked. The path on the left seemed to go right across the San Anselmo Creek while the narrow path on the right followed what seemed to be the "High Water Trail".
At first, I didn't know which path to take so I just followed the High Water Trail since that one had the signage. But it turned out that both trails seemed to follow San Anselmo Creek and that the High Water Trail was so named because if the creek was flooded or running too high, I could always take this narrow undulating trail to bypass the stream crossings.
Regardless, this trail seemed pretty prone to erosion and I'd imagine that the intent was to make this a more or less emergency trail. That said, I encountered more people on this trail than on the lower trail with the stream crossings. Go figure.
Speaking of people, I only saw a pair of women going back and one guy who passed me then didn't seem to make it far as he stopped before I didn't see him again.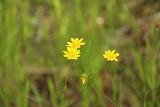 The High Water Trail eventually joined up with the main trail just after the far side of a stream crossing where signs said something about not playing in the creek due to this being critical habitat for endangered fish.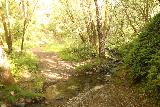 The trail then undulated over one hill before reaching a bridge over a tighter and seemingly higher volume part of San Anselmo Creek (maybe because the water was being more channeled at this point).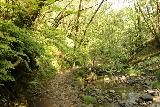 On the other side of the bridge, the trail then continued another quarter-mile or so on a narrower path eventually climbing to the familiar Cascade Falls, which I got there at about 9:10am.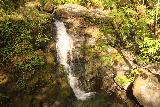 It was quite the serene experience because I was all by myself. The falls didn't quite have the same rigor as 9 years ago, but it was still more or less the same like it was before.
I noticed that the trail seemed to continue past the top of the Cascade Falls but when I got up there, the continuation of the trail didn't seem all that obvious. That said, it did pique my interest in terms of finding this so-called Plunge Pool at the Upper Cascade Falls.
So as I was having my fill of the Cascade Falls, I kept it in the back of my mind to check out the Plunge Pool.
By about 9:30am, I was leaving Cascade Falls and headed back to the footbridge where I was following Ann Marie Brown
's directions to see if I could get to the Plunge Pool.
When I got back there, I then briefly followed the San Anselmo Creek Trail before taking a steeply ascending path on the right. After huffing and puffing my way up some bends and getting into the exposure of the sun, I was becoming a sweaty mess and I was questioning whether it was worth the effort to get to this other waterfall.
Eventually at 9:45am, I decided that it wasn't worth the effort and I turned back but not before noticing more wildflowers blooming by the trail.
On the way back to the trailhead, this time I took the more sanctioned trail where I crossed San Anselmo Creek.
This wider trail seemed more open yet more quaint as there were mossy trees flanking the trail around an open grassy area. Then, when I reached another creek crossing, I had the choice to continue along the so-called "Public Trail", which I did.
The trail then went into a more shaded area, passing by some other trail going to a camp, and eventually depositing me by a third stream crossing. This was the crossing that took me back to the familiar trailhead area.
I had heard voices of other people taking the High Water Trail while I was all alone on the flatter trail. So I wasn't totally alone on this excursion, but it was virtually like that.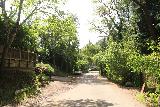 By 10:10am, I had returned to the car. Just as I got there, a pair of ladies were walking towards the trailhead and I greeted them with a "Good morning."
The lady replied by saying "Thank you for being nice!"
We both had a chuckle out of that exchange, but I wondered what she meant by that. Were the people who visit the falls that not-so-nice? Or was it the people living along Cascade Drive that weren't so kind to hikers?
Whatever the case, we went about our merry way, and now I decided that I should pursue Alamere Falls also for the first time since our second visit there back in 2010.
I was kind of hoping that the sunny skies seen here might translate into lovely lighting at the falls itself by the time I finally get there. However, I was a little concerned about the parking situation given the late start even though I knew the Palomarin Trailhead was pretty spacious.
So I promptly drove towards Alamere Falls via the Mt Tamalpais Drive. The GPS
wanted me to follow Sir Francis Drake Road all the way to Olema then make my way down to the Palomarin Trailhead by Bolinas, but I thought the shorter approach was to take the twisty road passing by the trailheads of both Carson Falls and Cataract Falls.
The drive out there was twisty and narrow with a few damaged sections where apparently part of the road either had roots growing underneath them or part of the road slid down a cliff.
I really contemplated whether I should do both of these waterfalls on Sunday but I also wanted to spend time to see the city of San Francisco with the family. I was also starting to get a little waterfall fatigued.
It was a classic case of too little time and too much to do.
Anyways, the drive persisted as I eventually got to the west side of the Tamalpais Watershed. Then, as I approached the Hwy 1, I noticed that there was quite a bit more fog off the coast, which I was hoping it would burn off the later in the day it would get.
After taking the local roads towards the Palomarin Trailhead, I eventually got to where the paved road became unpaved. But then I encountered some fairly mean potholes en route to the trailhead, and I wondered if this road had deteriorated over the years or if I just didn't remember the past that well.
I don't think Julie's car appreciated these deep pothole clusters, especially after spending $1200 to get the axle and alignment fixed for this trip, but I did what I could to take my time. I wondered how passenger cars would fare on this road.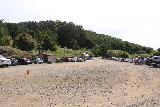 Eventually at 11:20am, I finally arrived at the Palomarin Trailhead. As expected, the parking lot was nearly full but there were still some parking spots on the far side of the car park (away from the trailhead itself) as well as some middle makeshift spots if it was even more crowded, I'm sure.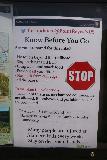 I then geared up and ensured I had enough food and water with me knowing that this was going to be a pretty long hike.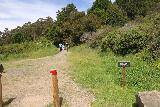 And about ten minutes later, I was finally headed out with a fairly heavy pack as I was carrying two big 32oz bottles as well as a pair of apple, broccoli chips, leftover pork rinds, and a seawood pack.
The hike followed through a grove of what seemed to be gum trees. Then it followed along coastline where it looked scenic like before. However, the threat of fog always seemed to want to inundate the area, and I already saw that it kind of did in some stretches.
There was one couple who passed me and noticed that I was taking photos of California poppies. The lady who was in that couple commented as such in passing.
They had passed me earlier on the trail near the start then I would pass them after they stopped to do some exercising on some bar that seemed to be a corral or something. But they were doing some kind of TRX pullup or something like that.
Next, the trail followed along a scenic coastal bluff stretch where I could see both north and south along the coastline. Even though the lighting would be better in the afternoon, it was still sunny in this spot and I was savoring the experience.
The trail then eventually veered inland as it then passed some muddy stretches (clearly there had been a lot of moisture this year) before it then climbed in earnest.
During the climb, I did another back-and-forth with the couple as I passed them, then they passed me as they were singing some kind of song.
This was around the time when I noticed some graffiti on a pair of rock walls. That was kind of a disconcerting thing to see as I never recalled there being graffiti along this trail in the past. The couple who stopped nearby said they didn't notice it. But I got the photo documentation.
Anyways, while they were paused, I continued on.
By about 12:30pm, I made it a trail junction with the Lake Ranch Trail. And about five minutes later, I then encountered the familiar Pelican Lakes.
One thing I noticed this time around was that one of the lakes looked like it was completely covered in a mat of brown as if there was some kind of algal bloom or something.
A little further along the trail, I got to the water's edge and noticed that as solid as the lake looked, there was still lake underneath all that growth.
Anyways, I then continued further along the trail that continued undulating while parts of the trail looked further worn by erosion from water channels.
Ultimately, the trail got to more open terrain with a slight view of another lake down below. But by this time, it definitely looked like the fog was winning out. And I was losing hope that experiencing Alamere Falls like we did 9 years ago when it was clear weather was not going to happen this time around.
By about 1:10pm, I finally made it back to the familiar start of the scramble to get to Alamere Falls. However, the signage that was once here was no longer there. That said, the opening was still obvious enough with yellow tape and other informal markers to assure me that I should be going back down this path like I did before.
Now, it was the time to be glad that I had long sleeves on. Sure enough, there were sections where I was brushing up against greenery that I couldn't tell if they were poison oak or not, but better be safe than sorry.
The trail then ultimately opened up again where I could see in the distance some people making their way back up from the steep scramble that I knew was there. I also noticed a small bloom of California Poppies in this opening before the trail narrowed once again and forced me to run elbows with the potential poison oak once again.
By 1:20pm, I then reached the steep descent along the seemingly increasingly eroded gully leading down alongside what I knew to be the Upper Alamere Falls.
When I made it down this initial descent, I could see there were quite a few people chilling out in this section where some were sitting by the brink of Alamere Falls while others were sitting atop a bluff by the cliffside scramble leading down to the beach.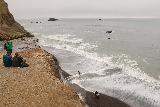 There seemed to be a bit more water on Alamere Creek this time around as the creek crossing looked a little more difficult this time around. Luckily, someone put a sturdy plank of wood in the stream to facilitate the crossing without getting wet.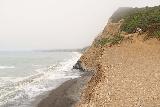 Next, I watched three women struggle to make it back up the cliffside scramble. From looking at the flip flops they were wearing, they were awfully brave (and perhaps foolish) to do this scramble with little to no traction as well as ginger scrambling with dropoffs. They clearly bit off more than they could chew, but at least they made it.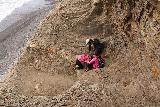 Then, I made my move, which seemed a bit hairier than before. I knew this came with the territory as these cliffs were crumbly and I'm sure the erosion continued to accelerate over the years.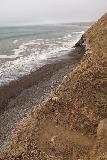 Finally at 1:45pm, I finally arrived at the base of Alamere Falls and the beach. There were at least 3 or 4 couples and a couple of individuals here so clearly it wasn't as secluded as I had recalled.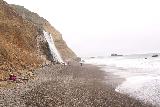 Plus, the fog made sure this place stayed overcast so I didn't have the contrast with blue skies anymore. But that didn't make this place any less spectacular.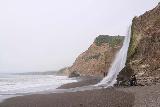 Crossing the creek to get to the other side of the falls was a bit non-trivial given how soft and deep the pebbly sand was. But I eventually got my movies and photos from both sides of the falls, then I enjoyed a picnic lunch watching people take selfies in front of the falls.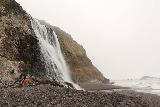 I was also finishing off the rest of the food that I brought to re-energize for the hike back up.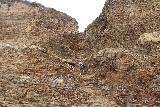 At 2:15pm, as the base of the falls was getting more visitors, I then made my move back up. After one couple made their climb up, I then insisted on making my move before a trio of people I knew were going to slow me down (they didn't have the right gear).
From that point on, I then made a beeline for the trailhead as the fog appeared to have gotten thicker.
By now, my left knee was feeling a bit sore and swollen from overuse, and by the time I made it back to the trailhead at 4pm, I was relieved to change into Chacos and out of the hiking boots.
By this time, the trailhead seemed to be a bit emptier even though I still saw numerous people going in both directions both to and from the falls. I even passed one group of four where one lady was freaked out from seeing a snake.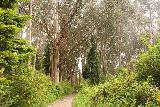 Anyways, I then followed the caravan of cars along Hwy 1 back to the city of San Francisco. And by 5:35pm, I finally returned to the Anchorage Parking Lot. There were lots of people at this time around the Fisherman's Wharf area, but I returned to our room to await Julie and Tahia returning from their excursion on the hop on hop off Big Blue Bus.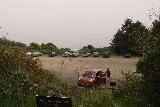 By 6pm, I was back in the room and unwinding. The girls returned an hour later, and while Julie was preparing dinner, I joined Tahia in the Hyatt pool where one Canadian guy working for the Toronto Blue Jays was chatting it up with us.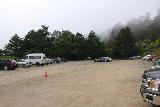 I guess the Blue Jays had a series with the Oakland A's and that he said he was coming back in a couple of weeks when they have a series with the Giants.
Anyways, even though the pool was outdoors and it was quite chilly, the jacuzzi was heated so the adults stayed there while Tahia went back and forth swimming in the big pool then joining us in the jacuzzi.
Tahia seemed like she was in heaven in the water as she thoroughly enjoyed herself. But by about 7:45pm, we returned to the room where Julie's "healthy chips" (as Tahia liked to call it) was finally done in Julie's pressure cooker turned grill.
We talked about plans for Saturday and Sunday, but they seemed disappointed with the fog which impacted their experience. They said their bus was still good until 3pm tomorrow, and since I didn't have a ticket, they wanted to do a couple more things tomorrow morning.
I guess then that opened the door for me to visit Brooks Falls though I doubted I'd have the time to visit the Tamalpais waterfalls while they were going their thing. Maybe I could walk up to Coit Tower or something. We'll see.
Then, that would leave Sunday to be the full day of touring Frisco as a family, but they also wanted to visit the Golden Gate Bridge and the view down at the bridge from one of the parks. I knew that would require a drive, and I'd still have to figure out how to pay the Golden Gate Bridge toll, I'm sure.
Anyways, after our dinner and rough plans, we pretty much crashed for the night.
Visitor Comments:
Got something you'd like to share or say to keep the conversation going? Feel free to leave a comment below...
No users have replied to the content on this page