Day 1 (April 18, 2019 – San Francisco, California): "Trying to avoid traffic on both ends"
I awoke to my 4:30am alarm just like I had been for all of my work days. However, what was different about today's wake-up was that we were making the long drive up to San Francisco, and we were really keen on trying to minimize enduring the infamous LA traffic during the morning rush hour as well as the Bay Area rush hour traffic.
As much as I wanted to be out the door by 5:30am (which was when I'd normally leave the house for work), we had the car all loaded up by this time. Even Tahia was in the car ready to start the trip (or at least catch up on some sleep).
However, Julie still wasn't ready. And it wasn't until about 5:55am when we were finally leaving.
While her iPhone predicted that the drive would take about 6 hours and 29 minutes had we left before 5:30am, the estimate drive time was now about 6 hours and 50+ minutes.
Indeed, the delays meant that the duration increased disproportionately as rush hour was intensifying the later we were leaving. Clearly we were entering the steep part of the bell curve, and I was hoping that the inevitable delays from our rush hour wouldn't translate into rush hour traffic up in the Bay Area for some double trouble when it came to road raging it.
The drive through LA wasn't as bad as I had anticipated, but it was still sluggish nonetheless. We wouldn't get into the Grapevine area until some time after 7:30am. During that time, Julie and I were discussing whether we should make a stop at a Target to pick up some ice for our cooler as well as some water.
We eventually decided to make a stop at a Target Superstore in Bakersfield, which required us to drive on the 99 then cut across on the Stockdale Highway towards the I-5. Along the way, we figured we might have a shot at filling up on gas at a more reasonable price than what we would pay at a gas station in the Grapevine.
By around 8:20am, we finally arrived at the Target, which forced us to pass through some upscale suburbs, which was something I wasn't really expecting in Bakersfield. That place had a bit of a rough around the edges reputation, but this detour seemed to dispel that notion.
Still, it was like any other cookie-cutter suburb as I'm sure land was way cheaper out here. However, I'm sure it gets devilishly hot out here. So it kind of reminded me of what life might be like living in Palmdale or Lancaster with the energy bills skyrocketing as the AC would be on non-stop, I'm sure.
It wouldn't be until about 8:40am when we returned to the car with the goods as well as a little Starbucks breakfast on the go. This detour wound up costing us around 30-40 minutes, but perhaps it would pay us back by having a more functional cooler with ice as well as some much-needed water that we hoped would last us for the rest of this week-long trip.
As we headed west on the Stockdale Highway, we lucked out by finding a Chevron that was charging $3.99 per gallon just like at home. Everywhere else we had seen so far had charged at least $4.19 per gallon or higher! It was like $4.49 per gallon by the gas stations near the I-5.
Once we were on the I-5, it was pretty smooth sailing for the most part. The annoying drivers who clogged the fast lane were there, but the traffic was smooth enough that they didn't cause too much drama in terms of the overall traffic flow.
In fact, we were making such good progress with the pace that we entertained the notion of having a lunch before we needed to check in at the Hyatt Centric at Fisherman's Wharf in San Francisco.
We thought we were making excellent time as we were approaching the Oakland Bay Bridge along the I-580, but then we ran into a bit of traffic at the toll station at the start of the Bay Bridge.
They charged $5 in cash or with Fastpass, and they didn't take credit cards here. I found it strange that this particular bridge was backwards with the tolls, but then again, these kind of things never surprise me anymore. Fortunately, I did have the spare cash on hand.
Anyways, the traffic then persisted from here on out as the lanes merged into 3 or 4 lanes total. So it was sluggish all the way across the Bay Bridge, and it ultimately wouldn't be until about 12:50pm when we finally scored street parking somewhere near this paleo cafe called Kitava.
The area didn't seem like a great area even though we were now in the city of San Francisco.
Regardless, we paid about $3 for parking for nearly 75 minutes. Then, we walked over to Kitava, where we promptly ordered some kind of Cuban bowl, a DIY clean bowl, and Tahia wanted zoodles with Bolognese sauce. We also got taro chips with guacamole as well as a couple of paleo desserts.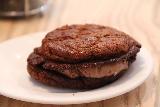 All in all, the lunch was pricey (we probably paid about $70 for everything), and we probably over-ordered.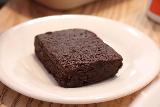 Still, it was satisfying, and when we returned to the car at 2pm, we then drove through the familiar hilly streets towards Fisherman's Wharf. Along the way, we spotted some interesting and attractive buildings like some kind of Capitol-looking building near the Opera, and we even glimpsed the Coit Tower.
By about 2:25pm, we finally arrived at the Hyatt Centric, where the valet let us drop off our luggage. We didn't want to pay $59 per night for valet service, and we learned after checkin that there was the Anchorage Parking Lot where they charged $39 per day with in-and-out priviledge.
It took us some time to get settled because the belhops didn't let us use their cart. So it wouldn't be until about 2:55pm when I finally got to move the car after dropping off our luggages and stuff in our room.
About 20 minutes later, I took the parking ticket to get it validated, dropped off the remaining water bottles into our room, then Julie and Tahia decided they'd stay behind while I'd go pursue a waterfall before returning to the city by the bay.
At first, the drive out of the Anchorage Parking Lot wasn't too bad as I saw how the marina or Golden Gate Park was very scenic and happening though there was a hint of fog starting to roll in.
Still, the Golden Gate Bridge was clearly visible and this area looked like it would be great for a stroll. I wasn't sure if it was realistically walking distance from the Hyatt Centric, but I definitely hoped to realize this option some time during our four nights here.
But then as I was re-entering the 101 Freeway, that was when there was congestion. And this congestion would last all the way through a good chunk of the scenic Golden Gate Bridge (where I noticed quite a few people were walking across the bridge).
When the traffic momentarily cleared up on the north side of the Golden Gate Bridge, the sluggishness then started up again as I was getting past Sausalito.
It wouldn't be until I had to exit at San Anselmo when I finally left the freeway, but the sluggish driving didn't end there. In fact, I now had to negotiate traffic lights as well as congestion on the surface streets (especially on Sir Francis Drake Road) as apparently lots of people were coming home to the upscale homes in Marin County after perhaps working in downtown San Francisco.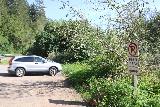 Whatever the case, it was a brutally long drive as I wouldn't make it to the day use parking lot near the Devil's Gulch turnoff at 4:40pm.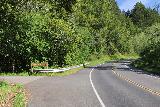 There was one other car that was parked here, but it looked like the couple whose car that belonged to had just come back.
With the sun starting to sink as it was getting late in the afternoon, I geared up and then promptly crossed the road and walked along the narrow paved road leading to the Devil's Gulch campsites.
I'd eventually find the trail alongside a creek that seemed to have quite a bit of water in it. That was a promising sign for me considering I wasn't sure how well the Bay Area waterfalls would be flowing since it had been a while since the last significant rains that I could recall.
Anyways, I reached the trail that branched from the paved road but I kept going a little further to see where the paved road went. When I reached the first campsite, which was some kind of horse group camp, then I descended a separate trail that joined up with the stream-flanking trail that I had skipped earlier.
A few minutes later, I made it to a bridge next to an interesting redwood tree. The bridge said something about a salmon crossing. After consulting Ann Marie Brown
's book, I then knew to cross this bridge and continue upstream on the other side.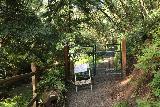 However, there was a closure sign saying the trail had been closed since August 2014. And since it's now 2019, I guess this trail probably wasn't going to be open anytime soon.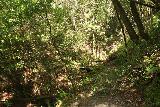 And after having endured the rush hour traffic and the drive to get here, I wasn't going to be denied a visit to Stairstep Falls.
I also noticed that people have clearly gone past the closure gate before and I wound up doing the same.
Then, I proceeded on a pretty well-developed trail though it there were some downed trees as well as what appeared to be some orange tags and erosion-control strips or something like that.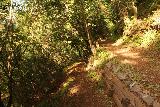 Most of the obstacles weren't hard to get past and the trail by and large was gradually uphill. It kind of hugged some ledges as I swung through one gully after another.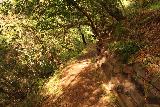 Even though it was now mostly shaded throughout the trail, especially with the long afternoon shadows, I was still feeling a bit sweaty from the hike.
Still, I was all alone on this trail and I enjoyed the peace and serenity that drastically contrasted the stress-inducing drive it took to get here.
Aside from one particularly large tree that was uprooted that I had to climb over as well as a few patches of overgrowth of what appeared to be poison oak or something like that, the hike was pretty uneventful.
By about 5:30pm, after descending from a fork in the trail where I kept left, I finally arrived at Stairstep Falls.
Unlike what I saw in the Ann Marie Brown
book as well as all the indications of a pretty healthy stream, this waterfall didn't seem to be doing that great in the flow department.
It had a much stringier appearance, and I had to cross the babbling creek to get a better look at the waterfall.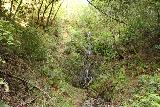 Speaking of improving the view, there was a downed tree right across the falls as well as another downed tree that blocked proper access to the base of Stairstep Falls. Perhaps this was the main reason why the trail was closed.
But truth to be told, they seemed more like temporary obstructions and they alone wouldn't be reason to close the trail without proper maintenance. Perhaps there was something else that caused the closure going on nearly five years.
In any case, I didn't feel like crawling and powering through that fallen tree so I descended over the fence and crossed the creek.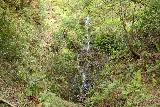 I'm sure I didn't do the stability of the creek banks any favors on this scramble, but at least I got my waterfall sighting for the day. And as much as I wanted to do Alamere Falls on this day (which I had no prayer of doing when we decided to have lunch then check in first), Stairstep Falls would have to do.
At least I wouldn't have to drive out this far north of San Francisco for the rest of this trip.
After having my fill of Stairstep Falls, I then headed back the way I came.
The hike back was pretty uneventful though I did pay more attention to some of the wildflowers blooming alongside the shady trail. I also noticed some knobby grassy hills on the other side of the creek though I didn't get a very clean look at them.
Finally at about 6pm, I had returned to the familiar redwood tree and got back to the sanctioned part of the trail. It looked like the other trail going downstream and then onto a climb was still open.
About ten minutes later, I finally made it back to the day use pullout where not surprisingly, I was the only car that was left.
And when I was about to head out, I saw on the map how close I was to Olema so I decided to drive all the way went on Sir Francis Drake Road, and then head south on Hwy 1 back towards Stinson Beach and ultimately towards San Francisco.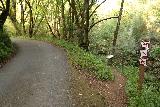 I was pretty sure that the first time Julie and I went to Point Reyes together, we took this very route to Olema and then south to San Francisco.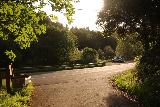 But now, I was all alone and I was hoping to try to fit in a viewing of the Golden Gate Bridge from a hillside looking back towards the city by the bay.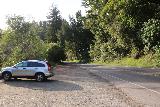 After passing by an inlet and then being stuck behind slow drivers who refused to use the pullouts, I ultimately made it to some curvy roads where there could have been nice views back towards Stinson Beach except fog had already rolled in by now.
That was a bummer and I knew that it would be a waste of time to try to get to the bluff with the view of Golden Gate Bridge and the city behind it.
At least I was entertained by some banter by Tom Tolbert on the KNBR sports talk radio for the bay area (which I thought was better than the sports talk we get back home in LA), and that helped to pass the time.
By about 7:30pm, I finally made it back to the Anchorage Parking Lot, and I noticed there wasn't as much traffic as there had been on the way out. I also noticed that there wasn't an active manning of the toll station on the far side of the Golden Gate Bridge so I wondered how they'd collect on the tolls (like would we have to somehow retroactively pay for it?).
Anyways, after dropping off the car and grabbing my belongings, I finally made it back to the Hyatt Centric at 7:45pm.
By that time, both Julie and Tahia were having dinner from Julie's pressure cooker combined with stuff bought from a Trader Joe's near our accommodation.
And as nice as the day was when we showed up, the bay was definitely getting fog by now, and it was actually a bit on the chilly side.
Regardless, we saved money by not going out at this time, and we also watched a little of the Warriors thrashing the Clippers in game 3 of the first round of the playoffs.
So it was a low key end to an otherwise very busy day. We'll see what tomorrow brings, but it's shaping up to be another divide-and-conquer kind of day, especially since Julie nor Tahia seemed at all interested in doing waterfall hikes, which I definitely planned on doing first thing in the morning tomorrow…
Visitor Comments:
Got something you'd like to share or say to keep the conversation going? Feel free to leave a comment below...
No users have replied to the content on this page