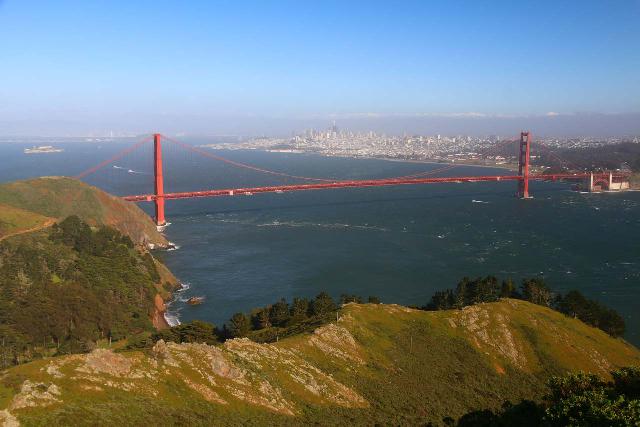 18-April 2019 to 24-April 2019:
Nonetheless, I promptly got into the car and started driving back to Santa Clara.
The drive for the most part was smooth (except for the odd rush hour traffic on the 101 freeway), and I ultimately made it back to the Hyatt House at 4:10pm. Minutes later, Julie and Tahia made it back to the room as they were returning from their day out.
Julie told me about a scary moment when an Uber driver ran the red light and they almost got broadsided…
Day 1 (April 18, 2019 – San Francisco, California): "Trying to avoid traffic on both ends"
I awoke to my 4:30am alarm just like I had been for all of my work days. However, what was different about today's wake-up was that we were making the long drive up to San Francisco, and we were really keen on trying to minimize enduring the infamous LA traffic during the morning rush hour as well as the Bay Area rush hour traffic.
As much as I wanted to be out the door by 5:30am (which was when I'd normally leave the house for work), we had the car all loaded up by this time. Even Tahia was in the car ready to start the trip (or at least catch up on some sleep).
However, Julie still wasn't ready. And it wasn't until about 5:55am when we were finally leaving.
While her iPhone predicted that the drive would take about 6 hours and 29 minutes had we left before 5:30am, the estimate drive time was now about 6 hours and 50+ minutes.
Indeed, the delays meant that the duration increased disproportionately as rush hour was intensifying the later we were leaving. Clearly we were entering the steep part of the bell curve, and I was hoping that the inevitable delays from our rush hour wouldn't translate into rush hour traffic up in the Bay Area for some double trouble when it came to road raging it.
The drive through LA wasn't as bad as I had anticipated, but it was still sluggish nonetheless. We wouldn't get into the Grapevine area until some time after 7:30am. During that time, Julie and I were discussing whether we should make a stop at a Target to pick up some ice for our cooler as well as some water.
We eventually decided to make a stop at a Target Superstore in Bakersfield, which required us to drive on the 99 then cut across on the Stockdale Highway towards the I-5. Along the way, we figured we might have a shot at filling up on gas at a more reasonable price than what we would pay at a gas station in the Grapevine.
By around 8:20am, we finally arrived at the Target, which forced us to pass through some upscale suburbs, which was something I wasn't really expecting in Bakersfield. That place had a bit of a rough around the edges reputation, but this detour seemed to dispel that notion.
Still, it was like any other cookie-cutter suburb as I'm sure land was way cheaper out here. However, I'm sure it gets devilishly hot out here. So it kind of reminded me of what life might be like living in Palmdale or Lancaster with the energy bills skyrocketing as the AC would be on non-stop, I'm sure.
It wouldn't be until about 8:40am when we returned to the car with the goods as well as a little Starbucks breakfast on the go. This detour wound up costing us around 30-40 minutes, but perhaps it would pay us back by having a more functional cooler with ice as well as some much-needed water that we hoped would last us for the rest of this week-long trip.
As we headed west on the Stockdale Highway, we lucked out by finding a Chevron that was charging $3.99 per gallon just like at home. Everywhere else we had seen so far had charged at least $4.19 per gallon or higher! It was like $4.49 per gallon by the gas stations near the I-5.
Once we were on the I-5, it was pretty smooth sailing for the most part. The annoying drivers who clogged the fast lane were there, but the traffic was smooth enough that they didn't cause too much drama in terms of the overall traffic flow.
In fact, we were making such good progress with the pace that we entertained the notion of having a lunch before we needed to check in at the Hyatt Centric at Fisherman's Wharf in San Francisco.
We thought we were making excellent time as we were approaching the Oakland Bay Bridge along the I-580, but then we ran into a bit of traffic at the toll station at the start of the Bay Bridge.
They charged $5 in cash or with Fastpass, and they didn't take credit cards here. I found it strange that this particular bridge was backwards with the tolls, but then again, these kind of things never surprise me anymore. Fortunately, I did have the spare cash on hand.
Anyways, the traffic then persisted from here on out as the lanes merged into 3 or 4 lanes total. So it was sluggish all the way across the Bay Bridge, and it ultimately wouldn't be until about 12:50pm when we finally scored street parking somewhere near this paleo cafe called Kitava.
The area didn't seem like a great area even though we were now in the city of San Francisco.
Regardless, we paid about $3 for parking for nearly 75 minutes. Then, we walked over to Kitava, where we promptly ordered some kind of Cuban bowl, a DIY clean bowl, and Tahia wanted zoodles with Bolognese sauce. We also got taro chips with guacamole as well as a couple of paleo desserts.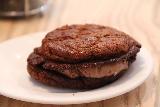 All in all, the lunch was pricey (we probably paid about $70 for everything), and we probably over-ordered.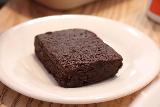 Still, it was satisfying, and when we returned to the car at 2pm, we then drove through the familiar hilly streets towards Fisherman's Wharf. Along the way, we spotted some interesting and attractive buildings like some kind of Capitol-looking building near the Opera, and we even glimpsed the Coit Tower.
By about 2:25pm, we finally arrived at the Hyatt Centric, where the valet let us drop off our luggage. We didn't want to pay $59 per night for valet service, and we learned after checkin that there was the Anchorage Parking Lot where they charged $39 per day with in-and-out priviledge.
It took us some time to get settled because the belhops didn't let us use their cart. So it wouldn't be until about 2:55pm when I finally got to move the car after dropping off our luggages and stuff in our room.
About 20 minutes later, I took the parking ticket to get it validated, dropped off the remaining water bottles into our room, then Julie and Tahia decided they'd stay behind while I'd go pursue a waterfall before returning to the city by the bay.
At first, the drive out of the Anchorage Parking Lot wasn't too bad as I saw how the marina or Golden Gate Park was very scenic and happening though there was a hint of fog starting to roll in.
Still, the Golden Gate Bridge was clearly visible and this area looked like it would be great for a stroll. I wasn't sure if it was realistically walking distance from the Hyatt Centric, but I definitely hoped to realize this option some time during our four nights here.
But then as I was re-entering the 101 Freeway, that was when there was congestion. And this congestion would last all the way through a good chunk of the scenic Golden Gate Bridge (where I noticed quite a few people were walking across the bridge).
When the traffic momentarily cleared up on the north side of the Golden Gate Bridge, the sluggishness then started up again as I was getting past Sausalito.
It wouldn't be until I had to exit at San Anselmo when I finally left the freeway, but the sluggish driving didn't end there. In fact, I now had to negotiate traffic lights as well as congestion on the surface streets (especially on Sir Francis Drake Road) as apparently lots of people were coming home to the upscale homes in Marin County after perhaps working in downtown San Francisco.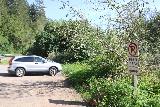 Whatever the case, it was a brutally long drive as I wouldn't make it to the day use parking lot near the Devil's Gulch turnoff at 4:40pm.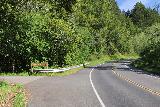 There was one other car that was parked here, but it looked like the couple whose car that belonged to had just come back.
With the sun starting to sink as it was getting late in the afternoon, I geared up and then promptly crossed the road and walked along the narrow paved road leading to the Devil's Gulch campsites.
I'd eventually find the trail alongside a creek that seemed to have quite a bit of water in it. That was a promising sign for me considering I wasn't sure how well the Bay Area waterfalls would be flowing since it had been a while since the last significant rains that I could recall.
Anyways, I reached the trail that branched from the paved road but I kept going a little further to see where the paved road went. When I reached the first campsite, which was some kind of horse group camp, then I descended a separate trail that joined up with the stream-flanking trail that I had skipped earlier.
A few minutes later, I made it to a bridge next to an interesting redwood tree. The bridge said something about a salmon crossing. After consulting Ann Marie Brown
's book, I then knew to cross this bridge and continue upstream on the other side.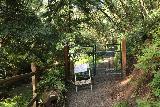 However, there was a closure sign saying the trail had been closed since August 2014. And since it's now 2019, I guess this trail probably wasn't going to be open anytime soon.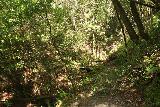 And after having endured the rush hour traffic and the drive to get here, I wasn't going to be denied a visit to Stairstep Falls.
I also noticed that people have clearly gone past the closure gate before and I wound up doing the same.
Then, I proceeded on a pretty well-developed trail though it there were some downed trees as well as what appeared to be some orange tags and erosion-control strips or something like that.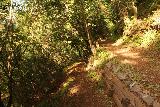 Most of the obstacles weren't hard to get past and the trail by and large was gradually uphill. It kind of hugged some ledges as I swung through one gully after another.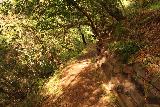 Even though it was now mostly shaded throughout the trail, especially with the long afternoon shadows, I was still feeling a bit sweaty from the hike.
Still, I was all alone on this trail and I enjoyed the peace and serenity that drastically contrasted the stress-inducing drive it took to get here.
Aside from one particularly large tree that was uprooted that I had to climb over as well as a few patches of overgrowth of what appeared to be poison oak or something like that, the hike was pretty uneventful.
By about 5:30pm, after descending from a fork in the trail where I kept left, I finally arrived at Stairstep Falls.
Unlike what I saw in the Ann Marie Brown
book as well as all the indications of a pretty healthy stream, this waterfall didn't seem to be doing that great in the flow department.
It had a much stringier appearance, and I had to cross the babbling creek to get a better look at the waterfall.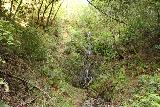 Speaking of improving the view, there was a downed tree right across the falls as well as another downed tree that blocked proper access to the base of Stairstep Falls. Perhaps this was the main reason why the trail was closed.
But truth to be told, they seemed more like temporary obstructions and they alone wouldn't be reason to close the trail without proper maintenance. Perhaps there was something else that caused the closure going on nearly five years.
In any case, I didn't feel like crawling and powering through that fallen tree so I descended over the fence and crossed the creek.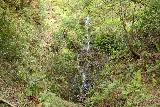 I'm sure I didn't do the stability of the creek banks any favors on this scramble, but at least I got my waterfall sighting for the day. And as much as I wanted to do Alamere Falls on this day (which I had no prayer of doing when we decided to have lunch then check in first), Stairstep Falls would have to do.
At least I wouldn't have to drive out this far north of San Francisco for the rest of this trip.
After having my fill of Stairstep Falls, I then headed back the way I came.
The hike back was pretty uneventful though I did pay more attention to some of the wildflowers blooming alongside the shady trail. I also noticed some knobby grassy hills on the other side of the creek though I didn't get a very clean look at them.
Finally at about 6pm, I had returned to the familiar redwood tree and got back to the sanctioned part of the trail. It looked like the other trail going downstream and then onto a climb was still open.
About ten minutes later, I finally made it back to the day use pullout where not surprisingly, I was the only car that was left.
And when I was about to head out, I saw on the map how close I was to Olema so I decided to drive all the way went on Sir Francis Drake Road, and then head south on Hwy 1 back towards Stinson Beach and ultimately towards San Francisco.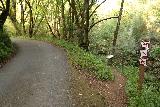 I was pretty sure that the first time Julie and I went to Point Reyes together, we took this very route to Olema and then south to San Francisco.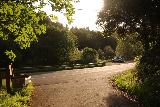 But now, I was all alone and I was hoping to try to fit in a viewing of the Golden Gate Bridge from a hillside looking back towards the city by the bay.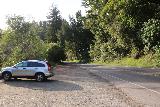 After passing by an inlet and then being stuck behind slow drivers who refused to use the pullouts, I ultimately made it to some curvy roads where there could have been nice views back towards Stinson Beach except fog had already rolled in by now.
That was a bummer and I knew that it would be a waste of time to try to get to the bluff with the view of Golden Gate Bridge and the city behind it.
At least I was entertained by some banter by Tom Tolbert on the KNBR sports talk radio for the bay area (which I thought was better than the sports talk we get back home in LA), and that helped to pass the time.
By about 7:30pm, I finally made it back to the Anchorage Parking Lot, and I noticed there wasn't as much traffic as there had been on the way out. I also noticed that there wasn't an active manning of the toll station on the far side of the Golden Gate Bridge so I wondered how they'd collect on the tolls (like would we have to somehow retroactively pay for it?).
Anyways, after dropping off the car and grabbing my belongings, I finally made it back to the Hyatt Centric at 7:45pm.
By that time, both Julie and Tahia were having dinner from Julie's pressure cooker combined with stuff bought from a Trader Joe's near our accommodation.
And as nice as the day was when we showed up, the bay was definitely getting fog by now, and it was actually a bit on the chilly side.
Regardless, we saved money by not going out at this time, and we also watched a little of the Warriors thrashing the Clippers in game 3 of the first round of the playoffs.
So it was a low key end to an otherwise very busy day. We'll see what tomorrow brings, but it's shaping up to be another divide-and-conquer kind of day, especially since Julie nor Tahia seemed at all interested in doing waterfall hikes, which I definitely planned on doing first thing in the morning tomorrow…
Day 2 (April 19, 2019 – San Francisco, California): "Thank You For Being Nice"
It was 5am when I awoke. I had a bit of anxiety about whether the kefir that I had prepared and brought for this trip might survive in that cooler so the first thing I did after brushing my teeth and getting dressed was to open it up and see how well the ice kept up.
But to my horror, the interior of the cooler was hot! All the ice was melted!
Someone (was it Tahia?) had switched the cooler from cool mode to heater mode! I knew that I never set that switch, and I couldn't check while driving. So all this time (even during our long drive up), we had never been cooling our food!
I knew at that point that everything that was in there (including the stuff that would have fit in the mini cooler; which Julie inexplicably didn't put in) was gone. So much for bringing her leftovers on this trip. Her kale was gone, her meat balls were gone, and so were my two full bottles of self-made kefir.
Anyways, that put a rather sour tone to the start of this day. Even my laptop wasn't booting up at one point while the portable USB hard drive didn't seem to be working either. I had to force a reboot before I got that working again (phew).
However, one of the electrical outlets stopped working. Something must have burned it out so now the lights that were connected to it stopped working. Anything else that could go wrong this morning?
Anyways, I now had to wait for Julie to pressure cook her stuff before I could head out and do three waterfalling excursions alone.
They had their sights set on doing some city stuff throughout this day. I guess they were not going to do any nature stuff as long as we were in San Francisco.
At least once I was out the door, there shouldn't be delays. Regardless, it was still dark outside, and with the events that happened first thing this morning, I guess I had a little more time than I had originally thought since brekkie was pretty much out of the question.
At about 6:20am I got into the car just as the daylight was starting to break through the dawn.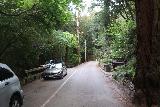 With such an early start, it didn't seem like I had to contend with much traffic. So by about 6:55am, I arrived at the familiar Baltimore Canyon Trailhead, which I was just scouting out.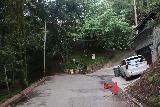 Like before, there was very limited parking. But it was nice and serene here, and I could only imagine for the residents here how convenient it must be to experience this canyon full of coastal redwood trees with a waterfall to boot!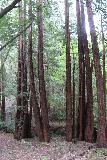 In any case, Mom and I did this hike three years ago when Dawn Falls was dry. I also knew how long this trail would be doing it through Baltimore Canyon so I was keen to try the alternate approach.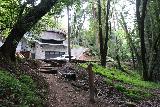 That said, I returned to the car then continued the drive to Crown Road. It was actually surprisingly non trivial to make it to the other trailhead, which was also at the end of some residential area, but it seemed to support more parallel parking.
The road involved lots of climbing up narrow switchbacks and there was clearly no signage to even get to this trailhead. Indeed, without the GPS
in this instance, I wouldn't know how to access this place as I'm sure it was a locals only kind of spot.
I'd ultimately get there at about 7:15am where there were already four cars parked along the sanctioned part of the dead-end. I made it number five.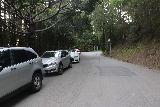 During the drive, I also found out that today was Good Friday so I wasn't sure if that was going to amp up the crowd factor no matter which excursion I was doing today. We'll see.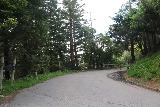 After gearing up and getting started on the hike, I immediately saw that there were pretty views as soon as I crossed the fence blocking further vehicular progress. There was also a sign about the Southern Marin Line Fire Road. I'd imagine that there trails here were mostly for the views.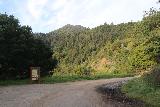 But in my case, I was merely content to see how doing Dawn Falls on this approach was going to be like so I didn't anticipate this taking long.
As the trail veered to the right, I was also pleasantly surprised to see lots of wildflowers blooming along the hillsides. That seemed to be the theme of this year's Spring season throughout the state of California. While we had superblooms back home in the Southland, I saw a greater variety of flowers up north even though I didn't see crazy mats.
As I was looking towards the Baltimore Canyon and the homes perched above, I was looking against the sun. I'm sure in the afternoon, this view would have been quite photogenic.
The trail then curved eventually to the left, where I encountered a signed trail junction with the Dawn Falls Trail. I then descended a steep path full of switchbacks and steps.
Finally at about 7:40am, I found myself looking down at Dawn Falls. But unlike the visit with my Mom three years ago, this time the waterfall was actually flowing!
So I spent some time capturing the falls though as much as I wanted to get down to its base, there didn't seem to be a good way to do this given the steepness of the terrain here.
I'm sure it's possible, but I didn't find the risk reward to be in my favor in this case.
With all the descending to get to this point, I knew the climb back up would be a breathtaker.
In any case, I continued down into Baltimore Canyon knowing that there was a big grove of densely-packed thin coastal redwood trees there. And when I got there at 7:50am, it was still as idyllic as I had recalled.
I also made this descent trying to see if it was feasible to get into the base of the canyon then scramble back upstream to Dawn Falls. Well, the amount of overgrowth and buskwhacking involved definitely made that out of the question.
So after having my fill, I climbed back up to the fire road and ended the steep ascent at 8:05am. And fifteen minutes later, I made it back to the trailhead at the Crown Road. This time, there were lots more cars parked along the sanctioned part of the road.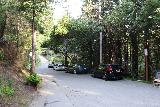 I guess this place was more popular than I thought but it seemed like the waterfall wasn't the focus because I only saw one other trail runner around the falls.
Next, I decided to do another suburban-fringed waterfall. This time, it was for Cascade Falls but the last time Julie and I saw it, it was 9 years ago at least – before Tahia was born.
So I was curious to see how it was now.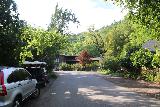 It took me until about 8:45am of lots of suburban driving to finally get to the end of Cascade Drive. The traffic en route going towards the city seemed pretty bad (or was it because there was still school on this Good Friday) causing the congestion.
Anyways, unlike the Dawn Falls excursion, it seemed like there were plenty of spaces available for parking despite all the No Parking signs. I happened to pick a fairly long pullout with room for three cars of which I was the second car there.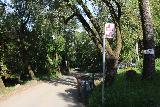 Since I didn't anticipate the drive to be long, I was already geared up for the hike. So I promptly got my stuff together and walked to the end of Cascade Drive where there was a fence and a sign declaring the Elliott Nature Preserve.
With the sun out, it was already heating up and there were also some mosquitoes in the area. I could hear them buzzing around but since I was wearing long sleeves, I wasn't sweating them too much.
Next, I followed the walking path which then immediately forked. The path on the left seemed to go right across the San Anselmo Creek while the narrow path on the right followed what seemed to be the "High Water Trail".
At first, I didn't know which path to take so I just followed the High Water Trail since that one had the signage. But it turned out that both trails seemed to follow San Anselmo Creek and that the High Water Trail was so named because if the creek was flooded or running too high, I could always take this narrow undulating trail to bypass the stream crossings.
Regardless, this trail seemed pretty prone to erosion and I'd imagine that the intent was to make this a more or less emergency trail. That said, I encountered more people on this trail than on the lower trail with the stream crossings. Go figure.
Speaking of people, I only saw a pair of women going back and one guy who passed me then didn't seem to make it far as he stopped before I didn't see him again.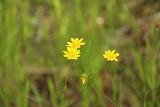 The High Water Trail eventually joined up with the main trail just after the far side of a stream crossing where signs said something about not playing in the creek due to this being critical habitat for endangered fish.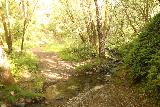 The trail then undulated over one hill before reaching a bridge over a tighter and seemingly higher volume part of San Anselmo Creek (maybe because the water was being more channeled at this point).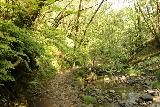 On the other side of the bridge, the trail then continued another quarter-mile or so on a narrower path eventually climbing to the familiar Cascade Falls, which I got there at about 9:10am.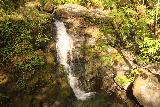 It was quite the serene experience because I was all by myself. The falls didn't quite have the same rigor as 9 years ago, but it was still more or less the same like it was before.
I noticed that the trail seemed to continue past the top of the Cascade Falls but when I got up there, the continuation of the trail didn't seem all that obvious. That said, it did pique my interest in terms of finding this so-called Plunge Pool at the Upper Cascade Falls.
So as I was having my fill of the Cascade Falls, I kept it in the back of my mind to check out the Plunge Pool.
By about 9:30am, I was leaving Cascade Falls and headed back to the footbridge where I was following Ann Marie Brown
's directions to see if I could get to the Plunge Pool.
When I got back there, I then briefly followed the San Anselmo Creek Trail before taking a steeply ascending path on the right. After huffing and puffing my way up some bends and getting into the exposure of the sun, I was becoming a sweaty mess and I was questioning whether it was worth the effort to get to this other waterfall.
Eventually at 9:45am, I decided that it wasn't worth the effort and I turned back but not before noticing more wildflowers blooming by the trail.
On the way back to the trailhead, this time I took the more sanctioned trail where I crossed San Anselmo Creek.
This wider trail seemed more open yet more quaint as there were mossy trees flanking the trail around an open grassy area. Then, when I reached another creek crossing, I had the choice to continue along the so-called "Public Trail", which I did.
The trail then went into a more shaded area, passing by some other trail going to a camp, and eventually depositing me by a third stream crossing. This was the crossing that took me back to the familiar trailhead area.
I had heard voices of other people taking the High Water Trail while I was all alone on the flatter trail. So I wasn't totally alone on this excursion, but it was virtually like that.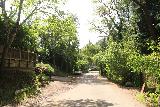 By 10:10am, I had returned to the car. Just as I got there, a pair of ladies were walking towards the trailhead and I greeted them with a "Good morning."
The lady replied by saying "Thank you for being nice!"
We both had a chuckle out of that exchange, but I wondered what she meant by that. Were the people who visit the falls that not-so-nice? Or was it the people living along Cascade Drive that weren't so kind to hikers?
Whatever the case, we went about our merry way, and now I decided that I should pursue Alamere Falls also for the first time since our second visit there back in 2010.
I was kind of hoping that the sunny skies seen here might translate into lovely lighting at the falls itself by the time I finally get there. However, I was a little concerned about the parking situation given the late start even though I knew the Palomarin Trailhead was pretty spacious.
So I promptly drove towards Alamere Falls via the Mt Tamalpais Drive. The GPS
wanted me to follow Sir Francis Drake Road all the way to Olema then make my way down to the Palomarin Trailhead by Bolinas, but I thought the shorter approach was to take the twisty road passing by the trailheads of both Carson Falls and Cataract Falls.
The drive out there was twisty and narrow with a few damaged sections where apparently part of the road either had roots growing underneath them or part of the road slid down a cliff.
I really contemplated whether I should do both of these waterfalls on Sunday but I also wanted to spend time to see the city of San Francisco with the family. I was also starting to get a little waterfall fatigued.
It was a classic case of too little time and too much to do.
Anyways, the drive persisted as I eventually got to the west side of the Tamalpais Watershed. Then, as I approached the Hwy 1, I noticed that there was quite a bit more fog off the coast, which I was hoping it would burn off the later in the day it would get.
After taking the local roads towards the Palomarin Trailhead, I eventually got to where the paved road became unpaved. But then I encountered some fairly mean potholes en route to the trailhead, and I wondered if this road had deteriorated over the years or if I just didn't remember the past that well.
I don't think Julie's car appreciated these deep pothole clusters, especially after spending $1200 to get the axle and alignment fixed for this trip, but I did what I could to take my time. I wondered how passenger cars would fare on this road.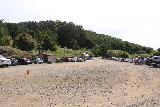 Eventually at 11:20am, I finally arrived at the Palomarin Trailhead. As expected, the parking lot was nearly full but there were still some parking spots on the far side of the car park (away from the trailhead itself) as well as some middle makeshift spots if it was even more crowded, I'm sure.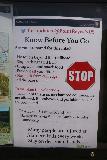 I then geared up and ensured I had enough food and water with me knowing that this was going to be a pretty long hike.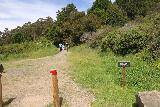 And about ten minutes later, I was finally headed out with a fairly heavy pack as I was carrying two big 32oz bottles as well as a pair of apple, broccoli chips, leftover pork rinds, and a seawood pack.
The hike followed through a grove of what seemed to be gum trees. Then it followed along coastline where it looked scenic like before. However, the threat of fog always seemed to want to inundate the area, and I already saw that it kind of did in some stretches.
There was one couple who passed me and noticed that I was taking photos of California poppies. The lady who was in that couple commented as such in passing.
They had passed me earlier on the trail near the start then I would pass them after they stopped to do some exercising on some bar that seemed to be a corral or something. But they were doing some kind of TRX pullup or something like that.
Next, the trail followed along a scenic coastal bluff stretch where I could see both north and south along the coastline. Even though the lighting would be better in the afternoon, it was still sunny in this spot and I was savoring the experience.
The trail then eventually veered inland as it then passed some muddy stretches (clearly there had been a lot of moisture this year) before it then climbed in earnest.
During the climb, I did another back-and-forth with the couple as I passed them, then they passed me as they were singing some kind of song.
This was around the time when I noticed some graffiti on a pair of rock walls. That was kind of a disconcerting thing to see as I never recalled there being graffiti along this trail in the past. The couple who stopped nearby said they didn't notice it. But I got the photo documentation.
Anyways, while they were paused, I continued on.
By about 12:30pm, I made it a trail junction with the Lake Ranch Trail. And about five minutes later, I then encountered the familiar Pelican Lakes.
One thing I noticed this time around was that one of the lakes looked like it was completely covered in a mat of brown as if there was some kind of algal bloom or something.
A little further along the trail, I got to the water's edge and noticed that as solid as the lake looked, there was still lake underneath all that growth.
Anyways, I then continued further along the trail that continued undulating while parts of the trail looked further worn by erosion from water channels.
Ultimately, the trail got to more open terrain with a slight view of another lake down below. But by this time, it definitely looked like the fog was winning out. And I was losing hope that experiencing Alamere Falls like we did 9 years ago when it was clear weather was not going to happen this time around.
By about 1:10pm, I finally made it back to the familiar start of the scramble to get to Alamere Falls. However, the signage that was once here was no longer there. That said, the opening was still obvious enough with yellow tape and other informal markers to assure me that I should be going back down this path like I did before.
Now, it was the time to be glad that I had long sleeves on. Sure enough, there were sections where I was brushing up against greenery that I couldn't tell if they were poison oak or not, but better be safe than sorry.
The trail then ultimately opened up again where I could see in the distance some people making their way back up from the steep scramble that I knew was there. I also noticed a small bloom of California Poppies in this opening before the trail narrowed once again and forced me to run elbows with the potential poison oak once again.
By 1:20pm, I then reached the steep descent along the seemingly increasingly eroded gully leading down alongside what I knew to be the Upper Alamere Falls.
When I made it down this initial descent, I could see there were quite a few people chilling out in this section where some were sitting by the brink of Alamere Falls while others were sitting atop a bluff by the cliffside scramble leading down to the beach.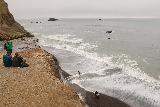 There seemed to be a bit more water on Alamere Creek this time around as the creek crossing looked a little more difficult this time around. Luckily, someone put a sturdy plank of wood in the stream to facilitate the crossing without getting wet.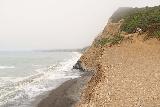 Next, I watched three women struggle to make it back up the cliffside scramble. From looking at the flip flops they were wearing, they were awfully brave (and perhaps foolish) to do this scramble with little to no traction as well as ginger scrambling with dropoffs. They clearly bit off more than they could chew, but at least they made it.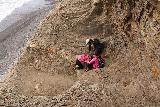 Then, I made my move, which seemed a bit hairier than before. I knew this came with the territory as these cliffs were crumbly and I'm sure the erosion continued to accelerate over the years.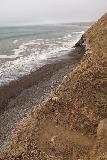 Finally at 1:45pm, I finally arrived at the base of Alamere Falls and the beach. There were at least 3 or 4 couples and a couple of individuals here so clearly it wasn't as secluded as I had recalled.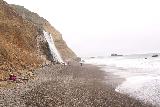 Plus, the fog made sure this place stayed overcast so I didn't have the contrast with blue skies anymore. But that didn't make this place any less spectacular.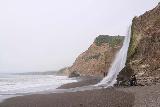 Crossing the creek to get to the other side of the falls was a bit non-trivial given how soft and deep the pebbly sand was. But I eventually got my movies and photos from both sides of the falls, then I enjoyed a picnic lunch watching people take selfies in front of the falls.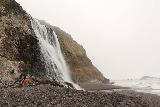 I was also finishing off the rest of the food that I brought to re-energize for the hike back up.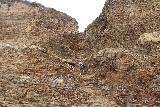 At 2:15pm, as the base of the falls was getting more visitors, I then made my move back up. After one couple made their climb up, I then insisted on making my move before a trio of people I knew were going to slow me down (they didn't have the right gear).
From that point on, I then made a beeline for the trailhead as the fog appeared to have gotten thicker.
By now, my left knee was feeling a bit sore and swollen from overuse, and by the time I made it back to the trailhead at 4pm, I was relieved to change into Chacos and out of the hiking boots.
By this time, the trailhead seemed to be a bit emptier even though I still saw numerous people going in both directions both to and from the falls. I even passed one group of four where one lady was freaked out from seeing a snake.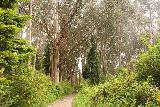 Anyways, I then followed the caravan of cars along Hwy 1 back to the city of San Francisco. And by 5:35pm, I finally returned to the Anchorage Parking Lot. There were lots of people at this time around the Fisherman's Wharf area, but I returned to our room to await Julie and Tahia returning from their excursion on the hop on hop off Big Blue Bus.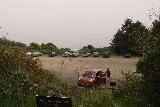 By 6pm, I was back in the room and unwinding. The girls returned an hour later, and while Julie was preparing dinner, I joined Tahia in the Hyatt pool where one Canadian guy working for the Toronto Blue Jays was chatting it up with us.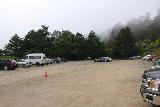 I guess the Blue Jays had a series with the Oakland A's and that he said he was coming back in a couple of weeks when they have a series with the Giants.
Anyways, even though the pool was outdoors and it was quite chilly, the jacuzzi was heated so the adults stayed there while Tahia went back and forth swimming in the big pool then joining us in the jacuzzi.
Tahia seemed like she was in heaven in the water as she thoroughly enjoyed herself. But by about 7:45pm, we returned to the room where Julie's "healthy chips" (as Tahia liked to call it) was finally done in Julie's pressure cooker turned grill.
We talked about plans for Saturday and Sunday, but they seemed disappointed with the fog which impacted their experience. They said their bus was still good until 3pm tomorrow, and since I didn't have a ticket, they wanted to do a couple more things tomorrow morning.
I guess then that opened the door for me to visit Brooks Falls though I doubted I'd have the time to visit the Tamalpais waterfalls while they were going their thing. Maybe I could walk up to Coit Tower or something. We'll see.
Then, that would leave Sunday to be the full day of touring Frisco as a family, but they also wanted to visit the Golden Gate Bridge and the view down at the bridge from one of the parks. I knew that would require a drive, and I'd still have to figure out how to pay the Golden Gate Bridge toll, I'm sure.
Anyways, after our dinner and rough plans, we pretty much crashed for the night.
Day 3 (April 20, 2019 – San Francisco, California): "The Urban Charm Equation"
It was about 4:30am when I awoke. Having slept early last night, I felt very well rested.
I took some time to get the blogging and photo selecting that I didn't get around to last night.
Then, by 6:25am, I finally got into the car. It was cold, windy, and very overcast. I swore I even felt a raindrop or two.
Knowing that Julie and Tahia would take a bit of time to get ready for the day, I knew that I could get to Brooks Falls before returning to San Francisco and they'd still be in the hotel room.
The question was whether the dreary morning weather was going to persist for the rest of the day.
Well, the hope was fading rapidly as the drive south towards Pacifica turned out to be nothing but drizzle and even rain (it was hard to tell the difference).
The skies were still a gloomy dark gray, and I was wondering if this was going to be the fate of the weather in San Francisco today, which was not good news considering we were supposed to be doing things as a family on this day.
So the drive south from the Hwy 280 to the Hwy 1 was a scenic coastal drive that would otherwise be very beautiful in more benign weather. But it had a tinge of drama as the skies continued to darken and the droplets continued to grow and be more frequent.
At least I noticed some gas stations, including a Shell that charged at least 20-30 cents less per gallon than the rest of the stations. So I kept a mental note to stop there when returning to San Francisco after the Brooks Falls excursion.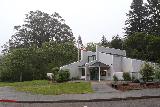 It wouldn't be until about 7:10am when I finally arrived at the San Pedro Valley Park. There was no one manning the entrance booth but there was a park ranger and a couple of parked cars.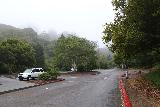 When I finally parked the car, the drizzle was pretty much like rain and I was already starting to get wet. It made me even more pessimistic about touring SF later today, and it made me wonder if I should use today to do the Cataract Falls and Carson Falls hikes instead.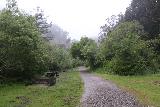 After spending about 15 minutes trying to figure out how to pay with the self-help envelope (the ranger helped me out with that one), and I surrendered the $6 vehicle fee, I then started on the trail to the left of the restrooms.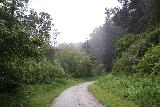 The trail started off in an open valley with some picnic tables to the right side of it. But without much shelter in this open area, the drizzle or rain was definitely making things a bit uncomfortable.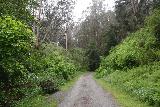 The trail eventually bent to the right (there was a seemingly false trail continuing straight into some side valley that signage had me ignore though I wasn't sure if that was the way to Brooks Falls or not), it then bent again to the left as it started to go up a bend then veer back into the coverage of a forest.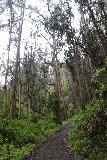 The trail then continued climbing and it started to make me wonder if I had somehow missed Brooks Falls or something because I was already getting the feeling that this trail was going to be more than a mile as I was certain I had already gone at least a half-mile to this point.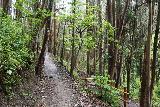 The trail ultimately reached a trail junction stating that the visitor center was 0.4 miles back in the other direction via a different trail (clearly they could be combined into a loop).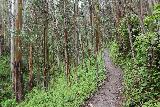 As I proceeded uphill to keep going on the Brooks Creek Trail, I couldn't help but notice some old trail that the authorities here didn't want the public to go on. I wondered if that trail was supposed to get to the Brooks Falls Lookout.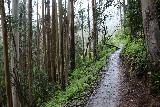 In any case, I proceeded up the main trail, and the higher the trail went, the more I was questioning whether I did indeed make the right choice in terms of seeing Brooks Falls.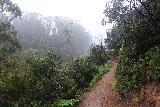 Well, it turned out that as the trail continued its climb as it passed through a gully then hugged an eroding ledge, I was still having doubts about whether I'd find Brooks Falls at all.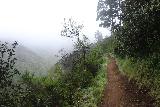 Indeed, the trail kept climbing and I'd eventually get to a clearing area with a bench at about 8am. It was in this spot that I finally started to see the thin flow of Brooks Falls across the canyon.
With the increasing drizzle now seeming turning into bona-fide rain, as well as the low clouds threatening to block the view of Brooks Falls (it was already obscuring the uppermost tiers of Brooks Falls), this was quite the disappointment considering the fee I had to pay, and the non-trivial uphill trek to get up here.
As I was busy taking pictures and videos while also trying to manage the wet camera, a couple of Korean seniors passed by me. Clearly, they were continuing onto the Montara Mountain Trail.
But I doubted what the point of that trail was if the weather would remain rainy or drizzling at this time. After all, where would the views be?
Eventually, I had my fill of Brooks Falls as the low clouds continued to descent and cause viewing problems for Brooks Falls. As I was heading back down, I had noticed more Korean retirees or something who might have been part of the same hiking group.
I had to watch my step because of how slick all the wet rocks and wet dirt could be, especially with dropoff exposure to one side.
Nonetheless, by about 8:25am, I had returned to the car park at the San Pedro Valley Park. I had taken the continuation of the loop trail back to the visitor center (not the much longer Montara Mountain Trail), and when I got back to the car park, I noticed a few more cars showing up.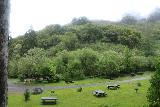 As I was leaving the park and eventually heading north from Pacifica back to San Francisco, I saw that the fog situation wasn't nearly as bad as it was in Pacifica. In fact, I could see sun breaking through and making the weather quite promising and gorgeous given this turn in the weather.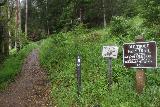 The GPS
had me drive along King Street then along the waterfront of the eastern peninsula. I believe this part was called Embarcadero.
It turned out that the drive was so scenic that I wished I had time to enjoy the ambience of the morning looking east at the Bay Bridge (reminding me of how the Brooklyn Bridge would have looked at from the area near Grimaldi's).
The golden rays of the sun piercing through the foggy haze with farmers markets and lots of pedestrians on this side of SF made me want to be part of all that action.
I had resigned myself to perhaps not being able to do this because I knew Julie had plans. But I certainly wanted to be out there in the action and not in the car.
Regardless, I eventually made it back to the Anchorage Parking Garage at 9:10am. We then spent the next hour or so finishing up on pressure-cooked breakfast with some fruits bought from the Trader Joe's around the block.
Eventually, we'd finally be prepared and out the door by 10:05am.
But when we got downstairs to the concierge and asked about Alcatraz tickets, it turned out that they were sold out for the whole weekend. So it wasn't likely that we were going on this excursion on this particular trip. I guess we just didn't have the advanced planning that we were supposed to have had we wanted to do it.
Well, that at least freed up a good chunk of the morning, and we ultimately went to the Big Bus Tour, which was a Hop On Hop Off (HOHO) tour.
When one bus rocked up at about 10:30am, we had to relegate ourselves to sitting in the lower deck and not in the open air above. That was a bummer because this narrator had a pretty good sense of humor and he was pointing out all sorts of tidbits about the city.
I really wished I was upstairs taking pictures of the downtown scene here, but alas, it wasn't meant to be.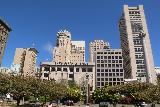 It wouldn't be until a good chunk of the city part of the tour was over that people got off at Union Square, and then we went upstairs so we could finally enjoy one of the upper deck seats for photos.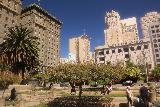 By that time, the tour continued with passing by the attractive town hall building, which looked very much like a Capitol Building except there was apparently real gold on its roof.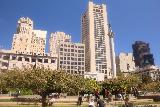 Julie mentioned something about the interior of this building being really worth visiting, but it was only on weekdays and I doubt we'd straddle around San Francisco just for this building.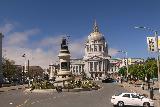 Like with Alcatraz, it would have to wait another time.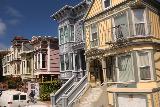 We then passed by more interesting buildings like some kind of opera house as well as some building whose windows were supposed to resemble a piano.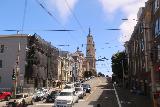 Really, the bus went along so quickly that most of the photos I tried to take didn't really pan out.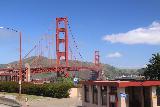 Then, when the bus got into the traffic waiting to get across the Golden Gate Bridge, that was when the camera clicks started going again.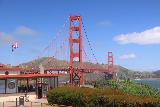 Indeed, it got really windy and really cold really fast. I tried to take what shots I could of the area as well as shooting towards the beach that was more in the direction of a park on the front side of the Golden Gate Bridge.
I was pretty certain that Julie told me her cousin Linda took her family to that beach when they were living in San Francisco.
Eventually, the Big Bus got off at the obvious stop at the far end of the Golden Gate Bridge. Indeed, parking looked as chaotic as it did the first time we were here back in 2002 when we took Julie's cousin from Paris to here, and I recalled not having a good time driving around and trying to find parking everywhere we went.
By 12:20pm, we got off at the very busy park and scrambled to a slippery hilly section which was probably where the best photos of the Golden Gate Bridge could be had.
There were some attractive wildflowers on the hillside allowing us to add a little depth to our Golden Gate Bridge photos but looking back towards the city by the bay was a bit on the flat side.
We had our fill about 15 minutes later, and then we got back onto the bus. Boy were the lines quite long to get to both Sausalito as well as back to San Francisco, but luckily we didn't have to wait for long.
At 12:55pm, we got off at the Museum of Fine Arts stop and proceeded to walk towards the familiar building with Roman like columns surrounded by a pond and some expensive homes.
Like with other known SF sights, this place was also quite busy. Still, I used the people as subjects to convey the overall scale of the grand architecture on display here, but there really wasn't much else we could do here except to take pictures and try to relax.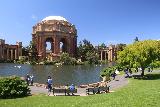 Julie and Tahia noticed there were a few cherry blossoms still alive around here, but the wind was still quite strong and blustery that it posed quite the challenge to take pictures of them as they were dancing about on the trees.
It was about 1:40pm when we had our fill of the Museum of Fine Arts and now it was time to pursue a late lunch. So we managed to crowd in on a rather crowded bus where the guide on there allowed for limited standing room though he probably wasn't supposed to.
That said, we kept going all the way towards the stop right after the Chinatown Gate. That was the one that took us closest to the R & G Restaurant which was apparently a rare Michelin rated restaurant.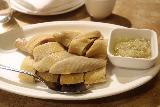 Julie was looking forward to coming here because she wanted to try their Hainan Chicken. Tahia was also looking forward to it because she wanted something similar to what we were used to back at home when Julie's mom made some killer Hainan Chicken Rice.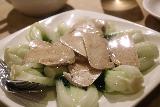 But when we placed the order, we saw that we had cold chicken that was kind of like what you'd expect at a Chinese banquet. That was quite unexpected but then again, this was probably Cantonese style and not Singapore style that was a case of misplaced expectations.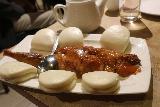 At least their Peking Duck was very good. It was so good that both Tahia and Julie devoured that order and I was left having to eat Julie's cold chicken.
Same went with the Vegetarian Abalone Bok Choy dish. It was another case of misunderstanding and I probably ended up with more than my share of soy on that imitation abalone instead of the real deal.
The lunch ended up being about $78 with tax and tip, which was another reminder of how expensive eating out can be in San Francisco.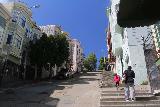 By about 3:20pm, we left the R & G restaurant and we decided that instead of taking the bus all the way back to the Fisherman's Wharf, we mind as well go for a walk up to the Coit Tower seeing that it was just up ahead of us. Then, we could walk back to the Fisherman's Wharf area to recover the car to go to the Marin Headlands.
The walk towards the tower from Chinatown was a very steep affair. The sidewalks along the road were so steep that they made the whole sidewalk into steps. Had it been a ramp, it would have been a pretty brutal climb.
During the steep climb, we couldn't help but notice some of the cars were parked perpendicularly instead of parallel, especially given how steep the street was. Trying to imagine ourselves being residents here, we concluded that space had to have been at a premium just like with all tight cities.
Then, we had an epiphany. We realized that the charming cities in the world tended to have high density and small area. They also tended to have vehicle-free zones.
Well, San Francisco had the first factor but not the second. That alone put it high up on the charming list as far as US cities are concerned, but they had nothing against the European cities which also had the latter as well as the history.
But that still didn't stop us from considering San Francisco one of the great American cities, and I could see why some Northern Californians might have a bit of a superiority complex when compared against Southern Californians.
As we got up towards the top of the road, we noticed more steep streets looking back against the sun towards the west. But we instead walked up more steps towards the Coit Tower itself. At first, it looked like people were leaving and very few were going up to the tower like we were.
But when we got to the tower, we overheard the worker tell them that it was about five minutes to get in and about 45 minutes to an hour just to get to the top. No thank you, was our thinking as we had other important things to do besides just waiting in line.
So we eventually got our fill of the outside of the Coit Tower though we managed to look west towards Lombard Street and north towards Alcatraz Island before heading down the steep streets towards the familiar Fisherman's Bay area. There were also steps and walkways towards the Embarcadero but that wasn't the focus of the moment for now.
Finally at 4:40pm, we returned to the car in the parking structure. Julie commented that it was the first time in nearly two days that she saw the car, which reminded me of how much city touring they had been doing without me on this trip.
We then drove over to the Marin Headlands where we took the Alexander Rd exit and followed a line of cars through a five-minute-delay tunnel before facing the crowds and the lack of parking spaces to at least check out the Golden Gate Bridge.
We got there at about 5:10pm, but this time, Tahia was asleep. So Julie and I got to check out the Golden Gate Bridge in its entirety with the city of San Francisco backing it. It was quite a regal scene though it wasn't quite what we had experienced a few years back when it was just Julie and I attending a former co-worker's wedding in Napa after spending a single night in San Francisco.
After having our fill of the uppermost viewing spots of the Marin Headlands, we then headed back down as we saw that at least the traffic died down near the lower parking areas for the so-called Hawke's Hill lookout. We wanted to go down there for a more intimate look at the Golden Gate Bridge.
Unfortunately, when we got down there, it was packed at each of the parking spots. We had no shot at being down there unless we drove all the way to the bottom and hiked the 1.6 miles back up. No thank you to that.
The thinking now was to go back here (and face the $8 toll which I still had to pay for each time I've crossed this bridge) and try again when hopefully things wouldn't be so busy on a late Sunday afternoon when people should be going to the work the following morning.
We'll see how that goes. And if it wasn't meant to be, then it wasn't meant to be. But trying to do this on a Saturday (an Easter weekend no less), it just didn't seem to make sense.
So by 5:50pm, we got back to the 101 Freeway and back across the Golden Gate Bridge. We then headed into downtown San Francisco again to go to a Whole Foods so Julie could get some supplements while also some healthy snacks.
I'm sure I could use some of that as tomorrow's plan was to divide-and-conquer once again so I could visit Carson and Cataract Falls while they might visit Angel Island or something.
By about 6:15pm, we finally got through the traffic and into the Whole Foods on Franklin Street. Then, we wound up eating in the downstairs limited seating for eating where we had a whole rotisserie chicken, some collared greens, some broccoli, and some beets.
Then, we went back upstairs to shop for the snackies and supplements. Still with no refrigerator, we had to limit our shopping.
Eventually at 7:30pm, we returned to the car. At least with our meal inside Whole Foods, Julie wouldn't have to cook anything back at the room with her pressure cooker.
By 7:55pm, we had returned to the parking garage at Fisherman's Wharf. We decided to do a little more walking (at the protest of Tahia who just wanted to play in the swimming pool), and we seized the moment to at least checking out the Cannery Row and part of the Ghiradelli Square as well as the San Francisco Marine Park.
It was a good thing we got what shots we could which took advantage of the twilight lighting. But by the time that faded, we then took our stuff from the car and headed back to the Hyatt Centric.
We finally got back at about 8:40pm, and that was the end of the day where all of us were pretty exhausted from such an action-packed day even if we wouldn't be able to do Alcatraz on this trip. We figured there'd always be another time we could do this now that we knew what it takes.
At least that helped to free up today and allow us to spend a full day as a family in the city by the bay. And that helped to enable me to do the last bit of hiking in the San Francisco Bay Area before we head off to San Jose tomorrow…
Day 4 (April 21, 2019 – San Francisco, California): "A Bit Of Deja Vu"
It was about 5:15am when I awoke to the alarm. I spent about an hour getting caught up on the blogging since I was too tired to finish it last night.
So that put me to about 6:30am when I finally got some chips and apples as well as filling up on water to get moving on the pair of hikes that I was about to do.
Knowing that Tahia and Julie had no interest in doing the hikes nor waking up early, I was once again on my own.
In any case, I proceeded with the usual routine of getting out of the garage and following Marina Drive towards the US101 right before the Golden Gate Bridge.
I then followed the GPS
directions all the way to an offramp near Fairfax, which then headed briefly west on St Francis Drake Blvd before going left onto the Fairfax-Bolinas Rd.
Then, I followed this curvy and narrow road for a bit (passing by at least three deer en route, especially near the gold course) before finally getting into the Mt Tamalpais Watershed area.
Eventually at about 7:20am, I made it to the Cataract Falls Trailhead at the familiar hairpin turn. I was about the third car that showed up this early in the morning, and there was a bit of a sense of deja vu since the last time I was here was with Julie back in 2010 in just as good weather.
The morning was cool comfortable hiking weather, and after gearing up, I proceeded to go onto the familiar hike, which skirted Alpine Lake before getting to the artificial lake's headwaters, where the numerous waterfalls of Cataract Falls ultimately fed into.
After the lake at 7:45am, the trail then started to encounter the first of the cascades that made up the Cataract Falls. This was also the time when the trail also started to climb steeply and relentlessly.
Along the way, I encountered at least three significant cascades kind of in succession. Then, I crossed a bridge and did another climb where I saw a fourth waterfall spilling into an attractive plunge pool.
Beyond that falls, the trail started to flatten out (or at least the climb became less arduous). So far, I saw just one couple that was on their way back down at this point. So I clearly wasn't alone and I'd imagine they were one of the two vehicles that were already at the trailhead before me.
At 8:30am, and eventually, I encountered what I thought was the fifth waterfall. This particular one was secluded and off the main trail.
Ten minutes later, I encountered what I thought was the sixth Cataract Falls. This one looked like the trail around this falls was re-routed. It appeared that the old trail used to pass by this waterfall, but now the official trail bypassed it.
What was left of the views was something quite overgrown.
Eventually at 8:50am, I reached what I thought to be the seventh Cataract Falls. This particular one seemed to only be visible from afar. There was a sloping cascade then disjoined cascades fronting a set of steps leading to a dead-end with a view of it.
Beyond this waterfall, the trail climbed once again as it ultimately junctioned with the High Marsh Trail. I kept to the right to proceed above the last of the Cataract Falls, then continued the next 0.2 miles to get to the Laurell Dell Picnic Area.
It was said to be about 1.6 miles round trip to get from the Cascade Trail to Laurel Dell. Beyond the dell and its half-dozen picnic tables by the serene creek, there was a four-way trail junction. I didn't pursue any of those trails as I was quite content with reeturning to the dell and having a picnic by myself.
It was about 9am when I was enjoying the babbling brook supplying the calming sounds as I was munching on an apple and some Siete Chips. The scene was so calming and tranquil that I could have lingered here for a lot longer if I wanted to.
I saw one couple coming back from beyond the Dell, and when I started to head back down at 9:15am, I saw a couple more hiking parties – one eating at a different table while another was with a dog and going beyond the dell.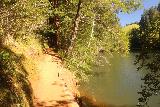 In returning to the trailhead, it was fairly smooth going because the hike back was mostly downhill. However, I did notice a waterfall I didn't notice earlier that was hidden from the trail, which I dubbed Cataract Falls 5.5 (I was running out of integers to name such falls).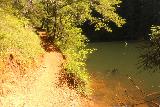 It really seemed like on my return hike that there were way more people heading up than coming down. Boy was I glad I had my early start.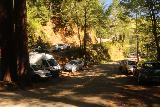 In any case, I ultimately returned to the trailhead parking at the hairpin bend. By 10:05am, I was back at the trailhead. There was certainly many more cars and people at the trailhead at this point.
With the good progress, I then went back the way I came for about four miles, where I then found plenty of parking space for the Azalea Hill Trailhead. That was a bit of a surprise to me considering it was 10:20am on a Sunday (Easter Sunday no less), but then again, I wasn't complaining.
Having done this particular hike with Julie before (just like with Cataract Falls), I knew what I was getting myself into.
But without Julie with me, I could go very quickly or in a more disciplined manner.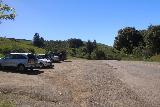 So knowing that this trailhead was close to the previous trailhead, I didn't need to change shoes. I also had the backpack pretty much packed and geared up for this excursion. And I used my other water bottle, which was nearly full.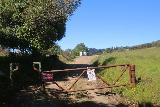 I then crossed the road and proceed up the Pine Mountain Road, which was a beat up 4wd road that was closed to public vehicles (not that anyone was going to drive this road anyways).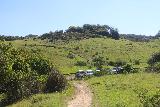 It was also the start of a pretty long uphill that was exposed to the sun, especially on a day like today which was pretty warm with a bit less wind than yesterday.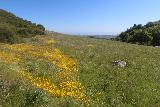 At least I took advantage of the open air and proximity to the golf course below to place a cell phone call with Julie. I suspected that I'd be back in San Francisco earlier than anticipated and I was hoping that we could do stuff together for the rest of this Sunday afternoon.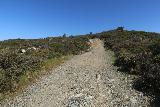 I even offered up the suggestion for them to Uber to the Marin Headlands and I'd meet them there to get that sought after signature view that Julie wanted to re-experience (she didn't recall our original experience).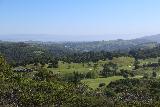 Anyways, Julie said that she wasn't feeling well from histamine reactions that seemed to have been the worst it had even been. We suspected it came from the Chinese food yesterday. Perhaps Julie's FODMAPs count exceeded with eating the Trader Joe's food regarding the collared greens for dinner as well.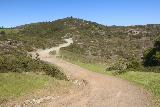 So I had the feeling that when I would return to San Francisco, we weren't going to do much on this day, which was a shame because it was today was such a beautiful day and we should experience Frisco not from the hotel room.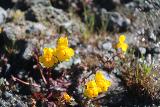 I also had it in my mind that perhaps I should forego doing the Marin Headlands again at the conclusion of this hike.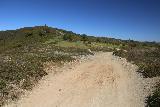 I spotted a few wildflowers flanking the Pine Mountain Road, including more California Poppies. Plus, I caught glimpses of the North Bay as well as the Richmond Bridge way in the distance.
The Pine Mountain Road part of the hike was definitely relentless. But knowing where I needed to go and what it took to get there, it didn't take long before I reached the apex of the hike near the Oat Hill Road junction. I got there at about 11am.
Next, I descended the Oat Hill Road for about five minutes before reaching the signed Carson Falls Trail junction. Along the way, I noticed some more attractive wildflowers en route.
I also wondered if there were shorter trails leading to this Carson Falls Trail. GoogleMaps stated that the Liberty Trail was one such shorter trail to get here. I wasn't sure what else was along the Oat Hill Road had I kept going.
Anyways, I continued the descent on the much narrower Carson Falls Trail. It descended a few switchbacks under the shade of trees. Then it went back out in the open again where it then junctioned with a trail leading to the Bolinas Road just a mile away.
I wondered where that trailhead was because I didn't recall running into it nor seeing it on the maps.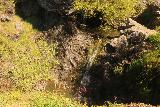 Regardless, the trail then went back into the trees briefly before emerging at the top of Carson Falls. And like the first time we came here in 2010, this falls wasn't flowing that well.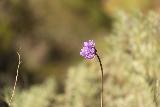 In fact, it was probably flowing thinner than that first time we were here.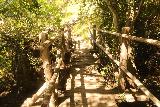 After having my fill of this top part, I then continued past a bridge and descended alongside the Carson Falls before I descended a spur path leading to a frontal view of one of the upper tiers of the Carson Falls.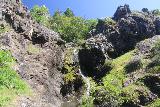 And like before, I looked downstream where there were still more tiers though I could only see the brink.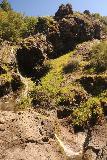 I then went downhill briefly before reaching the familiar lookout of the main part of the Carson Falls, which had the tallest two drops in succession.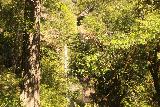 However, unlike the last time Julie and I were here, this lookout was a lot more overgrown than before. So this view wasn't as satisfying as that first time we were here back in 2010.
Plus, there wasn't a decent place to sit down and have a picnic, so I went back up to the trail junction by the spur with the first frontal view of Carson Falls. That was where I sat on some steps and let hikers walk around me as I was snacking on an apple and more Siete chips.
I had my lunch at 11:45am, and I resumed my hike at 12pm. This was right around the time when there were even more hikers making their way down. That said, they seemed to continue their hike further downstream, but my memories of doing that was such that there wasn't anything worth stopping for way downstream of Carson Falls. So I wasn't going to bother.
By 12:15pm, I sweated my way back up to the Oat Hill Road. I knew this wasn't going to be comfortable considering that I had to descend to get down to Carson Falls so I had to get back all that elevation gain.
However, this wasn't the end of the climb. I still had to take another five minutes to get back to the Pine Mountain Road.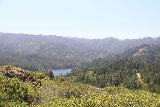 Then, after a brief incline, I finally reached the apex and the rest of the way was pretty much all downhill to the Azalea Hill Trailhead.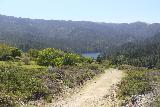 Finally at 12:50pm, I returned to the car. By this time, the Azalea Hill Trailhead was completely full.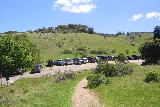 I also paused to check out the North Bay views as well as slightly better lighting to peer towards the Richmond Bridge.
Towards the end of the hike, I also saw parts of the Alpine Lake, which was what I saw earlier this morning en route to the Cataract Falls.
After cooling off and driving back towards Fairfax, I had already decided to head straight back to San Francisco while skipping the Marin Headlands. The traffic to get back wasn't bad, and eventually at 1:45pm, I made it back to the Anchorage Parking Structure by the Fisherman's Wharf.
When I returned to the room, Julie and Tahia had already had their lunch, but Julie was resting.
I ate some chicken legs left over while Tahia was busy watching YouTube videos. She was dressed in a swimsuit and it was clear that she was really looking forward to playing in the pool.
Unfortunately, all morning long, she never got the chance to play in the pool so we'd have to eat into our SF enjoyment time in order to accommodate her. On top of that, Julie wanted me to buy stuff for her at the Trader Joe's before they close for the day.
When we got to the Trader Joe's, Tahia was busy asking me about the sweets she'd see on the shelves.
Other strangers overhead me telling Tahia that she wouldn't want to waste her sugar quota on junk like this. And that instead, if she's gonna eat junk, she mind as well make it count.
The cashier gave me a knowing nod and a smile, and a lady behind us told Tahia that "You're gonna thank your Daddy when you grow up".
So with that, we got back to the room while Julie was done heating up broccoli for me. I gave Tahia a choice of swimming for 15 minutes now or waiting until after dinner where she can swim for an hour.
She opted for the 15 minutes now. And thus, I brought the food to the pool and ate the rest of my lunch (with some banana chip snacks) while Tahia was busy swimming between 3pm and 3:15pm.
When she was done with that, we got back up to the room at 3:20pm. Then, there was a little more dilly dallying before we finally left the room at 3:55pm. It really felt like we were wasting a perfectly good last day in San Francisco with such a late start…
The first thing we did was to walk towards a classic car bus stop. We intended to take it all the way towards the Bay Bridge area, and then we'd walk all the way back. And that would be how we'd spend our last bit of sightseeing in Frisco.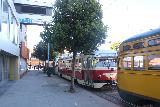 However, at 4:05pm, there were three such classic cars with a lot of people waiting to get on. When one worker finally showed up several minutes later, Julie was asking what was the situation.
And that was when she was getting lectured by the guy about him needing to use the toilet and the Fisherman's Wharf area was the only place where he could do so. And apparently all three drivers (there were three such cars) did the same.
Julie tried to defend herself by saying, "I was just asking a question."
But that driver definitely didn't appreciate the line of questioning. So with that, he waved everyone in. We thought we had to pay in cash for the ride, but this employee didn't seem to care nor check.
So we took this train all the way to around the Pier 1 area. We got off at around 4:20pm.
We weren't quite close enough to the Bay Bridge at that point, so we walked a little further away as we went past the Ferry Marketplace, and then I eventually went forward and took some leading lines shots of the Bay Bridge with the SF Fire Department boat fronting it.
The bridge looked flatter the further away from the bridge we made our shots.
Anyways, after having our fill of the Bay Bridge, we then entered the Ferry Marketplace, where a lot of shops were just closing for the day as it was now past 5pm.
Of the places that were still open, Tahia and I picked up some macarons from Miette, and Julie picked up for us a small helping of ice cream (compliant) that Tahia and I also shared.
It wouldn't be until about 5:30pm when we finally left the Marketplace and we continued walking along the Embarcadero area, which definitely lacked the energy and action Saturday morning.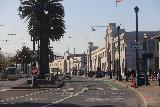 Still, we were spending quality time as a family, and we were getting good exercise while experiencing a part of San Francisco that we didn't get to do before.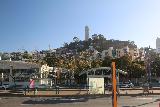 Eventually, we made our way back past the Embarcadero and we then entered the Fisherman's Wharf area.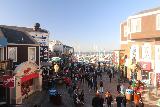 Based on how busy and atmospheric it was here, I really wished that we could have spent more time here earlier on in the trip. After all, we had so many opportunities to do so, but we never really made good on it. In fact, we spent last night at Cannery Row and that was disappointing compared to Fisherman's Wharf.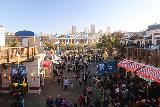 It felt a lot different here than what I recalled back in the day when we'd have bread chowder bowl and there were crab markets throughout. But now, it seemed a bit more developed and touristy, and there were a lot of restaurants back-to-back that sold chain fare. I wondered when this transformation was made because even as recent as about 7 years ago, I didn't recall Fisherman's Wharf being like this.
Regardless, I was getting a happening vibe as I took pictures from the bridges and balconies looking down at all the foot traffic just as the sun was casting longer shadows.
I also managed to get a good view of Alcatraz Island fronted by a marina. I even took an against-the-sun shot of an archway framing some battleship.
At 6:20pm, we then went into a CVS so Julie could pick up some supplements.
And eventually at 6:40pm, we finally returned to the Hyatt Centric. We knew that there'd be no more sightseeing in Frisco especially since we had to pack for our departure to San Jose tomorrow.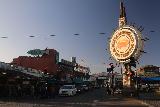 I was anticipating an early departure tomorrow to allow more time for us to get things done before arriving in San Jose. I suspected there wasn't much to do in the city so the greater priority was to get through the waterfall hikes en route as well as at the Big Basin Redwoods State Park.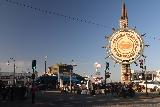 Better to avoid the rush hour traffic since tomorrow would be a Monday.
Meanwhile, Julie prepared her own chicken thighs while she prepare steak and veggies for both Tahia and I. Based on our prior two experiences, eating out just wasn't going to work. So Julie had to take matters into her own hands and prepare her own food so she knows what went into them.
And so ended our time in San Francisco where we had much we wanted to get to experience but didn't – like Alcatraz Island, the Painted Ladies, Lombard Street in the morning, Angel Island, going inside City Hall, and climbing Coit Tower among others.
But at least we knew what to expect in the city now that we finally made a concerted effort to really experience this place. It's like that saying – "Nothing ventured, nothing gained". And we certainly did a venture in our own way over the past four days…
Day 5 (April 22, 2019 – San Jose, California): "All About The Redwoods"
It was 5:20am when I awoke. I spent the better part of the early morning cleaning Julie's Pyrexes and utensils as well as pressure cooker. I also wrapped up my packing.
Julie eventually got up at 6am and that was when we were moving quickly as now it was more than just me doing the preparations to leave the Hyatt and San Francisco in general.
I had aspirations of getting an earlier start by leaving by 6am, but I had to settle for leaving at 7:10am. Our checkout bill was $161 for the parking and something that Julie bought on the property. It was still a good value considering that we had used our Hyatt points and that we were so well situated. Plus, the in-and-out privileges at will certainly helped with my flexibility in getting hikes done.
We'd definitely do this again if given the chance. Perhaps, we could finally get to experience the rest of Frisco that we didn't get to do this time around.
Anyways, once again, the morning was beautiful in the city by the bay. It was too bad that we had to leave because we could have easily enjoyed the scenery here once more.
But alas, today was the first day back at work from the Easter Weekend as well as Spring Break for a lot of people, and so we sought to avoid a lot of that morning rush hour by taking the scenic route through Pacifica and Half Moon Bay en route to Pomponio Falls.
I had originally thought about visiting Tiptoe Falls, but I figured that it was going to be tight if I tried to fit in too many things into today. And that tiny waterfall had to be sacrificed.
The drive south along Hwy 1 was very scenic this time around, unlike two days ago when it was raining (or at least drizzling hard) in Pacifica as I was doing Brooks Falls.
The drive was pretty uneventful until we headed inland towards La Honda. Then, we followed the GPS
, which led us to the entrance of Memorial County Park. We got there at about 9:15am.
The entrance fee here was $6 per vehicle. And after taking care of the self-help envelope business, we then tried to follow Ann Marie Brown
's directions as we searched for Pomponio Falls.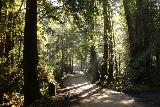 Her instructions had us going to the Sequoia Flat Campground, but we saw that there was a gate blocking access to that campground. So after driving around the Azalea Campground, we eventually circled back to the road closure, and then parked at the nearest campsite, which was the Azalea Campsite 35.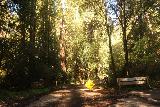 After taking about ten minutes to get ready, we finally walked past the closure gate and then descended the road towards a concrete ford or bridge over Pescadero Creek.
Along the way, we saw attractive god beams as the sun was piercing through some of the humidity caused by the cool and crisp morning air penetrating the forest canopy caused by the impressively tall coastal redwood trees.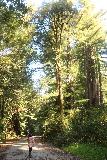 This place had a real serene calm about it, and we wondered what a nice place to camp this would be, even though there didn't seem to be much in the way of waterfalls besides Pomponio Falls to keep us here. But if we were camping for the sake of camping, why not here?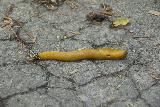 We eventually went up the road and into the empty Sequoia Flat Campground. Ann Marie Brown
had us look for some trail near campsite 12, but it turned out that whatever trail we were looking for was nowhere to be found.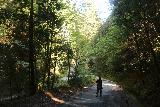 Perhaps things have changed over the past 20 years or so and thus perhaps this trail no longer exists or campsite 12 was now something else.
So after walking around Sequoia Flat Campground in a futile manner, we then headed back to the concrete ford over Pescadero Creek. Then, upon inspecting the trail descriptions more closely, we saw a faint and broken concrete path along Pescadero Creek.
It looked very slippery and dicey, and it barely passed as a valid trail.
Nonetheless, we went downstream from the concrete ford and pursued the waterfall. We could definitely hear it and see a small bit of it from the Sequoia Campground so we knew that this scramble wasn't far.
But it didn't take long before Julie and Tahia saw a badly eroded section of the trail that was very difficult to get across without likely taking a spill. Even though the dropoff was maybe 10ft or so, it was still high enough to sustain an injury.
So they decided not to go further, and I took a lower approach which involved me going right through some foliage in order to get to the other side of the badly eroded section.
From there, I managed to follow the trail the rest of the way to the Pomponio Falls with the bridge above it that Ann Marie Brown talked about. I got there at 10:20am, and this excursion definitely took much more time than I had anticipated.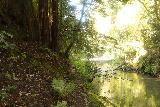 Maybe in hindsight, I could have brought Chacos and something I could get wet in, then wade my way downstream from Pescadero Creek to get to Pomponio Falls. The dry land portion just seemed to dicey. I was also curious about getting up to the footbridge, but with this falls being so small, I wasn't interested in spending any more time nor taking any more risks.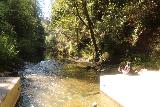 We still had to get to Big Basin Redwoods State Park before checking into San Jose today.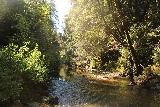 Upon returning to the concrete ford, I actually managed to get across the dicey slippery eroded part, but not before taking one slip and cutting my thumb.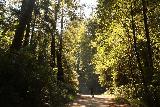 Anyways, when I rejoined Julie and Tahia (who were busy throwing rocks at the concrete ford into Pescadero Creek), Julie then put on a bandage for me to keep that wound from getting infected.
By 10:50am, we returned to the car and then proceeded to drive to the Big Basin Redwoods, which apparently was only 8 miles as the crow flies according to the GPS
. But I could tell that it predicted that it would take at least an hour to get there given all the curvy roads.
Sure enough, the drive not only was slow, but it was narrow and winding as we were cutting across to the Hwy 9. Unfortunately, Tahia was getting car sick, and she almost hurled until we luckily got to straighter roads when we got to the Hwy 9.
After going south a bit on this road, we then continued on the 239 into the Big Basin Way, which was once again narrow and winding. But this time, there were quite a few cars in front of us so we pretty much followed the caravan of cars into the parking lot by the Park Headquarters. We got there at about 12:10pm.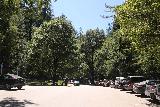 After paying $10 for the vehicle day use fee, we then found parking that I knew would eventually be shaded. It was somewhat warm on this day as the sun was bright and out in full effect.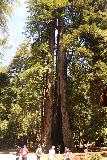 The last time Julie and I were here, it was under cloudy skies. This time around, there were lots of shadows due to the sun. Sometimes I wondered if this place would be better under cloudy skies especially from a photography standpoint.
Anyways, it took us about 20 minutes before we finally got geared up and ready to go. I knew that there'd be no chance we'd be doing the Berry Creek Falls and Golden Falls Loop on this day (I had to save that for my solo hike tomorrow), but we could at least do the Sempervirens Falls hike, which was said to be 3.4 miles round trip.
I was hoping there would be a shorter and easier way to visit the falls, but the lady said we had to walk from the park headquarters and follow the Sequoia Trail to get there. So I knew at that point that we were probably going to spend at least two hours or more.
So we followed the Sequoia Trail, which passed amongst many giant coastal redwood trees. Some of them had hollow bottoms that you could walk through like a tunnel though Tahia was too scared to pass through one of the more obvious ones.
The trail then undulated as well as gone through some muddy patches as it paralleled the park road. Given the quantity of vehicles driving by, we wondered if there was a way to still drive closer to the falls instead of hiking such a long distance.
Regardless, we still enjoyed the trail as Tahia and I were noticing a lot of the coastal redwoods with blackened trunks as well as some leaning or toppling over (or at least on the verge of doing so).
That was a teaching moment for Tahia since redwood trees like these could be 2,000 years old or greater. Since trees like these had to have seen multiple wildfires, we realized that such trees must have some degree of fire resistance. And that the primary way these trees lose their life is by toppling over due to shallow roots and being top heavy from continuing to grow taller.
Some managed to die by lightning strike as we did notice a few without tree tops.
Anyways, the trail eventually entered the Watashi Campground, which would have been a much more convenient parking spot. However, the gate to that campground was closed, and the parking spaces were dedicated or assigned to campsites anyways.
So we kept walking, and eventually after 0.2 miles from the campground, we finally descended and crossed the road towards the signed Sempervirens Falls trailhead. Actually, we saw one vehicle pull up where there were 15-minutes parking only spots.
And apparently that was what they did. I even wondered if they drove there, didn't pay the park fees, did the falls, then took off.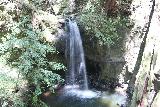 Regardless, we managed to finally arrive at the Sempervirens Falls at 2pm, which was way longer than anticipated. Still, we had it momentarily to ourselves before a big group of people started showing up.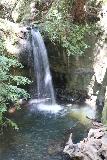 The thing with this falls was that it was probably best seen under overcast skies. With the sun, there were too many harsh shadows and blow-out light-exposed spots. So I'm sure that didn't make for the best photos, but at least we finally got to see this waterfall that we hadn't seen before.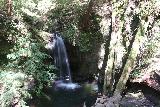 After having our fill of this spot, we then decided to walk on the road instead of taking the Sequoia Trail back.
At least we knew that walking along the road would be even and gently downhill so it would go much faster. We also wouldn't have to deal with mud.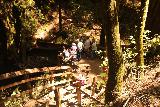 We then got to a junction with the main park road. However, that road seemed to support slightly higher speed of traffic and still didn't have a legitimate shoulder to walk along.
So we decided to get past Loos Grove and rejoin the Sequoia Trail, which was a bit more uphill than the roads.
Finally at about 2:55pm, we finally returned to the parking lot at the park headquarters, where we now could finally head to San Jose to check in while also unwind on the day.
However, I kind of suspected that there was going to be quite a bit of a drive plus the possibility of getting stuck in rush hour traffic.
So once we got phone reception after an extensive mountainous drive towards Saratoga, we finally were able to route to this Rooster and Rice place that Julie wanted to try out (kind of a Thai take on something like Hainan Chicken Rice).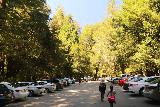 It was definitely going to be a lunner (i.e. a late lunch that could also double as dinner).
By 4:20pm, we'd finally arrive at the Rooster and Rice place while it also shared the same plaza as Sprouts, which was quite convenient. But as we got out of the car, the first thing we noticed was how hot it was in San Jose.
The temperatures had to have easily been in the 80s, which was definitely not the case at the Big Basin Redwoods State Park nor was it anywhere near this warm in San Francisco and Marin County.
The chicken and rice along with the brown sauce which was thick with ginger were quite good. We even tried crispy chicken skins for $5.
All in all, this place hit the spot. And then we had to do some grocery shopping since Julie now could finally have a full kitchen and full sized refrigerator.
So after finishing our meal at 5pm, we then got done with all the errands, and we finally checked into the Hyatt House in Santa Clara at 6pm. It took us some time to get all the produce and the stuff that needed cooling into the freezer and fridge.
And eventually by 6:10pm, we finally got settled. We still had to make one last grocery run at Whole Paycheck since Julie still couldn't find a few things in Sprouts. But when all was said and done, we were finally in the Hyatt House for good at 7:15pm.
Then, we spent about 30 minutes in the pool so Tahia could have her fill of the swimming facilities. And finally after 8pm, we were back in the room for good for a late dinner.
And all in all, we finally had a family day out in Nature, and in this particular day, it was all about enjoying such moments in the presence of majestic coastal redwood trees.
Tomorrow, I was going to be on my own back in the Big Basin Redwoods while Julie and Tahia would remain in San Jose on their own. We'd then meet up with Julie's good friend Kim for dinner. And so the plan was set, and it was time to unwind for the moment…
Day 6 (April 23, 2019 – San Jose, California): "The Big Basin Loop"
It was 5:30am when I awoke. I actually slept in the first couple of alarms thinking that since I had finished the blogging last night, that bought me a little extra time this morning.
However, when I realized that the Hyatt House had included breakfast, which included an omelette bar, I got up on the third alarm and made a scramble to get ready, have a goat kefir breakfast, and then went downstairs for the brekkie.
By 6:30am, I finally got into the car and started the engine.
Julie's new dashcam threw me yet another curveball when I tried to re-insert the mini-SD card into the bottom spring-loaded slot, but since I had trouble getting it in, the spring ejected the card back down and onto the floor.
With the amount of morning darkness in the parking structure, I decided not to pursue it at the moment. Indeed, this morning was not getting off to a good start.
Anyways, I proceeded to drive towards Big Basin Redwoods. There was already some degree of morning rush hour going on, but I was driving early enough that traffic was smooth until I got off the exit leading south to Saratoga.
And it couldn't have happened at a better time because I saw lots of brakelights and stopped traffic just beyond the off-ramp that I got off of.
The GPS
then directed me on some curvy mountain road before it joined up with the Hwy 9. At that point, I then took the familiar curvy forest roads leading towards the Big Basin Redwoods State Park.
The drive was smooth going given the light traffic (I couldn't say the same for those people driving in the opposite direction). And I was even making good time after the one-lane road construction that was going on, where the delay could have easily exceeded five minutes but didn't on this morning.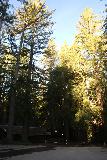 Eventually, I arrived at the familiar park headquarters parking lot for the Big Basin Redwoods State Park at 7:40am. It looked like there was one employee just starting to open up shop. So I found a parking spot that I knew would be under shade throughout the day.
Then I walked back to the cashier to pay yet another $10 day use fee.
It took some time to get started because I also had to use the facilities here, and I had to get geared up. So it wouldn't be until about 8am when I finally started the long loop hike that would take in all the major waterfalls in this reserve.
Unlike 9 years ago where Julie and I did an out-and-back hike taking in all the waterfalls here along mostly the Sea to Skyline Trail, this time around, I intended to hike in a counterclockwise loop taking in the Sunset Trail then the Skyline-to-the-Sea Trail.
Doing the trail in a counterclockwise manner was recommended by the park employee yesterday. She said the pain of having to get most of the climbing out of the way at the start in the morning when it was cooler would make the experience less painful in her mind.
She did the hike in the reverse direction before and said she wasn't enjoying the return hike. So that was what I was about to do.
There were lots of trail closures, but it appeared that the loop hike was not much affected by the closures.
Anyways, after getting through the maze of intersections and junctions near the park headquarters, I then hiked amongst the big tall coastal redwoods along the Loos Trail before finally picking up the Sunset Trail.
It then climbed a bit before reaching a ridge near the Gazos Creek Road at around 8:35am. From this familiar spot, I then continued on the Sunset Trail as it descended past a sign saying something about the hike to the waterfalls taking at least 6 hours.
So I was doing mental pictures in my head about how long it would take before I'd be back in Santa Clara. Hopefully, I wasn't cutting it too close before our 6pm dinner engagement at Kim's place (Julie's good friend from university). I had estimated that I should be done at around 3pm, which meant I should be back in Santa Clara probably around 4:30pm or so.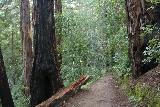 The Sunset Trail ultimately descended towards another trail junction, which I got to at 8:45am. I could see from the detour signs and the blown-up map signs that I would have to take this same trail back to the park headquarters.
But from this point forward, I would continue on the Sunset Trail, which was something I didn't recall I did the last time 9 years ago.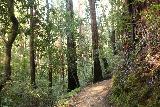 Back then, I think I took the Sunset Connector then followed the Skyline-to-the-Sea Trail all the way to Berry Creek Falls and ultimately to Golden Falls as an out-and-back hike.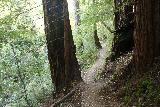 So now I was going through unfamiliar territory though so far the entire hike had been shaded trail meandering amongst the tall coastal redwood trees as well as douglas fir trees.
The trail descended towards a tiny creek with some tiny cascades. That kind of broke the silence where the odd bird chirping could be heard in the distance.
Then, the trail started climbing before it reached an apex then started to descend again.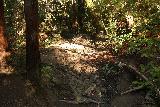 It took me another 20 minutes (it was about 9:15am) when I then reached what appeared to be a footbridge over Timm's Creek.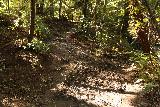 The trail then momentarily climbed before descending again towards West Waddell Creek, which I got to at around 9:30am.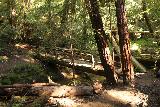 However, the trail really got muddy as I approached the footbridge over this creek.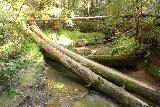 In another ten minutes (9:40am), there was also another closure sign where the Timm's Creek Trail was not accessible.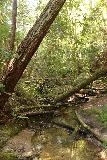 I wondered if the presence of all this mud had something to do with it.
Whatever storm or series of storms that came by this past winter and perhaps the prior winter must have really did a number of any trail that skirted the creeks that I suspected must have been flooded.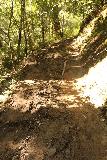 Beyond the Timm's Creek Trail closure, the Sunset Trail then made a pretty persistent climb as the trail remained shaded though the muddy sections continued.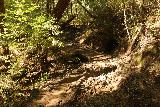 I could hear mosquitoes buzzing about so I had to make sure that I kept moving so I wouldn't get bit.
The higher up this trail went, the threat of mosquitoes had subsided as the trail once again started to dry out.
The climb then peaked and the trail descended eventually made a somewhat long descent towards Berry Creek. I got to the footbridge over this creek at about 10:10am.
As the trail was getting hotter by the minute during the climb, the descent seemed to get into a shaded canyon away from the sun.
And for the moment, the air actually felt cooler once again as it was approaching the Berry Creek drainage.
Beyond the footbridge, the trail then climbed once again, and by 10:20am, I found myself about to leave the relative comfort of the shade provided by the forest canopy and I was now out in the sun for the first time on the hike.
The hike passed by a few wildflowers here and there in this stretch, and then the trail descended back into the forest canopy as I started to hear the rush of water getting louder.
At 10:40am, I eventually got to another trail junction where the Berry Creek Falls Trail and the Sunset Trail made a junction. This time, I left the Sunset Trail (as I wasn't interested in going to the Sunset Camp) and followed the Berry Creek Trail.
The signage at this point said that I had gone about 5.3 miles from the Park Headquarters.
The trail continued to descend towards the sounds of rushing water. And at 10:50am, I at least got to the source of that sound as the trail descended towards the Golden Falls.
This familiar falls had some blow-out zones as a result of the sun juxtaposed with shadows. So it was a bit harder to photograph than the last time when the skies were overcast.
Nonetheless, this attractive falls was nice to be around, and I even contemplated having a picnic lunch at this spot since I hadn't seen another soul and I had anticipated perhaps seeing more people down at Berry Creek Falls eventually.
After documenting this falls, I decided to continue on. And as the trail continued descending, I found myself walking alongside another series of waterfalls and cascades in what the map referred to as "The Cascades".
This featured an attractive series of waterfalls in succession and was probably a bit taller and equally as scenic as the Golden Falls itself.
I documented this feature before resuming the hike. And as I continued along the trail, I found myself right at the top of the tallest waterfall yet, which I knew was the Silver Falls.
The trail actually skirted a cliff right by the brink of the falls, and the descent on rock steps with ropes set up to keep me from getting dangerous close to the precipice, was quite slippery thanks to the wet rocks.
Ultimately, the trail descended all the way to the bottom, where a fragile sign discouraged scrambling to the spot where you get the full frontal view of the Silver Falls. Like before, I went ahead and did that anyways since I couldn't see another obvious way to get there.
After having my fill of the Silver Falls at around 11:15am, I then followed along a shaded trail flanked by even more impressively tall coastal redwood trees.
At around 11:30am, I saw the first hiker on this trail as he was headed in the opposite direction with backpacking gear.
At 11:35am, I reached a bridge near the confluence of Berry Creek and West Berry Creek (the latter was what the waterfalls I had seen so far had flowed on).
Given the combination of these creeks, I knew that Berry Creek Falls benefitted from both and tended to have greater volume and more reliable flow. That was probably why it was the most scenic waterfall in the Big Basin Redwoods State Park.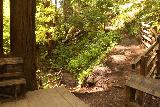 Anyways, I'd eventually make it to the familiar Berry Creek Falls at around 11:45am. And to my surprise, I had the waterfall lookout all to myself. There were benches set up along two sides of the lookout platform, and I used that to unsling the day pack and have a seat for a picnic lunch while staring at the beautiful waterfall.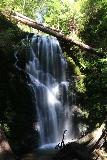 My moment of solitude and reflection was momentarily broken by a trio of people in backpacking gear who got there, checked out the falls, then headed back. And after I was done with lunch at around 12:15pm, I briefly checked out the falls once again before continuing on the hike down to the Skyline-to-the-Sea Trail.
I ultimately got to the junction with the Waddell Creek Trail at around 12:25pm, and then the trail made a rather steep climb on the Skyline-to-the-Sea Trail. In one of the switchbacks, there was the familiar bench with a view right towards the Berry Creek Falls in the distance.
One thing I noticed this time around (besides the lighting not being great for photos thanks to the shadows) was that there were quite a few downed trees right at the top of the falls, which I hadn't noticed before.
I then continued with the climb as the trail ultimately peaked then descended to the Timm's Creek junction, which had a closure sign.
I got there at about 1pm. And along the way, which followed Kelly's Creek, I couldn't help but notice that there were many fallen trees along the way.
So I figured that perhaps this was why they had closed Timm's Creek Trail.
Earlier on, there was a bunch of mud. But now, there were a bunch of fallen trees.
Whatever flood this area had seen, it must have been quite the big deal.
So onwards I went as signage said I had gone about 1.1 miles from the Berry Creek Falls, and I still had another 3 miles to get to the Park Headquarters.
The trail was pretty much undulating as it was generally climbing. Eventually, I reached some sign that I deemed a "progress indicator" because it showed where I was but there was no connector or trail junction here. I got here at about 1:25pm.
The trail then continued its overall climb as I would eventually get back to the bottom end of the Sunset Connector Trail. I had noticed maybe a handful of hikers along the way to get to this point, and it was a far cry from the very busy trail Julie and I had experienced 9 years ago when I believe we did this hike on a Saturday.
But when I got to the connector trail at around 2:05pm, there was one guy who greeted me, and before I knew it, we were in a conversation talking about the trails in the area as he seemed to be quite familiar with the area.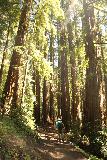 I think he was checking out all the downed trees at this part of the connector trail, which clearly showed signs of a major flood or some kind of catastrophic event that affected the trees in the immediate area. Again, I could see why they would have closed the connector trail to the Howard King Trail.
Anyways, we were going in the same direction so we pretty much chatted it up on the return hike. We might have seen maybe a few more people going in the opposite direction, and we'd ultimately return to the parking lot at the Park Headquarters at 2:45pm.
The fellow's name was Paul, and we parted ways once we got back to our respective vehicles. I noticed the parking lot here was full, which I found to be suprising considering how few people I saw on the Berry Creek Falls Trail.
Nonetheless, I promptly got into the car and started driving back to Santa Clara.
The drive for the most part was smooth (except for the odd rush hour traffic on the 101 freeway), and I ultimately made it back to the Hyatt House at 4:10pm. Minutes later, Julie and Tahia made it back to the room as they were returning from their day out.
Julie told me about a scary moment when an Uber driver ran the red light and they almost got broadsided. That would have been really bad, but thankfully, no harm came out of that incident.
We'd eventually get to Julie's friend's place at a little after 6pm, and we had a good time over dinner catching up and seeing their place which went through an extensive remodel. It had been many years since we had been here, which preceded the remodel job.
Anyways, we were back at the Hyatt House at 11pm. With everyone exhausted from the eventful day, we slept knowing that we had a lot of stuff tomorrow morning to do.
The plan was to visit Andrew Molera Falls in Big Sur before going to the Pinnacles National Monument. Then, we'd drive home with perhaps a stop in Santa Barbara to avoid the LA rush hour. But we'll have to see how things go because I started to wonder if the Pinnacles National Monument part of the plan might have to be nixed as that would be too ambitious.
We'll see…
Day 7 (April 24, 2019 – Los Angeles, California): "Right Moves and Wrong Moves"
It was about 5:15am when I awoke. There were still some errands to get done before leaving Santa Clara (e.g. packing, finishing up most of the food in the refrigerator, blogging, etc.).
I took advantage of the included breakfast at the Hyatt House so I got the omelet of the day (some kind of pesto and cheese mix this time) plus finished off the goat kefir and some of the fruits.
With all the cleaning as well as packing that I had to do to help Julie out, it wouldn't be until about 8:30am when we finally loaded up the car and were ready to go.
There was one annoying thing about being unable to find the iPod so I wouldn't be able to play the music that Tahia wanted to hear (especially B-52s). So instead, she had to settle for KNBR sports talk radio 680, which I found to be a little more interesting than the LA-based sports talk that I was used to.
The drive out of the San Jose area was very heavy on the US101 north. However, we were actually going south on the US101 and it didn't seem to be so bad. In fact, we were making pretty good time with relatively light traffic until we'd ultimately start showing up in Monterey.
Then, the amount of cars seemed to have multiplied as a result. I guess there were still lots of people on Spring Break or something because I couldn't have imagined this many people would be in Monterey nor Big Sur in the middle of the week!
The plan was to visit the Andrew Molera Falls, which was in the Andrew Molera State Park. Actually, this was an obscure waterfall despite it showing up in a later edition of Ann Marie Brown
's book.
I already suspected it wouldn't be an easy waterfall to visit, however, given the lack of literature devoted to this particular waterfall out on the interwebs. So I already knew that success with this waterfall wasn't a guaranteed thing.
I had also originally wanted to visit the Pinnacles National Monument afterwards, but given how late of a start we had plus how much driving we already had to do to get to this point, I realized that perhaps doing the Pinnacles on this day (which included the long drive home) might not be realistic.
Anyways we made a stop at the famous Bixby Bridge in Big Sur since there were plenty of spaces to pull over and take photos. We showed up at about 10:10am, which seemed to be an agreeable time to take good photos though I'd imagine the lighting would be better towards the afternoon.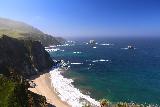 But with the fickleness of fog in the coastal areas, we had to capitalize on this development first before trying to time it for better lighting. I recalled Julie and I tried that back in November, and it actually backfired.
At about 10:25am, we resumed the drive as there was definitely pretty high traffic volume throughout this part of Big Sur.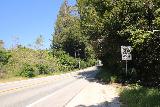 Eventually, we found a fairly sizable roadside pullout at 10:45am. It was actually about 0.2 miles further away from the unmarked gate that I suspected was the trailhead for the Andrew Molera Falls (or some people called it the Highbridge Falls).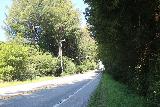 While the car was parked in that fairly sizable pullout under a shade, Julie and Tahia were tidying up the car while also trying to find the missing iPod.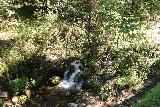 Meanwhile, I geared up and started the walk along the road to get to the unmarked trailhead.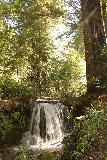 As I approached that landmark, I could clearly see that there was water in the seasonal creek. There was also a pair of tiny cascades that seemed to be photo worthy. However, I knew this wasn't the main waterfall that was shown in Ann Marie Brown
's book.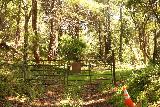 So I went past the gate then followed the 4wd road uphill as it initially followed the creek. But as it climbed higher, it seemed to veer away from the creek. I could see that this road was definitely on the verge of being overgrown as the road itself was starting to become indistinguishable, especially past some rock on the road.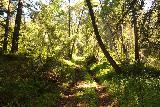 It was getting hot as I climbed higher, and I was thinking that I was doing the right thing by skipping out of the Pinnacles National Monument on this day as it would have been fiendishly hot over there if it was already quite hot at Big Sur.
Sure enough as the road climbed higher, I was sweating beads. Eventually at 11am, the road got out of the shade and into the hot sun around a clearing.
At this clearing, there were a couple of picnic tables as well as some small signs with numbers on them. I wasn't sure what all this was for, but at this point, it appeared that the 4wd road ended.
Now, I went looking around the perimeter of this clearing in search of any possible clues of a contination of the trail that might lead to the Andrew Molera Falls. However, everywhere around me was overgrowth.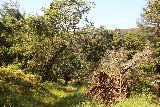 So then I wondered that if I returned back to the stream, I might be able to stream scramble my way all the way to the waterfall.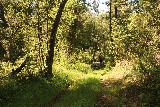 Thus, I backtracked down the 4wd road and then when I returned to the waterfall near the road, I then tried to see if it was possible to stream scramble my way to the taller waterfall.
But alas, there was way too much deadfall and overgrowth around the creek to effectively get anywhere. Plus, there was lots of poison oak growing all over the place.
At this point, I was sweating even more beads plus getting some mosquito bites. Clearly, stream scrambling wasn't the way to go in this case.
And with the long drive still looming ahead of me in addition to the lunch in Monterey as we were still some 26 miles south of there, I had to call it a defeat on this day. Maybe one of these days, I might finally figure out where I should have scrambled to find the falls, but on this day, I wasn't going to push my luck any further.
The walk back to the car felt like a walk of shame. Though I wondered what the motorists passing by must be thinking about a lone hiker walking along the road around here.
Regardless, when I got back to the car at 11:25am, I changed out of my shoes and back into Chacos. Meanwhile, Julie and Tahia told me that they didn't find the iPod either. I guess this little detour to pursue the Andrew Molera Falls was a bit of a lost cause and I now wondered whether I should have just gone straight to the Pinnacles National Monument and skipped this whole Big Sur and Monterey part.
Well, what's done is done. Now, I had to continue with the long journey home. But at least I now had a pair of stops to look forward to – all in the name of avoiding the LA rush hour.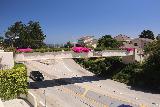 Eventually at 12:15pm, after following a caravan of slow drivers rubbernecking the Big Sur Coast (and not using the pullouts), we finally arrived at the nearest parking lot for the Old Fisherman's Wharf in Monterey.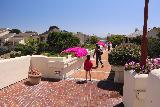 I believe this was the first time we got to take Tahia to it as the last time Julie and I were here just 6 months prior was strictly for Julie's birthday and so it was just a Mommy and Daddy trip.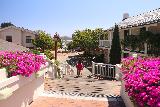 Anyways, we went from a sheltered parking lot where they were charging $1 per half-hour, and we walked across a nice bridge flanked by bright flowers, and then we went right into the Old Wharf area.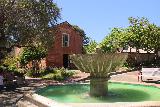 We passed by an Old Whaling Station (which was basically an old house) as well as the First Brick House. Then, we walked into the large clearing area between the Custom House as well as the mouth of the colorful pier flanked by restaurants and shops.
On this day, this pier was a bit on the quieter side compared to the last time Julie and I were here on a Saturday. Regardless, we had no problems returning to Domenico's where we got to sit with a view of the marina where Tahia also noticed some cute seals swimming in the water.
Julie wound up eating fresh Alaskan sockeye salmon while I was eating a Bouillabaise. Tahia got some crab cakes, and we all shared in a house salad. At least Julie wasn't reacting too hard to the food she was eating (unlike other places we had eaten at earlier), and that was always a good thing.
Hopefully, we can help heal Julie's gut once again, especially in time for the big Norway trip coming up in about 6 weeks.
At 1:35pm, we were done eating at Domenico's, which was still a pricey meal despite not splurging like we did the last time with the Alaskan King Crab Legs.
And then we slowly made our way back to the parking lot but this time checking out both the marina, the outdoor parking lot (which also charged $1 per half-hour), the First Brick House, and the Old Whaling Station (which was closed but apparently could support weddings or other functions).
By 2:10pm, we were back in the car just in time before we were about to be charged another $1 for the next half-hour.
And we left paying a fairly pricey but reasonable $4 for our 2 hours of parking.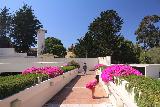 Next, we made the very long drive down the 101 Freeway, which was fairly smooth going. We did run into a few traffic spots around the San Luis Obispo and Arroyo Grande area as well as Pismo Beach. However, for the most part, the drive was quite smooth and it seemed to be a nice alternative to the featureless I-5.
That said, if we were short on time, I-5 would still be the preferred route, but the 101 route was perfect for quaint stops and to avoid the LA rush hour, which was the goal of this particular day.
Finally at around 6:30pm, we found parking in the downtown area of Santa Barbara. Given the amount of fog in the area, we decided against returning to Arroyo Burro to catch the sunset. Instead, we went to the downtown area to check out the Savoy Deli and Cafe, which served up quite a few organic and paleo/keto fare.
Julie wound up eating another round of wild salmon while Tahia and I both tried the turkey fritters as well as some pretty delicious coconut curry chicken. We also got sides of pesto green beans as well as sweet potato.
And we finished off our dinner with some keto walnut brownies as well as gluten-free chocolate chip cookies and some kind of snicker doodles.
By 7:40pm, we left Savoy and paid $1.50 for the just-over-75-minutes of parking. Then, we headed home in the dark. However, the drive along the 101 Freeway then I-5 Freeway was quite smooth.
And we eventually made it home by 9:35pm. Indeed, we made the right move by taking our time with our long drive home, and once again, we created more memories that we hope we will cherish (especially Tahia) as time goes on and we all get older…
Visitor Comments:
Got something you'd like to share or say to keep the conversation going? Feel free to leave a comment below...
No users have replied to the content on this page