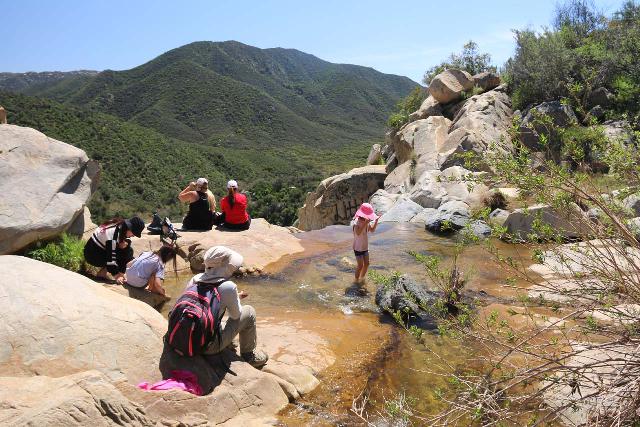 31-March 2019:
So Tahia and I had at least 40 minutes in the car to wait out Julie's sauna session.
During that time, I tried to get caught up on a little nap time, but Tahia was getting restless. So she started up some mischief and prevented me from napping or listening to ESPN radio.
She suddenly started to do things like picking her nose and smearing the byproducts onto me. Or she would be snacking on puffs and leaving crumbs everywhere…
With our inability to fit in a visit to Tenaja Falls a couple of weeks ago due to the gridlock surrounding the superbloom of California Poppies at Walker Canyon, we had targeted today as the day to do this waterfall for the first time in nearly 10 years!
It's hard to believe that it had been that long since we last did this waterfall, but I guess time flies and we've had quite a few dry years during that time.
However, I personally wavered between doing this waterfall on this day or not since Julie also happened to book some kind of sauna appointment at 9am somewhere in Anaheim Hills.
I knew that delay might make things a bit uncomfortable concerning traffic volume as well as parking spaces at the Tenaja Falls Trailhead.
Further conspiring to make me not want to go out of the house on this day was the fact that my stomach had not been kind to me over the last three days.
I wasn't sure if I was fighting off food poisoning or if I caught some kind of parasite or what.
But whatever it was, I couldn't seem to shake off whatever was making me both semi-nauseous as well as achy all over my body as if I had the flu.
I wasn't pleased about Julie's last-minute engagement, but nothing was going to change Julie's mind about marching forward with this sauna appointment.
So seeing that there really wasn't much of a sense of urgency, I kind of resigned myself to dragging my feet. It was really Julie who was pushing the urgency to meet her sauna appointment though all that meant was whether Tahia and I would be waiting for her at 9am or some time later.
Regardless, it wouldn't be until about 8:45am when we finally loaded up the car and started to leave the house.
Traffic was still light as we took the 91 east all the way to the toll roads near Anaheim Hills.
Somewhere by the Imperial Hwy exit, we then left the freeway and went to Julie's sauna spot. We eventually got there at about 9:05am, which was slightly after her 9am appointment. But it shouldn't be an issue.
So Tahia and I had at least 40 minutes in the car to wait out Julie's sauna session.
During that time, I tried to get caught up on a little nap time, but Tahia was getting restless. So she started up some mischief and prevented me from napping or listening to ESPN radio.
She suddenly started to do things like picking her nose and smearing the byproducts onto me. Or she would be snacking on puffs and leaving crumbs everywhere.
Needless to say, it was very annoying. But I just put up with it and gave what resistance I could when she crossed the line.
Mercifully, Julie returned to the car at 9:50am as the bright sunny day was getting warmer by the minute.
We then resumed the long drive towards Corona where we left the 91 freeway and headed south on the I-15.
During our drive south there wasn't anything close to the traffic jam we had seen two weeks ago, which was kind of a relief. It almost seemed like the off-ramp closures at Lake and ones before and after it weren't necessary since there didn't seem to be much of a traffic jam nor the threat of it.
The reason for this change in interest was the fact that the superbloom wasn't much of a blanket of orange that we had seen a couple of weeks ago.
There were still patches of orange, but the hills definitely lacked the vibrant colors from before.
That said, there were still cars parallel parked along the neighboring roads, and there were people still walking on the familiar trails (including the one off Lake Street into Walker Canyon).
We had noticed that there was a lot more police tape set up on the trail sides to discourage people from trampling the hillsides for that annoying self-indulgent Instagram or Facebook selfie. I guess the rangers and authorities had to deal with too many rattlesnake attacks, especially as the weather was getting warmer.
In any case, it was very clear that the best of the bloom was well over.
Now, Lake Elsinore could pretty much go back to being Lake Elsimore again. The weather had been heating up so I'm sure that's the end of this year's bloom. And who knows when the next one will come (if it comes at all)!
We continued driving another 16 miles or so south on the I-15 well past Lake Elsinore until we got off the familiar Clinton Keith Road.
We then followed the Clinton Keith Road south for quite a ways until the road eventually narrowed into a canyon road that wound its way through rolling hills sprinkled with ranches and risky fire-prone homes.
Eventually, the road made the familiar bend as it transitioned into Tenaja Road, then we had to turn right at a stop sign a bit later to remain on Tenaja Road (and not risk accidentally driving onto Via Volcano Rd).
Next, the road wound through more hilly terrain still flanked by more risky suburban homes of Murietta.
Eventually, we had to turn off Tenaja Road and got onto Forest Service Road. There used to be a Forest Service sign at this junction, but it was gone now.
Once we got onto the Forest Service Road, the paved road became a grade less paved as the surface was a little rougher and undulating. Yet it was still paved and seemingly a bit better conditioned than the last time we drove this road.
The road continued to hug familiar ledges as it meandered into the San Mateo Wilderness. Even though we had seen more green and flowered hillsides throughout the drive to get to this point, it seemed like the landscape in these parts remained mostly harsh.
We managed to pass one car that was going slow and let us pass. But then we found ourselves behind a black truck that was taking their time and not letting us pass.
I guess they didn't mind watching for vehicles coming around the blind turns in the opposite direction that trying to figure out who gets to go if they happened to encounter a stretch where someone might have to back up into a pullout in order to get through the impasse.
In any case, there was only perhaps one pothole and one cattle guard with a few more flood-prone undulations. But other than that, there weren't any dramas during our drive.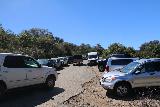 By about 11:15am, we finally arrived at the familiar Tenaja Falls Trailhead parking, but as anticipated, it was full of cars. There were even cars parked on the road shoulders (or they made up parking spaces with parts of the car blocking the nearly single-lane road).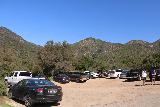 Luckily for us, we were able to back in between a pair of trucks and made a parking space for ourselves.
When we got out of the car to get our stuff together and gear up, there were quite a few annoying black flies swarming about us. At least they weren't biting flies. But they tended to buzz all around us (one even flew into one of my nostrils).
In any case, we ultimately got moving at 11:30am. The day was already pretty hot from the relentless sun as the temperatures must have been at least in the 80s today.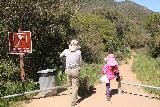 I can only imagine how much unbearable this part would be later in the Spring or even in the Summer months.
We then signed into some kind of trailhead register that asked everyone to sign in. Judging by how many entries there were compared to the cars that were there, I'm sure most people ignored it.
But we filled it out.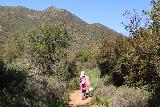 There were some people coming back from their hike as we were doing this, and they had music blaring out of their packs.
I don't know what this is all about, but it seems like it has been happening with all the local waterfalls we've been to. I guess some people need to make their musical tastes known to the world instead of just enjoying Nature's music.
It really seemed like an ghetto thing to do, especially since the music being played was the typical radio stuff.
Anyways, shortly after that, we approached the familiar trail junction where Fisherman's Camp Trail was on the left and the Tenaja Falls Trail continued straight ahead then veered right.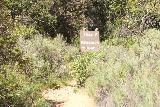 There was a sign that wasn't there before making it clear which way to go. The barricade that was probably there to prevent vehicles from continuing this way was also gone.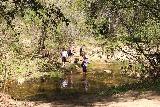 However, the flooded ford was still there, and while we watched some newbies struggle through getting waist deep in the water to get through, we took the familiar scramble further upstream before we were able to traverse rocks to get to the other side of the creek.
This time, however, someone put a flimsy rope which kind of put a false sense of security. One guy relied on it so much that he wound up on his back in the creek while still holding onto the rope!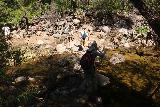 Apparently Tahia wasn't paying attention because she ended up almost doing the same thing and got her boots and socks all soaked!
Meanwhile, Julie and I had no such problems and we really didn't need the rope.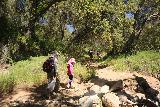 By about 11:40am, we got to the other side.
After Tahia was getting fussy about hiking in wet socks and boots, we wouldn't let her hike in crocs on the uphill path as we still had around a half-mile or more to go to get to the top of Tenaja Falls. I knew the path would be rocky and flanked with prickly brush.
However, we also encountered eroded parts of the uphill trail as I'm sure it would only be a matter of time before the trail would succumb to the new gullies that were being formed each time a rain storm would hit the area and further cut into these gullies even more.
As the trail was about to make another bend to our left, a hiking group before us (that included the guy who was on his back in the creek clinging to the rope) pointed out some abandoned vehicle right off the trail.
I didn't recall seeing this thing before, and I wondered how long it had been since that vehicle was last there.
Just a few paces along the trail past this point, we started to see the full views of the Tenaja Falls looking like it had somewhat impressive flow that was probably better than each of the last two times we did it.
Something we noticed this time around was that there were a handful of people who made the scramble even to the lower depths of the Tenaja Falls. Previously, I didn't recall other people doing that.
But I guess you're always going to have daredevils doing their thing and probably finding ways to improve their social capital on Instagram or something.
After I had my fill of taking the familiar distant but fully contextual shots of Tenaja Falls, I was trying to catch up with Julie and Tahia when I noticed sunglasses were on the trail.
I knew they were Tahia's and that was glimpse of how easy it was for her to lose her belongings, especially since she had already lost sunnies in the past.
Perhaps this time, she might have dropped it while checking out some of the wildflowers.
Finally at around 12:25pm, we made it to the top of Tenaja Falls. Tahia and Julie wasted no time to get into the calm part of the pools just upstream from the main drop of the falls so at least Tahia could play in the water.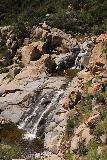 Meanwhile, I did a little more scrambling to at least look back at the top two pairs of tiers of the Tenaja Falls.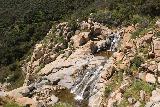 Although I had a curiosity as to whether it might be doable to peer down at the main falls, I didn't tempt fate this time. And instead, I got my shots of the upper falls (graffiti and all), and then rejoined Julie and Tahia at about 12:35pm.
I tried to take some time of taking off my socks and boots and just letting my feet soak in the cold water.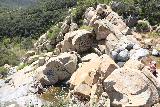 I was also sprawled onto a little nook in the rock that we were seated upon so I tried to nap while my feet were soaking.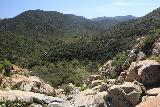 Unfortunately, Tahia was busy being mischievous again as she was busy throwing mud on me. Not cool.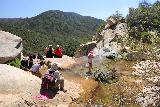 We also noticed there were seemingly some glittery things in the water, and we wondered if there was actually gold in there.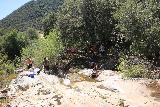 We were very skeptical because there would have been a bit of a gold rush if that was the case.
Still, Tahia had herself a good time when she wasn't bothering me, and Julie was looking on. Our selfie shots here were a bit on the awkward side. But we still had a rejuvenating time as a family.
Once again, we sought healing in Nature (even with more people around here than before) yet we still received the benefits that Nature gave us.
Eventually by 1pm, we put on our footwear and headed back out.
Most of the hiking back down the trail was uneventful. Actually, Tahia was busy hiking in her Crocs on the way back though she had a few slips along the way since they had no traction.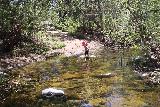 But at least she was able to wade right through the concrete ford near the beginning while Julie and I took the more familiar boulder hop across the creek.
By 1:30pm, we made it back to the trailhead, where we noticed there were quite a bit few vehicles crowding the trailhead area.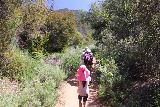 All of us were a bit hot and sweaty and the AC from the car felt like a bit of a relief. We knew there were going to be a lot of hotter days than this so we had to savor the mild temps that we had been enjoying for most of this year.
The drive out was mostly uneventful as we managed to pull out just a bit sooner before a black truck was also trying to make a three-point turn to get out.
I knew they were probably going to go slow so I made sure to get out before they did. But my freedom didn't last for too long as I then found myself behind a white truck that didn't seem interested in using the pullouts.
In any case, we were all taking turns letting vehicles pass in the other direction where there were pullouts.
I actually didn't mind too much about letting the guy in front of me be the buffer for any oncoming traffic that might take a blind turn too fast or something.
However, they finally let us pass (or did they try to let another vehicle going in the other direction pass?).
Whatever the case was, we seized our opportunity, and then we were pretty much home free as we left the Forest Service Road, then followed Tenaja Road, then got back onto Clinton Keith Road before realizing that we should be taking Grant Rd towards the Ortega Highway instead of going along the I-15.
After getting onto the familiar Ortega Highway, we then climbed up the familiar road rising high above with views over Lake Elsinore. But Julie wasn't into making any photo stops this time around since the blooms weren't as impressive (though I did want a before-and-after shot).
Regardless, we continued past the Hell's Kitchen where there was some kind of busy biker festival going on.
Then, we got past the Ortega Falls pullout, which was also very busy. But the Ortega Oaks Candy Store was strangely not-to-busy on this day.
The rest of the way, we made the descent into San Juan Capistrano and we ultimately made it to the familiar Public 74 gastro-pub in SJC at around 3:05pm.
Both Julie and Tahia had a nice nap in the car.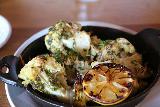 Inside the restaurant, we had pretty much the same dishes as last week with the brussel sprouts, cauliflower, pork belly, and rosemary chicken. But instead of the kimchee steak, we had a New York Steak instead.
The food was good as expected as before though the rosemary chicken was a bit undercooked.
The waitress was nice enough to not charge us for the chicken.
And with everyone sated, we finally left the restaurant at 4:40pm.
After a bit of a drive all the way up the I-5 (knowing to avoid the carpool lanes when we got into Anaheim and Westminster area), we eventually made it home at around 5:30pm.
As tired and exhausting of a day this was, I was glad that we did indeed march forward with our plans for an outing.
I guess no matter how inconvenient or bleak the circumstances may seem, at the end of the day, we still made it back without regrets.
That's life as it should be, and we sure hope to have more moments like these…
Visitor Comments:
Got something you'd like to share or say to keep the conversation going? Feel free to leave a comment below...
No users have replied to the content on this page