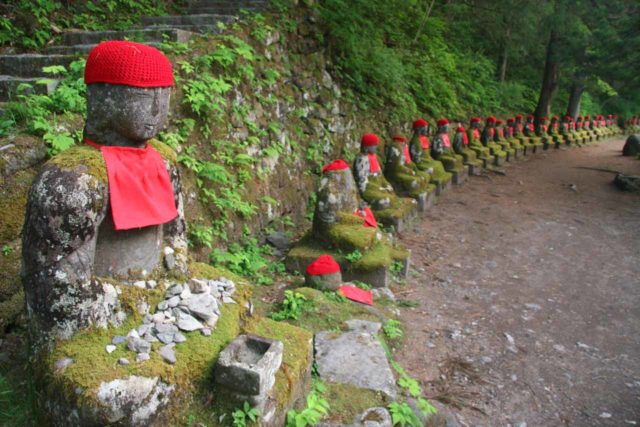 21-May 2009 to 27-May 2009:
We knew to head straight for the Chuo Line (instead of the Yamanote Line like last time) to connect to the Shinjuku Station. The problem was that once we got on the correct platform, we couldn't figure out which side of the platform we should be going to.
So I went into the train that was currently there and tried to read some of the signs to get an idea of whether it was the right train or not. The signs didn't help me much though. But just as I was about to leave the train with Julie waiting for me outside, the door closed!
The train was about to move and both Julie and I were separated! Julie panicked and my heart started to race. So both of us tried real hard to force the doors open before the train moved.
Day 35: STICKER SHOCK
We woke up at 4:45am all groggy and could've used another hour or so of sleep. But with our 8:25am international flight to Tokyo with the Beijing airport being an estimated 40 minutes or so away, we couldn't take any chances.
Both Julie and I felt a little better than yesterday regarding our cold/flu symptoms. Perhaps it was the relatively cleaner Beijing air and cleanup of public facilities (such as the lack of indoor cigarette smoke), which was something totally unexpected (and rather ironic considering we expected Beijing to have the worst of these things).
After meeting up with the taxi at 5:30am, we made it to the airport barely by 6am seeing some weird red morning sun through some dark haze that we couldn't tell if it was pollution or sand from the Gobi Desert.
We were at the airport with plenty of time to spare and made it to boarding at 7:55am for our Japan Airlines flight without any issues.
In fact, the lack of issues didn't escape Julie's attention. Perhaps it was because boarding was done in an orderly line as opposed to the utter chaos of all the Chinese boarding procedures (or lack thereof). It was kind of funny how different the Japanese courtesy was versus the Chinese.
Throughout the flight to Tokyo, we were busy devouring all the literature we brought on this trip trying to arm ourselves with as much information as possible especially regarding money issues, transport, and language. And that language part was going to be real tricky since neither of us spoke nor read/wrote Japanese.
Indeed, we're totally on our own in Japan (mostly due to cost reasons) where we were mostly escorted in China. So we were quite anxious since we're very unsure whether we'll be able to execute on some of the logistics of this part of the trip.
At 1:10pm, we picked up our luggage at the Narita Airport Terminal 2 and walked around looking for decent exchange rates. We found 4 different ones and they ranged from 91.37 yen per USD to 91.90 yen per USD. Needless to say, we were getting killed with these exchange rates since in the past, we knew it was relatively easy to fetch at least 100 yen per USD. The LP Book published in 2007 had the exchange rate at around 125 yen per USD!
We also spent quite a bit of time validating our JR Pass. Eventually, we'd catch a 2:18pm train that showed up exactly on time. And this train went for around 1.5 hours to Shinjuku in Western Tokyo where we were supposed to be staying.
After getting a little bit lost in the Shinjuku Station and looking around for an English-speaking information center, we finally made it to our hotel a couple of blocks away from the train station at 4:15pm.
Once we got settled, we went back into town for a little exploring. We had the equivalent of a $22 USD dinner over a couple of small plates of pasta. We knew things would be expensive here, and this was just something to warm us up to the sticker shock.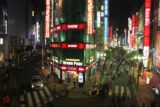 Afterwards, we did a little grocery shopping where we saw even more crazy prices like 3000 yen durians, 900 yen cherries, and even 600 yen oranges. We ended up buying some bottled water in preparation for tomorrow at less than 300 yen.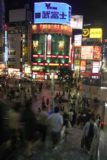 We also saw a chemist where we could finally see if we could get a Rescue Heart medicine for Grandma (who asked that we pick one up for her prior to the trip). Unfortunately, those prices ranged from a shocking 17,000 yen to a crazy 20,000 yen! I don't think Grandma paid those prices for her package back in LA, but then again, maybe she did and we didn't know about it. We'll have to correspond with the parents to get more answers.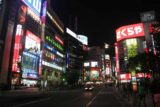 By the time we were done grocery shopping, it was dark. That was when Shinjuku really looked like a city that has come to life. People were walking in droves all well-dressed looking like they had just got off work and were ready to play.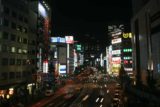 The bright lights of towering buildings towered over the throngs of pedestrians filling the narrow streets between them.
Indeed, this was why Julie chose to stay in the action of Shinjuku and now we were part of it.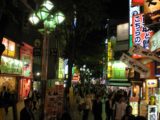 Sure we didn't partake in any Pachinko games or do any karaoke, and we didn't buy anything except for some 500 yen globe grapes off the street. Everything else seemed to be very expensive and we were evaluating which restaurants to try without breaking the bank tomorrow.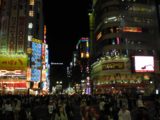 By 8:15pm, we were back at our hotel. Totally tired, we got cleaned up and were relieved that we no longer had to brush our teeth with bottled water. We expected to have an early start tomorrow for some of the freshest sushi in the world at the Tsukiji Fish Market… and I was determined to have breakfast sushi!
Day 36: TASTE OF TOKYO
I awoke at 5am and Julie reluctantly awoke about 20 minutes later.
I was anticipating the sushi at the Tsukiji Fish Market this morning. We were anticipating seeing the actual fish auction take place (guide books report 5am to 8am) while having the freshest sushi you can possibly have short of fishing out the stuff yourself.
So at 6am, we made our attempt while learning the Tokyo subway system on the spot. It was a good thing the ticket machines had English translations and most of the signs were in English. So actually using the Metro was sort of a breeze (though recognizing some of the Chinese words in the Japanese kanji writing system didn't hurt either).
It wasn't until about 7am when we got off the Tsukiji-shijo Station where signs led us to some warehouse area full of fork lifts, trolleys, and trucks.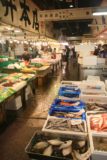 Upon entering the warehouse area, we weren't totally sure if we went into the right place. But we just kept on going (sometimes crossing busy streets full of the motorized trolleys) until we finally saw an area full of white lights and white boxes full of fish.
That was when we saw some massively large tunas, octopuses, squids, armies of smaller fish (some still trying to breathe), and salmon among others.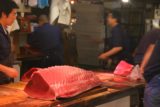 Apparently, we missed the loud auctions so after taking photos, we tried to walk out of the working area, but the market kept going on and on. It was certainly one huge place. Now we could easily see why some 90% of the world's fish for sushi are sold here.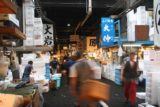 In fact, after seeing the scale of the fishing (maybe overfishing) done here, I felt quite bad about our love for eating sushi. Yet it's something real hard to give up as it's something we're quite used to having back at home.
Eventually, we found one of the side eateries just outside the working fish market area where we sat in on a small sushi joint for our morning helping. There, we had tuna, toro, amaebi, hamachi, uni, and more.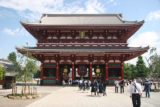 There was definitely quantity in the sushi and they were fresh, but not very tender. Julie and I had to agree that it didn't live up to expectations as we did have better ones thousands of miles away back at home. I guess this gave us a better appreciation of why some sushi joints charge so much for their sushi because you tend to get the best choice cuts where this place probably got the leftovers after the choice cuts were bought and sent to more upscale sushi dives around the world.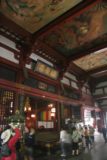 A little after 8:30am, we left the Tsukiji Market and headed back to the subway. Nearly 50 minutes later, we made it to the Sensho-ji, which was one of Tokyo's more impressive temples.
It was a compact attraction of only a handful of old-looking buildings. There were heaps of school kids there (were they on a field trip?) as well as many foreign tourists.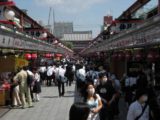 We took some time there taking photos and trying to reproduce some of the photos in Julie's DK guide.
As we were making our way out of the Senso-ji area, we noticed there was some commotion around a pair of traditionally-dressed women who looked real young and attractive.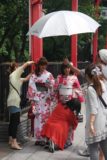 Apparently, they were being made up and filmed about something. We weren't sure exactly why.
In fact, those women being made up looked like they could've been foreigners or perhaps someone of mixed blood. They didn't look much like our pre-conceived vision of what traditionally-dressed Japanese women might look like.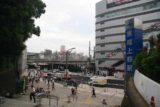 Anyways, an hour later, we headed back to the subway for Ueno Park.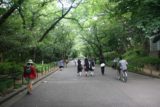 Ueno Park was a quieter little park in the middle of Tokyo's concrete jungle. I guess it was kind of like Central Park, but perhaps not quite as big as New York's version.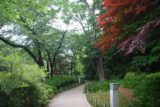 The attractions in the park weren't really impressive in our minds, and the old shrine here (Toshogu Shrine I think) was substituted with a facade as it looked like it was under restoration.
Still, the walk in the park was relaxing. We even enjoyed one local who was rock n' rolling on a traditional Japanese banjo. Quite cool.
Just before noon, we were back in the subway. This time though, we took the JR Yamanote line since we had already paid for the JR Pass and our out-of-pocket subway expenses were adding up.
Our first stop was the Akihabara Electronic City. There, we checked out a camera shop as well as a sex shop. We didn't buy anything, especially since the Nikons I was interested seemed to want to set me back over a hundred thousand yen or more. Since we didn't really research which Nikon camera to get, it was hard to gauge whether we'd get a decent deal here. So we passed.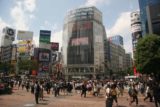 Soon thereafter, we took the JR Yamanote Line towards Shibuya. There, we saw a very busy and happening area in a very Times Square-like way. This place seemed even more happening than Shinjuku as it was full of well-dressed businessmen and women towered over by bright and flashing buildings. Some of them had large TV screens with volume.
It was fun checking this part out and we could only imagine how bright and glitzy this place would be at night.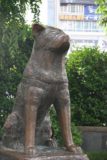 Another thing that caught our attention was a statue of a dog just outside the train station here at Shibuya. It turned out that this statue was in commemoration of a loyal dog who would always come to this station despite his owner dying. And I guess it kind of struck a cord with the Japanese mindset because loyalty and respect were very big culturally here.
At 1:40pm, we took the JR Yamanote Line to Harajuku. If it wasn't for Gwen Stefani and her Harajuku Girl Tour (a few years back and just before she had her first child), we probably wouldn't have considered visiting this part of Tokyo.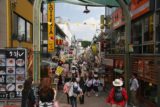 But we were glad we did as Takeshita Street was yet another busy walking street full of shops flanking the street. Now it wasn't quite as busy as Shibuya, but this place had more of a youthful energy to it as most of the people strolling these streets were young kids and young adults.
By 2:45pm, we were back at the hotel room totally exhausted from this full day of touring.
But at least we think we got a pretty good taste of Tokyo and we were ready for the next leg of our travel where we hope to see the first waterfall of the Japan portion of this trip.
Day 37: GETTING WHAT WE ASKED FOR
We didn't leave our hotel until some time after 6am. This was the first time we had to figure out how to follow the long distance train and bus schedules in order to get to our accommodation and in order to get to our first waterfall in this country.
In other words, this was our first big test on logistics in a country in which we neither speak nor read the local language and in which English is not spoken by most locals.
After getting to the Shinjuku Station, which we were quite familiar with at this point, we boarded the JR Yamanote Line, which went in a circle around Tokyo. The idea was to take this line to Tokyo, but it stopped very frequently and it wasn't easy fitting into a crowded train with our luggage.
After the fact, we saw on some maps that taking the JR Chuo line would've linked us to Tokyo directly. So we just sucked up this little bit of a delay (by taking the Yamanote line instead of the Chuo Line) and got to the really busy Tokyo Station at a little after 7am.
I was hoping to get to Sendai and then Akiu Onsen early in the day to absorb any further delays or unexpected mishaps along the way. So all the express trains to Sendai from Tokyo that left before 7am were missed. The next shinkansen (bullet) train we could take was 7:36am. And we had plenty of time to wait in line, get our reserved seats with our JR Pass, and then wait on the train deck for the arrival of the train itself.
At this point, I was pretty amazed at how we were able to get this far on this trip without having a guide or our own car hire or taxi. All of it was using public transportation and I can't imagine doing this at home or in most other places we've been to around the world. Indeed, Japan is demonstrating its prowess in progressive thinking and public transportation. I only wish other countries follow suit as I'm sure it'd make us more efficient and thus put us closer to a more environmentally friendly (and hence sustainable) society.
Our shinkansen showed up a few minutes before the departure time. That was when we saw all the seats inside get turned around (I guess it's now going the other way), and when we were finally allowed in.
There wasn't a whole lot of space to put our luggage in the main area so I hijacked one of the door vestibules where there was a little closet capable of holding both of our big luggages.
Afterwards, we found our assigned seat and just chilled for the next couple of hours.
And sure enough, the train departed at exactly 7:36am.
After going through some three or four brief stops, the train then really started to zoom at its more famed speeds of I'm guessing well over 300km/h. The ride was quite smooth so I ended up being lulled to sleep.
When I was awake, I did peek outside the windows to see that we left the urban jungle of Tokyo for the greener mountains and rice fields as we headed into Northern Honshu.
At 9:17am, we arrived at the Sendai Station where we grabbed our heavy baggage and headed downstairs (on an escalator) to speak to the information desk on how to find the bus we're supposed to take to get to Akiu Onsen (site of our accommodation for the night).
After getting our answer, we headed downstairs even further (on an elevator) to the terminal for bus line 8. At that point, we purchased our ticket (for 1560 yen for 2 people) and waited for our bus to show up.
Now mind you, we weren't sure which bus we were supposed to take, and the first bus that stopped in front of us was the wrong one. We knew this because as Julie got on the bus to ask the driver, the lady in the ticket booth ran out and tried to get Julie off the bus before it took off!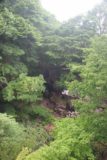 After a quick lunch at the hotel, we took a short walk in the Rairaikyo Gorge right behind the hotel. We didn't have a whole lot of time so we got a quick taster of the mini Nature walk before we walked down to visitor center again.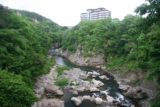 I'm sure we could've waited at the nearest stop to our hotel, but we felt better going to the visitor center so we could have our questions answered if something came up. In fact, they even told us that our bus fare would be 590 yen per person to Akiu Otaki from the visitor center. That was good to know so we could prepare the exact change.
Under the pressure of disembarking the bus and not able to understand Japanese, it'd be hard to figure out what we would have to be paying if we weren't armed with this information. Apparently, we still didn't quite understand the numerical board in the front of the bus, which I'm sure had the list of bus fares.
Well, the bus did show up a little after 1:32pm and we got on no problem.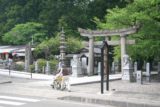 Once on the bus, we worried about when to get off the bus. Especially with the fresh memory of overshooting our hotel by 2 stops earlier this morning, we didn't want to make that kind of mistake in a place that's getting more and more remote like the Akiu Otaki.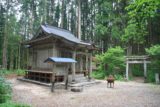 But eventually at around 2pm, we arrived at the fairly obvious Akiu Otaki stop. Actually, there was a pretty big archway with a sign in kanji (borrowed Chinese characters) for the waterfall. And since I at least recognized the first two characters (one of the characters looked like "autumn"), we knew for sure we were at the right place.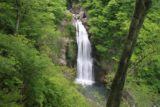 At that point, we could see there were already quite a few people here. They were mostly Japanese tourists, but right off the bat we sensed this place already had a certain calm to it.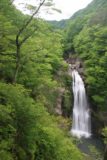 That was when we got our first glimpse of a satisfying waterfall! So we walked through the archway and then towards some shrine with incense burning in front of it. The path to the waterfall continued down some gentle stairs as it ultimately stopped at an overlook.
This 55m falls allayed my fears that we came at the wrong time as it was flowing pretty well.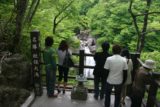 But with another 1.5 hours before our next bus departure, what were we going to do with all this time? After all, we couldn't stay at this overlook for that long could we?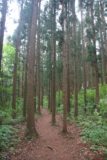 So after getting all our mandatory snaps, we saw a path leading off to the right. But there was a sign in Japanese and we weren't sure if it was a closure sign or a warning sign or what. In any case, there wasn't a barricade or anything so we just walked past the sign.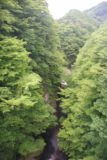 We were instantly put on a path that meandered beneath tall trees. The path eventually got to a sidewalk on the road we just took on the bus to get here. Then the path crossed a bridge over the gorge where we could see a piece of Akiu Otaki.
There were more signs in Japanese beyond the bridge including a bear sign (which kind of freaked Julie out).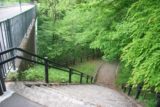 We took the path that went down the steps and onto a pretty gentle flat path with obstructed (not photographable) views of Akiu Otaki. And before long, we were stopped by a gate.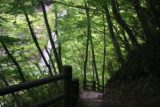 We eventually decided not to hop the gate, and I guess the visitor center clerk wasn't kidding about us not being able to get to the bottom of the waterfall, which was what this path was for.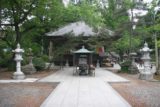 Back at the bear signs, we could see that there was a photograph of the trouble spot behind the closure spot. Indeed, the photograph showed a wooden walking path was over a rockslide prone area in which the foundation had already slid down the cliff and there was technically nothing holding up the now-fragile wooden plank.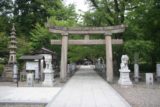 It was a bummer that we couldn't experience this waterfall in a different way, but that's life sometimes. So we got back to the bus stop at around 3pm and moped around for another half hour before the bus showed up at its scheduled time of around 3:38pm.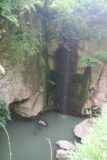 From there, we took the bus back to the visitor center arriving at around 4:15pm and then walked in the direction of our hotel. But instead of walking along the street back to the hotel, we detoured into the Rairaikyo Gorge below us.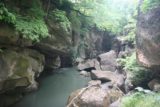 There, we followed a very quiet walking path which hugged a cliff with views of the river below us, some steep cliff walls flanking the river, and a few tiny waterfalls with signposts identifying the names of them.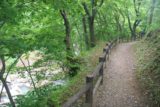 The tiny waterfalls weren't anything significant despite them being identified with signposts. In fact, I'd hardly count them as waterfalls. As I write this, I'm debating whether to include them in our Japan writeup for the waterfalls that we visited in the region.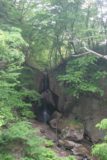 It wasn't long before we took a stairway back up to the entrance of the Akiu Grand Hotel.
After this very pleasant little stroll, we were back in our hotel at 4:40pm where we finally got the keys to our room, recovered our luggage, and got settled.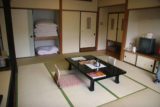 Our room looked like a spacious and very traditional Japanese room. Bamboo floor mats were on an elevated platform with a coffee table low enough where you had to kneel or sit down Indian style on the floor itself to use that table.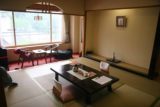 Now this room kinda had the feel of what I envisioned how a ryokan would be (not that I'd know or anything) and perhaps now I could begin to understand why this place costed the equivalent of over $300 USD per night.
At 5pm, we put on our little kimono bath robes and headed down to the basement to try to bathe in the famous onsen (hot spa).
It turned out that we were supposed to bathe in there naked and they had separate facilities for males and females. That meant Julie and I couldn't enjoy each others' company and we didn't spent more than 15 minutes down there as it quickly got a little lonely (especially since neither of us spoke Japanese) and the hot water was a little overwhelming to stay in there for too long.
It was quite an experience and one we'd never done before. I wondered what other onsen experiences would be like later in this trip though?
And with that, we had a buffet dinner (included with our room rate) which was surprisingly good (especially the sushi and sashimi as well as the desserts of tiramisu and cream puffs).
And eventually we settled down to get cleaned up and sleep to try to enjoy this little bit of Japan for the rest of this night. I recalled before dozing off, we had the television on and noticed there was some baseball that was on. I didn't recognize anyone, but there was one guy that got our attention because his name was unusual in that it didn't seem Japanese – Yu Darvish.
I wondered whether he'd follow in the footsteps of another pitcher, Hideo Nomo, or even position players like Hideki Matsui or Ichiro Suzuki, and go over to the states to play Major League Baseball…
Day 38: THE RELATIONSHIP TESTER
Our time in Akiu was brief, but it was enough to get into an onsen as well as visit one of Japan's famous three waterfalls (at least as far as LP was concerned).
But after having the included breakfast buffet, we were out of the Akiu Grand Hotel and waited with our luggage at the bus stop for the return ride to the Sendai Station. We managed to catch the 7:57am bus, and we were the first ones on so we picked a pair of seats that were out of the way of the main passage to the exit and fare payment area.
By 9:23am, we arrived at the Sendai Station, walked to the JR Ticket Office and got our tickets with our JR Passes, and were right on the platform in time for the 9:26am train bound for Utsunomiya. So far the proceedings have been uneventful and relatively smooth in contrast to yesterday.
We got to the Utsonomiya Station at a little after 10:30am and looked around this station for the next place to go to catch the Nikko Line.
But we were kind of lost in the station and weren't sure where to go. And that was when a Japanese guy got our attention and told us to hurry to a corridor we overlooked. We had to hurry because apparently we were almost out of time for the departure of the train that was currently there.
So we got down the escalator and Julie ran for the train that was about to leave. I was lagging behind with the two big luggages. But I barely got onto the train just as the door closed.
Phew, that was a close call!
We weren't sure when the next Nikko train would leave but I guess we got lucky with the timing and were bound for Nikko now. I guess it was a good sign that inside the train, we saw a few signs in English and some foreigners as well. One of the signs said "Nikko is Nippon."
We weren't sure what that meant, but it seemed kind of catchy.
At 11:40am, we got to the Nikko Station. But after not knowing where we needed to be, one Caucasian foreigner (who happened to be American) noticed we needed help and asked us what we were trying to do.
We told him we wanted to buy a bus pass and get to the Turtle Inn in Nikko. Even though this guy said he spoke a little Japanese and it was tough to get by without knowing the language, we didn't need Japanese in this exchange. For he told us we had to get to the Tobu-Nikko Station run by a different company, which was another few minutes walk up the street. And it was there that they had an info center and bus ticket pass office.
So that set us on our way and we at least bought the Nikko Pass (apparently good for unlimited 2-day bus rides throughout Nikko town and up to the Yumoto Onsen). We also noticed an attractive waterfall called Kirifuri no-taki in one of the brochures, but this particular bus wasn't part of the pass and would have to be paid on our own.
So with all the ticketing taken care of, we waited at one of three obvious bus stops right in front of the ticketing and info office for Tobu-Nikko Station. And the first bus that arrived was for the World Heritage Area.
It wasn't easy getting onto the bus for the World Heritage Area. Even though this bus left every 7-15 minutes (whereas the other 2 longer distance buses left every 30 minutes to an hour or so), it was a bit crowded and very inconvenient to bring our luggage on board.
Ultimately, we got off at the Sogokaikanmae Stop. And from there, we had to figure out how to get to the Turtle Annex Inn.
It was at this point that Julie and I argued about which way we should go. I was looking to get onto an angled street at the nearby triangular intersection, but Julie insisted that we go up the larger street and somehow find our way to the river from there.
I knew she was wrong on this one from the outset, but we were a little bit at each other throats at this point and there was no way I was going to win this argument.
Anyways, I was still lugging the luggage up and down hills and not surprisingly getting lost.
Sure following Julie's lead put us on this 1/2-hour detour to nowhere and I'm sure losing the time wasn't a big deal to her. But I was losing my energy pulling 20kg of luggage each on either hand up and down hills on uneven surfaces.
It started raining when we finally found the Turtle Inn (not the Annex). And it was at that point that I knew we had to cross the bridge and walk a little further to the Turtle Inn Annex where we were staying.
So by 12:45pm, we were finally in our room; luggage all wet and all.
We immediately got settled and got our rain gear so we could do a little bit of temple visiting today. We figured to make tomorrow the waterfalling day, and with all the literature we saw on the train and train stations, we sensed that Nikko might be a place for a waterfall bonanza.
So we ended up walking the roads we were supposed to be on to get here in the first place on the way back to the Sogokaikanmae stop. But by seeing how not-so-obvious these roads we took were and how the all-Japanese signs seemed to give no indication of where this accommodation was, even if we were to follow my lead, I wasn't sure whether we'd still get lost or not.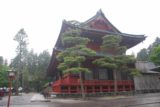 I guess this Turtle Annex place was like a relationship tester as I can easily envision couples getting into fights (as we almost did) finding this place. Later, it turned out that we saw other foreigners at the Turtle Inn Annex who also didn't seem to have happy faces either…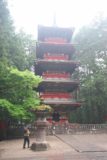 In any case, we continued walking up some steps ultimately arriving at the Rinnoji Temple. After buying some combination ticket and weaving through some crowds of school kids and large tour groups, we ultimately made our way over to the Toshogu Shrine.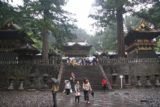 It was raining harder and harder as we walked to it and photography wasn't easy.
But eventually, the rain started to have a little mercy on us and we got to visit the attraction the way we were supposed to.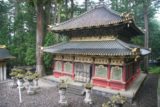 So we took our time essentially blending in with the crowds pretty much doing what they were doing – playing the role of gawking tourists. Clearly, the Nikko temples here were quite famous and popular given the amount of activity here (including that of foreigners).
And even though it was busy here, we still felt it was nowhere near as chaotic nor noisy as what we had to deal with in all the major attractions in China. Maybe it was the absense of the megaphones here.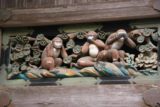 The Toshogu Shrine was the main one in this complex of ornate temples, shrines, and mausoleums. We even got to see the sacred stable which had a bunch of monkey carvings lining the base of its roof. Of course the most famous carving was the "hear no evil, speak no evil, see no evil" one.
As we walked throughout the busy complex, it was tough for us to get a handle on what the main buildings were here.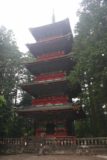 So we wandered and wandered while avoiding umbrellas and crowds. It was still raining a little so it made photographing things without waterspots getting on the lens a bit difficult.
But for the most part, it was mostly walking and gawking. We didn't pay extra to see some famous cat carving, which was supposedly just as famous and iconic as the three monkeys.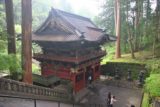 After seeing the shrine, we walked over to the Taiyuin Mausoleum which also had its share of carvings and ornate buildings. It was interesting that each gate here was watched on both sides by devil-looking statues.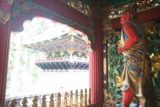 It was easy to get templed out at this point so afterwards, we walked south towards the Nishisando stop. On the way there, we started to look for restaurants for a little bit of a lunch-dinner combo. After all, we hadn't eaten since breakfast and even then we didn't eat very much there.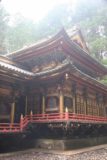 Eventually at 3:50pm, we settled on this place called Hippari dako, which apparently gave pretty good bang for the buck. So we took the bus from the Nishisando stop towards the Shinkyo stop. There, we walked back towards the famous Shinkyo Bridge and took photos there before seeking out the restaurant.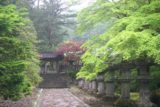 The small restaurant was littered with cards and other things (like bank notes, old passes, photos, etc.) left behind on the walls and ceilings. Clearly many foreigners have come here before. Must be the Lonely Planet review.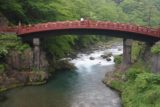 After the filling and reasonably priced lunner, we quickly walked to the Shinkyo Bridge. There we took a few more photographs of the famous red arched bridge from the main road. I suppose we could've walked on the bridge itself for a fee, but we passed on that.
By a little after 5pm, we showed up at the Turtle Inn and did a little bit of internetting on their lobby computers. And by 6pm, we were back at the Turtle Inn Annex to soak in the extremely hot private onsen. That was relaxing except the heat in there almost made me faint. But at least Julie got to accompany me there and we didn't have to be naked apparently (though I did suspect we were supposed to be in there naked per Japanese onsen manners).
And so ended a day that started off chaotic but now seemed relaxing. Seems like the relaxing part comes easily when you're in the countryside. And this is one of the main reasons why we go visit waterfalls since they're usually closer to Nature while being in a more laid back atmosphere like we're in now.
Day 39: WATERFALL BONANZA
We awoke to sunny skies at a little after 5am. I got up so early because I previewed the bus schedule and saw that you could get to Chuzenji-ko before 7am. Plus, I was anxious about today as it could be a big waterfalling day seeing a minimum of 3 and possibly more. But of course, Julie was reluctant to get there that early and so we ended up leaving on a Chuzenji-ko bus at 6:35am from the Sogokaikanmae stop.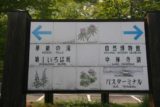 Again, we were a little nervous about getting off at the correct stop, but we took a stab at getting off at the main Chuzenji-ko stop knowing that it's only a few minutes walk to Kegon-no-taki, the highlight waterfall of Nikko.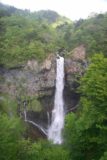 At around 7:45am, we were at the overlook for Kegon-no-taki. There, we took numerous photos and occupied ourselves as the elevator for frontal, lower views of the falls didn't open until 8am.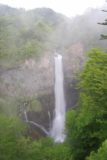 There were a handful of other Japanese tourists at the overlook platform as well so clearly we weren't the only ones thinking the same thing. The falls vacillated between being fogged over and being bright and sunny. That made photography a little bit tricky.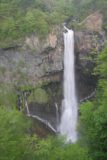 This 97m falls (65m plunge) appeared to be draining the natural lake Chuzenji-ko, which was formed some 15,000 years ago by the Mt Nantai eruption. Thus, this is a rare year-round waterfall.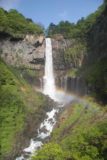 At 8am sharp, we boarded the manned elevator with the same handful of Japanese tourists who shared the overlook platform with us. And after walking through the long corridor, we got onto the lower viewing platforms greeted by a bright morning sun and a lovely rainbow forming at the base of the Kegon Waterfall.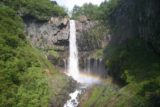 It was a little bit of light mist at this viewing deck so every so often, I had to wipe the lens with a sponge. But ultimately, we got the photos we wanted and considered this particular waterfall the best one we've seen so far and easily on par with some of the nice Chinese ones we had seen earlier on the trip.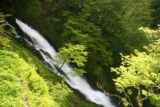 On the rear of the platform, we saw another hard-to-photograph waterfall called Nehan-no-taki (or Nehan Waterfall), but this one cascaded its way down to the same river downstream from Kegon-no-taki, and it was hard to capture it satisfactorily.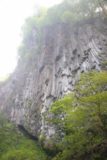 At 8:20am, we rushed our way back to the elevator knowing that the next bus to Yumoto Onsen leaves at around 8:34am. We still had quite a few paces to walk, and these types of buses don't leave all that often. So the timing had to be right.
As we were in the corridor headed to the elevator, we saw an army of school kids going the other way. I guess we barely beat the rush to the Kegon-no-taki, and it was a wise decision to knock off this lovely waterfall first before doing the rest today.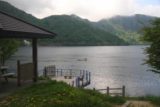 We managed to catch the 8:34am bus and took it all the way to the Yumoto Onsen. Unfortunatey, we realized after the fact that it was an additional 2km from the very top of Yutaki, the next waterfall we were after. Indeed, there was a stop right at the Yutaki waterfall, but we assumed the Yumoto Onsen area would be close to the falls like Kegon-no-taki was to Chuzenji-ko stop.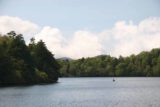 So this miscalculation cost us a 9:29am bus ride further south to Ryuzu-no-taki, the third waterfall of the day.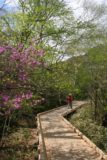 Anyways, given our little faux pas, we had no choice but to walk the trail skirting the Yunoko Lake. Actually, it wasn't a bad alternative considering it was a rather calm and pleasant lake with serenity and tranquility all around.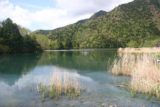 The walk was on a boardwalk so we wouldn't risk trampling in muddy patches or inadvertently hit upon a hot spring or other thin section of the earth's crust. Speaking of which, there was quite a bit of that sulfury smell so for certain there must've been some geothermal activity going on here.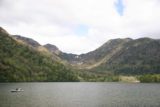 In fact, it wasn't all surprising that the lake's name contained the word "yu", which I believe meant soup.
Anyways, it wasn't until 9:30am when we showed up to the top of Yutaki. We could see that from up here, this waterfall was pretty significant. It also seemed like the sun was on its way to break through the morning clouds.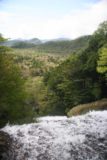 Ten minutes later, we were at the base of Yutaki, and there we saw a very crowded viewing platform with multiple tour groups of school kids. So we found some space to take photos of the interesting-shaped cascade with a split towards its bottom.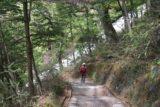 The sun's light on this waterfall wavered between making the falls very bright and being hidden behind clouds. And it wasn't all that often the sun was behind clouds so the nice evenly lit waterfall pics were few and far between.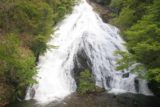 By 10:10am, we were at the Yutaki bus stop. On the way up to the waiting area, I couldn't help but notice a sign at the car park describing the Yutaki Waterfall noting, "…you will no doubt appreciate the feminine qualities of the waterfall…" That cracked me up.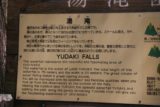 This waterfall was fed by Yunoko Lake and I'd bet it also flows year-round the way Kegon-no-taki does.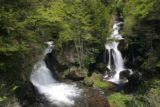 A few minutes later, we stoped at the Ryuzu-no-taki. Here, there was a lot of people on the viewing deck flanked by shops and cafes. And a lot of those people just so happened to be Japanese tourists toting expensive cameras like Canon and Nikon DSLRs with L-series lenses as well as tripods. And this wasn't just an elderly males' hobby. Nope, there were also women doing the same thing.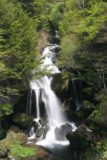 I guess when you come from a country that makes these precision cameras, it's easy to get into being a photo buff.
Anyways, we took what photos we could of this impressive double cascade with some purple flowers blooming around them. We also took a quick break sharing a hot udon bowl to hold us over. And by 11am, we were just about done with this place and waited by the bus stop again.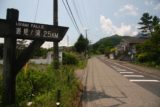 From here, the bus we caught (I think it was 11:19am) took a little bit of time getting all the way back into Nikko Town where we got off at the Uraminotaki stop. And we started walking along a small residential road embarking on the 2.5km one-way hike in the heat of high noon (well 12:15pm to be exact).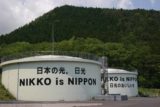 I know there wasn't a whole lot of literature about this waterfall prior to our trip, and we didn't really consider doing it until we saw it in one of our tourist brochures. Supposedly the Urami-no-taki was one of the 3 big waterfalls in Nikko according to the tourist association.
I'm sure if the bus went all the way to the trailhead instead of leaving you over 2km from it, then it'd also be pretty popular.
But alas, it is what it is and we sweated our way going mostly uphill along the road as some cars passed by us. One elderly Japanese guy reaffirmed that we were going the right way when he passed us by as he was walking pretty fast.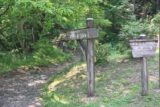 Finally at 1:05pm, we were on officially off the pavement and onto a more normal trail. But we still had 0.5km to go from here and immediately in front of us were a bunch of stairs.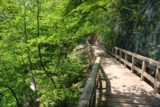 We could hear the cascading river in the ravine to our left even from the last 0.5km of the road. And as we got further along the trail, we could start to see other waterfalls that could've easily been construed as Urami-no-taki, but the foliage blocked their views.
Finally at 1:25pm, we were at the Urami-no-taki viewing area. It wasn't as impressive as we had thought, but the falls was no slouch. Actually, it was more like a main plunge (maybe about 50ft or so) along with smaller cascades and falls around it. I'm sure if the falls were pumping during heavy rain or perhaps just after the rainy season in the Summer, this would be quite a scene.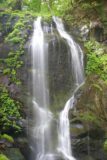 There was no way I could capture all the waterfalls viewable from the deck in one go.
Another group of Japanese tourists joined us at the platform. Eventually we conversed with the male in the group, and after the usual questions (once he understood we didn't understand Japanese) about where we're from and whether we've visited Japan before (which we didn't), he wondered why we were interested in seeing this waterfall.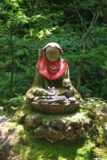 That was because he said only Japanese know about this waterfall. We told him we like waterfalls, but with the communication difficulties I'm sure we couldn't go into more on the subject.
When we left the falls, we realized that it was barely 2pm. After looking at the bus schedules, we had to catch the 2:14pm bus in order to be back at the Tobu-Nikko Station in time to catch the 2D bus to Kirifuri Falls, which left at 2:46pm. The next bus to Kirifuri Highlands wouldn't be until 3:51pm, and we didn't want to wait that long.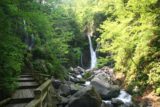 We still had over 2km to go in the 15 minutes or less so we ran and power walked our way back to the bus stop. And we made it with a couple minutes to spare.
By 2:30pm, we were at the Tobu-Nikko Bus Station as scheduled. And we had plenty of time to wait for the 2:46pm bus for the Kirifuri Highlands. But it was too bad this bus line didn't count towards our Nikko Free Pass, which let us get on and off whenever we wanted from Nikko Town to Yumoto Onsen for 2 days at a pretty reasonable (considering how expensive a-la-carte bus rides are turning out to be here) 3000 yen per person.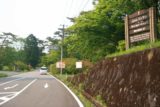 It was about 2:53pm when we arrived at the Kirifuri-no-taki bus stop and walked towards the viewing deck (with a little bit of trouble figuring out which road to walk along).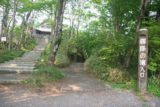 And by 3:10pm, we were at the overlook platform for the impressively tall Kirifuri Falls. This was one of those look but don't touch waterfalls as it was far away and always obstructed by foliage in some way shape or form. The best viewing position offered views of the lower tier of the multi-tiered falls, but the uppermost tier was quite obstructed.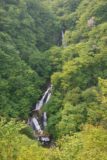 In any case, Julie wasn't all that impressed and she thought we wasted money on the transport on this one (600 yen total for the both of us).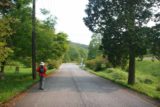 Now we had to make it quick to catch the 3:24pm bus back to Nikko Town. The next bus wasn't until 4pm. And despite my desires to walk the downhill 4km back to town and save another 600 yen on the bus fare, Julie would have none of it. So we managed to get back to the bus stop with a minute to spare.
As we hopped on the bus, the bus driver pointed me to a machine with a ticket to take. On it said the number 4. Immediately, I realized that that meant our bus fare corresponds with the "4" on the fare grid, which flashes numbers as the bus goes from stop to stop.
Ahh! Now, we finally figured out how the bus fare system works and how much we're supposed to pay when we leave the bus…
At 3:35pm, we were back at the familiar Tobu-Nikko Station. We did a little walking around before we finally had ourselves a lunner at a sushi place not too far from the Tobu-Nikko Station. We also picked up some elusive Calpis Water (formerly Calpico Water we think) from a couple of convenience stores since hardly any of the vending machines seemed to carry them.
The sushi dinner was delicious, but very quiet. The experience kind of reminded us of the Tsukiji Restaurant in Gardena, especially regarding the Toro Bowl which was toro sashimi on a bed of rice with strips of seawood paper on it. It was kind of the way the toro bowl used to be done before I noticed a change (where they put in pickled cucumbers and sprouts with seemingly less toro instead of the seaweed strips) on a recent visit a year or two ago.
Anyhow, it was good and fresh and even trumped our Tsukiji Fish Market sushi experience. Perhaps we visited the wrong joint at the fish market? But how could we have known since we couldn't speak the language let alone read it?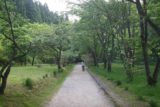 At 5:55pm, we finally made it back to the Turtle Inn Annex after a quick internetting at the parent Turtle Inn building. About 10 minutes later, we walked to the Kanamagafuchi Abyss where there was the Bake Jizo, which was a series of Buddha head statues all lined up facing the Daikawara River. We didn't know about this at all until we stumbled upon a brochure with it on the cover.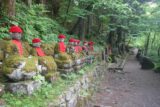 It was a very serene scene, and actually it was a bit eerie with the fading light of the day and only the sounds of the mini cascades and rapids splashing below. Each statue seemed to be wearing red headbands with a red bib it seemed. Some had offerings.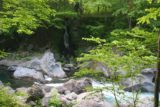 Somehow I could also imagine some kind of supernatural juju going on if you let the mind play tricks on you. Since all of these statues were kind of looking towards the river and there seemed to be that strangely otherworldly tingle when we were here.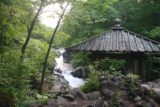 I actually dared to venture further where I found another row of Buddha statues beyond a little pagoda. But there were a couple of Japanese youngsters there reading, and I decided not to bother them taking photos of the river from there.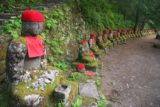 Given how quiet and eerie this place was, we wondered how many tourists bother to venture out this way. I did seem kind of out-of-the-way from the World Heritage shrines in the main part of Nikko. After all, our accommodation wasn't the easiest place to find and it almost got Julie and I in a bit of a tiff with each other.
So perhaps it was fortunately situated to create that perfect mix of eerie silence, Nature, and that Japanese touch with the pagodas and the statues here.
So I basically checked out these Buddhas before rejoining Julie back at the hotel.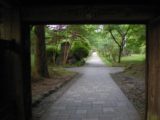 That was when we finally went for another round of soaking in the private onsen here. Hey, mind as well use it since we're paying for a 300 yen per person per night "tax" regardless of whether you use it or not… Besides, it was a great way to cap off the day experiencing this waterfall bonanza, getting good exercise, and good sushi to boot…
When we left the onsen, we bumped into the receptionist showing a couple of new foreign guests around the property. The foreigners didn't seem to have a happy look on their faces and I joked with Julie afterwards that they probably got lost finding this place like we did. Like I said, this place was a relationship tester…
Day 40: THE FICKLE FUJI
We awoke at 5am to very sunny skies. It was turning out to be a clear day and that must mean that Mt Fuji (destination for today) should make itself visible.
So with haste, we got our stuff together and dropped the keys in the box as we tried to quietly make our way out of the Turtle Inn Annex by 5:30am. And that was when we made our little hike while rolling the luggages through the quiet residential streets to the Sogokaikanmae stop.
We felt a little guilty making a little bit of a raucous with the luggage wheels grinding with the pavement. The sun also made things a little bit hot even though it was technically cool in the morning if we weren't exerting ourselves. Our raucous also woke up some dogs and caused them to bark.
By 5:45am we made it to the desired Sogokaikanmae stop. And the first thing we saw was the timetable at the stop itself. Unfortunately, we showed up an hour too early as the first bus of the day doesn't arrive until 6:34am. I guess we should've seen this bus schedule and remembered it two days ago so we could've used the extra half-hour of sleep.
Anyways, this amounted to a delay as we wouldn't be able to catch neither the 6:01am nor the 6:30am train from Nikko Station to Utsunomiya. The only shot we had was the 6:46am train and that meant our plans would already be delayed.
This was not good because I had hoped for seeing Mt Fuji before the afternoon clouds would show up on a day like this. And we couldn't assume that tomorrow would have any better weather either.
Sure enough, the 6:34am bus showed up on time and I had to get on the bus with the luggage. These buses definitely don't cater to travelers with luggage as their walking corridor is too narrow. I'm sure I had to muster all my upper body strength just to even get our luggages onto the bus and then try to lug it onto one of the seats since there was no empty space for them.
Mercifully, we got to the station at around 6:44am and quickly headed right onto the awaiting 6:46am train to Utsunomiya. We managed to get our seats and headed off soon thereafter.
As the train made stop after stop, it seemed that people were piling in. At first it was armies of students in uniform crowding the train and then the workers started to come in. By the time we got to Utsunomiya, the train was almost packed like sardines. So this must be what rush hour is like in suburban Japan.
At 7:30am in Utsunomiya, we got onto a shinkansen train bound for Tokyo except none of the seats were reserved except for the expensive green cars, which were basically premium seats located upstairs on the double decker train. We guessed right when we got on the lower deck but didn't immediately find luggage space so I hijacked the aisle and one of the seats. Again, this didn't seem like it was suitable for travelers with luggages and it seemed more suited for commuters both to and from work.
By 8:10am, the train was already on its first of four stops. It seemed like it took forever as I felt bad making people squeeze their way through the luggage in the aisle.
About 5 minutes later, I realized that the back seats had space behind them. So I took the opportunity to move the luggages behind those rear seats and that really freed up space and my conscience. Too bad we were more than half way done with our train ride when I figured this out.
A few minutes before 9am we arrived at the Tokyo Station. We knew to head straight for the Chuo Line (instead of the Yamanote Line like last time) to connect to the Shinjuku Station. The problem was that once we got on the correct platform, we couldn't figure out which side of the platform we should be going to.
So I went into the train that was currently there and tried to read some of the signs to get an idea of whether it was the right train or not. The signs didn't help me much though. But just as I was about to leave the train with Julie waiting for me outside, the door closed!
The train was about to move and both Julie and I were separated! Julie panicked and my heart started to race. So both of us tried real hard to force the doors open before the train moved.
Luckily, the door opened and I managed to squeeze out of there just before the train door shut again and the train moved. A few moments later, the train from the other side of the platform showed up and we got on that. Upon reading the signs in there, it seemed we caught the correct train here. Had we taken the one we nearly got separated on, we would've been taken further away from Shinjuku!
Whew! Another close call!
At around 9:15am, we made it to the Shinjuku Station. We thought it wouldn't be that big a deal getting a ticket for a 9:40am bus bound for Kawaguchiko. Plus, Julie said she was running out of cash so we thought we mind as well use this time to get some cash from an ATM (too bad Japan is mostly a cash-based society and don't take credit cards often).
Now I wasn't about to lug my luggage back into Shinjuku near our old hotel (which happened to have an ATM that accepted foreign cards). So I waited at the information area in the Shinjuku Station for Julie to get the cash. I thought this would be a painless affair.
Well, it wasn't until after 9:30am that Julie finally returned. By then, we rushed over to the Keiko Bus Ticket Office getting there at 9:40am.
But that was when Julie got the bad news that both the 9:40am and the backup 10:10am buses were sold out! I guess we made a mistake not going for the tickets first and now we were unexpectedly delayed once more. The next bus was 11:10am which was unacceptably late. We mind as well go for the JR Train to Otsuki and then pay for the private train ride to Kawaguchiko. Now I was having doubts as to whether we're going to miss seeing Fuji the way it should be seen (as I had feared the later we arrived, the more clouds would start obscuring the mountain).
Ultimately, we caught the 10:10am JR Chuo Line to Otsuki. By now, I was at least wise to the way the luggage situation worked out within the seating area. So this time after we boarded the train, I put the luggage behind the back seats without any issues.
We got to the private Fujikyuku Line at Otsuki at around 11:40am. That was when we noticed that we had to pay 1410 yen per person, which was more than the 1110 yen per person we expected to pay. So we didn't save that much on the 1700 yen for the bus ride, which was the better option had the timing worked out anyways.
That extra 300 yen was because it was an "express" train.
Anyways, this train ride went pretty smoothly and we did manage to see Mt Fuji out the window appearing through the haze. Too bad there were so many buildings and power lines often blocking the view of Mt Fuji, otherwise this would've been a superb train sightseeing train ride.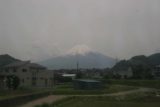 It wasn't until 1:10pm when we finally got settled at the Station Inn. We did spend a half hour or so at the train station asking about the bus timetables as well as buying a ticket for the return trip to Shinjuku Station as we weren't about to have another mishap of tickets selling out.
Fuji remained visible from the Station Inn hostel-style hotel as we checked in immediately thereafter. But I could see that the clouds were building. Still, we had to get through the checking in process while removing our shoes (using their slippers instead) and walking up the stairs carrying the heavy luggage.
Once that was done, we headed right back to the train station area for more info.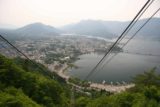 As Julie was dilly dallying and freaking out about bus schedules, we finally decided to walk for the cable car at 1:30pm. The walk took at least 15 minutes.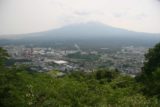 By 2:15pm, we were finally at the top viewing decks providing commanding views of the iconic Mt Fuji. But unfortunately the clouds had already started to cover the very top of the conical snow-capped mountain. Indeed, we probably missed a clear Fuji by a half-hour or so. So all those delays that led up to this added up and costed us.
We hoped tomorrow might bring similar weather, but you can never be sure about these things.
Still, we did see most of the mountain and it was only a pocket of clouds partially blocking the uppermost parts of the mountain. I guess it could be worse.
After this excursion, we ran a few errands buying some cheap pastries and liquids at liquor stores as well as a few ice creams to cool us down.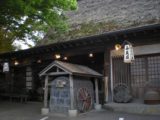 We then walked quite a distance looking for some restaurant called Sanrokuen where you get to grill some food yourself. It took a while finding this place, but eventually we did.
The interior had sort of a charming old traditional Japanese feel to it (the vendor said this building was 150 years old). Unfortunately, they only accepted cash payments and the food wasn't cheap. So we ended up splitting some combo that costed 4200 yen. Fortunately, it was filling but I'd say the food was ordinary. It was really the novelty of it (and the fact it was one of two restaurants that appeared in LP) that got Julie to want us to come here.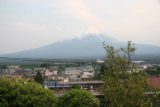 When we left the restaurant, we noticed that Mt Fuji's top was revealed once more. I theorized that perhaps the cooling weather kind of made the clouds start to dissipate again. So we returned to the Station Inn at 6:30pm and tried to take photos of the mountain in its form (boo on those power lines running across the view), but we sure wished we were at the Cable Car or some scenic lakeside view at this point.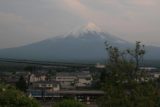 I guess it just wasn't meant to be today.
And rubbing it in was the annoying crosswalks by the Kawaguchiko Station constantly playing some kind of annoying toy music. It's driving us insane like the good 'ol fashioned Chinese water torture.
Day 41: THE NOT RECOMMENDED EXCURSION
It was about 5:30am when we woke up. The first thing we did was to open the window and take a look at Mt Fuji. And it seemed that Fuji was showing itself once again. Too bad our views from here were of power lines crisscrossing throughout our view. Plus, I could already see some clouds starting to build up and hover closer to the summit of Fujisan.
At 7am, we went to the ticket office to try to buy a ticket bound for the Shiraito-no-taki iriguchi (entrance). But the ticket lady made us realize that I made a booboo on my planning to catch a 7:05 bus. That particular time slot wasn't available until June 4th when Fuji's climbing season begins. The next bus wasn't until 9:40am and the retro buses for the northern lakes region didn't start until 9am. We bought the ticket for the 9:40am bus to Shiraito Falls anyways.
So that left us with a couple hours of doing nothing. As we left the station, we could see Fuji's summit was already partially blocked by clouds. Fuji's fickle nature sure makes it tough to figure out how to plan out your day especially if you're seeking those iconic views of the conical mountain towering over lakes.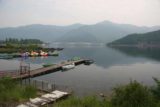 We eventually decided to walk towards the northeastern end of Lake Kawaguchiko not too far from a bridge crossing the lake. During this walk, we also bought some munchies from a Watson's convenience store where they offered up some delicious nori and inari as well as other cold sushi rolls. Best of all, they took credit cards so that didn't hurt our cash on hand.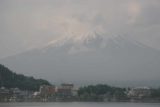 We continued strolling around the eastern shores of Lake Kawaguchiko. We didn't start to get views of Mt Fuji until we got closer to some real expensive hotels facing the lake and the view of Mt Fuji. If it weren't for all the development around this area, I'm sure this scenery and the experience in this "National Park" would be outstanding instead of just good.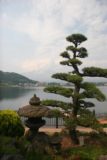 Still, we were out strolling while most of the town was either still asleep or going to work. So that made for a relaxing experience even though Fuji wasn't in its most photographable form due to the haze.
By the time we got back to our hotel at 9:20am, we picked up my tripod, dropped off some unwanted weight, and exchanged money next door as we were already running out of cash.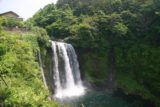 The money exchange took longer than expected but fortunately, we managed to catch the 9:40am bus for Shiraito-no-taki iriguchi in time. Plus, we felt we made the right call seeing Fujisan when we did because now it was really clouded over.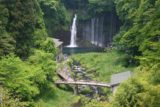 By 10:35am, we made it to the Shiraito-no-taki bus stop. From there, we took our time strolling around the area, which was lined with shops and cafes. Obviously, this area gets a lot of visitation from Japanese tourists, but we couldn't really see any other foreign visitors. We took our time since the next bus back to Kawaguchiko Station wasn't until 1:25pm.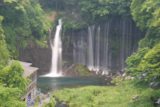 At 11am, we followed some loud crashing water noise towards an overlook of Otodome Falls. This overlook was actually right in front of some shops. The falls itself was quite nice as it dropped in a fairly thick, almost segmented plunge. I think it's gotta be at least 25m tall. And even though this waterfall was impressive, it wasn't necessarily the main falls of the area.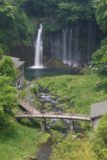 By 11:25am, we caught an overlook of the Shiraito Falls in the distance. This one definitely was the main attraction as it was a very wide weeping kind of waterfall with a main plunge on its leftmost extreme. There were quite a few paces down stairs to get in front of the falls and we could see some large kiddie groups already down there.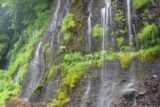 Already our waterfalling day was turning out to be a success, and we were sure glad that we visited these falls despite the visitor center telling us yesterday that this was not recommended due to cost, distance, and time.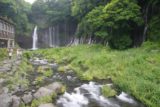 We spent plenty of time down here taking whatever shots we could from whatever angles we found possible. The falls were simply too wide to meaningfully try to capture its grandeur in one shot.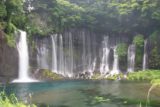 The sun was busy shining and hiding behind clouds building up in the area. The sun provided color in the clear water as well as bright green foliage. But the clouds made the light even and friendlier for the long exposures that this falls just begs for.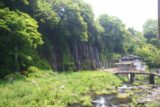 By 12:30pm, I was done with photographing Shiraito-no-taki and proceeded to go up the stairs back to the shops. By ten minutes later, I couldn't help but take more shots of Otodome Falls especially since the sun was mostly behind clouds and I finally got some even lighting for this one.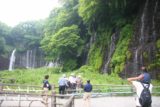 I could've easily been here longer to take more photos, but more of the school kid groups started showing up. That was my cue to go. I guess Japanese love their kiddie groups at tourist attractions. Plus, I guess there's no better teacher for kids than to be out there seeing the sights and learning about them in person.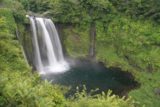 We started waiting for the bus at 12:45pm. It seemed like a pretty long wait for the 1:25pm bus since this particular stop had no seats nor any shade.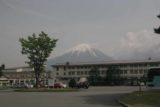 Anyways, the bus showed up pretty much on time and we napped our way through most of the bus ride back to Kawaguchiko until Julie woke me up and pointed to a Mt Fuji that was clear!
I took what photos that I could from the bus (not the best place to take Fuji photos). It sure seemed that we were either on the train or on the bus or in the hotel when Fuji decided to show itself. This gave us the idea to try one of the retro buses for a more reasonable perspective of Mt Fuji.
By 2:30pm, we were back at Kawaguchiko Station. Unfortunately, here at the northeastern face of the mountain, it seemed that Fuji was back to its hazy self again. But we only figured this out after we wasted our money on a retro bus going to the north shore of Lake Kawaguchiko.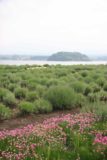 By 3:15pm, we stopped at the Natural Living Center. And sure enough, the view here was terrible as you could barely make out Mt Fuji from the sky. In hindsight, we should've taken the green line retro bus to Lake Saiko where there seemed to be less haze. Instead, we took the red line and chased those "famous" views.
It sure seemed that whenever we paid for something to see Mt Fuji, the views were not satisfactory. Once again, Fuji's fickleness made us regret paying money for nothing.
Anyways, we waited for the next bus some half-hour later. The weather brought a little more insult to injury as it decided to become windy and a bit chilly. When we did catch the 3:54pm bus, we got off near the Art Museum where there was some kind of houto (traditional Japanese noodle famous in this area) joint.
After that, we took the next bus back to Kawaguchiko Station where we unwound this day at the hostel. During the ride back, we could see Fuji's haze appeared to be mostly from rain! It didn't rain in town, but it started to make us wonder if rain is in the forecast tomorrow and the next few days as we head further into the Japan Alps.
Visitor Comments:
Got something you'd like to share or say to keep the conversation going? Feel free to leave a comment below...
No users have replied to the content on this page