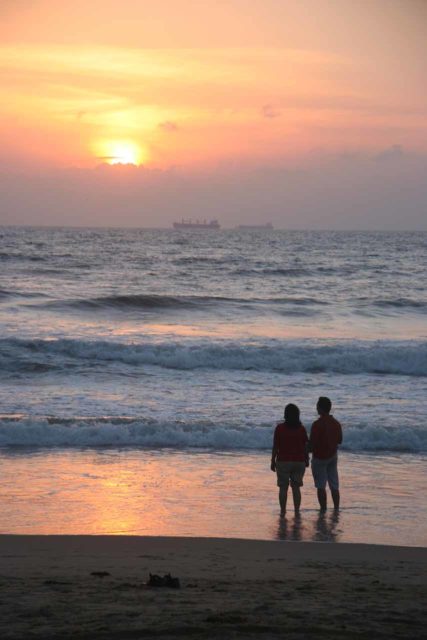 12-November 2009 to 13-November 2009:
…furious after realizing there was no hot water (I took a cold shower), no hair dryer, no filtered water, toilet cover broken, no hand towels, and overall the room felt quite dirty and subpar considering we're spending 2 nights here and Goa was a resort town, Julie placed a call with the local rep to request a change of accommodation for tomorrow night (it was already too late for tonight). This place (a supposedly resorty place that foreigners go to for a relaxing beach holiday in India) was the worst we'd been to for some time. We both could take this for smaller rural villages, but we're talking a resort town here. Something just didn't add up…
Day 12: WHIRLWIND TOUR OF MUMBAI
Trying to seize the moment of having been here and not forseeing a return to India in the immediate future, we tried to take advantage of the fact that our flight to Goa wasn't departing until noon today. So last night before calling it a night, we arranged with the driver to take us on a bit of a whirlwind tour of Mumbai this morning. And we were going for a 7am start.
So we awoke at 5:45am. We didn't sleep until around 1:30am earlier this morning because we were too busy basking in our little anniversary dinner while trying to enjoy what little time we had in the luxury suite.
I looked out our window and could see that it was raining at 6:40am.
And by 7am, we got our boxed breakfasts, checked out, and joined Araun our driver for our whirlwind tour.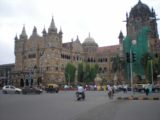 After unsuccessfully trying to take photos of "King Khan's" mansion, we crossed over a long bridge into South Mumbai. From there, Araun drove us to and fro allowing us to check out both train stations and other interesting Victorian architecture in the city (no doubt built during British rule).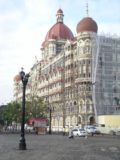 At 8am, we were dropped off for an hour at Colaba. Unfortunately, it was kind of dead here (which I suspected since I had hoped we would have enough time to check out the energy of the evening scene here last night, but the flight delays made that practically impossible). Still, we got to photograph the Gate of India (as opposed to the India Gate in Delhi), the Taj Mahal Hotel (still being renovated after being hit hard by the November 26th attacks last year), and all the pidgeons crowding the large public square.
Even this early in the morning, we couldn't really take our photos and contemplate having breakfast outdoors in peace as touts were already on us and wouldn't take no for an answer. So we retreated into the Taj Mahal, going through their tight security, and munched in the new lobby area. From there, we walked towards the old lobby area, which was small and was really nothing more than some fancy carpeted stairs.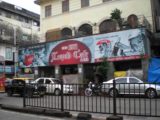 By 9am, we were picked up by Araun again, and he proceeded to take us to more stop-and-go sights such as a couple of gardens, Malabar Hill, the walkway in front of the Oberoi Hotel (also being renovated due to 26-11 attacks), and some of the Parsi structures and institutions.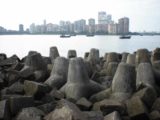 He also pointed out at several points throughout the whirlwind tour the governor's mansion, at which point I wondered if some of these officials were corrupt given how much money (which I suspect was taxpayers money or treasury coffers) was spend on lavish buildings and could've been better spent on infrastructure, opportunities, and education for the masses.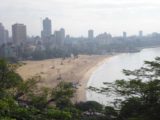 In any case, I got the sense that Mumbai was really more of a place to soak in the atmosphere of tourists and locals browsing about at the Colaba Causeway or Chowpatty Beach. And it wasn't really a place to do any serious sightseeing in the way that you might do in say New York or Hong Kong.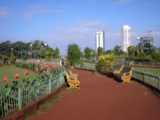 At 9:45am, we were headed back to the airport. We took a different route back in which we could see that traffic was pretty much in full effect. We could also see villagers living on the streets, which the driver acknowledged was a major problem in Mumbai. Plus, we could see some of the slum neighborhoods though we didn't get into the Dharavi Slum, which was featured in the movie Slumdog Millionaire.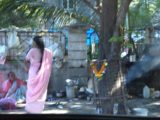 At 10:45am, we were checked in at the airport and were awaiting our 12pm flight, which was delayed until 12:30pm. By now, we've come to expect flight delays as all but one of our domestic flights were delayed on this trip.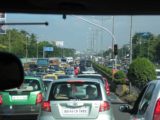 Throughout this morning, Julie was feeling the chills. She started to conclude that it was probably food poisoning, which she was already having yesterday. So she was out of it when it came to the Mumbai whirlwind tour and she was definitely out of it on the plane ride to Goa.
At 1:15pm, the plane finally took off. And on this crowded flight, we were served food and drinks (unlike the 2.5-hour flight to Mumbai yesterday in which nothing was served). I guess this is characteristic of flights involving more tourists than locals.
At 2:10pm, we landed. The landing wasn't a straight landing, but we still made it to Goa safely nonetheless. When we met up with our rep and driver, we loaded up the car and proceeded to drive the 45 minutes to our Casa de Goa accommodation somewhere around Calangute and Baga.
We noticed that the cars here were newer than what we had experienced in Guwahati and Shillong. But we also witnessed the aftermath of two accidents involving scooters being struck by vehicles. This is like the third or fourth accident we've seen on this trip (including one involving our car and driver and a little boy in a rural village near Ranthambhore), and given our sampling, it seems like India's reputation for having the most dangerous roads seems to be holding true.
At 4pm, we made it to the Casa de Goa and checked in. Our accommodation was pretty humble and definitely nowhere near the quality we'd been used to on all our previous night's stays up until this point; this despite our expectations that Goa is more of a resort destination.
Still, the atmosphere seems much more laid back than all the other parts of India that we had been to. Though that statement is relative since we've seen more laid back resort spots in our travels.
Julie wasted no time in getting right to bed and taking a rest to try to shake off her food poisoning symptoms.
At 5:40pm, I walked alone to the nearby beach. The walk itself was around 5 minutes through a local alleyway, which I thought at first wasn't the right way to go.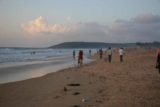 When I arrived at the beach, it was quite busy. There were lots of people as well as hawkers on the beach itself. I also noticed quite a few foreigners playing in the waters as well (though I did notice the waves were a bit on the dangerous side thanks to the increased swells from Cyclone Phyan).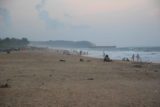 Meanwhile, other foreigners were doing what I was doing – taking photos while staying dry. It wasn't the same checking out this beach without sharing it with Julie as she was struggling with her ailments. So I took whatever atmosphere shots I could given that the daylight was rapidly fading. Some locals were busy arranging their fishing nets on some of the boats moored in the sand. Some of the female locals had baskets balanced on their heads looking to tout pineapples and coconuts.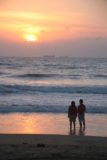 Meanwhile, as the sun was setting and my attention was focused offshore, I couldn't help but notice several dozen oil rigs and tankers offshore. Along with that, there was also a fair bit of litter on the beach. These kind of ruined my preconceived notion of what Goa's beaches were supposed to be like, but then again, we weren't all that particular about our choice of accommodation and beach location here since the main goal was to check out Dudhsaghar Falls, which was our activity for tomorrow.
With the locals saying that heavy rains pounded this area for the last couple of days, I hoped that the falls on this side of India might have gotten a bit of a revival considered the weak monsoon everyone had been complaining about.
At 6:05pm, I was back at the room. Julie was still asleep and didn't really feel like trying any of the Goan cuisine on this night. So we just decided to save a little money, get cleaned up, and call it a day.
At 11pm, furious after realizing there was no hot water (I had taken a cold shower earlier), no hair dryer, no filtered water, toilet cover broken, no hand towels, and overall the room felt quite dirty and subpar considering we're spending 2 nights here and Goa was a resort town, Julie placed a call with the local rep to request a change of accommodation for tomorrow night (it was already too late for tonight). I was curious how much Casa de Goa costed us because I started to grow suspicious of the local tour operator here, who might have skimped on our accommodations and pocketed the rest of the money themselves. After all, this place (a supposedly resorty place that foreigners go to for a relaxing beach holiday in India) was the worst we'd been to for some time. We both could take this for smaller rural villages, but we're talking a resort town here. Something just didn't add up.
Anyways, we finally slept.
Day 13: PANJIM PEOPLES
We awoke at 5:45am to get packed up as if we were checking out of Casa de Goa (which we were) even though our alternate accommodation at the Panjim Inn was not confirmed yet. Still, the thought of staying another night in this dump felt wasteful and we weren't going to have any of it.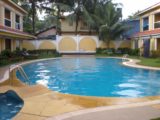 At 8:30am, we checked out and met up with Deborah our guide for the day as well as our driver. As we loaded up the car, we immediately headed out.
It felt a bit awkward checking out a night early. The hotel staff was shrugging as if they didn't know what was going on. Meanwhile, Deborah was reluctant to say anything at first thinking we're easily offended or were very picky.
But eventually, she asked us where we had been in India and eventually the topic turned to tigers and leopards (both of which we saw at Ranthambhore National Park). Apparently, leopards are still around Goa as she mentioned one happened to be in someone's residence and was on TV.
From then, Deborah got into it by talking about Goan history and some interesting facts about Goa and some of the things we were seeing during the drive.
One of the things we noticed was the absence of slums and people living on the streets here. Plus, the pace was definitely more relaxing than other Indian places we've seen so far (and this included some of the far flung places [or so we thought] like Shillong). The buildings have a mostly Portugese influence with colorful walls (many of which are chipping or fading due to the monsoon) as well as some narrow alleyways reminiscent of some of the nooks and crannies you might find in some of the classical places of Europe.
Among the things we learned, Goa was a Portugese name as it was supposed to rhyme with Lisboa (Lisbon) while this area was named Go-something where the "go" was Hindi for cow.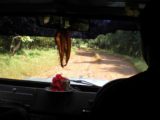 Even though Dudhsagar Falls was roughly 70km (according to the driver) from Panaji (or Panjim for Portugese), it still took nearly two hours (and the driver was speeding and passing pretty emphatically). That was because of the numerous trucks carrying iron ore. There were caravans of them, and they tended to clog up the flow of traffic.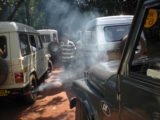 At 10:20am, we made it a little town where the jeeps were departing from. There were lots of Caucasian tourists waiting for jeeps here, and there were numerous jeeps belching diesel fumes here.
So we were off immediately and headed right onto the rough and rugged road for our Indian massage. The bumpy road crossed three rivers with the first one being the deepest and the longest.
We also saw a couple of big spiders and termite mounds on the way.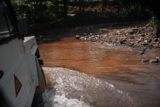 We got to a pretty crowded area at 11am that was full of jeeps that made it as well as tourists already here. There were lots of waiting macaques (a type of monkey) waiting for handouts. Unfortunately, many of the Russian tourists were feeding them (clearly ignoring the signs) while no one seemed to be enforcing the rules, which was unfortunate.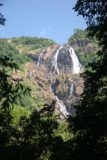 I can only imagine the macaques getting more and more aggressive as they'll be used to high energy human food and ignoring their normal natural diet in the wild (thus eventually starving to death).
The views of the falls from this area were only partial and of the top part of the falls. I was hoping for a more contextual view of the falls from a hill across the valley, but apparently it wasn't here. So when we started to hike down, I was hoping somehow that this was going to be it.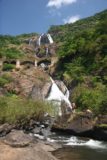 But by 11:15am, we were right at the base of Dudhsagar Falls. It was quite crowded here, and it was difficult to feel at peace or take the kind of people photos you want.
Given the humidity and heat of this area, just about all of the tourists came in swim attire (we were the only ones in Ex-Officio shirts and pants) and cooled off in the plunge pool at the base of the falls.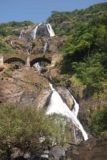 The view of the falls weren't all that satisfying from down here. And when I asked the local guide (different person from Deborah) about an upper viewpoint of the falls, he said we needed permits and would have to come back another time to do it. So of course I thought to myself this was quite a bummer as what I thought was the best view of Dudhsagar Falls wasn't even available in the standard tour. The guide told me that he could do it on a return trip for Rs 2500. So I was under the impression that there's a separate road or something to get up to that satisfying vantage point. But for now, we're stuck with the views we got.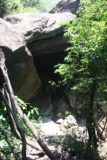 So after getting our fill of the falls as well as checking out a little tiger cave (only during monsoon), we quickly walked back towards the awaiting jeep area. A sign here mentioned that the falls is 300m. The local guide told me it was 310m. Either way, it was nothing like the 603m height I've seen floated about in the web literature as there's definitely a fair bit of misinformation out there. Plus, it's been said that this is the 2nd highest waterfall in India. After seeing Nohkalikai Falls (which was claimed to be the 4th highest in the world but didn't have any statistics on a permanent sign or something to back it up), I was obviously skeptical about such claims.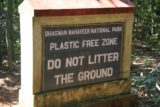 We left on the jeep at 12pm just in time for a traffic jam on the narrow 4×4 roads in both directions. Since we were all dripping with sweat from the brief hiking in the humidity as well as breathing in the nasty diesel fumes as we waited, this wasn't good.
During the drive back, I was confused about what's the story behind getting that contextual view of the falls that I so coveted.
So I asked Deborah if the falls was visible by train passengers (thinking maybe those folks might get the nice views of the falls somewhere along the tracks before passing in front of the falls). She said train passengers do see the falls, but I wasn't sure if it was the viewpoint I coveted or some suboptimal view like the ones you get for Stoney Creek Falls on the Kuranda Scenic Railway.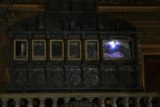 Then, the driver mentioned to Deborah (who then translated to me) that there's a 1.5-hour hike uphill to a better vantage point (possibly the one I coveted). Of course the guide repeated what he told me about needing to get permission to get that viewpoint. In any case, like I said before, it's not part of the standard tour, and that was a shame because I think the falls would be more worth it to go out of the way for.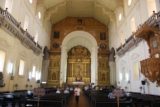 Still, this falls was quite popular as evidenced by the crowds here. And most of the visitors were European.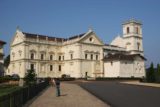 Nonetheless, we eventually made it through and got back to our normal vehicle at 12:45pm. We also saw a few rangoons (black-faced monkeys) running across the road, which contrasted from the macaques which only seemed to be at the falls area.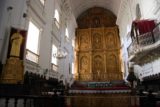 We learned during the drive back that we would be checked into Panjim Inn. So at least we'd be better positioned to get out of Goa tomorrow plus do our walking tour of Panaji (Panjim) this afternoon after checking in.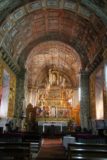 At 2pm, we made a stop at the Basilica de Bom Jesus and the Se Cathedral across the street. The Basilica was interesting because it housed the still-intact remains of St Francis Xavier. His body was so well-preserved (didn't decompose since his burial) that some missing parts of his body were in different places for display. Deborah joked that St Francis Xavier couldn't rest in peace but his pieces are resting in different places!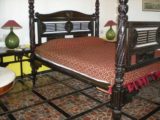 The Se Cathedral was just a big cathedral (said to be Asia's largest church). It was about St Catherine of Alexandria, and I guess she was supposed to die by stretching on a wheel, but the wheel fell apart. So I guess this might have something to do with the Catherine Wheel rock band I remembered hearing about in my high school days.
At 2:40pm, we were back in the car and headed to Panaji. And at 3pm, we checked into the Panjim Inn. They had rooms across the street at the Panjim People's, which we were given. And one look in here made us forget about all the worries about another Casa de Goa experience.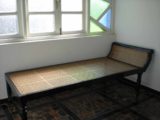 The stained-glass windows, ornate tiled floors, artistic bed posts, and European-style matching dresser and desk was enough to make us think we were staying in some art gallery. In fact, I'd argue that we could stomach another cold shower here instead of the dump last night.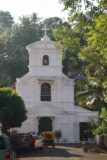 At 3:35pm, we took advantage of our position in town to do a quick walking tour. So we got oriented, carried around both our LP and DK India books, and starting doing a hybrid walking tour encompassing both LP and DK guidebook recommendations.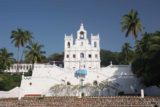 First, we walked towards the Church of Our Lady of the Immaculate Conception, which was an impressive building with a bright white facade. The front of it looked grand and we decided to walk around its complex for a bit to see if there was anything else interesting about it. It turned out that the front facade was the best thing about this building.
Then, we aimlessly walked around some of the local streets in search of a possible place to have dinner. Julie was hungry since we didn't have dinner last night. Plus, it seemed like she was feeling better than yesterday.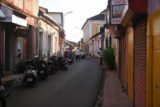 As we walked along the reflective Ourem Creek (which also had a decomposing dead rat on the sidewalk, which made me wonder whether the fleas might carry bubonic plague), we could see that Panaji certainly did have its charms.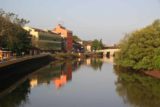 Julie and I wished we could've spent two nights here and skipped Calangute Beach. But as usual, hindisight was 20/20. In any case, we'd eventually figure out where we were going to have dinner, and so we ended our walking tour as we returned to our room at 4:55pm.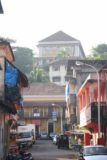 Since most of the restaurants didn't open until 7pm, we used this time to try to get relaxed and cleaned up a little. And as we were doing this, we were visited by the local tour company rep named Rajesh who made sure that things were going ok with us after hearing about the Casa de Goa and Calangute Beach debacle.
So we shot the breeze for a bit as well as got in contact with Akhilesh in Delhi, and things seemed to be all squared away once again. Sometimes I wondered if we were being perceived as the difficult tourists given the amount of attention we were getting. Then again, it could very well be that this tour company pulled out all the stops to make sure the trip was going well with us, and thus, that would assure us that we were going with a good tour company.
When Rajesh left, a few minutes later, someone else knocked on our door. When I answered, it was someone who I didn't recognize, but he knew about our itinerary. After realizing that he was our driver for the Karnataka part of our trip, I made sure his itinerary and ours jived.
He also mentioned that no one contacted him about us moving from Casa de Goa to Panjim Inn. So in addition to driving from 4am yesterday from Bangalore to Calangute, he waited there for a while until he finally got the call a couple of hours ago about us switching accommodations to here. I'm sure the driver wasn't very happy about all the driving and waiting. In any case, we agreed that tomorrow 8am was the time to get going, and with that, he left.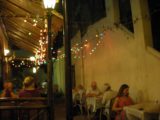 At 6:55pm, we walked back into town to pick up some more water and eat at Viva Panjim's, which was very close to our accommodation. The outdoor eating experience was as Julie described a poor man's Europe. But it was still charming nonetheless as we couldn't envision this type of experience anywhere else in India like Delhi or Mumbai (where touts and beggars would go right up to you, or someone would have already set up a home in the alleyway).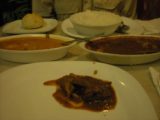 The curries were spicy but very good. And since the place got mentioned in LP and other guides, it saw lots of foreigner traffic. Hardly any Indians were dining here.
And by 8:20pm, we were back at our room. But the lobby downstairs from us was closed so I guess we'll not be Wi-Fi-ing this evening (we couldn't get it from our room).
And so ended this pretty eventful day – one in which our Goa experience was much different and pleasurable than the beach holiday we expected prior to coming here.
Visitor Comments:
Got something you'd like to share or say to keep the conversation going? Feel free to leave a comment below...
No users have replied to the content on this page