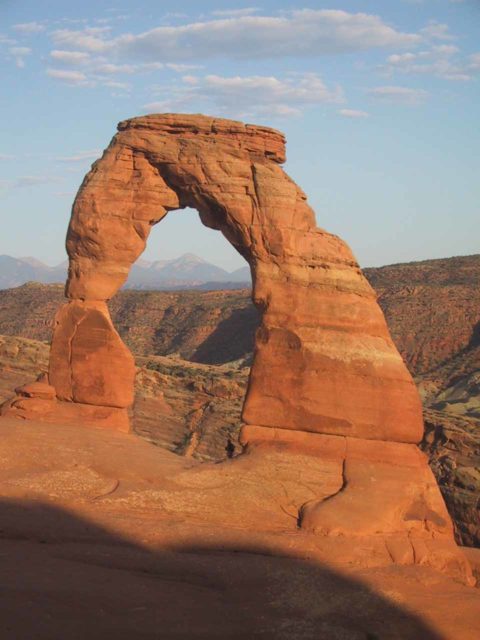 19-June 2001 to 20-June 2001:
After hiking along the deceptively strenuous sandy trail for what seemed like an eternity, we could see the falls up ahead behind the foliage. Its sound grew louder as we got closer and our pace quickened. And there it was before us – Lower Calf Creek Falls. It was still in shadow, but we were alone and had the falls to ourselves…
Day 1: OASIS IN THE DESERT
Julie, Stacey, Andy, and I left early (5:30am) from the memorable Bed and Breakfast in Escalante. We really didn't want to leave this place as we enjoyed watching the shooting stars amidst the starry night sky last night and we received the friendliest hospitality we had ever experienced. We felt compelled to leave a big tip or something to show our gratitude and so I posted a $20 bill on the proprietor's refrigerator door before we got our stuff and continued east on Hwy 12.
As we headed deeper into the sandstone and slickrock expanse deeper into the Grand Staircase National Monument, we stopped at a pullout as we noticed the sun was rising above the horizon.
Then, we proceeded to go further along Hwy 12 as it descended into the badlands before us.
We marveled at how strange the rocks that lined Hwy 12 appeared. It was almost as if the rocks had liquified at some point and then got hard again. It was like a cave went inside out. Lots of the mounds had very pudding-like texture. We couldn't help but think about Jabba the Hut in the "Star Wars: Return of the Jedi" movie.
By 6:45am, we arrived at well-signed Calf Creek Recreation Area and parked the car there. After stuffing an envelope with cash and putting it into a self-help toll slot since a day use fee was required, we picked up one of the brochures at the trailhead and were on our way.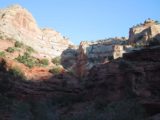 Shadows still reigned supreme this early morning and so it was quite cool. The trail at first undulated amongst some of the Jabba-the-Hut-like sandstones and slickrock we had seen earlier, but that soon gave way to a sandy trail that more or less followed Calf Creek.
The trail would continue on like this for the next couple of hours and it was a bit slow going as we didn't seem to get the propulsion we would've liked with each step we took in the sandy trail.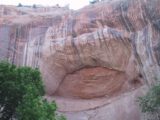 All of us were killing time conversing amongst ourselves while paying attention to the trailside markers that were keyed to the brochure, which Andy was carrying. It wasn't long before the rising sun had gone above the cliffs and started to heat up Calf Creek Canyon.
With each passing minute, it got hotter and our pace seemed like it got more sluggish. Still, we moved on as we noted some more weird cliff formations and shapes.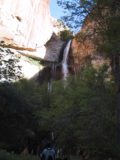 After hiking along the deceptively strenuous sandy trail for what seemed like an eternity, we could see the falls up ahead behind the foliage. Its sound grew louder as we got closer and our pace quickened.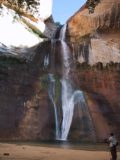 And there it was before us – Lower Calf Creek Falls. It was still in shadow, but we were alone and had the falls to ourselves. The sight of this 126ft waterfall sitting in this cool yet picturesque cove was awesome! We couldn't wait for the sun to penetrate deeper into the canyon as we knew it would make the moss and algae behind the falls glow with radiant colors.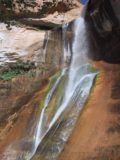 So we took this time to relax before the falls. We took off our shoes and tried to endure the numbingly cold water as we waded in its plunge pool. Julie was busy taking angled shots on the other side of Calf Creek.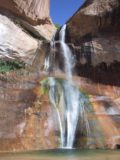 Eventually at 9:15am, the rays of the sun reached the waterfall. After taking more photos and feeling the heat of the morning increase, we started seeing more people showing up. We knew that our time here was done and it was time to start walking back to the rental car.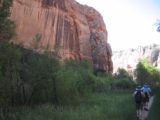 With the sun now pretty much out, the hike back was pretty hot. The waters we were carrying were pretty much warm, and the sandy surface didn't help us. In any case, the hike out was uneventful and we certainly couldn't wait to get into the AC of the car.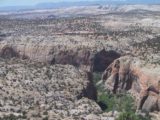 By 11:30am, we returned to the car. The full light of day was upon us and we continued heading up the Highway 12 towards Boulder. But before gaining full momentum, we stopped at the top of a slickrock ridge that allowed us to look down at the canyon we had just hiked in. Moreover, I had read about an Upper Calf Creek Falls, but I never recalled seeing the proper turnout for it. Oh well, we'll look for this one next time…
We continued to cross the Grand Staircase, passing through a surprising forest along the way. We made a few stops here and there to see various panoramas as we looked south and east of the highway. Eventually, we would reach a junction with Highway 24. There was a conveniently located gas station and Subway there so we grabbed a quick bite while filling up on petrol.
Then, we headed east on Hwy 24 as we entered Capitol Reef National Park.
Even though the park had the gaudy "national park" name to it, we couldn't really identify any central or noticeable attraction that would've anchored the park. It was more like a park where you really had to get off the beaten path to appreciate its wonders.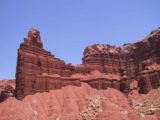 As we passed by Chimney Rock and continued heading east, something that caught our attention was this road that headed deeper towards the south from the township of Fruita. We went ahead and took this scenic drive, which basically had a bunch of more formations that resembled Egyptian temples and thrones. We eventually got to where the road became unpaved and ended at a car park near what was called the Grand Wash.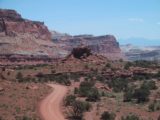 Still, there wasn't anything here that kept us staying longer so we headed back out and were back on the Hwy 24 due east towards Hanksville.
As the scenery started opening up again from the tight canyons of Capitol Reef National Park, the land was open again with interesting cliffs way off the road flanking either side of it. When we got to Hanksville, we reached a fork and continued north.
By now, the afternoon was in full effect and the road was mostly straight shot. In fact, there were hardly any cars around and the scenery was wide open and desolate. We had no trouble going over 100mph along this stretch of road. But in our need for speed, we neglected to check out Goblin Valley State Park. Again, this one would have to be revisited on a future trip.
When we reached the I-70, traffic was whizzing by at very high speeds. This even included the big rigs who were gunning it well over the 75mph speed limit.
We followed suit and it wasn't long before we junctioned with Hwy 191, which headed back south towards Moab – the location of our next accommodation.
When we finally got into Moab, we checked into this motel that was a little on the old and rustic (i.e. dingy) side. Their air conditioning didn't seem to be working so it was quite hot in the room.
Anyways, we checked in and put our belongings into the room before we headed back the other way towards Arches National Park to check out the place with the remaining afternoon daylight.
And so we ascended the switchbacks past the park entrance and eventually made it onto a wide open plateau with giant monoliths visible from the road. I recalled there was a sign that mentioned something about Park Avenue, but we kept going.
We intended to at least get out to the Windows Section to see some arches.
Along the main road, we did notice a giant spire that probably would make the censors cringe. It was infamously called the "What-a-man" formation. I'll leave it up to you to see it for yourself.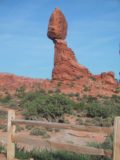 When the main road junctioned with the spur to the Windows, we saw a rock perched precariously above this natural pedestal. It was called Balanced Rock and it certainly was true to its name. Apparently, this rock used to have a companion called "Chip off the Old Block," but it fell several years ago.
By 6pm we made it to the end of the spur road at the Windows Section. Immediately from the car park, we could see Double Arch as well as the North and South Windows. Along the way, we had passed the Garden of Eden and the Cove of Caves.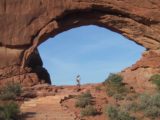 With the fading light in the partial overcast skies, we took the time to do the Windows loop and took photos of us being dwarfed by the North Window. We also passed beneath the South Window, though this one didn't seem all that accessible. Eventually, we passed before Turret Arch when the well-defined trail turned back on itself back towards the car park.
That was when we looked to our right and noticed both the North and South Windows together in an interesting display called "the Spectacles." That was because the juxtaposition of both the North and South Windows with the "nose" in the middle looked like a giant pair of glasses.
And with that, we finally returned back to Moab, where we enjoyed some bar food at some joint in town. It was a pretty interesting day when all was said and done. Tomorrow, we were going to see Arches National Park more thoroughly (including the iconic Delicate Arch as well as the many arches along the Devil's Garden Trail).
Day 2: BLOODY NOSES
We allowed ourselves to sleep in a little bit on this day though in hindsight, it was probably a regrettable decision. The agenda for today was to explore the Devil's Garden trail, which was said to be around 5 miles or so, but it passed by a multitude of large natural arches that the park was known for. Then we made it a point to hike to Delicate Arch in the late afternoon to catch the sunset, which we had read was a very must-do activity in the park.
So we re-entered the park at around 8am when we were still getting some of the benefits of the warm morning glow. First up, we noticed some interesting rock formations in the Park Avenue vicinity. Particularly striking were the three gossips basking in the warm orange glow of the morning light.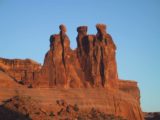 We didn't do the trail going through Park Avenue, and we had our minds made up to visit natural arches (which Park Avenue appeared to be lacking).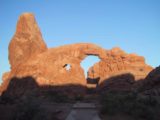 Next up, we headed to the Windows section again. Double Arch was in some shadow and wasn't very photogenic. However, we did a double-take on Turret Arch, which seemed to get some nice glow in the morning sun.
Next, we went directly to the Devil's Garden trailhead. We knew there was a pretty long hike ahead of us and we loaded our packs with lots of water. I knew my pack was pretty heavy because I was also carrying most of Julie's water. I think Andy did the same to help alleviate the load for Stacey.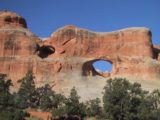 Sure enough, it was arches we wanted to see and right away, we saw the Skyline Arch near the car park. But soon enough, we embarked on the hike. There were quite a few people already hiking here, but it still didn't feel overwhelmingly crowded at this time of day.
We knew the arch highlights would be Landscape Arch (one of the longest arches in the USA) as well as Double-O Arch, which would probably be the furthest arch on this hike.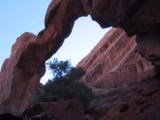 However, in between, we saw some lesser known arches along the way like Wall Arch, Tunnel Arch, and Navajo Arch among others.
When we did make it to Landscape Arch, we were struck by how thin and fragile it looked. We started to wonder whether they might have switched up the names of the arches where this one was really the Delicate Arch while the Landscape Arch should've been what was now known as Delicate Arch (based on the photos in the literature we had seen so far).
We wondered how much longer did Landscape Arch have to go before it would collapse.
After Landscape Arch, the hiking got real hot and we were now following more slickrock terrain where the trail was easy to lose in some places. Fortunately, there were rock cairns strategically placed to keep us on the trail, but we really had to concentrate. Making matters worse was that both Stacey and Julie were complaining about the heat and the dropoffs on the hike as we went further.
I was also starting to feel some light nose bleeds though I was able to hike with a cotton swab in my nostrils.
As the day was getting hotter (now getting up well into the 90s), I even wasted some of my water by pouring it over my head to keep cool. I was the only one doing this in the party, and the relief was only momentary.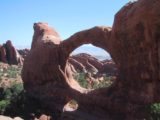 Finally at around 11am, we finally made it to the Double-O Arch. The front side of the arch didn't seem terribly impressive. It seemed like it wasn't worth the trouble to make it all the way here. But then we climbed through the lower O of the arch and saw that there was more informal walking paths leading higher to a spot to look back at the Double O Arch.
Only once we did this (which was thankfully in the shade at the time), we were delighted at the view of Double O Arch that we attained. Now it was worth the trouble of getting here!
Fully satisfied, we then made our way back to the car park in the now pretty intense desert heat.
At one point on the slickrock terrain, we somehow lost the trail. We knew we were probably ruining cryobiotic dust as we were trying to figure out where the real trail was. And it wasn't until we noticed some people walking confidently in one direction in the distance did we know exactly where we should be heading.
Whew, that was close!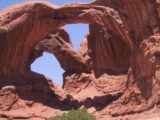 Finally at around 2pm, we made it back to the car park. At this point, everyone was a little tired and wanted to return to Moab to clean up and perhaps take a little siesta. But before we did that, we made one quick detour back to the Windows section to see Double Arch in better lighting.
With everyone not in the mood to do much more hiking, we were content to take photos from the parking lot there. However, we didn't bother going any closer. We also didn't entertain going into the Fiery Furnace as well. So it wasn't much longer when we headed back to Moab and returned to our accommodation.
While we were trying to cool off and wait out the intense heat of the day, I was busy taking a shower to clean off all the DEET (for deerflies) and sunscreen off my body. However, I was having some pretty non-stop nosebleeds in the shower, and I was starting to get a little worried about this.
It wasn't until I got out of the shower with my nose plugged up with cotton did the nosebleeds mercifully stop. Perhaps I was a little dehydrated so I made sure to drink up plenty of water during our down time.
At around 5pm, we headed back to Arches National Park. It was now time for the main highlight of the day which was the opportunity to see Delicate Arch at sunset.
The hike was around 1.75 miles each way, and it was uphill. But at least it wasn't as crazy hot as it was earlier in the day.
After some pretty uneventful hiking (which included a very distant view of Delicate Arch early on in the hike), the trail got a little rougher as we were pretty much climbing on non-stop slickrock terrain. But it was also at this point that we noticed a small natural arch as we were sensing that we were getting real close to the end.
Just past the small arch, we rounded a corner, and there it was! Delicate Arch!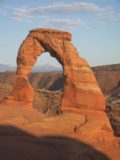 We were viewing the arch from across a steep bowl. Lots of people were here to take in the spectacle, and I don't blame them. We did our best to try to capture this memory in photos as the view was indeed colorful and divine.
Some poor soul saw his filter roll down into the bowl and he had to go on a rather roundabout hike down there to retrieve it.
Anyways, when the sunset was over, we quickly made our way back to the parked car in the near darkness. Then, we headed back into Moab where we decided to try out this Chinese place, which was actually surprisingly decent (at least their fried rice was pretty decent) even though it wasn't terribly authentic.
And with that, we settled into our room pretty tired from the day. It was an adventurous day, where for sure we were seeing arches in our sleep!
Visitor Comments:
Got something you'd like to share or say to keep the conversation going? Feel free to leave a comment below...
No users have replied to the content on this page