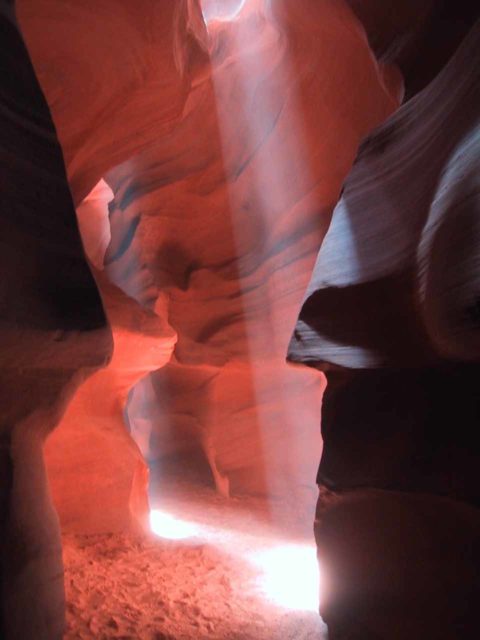 21-June 2001 to 25-June 2001:
After going back the way we came, we then recovered our Trooper and decided to drive back out towards the Lower Antelope Canyon.
After paying our admission fee, we then passed by a memorial providing us with a sobering reminder of how screwed we'd be if a flash flood were to occur while we were inside the slot canyon. Given the thunderstorms we had been getting for the past few days, it was definitely on our minds.
Soon enough, the path descended into a crack in the rippling creek bed. And after going down several flights of stairs, we then contorted and weaved our way into the narrow depths of the Lower Antelope Canyon…
Day 1: RACE FOR THE SUNRISE
After having slept from a long day of touring yesterday (which included the celebrated sunset at Delicate Arch), we woke up to a very early morning alarm (around 5am) because I wanted to get to Mesa Arch in Canyonlands in time for sunrise. I wasn't sure where I got this crazy idea to do it, but whatever the case, it turned out that I didn't have that much time once we got going.
My aspirations for getting to Mesa Arch so early was met with protest from just about everyone when they first heard the alarm. It almost felt as if I might have a mutiny on my hands. But in the end, they got in the car and got caught up on some sleep while I was busy driving us to the destination in time.
So we raced in our Isuzu Trooper knowing that hardly any cars were out this early in the morning. The road to go into the Island in the Sky District of Canyonlands wasn't that far up the main road from the turnoff for Arches as the road we sought turned left instead of right.
Then, we raced on what seemed like quite a few straightaways with some turns. In hindsight, I might have been a bit overly aggressive with the speeding because I'm sure if I went any faster, the vehicle could've easily flipped on some of those turns.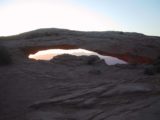 In any case, we finally made it to the car park for Mesa Arch. The sun still hadn't breached the horizon, and so we walked the short distance to the cliff-hugging arch and waited for the sun to start painting the underside of the arch its warm colors.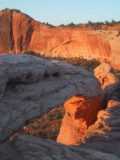 I recalled seeing a post card of a sunrise at this arch where the sun was breaching the horizon as seen directly through the span of Mesa Arch. However, when the sun finally started to show itself, it was clear that the sun came up far to the left of both the Washer Woman Arch and the Monster Butte way in the distance. That photographer must've taken that shot much earlier in the year when the earth was on a different tilt.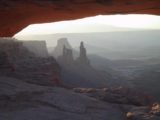 We were being careful not to get too close to the underside of the arch's span because there was definitely cliff on the other side of it. Still, we pretty much had the arch to ourselves and once again, Mother Nature showed just how beautiful she could be given the right time of day and the right backdrop.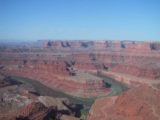 After the show was over, we got back in the car and we then made our way over to Dead Horse Point, which we had skipped on our way to Mesa Arch. When we made it to the car park, there were already some folks here, but it was still relatively quiet. The overlook area was pretty big, but the bulk of the attention was towards the end of the overlook where we could see a gooseneck on the Colorado River surrounded by some fairly deep gorges exposing some reddish brown layers of earth.
The day was already starting to heat up, but when we had our fill of the panoramas at Dead Horse Point, we headed back to our accommodation at Moab. We'd eventually get there at around 9am, and that was when the group decided to get a little more sleep and just chill for a bit.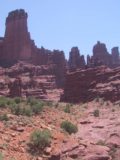 When the early afternoon rolled around, we decided to do a little exploring by driving up a road alongside the Colorado River heading towards Utah's border with Colorado. We did this because we were going to check out the Fisher Towers after having seen some postcards of it.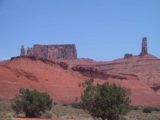 When we got to the Fisher Towers, it turned out that we were able to just drive there and check it out with minimal walking. And with the desert heat in full effect, there was no way we'd consider walking any of the trails to get higher or farther than the car park.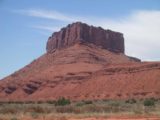 After the Fisher Towers, we then headed towards the Castleton Rock area. During the drive, we noticed quite a few folks tubing or rafting on the Colorado River itself. We also noticed some interesting butte and rock formations that I swore I might have seen in some Chevy commercials or something.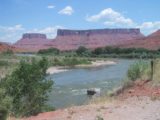 When we had our fill of Castleton Rock, we went back to Moab. Sightseeing-wise, today was a pretty light day. So we merely just had dinner in town, rested, and got a bit more sleep this night than last night for sure.
Day 2: ARCHES, GOOSENECKS, AND A MEXICAN HAT
On this morning, there was no real sense of urgency to get a real early start. So we checked out of Moab and left at around 7am (which was actually kind of late for us given our immediate history of the past few days of waking up at or before 5am).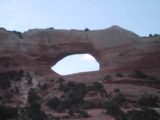 Today was basically a driving day. And not too long after we had left Moab heading south, we came across an interesting roadside arch called Wilson Arch. We made a stop for it to take photos. But we didn't linger for too long even though it was enticing to scramble up to the arch's span just to see what the view through it would've been like. But we were just too lazy to do that.
Next, we continued driving south towards Monticello. On the way, we noticed a turnoff for the Needles Overlook. So we took that spur road and went all the way to its dead-end at the lookout. It turned out to be a rather distant view of some more interesting formations in the distance (which we imagined were the namesake Needles).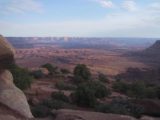 Personally, I knew this was probably all of the Needles District of Canyonlands that we were going to see because committing to driving into this part of the park meant we had to do some serious hiking to checkout some of the worthwhile attractions here like Druid Arch, Confluence Overlook, and Angel Arch. There was simply no way we were going to sign up for double-digit-mile hikes or even try the 4wd capabilities of the Isuzu Trooper on the slickrock jeep roads they had in there.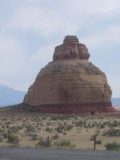 After having our fill of the overlook, we then went back onto the main road and continued south. We made another stop to check out the aptly-named church rock as it certainly did look like a domed church. There were some signs on the side of it though I didn't recall what they were for.
Then, we continued south past Monticello before connecting onto the highway leading towards Natural Bridges National Monument.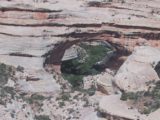 Once we got into the compact park, we were on a one-way road that passed by some overlooks of the reserve's rather giant natural bridges. We didn't hike down into the canyon to look through these natural bridges from the bottom up for at least the first two bridges – Sipapu and Kachina.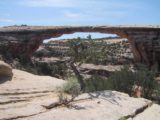 However, we did stop for the third bridge named Owachomo Bridge. This one was actually quite photogenic, and we even did the short hike to get closer to its span.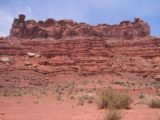 Our visit to this reserve was rather short. So not much longer than an hour after our entrance to the park, we then drove south along the Moqui Dugway as we descended an unpaved series of switchbacks. And when we made it back to pavement at the bottom, we then drove towards an unpaved road towards the Valley of the Gods.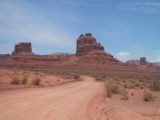 This was basically a short detour passing through some more buttes and rock formations. We didn't see any noticeable natural arches and there didn't seem to be a signature formation or landmark or overlook that was worth stopping for.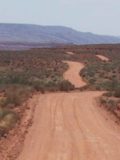 Thus, our Valley of the Gods visit was pretty short-lived.
So then, we were back onto the pavement and kept heading south. Then, we took a spur road to the Goosenecks State Park.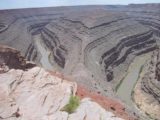 This park was really an overlook of some impressively twisty goosenecks of the San Juan River, which revealed some interesting bands and layers of earth. The cliffs here had a bit of a greyish appearance compared to the more whitish and reddish colors we had been seeing up to this point.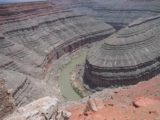 But when we tried to capture the scene in our photos, we found that we had to use the stitch feature on Andy's camera because the landscape here was simply too wide to capture in a single frame of our conventional cameras.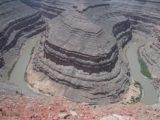 After Goosenecks State Park, we then made a brief stop at some balanced rock formation called Mexican Hat. There was a town here by the same name, which looked kind of sleepy. Actually, we were supposed to spend a night here, but when we saw how run down the place was, we decided to cancel our reservation (the Navajo lady was fair about us not paying any penalty for this last-minute cancellation), and we headed straight south in the direction of Monument Valley hoping we'd find a place to stay at the last minute.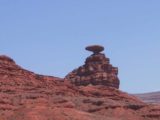 Fortunately for us, we managed to find a decent lodge near the bridge over the San Juan River. It turned out that they had vacancies and so we jumped at the chance to just take the room for tonight. After getting our stuff into the room, we then continued south on the Hwy 163 towards Monument Valley.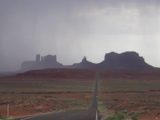 By this time, it was getting into the late afternoon where thunderstorms were popping up around us. Sudden lightning flashes were becoming frequent. Indeed, the thunderstorm was both beautiful and scary at the same time. We even tried to stay in our car and try to capture lightning in our point-and-shoot cameras (we didn't know how to do long exposures at the time). Needless to say, we failed miserably in that regard.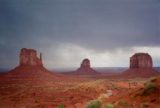 Eventually, we crossed over the Arizona-Utah border, and not long thereafter, we turned onto a road heading east where we then saw the famous mittens and Merrick Butte in that classic Country Western scenery probably made famous in those old John Wayne movies. Although with the menacing thunderclouds that were now starting to break up, the colors were a bit muted.
We didn't spend a whole lot of time down here given that it was getting late in the afternoon. However, Julie and I did contemplate coming back here tomorrow morning when the weather might be a little more benign than this moment.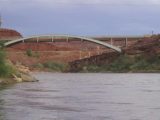 Back at the San Juan Inn, we had ourselves a dinner at their diner that consisted mostly of Navajo Tacos which were very tasty (albeit rather fattening). Still after going most of the day without eating anything substantial, it really hit the spot!
After the dinner, we then checked out the swollen San Juan River, which was moving pretty quickly right by us as we made sure to keep a safe distance from the banks. And we took a few more photos from down here before retreating back to our room to call it a night.
Day 3: SUN BEAMS
When we awoke (some time around 6am or so), we checked out of the San Juan Inn and then made our way back into Monument Valley. Even though there seemed to be some patches of stubborn thunderstorm remnants, the morning was pretty sunny.
So we returned back to the familiar overlook of Monument Valley. And while we were there, Stacey and Andy decided to just chill out at the overlook here for a bit. Meanwhile, one of the Navajo guides here looking to take visitors into the backcountry approached us and asked if we wanted to do a tour.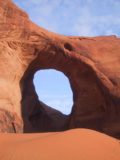 We ultimately went ahead and did it (for $50 that included the tip, I believe) where the Navajo guide took us into his high-clearance vehicle and pretty soon we found ourselves beyond the mittens and Merrick Butte.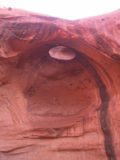 The guide took us through an assortment of arches and formations that we never even imagined was here (as all we thought this place had was merely the John Wayne formations). In any case, the guide took us to formations like the Ear of the Wind arch (which really did look like an ear's shape), the hogan (which had a hole at its top and really did look like one of the Native American dwellings), and even a thumb formation.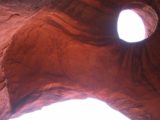 At the hogan, the guide showed us a bird-looking formation when we looked up at the hole at its top in a certain way. He also sang us a tribal song at this spot.
In the end, we thought the money spent on this little impromptu tour was well spent. We just hoped that Stacey and Andy didn't mind us being away from them for this long.
When we were back at the car, all four of us got back in and we then headed west towards Lake Powell. Our next accommodation was supposed to be at the town of Page.
We still had quite a bit of the morning left so by the time we made it to Page, we checked in early to our accommodation. Then, we promptly drove to a strip mall where there were tours offered for the Upper Antelope Canyon. We knew what we were in for in terms of scenery because we had seen postcards and posters of the sun beams in this slot canyon, and we were quite keen to seeing them for ourselves.
It turned out that we showed up just in time to catch one of their tours that was leaving just as we made our payment and hopped into the back of their pick-up full of people with a top for a little shelter.
When the big monster truck-like high clearance vehicle made it to the entrance of the Upper Antelope Canyon, the truck then drove on some sandy wash where sand was flying everywhere and we really had to work hard to make sure none of the granules went into our eyes (hard to do!).
Mercifully, the truck dropped us off at the mouth of Antelope Canyon, and we followed our tour guide right into the dark depths of the slot canyon.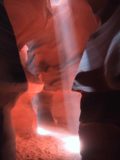 It didn't take long before we saw what we came here for – sun beams!
Some of the sun beams were already pronounced as there would be some sand gradually falling into the slot canyon from the top with the sun coming in the openings at the proper angles to light up the sand. Another trick that the guide mentioned and the kids loved doing was throwing the sand up in the air to amplify the brightness of those sun beams.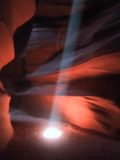 Needless to say, we spent the majority of our time just admiring these sun beams. It was certainly surreal, and we felt like we were taking photos that very easily could've been on those postcards that we saw. Clearly the key here (which the guide emphasized) was to turn the flash off.
Eventually, we'd get out towards the back end of the slot canyon, which looked like it was in another part of the wash. There wasn't a whole lot to see out here (other than finding a way to higher ground in the event of a flash flood) so we made our way back through the darkness of the slot canyon again (with the sun beams still there) and then we were back at the monster truck.
After going back the way we came, we then recovered our Trooper and decided to drive back out towards the Lower Antelope Canyon.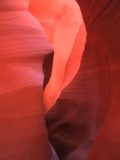 After paying our admission fee, we then passed by a memorial providing us with a sobering reminder of how screwed we'd be if a flash flood were to occur while we were inside the slot canyon. Given the thunderstorms we had been getting for the past few days, it was definitely on our minds.
Soon enough, the path descended into a crack in the rippling creek bed. And after going down several flights of stairs, we then contorted and weaved our way into the narrow depths of the Lower Antelope Canyon.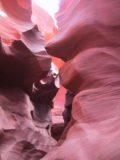 Some parts were so narrow that we literally had to contort our bodies to get through. And we'd eventually stop where there was a dropoff near a ladder that I believe they had recently put in there as a last resort to escape the water if we were to be caught in a flash flood.
Although it was colorful and eerie in this canyon, there were no sun beams. So we had our fill, got back up to the parked car (much to our relief as we no longer had to worry about getting caught in a flash flood), and then did some final bit of sightseeing since it was still around 5pm or so and quite bright outside.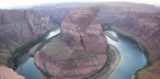 So we used that time to go to the Horseshoe Bend, which was a part of the Colorado River where it snaked into the shape of a horseshoe from the lookout point we were at. It was a pretty spot to take photos but our cameras needed stitching mode in order to get the whole bend.
However, the viewpoint itself was a bit scary as it was a long dropoff going right into the river down below from our unprotected vantage point. To even see the bottom of the river, we had to get right up to the edge and really test our butterflies.
And when we had our fill of the Horseshoe Bend, we returned to our room ending yet another event-filled day full of sights and experiences.
Day 4: A DAY ON THE LAKE
Contrasting most of the vagabonding activity we had been engaged in pretty much for most of this trip since our stay in Moab, we finally got to have a pretty laid back day on this day. So we slept in, and just made sure that we were going to the marina in time for our booked tour for Rainbow Bridge.
We'd ultimately get into the marina at around 9am. And then, we embarked on a rather leisurely boat cruise of Lake Powell with the main destination being Rainbow Bridge.
It actually took quite a bit of time for the boat to even make it to the bridge, but once we boated into the canyon containing the bridge, we noticed some interesting formations (which the boat staff pointed out) as well as an interesting jug handle arch.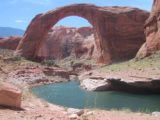 Eventually, the boat docked at some pier-like dock where we all disembarked and then went on a short trail that took us right to the impressively shapely and large Rainbow Bridge. Of all the natural arches we had seen on this trip, this one definitely had the grandeur. It might not be as iconic as Delicate Arch, but it was certainly one of the more memorable ones on this trip.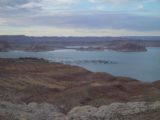 When we had our fill of this gorgeous span, we then got back on the boat, took the long ride back to the marina, and by around 2pm or so, we were then left on our own to just enjoy the scenery at Lake Powell and even check out the dam itself.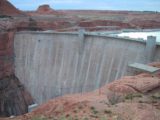 There wasn't a whole lot to do on this day, but it seemed like Julie, Stacey, and Andy wanted this day just to unwind from the go-go-go itinerary we had been doing throughout this Grand Circle Trip.
Day 5: 15 MILES AS THE CROW FLIES
We awoke fully rested from the laid back day yesterday and restful sleep last night. After checking out from the Motel 6 in Page, we then headed south towards the Grand Canyon's North Rim. It was to be the last major National Park of our whirlwind Grand Circle Trip, and we were really looking forward to it.
Last year, we had gone on a rather spontaneous Labor Day weekend trip to the South Rim of the Grand Canyon. So all of us were anxious to see what it was like on the North Rim of the Grand Canyon.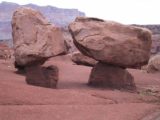 On the way towards Jacob Lake, we noticed some interesting rock formations at this place called the Cliff Dwellers. We didn't expect something like this, and we made a spontaneous stop just to take some fun photos amongst these rock formations (some of which looked like people made dwellings utilizing these formations).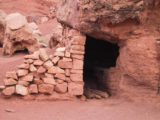 After having our fill of the Cliff Dwellers, we then made our way to Jacob Lake, and then took the turnoff that went straight south to the North Rim of the Grand Canyoon.
During the drive, Julie freaked me out when suddenly she gasped at the same time we saw a deer run across the road in front of us in the distance. I guess it was a good thing I slowed down with the sleep limit telling us to slow down. Otherwise, we could've very easily hit the deer and really immobilize our only means of getting around.
We'd eventually get to the North Rim Lodge at the road's end. There were a lot of cars already parked here, and fortunately, we were able to find a spot. Then, we pretty much did some short walking around both the property and along some of the short trails offering us overviews of the big ditch itself.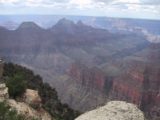 One particular hike we did was out to the Bright Angel Fault Overlook. The fault was easily seen from the South Rim, but from up on this side, it seemed like the views were less open than what we had seen last year from the South Rim.
After having our fill of the overlooks here, we then had ourselves lunch at the North Rim Lodge while also doing a little exploring of the historical lodge itself.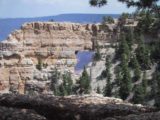 When we finally pried ourselves away from the North Rim Lodge, we then drove back the way we came, but this time, we took a turnoff that took us towards some other overlooks of the North Rim. Along the way, there were some sights such as Wotan's Throne, Angel's Window (our natural arch reason for doing this drive), and the overview at Point Imperial.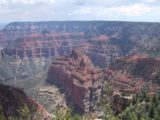 Most of the sights here were pretty much drive-to sights. We did do some brief hiking when we got to the end of the road (for more panoramas of North Rim and Wotan's Throne), but nothing real substantial.
And so that pretty much ended our sightseeing for the day.
I did have aspirations of going all the way to Toroweap Overlook, but seeing that we had to endure some 60 miles of unpaved roads in each direction, I knew there was no way we could do that in a span of a half-day and still make it all the way to Las Vegas where we were spending our last night of this trip.
It was a long drive with long expansive vistas interrupted by thunderstorms. I did entertain the thought of going back into Zion National Park, but by the time the connecting road came up, everyone was asleep, and I decided that maybe we mind as well just go straight to Vegas, check in, get cleaned up, and just enjoy our last night in Sin City.
None of us were really gamblers, but perhaps it would be an excuse for us to just walk around and check out the casinos and hotels on the Strip. We were also looking forward to our last meal of the trip as well.
And so ended our Grand Circle Trip. Little did we realize how much this one trip (as naive as we were and with as little experience as we had had in terms of preparing for such trips and hiking, etc.) how much it would change us. For over the years, Stacey and Andy would have the travel bug, and Julie and I would go chasing waterfalls around the world. And through all that we would end up experiencing, we still remembered the unforgettable scenery from this very trip!
Visitor Comments:
Got something you'd like to share or say to keep the conversation going? Feel free to leave a comment below...
No users have replied to the content on this page