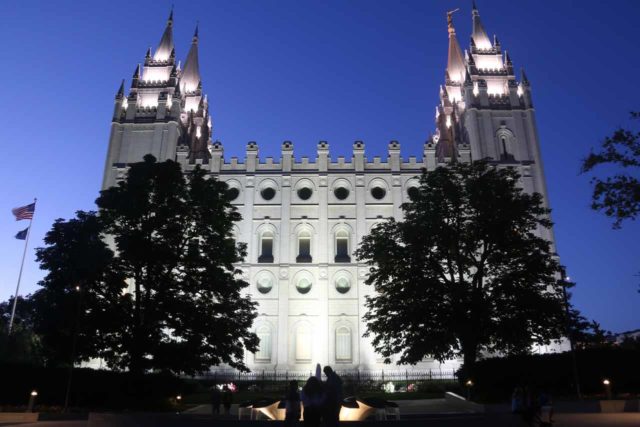 25-May 2017 to 29-May 2017:
By about 2:20pm, we only made it to Jean, which was the next town on the way to State Line. And it wouldn't be until about 3:20pm when we finally made it to Primm. By this time, lots of people were driving along the shoulders to try to get an edge on other people frustratingly sitting still in traffic. Pretty much the only positive that came out of this was that I was able to get good sports talk about the NBA Finals from the Las Vegas-based sports stations.
Tahia was also taking her afternoon siesta at this time so at least the boredom from the traffic wasn't going to affect her as much (I hoped).
The traffic was pretty much stop and inch from Las Vegas all the way to State Line. I guess the main reason why was because the I-15 went from three lanes to two lanes. I guess in California, their lack of infrastructure spending really showed. Well, at least the traffic went from stop and inch to sluggish. And by 4:45pm, we finaly made it to Baker as both Tahia and Julie needed to make a restroom break…
Day 1 (May 25, 2017 – Salt Lake City, Utah: "Pungent Cedars"
It was 4:45am when I awoke. As I was immediately getting started with loading up the rental car, which was parked on the street, I noticed a parking citation on the ground right next to the driver side door. Our driveway was full and I thought it would be awkward to park on the sidewalk so Julie suggested that we just roll the dice with leaving the car on the street overnight since it was just for this one night, especially since we had done this at least a couple of times in the past and never got ticketed. But with that additional $26 cost on that citation, that pretty much meant that we increased our rental car cost by this amount. I guess in the grand scheme of things, it wasn't that big of a deal, but it still left a sour taste in my mouth and was not the best way to start off this Memorial Day weekend trip.
As usual, it took Julie and Tahia some time to get ready. I knew that we were in for a marathon drive all the way to Salt Lake City so the sooner we could be on the road, the sooner we could beat traffic and still make it to our destination at a reasonable hour.
That said, it still wasn't until 6:45am when we finally left the house. The rental car was a Ford Explorer and it was about similarly sized to our own little Honda CRV. The difference was that we had multiple car chargers and even a dedicated USB port. So that was pretty convenient as we could play the iPod which Tahia immediately wanted the B-52s to be playing. Meanwhile, the rest of the setup was still the same deal with the electricity-aided cooler in the front seat and a bunch of snacks, luggages, and hiking gear in the trunk.
Aside from a little bit of traffic on the 91 freeway, it was fairly smooth going on the way out to the 60 freeway and eventually to the I-15 north despite the high volume. There was a little fog and drizzle going through the Cajon Pass, but once we got into the deserts, the fog was quickly disappearing and the temperatures were quickly climbing the further northeast we went.
We made one bladder stop at Baker at 9am, where it was already 91F, but since we knew we'd be on the road for a while, we also made a stop at the Mad Greek thinking that we could get some gyros to go and we'd be out of there in no time considering how early it was. But it wasn't until 9:45am when we finally left with the takeaways because it was apparently busy with people dining.
Given that little bit of a delay, we'd resume the drive but as expected, it was getting hotter (the temps got as high as 97F around Las Vegas) and there were a lot more cars on the road. After making another stop at a big and busy Wal-mart in the pretty busy city of St George, Utah at 12:45pm, it wouldn't be until 3:20pm when we finally arrived at the Cascade Falls Trailhead just east of Cedar City. We had lost an hour due to being on Mountain Time by the time we got into Utah.
As we went east on the Hwy 14, the road was climbing and the temperatures went from almost 80F to about 60F at the trailhead. We had actually passed the southern turnoff for Cedar Breaks, which Mom and I had been to many years ago, but I also knew that we were pretty high up in elevation as well. Anyways, we initially drove on Navajo Lake Rd, but apparently, we had missed the turnoff on Forest Road 054 to Cascade Falls. That connecting road was a little on the rough side, but it wasn't too bad though it was way smoother on the Cascade Falls Road.
Anyways, we were one of three cars parked at the obvious trailhead and dead-end. The skies were overcast and threatening rain apparently. So the colors of the nearby red rocks and Cedar Breaks-like cliffs were a bit muted. But in those moments when the sun broke through the clouds, the colors were brilliant. One group of hikers had returned to the trailhead just as we showed up so that reduced the number of cars parked here to two when they took off.
The view out from the trailhead were towards the Kolob Terrace area, which was part of Zion National Park. The view itself was a little on the flat side, but it was cool to know that Julie and I once went way out there from the south to do the Subway hike way back some 13-14 years ago.
It took some time for Tahia and Julie to get ready, but we'd eventually get started just as some folks were heading back. The trail immediately started to our right and we followed the pretty obvious path as it skirted what appeared to be a rim or ledge that looked to our left towards the Kolob Terrace area while meandering between trees. There was a dedicated lookout with a couple of benches and a railing to pause and take in the views, which I stopped at briefly while Julie and Tahia pushed forward.
Then the trail skirted a real scenic red rock area where it really felt like we were hiking amongst the Cedar Breaks-like formations. There were some muddy spots because apparently the snow was in the process of melting and made the footing a little less sure in the presence of the dropoffs, but it was quite doable by Tahia and the scenery along this stretch already made this a very worthwhile detour and chance to stretch the legs and get exercise after spending so much time sitting in the car.
As we continued along the scenic red-cliffed part of the hike, when the trail momentarily went back to trees, we finally started to see the impressive Cascade Falls in the distance. It was definitely loud, but it was a shame that there were so many trees obstructing a clean view of the falls. Still, we took our shots and kept walking as we were never able to get the whole thing in one shot without some interruption in the stream due to the quantity of trees.
Eventually, at 4:05pm, we finally arrived at the lookout right at the brink of the falls. The last stretch of the trail was pretty interesting as we were going underneath some red rock overhangs with some wood steps planted amongst the terrain. We kept noticing some pungent odors that we weren't quite sure what it was as we were walking through, but I suspected that the smell came from the wood, especially where the trail was wet.
In fact, I was willing to bet that the wood was probably cedar since we were hiking on the plateau known as Cedar Mountain and we were east of Cedar City, and we were nearby Cedar Breaks National Monument. So yeah, it seemed like it was cedar-everything in this part of Utah.
We spent quite a bit of time taking in this view of the water gushing out of what appeared to be a hole amongst the red rock. But being so close to the falls, the photos made it seem like it was essentially a puny 5-10ft drop before the stream continued cascading below us. The water came from Navajo Lake and the signage back at the trailhead suggested that there was a hole in the "dike" that allowed this falls to happen. But I still wasn't sure if that "dike" was manmade or if it was a natural one. In any case, Tahia was busy chucking rocks in the stream while Julie and I were busy documenting the whole experience.
We were the only ones at the overlook so we took some time to really enjoy this spot while also catching our breaths since we had to do a little bit of a climb to get up to this overlook at high elevation. So our lungs were somewhat burning as a result.
On the return hike, it seemed like the scenery was even more impressive along the final stretch of the trail near the falls. We would eventually get back to the overlook where we briefly enjoyed the scene as a family. Then, by 4:50pm, we finally got back to the car where we encountered one other large family just getting started on the hike to the waterfall. They were the only other people we saw on the trail besides the folks that were wrapping up their hike at the beginning when we were just getting started.
Since we knew that it was getting late, we decided to skip checking out Cedar Breaks National Monument and head right back down to Cedar City before resuming the I-15 drive all the way north to Salt Lake City. Apparently, it wouldn't be until 9pm when we'd make it to our destination, but we also needed to have dinner and we decided to find a spot in Provo so we could at least have that dinner at a reasonable hour and then check in really late.
Eventually at 8:20pm, we finally found this place in Provo called Communal. It was in a seemingly downtown part of Provo, which was also where BYU (Brigham Young University) was. We saw glimpses of the general campus area as well as some ornate Mormon churches along the drive to get to the restaurant. It was still pretty bright outside so I took a few snaps back towards the mountains behind us as well as the intersection where the restaurant was on what appeared to be the main drag through town.
We wound up having a pretty satisfying dinner of bone marrow appetizers, duck (confit of leg and breast), bison short ribs, and asparagus. Everything was quite tasty, and even the asparagus had a pretty unique flavor of some kind of mint-like yogurt with honey and almonds. The short ribs with polenta was also very tasty. And the duck was pretty flavorful, but the only bad thing about it was that it was a little on the chewy side and the leg was a big undercooked as it was pretty bloody.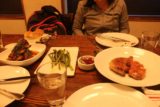 Since it was getting late in the day by the time we were done with the meal, we skipped the dessert. And so by 9:35pm, we were back in the car. It was still somewhat late twilight at the time, which made me realize that we were high enough lattitude that it was getting dark late and I now wondered how bright it would get in the morning by wakeup time.
At 10:25pm, we finally parked at the Hyatt House in downtown Salt Lake City. Apparently, there was a big puke spot near the entrance, and I was hoping it wasn't a foreshadowing of any possible food poisoning I might have from the undercooked duck, but aside from that little strange observation, Julie promptly checked in and I went ahead and parked the car in the public parking lot next door, which was $10/night.
When we finally got settled in the room, we saw how small it was compared to the rest of the Hyatt Houses we had been staying at up to this point. So that made us wonder whether we'd have a somewhat uncomfortable stay for the remaining 4 nights we have at Salt Lake City, especially since having a full-sized fridge (instead of one of those mini ones) might make a big difference in terms of self-cooking and keeping our produce and things cool.
I guess we'll have to find out. But in the mean time, it was getting late, and it wouldn't be until around 11:30pm when Tahia finally slept, and it wouldn't be until after 1am when I finally slept…
Day 2 (May 26, 2017 – Salt Lake City, Utah: "Cottonwood Everything"
It was about 6am when I awoke. It was actually to both Julie's alarm as well as my own one. I was pretty groggy given how late I had slept last night and yet I was still the first one up.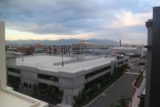 It was already bright outside so I took the opportunity to take some photos of the mountains and the city in the foreground under the overcast skies. But this also made me realize that today was probably a lost cause in terms of going to Provo Canyon or any other excursion requiring a somewhat early start. So I decided in my mind to do Donut Falls instead since it was much closer to downtown Salt Lake City.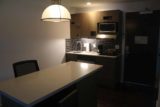 When Julie finally woke up, the small room still was an issue for her so she called the reception and asked if we can use our status for a free upgrade. It turned out that we were able to, and so the receptionist moved us right across the hallway for a much bigger room with a full-sized fridge. That immediately got Julie out of her groggy state and now it felt like we could finally enjoy the standard of the Hyatt House stays that we had been used to up to this point.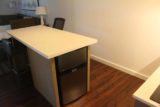 Still, we were getting quite the late start, and I was hoping that we wouldn't get shut out of the Donut Falls trailhead parking, which I knew could fill up fast on the weekends. But perhaps with this being a Friday, maybe it wouldn't be so bad on this day?
At 8am, we went downstairs and had ourselves the included breakfast, which was pretty good for a Hyatt House brekkie. They had an omelette bar, which was pretty good, as well as well made French Toast as well as oatmeal with lots of fresh fruits.
Well, it wasn't until about 9:05am when we finally left the Hyatt House and made our way to our first hike of the day. Given our late start, I decided that we should target Donut Falls first and then see if we could also visit Rocky Mouth Falls as well as the Lisa Falls on this day before returning to the accommodation. And since we tended to go very slow as a family, especially since Julie wasn't keen on doing waterfall hikes on a pace that was faster than her more deliberate trip pace, I was worried that even visiting just these three waterfalls on this day might be a little on the ambitious side when in my mind it shouldn't be.
As we drove on the I-15 then the I-80 and eventually the I-215 before following the signs leading to Big Cottonwood Canyon, we'd eventually get onto the Utah 190, which weaved its way through Big Cottonwood Canyon, which was flanked by impressively tall jagged cliffs. I felt compelled to stop and attempt to take photographs of the immense scenery around us, but it wasn't possible while I was driving, and it was also hard to tell when would be a good place to stop and take such photos.
The GPS
eventually led us to a turnoff at Cardiff Fork, but there was a gate blocking further progress. Still, there were many cars parked in the parking lot before the gate on both sides of the Hwy 190, and we presumed that many (if not all) of them were pursuing the Donut Falls, which we knew was a popular spot amongst the locals in the Salt Lake City area.
After getting prepared for the hike (and the possible 2- to 3-mile extension due to needing to walk on the road), a trio of young guys asked me if this was the way to Donut Falls. When I told them that we were just as uncertain as they were, one of the guys showed me his iPhone
, which showed what our own GPS had shown – which was that we were around a mile to 1.6 miles from the Donut Falls.
With that much extra hiking facing us, we promptly got started on the hike. It was almost like Jemez Falls all over again. But just as we were getting started, we saw one guy who was in the process of opening and closing the gate so he could drive out. He confirmed that this was indeed the way to the Donut Falls, and so that made us more confident that this excursion would stand a better chance at being successful than when we started off.
The hike along the road was somewhat uphill, which already made us a little bit winded as we knew we were at elevation. But this time, we didn't have the benefit of having a few days of getting acclimated before hiking. And it definitely showed as our hearts were already beating faster than usual.
The walk along the road passed through some private property. Given the amount of clearing alongside the road in the private property, this also happened to be where some of the more photogenic trail shots could be had. Anyways, there were enough "Trail" signs to keep us on track at some of the potentially confusing junctions.
After finally making it to the official trailhead, where there was a little clearing for some cars as well as a basic pit toilet facility, the trail then continued climbing alongside and across some residual snow patches. Julie was starting to complain that she was getting light-headed and that she verbalized that she wanted to faint.
Given her weakened state with her gut condition, this was nothing to dismiss. But still, we took frequent water breaks, and so that allowed her to catch her wind somewhat. But that also meant that people who were starting the hike later than us, managed to catch up to us, and then were already headed back down while we were still on our way to the Donut Falls.
There was a potentially confusing junction just past a footbridge over the rushing creek. There was a trail sign pointing to our left to continue on our way, but when going back to the trailhead, I could see how this particular junction could be confusing as the path leading back across the bridge was narrower than the seemingly more obvious path continuing down the slope while not crossing the bridge.
The trail then meandered about more semi-open terrain as we would pass a couple more unsigned forks, where we kept left at them considering we saw a handful of people coming back from those directions. The trio of dudes that I had seen earlier had also made their return already. And they told us that the water was very cold after having crossed the creek to get a better look at the Donut Falls.
Since I came prepared with Keens
on this hike, I felt confident that I could experience the falls the way it was supposed to happen – i.e. getting up close to the falls.
Eventually at 11am, we got to a part of the trail that descended an embankment and skirted alongside the creek. At first, we were able to get through some of the trickier embankment sections without needing to get our feet wet. However, it didn't take long before we got to the end of the official trail where further progress meant getting wet in the creek. The view from this sanctioned spot left a lot to be desired because there were trees obstructing the view.
At that point, I decided that after all this trouble, it was time to put the Keens to the test. And so I changed out of the hiking boots and hiking socks and promptly put the Keens
on and then hiked across the creek. When I got to the middle where there was a fair-sized flat slab of rock, I took the opportunity to take a quick breather while also documenting both the views and the experience from this very spot. The water was painfully cold so that little break on the slab in the middle of the creek also helped to allow my feet to warm up a bit before I had to get back in the water and continue the creek crossing.
The water was deepest at about shin-deep level when I took my first step back into the creek from the rock slab I was standing on. There were also some spots where it was all whitewater over rocks towards the opposite side as well. And so when I finally reached the other end, I was doing a little dance to try to bring some feeling back into my feet, which went from numb to pain and eventually to just cold.
Next, I had to cross a little snow patch, where I used some footprints as footholds. Thankfully, not much snow touched my feet on that traverse. And once I climbed to the other side of the snow patch, that was when I finally got a pretty clean direct look up at the Donut Falls, where the waterfall fell right into a pothole before re-emerging through a hard-to-see natural arch further below. Then, the rest of the creek cascaded and twisted its way down past my vantage point before continuing another cascade right where I had crossed the creek earlier.
At this point, I saw that there was absolutely no way I could safely scramble my way up to the donut itself so I had to be content with my distant (albeit closer) views and take advantage of the zoom on the camera lens. After earning this view, I felt that I mind as well enjoy it while also trying to capture the scene as much as I could.
Julie and Tahia were looking on while other strangers also showed up and evaluated whether to make this crossing or be content with the views. Meanwhile, once I had my fill of the creek-side view on top of a rock with that direct view of Donut Falls, I then decided to continue ascending up to another view, but it required climbing up another snowy embankment or patch. This one was steeper, but I managed to make it across without any sudden collapses as the thought of a thin part of snow over a hidden dropoff was definitely on my mind.
The view from this spot was a little more angled and less fulfilling that down below. But at least the angled view did allow me to get a different perspective of that donut that the waterfall fell into. Meanwhile, there was another couple that had already scrambled across the creek and were busy doing selfies at that rock that I was at earlier on.
When I had my fill of this spot, I slid back down the snow, and then got back to the rock again. At that time, the couple headed back. So I took this opportunity to get some last shots of Donut Falls while also showing what the creek crossing was like as this couple was braving the icy cold water that I was about to get back into again.
Minutes later, I took a similar path as I had taken earlier in traversing the creek. And thankfully when I rejoined Julie and Tahia at 11:35am, I took the opportunity to change out of the Keens
and try to let the feet dry for a few minutes while getting some feeling back. Then, I put on the wool socks and eventually laced on the hiking boots while securing the wet Keens in the garbage bag, which then promptly went back in my pack.
At that point, we proceeded to head back to the trailhead. Julie said that she felt better after this little recovery time, but she didn't feel that this waterfall was worth the trouble. So we hastily made our way back downhill to the actual trailhead and eventually back to the parking area by the gate way back along the Hwy 190. By that time, it was 12:35pm and there were lots more cars at the parking areas on both sides of the road. There was also some kind of filming going on nearby there as well though we couldn't tell what it was for.
As for trying to equate the quantity of cars versus the quantity of hikers, it didn't equate to us as we swore there weren't that many people that we saw on the trail though it was pretty popular. So clearly, some people must have taken the other trail on the opposite side of the highway though I knew not where that trail went.
There were also impressive blooms of wildflowers alongside a different creek that ran alongside the Hwy 190. Part of me wanted to keep driving east to see what else the Big Cottonwood Canyon area featured, but Julie was getting restless about having lunch so once we got all loaded up in the car, we then drove back in a westerly direction along Hwy 190 eventually towards the suburb of Cottonwood Heights.
Along the way back down, we made one brief stop at a pretty dramatic part of the drive through Big Cottonwood Canyon where I took advantage of a pullout and climbed up to a top down view of the road dwarfed by impressively jagged peaks all around. This brief stop happened at about 12:50pm.
Back in the car, we then eventually drove all the way to a Panda Express right across the street from a Chipotle. Along this part of the drive, we noticed that there was a Whole Foods as well as a Target. So that gave us the idea that before heading back to our accommodation later this afternoon or evening, we ought to make our grocery run so Julie would have something to make tomorrow.
When we entered the Panda at 1:05pm, Julie only wound up getting some steamed veggies because everything else had soy sauce and therefore had gluten. So we then went across the street and ate at the Chipotle where we knew the food would be cleaner for Julie though she couldn't have the veggies there as they contained peppers and raw veggies that she couldn't have.
At about 2pm, we were done with lunch and were back in the car. We then drove back the way we came before turning right onto Route 210 before branching off and heading towards the suburb of Sandy. We'd eventually get to the trailhead coordinates for the Rocky Mouth Trailhead. However, we could see that it was right in a pretty exclusive suburban neighborhood and with hardly any cars parked on the street, we knew that we weren't going to park near the trailhead in this manner. Then, when I briefly drove back towards the trailhead looking to see if there was any other street parking possible, that was when I saw signs saying that the Rocky Mouth Trailhead Parking was at 11250 South Wasatch.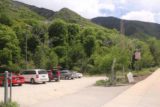 So I continued back down the residential road to the main road then turned left. And shortly thereafter, I saw a small sign and a small parking lot on the left side. So this was where we eventually stopped the car, at which point it was about 2:25pm. The lot was full so we were about to park the car awkwardly on the far end of the small lot. But just as Julie and Tahia were getting ready for the hike, someone pulled out and we promptly took that more legitimate spot.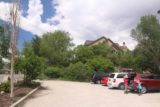 There were probably about room for a half-dozen cars though one person was poorly parked (i.e. double parked). Anyways, the sun was definitely coming out at this time, and so we got our hats and hoped that the greenhouse effect on the car wouldn't cause some of the water jugs and bottles inside the car to leach.
The hike started off by ascending some steps between a couple of pretty regal-looking homes. Then, we briefly walked along the residential street that we had just driven earlier. But this time, we followed the bend in the road back up to the trailhead, which was a narrow fenced corridor right in between a couple more fancy homes.
In that corridor, the path climbed some more, and it wouldn't be until we got towards the end of this climb that we could finally take advantage of the views looking back across the basin towards more mountains with snow in the distance where there was more blue skies.
The climb petered out and then bent around some interesting rock formations on our left. It turned out that these formations harbored a couple of shallow caves, which provided some interesting photo ops. Meanwhile, we continued along the short trail, which then followed alongside a cascade that was climbable without getting our feet wet. Some people were headed back downhill on this stretch so it was pretty obvious to us that this was the way to go.
Meanwhile, we could see Rocky Mouth Falls further upstream though I was already concerned about the amount of sunlight hitting the flanking rocks causing the falls to sit too deep in the shadows thereby making photography difficult. And as we got up to the informal viewing area, another family was right behind us and they had a large group so they took some time to take pictures before the falls though I wondered how well their photos would turn out given the harsh lighting conditions and contrast.
While that was going on, I scrambled into the creek and took advantage of the Gore-tex properties to get around the commotion and walk right into the shadowy parts of Rocky Mouth Falls' cove. From there, I felt like I was a little bit too close to the falls, but at least the lighting was a bit more agreeable so I took what photos and videos that I could from here without getting in the photo of that family.
It felt quite cool and refreshing in this spot as some of the waterfalls' spray was coming at me and my camera, but it wasn't so overwhelming that I felt I'd have to wipe the lens every so often. Eventually after having my fill of this spot, I saw that Tahia was trying to join me. Knowing that her boots weren't equipped for handling the wet like ours were, I intercepted her and we headed back to drier parts so we could take a few photos while Julie was busy looking at her iPhone.
After taking a few people shots while trying hard to take advantage of a brief window of clouds blocking the sun and creating more even lighting, we then headed back towards the car while also taking a few more people shots at one of the caves alongside the trail.
The hike back down the short trail was now bathed in sun as we were enjoying the views as well as marveling at how elaborate some of the homes here were. They probably fell in the category of "not in our lifetime" though it was kind of fun imagining what it might be like living in one of these homes and enjoying both the views as well as taking for granted the Rocky Mouth Falls that would be so easy to visit right after work or something.
By about 3:40pm, we were back at the car. Tahia and Julie were starting to get waterfall fatigued again, and Tahia was requesting that I drop them off back at the Hyatt House before going to the next waterfall. Meanwhile, Julie had to get Tahia to change her shoes because she got both those and her socks wet around the waterfall.
Anyways, I couldn't honor Tahia's request as the next waterfall called Lisa Falls was barely six miles from where we were at. So I promptly drove northwards then to the right into Little Cottonwood Canyon, which was also pretty impressive as we were driving into a big ravine flanked by granite cliffs precipitously dropping on both sides of the highway 210.
There was still snow further up the canyon though I knew that we couldn't be able to drive that far given the time constraints. And eventually by about 3:55pm, I reached a pair of pretty busy pullouts that I knew must be fore Lisa Falls. Actually along the way, I saw some cascades tumbling down the mountain though we didn't have a chance to stop for them. One of those cascades was what appeared to be Lisa Falls, which was apparently a pretty long and impressive mountain cascade, but I knew from researching this trip that the trail leading close to the falls only revealed a couple of small tiers.
So Julie and Tahia decided to stay in the car. Meanwhile, I went ahead and did the brief half-mile round-trip hike, which had an unsigned but pretty obvious trail that started from where we had parked. The scenery around the trailhead was quite impressive as I couldn't resist the urge to take pictures of the surrounding mountains which were too grand to effectively try to capture and convey in a photograph along with the road for perspective and scale.
The uphil hike was pretty straightforward though I'm sure my trail shots of no one on the trail were probably less meaningful than if Julie and Tahia were my trail subjects. Anyways, it didn't take long before the trail degenerated into a short boulder scramble as I could see where some people were headed back down and a couple of guys were busy abseiling or rappeling down a cliff face that was right next to the Lisa Falls.
I went ahead and scrambled around the graffitied boulders and then got right up to the twisting waterfall itself, which was surrounded by bright granite, which made photographing this a little tricky since the views were a bit too close to the falls while the brightness of the whole scene meant long exposure photos would be a bit too bright.
So I took some time to photograph and take videos of the Lisa Falls and the surrounding commotion from the abseilers and other people checking out the falls. One of the folks there kept bugging me to check out the squirrels in the area as if I should be paying attention to them. In one instance, I did see one squirrel on its hind legs and it was almost as if it was posing for me.
Anyways, after having my fill of this waterfall, I then promptly headed back down to rejoin Julie and Tahia. There was one pretty giant hiking group of a dozen or so people on their way up so I guess I must have beaten that rush. And so at 4:25pm, I was back at the car and now it was time to head back into Cottonwood Heights so Julie could do her grocery run.
During the short drive back, Tahia was knocked out and finally went on her afternoon siesta. When we showed up at the Whole Foods, which was at a real busy intersection, Julie went ahead and did her grocery shopping solo while I kept Tahia company so her nap wouldn't be interrupted.
It took Julie nearly an hour to do her grocery run, which was kind of par for the course, and eventually by 5:25pm, we finally left the Whole Foods in Cottonwood Heights and headed back to the Hyatt House in downtown Salt Lake City. We'd eventually get back to our accommodation at 6pm, where we then turned up the AC and fan in the room so we could dry off the wet shoes and Tahia's socks.
Then 20 minutes later, we went back into the car so we could briefly drive towards this place called the Copper Onion. I guess the reservations were all taken but they did say that half the restaurant was for walk-in customers. And so we were one of those walk-in customers. While Julie and Tahia were waiting for a table to free up, I was busy figuring out the street parking, which was apparently $2 for every hour until 8pm. I paid for time up until the 8pm time slot to eliminate the possibility of getting ticketed.
Anyways, once we were finally seated in the restaurant, we wound up at a pretty cramped table that was really meant for two. We made the most of the situation as apparently, this restaurant was pretty popular so perhaps it was a good thing we got a table in the first place.
Our meal consisted of a lamb riblet, flatiron steak, and a Copper Onion Burger for Tahia (we always try to ditch the kids menu and go for something that both Julie and I could eat if Tahia couldn't finish). We also picked up an appetizer of duck confit over scallion pancakes. The food turned out to be quite delicious, and Julie even supplemented the meal with an asparagus in some kind of mustard sauce and breading (though she had to use her glass of water to wash off the breading given her gut condition).
We skipped out on the dessert (we were tempted with the strawberry rhubarb galette) given how busy this place was and so at 8pm we were back in the car where we saw the guy parked behind me got a parking ticket. We also noticed some cathedral in the distance between two buildings as we walked back to the car. That made us look at TripAdvisor to see what cathedral it was and it got us into wondering if what we saw was the Cathedral of Madeleine.
It was something we might have to fit in tomorrow. As of today, I was hoping we could get back to the Hyatt House, then walk to Temple Square, which we knew was the signature attraction of Salt Lake City. Julie wanted me to drive to the Temple Square and attempt to find street parking, but alas, there was none to be found in the immediate area. So when we got back to the Hyatt House at 8:15pm, we asked the receptionist what time that Temple Square closed, and it turned out to be closed at 9pm.
With a minimum of 15-minute walk ahead of us, it was getting too close to closing time so we aborted our intent to walk over there even though the sun was still pretty high up in the sky at this time of day. And so we called it a day. It would be yet another thing to add to the list of things to do tomorrow. And that made me mentally change up our plans as I decided we should divide and conquer where I'd do both Adams Falls and Horsetail Falls solo while Julie and Tahia would have a mommy and me day inside downtown SLC.
Depending on how efficient I would be on the hike, perhaps I could get back to the Hyatt House in time to do both the cathedral and Temple Square before dinner, which Julie was hoping we could self-cook and save a little money and health in the process. And so the last-minute plan was set, and we'd ultimately chill out in our room while also looking at the buildings and snow-topped Wasatch Mountains change color with the setting sun from our room…
Day 3 (May 27, 2017 – Salt Lake City, Utah: "Red Tape Deception"
It was about 4:45am when I awoke. It was still dark outside so I was busy getting cleaned up and getting dressed then try to wrap up some last-minute blogging that I was too tired to do last night. And I had to do all this without waking up Julie and Tahia from their sleep.
There was a lot of material to cover so it wasn't until about 6:30am when I finally got to a point where I could go downstairs for breakfast. By this time, Julie finally woke up, but since today was a divide-and-conquer kind of day where I was going to do two harder hikes while Julie and Tahia were going to tour downtown Salt Lake City on their own, I was intending to go downstairs without any intention of going back up.
But when I got down to the lobby, I saw that the omelette bar was still not open. When I asked the staff about it, they said that the omelette bar wasn't open until 7am. So I had to put up with some pretty crappy pre-made breakfast (at least compared to yesterday) where I wasn't nuts about the pancakes and scrambled eggs, but I did load up on oatmeal, Greek yogurt, and bacon. By the time I was done eating these things, it was about 10 minutes until 7am so I went ahead and returned to our room where Julie gave me some grapes to snack on as well as a couple of clementines for the hike.
By about 7:05am, I was back downstairs where the omelette bar was now open and I went ahead and got the omelete of the day, which was some kind of Mexican-inspired omelette. After having the fresh stuff, I then went to the car, where I had already pre-loaded it with my pack and camera and a set up GPS. And by 7:15am, I was ready to get moving.
As I drove out of the Hyatt House, I immediately saw that the skies were clear blue, which contrasted mightily with the overcast skies from the last couple of days. The drive north on the I-15 then the US89 went pretty smoothly. But after going past the light at the Oak Hills Drive intersection (near a water tank), I then turned right at an unsigned access road leading to the Eastside Drive. If it wasn't for the GPS
alerting me to this road, I would have missed it.
Once I was on Eastside Drive, I then backtracked heading briefly south to the Adams Canyon Trailhead, where there were already quite a few cars parked here at 7:45am. There were still long shadows as the sun hadn't quite breached the hills to the east, but perhaps that was a good thing because it meant that the uphill climb wouldn't be too bad. I could only imagine how much more brutal this hike could be later in the day when the temperatures could get up there.
So the eyes didn't lie to me as I could see the climbing that I had to do immediately. There were several switchbacks flanked by high fences (to prevent shortcutting and erosion I guess) while the surface of the trail was a fine dirt or some kind of sand. I could imagine that this could get pretty brutal on hot Summer days where the fine dirt would get kicked up in the air (and taken in by the lungs) while not getting all the traction that we'd be used to on packed dirt or some other surface that was more grippy.
Again, the morning shadows were welcome as the switchbacks weren't too bad, and I had barely worked up a sweat as a result. Eventually, I climbed up to a point where the sun was well above the nearest hills, which caused me to look against the sun (making trail photos harder to take while looking forward). But when I looked back, I could already get pretty regal views towards the Great Salt Lake as well as the suburb of Layton.
That said, the Great Salt Lake looked a bit flat, and it even appeared that there were more mud flats than lake from my vantage point on the trail. At about 8:10am, I arrived at an unsigned junction where the trail appeared to be a little wider than the trail I was just on. Apparently, it was possible to visit Adams Falls from other trailheads.
Anyways, I continued going right, where the trail leveled out and started to enter Adams Canyon after rounding a bend. I could already hear water rushing in the creek responsible for the canyon, and it didn't take long before the exposed sunlight gave way to the cover of trees.
After a few more minutes of hiking amongst the trees, I then reached a junction with the Bonneville Shoreline Trail. I found it interesting that there was no verbiage saying anything about the Adams Falls, but I knew that the trajectory of the Bonneville Shoreline Trail was not continuing up Adams Canyon and therefore could not be the correct trail for the waterfall. And so I promptly kept left and continued a more gradual uphill ascent alongside North Fork Holmes Creek.
Much of the trailside scenery remained under tree cover with hints of tall cliffs on the sides. The shadowy parts remained cool, which was welcome as the hike continued its gentle ascent. I encountered a handful of people coming down already but there were a couple of people passing me by, including one young lady who was moving pretty fast and at one point waited for me so she could have me take a picture of her balancing on a log with her iPhone.
At this point, she told me that there was still a solid 40 minutes of hiking to go, where the last section was pretty steep. But she also had me look out for a waterfall with a cave besides it or something like that. So I kept that in mind considering I didn't recall anything of this sort in my trip research.
The trail continued climbing as I started to encounter some really steep sections, especially after a bridge that traversed the rushing North Fork Holmes Creek. A lot of the hiking involved hand-over-feet scrambling, and without that trail being so popular, I'm sure I could have gotten into trouble getting lost at the myriad false trails or detouring trails as well as the scrambling sections where the trail wasn't so obvious.
Eventually, I got to a point where the trail ascended steeply past some impressive cascades. At the top of this cascade series, there was what appeared to be a large slab of rock that had fallen and essentially created a "cave"-like alcove or something like that. I took some time documenting this feature though I'm sure under lower flow, it might have been possible to traverse the creek and get deeper towards one of the caves on the opposite side of the falls.
Just beyond this cascade, the steep scrambling continued as I then found myself waiting for a handful of people figuring out how to proceed without getting the feet wet. There was a short stream scramble on the far right side of the creek where it was possible to find rocks and embankments as well as letting the Gore-tex do its job within the edge of the creek itself. Then, beyond this, there was more steep climbing along with some more trickly scrambling up and around another attractive cascade or waterfall.
After some more creekbank hiking along with some more steep scrambling, I'd eventually reach yet another steep scramble where the girl I encountered earlier was now on her way down. She encouraged me by telling me that I was almost there. But she also told me that in order to get a good look at the Adams Falls, I would have to cross the creek, where it was inevitable that the feet would get wet.
I considered myself warned, and I was mentally bracing myself for the possibility of needing to cross the creek without shoes (though I hoped that it wouldn't get anywhere close to that point).
After some more time spent following the banks of North Fork Holmes Creek, I'd eventually get up to the aforementioned creek crossing. And sure enough, it didn't look good in terms of trying to keep the feet dry while needing to cross the stream. There was even a makeshift rope tied to one of the rocks here to perhaps make it a tad easier to get past the initial wet part of the scramble.
When it came my turn to make the crossing after a handful of people before me made the traverse, a little bit of water happened to trickle into the top of my hiking boots though with my wool socks combined with the Gore-tex, it didn't seem all that bad. Of course, it was mentally nerve-wracking given how swift the current was moving.
Finally at about 9:30am, I managed to get across the creek, and I was right before the Adams Falls. Since I was looking against the sun, it was a good thing that there was still a long shadow from the neighboring cliff. So I took advantage of that shadow to take direct shots of the falls. However, I knew that it would only be a matter of time before the sun would breach the cliffs above and eventually make taking photos here an almost useless exercise.
The only drawback to where the extent of the shadows was the amount of spray that could reach the camera lens. So I found myself periodically wiping the lens with a cloth before taking the next photo or video. And while it was getting a little on the cold side, I could always walk towards the spots where the sun was bathing the area (like what others here were doing) and warm up a bit.
As I was busy taking pictures and videos, I was also trying to convey the wet creek crossing that was required to even get to this spot by showing others struggling with the deeper parts. Unlike yesterday at Donut Falls, there was no choice but to make this crossing in order to even see the falls. So there were lots of wet feet, but from looking at the kinds of running shoes that people were wearing that seemed to be so common here (almost looking like Nike Frees or something like that), perhaps they were ok with getting them all wet. Some even wore those black socks (neoprene?) to protect their feet from the cold temps of the water.
I probably spent about 20-30 minutes here before it was time to make my return. By that time, I was one of two people that were left here. So I was on my own when it came to trying to get back across the creek without soaking the feet. While I did feel some water touch my socks, it wasn't enough to make the hike back squishy. But it was a little nerve wracking trying to put weight on submerged rocks where water was rushing pretty fast. In fact, I could feel the water trying to push my feet off those rocks as I was leaning against the cliff for balance.
On the way back, I started noticing large groups of people making their way up. As a testament to how popular this hike was, I had to have counted at least a half-dozen or more large groups of at least six people or more. I recalled one group had to have had over a dozen people. And this wasn't even counting the couples or smaller families of 4 making their way up.
The hike back went a lot quicker than on the way up as it was mostly downhill. There were lots of moments where I had to wait and let the people going up pass given how narrow and eroded several parts of the trail was. But aside from those little hiccups, I made good progress.
I also made a couple of pauses to eat some of the grapes and clementines that I had brought along while also refilling on the water. On that pause, I managed to use up the backup water bottle in the 32oz stainless steel container, which got transferred to my smaller Kleen Kantene
bottle that I kept on the side pocket of my pack for easy access.
This trail also lacked toilet facilities so I had to periodically find scrambling spots and use the cover of vegetation to heed Nature's call, which wasn't easy to do given how much traffic was on this trail.
After getting back to the junction with the Bonneville Shoreline Trail, the trail became much easier and less eroded but I had also lost the tree cover. That meant lots of sun, but on a day like today, the views towards the Great Salt Lake and Antelope Island were dramatic though it seemed like the lake was pretty flat while fronted with a large extent of mud flats so it made the pictures look a little flat despite my higher elevation vantage point.
Plus, now that the sun was higher on the horizon, I was able to take pictures looking back into Adams Canyon. I thought to myself that those doing the hike right now must be having a harder time keeping cool with the sun beating down on them. This was especially true when I had to go back down the switchbacks where the sandy surface made the people going up wear the weary look on their faces when saying "Hi" to me as I passed by.
And that was just the beginning of the hike (on the way to Adams Falls)!
Anyways, at 11:10am, I finally made it back to the parking lot, which was now even more crowded with cars than when I had gotten started. In addition to the rocky parking lot area, there were also many cars parallel parking alongside the Eastside Drive stretching out in both directions both towards the US89 access as well as towards the dead-end further to the south.
I was at a stage where my bladder was almost bursting, but with no privacy back at the trailhead as well as no facilities, I had to drive back south along the US89 and then along the I-15, where I took one of the exits and went to a gas station though I probably didn't need to fill up on the gas as I still had more than a half-tank.
Still, I managed to get my relief, and then resume the drive south towards Horsetail Falls, which was what I was targeting for the second half of the day. Adams Falls took a little longer than I thought, and I was hoping that Horsetail Falls wouldn't take as long since I was hoping to rejoin Julie and Tahia at a more reasonable hour to visit some of Salt Lake City's more non-waterfalling attractions (like Temple Square and the Cathedral of the Madeleine).
The drive south along the I-15 and then east along the Timpanogos Highway (Hwy 92) went quite smoothly. I noticed that along the Hwy 92, then had these single-file commuter lanes, which I took. It pretty much paralleled the rest of the four lanes of the Timpanogos Highway but the difference was that the commuter lanes bypassed all the traffic lights.
Eventually, when I got to N 6000 W street, the GPS
had me turn left even though the paper directions that I had researched recommended turning left later on. I opted to listen to the GPS since I didn't want to be driving and looking at the paper at the same time. Regardless, the GPS eventually got me to Westfield Rd and then 200 N Rd before turning left onto Grove Drive. I'd follow Grove Drive all the way to dead-end where there was a large parking lot for the Deer Creek / Dry Creek Mountain Trailhead.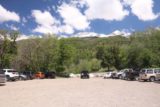 I got here at 12:25pm so it wasn't surprising that there were lots of cars parked here. But what was surprising was that I managed to score a parking spot almost right across from the trailhead itself. I saw others parallel parking along Grove Drive for a ways almost reaching the rodeo entrance and cow farm entrance way down the road.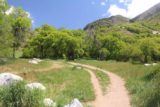 The car park looked pretty scenic as I could immediately see snowy peaks against the blue skies and some pop-up clouds growing at their peaks. It seemed like a pretty idyllic picnic spot as looking further back downslope revealed glimpses of Utah Lake and the suburn of Alpine and other surrounding cities south of Salt Lake City and north of Orem and Provo.
After lacing up the boots again and getting the day pack loaded up with a second backup set of 32oz stainless steel container of water as well as my trusty Kleen Kantene
immediate access bottle, I put the car shade up and promptly started the hike.
The research said this was supposed to be a 2.1-mile hike in each direction so I was banking on perhaps spending 3 hours to do the 4.2-mile round trip hike, if the distances were determined correctly. But right off the bat, the trail started climbing. Under the sunny day like today, it was already forcing me to work up a sweat.
There were already lots of people heading back down, including people on horseback. I also noticed these red tapes hanging from specific branches on trees. I wasn't sure where the red tape was going, but they were going onto trails that branched off from the main wider trail. So I figured that the red tape was for the foot trail since the horseback riders didn't take them. And thus I followed the path to the left with the red tape.
This red-taped trail was a bit narrower with more foliage, but it was still wide enough for me to see that plenty of people had gone this way. But when I started to descend a steep and pretty eroded ledge leading down to a campfire that wasn't completely put out, I began to wonder if I was going the right way at all. And as the trail continued to get more overgrown, I was having my doubts.
Aside from one girl who went past me and kept going on, I decided I had to turn back at 12:50pm. Apparently others made the same mistake I made and after talking with them, they said that they didn't go anywhere either though they crossed the rushing creek to continue onwards before giving up.
At about 1pm, I was done backtracking and I was back on the main trail. But like the start of the trail, this main trail continued its wide but rocky ascent. Little did I realize just how much ascending that was still before me. For it would be at least another 20 minutes of relentless climbing before the trail finally felt like it was flattening out a bit, but then shortly thereafter, the trail resumed its climb.
At least by now, there was sufficient tree cover that I was able to leave my hat off my head for long stretches. That helped to keep things a little cooler for me.
The pace and length of this incline reminded me of Cascade d'Ars in the Pyrenees of France which was also relentlessly uphill. But in this case, there was also the high altitude though by now, I was already acclimated to the higher altitudes thanks to this being the second full day up in the Salt Lake City area.
The relentless climb kept going past these detoured paths where they'd split and then reconverge again. There was also an attractive meadow along the way as well as some minor muddy patches and creek crossings with the aid of some well-positioned logs.
At the meadow, I met up with a couple who told me that I still had another half-mile or so to go. But they did tell me that there was a dirt trail on the left leading to a frontal view of the Horsetail Falls. So based on that conversation, I was trying to stay alert for any spur trails leading closer to the falls. They assured me that there were bound to be people there, which kind of made me think immediately that whatever this spur trail was, it was not signed.
At around 2pm, I finally reached a trail junction where I followed a couple of guys and went left. That led to a rock outcrop revealing the first views of Horsetail Falls. Looking in downslope, I could also get glimpses of snow on the mountains in the distance as well as Utah Lake again.
Anyways, it was still quite distant from the falls, but it at least gave me a second wind to keep going. In the back of my mind, I wondered if this was the spur trail that the folks I spoke to were talking about…
After having my fill of this overlook, I followed an obvious but narrower trail that meandered amongst rocks with some cover of foliage. When I got to a spot where there was water running across this smaller trail, that was when I saw that it rejoined the main trail again right at a spot where there was quite a bit of water strewn about the whole width of the rocky trail.
At least the water wasn't deep so I was able to take advantage of the Gore-tex and go right through. And beyond this part, the main trail continued its relentless climb as it continued past a couple more major stream crossings (fortunately there were log "bridges" set up to get by without soaking the feet).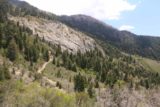 The trail would eventually reach a sign at a major junction. The sign pointing to the right for Deer Creek Mountain Trail or something like that, but I saw many people coming down from the left, and my instincts knew that that had to be the way to get closer to Horsetail Falls despite the lack of signage saying anything about the falls to this point.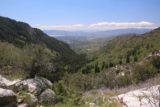 Now, the trail was considerably narrower but it was still obvious. I kept going uphill amongst the tighter quarters as it went over another little stream crossing before reaching some not-so-obvious trail junction where a large pile of rocks I guess was supposed to signal that this was the spot to veer left and leave whatever this current trail was climbing steeply towards.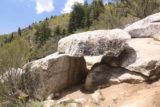 So I now followed this other spur trail that cut across with wide views looking downhill towards Utah Lake well in the distance as well as the suburb of Alpine again, but now I could see the contours of the mountains making its V-shape framing the mix of developments and the large greenish lake to the left. Again, there were also snow-topped mountains in the far distance though the scene was so distant that it appeared to be more on the flat side without the foreground contours to add some depth to the photos from this area.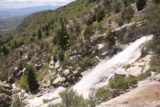 I'd eventually reach a little rock "arch", which was really more like a balanced rock propped up by two other large boulders. But I could tell from the sound of the rushing water that I must have been closer to its top than its bottom. And when I looked out towards the base of the falls rushing below me, I also saw a group of people way down below checking out the front of Horsetail Falls.
When I saw how far down they were, I asked myself, "How the heck did they get all the way down there?"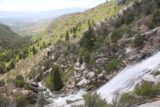 So I went ahead and made the steep scramble to get right down to where they were since I knew that that was the best place to get a frontal look at the Horsetail Falls. The descent was a little dicey and slippery in spots, but I took my time and eventually made it down to where those folks were at about 2:30pm.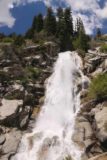 Just as I arrived, those folks had left and they apparently took a trail to the left that was nowhere near as steep as the trail that I had just taken. So I made a mental note to go that way on the way out though I wondered where I must have missed the turnoff to get to this spot.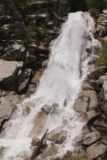 Regardless, I had a brief moment of being able to document the Horsetail Falls alone but it was barely a minute or two before a lot of people showed up at the falls. There was a trio of girls who essentially hijacked the ledge right in front of the only shade in this general viewing area, and even that shade was claimed by someone else just as I turned around.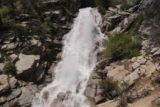 So it was difficult to get clean shots of the whole falls without those girls sitting in the photo, but I made do with the circumstances by trying to show them as subjects before the falls. I also took this opportunity to snack on the rest of the grapes that I had brought as well as the last clementine. Plus, I refilled the Kleen Kantene
water one more time, where I pretty much depleted that other 32oz backup bottle. So from here on out, that was the last of the water I'd be having on this hike.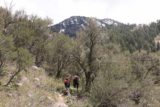 I probably spent a good 15-20 minutes here which was just enough time for the girls to finally take off and allowing myself to get a few more clean photos before I took off. This overlook never really was free of people while I was there, but I wasn't complaining since I finally got the payoff from such hard work to even get to this spot.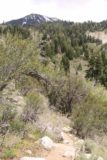 I could imagine the disappointment from others unwilling or unknowingly getting to this spot as the more obvious trails ultimately led to either the unfulfilling top of the falls or kept going higher up the mountain towards who knows where.
As I was making the hike back out along the trail that I saw other people take, it eventually got back to the more obvious trail just past that trail sign that I had seen earlier on. The final climb to rejoin that trail was a bit on the badly eroded and dicey side as clearly a lot of people had made this scramble below, and I suspected that it would only be a matter of time before even this gully or embankment would be impassable safely.
I then decided to continue going back up the semi-main trail to satisfy my curiosity about where this trail ultimately went. So I kept going back to the familiar junction that I went left across to get to the top of the falls, but I kept going up the semi-main track just to see where it went. But it didn't take long before it got really steep and rocky, and from looking at the GPS I was holding, it was veering away from Horsetail Falls so I knew I was supposed to backtrack and take that trail junction that I had taken earlier to get to the top.
Once I was back at the top where that little balanced rock or rock "arch" was, I then continued scrambling around just to see if there was a more obvious top-of-the-falls spot. But I wasn't successfully finding it. I only had some other miscellaneous cascades just upstream from Horsetail Falls to show for it. So at this point, I knew that it was time to go back down.
On the way back down, I saw another pair of hikers who were looking for Horsetail Falls. I told them that this was only the "top" of the falls and if they wanted to see the falls up close, they'd have to either scramble down or backtrack to a trail that was easy to miss to get there. I told them that there wasn't anything else up here though I was back up here just out of curiosity to see what else was up here.
Anyways, it was about 3:15pm or so when I headed back down. At that time, I was thinking and hoping to find some people scrambling down that eroded embankment or scrambling back up that dicey section just so I could convey where people should be going or coming from in order to access the base of the falls.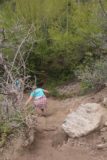 So when I got back to that eroded embankment, there was no one there. I decided to spend a few minutes waiting for someone to come up to rejoin the trail in this way so I could show in photos what it took to get to the base of the falls in this manner, but no one came.
Plus, I saw other hikers miss this embankment detour essentially making the same mistake that I had made myself. It wasn't until one couple was about to skip this gully when I told them that the way to the base was down this gully. So they provided the subjects that I was looking for, but at least the payoff for them was that I saved them the trouble of going all the way to the top then scrambling down to get to the bottom of the falls.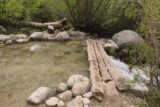 Once that deed was done, I then pretty much trail ran the way back. It was getting late in the day and Julie had texted me asking when I would be back at the Hyatt House. I predicted to her that I would be back around 5-ish.
Well, I wasn't that far off because the hike back down went way quicker than the relentless uphill hike it took to get up here. In fact, my calves and knees were really starting to feel the pain from the relentless pounding they took from all that trail running while simultaneously trying to avoid the rocks that conspired to twist my ankles.
I'd eventually pass by the very people that I had seen earlier at the base of Horsetail Falls, and then when I got out of the tree cover of the majority of the trail, I then started to enjoy the views back down towards Utah Lake and the suburbs in the area as I knew I was getting closer to the end.
Shortly after passing by the false detours with the red tape on them, I was finally back at the trailhead at 4:15pm. I was surprised at how many people were getting late starts to this hike as it took me nearly 4 hours to complete. In fact, the car park was even busier now than it was at high noon when I first showed up!
Ten minutes later, I drove off and took the more sanctioned route along Main Street after leaving Grove Drive and N 200 Street, then eventually got back onto the Timpanogos Highway where I'd follow another one of the commuter lanes almost all the way to the I-15 north.
As predicted, I had made it all the way to the public parking lot next to the Hyatt House at 5:10pm. Julie had suggested checking out Antelope Island, and so I floated the idea with her to do that this evening. But apparently, it would take more time to drive there and it would be very rushed to do it.
So I rejoined Julie and Tahia back at the Hyatt House where they seemed pretty energized from their City Tour and chillaxing at the swimming pool at the accommodation. Julie was busy making chicken taco dinner from the ingredients brought from home and bought during yesterday's grocery run. So without needing to spend more money at an expensive restaurant, it was a low key dinner that we were going to do at the accommodation.
While Julie's pressure cooker was on, we were able to get back in the car and do a quick tour of some of the downtown attractions that I had missed so far. So we were back in the car at 6:05pm, and we promptly drove to the Cathedral of the Madeleine knowing that the 5-6 mass was over and we had an hour window before the 7-8 mass was to begin.
We got to the cathedral at 6:15pm, where we promptly went inside the mostly empty but quiet altar area. Like with the European cathedrals, this one was quite grand. But it kind of reminded us that like most cathedrals, once you've seen one, the rest look pretty alike after a while.
So we spent a few minutes to take pictures, and the silence from the altar was such that it was our cameras that were making the most noise.
But Tahia was getting freaked out by the giant Jesus being crucified on a cross at the altar that she didn't want to be here much longer. And it kind of kept her freaked out for a good portion of our little spontaneous downtown SLC tour that we were now on.
At 6:25pm, we were back in the car, and then we promptly found some underground parking at the City Creek Parking Center. It turned out that the first two hours of parking were free for the shopping mall. We didn't need to spend $10 to park at the Joseph Smith Memorial Building on the opposite side of the underground parking structure.
And so at 6:30pm, we left the car and immediately passed through the Macy's before getting back up to street level. The first thing we did was to walk around Temple Square, where there was this large temple before us but it was hard to photograph given how close we were to it. The lighting was such that the views were probably best in the morning as most of the fountains and more distant views came from the east side. That was why Julie said they had some good shots in the morning.
I had to settle for some flowers fronting the temple shot from the visitor center to the south. We then briefly walked towards that fountain by the office for the Mormon Church near the Lion House. Then we went over to the Beehive House where we saw that it was possible to take a free tour to look inside Brigham Young's house and office.
We were given a free tour by a couple of girls who were both on their 1.5-year mission. One was from Brazil. They showed us around some of the re-creations and restorations of the original office and then the pretty elaborate interior of Brigham Young's place. We learned a little more about the Mormon Church and how Joseph Smith must have been the person who essentially brought to the New World the revival of this version of the Christian faith.
But it was Brigham Young who brought the teachings and testimony of the Book of Mormon from upstate New York to Utah. It was quite interesting how some of their teachings seemed to be pretty consistent with some of the important things in life that we take for granted in today's world like keeping the family strong and building community.
I could totally see the appeal for churches, and I contended that they probably played a major role in community building throughout human history.
After the tour was over and we gave thanks to our tour guides (I said "Abrigado" to the Brazilian girl, who then told me "Do nada", which I made me learn how you say "You're welcome" in Portugese; like of like "De nada" in Spanish), we then took a few more photos of the exterior before heading back to the car.
By 7:40pm, we were back at the Hyatt House where we could finally have ourselves our humble self-cooked dinner and eat as a family. And after that, we pretty much wound down the rest of the day getting cleaned up, doing one last grocery run at Harmon's as we had run out of water, and then crashing to end this very long day of touring and events.
Tomorrow, we were targeting Provo Canyon for our last full day in Salt Lake City. Hopefully, we had saved the best for last…
Day 4 (May 28, 2017 – Salt Lake City, Utah: "Regrettable Reversal"
It was about 4:35am when I awoke. Like the last couple of days, I spent a good chunk of the morning getting cleaned up and caught up on blogging. Once everyone got up at around 6:30am, we then eventually went downstairs for brekkie shortly after 7am, and it wouldn't be until about 8am when Tahia and I were waiting for Julie in the car.
The original plan for today was to go all the way to Stewart Falls, and then backtrack towards Bridal Veil Falls, and finally do Battle Creek Falls before returning to Salt Lake City. But as we were waiting for Julie (who didn't show up until about 8:20am), I looked at the trip research and saw that Stewart Falls might be a bit much to start off with as it was said to be on the order of 3.5 miles though I saw another one saying it was more like 4 miles. I knew that with the pace we'd be going, this hike was going to take around 3 hours or so.
So right then and there, I decided that perhaps we should do things in reverse. That is, start with the shorter Battle Creek Falls hike, which was more like 1.2 miles round trip, and then do Stewart Falls at the end where I would then have the option of going solo.
And so the last minute chance in plans was set, and as we left the Hyatt House, we promptly headed south on the I-15 towards the Pleasant Grove Blvd exit, and then eventually went through a residential area on E 200 S Street before reaching the dead-end at the Battle Creek Trailhead at 9am. It was a very large but rocky car park area, and we were probably amongst the first 12 cars already parked here though it definitely seemed like this lot could accommodate more than that.
It was a cloudless morning as we got ready for the hike. But I had a feeling that with the mountains facing west, that we were probably going to look against the sun towards the falls. Anyways, the view looking back towards Utah Lake against the blue skies was pretty nice, which I took advantage of while Julie and Tahia were getting ready. That said, my left ankle felt bruised and was in a little pain as the hiking boots pressed against the bone there. I figured that yesterday's hard hiking must not have done me any favors to that end.
And as we made our uphill hike (avoiding Kiwanis Park and instead taking the Battle Creek Trail that went uphill to the right), there was still sufficient shade to make at least the beginning part of this hike not too bad since it was shaping up to be a pretty hot day. Regardless, the hike into the canyon along Battle Creek was pretty nice as we were looking towards some interesting cliffs flanking us as well as some snowy mountains in the distance.
But what was strange about the hike was that we were following the path of Battle Creek. However, there was no water in the creek itself. Julie and I knew that something was up because the theme of this trip had been that this area had a heavy snow year.
Well the mystery ended up being solved at 9:35am when we walked past some kind dam or diversion where the water from Battle Creek spilled into some kind of drain. There was indeed plenty of water in Battle Creek upstream from this contraption as there was an attractive small cascade spilling into a plunge pool, which then proceeded to drop into the drain. Immediately beyond this drain structure, Battle Creek was bone dry.
We wondered if the water was supposed to be diverted to the suburbs further downstream. But regardless, now the strange silence was filled by the rushing waters of Battle Creek as it should have been to begin with. But at that point the trail then promptly climbed a bit more eventually crossing over a footbridge where the trail then continued its climb in a bit more of a steeper incline over loose shale.
After going past a small hole in the cliff that could be construed as a "cave", we then reached a part where there was a black rubber mat. Just as it started, there was a spur trail going down to the right, and Julie and Tahia immediately went down that path as we knew that that must have been the way to the base of Battle Creek Falls, which we could glimpse and hear.
Meanwhile, I continued going up the rubber-matted path, which promptly took me to the top of the Battle Creek Falls while also affording me an interesting profile view looking down at the falls. From the top of the falls, I could get a pretty neat view back towards Utah Lake past the V-shaped contour of the canyon we were in. The trail kept going uphill and there was a girl heading further upstream while there was another guy who looked like he was headed back to the trailhead.
Anyways, after a few minutes of checking this spot out, I then rejoined Julie and Tahia down at the base of the falls. There were already a couple of other people headed down to the falls just as I was making my move, and once we were at the falls, I could see straight away that my hunch was correct in that we were battling the sun looking at the Battle Creek Falls and its attractive vertical drop.
So given the circumstances, we tried to use the trees right above the falls to at least help block out the sun. It was indeed pretty much dead on behind the falls, which was the absolute worst place for the sun to be in looking at the waterfall. It made me wish in hindsight that we did this waterfall at the end of the day instead of the start of the day, and thus I was already regretting my decision to switch up the priorities at the last minute.
Steadily, there were even more people showing up at the Battle Creek Falls attesting to this place's popularity. And this was despite today being a Sunday, where we would have thought that most locals would be getting ready to dress in their Sunday best and show up to a service or something.
Regardless, we quickly had our fill of the Battle Creek Falls, and proceeded to go back up to the main trail and then back down towards the parking lot. We made one brief pause at the "cave" before quickly resuming the downhill hike just as we had passed by several families and couples making their way up.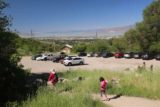 By 10:35am, we were back at the car, where there was definitely more cars parked at the trailhead than when we had gotten started. Things were heating up already in the day as it was quite warm inside the car already. So we promptly got into the car and headed further south towards the Hwy 198 leading into Provo Canyon as we were headed towards Bridal Veil Falls, which was one waterfall that I had always looked forward to seeing ever since I had been made aware of it back in 2004 on a trip to Yellowstone where we flew into Salt Lake City, but didn't have the time to pursue.
The drive was pretty smooth going though we had to go through some extensive residential neighborhoods within the Pleasant Grove suburb. But eventually, we'd get onto the Hwy 198 towards Provo Canyon, and it didn't take long before we took the first available exit leading towards Bridal Veil Park. That essentially took us on a smaller road alongside the rushing Provo River, and after getting through some construction zone with private property signs, we then found parking at a nearby lot at 11am where we saw a pedestrian footbridge traversing the river and leading to a paved walk and bike path paralleling the Provo River.
We went ahead and took the footbridge and then paved walkway, which was already quite busy with people. After a couple of minutes, we then found ourselves right at the base of the skirted slope beneath of pair of plunges of the impressive Bridal Veil Falls. However, the view of the falls from this close left a lot to be desired. Plus, we were looking directly against the sun so the lighting was quite terrible.
As I looked back across the Provo River, I could see that there was a sign and one guy walking towards it. I presumed that that was either at the level of the highway or it must have been a separate pullout or viewing area or something. So I kept a mental note to be on the lookout for it to improve the view of Bridal Veil Falls though we'd have to go up there later in the day when the lighting wouldn't be as bad.
Thus, it didn't take long before we had our fill of the falls under this condition, and we were back at the car at 11:20am. Julie and I weren't feeling like taking the steep trail leading higher up towards the upper drops of Bridal Veil Falls, and thus at this point, it was early enough in the day that we headed back towards Provo and Orem to have a lunch.
But before that, as we were leaving the Bridal Veil Falls area, we stopped by the so-called Upper Falls Picnic Area. It turned out that there was a partial view of some cascade high up on the cliffs, but it looked too small to be anything significant. Otherwise, I couldn't see anything obvious that would have been the Upper Falls though at first I thought it might have provided a view of the upper drop of Bridal Veil Falls. Either way, we resumed our drive at 11:30am.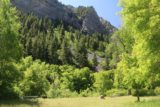 Julie found a Chipotle in Orem, and thus we backtracked on Hwy 198 and then eventually reaching some mall that was quite dead. There was a busy Starbucks drive through, but we just settled in on the Chipotle there at 11:55am, and once again, we had our lunch, which was as quick and as clean as you could ask for for a fast food chain.
Aside from the backseat driving from Julie, which really annoyed me at the time, the food calmed all of us down, and by 12:30pm, we were back in the car and ready to head back into Provo Canyon.
The drive back was pretty uneventful as we'd now be at the scenic view area for the Bridal Veil Falls at 12:45pm. And as predicted, the view from up here was way better than down below. Plus, the sun was higher in the sky so although the lighting wasn't optimal, it was attractive enough to take some pictures and videos just in case we wouldn't be stopping here again.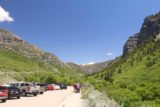 Twenty minutes later, we had our fill of the falls under the current conditions but I was thinking that after doing Stewart Falls, we ought to come back here when the falls would benefit from afternoon light.
The drive out to Stewart Falls pretty much involved continuing on Hwy 198 past a tunnel and then making a left turn onto the Alpine Grove Loop or something like that. The road steeply climbed alongside some rushing cascade by the road. There were lots of cars that we were following up the road, and we could see that there was a Sundance Resort, which was very full.
We could have stopped here and tried to hike up to the Stewart Falls from there after paying for lift tickets, but instead, we kept driving the mountain eventually reaching the Aspen Grove Resort. We weren't sure if we were supposed to park at the resort to start the hike, but as we kept driving, we'd eventually see a kiosk where some cars were already lined up to apparently pay to get into the reserve.
When it was our turn to pull up, we got confirmation that the trailhead parking for Stewart Falls was just on the left past this kiosk. But we also learned that they accepted the National Parks pass here even though this was National Forest land. That made me wonder whether our National Parks Pass could have worked back at home at say Angeles National Forest or something. It was definitely something we should look into to confirm (as we could very well have double paid for the Forest Service Pass when the NP Pass already covered them!).
Anyways, this saved us $6, and by 1:25pm, we were at the crowded Mt Timpanogos Trailhead, where we were very lucky to score a parking spot at a corner between the amphitheater and restroom facility. At this point, Julie and Tahia weren't feeling like hiking (which I expected), so I went ahead and got geared up and then promptly went on the hike towards Stewart Falls.
My left ankle was still hurting, but I eventually masked out the pain as I was out on the hike following a caravan of hikers while simultaneously passing or waiting for people to pass in the opposite direction as they were heading back on the trail. This attested to the popularity of the Stewart Falls Trail, and it made me wonder whether Julie and Tahia could have done this trail despite the 2 miles out to get there (and 2 miles back).
The trail was narrow, which made passing a little tricky in spots. It also alternated between exposed-to-the-sun and under some partial shade. So I was busy flipping my hat back and putting it back on depending on the conditions. There were also pockets where the vegetation opened up and afforded nice views towards the neighboring mountains.
Eventually, the trail apexed where there were some bent vegetation leaning to the left. I suspected that they must have been toppled over from an avalanche or something because I couldn't imagine there'd be anything else causing this to happen. Plus, there was a mountain to my right in addition to the attractive mountains looking in a forward direction.
At this point, the trail then descended past more forested groves before it reached an opening where I finally started to see the impressive Stewart Falls as well as some neighboring cascade spilling from a snow patch above right into a snow patch below. As someone said in passing, "Now we can see the light at the end of the tunnel."
And so after getting my fill of this spot, I then resumed the downhill hike along the ledged yet rocky trail eventually bringing me closer to the Stewart Falls. Eventually, the trail reached a rocky outcrop where several people were gathered to check out the view of the falls, which as expected was somewhat against the sun. Still, from this vantage point, I was able to get satisfactory pictures, but I was wishing that we had done this hike first thing in the morning since it was facing west and would have benefitted from the morning light.
The view from here induced butterflies as I could see the hordes of people by the creek down below. I could also see that there was a narrow trail continuing the descent down to where they were. And so after having my fill of this spot, I went ahead and descended down to the creek level.
Once I got there at 2:35pm, sure enough, the lighting was terrible as expected as the falls was shrouded in the cloudy mist made photographing and videoing the falls pretty lousy.
Still, the spray from the falls felt pretty cool and refreshing, and I spent the better part of the next 15 minutes or so just soaking in the ambience while also contending with the sun to at least show that I was here. I also noticed that there was the Sundance Trail that led up to this spot, and so that made me believe that it was probably the shorter and more gradual (less up-and-down) hike from the Sundance Resort further downslope.
Now that I could see how reasonably doable this hike was (unlike the harder hikes from yesterday), I kept thinking that Julie and Tahia could have totally done this hike, which I would probably give a 3 or 3.5 had the lighting been better.
Anyways, it was getting late in the afternoon so it was time to get back up the trail, which I promptly did as I was now on a mission to rejoin Julie and Tahia so we could get back to SLC at a reasonable hour, especially since Julie had made dinner reservations for one last splurge before going home tomorrow.
The hike back was pretty uneventful as I was pretty much catching up with people who had passed me at one point or another due to me taking pictures. The initial part of the return was pretty much all uphill, but once I got up to the avalanche zone, I knew that it was pretty much downhill the rest of the way. So I took advantage of my momentum and trail ran all the way back on the latter part of the return hike.
Eventually at 3:40pm, I returned to the car where Julie and Tahia were already outside the car probably on a restroom break. After taking one quick stop to photo the cirque facing the Mt Timpanogos Trailhead Parking area, we then promptly drove back down towards Provo Canyon, where we'd then follow the high speed of traffic back towards the Bridal Veil Falls area.
By 4pm, we were back at the scenic viewpoint for Bridal Veil Falls, where sure enough, the place was packed with cars (both sides' parking spaces were now being used), and that was because the afternoon lighting was perfect. So we gladly took our photos and videos while also observing how there were many more people at the base of Bridal Veil Falls down below as well as in the middle where it was clear where the trail led up to that spot.
Again, I was wondering if I'd regret not doing the hike to get up to that point, but with it being late in the day, I figured that the views from here already made this easily the best waterfall seen on our Salt Lake City Trip, and it was probably deserving of a 4 in our minds.
By 4:30pm, we were back in the car and resumed our drive back to the Hyatt House. The drive back along the I-15 was pretty uneventful except for a traffic jam that was brief but was due to a pretty bad accident where apparently someone was lying on the ground and there were lots of people around him. I suspected that it might have been a motorcycle accident.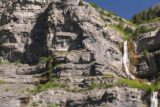 At 5:20pm, we were back at the Hyatt House, where we promptly changed our clothes and then returned to the car at 5:50pm so we could get to the Hotel Monaco and splurge at this place called Bambara for our last night's dinner.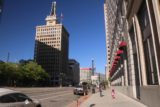 After some confusion about where we should be parking, we wound up parking in the structure adjacent to the Hotel Monaco at 6pm. We'd find out when it was too late that we were supposed to have done valet parking to get the parking validation, we just chalked up the anticipated parking fee as part of the dinner cost. I knew that 2 hours meant it would cost $6, which wasn't too bad in the grand scheme of things.
Anyways, the dinner consisted of Julie's filet mignon, Tahia's beef tongue ravioli, and my duck breast. Our mains were all creatively prepared and all had different and pleasing flavors. We also had a flourless chocolate cake with vanilla bean ice cream, but that dessert was more like brownies and wasn't impressive after our mains were so good.
And so our dinner splurge was over (costing us about $150 with tax and tip), and we were then back at the Hyatt House by 7:45pm after filling up gas at a sketchy part of Salt Lake City. It was pretty clear that the southwest part of the city was where the tent cities were as they were loitering around the perimeter of Pioneer Park as well as the neighborhoods further to the west and south.
I guess even in clean cities like Salt Lake City, every city seems to have its seedier parts. I guess it just goes to show you that when you have a system of winners and losers, such things are pretty unavoidable as it's inherent in the system itself. Julie tried to impart to Tahia why she should appreciate what she has because fortune could easily turn south and before you know it, you could be out on the streets.
Anyways, back at the Hyatt House, Tahia finally got her time in the swimming pool. Since the temps had gotten up to about 81F today, I expected the pool to be warm. And even though the waters were indeed warm, it was also starting to get chilly where the parts of the body weren't in the water.
There was some kind of party going on at the time, but Tahia didn't care. She just wanted to be in the pool with me so she could jump, do flips, and forget how to float on her back. As long as she was spending energy, we knew she'd sleep well tonight.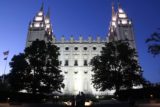 After our time in the pool, we rinsed off, and then I made a solo city run at Temple Square at 9:15pm just as the skies were in twilight. It was my last go at checking out Salt Lake City's most famous landmark under lights, and it was finally time to use the tripod that hadn't seen use throughout this trip until now.
I managed to find street parking right across the street from Temple Square, and then I spent the next half-hour composing a myriad of photos of the main temple at Temple Square's east side. That was where I also managed to get photos of the temple with the rising crescent moon hovering over one of the three facing towers.
I also managed to take advantage of the fountains there where the temple was reflected in the waters against the twilight skies.
I was surprised at how many people were out and about this late in the evening, but then again, perhaps that shouldn't have been surprising considering this was the long weekend in Memorial Day Weekend, but perhaps this was something that the locals could take advantage of, especially when the weather was as gorgeous as it was today.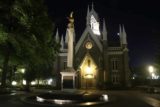 So I pretty much took what photos I could and soak in the ambience of Temple Square until the twilight lighting was gone.
At 10:10pm, I was back at the Hyatt House again. And after spending a few more minutes getting changed and cleaned up, it was time to sleep for one more night in Salt Lake City and the Beehive State.
Day 5 (May 29, 2017 – Los Angeles, California: "An Aborted Adventure and Adventures on the I-15"
It was 4:45am when I awoke. I was groggy and not looking forward to the long drive, especially on the stretch of the I-15 past Las Vegas. Even though I was mentally prepared for the worst, I had that deep dread that I would be instantly reminded of why doing road trips on holiday weekends would be a bad idea.
While I had every intention of getting out of Salt Lake City by 6am, it wouldn't be until 7:50am when we were finally leaving. I guess when you have lots of stuff to bring (especially kitchen-related things), it took longer than expected. So with the delayed start, we also took advantage of having one last included breakfast at the Hyatt House, which included the omelette of the day, which was some kind of Caprese Omelette (the best-tasting one of the four brekkies we've had there).
They also had French Toast for the first time since Friday morning, but now that I knew they had nutella spread, putting the two together was a pretty guilty pleasure.
The drive along the I-15 south went pretty smoothly. Aside from some moderate traffic (by Salt Lake City's standards, which was orders of magnitude less than the best day in Los Angeles), the drive went smoothly. The scary thing was that there were lots of cops on the road ready to nab speeding motorists. We even saw one happen in front of us where a truck with a trailer was pulled over. I guess with today being Memorial Day itself, the cops were definitely working overtime to earn the state some revenue I guess.
As we continued further south of Provo, the I-15 then became the conventional two-lane highway in each direction (four lanes total). For the most part, people have been following the road rules by keeping right except to pass. So while that made for a pretty stress-free drive, it was also a double-edged sword in that it was easy to speed and be caught by one of the myriad of cops that were out in force.
We managed to make a rest stop at Flying J's in Scipio (it was very crowded there) at 9:25am as well as a gas stop at Cedar City at 11:15am. It was getting warmer the further south we were going and it was starting to get into the high 80s at Cedar City.
As we got towards the exit 27 at Toquerville, I decided that we ought to try to make a two-hour out-and-back detour to Toquerville Falls. So after taking the correct exit and driving east towards Toquerville, we then turned left onto Spring Drive within town, and followed the residential road until the pavement ended.
Right before the pavement ended, there was a large green sign saying Toquerville Falls had an extremely rough road while recommending only 4wd vehicles to continue. Since we were in a Ford Escape, we were ok with the high clearance, but after beating up the shocks and arms of the Honda CRV on the Four Corners trip, Julie was discouraging me from taking the risk of getting stranded on this road.
Still, I had to see for myself what the road conditions were like. But it didn't take long before I found out just how rough the road was. There were rocks jutting up from the surface all over the place, and I knew that it was like driving over sharp speed bumps one after another hitting at least one wheel or more at any given time. Indeed, we barely went a fraction of a mile on the bone-jarring road, and it was enough to convince me to turn back. It was a shame because part of me thought we could endure the last 5 miles or so on this road while taking it slow, but I guess Toquerville Falls will have to happen another time when we weren't so time constrained and vehicle-constrained.
So at 11:55pm, I turned around, and then we promptly continued back on the I-15 towards St George where we made a brief lunch stop at Chipotle at 12:25pm. There were already lots of vehicles on the I-15 around the St George area, but the drive remained pretty smooth for the most part.
Fifteen minutes later, we were back on the I-15 south and we promptly left Utah then drove into Arizona through the familiar canyon strip stretch along the Colorado River, and then into Nevada past Mesquite. The road was definitely busier to the extent that it made more sense to keep right even when the left lane was crowded (and we were going faster than them).
By about 1:20pm, we made one more gas stop in North Las Vegas, which was a pretty seedy part of town. We just so happened to fill up gas at the same Chevron that we were at along Lake Mead Blvd earlier on the trip. Julie didn't feel safe here and there was one dude who was looking around waiting to clean someone's windows. Well, we made our fill up without incident, and then we proceeded to move through Las Vegas without too much incident until we finally hit traffic just as we were about to leave Sin City at around 1:45pm.
At this point, the GPS
which had situational awareness kept telling us that minutes were being added to the route due to delays. Before we knew it, we wound wind up with like 138 minutes of delay and it even got as high as 166 minutes of delay from the orignal arrival time.
I guess that was indicative of how bad traffic was between Las Vegas and Los Angeles, and it was basically the realization of my worst fears about this drive.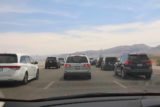 By about 2:20pm, we only made it to Jean, which was the next town on the way to State Line. And it wouldn't be until about 3:20pm when we finally made it to Primm. By this time, lots of people were driving along the shoulders to try to get an edge on other people frustratingly sitting still in traffic. Pretty much the only positive that came out of this was that I was able to get good sports talk about the NBA Finals from the Las Vegas-based sports stations.
Tahia was also taking her afternoon siesta at this time so at least the boredom from the traffic wasn't going to affect her as much (I hoped).
The traffic was pretty much stop and inch from Las Vegas all the way to State Line. I guess the main reason why was because the I-15 went from three lanes to two lanes. I guess in California, their lack of infrastructure spending really showed. Well, at least the traffic went from stop and inch to sluggish. And by 4:45pm, we finaly made it to Baker as both Tahia and Julie needed to make a restroom break.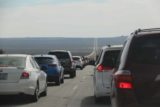 In hindsight, we probably should have taken our toilet break in Cima because at Baker, not only was there a long line to get into the restrooms, but then by 5pm when we got back in the car, the traffic to get out of Baker and move along the I-15 was once again stop and inch forward.
It wouldn't be until about 8:10pm when we finally arrived at my parents' place, where Mom had already made us a welcome home dinner, which helped us save lots of time and money from needing to self cook or even eat out again. So it turned out that we had spent nearly 7 hours on the road between Las Vegas and Los Angeles. But it only took 6 hours on the road (we gained one hour by leaving Utah) to get from Salt Lake City to Las Vegas, which was like two-thirds the overall distance compared to LA to LV, which only comprised one-third the overall distance.
By 9:30pm, we finally made it home, where our work wasn't done. We still had to empty out the rental car of our belongings, and then we had to drop off the car at the Avis so Julie could just return the keys the next morning without me needing to take time off work or be charged an additional day for returning the car after work. It wouldn't be until about 11:30pm when I finally went to bed, but with a 4:30am wake-up as part of my usual routine to get back to work, this Memorial Day was hardly restful.
Indeed, this was precisely the reason why road trips on holiday weekends were a terrible idea. Yet it seemed like with Tahia's school schedules and my added responsibilities at work, it was no longer our call to control trip timing like we used to. So you take the good with the bad, but with all the good times we've had on this SLC trip, I'm sure this bad day would fade into memory and the good stuff would rise to the forefront of when we look back on this long weekend…
Visitor Comments:
Got something you'd like to share or say to keep the conversation going? Feel free to leave a comment below...
No users have replied to the content on this page