This was a pretty spontaneous and last-minute long weekend trip where we never really had long term plans to make it happen. Salt Lake City was always one of those "one of these days" type destinations where we never really put it high on our bucket list, but we always wanted to go regardless.
So that opportunity came up this year, where things weren't looking great at work as good friends and colleagues were leaving en masse, and it made me wonder whether I was going to stick around.  The end result was a bit of an "I don't care" attitude, and perhaps that was a good thing as it ultimately resulted in this trip.
Here are some highlights and how we executed our semi-baked plan to explore Salt Lake City and its surroundings…
Trip Highlights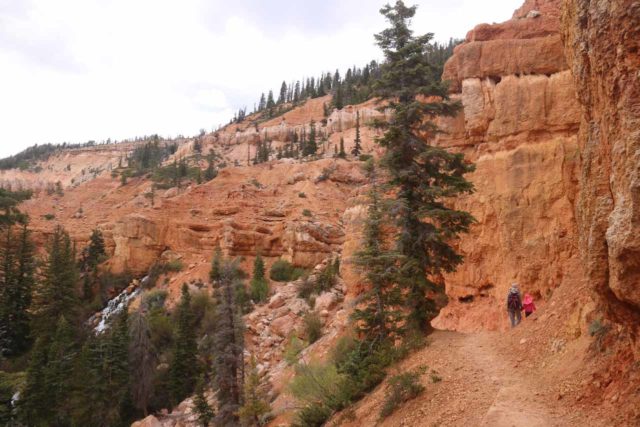 Cascade Falls – red rock cliffs and waterfalls are generally a rare combination. Yet to break up the very long drive from Los Angeles to Salt Lake City, we made a detour to check out just this combo. It was a much-needed break, and we got to see a side of Nature not well-known or frequented outside of locals in the know.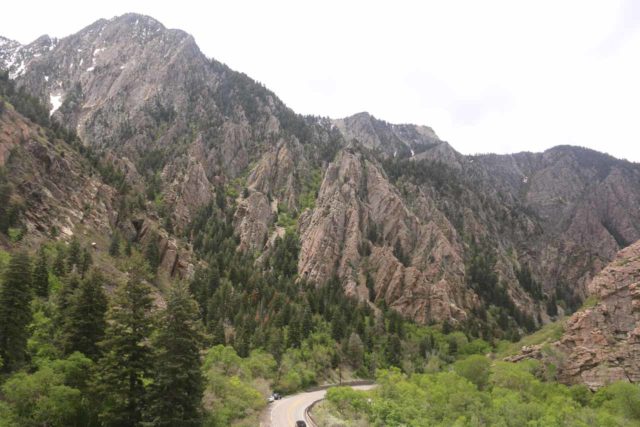 Big Cottonwood Canyon and Donut Falls – just getting to the trailhead of Donut Falls meant we had to drive through arguably the most scenic stretch of the Wasatch Mountains within close proximity to Salt Lake City. The tall jagged cliffs and mountains reminded us very much of the type of scenery we encountered in the Rocky Mountains of Colorado.
Not to be outdone, Donut Falls was impressive in that it was a waterfall spilling into a natural bridge. That said, we didn't attempt the scramble to get up to the opening, but even just getting across the ice cold creek to get closer to the waterfall itself wasn't easy either. Still, this unusual combo of natural bridge and waterfall was definitely worth the trouble to check out.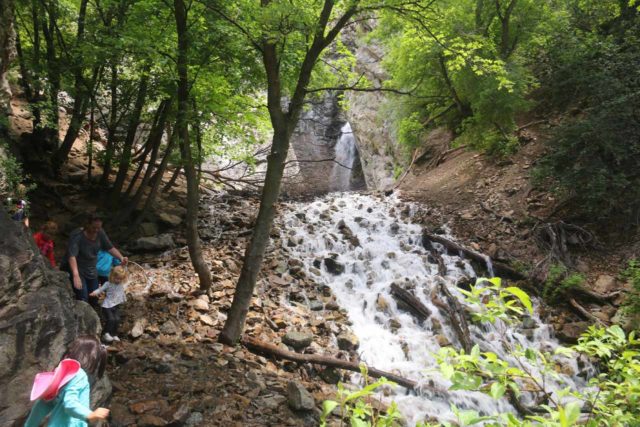 Rocky Mouth Falls – this waterfall had a bit of an unusual trailhead near the main street beneath some suburban homes. Then, we had to hike up some steps and amongst these homes before finding the official trailhead, which itself was sandwiched between two more homes. But once we climbed above the developments, we were then treated to nice views of the Wasatch Valley before the trail bent around some interesting rock formations with some mini-caves and alcoves that captured the kids' imaginations. At the end of the trail-turned-scramble was the secluded waterfall.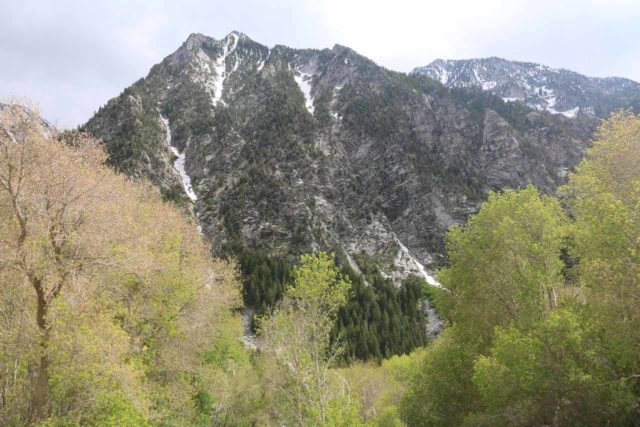 Little Cottonwood Canyon and Lisa Falls – this waterfall was one of those where pictures really didn't do it justice. If anything, it was kind of an excuse to not only enjoy a tumbling waterfall, but it was also an opportunity to get out of the car and really experience Little Cottonwood Canyon, which was flanked by tall and jagged snow-crusted mountains. We even spotted abseilers climbing alongside the tumbling waterfall.
[expand title="MORE" swaptitle="LESS" trigpos="below"]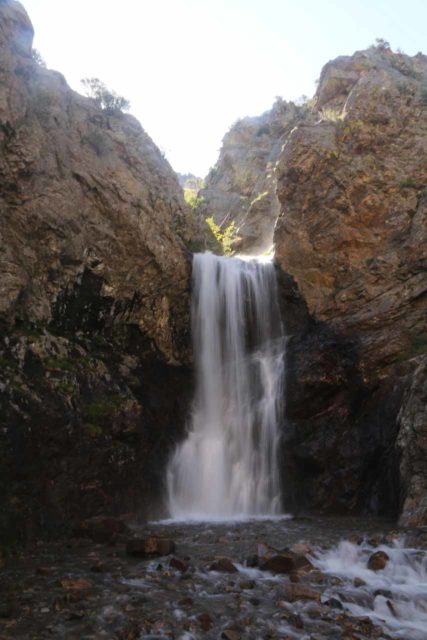 Adams Falls – I really had to earn my visit by going on a bit of an adventure to reach this attractive waterfall in Layton. It involved a lot of climbing, some fairly dicey scrambling, and then a creek crossing where it was difficult to keep the feet dry (I managed… barely). Then, on the return hike, I managed to get gorgeous views of the Great Salt Lake in the distance. It was definitely quite the memorable morning hike!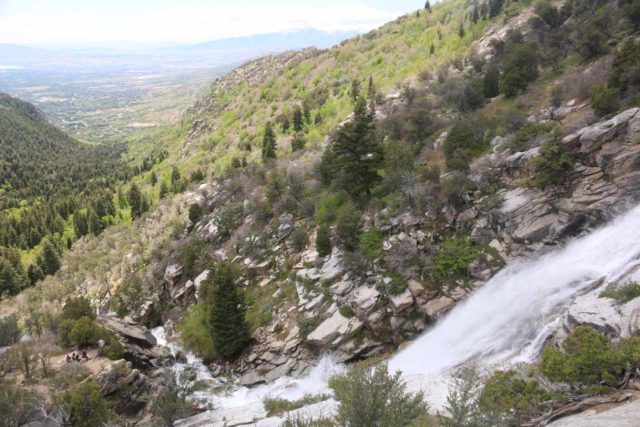 Horsetail Falls – like with Adams Falls, this waterfall also took quite a bit of an adventure to reach. While the beginning of the hike was fairly straightforward to follow, it was relentlessly uphill. Then, things got tricky when it came to trying to find the route that would lead to the base of the waterfall. There were many confused hikers, but after a little persistence, I would eventually find my way. By the end of this day with two difficult hikes back-to-back, my knees and ankles were quite sore and in a bit of pain, but I found the rewards to be well worth it.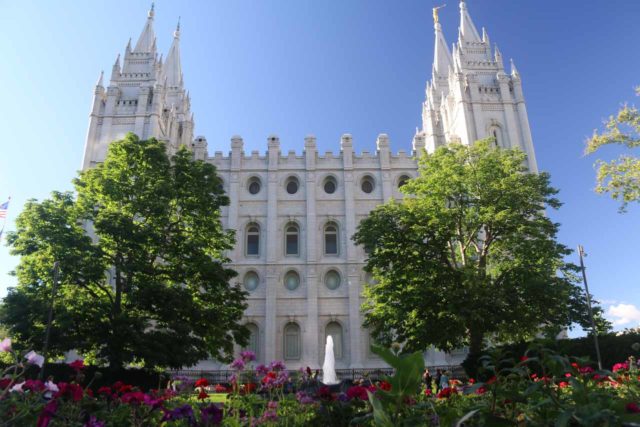 Temple Square – this was perhaps Salt Lake City's signature attraction as was the symbolic center of the Mormon ties to the state of Utah as the government buildings were here as well as the namesake temple itself. The family even managed to visit the home of Brigham Young, where we learned a little more about who he was and what his impacts were to the Mormon faith.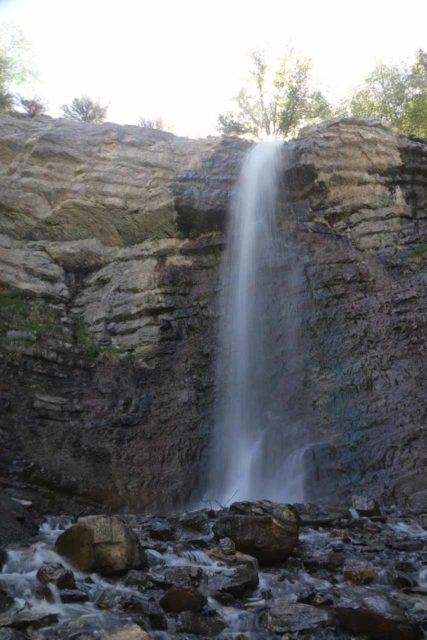 Battle Creek Falls – this was a pretty easy waterfall to visit although it did get a little slippery at the end (they had rubber mats and chain holds to help). What was unusual about this excursion was that we questioned whether there'd be a waterfall at all as the creek was bone dry for most of the short hike. But then we persisted, and we eventually got to the attractive falls to cool off in its spray just as the day was getting warmer by the minute. On the return hike, we had attractive views of Utah Lake in the distance.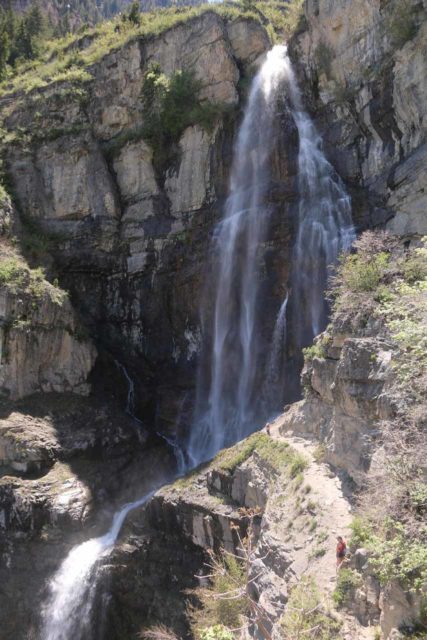 Stewart Falls – this waterfall was actually quite popular even though it required a bit of work to reach. As you can see from the photo, it was very attractive and tall, but my only regret was that we should've visited it earlier in the morning as opposed to the early afternoon (when the sun was right against it; and when we made our visit). Either way, it just proved to us that Utah's scenery pleasantly surprised us in so many ways, and it made us glad to have done this spontaneous trip to experience such places that we otherwise would have missed.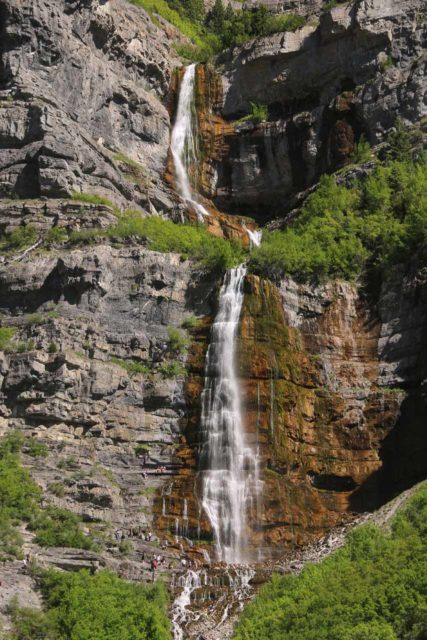 Bridal Veil Falls – arguably one of the tallest and most attractive waterfall in Utah, this roadside attraction was one we managed to experience twice on the same day – both with different kinds of lighting (afternoon being best). There were lots of people enjoying the falls both from its easily-accessible base as well as from longer trails leading to the bottom of one of the upper tiers above the scree slope. Perhaps the most contextual view was from the freeway itself. Either way, this waterfall was the finale of this Salt Lake City Trip, and it definitely didn't disappoint.
[/expand]
Trip Advice

While this was a bit of a last-minute spontaneous trip to see a part of Utah we had neglected over the years (but had always assigned that "one of these days" notions). So when the opportunity arose, we just seized it and dealt with the consequences later. Anyways, here's what we learned on this trip…
Traffic: For most of our trip, driving was a breeze. However, it was the long driving days where it was not fun to drive, especially on the Monday that we returned home. While the drive to Salt Lake City from Los Angeles was bearable once we got past the morning rush hour in Los Angeles, and then we got past Las Vegas, the drive home was a totally different story.
Case in point, it took us 6 hours to drive from Salt Lake City to Las Vegas, and there were many cops looking out for speeders. However, it took us 7 hours to drive from Las Vegas to Los Angeles – over a distance that was half that of Las Vegas to Salt Lake City!!! The traffic was that bad! People cutting off each other, some driving on the shoulders hedging they won't get caught, desperately needing a bathroom break with no end to the slugglish stop-and-go traffic in sight… yeah, you get the picture. And it made me vow to never drive on that Memorial Day Monday again.
Good weather Actually when it comes to the weather, there are no guarantees. However, in our experience, it was a little on the chilly side at the start of the trip, then it got warm pretty quickly after our second night and beyond. When it was colder, the hiking was comfortable though any creek crossings (like for Donut Falls) was uncomfortably cold. When it was warmer, the hikes were a sweaty affair, but then the cooling off effect of the mist from the waterfalls were quite refreshing.
Uncrowded: I don't know if it's always this way, but in my experience, Salt Lake City and its surroundings were probably off-the-beaten-path compared to where most vacationers go around the Nation. So that meant we had no problems scoring restaurant reservations, visiting sights with ample parking, and not too much traffic nor crowds. It was pretty relaxing to say the least.
Travel Itinerary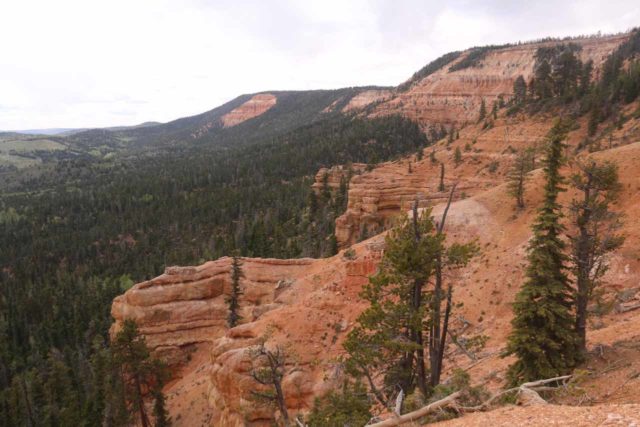 Day 1: Drive from Los Angeles to Salt Lake City
We spent the entire day doing this marathon drive. To help break up the driving, we made a detour to Cascade Falls. Even with the smooth driving along the I-15, it was a very long drive and it probably pushed the limits of how much driving can be accomplished in one day.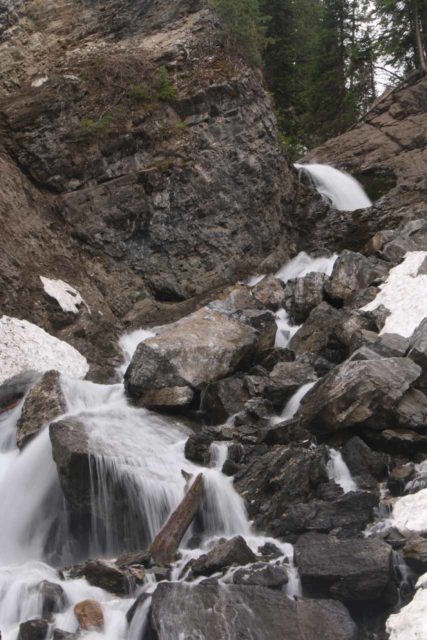 Day 2: Day Trip In The Wasatch
On this day, we spent the day as a family exploring the attractive parts of the Wasatch Mountains. Among the waterfalling highlights included Donut Falls, Rocky Mouth Falls, and Lisa Falls.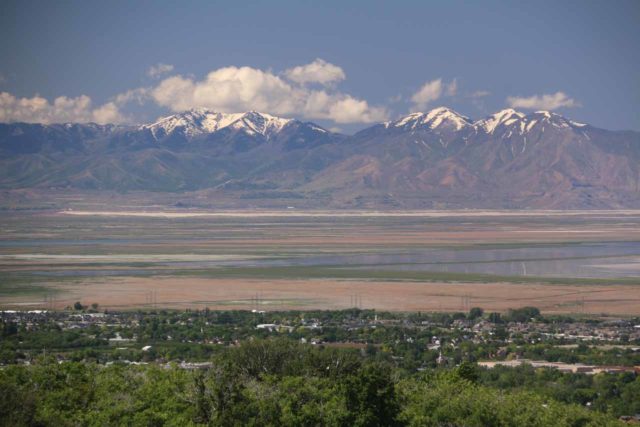 Day 3: Divide-and-conquer: Waterfalls split with Salt Lake City
This was a divide-and-conquer day where I solo'ed two difficult hikes while Julie and Tahia did a guided tour of Salt Lake City.
The waterfalls I visited were Adams Falls and Horsetail Falls. Both hikes had difficult scrambling spots so it was wise to not bring Tahia on these hikes. And despite successfully being able to visit them, my ankles and knees paid a price as they were hurting for the remainder of the trip and for the next couple of weeks thereafter.
When I rejoined the family for dinner, we then spent some time briefly touring Temple Square, where Julie and Tahia had been earlier in the day. We even managed to squeeze in a visit to the Brigham Young House just before they were closed for the day.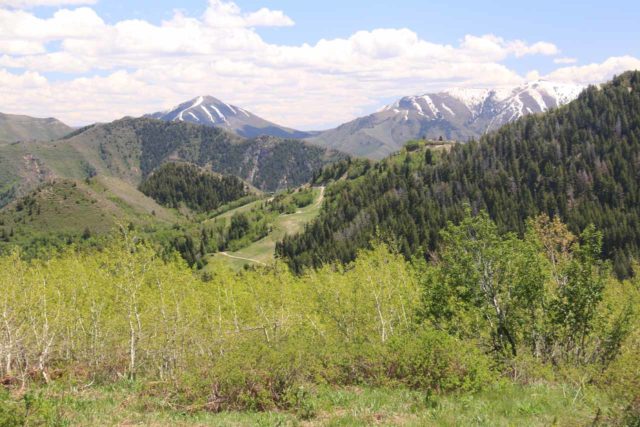 Day 4: Day Tour of Provo Canyon and Mt Timpanogos
We returned to touring as a family on this day as we drove south to experience Provo Canyon. We first started the morning going to Battle Creek Falls before having lunch in Provo. Then, we continued driving into Provo Canyon and Mt Timpanogos to experience both Bridal Veil Falls and Stewart Falls.
Once the day touring was done, we then had a nice dinner before spending a few more precious minutes left of the trip to check out Temple City with the twilight and night time ambience that we hadn't experienced before.
Day 5: Drive Home
This day was devoted to the brutally long drive home. We managed to get a fairly early start (not as early as I would have liked, however) as we were out of Salt Lake City between 8-9 in the morning, but we wouldn't arrive at home until well after 10pm. Most of that time spent was in traffic on the I-15 between Las Vegas and Los Angeles. I've said it before and I'll repeat it again. I vow never to do that again!
Related Trip Reports
Waterfalls included in this itinerary
Visitor Comments:
Got something you'd like to share or say to keep the conversation going? Feel free to leave a comment below...
No users have replied to the content on this page