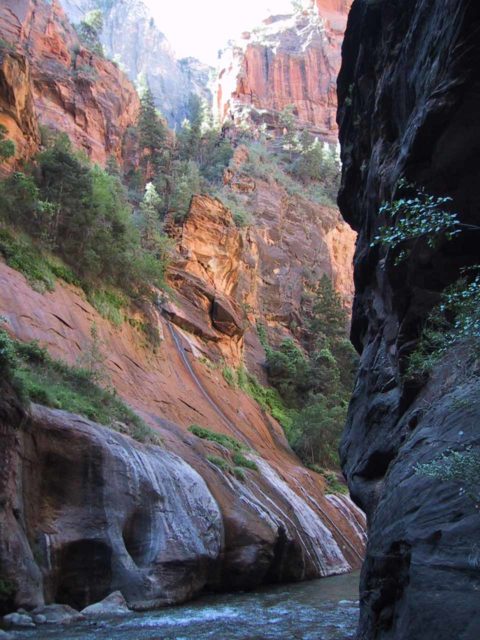 17-June 2001 to 18-June 2001:
The four of us made quicker progress than we had on the Virgin River because there seemed to be long stretches of ankle-deep or shallower water. But just as we thought we could cruise effortlessly, we were stopped in our tracks by a deep-looking pool with a little waterfall off to the side of a seemingly impassable wall behind it…
Day 1: WATERY ADVENTURE
It was only Day 2 of our Grand Circle Road trip and today we wanted to at least spend the morning seeing what the famous Narrows were like. Since we had never really thought of doing the full 16-mile through-hike from Chamberlain's Ranch to the Riverside Walk, we opted to go from the bottom up and into a side canyon called Orderville Canyon. We didn't need permits for this type of excursion so that was by far the most convenient option.
I had brought an extra beat-up pair of basketball shoes specifically for this hike. Andy and Stacey hiked in Tevas and Julie had these spider rubber shoes that I understood was good for river sports. In hindsight, probably only Julie had shoes fit to hike in the Virgin River, but who knew?
So we drove from the Bumbleberry Inn and left the car at the car park in front of the Zion museum, which in turn sat in front of the Court of the Patriarchs. We weren't sure where we should park and this was the first one we saw.
Then, we caught the shuttle bus into Zion Canyon and got off at the Temple of Sinawava – the last shuttle stop before it turned back. From there, we grabbed our hiking sticks and our day packs and we walked up the paved Riverside Walk.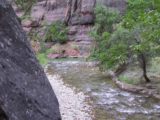 The trail followed the east bank of the Virgin River. It was quite cold this morning as shadows still dominated the canyon floor. We stopped at a few spots for some photos and it wasn't long before we had reached the end of the trail.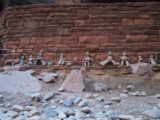 It was now 8am. And now we had to enter the water at the Gateway to the Narrows, which was what this little spot was called. As we were about to enter the water, we noticed people had piled some rocks into stick figures. It was cute but at the same time it reminded me of the Blair Witch Project. Andy picked up a wooden stick from a pile just before these interesting stick figures and we headed upstream on the Virgin River.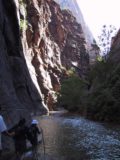 At first the water was numbingly cold. It sent shivers through our bodies. But as we adapted to the water and kept moving, it wasn't so bad. My basketball shoes were already having trouble gripping some of the wet boulders we had walked on. Everyone else seemed to have no trouble.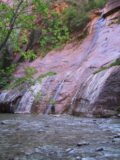 We weren't used to hiking in the river so progress was quite slow.
At 8:30am, we got our first glimpse of an interesting waterfall that trickled down the wall. It was Mystery Falls. This water came from a hanging canyon way up on the cliffs above us. It was more of a technical canyoneering slot canyon so we could only imagine what it must be like.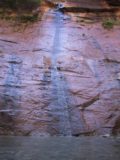 We spent some time taking photos in front of the light-flowing Mystery Falls, which was pretty much the first significant photo subject on the river hiking up to this point. It wasn't easy leaving it behind to continue further into the depths of the canyon, but that was exactly what we did.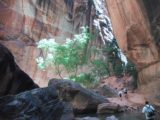 As we continued heading upsteam in the shadowy and cold depths of the Zion Narrows, we finally started to see patches of sunlight reach parts of the Canyon. Still, these areas were few and far between.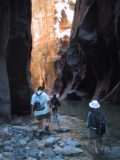 Progress continued to be slow given us being not used to river hiking and our poor choice of shoes (except Julie). However, we also started to get used to the temperature of the Virgin River so it no longer felt numbingly cold. And since we were constantly moving, I guess our own body heat helped offset any potential for hypothermia.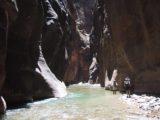 And so we sloshed and trudged our way slowly upstream until we had hit a fork in the canyon. The fork on the right looked somewhat dry though it did have a trickling stream that eventually joined the larger Virgin River. Could this be Orderville Canyon?
So I whipped out the topo map to double check. It was the only side canyon that was on our right. So we just went forward on the faith that this was it.
Then, we ran into a couple who was going the other way. They talked about there being a few deep pools and obstacles on the way to the waterfall we were after. They seemed pretty happy so I'm sure the excursion must have been worth it. We continued on after parting ways.
The four of us made quicker progress than we had on the Virgin River because there seemed to be long stretches of ankle-deep or shallower water. But just as we thought we could cruise effortlessly, we were stopped in our tracks by a deep-looking pool with a little waterfall off to the side of a seemingly impassable wall behind it.
We all stopped to think about how to get through this little puzzle. At first, I tried going up the waterfall, but my basketball shoes were pathetically slippery and I had no chance to make it up that way.
On the left side of the wall, there was a crack, but the footing looked way too unsure to even think about it.
The only way was through this precarious-looking foothold in the middle. We would have to go through chest-deep water to get there. And so we let the ladies go up first. Both Andy and I were there to give them a boost so they could get over the wall. The packs were left behind as the ladies went up.
Then, I gave Andy a boost so he could get up. So that left me at the bottom of the obstacle with the packs.
One by one, I grabbed each pack and held it high over my shoulders. Then, I proceeded to hand it to Andy. When all the day packs were above the little obstacle, it was finally my turn to go up.
Andy had to pull a bit hard on my hand as I reached up, but eventually, I too made it up over this obstacle. From that point on, the rest of the obstacles were a piece of cake.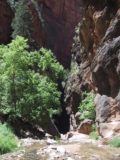 And so we continued on in Orderville Canyon. Eventually, the sun had penetrated the canyon floor. We could really feel the difference in heat between the dry zones and the cold water.
When we made it to a large boulder obstacle, we opted to start eating our sandwiches in the sun. It was good thing we had this sticky SPF50 sunblock that was waterproof. Even though the sun had beat down on our necks intensely, none of us appeared to be sunburnt.
Little did we know that we had already made it to the waterfall obstacle just a few paces beyond the obstacle we ate at. We found this out when we were done eating and kept going upstream.
This waterfall obstacle pretty much turned us around. It wasn't particularly tall but it was interesting to look at and take photos. We had no desire to climb up beyond this waterfall. Besides, it looked much tougher than the obstacle we had to climb moments before.
By 12pm, we headed back downstream. Going down was certainly much easier and we made it back to the Virgin River without incident.
We also noticed many more people going the other way. When we headed downstream on the Virgin River, there were areas where it looked like there were hordes of people playing in the water or doing the hikes like we were. The river also seemed to be running a bit higher than I remembered it.
In one instance, I slipped and fell face first as my basketball shoes couldn't grip a particular boulder-based part of the river.
It was 2pm when we returned to the Riverside Walk. There were even more people on the paved walk. We also felt the summer heat in full effect now that we were no longer in the Virgin River.
So after embarking on the shuttle bus, we took it back to our car and proceeded to get back to the Bumbleberry Inn. That way, we could change our clothes. Some of us wanted to take a brief nap as we were exhausted from our cool adventure in the desert.
By 4pm, there was still plenty of afternoon left so we decided to return to Zion Canyon. After parking at the Zion Museum again, we took the shuttle into the canyon. We first took the ride all the back up the Temple of Sinawava before returning towards the Zion Lodge.
Stacey and Andy decided to linger a bit in the Zion Lodge area while Julie and I opted to walk the Emerald Pools trail.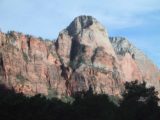 So we crossed over the bridge that traversed the Virgin River and made our way towards the Lower Emerald Pool. The afternoon sun was painting the opposite cliffs opposite the canyon bright white and orange. It wasn't long before Julie and I had reached the Lower Emerald Pool.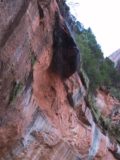 I had somewhat expected to see some kind of waterfall here as I had seen several photographs depicting them in the sun. But we were disappointed to see just one trickling one on the far end of the amphitheater. It didn't show up well on the photograph and the rest of the waterfalls were more or less like Weeping Rock.
So Julie and I saw no more reason to continue on the trail and we headed back to the Zion Lodge to rejoin Stacey and Andy.
And when we got to the lodge, we waited around half an hour for our table and then treated ourselves to a dinner. Unfortunately, the food was not good. But we still left with food in our stomachs more or less. Then, we rode the shuttle back to our car, which sat alone in front of the Zion Museum, in the darkness. And thereafter, we drove back to Bumbleberry to shower and sleep.
As we slept, we couldn't help but have the feeling of water rushing against our legs even though the excursion had passed some 8 hours ago. Still, the images of the day were memorable. The memories were tangible.
Day 2: HOODOOS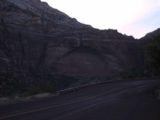 With some minor protest from our party, we all got up and checked out of the Bumbleberry around 7am. It was pretty quiet in the park, and we pretty much uneventfully drove up the switchbacks up towards the Zion-Mt Carmel tunnel, which was an interesting tunnel consisting of some openings that allowed us to glimpse the Pine Creek Canyon in bits and pieces contrasting the darkness.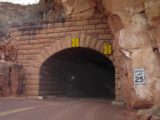 Outside the tunnel, we were then amongst some different scenery where instead of red sandstone cliffs, we were now seeing more beehive-like formations. Perhaps the most dramatic of these formations was the so-called Checkerboard Mesa, which had a pretty nice morning glow on it.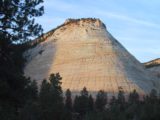 The rest of the drive was pretty much a bunch of rural roads as we left the east entrance of Zion, then eventually connected with the US89. We then headed north on the 89, which passed through a bunch of small towns (that really could be thought of as speed traps given the high difference in speeds).
When the 89 junctioned with the 12, we then headed east on the UT12. The scenery started changing from rural lands into some interesting red rocks. In fact, we passed through Red Rock Canyon, which was scenic though we didn't spend time to stop as we were committed to go to Bryce Canyon for the morning.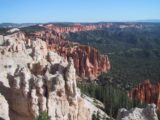 Eventually we got into Bryce Canyon after 9am where the heat of the day started to assert itself even though we were in fairly high altitude. With the heat, there were annoying gnats swarming about us in which some of them might have been biting (leaving itchy welts). We never experienced biting insects like this before, and we were wondering if they were the deer flies that we had heard about.
In any case, we enjoyed the views of the many hoodoos (the pinnacle-like spires in Bryce Canyon), and we were starting to understand why earlier settlers thought of these hoodoos as mythical people.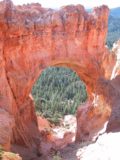 We took the road all the way to its end where the hoodoos seemed to be less concentrated than the amphitheaters closer to the northern end of the park. So we didn't linger down here for too long though according to the signs, we were supposed to see pretty far south (even into the Grand Canyon?) from there.
We also noticed an attractive arch, which was labeled as a Natural Bridge.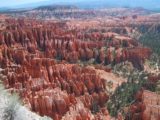 As we made another round of checking out the viewpoints, we started to get a little fatigued of hoodoos as the viewpoints started to blend in after a while. I guess with the grandeur of the scenes before us, it was real easy to lose the sense of perspective. Had we had a little more time here, perhaps we should've allocated some time to go hiking amongst these hoodoos to better apprecate the more subtle beauty that were hidden in the depths of these amphitheaters.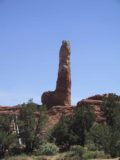 Next, as we were leaving the main part of Bryce Canyon, we then headed out towards Tropic. When we went past that town, we then entered Canonville. That was when we headed a little south and entered Kodachrome Basin State Park. Here, there were some rather interesting (and phallic) formations that were believed to be remnants of what was once a geyser basin.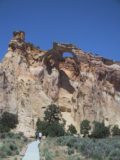 Immediately after checking out Kodachrome, we then drove further south onto an unpaved road as we knew there was an arch called Grosvenor Arch that was hidden amongst the desolation of the lands south of town.
The drive was a little bit washboardy but it wasn't anything the Isuzu Trooper we rented couldn't handle. However, the drive itself was around 12 miles of unpaved roads, and since we weren't that accustomed to driving such roads, it was a little slow going.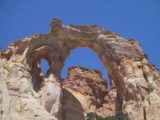 But at around 1pm, we finally got to the attractive arch which someone reminded us of a royal crown. There were some picnic tables here, but given the heat of the day and the pesky gnats (or deerflies?), we took our photos and then left.
So we drove back up the unpaved road back to Canonville, then we drove east on the UT12 towards the town of Escalante. There were some pretty funky sandstone cliffs and formations that we had never seen before. But we were pretty much of the mindset to get into Escalante so we could get settled given our early start.
At around 4pm, we finally checked into the town of Escalante. We stayed at a B&B so we were actually in a residential neighborhood. We stayed downstairs in this B&B, which was more like someone's home. So it had more of a homey feel. There were also no locks on the doors, which was a little unusual for us, but I guess they're not used to break-ins or crime in these parts, which was a rather refreshing change.
The innkeeper here was very hospitable as she introduced us to her family and dog. All of this hospitality struck us as very warm and friendly. Coming from LA, we weren't used to this, and it seemed like we had found ourselves a pretty nice place to stay that we'd remember for quite some time.
Since we hadn't had much to eat most of the day, we decided to drive into town. Even though it was early afternoon, the town was pretty dead. We did go to this pizza parlor (the only place in town that was open) that made some surprisingly decent pizza. That food really hit the spot, and we were pretty much reliving the event-filled day.
When darkness fell, we were awestruck by the quantity of stars up above us. We spent some time just chilling out in the yard of the B&B as we'd all stare out at the starry night sky amazed that the night sky could be so populated (unusual to us since there was too much glare from city lights back at home). We even noticed shooting stars from time to time.
So all of this added to the feel of what seemed like a rather magical day (and night). We went to sleep knowing that tomorrow there would be yet another early start (with more stuff to do). However in hindsight, we probably could've spent a bit more time here, including the breakfast that we knew we'd be skipping out on.
Visitor Comments:
Got something you'd like to share or say to keep the conversation going? Feel free to leave a comment below...
No users have replied to the content on this page