Day 8: CROSS-TALK
It was about 7am when we awoke. We were starting to get a little bit better about getting up in the morning though we were still a bit groggy from the wake-up. Still, we had to get ready for the day knowing that today was going to be a transit day to Chefchaouen. The longer we tarry, the less time we would have to explore Chefchaouen for the rest of today.
Once again, we had our usual breakfast at 8am but this time there was a different kind of crepe or pancake that was more orange than the others. That one was pretty delicious, and Julie and I suspected that it was similar to the other crepes except this one had spices (giving it the color) as well as what appeared to be green onion.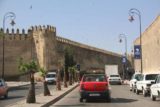 By the time it was about 9:20am, we brought our stuff downstairs and we were ready to go. We didn't know that Abdul was already waiting in the manager's room. But in any case, all of us as well as the staff (including the 7-month pregnant lady) were having a fun time with Tahia taking photos in the manager's office. In fact, there were other tourists in the atrium who came over and took photos of the commotion themselves. Indeed, Tahia was becoming quite the celebrity.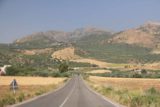 It wasn't until 9:40am when we bid a fond farewell to the folks at the Riad Ahlam, and now it was time to drive to Chefchaouen. It was already starting to warm up as we were loading up Abdul's car with our belongings so I'd imagine today was going to be a pretty hot day.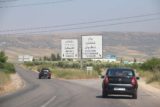 At 10:45am, we were past the turnoff where the right branch went to Chefchaouen while the left branch went to Volubilis and Meknes (the one we took yesterday). Continuing on the right branch, we were passing through more agricultural pastures with irrigation ditches where there was a strong smell of olives. Abdul said that this region was famous for its olives.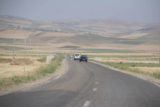 At 11:05am, we passed by yet another speed trap. Abdul and I had to have noticed at least 5 or 6 at this point. Another 20 minutes later, we saw yet another one. It really seemed like there were these speed traps every 20-30km, and it made me glad that Julie talked me out of self driving in Morocco (though this wasn't the only reason why I deferred; the third world driving conditions from chaotic city driving to the lack of respect of driving lanes made a real risk to be behind the wheel without being used to it).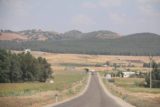 At about 12pm, we arrived at Ouezzane City, where Abdul pulled over at a gas station for a restroom break. About 20 minutes later, we continued on the drive further to Chefchaouen. By now, we were nearly 3 hours on the road, and it made Julie and I wonder if we needed to allocate more time on the day we have to leave Chefchaouen for our ferry back to Spain at Tangier MED.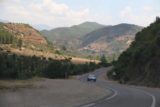 As we left the city, we then passed through mountainous roads that were climbing within the Rif Mountains. I had read that this crescent-shaped mountain range was perhaps the main reason why this part of Northern Africa had seen fewer invasions from say the North African nations east of here as well as the tribes having to cross through the unforgiving Sahara to the south.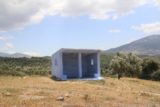 At 1:30pm, as we started to see more of the signature light blue paint on some of the buildings as well as some of the bus stops, we saw a dramatic view of the city of Chefchaouen at the base of some imposing mountains. The view was so captivating that Abdul pulled over near the Hotel Chaouen so Julie, Tahia, and I could enjoy the regal view before making our way closer to the magical town.
It was a good thing we took this roadside break anyways because Tahia was complaining that she had to poo (or diarrhea).
It wasn't until about 1:45pm when we continued on the drive. Next, Abdul drove us towards a tight and busy car park area at the Ras El-Ma, which was a series of small cascades coming from a spring. We arrived there at about 1:55pm, and then we all were out and about exploring the place. I think Abdul anticipated this to be a short stop, but I seized the moment and tried to soak up the experience from both sides of the creek. It wound up being a 40-minute visit.
The Source Ras el-Ma appeared to start from a building, which I had read was the very building that enclosed the spring. It looked like there was a bridge leading to the building where water could also come from, but upon looking at one side of the bridge, it was bone dry. On the other side of the bridge, it was a trickle. However, most of the water was coming from beneath the building.
As we slowly walked alongside the creek, we saw other cascades. None of the cascades were particularly mind-blowing, but I guess all the infrastructure and hoopla around the falls perhaps underscored both the importance and miracle of water. And for a town like Chefchaouen to pretty much exist around this source was really saying something.
Speaking of hoopla, there was music blaring around the car park for the Ras el-Ma. This kind of made for a festive atmosphere.
On the other side of the creek, I managed to get a slightly more direct view of the small man-modified cascade right beneath the building at the source as well as the more signficant 10-15 ft cascade a short distance below it. It was at this point that I realized that some of the photos I had seen from the web showing an even taller waterfall was actually taken from this point.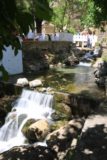 The problem was that in order to see the falls in that state, there had to have been some significant rainfall to fill in the wash further above the source. Only then could the falls then look something a bit more significant than the cascading creek that we had currently seen it in.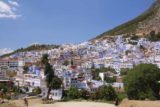 Even though Abdul drove us here, it looked like this falls was also walkable from the old medina. So that was something in my mind that I was intending to do later today.
Eventually at 2:35pm, we were back in the car where he then drove us into the center of Chefchaouen for a lunch. After parking in another tight spot somewhere near the town center, we then had ourselves a pretty satisfying "street" lunch right at a square. There were only locals in this part of town.
In any case, all of us pretty much shared a half-kilo of kefta, which was minced beef meat. That came with bread and some kind of orangish tomato-based sauce that was supposed to be for dipping. I observed the way Abdul was eating it noting how he used the bread to pick up the kefta pieces, then scoop up the sauce with the kefta-wrapped bread. It was pretty clear that this was how we were supposed to eat it since most locals probably don't eat with utensils (not everyone could afford it, I'd imagine).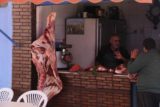 Of course, we weren't that skilled with the bread technique so we fortunately had utensils, and we kind of used the bread like a pita wrap. The dish also came with spiced yellow rice so that was also a topping in our little makeshift pita wrap.
All told, that lunch only costed us 50 dh (around $5USD). That was pretty crazy considering that it pretty much fed all four of us.
Next, at 3:25pm, Abdul drove us towards our accommodation. However, he wasn't counting on having to navigate through a local market to get to the Bab Souk (which was the gate nearest to our accommodation). There was a local who was helping Abdul navigate the crowded streets, and eventually, he'd find parking in a small quiet area just uphill from this souk. Apparently, this market only took place on Mondays and Thursdays every week. And we just so happened to have showed up on a market day.
Anyways, with that out of the way, we started walking with our luggage at 3:45pm. But as we were walking towards our accommodation at the Casa Perleta, I kept falling behind as I was captivated by the hidden alleyways flanked by walls and doors painted in blue. It totally reminded me of walking through Oia in Greece, but in this case, it was blue and landlocked.
We finally checked into our room, which was on the bottom floor, at 4pm. Unlike the riads that we had been staying at up to this point, this was the smallest accommodation of the bunch. Once we left most of our stuff in the room, we then went upstairs to the rooftop where there was a terrace to soak in the views of the lower parts of Chefchaouen as well as to chill out under the shade of the small lobby there where a couple of other guests were also chilling out.
As we were filling out paperwork, we were also given Moroccan tea as well as some loquats and watermelon slices. It wouldn't be until about 4:45pm when we were done with the cuppa, and about 30 minutes later, we finally decided to head back into the old medina to do a little late afternoon exploring.
Our initial exploring didn't get much further beyond just walking from the Casa Perleta to the Aladdin Restaurant, which was at a square next to the Kasabah Museum (looking more like a fortress combined with a mosque).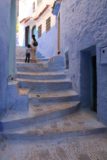 We continued to be captivated by the side passages and alleyways that just literally screamed for photo clicks. Of course the kids that were out of school at the time also knew that these locales were being photographed so they did their own little bit of mischief to try to get in on the photos.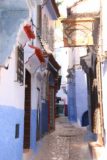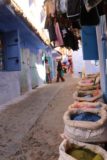 As we took our time essentially walking the main throughfare before descending down the hill towards Aladdin, I couldn't help but notice how much more prevalent Spanish was spoken in these parts. In fact, I could've sworn that our hosts at the Casa Perleta spoke Spanish (in addition to having the Spanish place name). In a way, it started to cross me up as I would find myself breaking into Spanish mid-sentence when I was intending to speak French. Or, I would instintively say Si (for yes) instead of Oui when trying to keep to French since that was the more useful language for the first 8 days of this trip.
Anyways, we then decided to just chill out at the Aladdin restaurant since we knew there was a terrace and they appeared to serve food all day long including this apparent siesta time. In fact, we showed up at a time when the restaurant was quite empty so we had our choice of seats.
After making our order of pastella (Spanish word for b'stilla) as well as another chicken tagine, we then went up to the rooftop of the restaurant for some gorgeous views of the blue buildings comprising Chefchaouen. The sun was intense, but it also brought out the blue in the buildings. There were also cups of once-consumed Moroccan tea swarmed by wasps attracted to the sugar in the tea.
Then, we had the early dinner which thoroughly stuffed us. But for a total price of about 175 dh plus tip (roughly $20 USD), we couldn't argue with the price and the decent quality of the food.
At about 7pm, we spent one last time on the terrace before heading back down to explore the medina. With all of us walking together, we just meandered a bit more trying to capture the magic of the moment as our eyes wandered every which way taking it all in. But as we it became apparent that I was intending to continue walking up to the Spanish Mosque (and there were more stairs to ascend to continue), Julie decided to take Tahia back to the room to chill out.
The shadows continued to grow as I had returned to the now-familiar Ras el-Ma, which didn't seem to be that far of a walk from our accommodation (maybe 20 minutes or so if I made a beeline for it). But now that I was seeing that the sun was sinking closer to the surrounding mountains, I continued my ascent up to the Spanish Mosque that looked discouragingly far away even though I was told it would only be another 15 minutes walk.
Eventually at just before 8pm, I had made it up to the Spanish Mosque bathed in the warm glow of the late afternoon sun.
There were already a handful of people up here just to chill out and catch the sunset. Interestingly, I had heard a lot of American voices so I knew most of the folks up here were American. Again, I was a bit surprised by how many Americans came to Morocco as I didn't think of this place as high on the list of destinations amongst Americans, but I guess I was wrong.
After seeing the sun set in the distance behind the mountains to the west, I then headed back down to the Ras el-Ma at 8:15pm, arriving there at about 8:30pm. Then, I continued walking back into the old medina in a very slow and deliberate pace. The twilight hour was fading rapidly so taking photos without a tripod started to become a challenge.
And I allowed myself to intentionally get lost as I started to wander some of the side alleyways that weren't part of the main throughfare.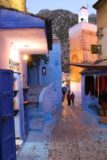 Most of them ended up being dead ends. And there were a few of them where I had encountered some insistent kids that seemed to be up to no good. If hadn't known any better, they probably were trying to distract me by insisting that they take photos with my camera while some other kid would try to reach in my pockets or my pack for some money.
Since I knew that I wasn't carrying anything, they seemed disappointed by my lack of having dirhams. I guess this behavior of seeing tourists as cash registers starts early.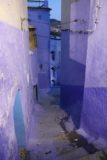 I continued aimlessly meandering the pedestrian streets trying to capture the moment and the scene. But clearly night time wasn't the best time to take photos here as the twilight magic hour was gone and the extremes of harsh lamps or pure darkness took over thereby muting out the soft blues seen earlier in the day.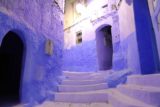 I then encountered the porter that helped to bring our luggage to Casa Perleta. This time, he seemed insistent on bringing me to his place where he wanted to sell me some marijuana. I told him that I didn't smoke, and when it became clear that I wasn't interested in the weed, he then wanted to see if I could just give him some dirhams to "help out his folks".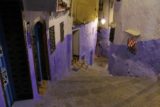 Once again, I had to be truthful and firm with him that I didn't have any money on me (which was the truth). I also told him that I had to get back to my wife and daughter since they were probably worried about me being out late at night.
Eventually at 9:20pm, I had made it back to the Casa Perleta. There was a large group of Spanish-speaking young adults (or university-aged) that crowded the lobby at the time. I started to wonder whether they would be staying here, and whether the Spanish night-owl habits might prevent us from going to sleep given how noise tended to travel here.
Things had gotten quiet when I finally made it back into the room. Apparently Abdul had called recently to let the hosts know that our start time was going to be at 10am instead of 9:30am. That seemed kind of late, but I guess we'd just have to roll with it.
As for the commotion from the large group of Spanish ladies, well after 11pm, it seemed like the Spanish ladies had returned from their late night paseo being somewhat loud and inconsiderate and conspiring to keep Tahia awake. Oh well, the commotion would continue as I was blogging and trying to figure out how to fix the internet connection issue as it went well past midnight at towards 1am. Fortunately for us, it seemed like Tahia had already conked out. I guess the rest of the puzzle was for Julie and I to fall asleep.
This was disconcerting for our last night here since we'd have to have an early morning wake-up to catch our ferry back to Spain at 10am at Tangier MED. I guess we'll see what transpires tomorrow…