Day 7: THE EMBARRASSING ECHO
At 7:45am, we awoke. I didn't recall hearing Julie's alarm go off, but I guess we had taken for granted that we had slept at a reasonable hour (before midnight) last night so we were sure to get at least 7 hours or more of sleep then naturally wake up, and that was certainly the case on this morning.
After the usual brekkie at around 8:30am, we then saw Abdul come into the lobby about 15 minutes before 9:30am, and by 9:40am, we were in the car and ready to get moving.
At first, the skies seemed to be a little bit overcast, but as we were gradually leaving the city of Fes, the skies became clearer and clearer until soon enough, it was bright blue skies making the surrounding wheat fields appear golden. In fact, we had been driving pretty extensively for a little over an hour through such fields, and it started to make us wonder if this area between Fes and Meknes was essentially the wheat basket of Morocco (kind of how to Great Plains played that role for the United States).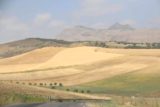 I also wondered whether we were headed to Meknes as Abdul kept going straight when the signs said Meknes was to our left. In any case, one scary thing about the route that we took was that there seemed to be more cops setting up speed traps. We saw one instance where one cop had a camera and then there was a police group further down the road ready to pull over motorists that were forewarned by the radar gun guy.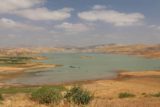 We were fortunate that a truck driver flashed high beams to Abdul giving him the heads up.
At about 10:55am, we passed by the turnoff for Chefchaouen. Abdul acknowledged that that would be our route for tomorrow.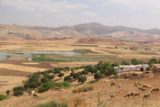 After continuing on the road cutting through rural farmlands (passing a colorful blue man-made lake in the process), we would finally arrive at Volubilis at 11:20am. So I guess we were going to do Meknes later in the afternoon instead of in the morning as we had anticipated. And as we got out of the car, Julie noticed some guy spraying some crops near the car park. Clearly, that dispelled any myths that everything grown in Morocco was organic as we knew the spray was pesticides.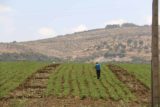 We finally started to do the walk to the Roman ruins of Volubilis at 11:30am after paying for our entrance ticket, but then we turned down the local guides knowing that we really didn't need them for an excursion like this (plus, we wanted to have the freedom to wander around as we saw fit). Besides, we figured doing this one our own would quicken our visit as well.
At first we walked past some artifacts and signage under the cool shade of a building that still seemed to be under construction. Once we got past these artifacts, we then ascended some steps to get up to the ruins themselves.
Visiting these ruins reminded us of visiting Hadrian's Wall last Summer while making the drive from the Lakes District to Scotland. We saw there were a few interesting buildings further up ahead that seemed to be a little better preserved or more substantial in terms of what was left standing. So we made a beeline for them.
Particularly compelling amongst the buildings that we noticed were the basilica (which featured a bunch of arches arranged in a row), which we managed to see from a group of columns near it as well as amongst the ruins themselves.
After experiencing the basilica, we then walked towards the Triumphal Arch, which by far was the best preserved (or perhaps reconstructed) building on site as it consisted of a large rectangular wall with an attractive arch right in the middle of it. Looking beyond the Triumphal Arch were some more farmlands out in the distance.
Tahia managed to disregard our warnings about running on the site, and she ended up falling and scraping her knee. So while Julie was tending to Tahia's wound, I took a little more time to check out the other ruins near the Triumphal Arch.
Once Tahia got over her small moment of pain, we then started to head back to the car park. But then we started to notice that there were some mosaics amongst the ruins. And so we took some time to check them out seeing if there was a way to photograph them in context with the lovely rural settings out in the distance.
Eventually it was about 1:05pm when we got back to the car. The shade experienced on the way back was very welcome as the heat of the day was intensifying.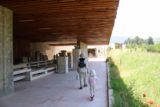 I wasn't counting on spending 90 minutes at a site of Roman ruins, but sometimes it just works out that way. Plus, another quirky thing about this visit was that it seemed like most of the other visitors here were American. One guide even pointed out to me that two of the guys he was leading happened to come from the same city as me as one of his tourists was wearning a Long Beach State shirt…
Next, Abdul drove us towards Moulay Idriss. We could see right away that it was a town perched on a hilltop. We knew that the city itself couldn't be visited by non-Muslims but we also knew that there were supposed to be some views where we should be able to at least photo the scene.
We thought it was going to be a quick stop, but it turned out that once we were at some car park past the main town center, a local guide would take us through the accessible parts of the town, including a view of Moulay Idriss from a "terrace" as well as the gate where we would be unable to proceed any further.
So we started walking at about 1:25pm. Aside from the guide smoking as he guided us through narrow alleyways (kind of reminiscent of our visits to Oia, Greece), we would eventually end up at an overview of Moulay Idriss the holy town. And after snapping photos from this spot, we then followed the guide into other parts of the accessible part of town.
At 2:05pm, we would wind up at the entrance to the entrance of Moulay Idriss, but it was clear that we wouldn't be able to pass through a bar at neck level. So we took photos of this entrance before heading back down to the town center of Moulay Idriss. Then, we would wind up in the car park near this center, but we couldn't find Abdul!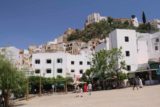 After about 15 minutes of both searching and making a real expensive phone call on Julie's cell (because apparently Moulay Idriss was not covered in our roaming plan), we finally caught up with Abdul who was also out of his car looking for us. So by 2:30pm, we were finally back in the car and then finally started making our way towards Meknes.
It wouldn't be until about 3:05pm when we finally made it into Meknes, which definitely caught our attention with the grand Bab Mansour gate as well as the impressive medieval walls surrounding the main medina. But since it was already pretty late, we decided to eat first, which was at this restaurant called Restaurant Salma, which was near the Christian Prison behind the Bab Mansour gate.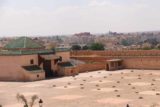 Abdul said that prison was such that people would be tied up or chained up against those things on the ground. So we could imagine just how hot and exposed and generally torturous that would be.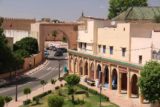 So at 3:20pm, we were busy eating at the restaurant. We had b'stilla (which was also called pidgeon pie) that was pretty good as well as a beef tagine. When it was almost time for dessert, another group of younger Moroccans showed up and were seated right next to us on the rooftop terrace. Unfortunately, one or two of them started having a smoke.
That prompted Julie to tell me quietly, "As soon as they're smoking, we're outta here!"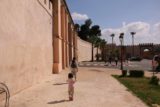 But then Tahia picked up on what Julie said, and she started saying aloud over and over again, "As soon as they're smoking, we're outta here!"
That prompted both Julie and I to laugh as well as to feel embarrassed because the Moroccans behind us were also laughing. But that didn't stop them from having a smoke anyways and sending their second hand smoke our way.
So we had our desserts in a rather uncomfortable state, and only when we were pretty much done did we quickly get up and pay for our lunch at the cashier.
Then, we headed back outside the restaurant where Abdul told us that the Mausoleum of Moulay Idriss was just around the corner past one of the neighboring gates. At 4:20pm, we were right at the entrance to the mausoleum, but we weren't sure if we could go in there or not. But when a local who was chilling out nearby waved us in, we then went through and immediately started being treated to the intricacies and elaborate elegance of the rooms comprising the mausoleum.
The walls also seemed to have a bit of a glow as they were reflecting the afternoon sun. Then, once we got into the main courtyard, we could see there was a fountain in effect that was surrounded by green tiles on both the floor and the walls.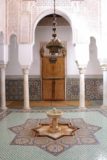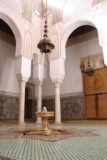 On the opposite side of this courtyard, we could see there was a tomb inside. The local watching the door here said it was ok to take photos (probably for baksheeshes) even though we saw a sign that said "No Photo".
Anyways, we were joined by another custom group where the tour guide was an Englishman. And so we were all just wowed by the interior of the actual tomb area where there was a very tall courtyard with a fountain in the middle surrounded by green patterns. Then, as we looked in the other direction, there was an ornate tomb area surrounded by red rugs and lots of intricate patterns on the walls.
By about 4:40pm, we were done visiting the mausoleum. Then, about five minutes later, we met up with Abdul again where his car was parked near some Cinderella-like carriages across the street from him. His plan was to take us to those places that we only could drive to before doing a quick stop at the Bab Mansour gate before heading back to Fes.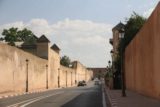 So at 5pm, we drove between some impressive fortress walls before passing through a gate then looking towards the gate of the Royal Palace at one end of a really large square. There were guards all of the place here so taking a picture of this spot was not allowed (or at least we didn't want to get Abdul in trouble).
Next, he then stopped across the street from a large building that was the Dar el-Ma and Heri es-Souani, which was said to be some kind of granary. Once we paid our dirhams and went inside the cool interior, we could see the moody and atmospheric arched chambers and hallways amidst the low lighting. It got Tahia thinking that this place was haunted, but it was in fact nothing more than a bunch of empty spaces in enclosed quarters where we could imagine grains or other foodstuffs could be stored and preserved.
Once we had our fill with the inside area, we then went outside where there were impressive Roman arches going one after another. We pretty much saw as much as we could on this part except for those other fenced off sections where there was a lot of overgrowth, and then we left the granary and followed the wall before approaching a basin called Bassin de l'Aguedal.
We made our visit here brief as we were busy taking photos of the man-made pond backed by both the exterior walls of the granary as well as a minaret directly opposite us. The only annoying thing about this part of the visit was a lot of younger teens and kids teasing us for one reason or another (not sure if it was because we were Chinese and perhaps they didn't see many of us that often).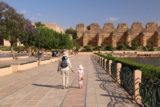 Come to think of it, it seemed like we were the only tourists around here. And we started to get the sense that Meknes was not really on the foreign tourist radar based on our observations.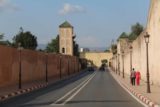 Eventually by 5:30pm, we hopped back into Abdul's car, and then we were driven in a loop to get back to the Bab Mansour gate. Now, the medina of Meknes was quite a happening place as kids were just getting out of school. So Abdul had to really backtrack before he could have a reasonable shot at making a left where allowed.
By about 5:40pm, we arrived at the front of the Bab Mansour, but seeing the precarious parking situation with Abdul's car, Julie and I didn't spend more time than necessary to capture this ornate and grand gate. I also wanted to go across the busy street and spend some time experiencing the bustling square across from Bab Mansour called Place El-Hedinne, which Abdul said was like Djemaa el-Fna in Marrakech.
In addition to spending time walking around Place El-Hedinne, I also wanted to check out Place Lalla Aouda, which seemed to be backed by an attractive minaret from the Mosque Lalla Aouda.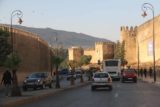 Oh well, it was getting late, and I got the sense that this Meknes visit was really a whirlwind tour without the opportunity to really get to experience the intriguing ancient medina.
So by 5:45pm, we were leaving for Fes, and by 7pm, we finally made it back to the city of Fes.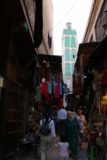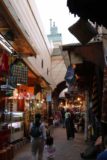 The drive back was a bit of a blur since everyone but Abdul was tired. And before we knew it, we were back at the familiar car park near the Riad Ahlam to essentially be heading back to our riad to end the day.
Julie was itching to get Tahia some kind of Moroccan dress that she had seen in the souks yesterday afternoon. But my stomach was really upset and I knew that I had the runs (something I just can't seem to avoid whenever I visit a developing nation).
So Julie and Tahia headed back into the medina where she would make her way back to Souk el-Henna. Meanwhile, I was staying in the riad experiencing diarrhea and letting the body expel whatever it needed to dispel.
Eventually, Julie and Tahia came back with the Moroccan dress that they were eye-ing. And by 8pm, we headed back into the medina looking for the Clock Tower Restaurant. We'd ultimately get there by 8:15pm, and that was when we got lucky finding a spot on the rooftop terrace.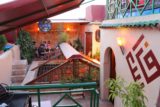 We'd ultimately have our meal of b'stilla, chicken couscous, and a camel burger. We'd eventually leave the meal pretty satisfied (albeit a little chilly), and then finally make it back to our riad at 9:35pm, where Julie managed to buy another pair of leather shoes on the return.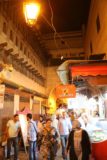 And so ended this pretty eventful day. Tomorrow, it's all about Chefchaouen, and based on our 9:30am meeting time, I was under the impression that we were only going to accomplish an afternoon visit. Hopefully, that'll be enough time to fully experience that town as well as the Ras el-Maa waterfall…Pages: First | ← Previous | ... | 7 | 8 | 9 | ... | Next → | Last