Day 5: THE LONG VOYAGE TO THE SOURCE
It was about 7:45am when we awoke. We had intentions of getting up at 7am, but it seemed like every time we've made the attempt on this trip, we always reset the alarm for later. This won't serve us well when we get to Spain when we jump ahead an hour, nor will it serve us well when we have to go from Chefchaouen to the ferry at Tangier MED in time for our 10am departure while factoring in all the delays that could arise from passport control, queues, traffic, and other unforeseen delays.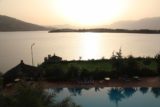 Anyways, the brekkie at the Hotel Chems du Lac was a disappointing affair. In fact, I don't think any of the breakfasts we've had so far were that great. I guess brekkie is not an important course in Moroccan culture, and it's really more of a tourist thing, it seemed.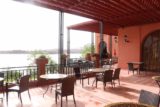 After taking in the view over the man-made lake at Bin el-Ouidane (said to mean "between rivers") from the hotel terrace, at 9:20am, we were finally heading out. I knew that today was supposed to be a long day of driving. Little would we realize just how involved this drive would be…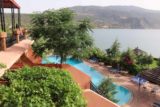 The drive out of Bin el-Ouidane was a windy mountainous affair. The road crossed over the dam responsible for the lake, but Abdul told me not to take photos of it because there were soldiers patrolling the dam and they don't like to have their picture taken.
For the next couple of hours or so, we would be following one slow-moving vehicle after another. I'm sure it takes a lot of patience to put up with trying to pass these vehicles (especially if they're diesel-belching lorries) with such limited opportunities, but it seemed like Abdul took it all in stride. Besides, the dramatic gorge scenery throughout much of the drive seemed to make for some pleasant eye-candy distraction from the monotony of driving.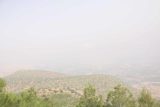 When we got to the other side of the Middle Atlas mountains, we could see way down below through the haze some intensely cultivated agricultural lands. Unlike what we saw in the plains surrounding Marrakech where the farming appeared to be small scale and local, these lands looked like they were big business agriculture. The main town down below was Beni Mellal. We could also see some major hydro infrastructure from diversion pipes descending mountainsides to the ubiquitous power lines all over the place. Indeed, Bin el-Ouidane looked like a very important piece of infrastructure for both agriculture as well as power.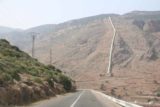 At about 11:15am, we had gone through Beni Mellal before leaving the city, getting momentarily stopped at a police check (this time it was a random check and it wasn't for speeding), and passing through orange groves (which reminded Julie and I of the fertile Central Valley of California).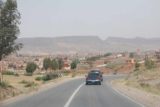 In fact, it seemed like in general Morocco was a surprisingly green place. Maybe we just happened to be passing through lush areas on a wet year (apparently there was some heavy snowfall and rain in December through April). And although there was much in the rural landscape that reminded Julie and I of California (there were even poppies in bloom!), the green here was a reminder that California was pretty much brown and devoid of moisture thanks to our multi-year drought, which I'm sure has everything to do with Global Warming and resource mismanagement.
As we gunned the straight roads cutting through the agricultural lands at the foothills of the Middle Atlas mountains, it then started to give way to curvy roads again as we got closer to Khenifra. It wouldn't be until about 12:45pm when Abdul finally stopped at a roadside stop just on the outskirts of Khenifra. There was a locked playground there that Tahia was longingly looking at, but in the end, we bought her some ice cream to pacify her as well as a little Hello Kitty watch at a little convenience store there.
The lady working the store had her daughter there, who just so happened to be named Fatima. Tahia was having fun interacting with both the lady and her daughter, and we were all getting a kick out of watching them both. And, the potty break that preceded all of these pleasantries were also sorely needed as we had been on the road for about 3.5 hours straight to this point.
At 1:25pm, we left the complex and continued on our way to the Source Oum-er-Rbia, which was to be the lone waterfalling excursion of the day. I didn't recall seeing satisfactory waterfall pictures during our trip research here so we kind of had low expectations of our visit. But we definitely were looking forward to have a lunch there regardless of how late of a lunch it was going to be.
It wasn't until about 2:25pm that we had finally made it to the village of Oum-er-Rbia (after about 5 hours on the road). I think Abdul said the meaning was something to the effect of "Mother of Arabia" or something like that. The unpaved car park was quite the scenic one as it was besides a clear pool fed by a pair of cascading streams with some very impressive mesa-like cliffs looming in the background.
It was pretty hot when we got started with our walk, and we were accompanied by a local guide. The walk was mostly uphill past some local shops and irrigation ditches flanking the walkway. Then, we made a brief detour towards the rushing river down below. We would eventually reach what appeared to be three open-air "rooms" with carpeting and pillows to sit on. Then, there were low coffee tables with tea settings that I'd imagine would also serve as the lunch table as well.
Indeed, it was 3pm when we were having lunch at this spot, which I had to say was one of the more unique lunch experiences that we can recall. For starters, there was an irrigation ditch that went right by our little lunch "room". Then, there was fencing that acted as a barrier between our "room" and the rushing stream. On both sides of the stream were other "rooms" from other shops or restaurants. I'm sure competition must be fierce here since I'd imagine there wasn't much that would differentiate one vendor from the next.
The lunch consisted of a chicken tagine that was locally made. The bread was the used to pick up the food, but we did have some silverware since we weren't quite skilled as Abdul picking up the food with the bread as he was lunching with us. The tagine was quite fresh and tasty, which was saying quite a lot for the humble settings that we were in. It was certainly better tasting than the Cafe du Glacier at the Djemaa el-Fna in the center of the medina in Marrakech.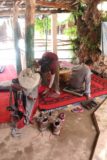 After being well fed by our single tagine that fed all four of us, we then started to walk up to the falls at 3:30pm. The walk continued a short distance further upstream past a sign that said "Cascade Khedoud" then past a couple more small cascades in the main stream before getting to a narrowing of the canyon we were in.
At this point, we had to pay 3dh per person to continue to cross a rickety bridge then continue uphill. After doing that, we then started to see the impressive 20m waterfall at the Source Oum-er-Rbia. This waterfall was our turnaround point because the canyon pretty much closed in. There was even a rubber boat in the brown plunge pool that was here.
We were enjoying this falls particularly because of the color of the water (an almost Colorado River-like brown) surrounded by red and orange rocks that were reminiscent of something we might find in Southern Utah or even Southwestern Idaho (at Jump Creek Falls). Plus, it was quite cool as we were getting a little bit of the mist from the falls crashing into the plunge pool to offset the hot sun.
We took our time taking family photos, and there was even a Moroccan visitor who wanted to pose with our daughter in front of the falls (another unusual request considering I was the photo subject of someone's yesterday at Imi-n-Ifri Natural Bridge).
By about 3:50pm, we left the cascade and headed back down to the place we had lunch at. We'd get there at about 4:05pm where there was fresh Moroccan tea ready made for us as well as the awaiting Abdul. The tea was refreshing and tasty as Julie and I were growing quite fond of this unique combination of green tea with fresh mint leaves, and maybe one cube of sugar.
The tea break was over at 4:20pm as we paid about 90dh total for both the food and the tea (roughly $10USD which was not bad at all), and we ultimately descended back down to the car park at 4:30pm. At this point in time, the car park was now quite full and busy (it was relatively quiet when we first got here). Abdul said that this place would've been crazy over the weekend, especially on Sunday. So that was kind of saying something when we thought it was a busy car park on a Monday!
Julie baksheeshed our local guide who requested 200dh. At this point, we treated the baksheeshing more like a charity as opposed to a tip for service figuring these folks could use our help and it was kind of futile to be stingy about money we were intending to spend and not re-exchange back knowing we'd lose both ways on the exchange. And then we were finally off to go to Fes.
The drive out of Oum-er-Rbia was another winding and mountainous affair as we found ourselves passing through a forest of cedar trees as well as passing by a natural lake. There was also a thunderstorm threatening and finally delivering as we were making our way out of what appeared to be some kind of reserve given how intact the forest was.
As we were getting down to the foothills of the mountains at 5:25pm, the thunderstorm started to produce some pretty big hail stones (maybe the size of marbles or so), which threatened to dent and crack the windshield of Abdul's car. So we stopped along with other drivers (not wanting to add even more velocity of our car with the velocity of the falling ice) before heading towards Azou then towards Ifrane.
The rain continued to fall off and on, and it was persistent enough that I started to wonder if this was a legitimate storm or just one of those Summer mountain thunderstorms that tend to pop up in the afternoons.
The drive then kind of became a blur as all of us (except Abdul thankfully) were in and out of naps at one point or the next. When we got to the town of Ifrane at 6pm, Abdul pointed out to me that this town was famous for having a bit of a Swiss Chalet feel given the slanted red-roofed architecture of the buildings and homes here. There were even attractive green spaces of parks and lakes as well as an urban park with a calcium-stone lion that Abdul offered to stop the car for me to check out.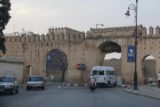 But we kept going at my request knowing that we still needed to get to Fes sooner rather than later.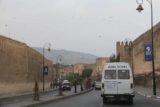 The drive to get to the medina of Fes involved quite a bit of chaotic traffic through the more modern and new part of the city, which was also quite bustling like most big cities would be. I doubted that we'd be checking out this part of the city, but it was interesting to see lots of civilians going about their business while there were armed soldiers wielding semi-automatic weapons on patrol for people who might be up to no good (e.g. ISIS loyalists or something).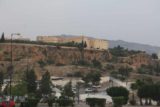 We also noticed blacks roaming the streets looking for handouts (like how children would be doing the same in the streets of India), and Abdul explained that most of them came from troubled areas of West Africa such as Senegal and the Western Sahara. He said that Morocco tended to be a conduit for these refugees to try to get across Tangier, the Strait of Gibraltar, then go into Spain or other parts of Europe in search of a better life.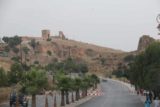 He also said that the Moroccan king has tried to put a stop to it, which might explain why there were a lot of them in Morocco now, and he warned that we would probably be seeing even more of them in Tangier MED where we're supposed to ferry our way across to Southern Spain.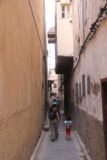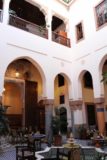 Eventually at 7:40pm, we had finally made it to the medina of Fes (after another 3 hours on the road for a total of 8 hours on the road on this day). Abdul dropped us off while we were received by someone working at the Riad Ahlam while a porter was helping us with some of the luggage. And ten minutes later, we found ourselves chilling out at the grand atrium in the middle of the riad. And when I say grand, I mean, Wow! It was impressive to the point that we were busy taking photos of it in as many ways as we could just to try to capture it and convey it to show off the folks at home.
It wouldn't be until about 8:15pm when we were finally checked into our room. And while the Riad Lorsya in Marrakech had a homey feel, our riad here was pretty spacious and even overlooked the courtyard down below. The bathroom was also spacious though it did have a bit of a smell as the ventilation was probably lacking, but that was something easily overlooked given the charm of this place.
Once we got settled, we then walked back into town at 8:45pm looking for a place to eat a late dinner. We were handed a map of the city, which the riad worker helped mark up for us as he suggested where we could go to eat. And fortunately for us, it didn't take long to get oriented as the main throughfare was a single lane called Tala'a Kbira, which we took from the parking lot by our riad all the way to the gate of Bab Boujloud.
The walk through that narrow alleyway was a very busy and atmospheric affair as we passed by one souk after another in what can only be described as sensory overload as all of these shops, cafes, butcheries, etc. were all competing for our attention in a very in-your-face manner. I'd have to say it felt a bit more crowded and more intense than the souks in Marrakech mostly because this alleyway was devoid of motorized traffic, especially those scooters.
In fact, it was so crowded and busy here that the fact that there were scooters weaving in and out of such traffic in Marrakech kind of spoke to how much space and how relatively fewer people there were in the medina of Marrakech compared to this herd of people going this way and that in Fes. We had to hold on tight to Tahia as it was really easy to get lost here. And even as much as I wanted to take photos to try to take in this atmosphere, I had to be careful not to get too separated from Julie and Tahia.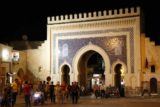 Eventually, we got to a side street on Rue de L'Isesco near the Bab Boujloud as we encountered a few more cafes and restaurants all with the atmosphere of being both crowded, loud, and happening. I doubted that eating here would be satisfying but I think it was more about being part of the action than it was about getting something gourmet.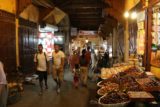 We ultimately ended up at this place called Laglali Restaurant at 9:05pm, and Julie picked it mostly because it seemed to be one of the busiest with tourists. Whether that was a good sign that the food was good or not still wasn't a sure thing even though it would be a fairly good indicator of which restaurants were good back at home.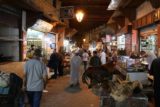 Well, the chicken tagine we had was inferior to the one we had at the Source Oum-er-Rbia, but the aubergine salad and harrira (a kind of spiced rice soup consumed during the fasting of Ramadan) were both tasty albeit a little salty.
We were done eating at 10pm, and we went ahead and continued out of the Bab Boujloud gate towards the Place Baghdadi. Unfortunately, it was a bit dead and dimly lit by the time we showed up. One of the locals said there was a festival in this plaza that was to be taking place until the day after tomorrow. Perhaps that's something we ought to be checking out under daylight or twilight hours tomorrow or on our last day in Fes.
As we were headed back to our riad, Tahia hastened us as she had to go peepee. With nothing really available until we got back to the riad, we couldn't really soak in the remaining atmosphere of the souks again. However, it seemed like it wouldn't have mattered much anyways since a lot of the shops seemed to have shut at 10pm.
By 10:30pm, we were back at the riad and Tahia managed to hold it in until she could use our toilet. Meanwhile, I did a little exploring of the riad, especially in finding a way up to a balcony overlooking the atrium. It was a bit stuffy up here, and I felt relieved to be back at our room under the weak (but somewhat functioning) AC.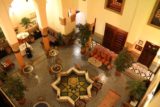 It was another night and another late bedtime. But when we're trying to take everything in, time is of the essence, and that often times come at the expense of down time and sleep. Indeed, tomorrow is going to be yet another action-packed day touring the medina of Fes…