Day 4: DAY OF MANY SURPRISES
It was about 7:10am when we awoke to Julie's alarm. Given that it had already been 10 minutes past the hour, her alarm must've been on for at least that amount of time. Clearly, we were reluctant to get up thanks to our 2am bed time last night…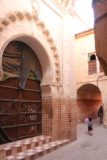 So we spent the next hour or so getting all packed up and ready to go. And it wouldn't be until 8:30am when we went downstairs for brekkie. This time, the brekkie didn't have the crepe from yesterday morning. And we knew it would be a carb heavy brekkie so we actually brought some cherries that we had bought from Setti Fatma yesterday. And that provided some of the substance in addition to the yogurt, OJ, Moroccan tea, and the pastries.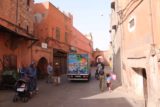 And by about 9:30am, we had brought our stuff downstairs and not much later than that, the nice porter showed up. At first, they wanted to give Tahia a ride on the wheelbarrow, but Julie thought it was a bit too dangerous for Tahia and a bit more taxing for the porter. So we all walked while the porter took the heavier and bulkier stuff out towards the arch at Bab Masour.
By 9:50am, we were finally back at the car. Indeed, we were already starting to sweat given that the heat of the day was starting to assert itself. Plus, the streets were already chaotic and busy as today was a day of rest. And we were bracing ourselves for a very busy Cascade d'Ouzoud as Abdul thought just about all of Southern and Central Morocco from Marrakech to Demnate to Azilal, etc. would come to the falls to enjoy on this day.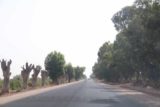 The drive was pretty uneventful as Abdul was careful about speed traps on this go. It seemed like it took a while to get out of Marrakech, and I guess that kind of showed just how big the city was. Indeed, the medina wasn't the entire city though I'm sure it would be easy to think that way without the perspective of leaving the city to experience a more rural side of Morocco.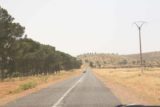 All of us were in and out of conking out at one point or another (though I stayed awake a bit longer than both Tahia and Julie who were pretty much out for almost the whole drive). Much of the drive was through flat lands that consisted of farms harvesting olives or cacti. It was kind of reminiscent of the kind of scenery we might find in California given that there seemed to be a bit more green than a typical desert would have.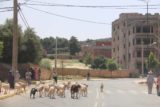 And as we were over an hour away from Marrakech, I started to notice more remnant snow on the mountains through the hazy skies. This time, Abdul told me that the mountains here were the Middle (Moyenne) Atlas Mountains as opposed to the High Atlas Mountains where Setti Fatma was located.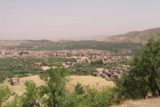 At 11:45am, we took a detour heading towards the town of Demnate en route to the Natural Bridge of Imi Nifri (or was it Imin Ifri?). This was supposed to be the natural arch that when looked in one direction was supposed to look like the map of Africa.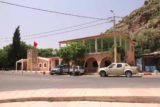 At about 11:55am, Abdul parked the car near the excursion area for Pont d'Imin Ifri, which was 6km beyond the town of Demnate. While Julie and Tahia was busy getting ready for the excursion, I did some quick scouting to see if the bridge could be seen from up here, which happened to be at the top above the natural bridge itself.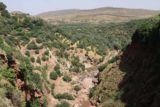 There was a guide who was waiting for us as I was sure he saw an opportunity to earn some income off of us through a baksheesh. I somehow got the feeling that a guide might not be necessary for this excursion, but we figured that it didn't hurt to help out a local, especially since he ended up helping us out with Tahia in areas where being sure-footed was required.
Anyways, we headed off at 12:25pm, and we took the backside route opposite the stairs leading down to the front of the natural bridge. We followed our guide down a well-developed trail with steps with some tantalizing but hidden views of what appeared to be surprise waterfalls way down below us. And eventually we would get to the bottom of the descent where along the way we saw other more temporary waterfalls spilling off the cliffs and into the creek below.
We took our time taking photos and movies down here while trying to savor the moment. But once we crossed over the creek, we then went by a muddy section (thanks to the drippage from the cliffs above) before going on a more narrow and primitive trail with dropoff exposure. It was here that the guide was a tremendous help in carrying Tahia over the hardest parts of the exposed trail.
We were beneath the cavernous natural bridge at about 1:10pm. Looking back upstream, I could see that there were waterfalls in the main stream though it wasn't easy to photograph from the exposed trail that we were on. I did see some people on the other side of the creek down below, and I wondered if we could get over there to get a better look at the waterfalls.
Meanwhile, when we looked downstream out towards the front of the natural bridge, this was when we started to get a look at the opening of the natural bridge that apparently resembled the shape of the African continent. So we took our time trying to convey the experience through our photos and movies. And when we eventually made it towards the front opening of the natural bridge, we looked back and noticed the rough shape of the shape of the South American continent.
It was at this point that I was starting to think of this excursion as its own waterfalling excursion so this was a very pleasant surprise. It certainly coerced us to spend more time here; at least spend more time than the less than an hour that I had anticipated.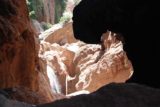 Once we got to the bottom of the descent, we took more photos of both sides of the arch openings. I asked the guide about getting a better view of the falls behind us, but he said that rocky path was too dangerous and not worth the risk. And while Tahia was busy collecting rocks or throwing them into the creek while giggling, there was a Moroccan boy who was here on holiday who wanted me to take a photo of him using his memory card with my camera.
When his dad came over and wondered what I was doing, I was done taking photos of the boy at his request, then I showed him the memory card that he lent me to take photos of him. Once the dad realized what his son's out-of-the-box thinking had accomplished, he then indulged by climbing some rocks to pose with his son using their memory in my camera.
I don't think we had ever seen this done before, but it was certainly a creative way to get the kind of photo you want when you either have forgotten your camera or you want someone else to take your photo.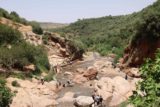 At about 1:35pm, we started to leave the cool interior of the natural bridge and head back out into the heat. That was when we noticed yet another side waterfall that was tall and also feeding the main creek as well as another small falls backing what appeared to be a swimming hole that a couple of boys were playing in. The guide directed us to look further downstream at where more people were frolicking in the water, and he said that the water down there was actually salty!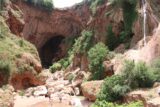 Indeed, Imi Nifri was a surprisingly diverse attraction. I wasn't expecting a waterfalling excursion out of this, yet here they were. For sure, I'd be treating it like a waterfalling excursion with its own writeup when it came time to compose the main content of the website. Meanwhile, there were play places as well as interesting wildlife as there were a combo of swallows and bats as well as a small colony of scarab beetles.
The climb back up was quite hot and tiring, but we would eventually make it back to the top at 1:55pm. There was one Moroccan visitor who wanted to take me to take a picture with him and his buddy. I wasn't totally sure what that was all about, but I indulged him. We then baksheeshed the guide who went with us some 250dh (at his suggestion).
Finally at 2pm, we headed out. Man, the AC in the car certainly felt nice!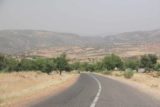 The drive to Cascades d'Ouzoud was mostly uneventful as we went by a couple of police checkpoints before taking the detour towards Ouzoud. There were a lot of big buses (both tour buses as well as public transport buses, etc.) as well as local scooters and private vehicles going in the opposite direction. So it seemed like we would be showing up to the falls at a time when people were leaving.
Now I had said "mostly uneventful" because there was one moment where Abdul went over a cut in the edge of the road that essentially acted like a pothole. I was worried for Abdul's car for a flat, but he played it off like nothing happened. Anyways, we would arrive at the car park for the Cascades d'Ouzoud at 3:15pm, where we saw quite a few tour buses, white transport vans, as well as many other scooters and vehicles.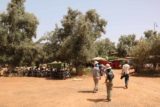 Once again, there was a guide here to escort us even though we had read that guides weren't necessary to visit the falls. Still, we gave in and figured that we could help out the locals here with our baksheesh contribution at the end of our excursion.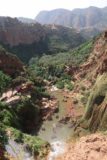 Since we hadn't had lunch yet, we ultimately decided to have a lunch at 3:30pm. We ended up with a pretty satisfying meal of Berber Omelette as well as a chicken skewer for Tahia and Abdul all washed down with some hot (and sugary sweet) Moroccan tea.
And after the satisfaction of our lunch, we then started the walk at 4:15pm. We knew that it might take some time to finish this excursion and that the prospect of Tahia playing in the swimming pool at our hotel in Bin el-Ouidane might not pan out as we were anticipating our arrival at the hotel some time after 8pm, which was probably either at or past sunset.
At first, our local guide named Hassan took us to the very top of Cascades d'Ouzoud, which was quite precarious. But it provided us a taste of just how tall and impressive the falls was. We could tell from how tiny the folks down at the base of the falls looked that we were indeed at least over 300ft up or so. The exposure to the drop offs here meant that we had to keep a close eye out on Tahia, which Hassan gladly did. He also helped carry my tripod since we hadn't really used it all trip long until now.
Next, we then swung back around the top of the falls past a footbridge crossing over the creek responsible for the falls. We were going to do the loop in a counterclockwise manner. Then, we saw there were quite a few people swimming further upstream of the bridge but we kept going along the walk on the rim of the gorge. And at about 4:45pm, we then got to our first impressive viewpoint.
It took us some time to fully appreciate this view since there were quite a few people wanting to take photos up here as well. But eventually we got what we wanted regarding a family photo, and then we followed Hassan further along an incomplete part of the footpath. About 10 minutes later, Tahia was complaining about being tired so I had to carry her on my back in the child carrier.
Eventually, the path's concrete surface would give way to gully-eroded dirt, which we would descend as we were making our way further down the cliffs over a series of switchbacks snaking between what appeared to be some irrigation gullies and hand scooped water diversions.
While we were looking at the small diversions and waterfalls as a result, Hassan explained to us that the waterfalls of Ouzoud consisted of some 25 springs. The waterflow wasn't reliant on the snowmelt from the Middle Atlas mountains, and he said that the reduced flow of the falls during the Summertime was more a function of the irrigation for olives and other things grown here as opposed to the aquifers and drainages running out of water and snow.
Eventually at about 5:15pm, we made it to a cafe called Panorama des Cascades. It had a wonderful contextual view, but it was too bad that there was a power line cutting right across the top of the falls from this spot. Otherwise, it was refreshingly cool and shady at this cafe and we kind of didn't want to leave this spot even though we had to. We couldn't stay down here forever.
But before we left, we took some selfie shots as well as tripod shots. We weren't sure if any of them turned out, but at least we made the attempt. Another plus to this spot was that we were the only visitors enjoying it as it wasn't as hectic as the more obvious spots around the falls.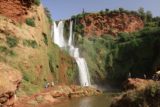 Finally at 5:45pm, we left this divine spot and continued past a few local shops before descending towards a creek crossing and bridge area cutting between the base of the main tiers and the top of the lowermost cascades. We started to see some faint rainbows cutting across the falls though given the high volume of foot traffic that was down here, we couldn't really enjoy it all in peace.
After rock hopping our way across the creek and over one of those rickety bridges without railings, we then passed by a large group of foreign tourists (the first time on this day we saw such people since Idi Nifri didn't have them). Then, we started the long climb up steps experiencing one lookout or vantage point after another.
This side of the falls started to have increased shade, but the main falls themselves remained bathed in the hot sun. Eventually, we would make it up to the last main overlook at about 6:30pm. It was here that we saw a lot of monkeys roaming around a concrete platform as people were apparently feeding them. Even Hassan saw the error in their ways as we were concerned about the monkeys getting aggressive to people if they weren't fed.
In any case, the view from up here was wide and panoramic though the trees below still blocked the lowermost tiers of the falls.
Then, we continued walking past more souks until we would finally return to the familiar restaurant that we had lunched at at 6:45pm. Hassan and the group (along with the awaiting Abdul) and other locals working at the restaurant were all celebrating over a sweet minty Moroccan tea. I drew some chuckles from some of the folks who saw my grey shirt nearly completely darkened by my sweat thanks to me having to carry Tahia for almost the entire excursion.
Meanwhile, as we were recovering, quite a few folks were fixated on the television over the futbol match between FC Barcelona and Atletico Madrid (I think). We also baksheeshed Hassan 250dh for the trouble of guiding us. So it was pretty good mood all around.
At 7:05pm, we were finally back in the car. We figured that we would probably miss the sunset at Bin el-Ouidane and that it might be too late for Tahia to be playing in their swimming pool. Still, that wasn't the purpose of our visit as Bin el-Ouidane was really more of a stopover to break up the long drive from Marrakech to Fes via Cascades d'Ouzoud and Imi Nifri.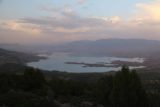 The drive went smoothly as Abdul stopped to fill up diesel at Azilal at 7:45pm, and then we'd eventually make it to the Hotel Chems du Lac at Bin el-Ouidane at 8:15pm. There were beautiful views of the manmade lake on the descent to the town, but the colors were muted thanks to thunderclouds on the other side of the lake (blocking the partially snow-covered Middle Atlas mountains) as well as the sun already hiding beneath the surrounding mountains towards the west.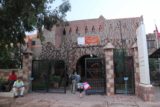 We learned that Bin el-Ouidane meant "between rivers" though given the inundation by dam to make the man-made lake, it was hard to tell where those two rivers were. Nonetheless, after getting our stuff and checking in, we would finally settle in our room at 8:30pm. And 20 minutes later, we then had a dinner, which consisted of a delicious beef tagine though the skewers (especially the beef) were tough and the all-you-can-eat salad were ho hum.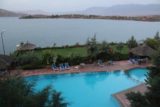 And since we were on the theme of surprises, we were also surprised to see that the dinner was on the order of 520dh (just under $60 USD), which felt like a rip off. But I guess out in these parts, beggars can't be choosers, and I wondered if there was a two-tiered pricing system going on here.
Anyways at 10:20pm, we were back in our room to unwind and recover from this very busy and active day of touring. And for sure, we accomplished a lot today considering that we visited the main waterfall of our trip at Cascade d'Ouzoud with surprisingly better flow than expected.
Now with half the long drive over, tomorrow, we're expecting to get to Fes while visiting Sources Oum-er-Rbia along the way. Thereby beginning the next phase of our time in Morocco, which we'd imagine to be a bit less touristed than both Marrakech and Ouzoud…