Day 3: "DON'T JUDGE A BOOK BY ITS COVER"
It was about 7:05am when we awoke (or at least we thought it was) thanks to Julie's iPhone alarm. But when we took a second look at her clock and noticed a one-hour ahead discrepancy against our watches, we then realized that her iPhone clock was still on Spain time instead of Morocco time. So we went back to sleep to try to get somewhat caught up on sleep for another hour.
Well, it turned out that Julie managed to get up at the real 7am, but Tahia and I didn't get up until about 8:05am. That left us little time to get ready and go downstairs for our scheduled 8:15am brekkie. It was probably by about 8:25am when we went downstairs, where our place settings were made and we got to have a meal at the cool atrium (especially since the heat of the day hadn't picked up this early in the morning).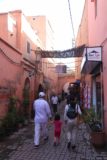 The brekkie was a pretty simple affair of a brioche with chocolate inside, a crepe, and a fluffy pancake. It was pretty heavy on the carbs. We also had a yogurt as well as a Moroccan tea while Tahia was a bit reluctant to drink the warm milk.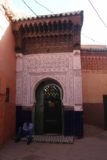 Anyways, our guide for the morning showed up while we were having brekkie. And it wouldn't be until about 9:15am that we got started (about 15 minutes later than our scheduled start). And with that, we were walking the familiar narrow alleyways towards the northern side of the medina. As we were getting through the openings of the souks and the rat-a-tat of diesel motorized bikes zipping on by, our guide (named Abdullah, I think) was describing to us how we were passing between walls and closed doors while the mosques that were in session could be heard but not really seen.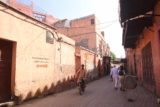 That was when he explained to us that in Morocco, you don't show your wealth. You keep it inside. The beauty of most people would be revealed from the inside, and it wasn't wise to show off on the exterior. In other words, "Don't judge a book by its cover", was the motto, and it was something that resonated with Julie and I. Since we weren't into possessions and trinkets, and we cared more about experiences and sharing them.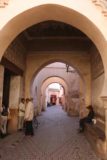 And so it became clear why the Koutoubia Mosque looked so ornate and beautiful from the glimpse that we saw yesterday. Our riad at Riad Lorsya was very beautiful on the inside while it looked like nothing more than a metal gate on the outside in a dark remote corner of the medina of Marrakech. And I think Abdullah was preparing us for the beauty of the interior of the Ben Youssef Medersa, which was the first excursion of the day.
At 9:30am, we made it into the Ben Youssef Medersa, where right off the bat, there were green checkerboard-like tiles all over the floors and parts of the walls on the interior. Abdullah explained that this was a college where students were sharing three inmates per cramped cell. But many of the quarters overlooked a very beautiful atrium with arches surrounding a dry fountain. Indeed, this was the most picturesque spot, and we really had to be patient paying as much mind as we could to Abdullah's explanations of the site without wandering off taking photos on our own. After he gave his spiel, then he let us snap away at the beautiful courtyard though the harsh lighting of the morning was already creating shadows.
The medersa was getting pretty busy so soon this morning, and it didn't take long for us to get the full gist of the place, including all the dorms. Tahia was getting cranky as I don't think she was stimulated by all this sightseeing that Julie and I were doing.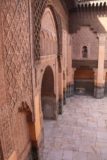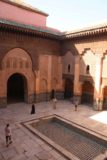 So by 9:55am, we were done visiting the Ben Youssef Medersa and then we walked a few paces past a few more souks and passageways towards the next excursion, which was the Palais Mnebhi, which was something that wasn't on our guidebooks, and it was something that our guide seemingly went off the cuff to show us. He also told us that we wouldn't have time to visit the other things on our itinerary like the Saadian Tombs, the Bahia Palace, and the Badi Palace as after this palace we were going to, we would then be visiting souks.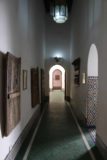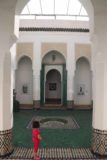 Once we got into the Mnebhi Palace (a little after 10am), we paid the pretty steep price (relatively speaking of 50 dirhams per adult as the Medersa was 10 dirhams I think per person), and Abdullah went on to tell us of the history of this place (noting some VIPs came here like the prime minister of Spain, the Moroccan royalty, etc.), especially since this place was set up by a wealthy businessman who earned a lot of respect from Moroccans given his penchant for reinvesting in the country and its people.
We learned about the difference between the Arab-style doors, which Abdullah said were pre-meditated and calculated given the symmetry and mathematical precision in its patterns, versus the Berber-style doors, which were simpler but less pre-meditated. He explained that the Berber style encouraged more creative thinking without being tied to a plan. And it was interesting how this represented opposite schools of thought when it came to planning something versus winging it. In a way, we could see how our trips could probably be characterized as being the "Arab" style given this explanation (since we tend to plan and execute while providing some wiggle room for spontaneity) as the more "Berber" analogous trip would be one where you just let fate take you wherever you end up going.
After seeing the different doors, we then went into a smaller courtyard that was also pretty ornate though not quite as fancy as the Ben Youssef Medersa. And after we had our fill of this spot, we then went back inside and towards a grand courtyard that was not covered by a canopy to protect the inside here. This grand room had a kind of giant hanging chandelier with a line of three or four fountains all while decorated with patterned floors with columns and arches adorning the perimeter.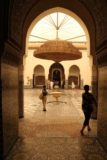 In the rooms on the perimeter of this courtyard, there were other rooms containing swords, lamps, treasures, and even a hamam (or bath). Indeed, this place had royalty written all over it, and it was yet another example of a very beautiful interior with a humble exterior; reinforcing the "Don't judge a book by its cover" motto that Abdullah told us about earlier.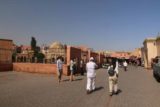 At around 10:45am or so, we were done visiting Palais Mnebhi, and we then walked past the old center of Marrakech, which was now run down but did show traces of former glory. It was now blocked off because the infrastructure was crumbling here and was unsafe for tourists to walk amongst though it was open as late as five years ago or so.
Then, we entered a non-touristy part of the traditional souks, where it was clear that this was where we were getting the sell-on as Abdullah would take us to some local artisans whom he probably networked with. While this was one of the things we weren't keen on doing when visiting developing countries, we also knew a lot of the locals could use the help, and perhaps it was better off spending money with these locals trying to earn an honest living than with the easier souks on the way to Djemaa el-Fna where there would be greater markups (and Abdullah said they bought from the very same artisans he took us to).
So we just decided to give in a little bit instead of saying no to everything like we usually did in the past. And Julie ended up getting some handmade sandals as well as some cobra carving (to add to our souvenir collection). We also changed a little more money knowing that cash is king here, and that we needed more cash on us to baksheesh (tip) more.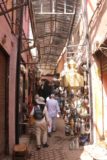 During this time, I also thought about whether we'd be missing out by not doing at least the Saadian Tombs or one of the other palaces. Abdullah's original plan was to take us to the Djemaa el-Fna in lieu of the stuff on the southern side of the medina, and that was when he processed our request and immediately took us to a spot to hail a taxi so we could get to the south sooner and still make it back to our riad by 12:30pm or so.
And so at 11:20am, we took a taxi ride right to the Kassbah Quarter ("Rock the kassbah, rock the kassbah…") of the Marrakech Medina which was a short walking distance from the Saadian Tombs. We were situated next to another mosque, which Abdullah said was the second largest in Marrakech. But again, it was closed to non-Muslims so we could only check out the minaret and the walls from the outside.
At about 11:35am, we paid a total of 20 dirhams for the both of us to get into the Saadian Tombs. The DK book kind of built up our expectations of the ornate catacombs of this place, but it turned out that most of the rooms here were being renovated, and it kind of spoiled the experience. Yet even with these renovations and repairs going on, there were still moments where the place was photogenic.
By 11:55am, we were done visiting the tombs, then took a few more photos of the minaret of the mosque, before getting the sell-on one more time at a cooperative of argan oils and other ointments ten minutes later. Though in this case, Julie was looking forward to buying some of this stuff given that we believed it would help with her eczema while Tahia could use some of the stuff to moisturize her skin given the intense dry heat of the desert here.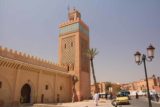 Eventually at 12:25pm, we were then taxied back to the arch at Bab Masour (the familiar gate that seemed to be away from the busy Djemaa el-Fna square yet seemed to be relatively "easier" to get back to our riad) where Abdullah took us to a quickie sandwich place to pick up a lunch before walking quickly back to our riad.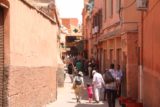 Along the way back, we baksheeshed Abdullah, then made it back to our riad at 12:45pm. While we were having our picnic lunch in the familiar atrium of the riad, we were given more sweet Moroccan mint tea while Tahia got more water with her piece of the sandwich. We learned that our driver suggested that we not leave for Setti Fatma until 2pm instead of the scheduled 1:30pm due to the heat. We went along with it, though we weren't sure if this would put more time pressure on our first waterfalling excursion of this trip…
At least Tahia got to dip her feet in the pool by the atrium, which was something she had been requesting to do ever since she first saw that pool.
At 1:55pm, we started walking to the driver. The porter took our car seat in his familiar cart. And so we made the walk back towards the arch at Bab Masour, where we then caught back up with Abdul the driver at 2:15pm. Once again, he was very happy to see Tahia as he affectionately said, "Fatima!" to her.
It took a little time to get the car seat set up as it was quite hot inside the car as I was busy trying to latch the hooks into the anchor points within the main back seat itself. But in the end, we managed to be successful, and we were ready to go some 10 minutes later.
As we were headed out, I started to see the new part of Marrakech as Abdul was navigating through wider boulevards with seemingly new high rise red buildings flanking these wide streets. Once again, I took note of how the drivers here didn't respect lane markings on the road, and it was like Egyptian driving conditions all over again. However in this case, I had entertained self-driving for full flexibility and maybe to save money, but after seeing this from the passenger seat, Julie and I were glad we stuck with letting the locals do the driving.
Yet even with that said, at 2:35pm we had apparently hit a speed trap because Abdul (and at least two other cars) happened to get pulled over by cops. The way they worked together was interesting because there were a handful of cops off the side of the road until one walked right into the middle of the road to face the oncoming traffic and force the driver to slow down, and that allowed the cop to tell the driver to pull over to the right.
I'm sure it would be wise to do as they said because there were at least two or three other cops on the side of the road ready to approach the pulled over vehicle to work on issuing the on-the-spot fine along with checking for registration, license, and other things. And if one would have thought of trying to outrun these guys, well those cops on the side of the road were at the ready to make a pursuit immediately.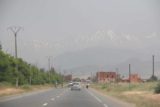 Aside from this little spot of delay, we proceeded to continue to the south of Marrakech towards Ourika Valley. The drive was mostly straightforward and flat as we were leaving the hot plains surrounding the famous city and towards the High Atlas Mountains, which we could see still had snow despite the 100-degree (or nearly 40C) heat through the hazy skies.
As we would eventually get into the town of Setti Fatma, we could see there was lots of water in the river running through the valley. There were lots of restaurants accompanied by men who trying to encourage passer-bys to pull over and eat at their restaurant. And kind of like what we had seen in the Djemaa el-Fna yesterday, they were pretty much all the same restaurants offering pretty much the same fare one after another.
Anyways regarding the high flow of the river, Abdul said it was due to the snowmelt being at its peak right now. The area looked like it had seen its share of landslides and washed out bridges, and it made us wonder whether this area might have seen a flood in its recent past. Plus, seeing how much the river was raging now, it didn't look like Tahia would be able to play in let alone swim in the water at the falls as we were hoping. But we'll see…
Abdul parked the car alongside the road at 4pm where a local Berber guide was waiting for us. We were right above the raging river, which made us a bit nervous because there were no guardrails where we were parked. Once we got strapped in and we had put Tahia in the child carrier, we left Abdul behind and followed our local guide, who called himself Abdellatif.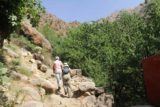 We first walked along part of the main road full of parked cars and people walking to and from the falls as well as the local souks here. At some seemingly random junction, we descended towards the river where Abdellatif showed us to a couple of seemingly rickety bridges without railings right above the raging water with a fairly small but impressive cascade flanked by restaurants.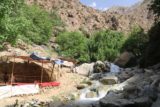 We went ahead and did this crossing so I was admittedly a bit nervous about the condition of these bridges as we were crossing, especially with Tahia on my back. And then, we proceeded to make a seemingly long, hot, and tiring steep climb along this seemingly random creek that happened to have cascades. We weren't sure if we had somehow veered from the path that was said to be the route along the main river leading up to the first Setti Fatma Waterfalls, but Abdellatif said that our steep climb was shorter and more direct.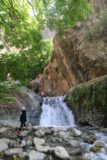 Indeed with Tahia on my back, it wasn't an easy climb and I was easily sweating bullets. We took mini breaks at some of the shops alongside the trail, including a bathroom break for Tahia knowing that we were might be in for a minimum of one-hour rough hiking in each direction.
The higher we went, the more difficult the terrain became. Gradually gone were the steps and the rickety wooden bridges spanning this creek we were following (seeing more cascades along the way), and we started seeing more direct stream crossings involving rock hops as well as slippery boulder and exposed rock climbs. And as Tahia was getting attention from people seeing us as they were going down while we were going up, I was a little amazed at how some of the women were doing this hike either barefoot or with fashionable Summer sandals.
That said, Julie and I were wise to bring sturdy hiking boots on this excursion, and even then, there were moments where things got slippery and a bit dicey, and we totally relied on Abdellatif to give us a hand or relied on his knowledge to tell us where to place our feet in really dicey spots.
It wouldn't be until about 4:40pm when we reached the second or third of the small cascades, and it at one of these falls that Abdellatif pointed out some irrigation diversion canals alongside the creek. In fact, he said that it was the Berbers who taught the Romans their aqueduct techniques when they made their way into Northern Africa, and the implications of such respect of local knowledge meant the ancient civilization must have learned from those they occupied or assimilated (as opposed to conquered, which I'm sure in some cases they sure did). And that kind of made sense because you couldn't have such huge civilizations without some degree of cooperation from those who were assimilated or ruled.
Anyways, it wouldn't be until about 4:55pm when we would finally make it to the first waterfall. And despite the treacherousness of the terrain just to get even get up to this point, we still had bi-directional traffic on the narrow exposed rickety bridge right beneath the falls so there was quite a bit of waiting our turn (or for others who were insistent and wouldn't wait).
With Tahia on my back, I did a lot of sit and scoot maneuvers on descents, and Abdellatif thought it was wise that we had Tahia in the child carrier for we saw others carrying their child by hand, and I couldn't imagine how difficult that must have been on this hike.
On the other side of the bridge (and some more slippery scrambling on either side of the bridge), we would reach the Cafe Immouzer, which was right in front of the first Setti Fatma Waterfall. And unlike the cascades we had seen along the way, this was a legitimately tall waterfall (probably 30m or so), which was producing a lot of spray.
Julie was a little bothered by some mosquitoes around this cafe, but at least we took our time taking photos of this place and overall just enjoying this falls. Now, it was time for me to leave Julie and Tahia to enjoy this falls here, while I would continue to follow Abdellatif further up the mountain to get to a viewpoint of the remaining waterfalls of Setti Fatma. Given that it was already 5:15pm at this point, there was no way we would be making the even more difficult ascent alongside the remaining waterfalls to get close to them.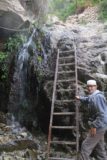 So as I followed Abdellatif without the child carrier, we then ascended a metal ladder that took us further up another steep mountainside that was both slippery and exposed to dropoffs. Here, I was really glad for Abdellatif's guidance because it wasn't easy. But as much as I was glad for the guidance going up, I knew that going back down would also be very difficult.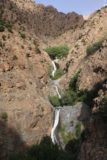 Barely 5-10 minutes later, we had ascended high enough to start seeing the scenic valley further downstream and the tiny people struggling to make their way both up and down alongside the raging creek. But we also looked upstream and saw the impressive vista of at least 3 or 4 visible tiers of the Setti Fatma Waterfalls all dropping in succession. Clearly those upper waterfalls could not be seen from the first waterfall, and I was pretty content that I could experience the remaining falls in this way without seeing one waterfall after another without the full context had we done the even more difficult ascent alongside the creek.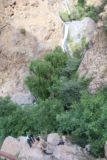 At the end of this steep scramble was a terrace with seemingly another cafe. I couldn't believe that they had set this up on such dicey terrain, but I guess that goes to show you how confident local Berbers were with this terrain, and that they truly were mountain folk (almost in the same vain as the Peruvians who seemed to be right at home under such steep terrain). In fact, we had heard on more than one occasion on this trip already that the local Berbers came from the Atlas mountains complete with their own language which was said to be just as old as the Arabic language.
So Abdellatif and I were chilling out at this terrace just taking in the full view and even noticing one local who was sitting pretty high up the cliff near the same level as the uppermost of the falls in the distance. The photos started to get adversely impacted by the longer shadows growing with the sun sinking lower on the horizon. And the sun was also going in and out of some clouds that were passing by amongst the over 4000m peaks surrounding us.
At 5:30pm, I had had my fill of this spot and we made the difficult scramble back down. Things got especially tricky near the metal ladder where the local elderly man there helped me sit and scoot my way amongst the wet rocks until I was finally able to even get to the ladder let alone descend it backwards.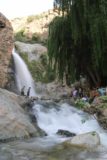 And by 5:45pm I was finally back at the first falls where Julie and Tahia were busy enjoying the stream just downstream of the now very busy main falls. I took a few more videos and shots from other lookouts at the Cafe Immouzer itself before we then got Julie's newly bought selfie-stick and took a few more family shots.
Finally at about 5:55pm, we baksheeshed the local guide with the ladder here, and started to leave the Cafe Immouzer and the first Setti Fatma Waterfall.
I thought it was hard enough just to even get to this falls, and I couldn't imagine how much harder it would be to continue higher up and that there were actually dozens of tourists who would do this. Of course with time running out and Tahia in tow, there was no way we could do that.
The descent was tricky in spots, especially with little girl on my back (in one moment I scraped her leg on a rock as we were navigating a tricky descent), but other than that, we made our way back down past the souks (Julie picked up a few more minaret carvings along the way as well as a kilo of local cherries), and then we were finally back at the village of Setti Fatma some time at around 6:45pm.
We once again caught back up with Abdul, baksheeshed Abdellatif some 250 dirhams, and drove off to the now-familiar saying of "Yellah!", which was Moroccan Arabic for "Let's go!"
The drive back was pretty scenic as I was looking back towards the villages clinging to the mountainsides of Ourika Valley, and I really wished we couldn't stopped for some of these scenes where such villages were fronting the snowy peaks of the High Atlas Mountains in a sort of Shangri-la type scene. But in any case, Tahia did notice some roadside camels which got her excited before we would eventually descend further down the winding mountain and make our way back to Marrakech.
Julie, Tahia, and even I were struggling to stay awake throughout this drive back. And it wouldn't be until about 8:25pm when we were finally back at the archway at Bab Masour. Now, it was time to quickly walk back to riad as we were to meet back here at 9:30am tomorrow morning for our drive out to Cascade d'Ouzoud, the natural bridge that was shaped like Africa, and then Bin el-Ouidane.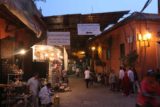 About ten minutes later, we were finally back at the familiar Riad Lorsya as we were hoping that we wouldn't be too late for our arranged dinner on this night. And at about 8:45pm, we finally sat down for our dinner, which ultimately started at their closing time at 9pm.
The food consisted of a wonderful pairing of eggplants and tomato-based dish on the cold. And then came the flavorful tagine of chicken and olives with spices for the main. And this was followed by a sweet apple dessert. And by the end of the dinner, we were totally sated.
Our dinner experience contrasted with the chaos of the Djemaa el-Fna since it was so peaceful in the riad. But once we were done with the meal, we got ready to go back out to the Djemaa el-Fna one last time so we could experience its atmospheric and controlled chaos one last time as this would be our last night out in Marrakech.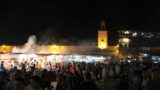 So at 10:10pm, we made the walk back out, passed through the local souks again (this time seeing and buying darker cherries than the ones we had bought on the trail at Setti Fatma), and then experienced the street performers (seemed like every time I took a photo of the ambience, some guy wanted to put dirhams in their musical instruments thinking we took photos of them), all of which added to the festivities of the experience.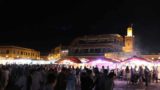 Tahia couldn't see much so I had to carry her on my shoulders, which I'm sure she enjoyed. Of course with all the rhythmic drumming, she was also using my head as a drum.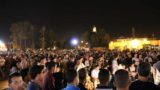 And after our meanderings, we picked up one last go of freshly squeezed OJ and one more frozen bottled water so we would have cold water back at the riad. And as we were leaving the Djemaa, Tahia was insistent on us buying her some "princess shoes" and we did just that at one of the local souks on the way back. I remembered what Abdullah said regarding the artisans who did the work off the beaten path, then the souks on the route to and from the Djemaa would buy from those artisans and mark up the price to capitalize on their well-traveled locations. So that was probably us paying for the markup this time around.
Finally at 11:15pm, we made it back to the riad. I'm sure in our younger days, we could've enjoyed the ambience and atmosphere of the Djemaa el-Fna even more, but since we had to sleep (especially with our little girl in tow), and that we had to pack and get ready for tomorrow, that pretty much drove our night activities. And it wouldn't be until around 2am when we would finally crash and try to get as many zzzs as we could before the next day would begin anew…