Day 2: "FATIMA"
It was about 8:20am when I awoke. Julie and Tahia had gotten up much earlier at around 7am. Apparently I thought I had slept through my 8am alarm when I picked up my watch and noticed that it was showing 12:20am and the date was January 1st! Thus, I concluded that the alarm must've drained my batteries, and so I had reset the time on my watch and didn't bother setting up the alarm anymore.
So we had spent some time this morning getting all packed once again. Tahia and Julie went downstairs for an all-you-can-eat brekkie costing us about 13 euros (Tahia was only 3 euros and Julie was the full 10 euros). I stayed up at the room to finish composing yesterday's blog entry as well as getting ready for the day. We had until 10am before the airport shuttle would take us back to the airport.
It wasn't until about 10:15am when the shuttle driver finally showed up. So we were worried a little about being late since our tickets showed that we weren't sitting together. Plus, we had to get all checked in for our flight to Marrakech, Morocco.
It wouldn't be until about 10:55am when we finally got our boarding passes (we ended up sitting across the aisle from each other) and our checked luggages checked in. Meanwhile, we still had to get through security. And once we got through that, we then had to get through another passport control line (for departure?), and then we still had to take an airport terminal train before rushing our way to our gate at U61, which was a long walk from the train. The signs said it was 22 minutes to make it from security all the way here, and sure enough, we would make it to our gate just before 11:30am, but we could see that they were already boarding the bus to our plane.
At least we made the first wave of people getting on the bus, but then it took a while to get everyone on board. And then, the flight was delayed an hour before it finally took off at 12:55pm. I guess that would mean it would take one hour less for us to tour the medina of Marrakech, which was on our list of things to do on this day.
All of us were quite tired, and then there was a little bit of confusion when I was trying to gate check our child carrier. It turned out that I had to fight through traffic on the narrow aisle going the other way (they were boarding both from the front and back), and they eventually would have to leave my carrier with the crew's belongings. That meant it would be non-trivial for me to pick up that carrier when we disembark.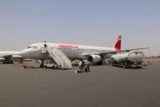 When we finally did land in Marrakech, I had to disembark through the back, then wait for people to disembark through the front before I could go back up the front entrance to pick up the carrier. The crew was actually worried that I wouldn't come to pick it up, but I didn't want to fight through traffic like I did on the way here.
Anyways, as Tahia was trying to adjust to the desert heat, I think her nap was interrupted when we had to disembark so she was in a bad mood. She cried while we were on the tarmac, but the security and the porters went out of their way to console her. Little did we realize that this generous treatment of Tahia would persist for the rest of our time in Morocco (and even Spain).
In any case, we then had to wait through a pretty long passport control that was operating quite slow. Unlike the airport in Madrid, we didn't get to hop the queue with Tahia. However, a family with a stroller behind us did manage to get that treatment. So it wasn't until about 2:30pm when we were finally through passport control, then we picked up our luggage (the conveyor belt stopped moving at this time), then we exchanged for some dirhams in anticipation of baksheeshing a lot on this part of the trip.
We then met our driver Abdul, who then took us into the medina of Marrakech. Abdul was quite fond of Tahia, and he insisted that we rename her to "Fatima" because he said it was the most popular name for women and girls in Morocco. So from that point on, he would address Tahia by "Fatima".
As Abdul continued driving along the thick walls surrounding the city center, I couldn't help but notice how well preserved they were. And I was wondering if it would be possible to walk on the ramparts. But I guess we might not have time to do it.
When Abdul made it to one of the internal archways, that was where he dropped us off, and some employees from our ryad showed up with a cart and wheeled our heavier stuff along one of the narrow pedestrianized zones in the labyrinth of the Marrakech medina.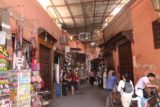 As we were busy following these guys we noticed that the pedestrianized traffic was also shared with mule-pulled carts as well as motorized scooters and bicycles so it wasn't exactly a relaxing walk.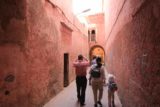 Meanwhile, the walk seemed to have taken some 15-20 minutes as we were passing through a handful of souks (small markets) as well as some archways and underpasses. It seemed pretty intimidating to think that we would've had to figure out where our ryad was had we showed up without a guide or without contacting the ryad personnel to guide us. Because there really weren't signs that would've showed us the way.
I guess that was all part of the experience though – to get lost in the labyrinth of alleyways in the medina. And I was pretty sure that we were gonna have our turn to get lost once we would be on our own on this day.
It wouldn't be until about 3:10pm when we finally made it to the Ryad Lorsya. At that point, we cooled off a little bit in the atrium of the ryad, which was very attractive as there was a small lobby area as well as a dinner table, and there was even a decorative pool off to one side.
The atrium itself was outdoors surrounded by balconies and little archways leading to stairways, kitchens, and sitting areas, which was where we were treated to a tasty Moroccan green tea with mint (now THIS was the real deal and not the bland wannabe that we thought we were getting at the Open Sesame restaurant back at home in LA) as well as a small bowl of tiny biscuits.
After getting oriented by the manager, who was also named Abdul, we then got to the room at 3:50pm. Abdul also showed us an inviting rooftop terrace to chill out under the heat. Speaking of the heat, we had anticipated over 100F temperatures, but it probably felt more like mid 90s or so. Thus, the desert heat wasn't as stifling as we had anticipated.
Anyways, it wouldn't be until about 4:30pm when we finally headed back down outside the ryad and proceeded to check out the medina. At first, we were a bit confused about finding our way out of here, because we were headed to some fountain (Fontaine Mouassine) that turned out to be nothing more than a former complex with a dirty pool of water on one of the stalls. I think Julie had gotten this fountain confused with a more decorative fountain in the heart of Fes, which we would be going to later on in this trip.
There were signs for the Ben Youssef Medersa, but we ultimately decided that maybe that be better off left for tomorrow when we'd be guided. So instead, we headed back in the other direction through the souks and towards the Djemaa el-Fna, which was the famous square at the heart of Marrakech.
The souks (many of which were sheltered) were quite atmospheric and busy. I'm sure these souks were probably more touristy than what they once were, but they were still atmospheric nonetheless, and I was busy taking pictures of the scene just trying to somehow capture and convey this atmosphere through pictures.
Once we got through the maze of souks, we then entered the Djemaa el-Fna, which at around 5pm didn't seem to have the ambience quite yet that made this place a UNESCO World Heritage site. But we could clearly see the tent stalls being set up and we could already start to hear some of the snake charmers playing notes with cobras sitting patiently.
So to kill more time, we then walked towards the Koutoubia Mosque, which was the main mosque in the medina of Marrakech. Its tall minaret was quite visible and was kind of the landmark that helped to orient us. And as we walked past a long parade of horse-drawn carriages parked and waiting for people wanting to pay for a ride with them, we then got to a busy street where we would have to cross the car traffic in order to get up to the Koutoubia Mosque.
Once we got to the mosque, we knew that we wouldn't be able to go inside it because it was only open to muslims who would go inside to pray. So we had to be content with going around the perimeter of the mosque to take photos of the impressive minaret. As we were busy taking photos, we heard through the loud speaker some kind of chanting which we had recalled hearing at other mosques back in India and in Egypt. It all added to the overall atmosphere of the place.
Meanwhile, other locals who were loitering around the mosque took notice of Tahia (who was now on my back in the child carrier as she was complaining about being tired), and they were impressed with her name as they let us know that it was a Berber name as well as an Arabic name (the latter was something we were aware of).
As we swung around to the other side of the perimeter of the mosque, we took a peek through one of the open doors and noticed how ornate and beautiful the multi-arched interior of the mosque was. It was too bad we couldn't take photos (as some locals around the mosque would say "No photos" whenever someone would point their phone or camera towards a doorway). And so we took a few more shots from the other side of the permiter of the mosque (which was greener with more trees and bush interspersed along the way), and after having our fill of this quiet spot, we then decided to head back towards the Djemaa el-Fna as it was now about 5:45pm.
At about 6pm, we settled in on a place called Cafe Glacier, which was well known for its view of the square from a balcony. So we bought a water (15dh for that) as well as another Moroccan tea (30dh, which was like a little over $3USD given the slightly over 9:1 exchange rate with USD). We knew the price a little on the steep side, but at least we got to enjoy the view.
And so we chilled out up here waiting for dinner, which wouldn't start until 7pm. I had wanted to check out the food in the street stalls down in the square, but Julie was in no mood to risk food poisoning (however true or not those fears were). And so we took our time just enjoying the scene from our lofty vantage point, noticing that the Cafe du France also had a balcony view though from a less scenic part of the square.
Nonetheless, we had ourselves a tagine de viande (beef) for one main and a couscous de poulet (chicken) for the other. All the while we were watching the square gradually getting busier and busier and more atmospheric as the sun was setting and the lights were coming on.
We finally left the cafe at 8:30pm, and now it was time to descend into the square and experience the ambience that we could clearly see had enveloped it. All we were doing was just meandering towards one corner of the square, then going between the tents of food stalls as we were backtracking. All the while, we were being touted by one stall after another as well as elderly ladies insisting we buy kleenex from them or just asking for money when they saw we weren't interested in the kleenex. While the touting was a bit annoying (we knew it was pretty typical of developing countries), we also couldn't help but feel for these folks who had to resort to these measures to get attention and increase the odds of earning enough income to be fed.
In any case, taking the good with the bad, it did feel like a special experience to be a part of this atmosphere. And since we were already sated, we had a ready-made response to decline the food stall touts. However, Julie did buy some freshly squeezed orange juice, which at 5dh a cup for takeaway, it was quite reasonable so we got one for each of us (and they were all refreshingly cold).
We also got Tahia a Hello Kitty balloon though it didn't take long for her to break it. So much for the 20dh that we spent for that!
Then, we meandered about some more in a more open part of the square (away from the tents) where there were street performers as well as some game where people were trying to wrap a donut on a string around glass bottles for a prize. I had to be careful about how I was taking photos because it was easy for some people to insist on paying them money if they happened to be photographed.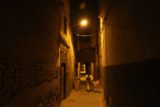 Finally, after 9pm, we were heading back to the riad and we backtracked through the souks hoping to find the way back. As we were going back and forth in the souks area near the mosque, it took one of the local vendors to tell us that the path we were looking for was an easy-to-miss archway with a blind turn that ultimately cut across towards the dead-end that our riad was located.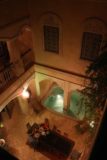 And eventually by 9:30pm, we made it back to the Riad Lorsya. There was one couple eating in the atrium under the romatic setting, and I'm sure Tahia was disruptive to the otherwise quiet ambience. And that was going to be us tomorrow as we asked for the dinner when we should be returning from the Setti Fatma Waterfalls in Ourika Valley.
The rest of the evening was spent just recovering from another full day's activities despite the heat, the airport delays, the passport delays, and of course the very atmosphere that attracted us to Marrakech in the first place. Now that we finally got to make use of our WiFi connection, we learned that the Clippers lost game 6 to the Rockets at home (part of me thought it was probably the same 'ol Clippers again). Oh well, we still had tomorrow to look forward to, which would include a full morning of touring specific sights in the medina before heading out to Ourika Valley after lunch…