Days 0-1: THE BEVERLY HILLS OF THE AIRPORT
It wasn't until about 3:15pm when we headed out to the LAX airport. For an international flight, this one seemed a bit earlier than most of our other ones given that we had to go to the airport when it was rush hour traffic. Fortunately, we were going in the opposite direction of most of the traffic. In any case, we made it to the airport at around 4:15pm and we eventually checked in and passed security before getting to a food court area in the Tom Bradley Terminal.
Julie and I were quite struck by how much renovation had been completed here. And it prompted Julie to say, "Now this is up to international standards." This was clearly an obvious change from the run-down backwards airport we came to know over the years (at least as far as the international terminal was concerned), but this airport was still lacking in useful public transport options (mostly because there's still not a direct route to the airport terminals as the metro Green line actually veers AWAY from the airport) and that there wasn't an inter-terminal tram if foreign travellers had to go from one gate to another on a connecting flight.
At 4:35pm, we were in the midst of exploring a renovated part of the international terminal when we noticed a children's play area right across from a small atrium. Along the way, we saw one American complain to a fancy burger joint called Urami Burgers complaining that this part of the airport no longer had a Burger King. Julie and I chuckled when the same employee said something to the effect that ,"This is the Beverly Hill part of the airport."
Anyways, this play area put Tahia on cloud 9 as she was interacting with the handful of other kids that were there. Even the other parents were commenting at how cute Tahia was given her verbalizings as well as manners. That said though, Julie also came out with a $40 fast food meal (thanks to truffle burgers and sweet potato fries, among others… So that cut Tahia's play time short as she was very reluctant to leave.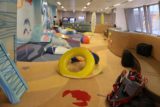 By the time we were done eating, it was roughly 5:10pm and that was when a glance towards the roof where they announced gate locations for various flights had indicated to us that we had to go all the way to Gate 159. And when we got there just before 5:30pm, we heard an announcement that Iberia was going to be delayed another 25-30 minutes due to a late start to cleaning up the airplane. Obviously, this had to be done before letting people start boarding.
By about 5:40pm, they let people needing assistance as well as families with minors through to the next holding area, which was right in front of the bridge to get onto the plane. Fortunately, Tahia counted as a minor so we got to join this initial group of folks, but then we had to wait a bit longer on the bridge (maybe another 30 minutes or so) before they finally started letting people on.
It wasn't a comfortable wait since the bridge was exhibiting the greenhouse effect thanks to the many windows flanking the walkway. There was weak AC air trickling down from the ceiling, which I took advantage of by standing beneath the vents at the expense of risking sunburn by standing right next to the windows to get that air.
Eventually at about 6:40pm, the plane departed after they had finally let us onto the plane. The takeoff was delayed a little over an hour, and because of this, Julie reminded me that it was probably a wise decision to not have a connection to Marrakech Morocco on Royal Air Maroc right after this flight.
Anyways, we went forth with a pretty smooth flight though Julie and I had a bit of difficulty trying to fall asleep. We needed to get a healthy enough sleep for tomorrow's activities in Madrid.
After watching the Hobbit, Ex-Machina, and American Sniper in between a not-so-restful overnight sleep, we finally landed in Madrid at 2:25pm (over an hour delayed). Five minutes later, we were queueing to get off the plane, and eventually by 3:45pm, we got picked up by our hotel shuttle at the Terminal 4 Hotel Bus Stops. Once we finally got checked in and somewhat settled at 4:10pm, the rest of the time would be spent scouting out the city center of Madrid.
The original plan was for us not to overnight in Madrid before continuing on to Marrakech, Morocco, but after Julie had looked at the reviews for Royal Air Maroc (the only carrier that would've accommodated the schedule where we'd connect around this time for Marrakech), she decided to stick with Iberia and overnight. And so with the layover, we figured that we mind as well make the most of this one night we're here knowing that we'd be coming back to Madrid some three weeks later.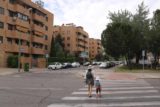 It took us some time to get settled at the Hotel Maydrit near the airport in Madrid. Julie selected this accommodation since it was close to a metro stop, where we could then take it straight down to the city center. That said, it was still about a 15- to 20-minute drive between this hotel and the airport so from a public transport standpoint, there was no real convenient and timely way to get between el centro and el aeropuerto. And it was still roughly 45 minutes to an hour to get from El Capricho station to el centro given there were some 15 stops on our line plus some walking.
Anyways, it wasn't until 5pm when we finally headed back down and make the walk to the metro. And it wasn't until about 5:45pm when we ultimately made it to the Opera Station. At that point, we went up the stairs and found ourselves in the middle of Plaza de Isabel II.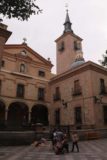 The feeling was almost like the feeling that Julie and I had scouting out the Spanish Steps in Roma, Italy. Except this time as we were getting oriented, there were lots of people just chilling out in the square and here we were trying to take it all in. Eventually, we found Calle de Arenal and followed this pedestrianized street towards Puerta del Sol, knowing that place was at the heart of Madrid.
Along the way, we noticed quite a few eating places (there was certainly no shortage of this), and by the time we made it to the busy Puerta del Sol, Tahia was noticing the street performers acting like statues while the plaza itself was surrounded by buildings. There was definitely an energy to this place, and we could see why Rick Steves called this place the heart of the city.
From here, we then walked towards the Plaza Mayor. When we eventually got there at 6:40pm, we noticed that this square was quite a bit quieter than Puerta del Sol, and perhaps that was hindered by all the scaffoldings we were seeing on one quarter of the square as well as a huge stage that was being set up covering up most of the square itself.
Perhaps if not for these things, the square was quite an interesting place given it was surrounded by attractive yet classic red buildings with a couple of towers. We were looking for a place to eat since Tahia was getting cranky. To pacify her, we let her ride the carrier where she was practically out when Julie and I entered the Mercade de San Miguel looking for a tapas bite (it was recommended by Steves as a cheap eat near this plaza).
When we got into the mercado at 7pm, sure enough it was a happening spot with lots of locals and tourists butting in at each kiosk to make their tapas or drinks order. It was pretty much a one-stop tapas crawl with multiple kiosks each having some kind of specialty. Seats to eat at were hard to come by but it was just a matter of timing as the turnover was pretty quick. We just had to be quick to claim a spot when it became available before it would be claimed by someone else.
Tahia had no interest in any of the tapas we were getting. Plus, the sangria that Julie bought were quite good. Most of the tapas were between 2 to 4 euros each. And when all was said and done, we probably spent less than 25 euros total, which we knew was not bad considering what we were getting. Most of the tapas were like bruschettas with interesting toppings (e.g. octopus in olive oil, or herring with mustard, etc.) as well as empanadas. And between Julie and I, it was plenty of food.
Meanwhile, Tahia was pretty much out and no matter where Julie and I were, it seemed like me carrying a sleeping toddler attracted quite a bit of attention as it even got a few camera clicks of just people seeing this (probably something not commonly seen around here).
Anyways, Julie and I thought this Mercado de San Miguel was like a farmers market except for tapas and fruits. And when we had our fill of this spot, we then stumbled onto some kind of parade or march as we were making our way to a nearby Carrefour for some fruits and water. The parade was a strange thing where there were giant puppet-like things that people were parading in with some music and lots of people surrounding both sides of the street they were parading through.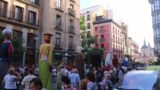 At some point while Julie was busy grocery-shopping, Tahia had awoken while probably wondering (as I was) what on earth we were seeing. In addition to the big puppet-like things being paraded, there were also a couple of smaller puppeted guys bonking people on the heat with some kind of cloth ball or something. I had read that Spain was known for these interesting marches and festivals, and I guess we had to chalk this up to one of them.
Next at 8:05pm, we all walked towards some chocolateria called Chololateria San Gines for some churros con chocolate. This was another Steves recommendation. And like the other ones, this one was also on. The churros we got weren't quite like the Mexican ones we were used to. Instead, they were plan and crispy (similar but less rigid shape) and we were supposed to dip it in this cup of warm chocolate fudge. And that really hit the spot for everyone, especially Tahia who was going hungry.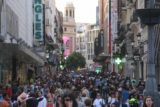 Then, after leaving the chocolateria, we went back to Puerta del Sol (buying a selfie stick along the way) before noticing this other real busy pedestrianized street, which we then promptly walked in.
And at 8:30pm, that was when we went into some department store (turned out to be El Corte Ingles) since Julie wanted to look for some more clothing for Tahia that would cover her up without stifling her knowing that tomorrow, we'd be in 100-degree heat in Marrakech in some unprecedented heat wave in May (which was supposed to be in the 80s this time of year).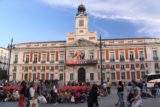 After getting this errand done at 9:20pm, we then ambled our way back towards the Puerta del Sol soaking in the bustling atmosphere here. Then, we ambled along Calle del Carmen back towards Plaza de Isabel II, but not before making a stop at the Pizza Emporio to satisfy Tahia's pizza craving since she wouldn't eat anything else for a dinner. And once that was finally done, it was then dark out in the street though a bit windy and cool. But that didn't stop the locals from being out and about and still retaining the energy there was earlier in the afternoon when we first got here. And this was now 10:10pm!
The metro was a bit more crowded than it was back at 5pm-ish when we used it to go to el centro. But it was thinning out the more towards El Capricho station that we went. Julie and I were conking out on the train given the jetlag and all the stuff we were doing without adequate sleep. But eventually, we'd be back at the Hotel Maydrit at 11pm, where we'd call it a day (or night).