Day 10: IMPROVISATIONS
It was about 4:45am when I awoke. The thing that woke me up was the chanting from the local mosque. Once I heard that, there was no going back to sleep. Julie got up 15 minutes later when her iPhone alarm went off.
And so the day began with us quietly packing up our stuff ready for our departure from Morocco to go into Spain. By 5:30am, our breakfast was ready in the cozy lobby. The employee was very bleary-eyed at the desk. Meanwhile, I got our stuff into the lobby, then I brought Tahia in there to start the breakfast. Julie would follow later once she finally got her stuff squared away.
It was quite generous that the Casa Perleta was able to serve the breakfast of eggs, toast, OJ, and Moroccan tea. Once Abdul showed up at around 5:45am, we even had enough food to share with him.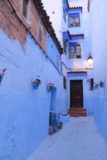 At 6am, we were out the door, and after another 10 minutes, we were in the car, ready to leave Chefchaouen. Of course, there was one slight bit of delay when the garbage truck blocked the only way out for us for a few more minutes. But once that was done, we were finally on our way at 6:15am.
The drive out was pretty uneventful, and Abdul was making good time. The surprising thing about getting out this early was that there still seemed to be quite a few people out and about. Clearly Moroccan locals in this region weren't night owls. In fact, we even encountered some businesses and locals already starting their day well before 7am.
It was about 7:20am when we had just passed the city of Tetouane. From this point on, it seemed like the speed limits were upwards of 100 to 120km/h. Abdul said this stretch from Tetouane to Tangier was like a highway.
By about 8am, Abdul at first bypassed the toll highway leading straight to Tangier MED port. However, he did an about face when we realized that it might be cutting it too close for our 10am ferry. So by 8:10am, we were finally on the autoroute to Tangier MED, and Abdul was definitely gunning it above the 120km/h speed limit.
It wouldn't be until about 8:30am when we finally arrived at the Tangier MED port, which looked all business as there were many shipping containers, cranes, and even massive car parks full of imports probably from Spain.
Abdul dropped us off somewhere past a closure point (as he didn't see a need to go to the car park and pay just to drop us off) with the OK from talking to the right guy by the barricade. And from that point on, a trio of porters followed us after we were bidding a fond farewell to Abdul, who had been with us the entire trip.
We knew Abdul was going to miss Tahia, and good-byes aren't the easiest thing to do. But the show must go on…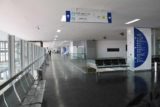 After getting through check-in, we then went right towards the passport control area. But the port authorities there halted us and anyone else who wanted to get through because there were no passport authorities at any of the kiosks. It was about 8:45am when we first started waiting, and it wouldn't be until about 9:15am when we were finally let through.
About 10 minutes later, we were at another waiting area, but this time it was for a bus shuttle to take us towards a more luxurious waiting lounge closer to the boats. We'd ultimately get there at 9:45am, but we then learned that the Transmediterranea Acciona ferry was typically 30-45 minutes late, which was not good for our expected 10am departure and 1pm arrival in Algeciras.
We wouldn't be boarding the ship until 10:30am. Then, finally at 11:15am, the large boat started moving. There only seemed to be less than two dozen passengers or so making for a pretty quiet 90-minute voyage across the Mediterranean Sea.
Nonetheless, our ferry was 75 minutes late, and I just had a sinking feeling that this would have damaging repurcussions once we get into Spain.
At least, we got to brave the wind on the outside of the boat to take pictures of both the Spanish Coastline as well as the North African Coastline, and we even managed to get a lot of photos of the Rock of Gibraltar from the sea. At least paying attention to that landmark helped prevent me from being overcome with seasickness.
Eventually the boat would finally dock at around 1:50pm, but we wouldn't be out of the boat with our luggage until about 2pm. After rushing our way past more corridors and another passport control, we then finally learned that we had to hail a taxi to get to our rental car office in downtown Algeciras.
Well, we hailed the taxi at 2:10pm, but then the driver warned us in Spanish that we need to call the rental car office because they were closed at 2pm. And when Julie tried to call, no one was picking up. When we got to the Europcar office five minutes later, we saw that indeed the office was closed and we were pretty much SOL.
It was just our luck that the ferry was well over an hour delayed and that caused us to miss our rental car pickup.
Now, we were in a bind. No rental car, possibly stranded in Algeciras, and therefore there were no options for the moment. Our Spain part of our trip already started off badly, and we'd have to figure out a way to make things work given the blow that we were dealt…