Day 9: TALK OF THE VILLAGE
It was about 8am when we awoke. We reverted back to old habits ignoring the 7am alarm partially because Abdul wanted the start time to be 10am instead of earlier. I wasn't sure if this was going to bite us in the ass, but we just rolled with it.
While Julie and Tahia were getting ready for the day and to have breakfast, I went ahead and seized the opportunity to briefly walk around town to take photos while the town was still quiet. Sure enough, my hunches were correct and I managed to get the shots that I couldn't really get yesterday evening.
I basically walked a little back and forth from the attractive stairs flanked by colorful potted plants to a quieter alleyway turning down the hill. Even the main throughfare presented some nice photos though the harsh morning light had already penetrated parts of the area to wreak havoc on some photos.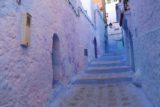 At 9am, we were having breakfast at the terrace of the Casa Perleta. We were asking about how the town became as blue as it did, and the explanation we got from a couple of the people working here (including the manager who gave it to me in Spanish; testing my listening comprehension) said they came from Jews from Spain who settled in Chefchaouen amongst the Berbers who were already here as the Jews were fleeing the Spanish Inquisition that took place during the "Reconquista" in the 14th or 15th centuries.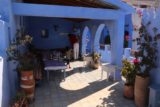 Apparently, the blue and white colors were consistent with the Israeli flag, which contrasted from the Moroccan colors of red and green. Given that there was said to be religious and cultural tolerance during Moorish rule in Spain as well as in Morocco, the Jews flourished here and imparted their cultural influence, which still stuck. However, we've been told that Jews are no longer in the medina here, but they could be found in the more modern parts of town or in other parts of Morocco.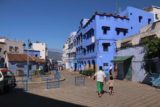 At 10am, we were with Abdul, who looked like he was dressed up in athletic gear (which contrasted from his usual collared shirt and slacks). We got back to the car at 10:10am. The car seemed to be making some kind of unnerving sound, but Abdul didn't think it was anything considering the Your Morocco Tours company car were all new.
The drive took a little time because Abdul had to ask around about how to get to Akchour. But eventually we were on the right road as we started to undulate on roads presenting dramatic views of vertical mountains and deep gorges with little buildings clinging onto the mountainsides. This seemed to be the Rif Mountains at its most rugged.
Eventually at 11am, we finally arrived in the village of Akchour. A local directed Abdul to park in a particular spot, then he proceeded to be our local guide.
It took us some time to get ready for a hike, so it turned out that we wouldn't start walking until 20 minutes later. I was definitely starting to get concerned about the late start, especially since I was told that the big waterfall was supposed to be on the order of 3 hours return and the Bridge of God was supposed to be 1 hour return.
So we decided to head for the Bridge of God first thinking that it wouldn't take that long. So after taking a little more time with potty breaks and the like, it wouldn't be until 11:40am when we were finally on the hike in earnest with Mohammed the local guide leading the way.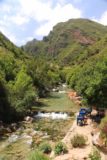 The trail was on the right side of the bridge fronting a few manmade waterfalls and underground cave springs. The well-established trail then hugged the cliffs with retaining walls before it started becoming more conventional trail once we got past the huge cliff or rock flanking one side of the man-made lake held up by the dam.
The hike so far was pretty straightforward and Tahia was walking when Abdul caught up with us. So we were hiking as a party of 5 and Abdul was having fun helping Tahia pick up blooming flowers along the way including poppies, which were quite similar to the ones seen in California.
At 12pm, after having passed a few little cafes along the way, we then showed up to yet another cafe. This was when Mohammed said it was time to change shoes. That took a little time, but about 10 minutes later, we were all in sandals (I was in Chacos), but we didn't change Tahia's shoes. When we descended steeply on the trail going down from the cafe to the river, both Julie and I fell at the same spot.
It was at that point that Mohammed decided it was better that he hold onto Tahia since he was much more sure-footed, and it was to reduce the burden on me since I was less familiar with the terrain. Once we got down to the river, we were then pretty much river walking criss-crossing the river numerous times and even wading along the banks of the river from time to time.
Most of the time, the water was no more than knee deep and usually shin deep. But there were some tricky spots where makeshift bridges made of cut-up branches and logs (which got slippery when wet) were on the route. Once again, there were a few more cafes along the way (defying our pre-conceived notions of where cafes were likely to be), and Julie and I were amazed at how they could stock the supplies or set up such infrastructure in such difficult-to-reach spots from most tourists, I'd imagine.
That said, these cafes had people eating at them or chilling out at them, so I guess business was good.
At 12:25pm, we were still river walking, and I guess this was when we started to feel that our feet were becoming numbingly cold. I guess the water was just that cold. So now we started to find ways to avoid the water for long stretches of time.
Throughout the hike, there were plenty of small but picturesque cascades in the river. There were also steep-walled gorge scenery, which drew quite a few camera clicks from me. These cascades weren't anything terribly significant though if it were the only attraction in a particular park, I guess it could've counted as a waterfall excursion. Nonetheless, I'm sure this gorge represented a huge flash flood risk given there didn't seem to be many high ground escapes if the river level were to rise suddenly.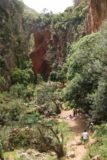 At 12:55pm, we reached the so-called Cafe Lion. And finally five minutes later, we arrived at the vista for the Bridge of God. There were quite a few visitors swimming in the waters a short distance downstream of the impressive natural bridge towering high above us.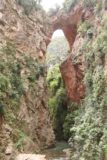 This was one of those narrow but tall natural bridges, and it took my slightly wide-angle capability to capture the entirety of the natural bridge with some of the river down below. At least Julie managed to use her panorama capability on her iPhone to try to get the whole thing.
We didn't linger here for long because my intent was to get to the all the waterfalls on the other trail, and I knew we were running short on time. So at 1:10pm, we started to head back. There was a local stray dog here that was conspiring to slow us down, especially since Julie was worried about fleas getting onto us (especially Tahia).
In any case, we finally made it back to a cafe by a small cave at 1:25pm (just past some precarious twig bridges), and at that point the dog stopped following us.
At 1:40pm, we finally managed to climb back up to the cafe where we changed our shoes. Now, it was time to wear hiking boots and wool socks again. But as we were about to take off, we were being discouraged by Mohammed (after talking with some locals at the cafe) to go to the big waterfall. They now said it was going to take 3 hours there and 3 hours back.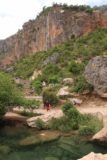 I didn't understand why I was told earlier that it was 3 hours round trip from the car park, but given that it has taken us nearly 2 hours to do the Bridge of God, which was double the one-hour estimate earlier on, I guess doubling the three-hour initial estimate made sense.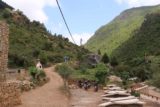 So Mohammed took us on a little shortcut that cut right across back to the main trail without us having to go all the way back to the dam and then proceed on the main trail from there. I'm sure that saved us a few minutes because it wouldn't take long before we showed up at a small snack stand at 2:15pm where Mohammed encouraged us to keep most of our belongings in a storage room there.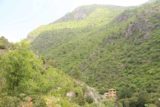 There was also a hotel across the river that looked new. Apparently, this main trail was much more popular than the Bridge of God, and I started to have doubts about the "dangerous" nature of the hike to the Big Waterfall. Still, we would proceed onto at least the Small Waterfall, and then see how we fare from that point.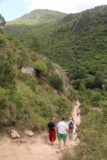 Anyways, at about 2:30pm, we showed up at a cafe next to a really tiny falls along the river. Julie and I thought we had heard from Mohammed that this was the small falls that it took an hour to get to from the car park. But I somehow didn't believe that this was it.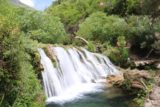 So while most of the group was chilling out at this spot, I just continued on the main trail seeing that there were still more women and children continuing on. I was starting to become suspicious about whether they just wanted us to spend money and time at the cafes and not get to the main goal, but I wasn't about to be deceived nor deterred, and I was being stubborn and insistent at this point.
So off I went, where some 20 minutes later (at 2:50pm), we arrived at the actual Small Falls (Petite Cascade), and there was a Petite Cascade Cafe here. The falls here was a bit more substantial than the disappointing one we had just seen earlier, plus there were some more cascades and swimming holes further upstream.
There were lots of people enjoying the refreshing swims down here, and it was at this point that I took my time taking movies and photos as I was frantically trying to document the experience.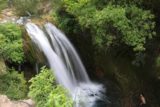 The GPS was still working at this point though I knew that it was running low on batteries. I wasn't sure if it was going to make it to the end if it was going to happen or not. In any case, I was shooting the breeze with some visitors here (especially a vocal lady chilling out at the top of the small falls) who were interested in my background as well as how I learned about Akchour.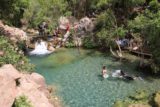 Little would I realize that these folks would be what tipped the scales in terms of my indecision to proceed on later on.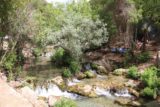 At about 3pm, the rest of the group caught up to me. After looking at our Pinterest post on Julie's phone, it would appear that the Akchour waterfall was indeed this small falls. Now, I was getting conflicting advice about it requiring 2 hours on the way there and 2 hours on the way back to the big falls. But I knew that sunset wouldn't be until after 7pm, and it's now 3pm. Surely I thought there was still sufficient time.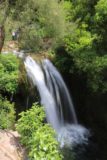 But Mohammed was really trying to talk me out of doing it. And Julie was pitching in about not going up there. So after looking at the Pinterest post, I decided to just have a late lunch at this cafe. And so they were already about to get started with the meal preparations when the vocal lady that I had met earlier said that she and the rest of her group were going to follow her brother up to the big falls.
She said her brother told her that it was about an hour's walk in each direction. And given that time frame, we would have sufficient time to go there and back before nightfall. As Mohammed caught wind of this news about their encouragement of me to proceed, I think Mohammed (as well as Julie) finally capitulated and let me continue on while Tahia and Julie would stay behind for their lunch.
By now, it was 3:30pm, and now Mohammed and I were on a mission. He gave me 2 hours to do the entire excursion, and if we didn't make it, then we'd turn back no matter what.
And so it was on. Mohammed was leading the way but he was essentially trail running, and it was my job to keep up with him. Unfortunately, the trail was getting progressively trickier for trail running as it featured pillar hopping, creek crossings on slippery wet rocks, narrow ledges in some spots, and quite a bit of up-and-down sections.
We pretty much left the group that encouraged me to go in the dust as we would persistently trail run for what seemed like forever. Fortunately, I didn't have to carry the child carrier, but I did only have one small bottle of water to stay hydrated for the entire excursion.
It was too bad that we were in a hurry because there were beautiful scenes of towering cliffs (almost Yosemite Valley-like) flanking the trail. If I had more time, I'm sure they could've been more photogenic moments where I could've taken my time and noticed more details.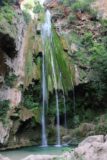 But we carried on. Most of the folks we encountered were on the way back, which wasn't a good sign since we were the only ones going in the opposite direction. Still, we kept moving brisquely as we now started to pass a small handful of people still heading to the big falls while a lot more folks were still headed the opposite direction.
Eventually at 4:15pm, Mohammed and I finally made it to the cafe nearest to the big waterfall, which I saw further up ahead. Mohammed gave me 10 minutes here before it was time to head back. And so I wasted no time walking closer to the big falls.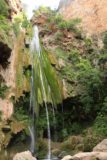 Along the way, I met up with the Korean ladies again, who were enjoying their tagine. I couldn't believe the coincidence. But in any case, I kept going all the way to a spot where I can take decent photos of Cascade d'Akchour, and I also documented everything with movies.
There were still lots of people frolicking around the falls, and there was even a group of folks about to scramble to the backside of one of the plumes of the falls. As for the falls itself, it was like a really big version of Escondido Falls back home. However, this one must have been at least 300-400ft tall or higher. Like the Bridge of God, it barely fit on my view finder.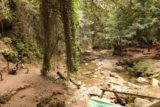 The entire falls was in shadow so I also had to muck with my camera settings to handle shade better. In any case, I got what I needed, forgot my water bottle when I caught back up with Mohammed, then I went back to get the water (when Mohammed offered having tea at this cafe, which reminded me of my forgotten water), and then I wound up helping a few folks take pictures of the falls with their groups.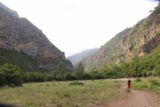 It was only by about 4:30pm that we started heading out again. And once again, Mohammed set the pace with the trail running, but at least this time it was mostly downhill though there were quite a few uphill spots primarily when we had to cross creeks.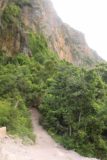 He actually spent some time while waiting for me to catch up essentially telling the locals about the feat that we had accomplished to this point. Even though it was in Arabic or the northern Berber tongue, I knew that they seemed to be impressed with what we had accomplished. In fact, Mohammed reminded me that it was unusual to do both the Bridge of God and both the Cascades d'Akchour in a single day (especially with our late start). But here we were doing the impossible, and I guess that started to make us the talk of the village.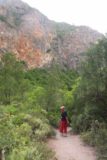 Anyways, we went on a few more shortcuts to keep the hiking as level as possible though the rock scrambling got a bit tricky.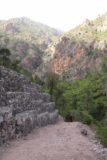 That said, Mohammed still found the time talk to some locals seeing us pass through, which I suspected had something to do with making it all the way to the upper waterfall as well as the Bridge of God earlier in the day. I got that vibe because the locals would smile and give me the thumbs up as we were continuing about our way.
Still, we kept jamming though I finally ran out of my bottled water when we got back to the small waterfall where Julie and Tahia had their local tagine. We made it here at 5:15pm. The folks had already headed back at this time. So Mohammed and I kept going.
About 10 minutes later, we got back to the tiny disappointing falls. And onwards we went. At 5:35pm, we got back to the cafe by the car park after crossing over the bridge fronting the dam. This included a small break where Mohammed went to the reservoir to put water on his shoes to cool off his feet. When I saw Julie waving at us as we approached the cafe, I knew we had finally made it.
By this time, I was relieved to see them. I guess they were just as surprised to see us because they said that they had just gotten here. Indeed, it took us 2 hours to get from the small waterfall then all the way up to the big waterfall before returning to the cafe near the car park. Indeed, we made good time. Now, Mohammed joked that he needed to have a sleep.
Anyways, I was now suffering from a little headache and a minor bout of nausea. I supposed that probably had something to do with having a little dehydration from only bringing one bottle for this last express excursion. Meanwhile, my calves were cramping (sure sign of dehydration) and me knees were stiff. My achilles were also sore. Yet in the end, I still thought it was all worth it.
We finally baksheeshed Mohammed a pretty generous amount of 400dh. I don't think he expected that much, and as a result, he even insisted that he pay for the Berber omelette that I had at the cafe (which was really nothing more than a runny egg drenched in olive oil).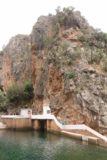 Julie was bragging about her chicken tagine that she had at the Petite Cascade Cafe, and how that was on par with the tagine that we had at the Source Oum-er-Rbia.
In fact, the more we thought about it, the more we thought that the best quality foods seemed to come from the rural places where the ingredients were more local and fresh. And we thought that it was really hit-or-miss (more like miss) for most of the places in the cities.
Anyways, I downed the food, then Mohammed and Abdul were chatting it up with a lady camping in a van parked by the cafe. It turned out that she was the sister of the vocal lady who encouraged me to go to the big waterfall, and I guess she was a bit worried about them seeing that it was getting late in the afternoon.
I relayed to them (with Abdul and Mohammed translating from English/Spanish to Berber/Arabic) that I saw her brother and sister about 5-10 minutes from the waterfall, and it was going to be about 90 minutes to get from there all the way back down to the cafe where we were standing.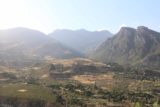 The drive out was mostly uneventful and went a bit more smoothly than on the way in. I even managed to get some shots of the dramatic gorges and mountains in the vicinity of Akchour. However, my headaches and small bit of nausea persisted.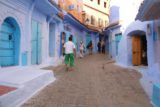 Finally, at 6:45pm, we made it back to Chefchaouen. A different guy that was helping Abdul park had offered me to buy some weed from him. Of course, I didn't smoke and I had to turn it down. I think Abdul was caught off guard when I told him that this was the second offer I had gotten as I had one of those last night.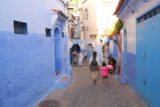 Since Tahia had just gotten up from her nap a bit disturbed, she was really cranky. The only thing that would pacify her was for me to give her a ride on the child carrier (even though it was only for a few minutes) while putting on the sun shade.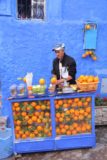 Then, we got back to the Casa Perleta at about 7pm. At that point, we regaled the hosts with our little adventure to Cascade d'Akchour and the Bridge of God. One of the hosts, who told us her name was Ibtissame (she said it meant something like "always smiling") was having fun taking pictures with Tahia as well as playing with her.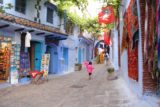 At 7:10pm, we got back to the room. We got changed into something less icky and more presentable for our last dinner out on the town. Mohammed and Ibtissame recommended this place called Casa Hassan, and so this was how we were going to celebrate our last night (and dinner) in Morocco.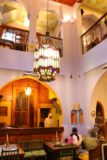 And so we walked out for one last time into the alleyways of Chefchaouen at 7:25pm. Tahia had brought out her Hello Kitty balloon (the one we had bought for some 20dh in Djemma el-Fna) with the intention of giving it away to a local girl who might appreciate it more. It would most certainly be too troublesome to deal with it while in transit.
As we walked through the familiar pedestrianized streets, we ultimately returned to the square where there was this guy serving freshly squeezed orange juice with no added sugar at 7:40pm. Since Tahia had been having a running nose all day and now started to show signs of having a cold, we each bought ourselves a cup of the fresh stuff.
At 10dh a pop, it wasn't the cheapest, but then again, when we saw how many oranges the guy was running through to make just a cup (had to have been at least 5 or 6), I guess the price was warranted.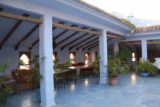 Finally, at about 7:45pm, we found the Casa Hassan and promptly were seated. But while Julie and Tahia was busy looking through the menu, I decided to go upstairs past the upper dining area, then past some rooms, and ultimately up to the rooftop terrace, which seemed quite nice.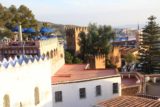 From there, I could see the Aladdin Restaurant's uppermost terrace and all the people crowding that area while the sun was setting, but I was also able to get an obstructed view of the square as well as an obstructed view of the mountains backing this place.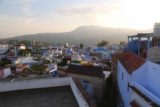 Eventually I went downstairs to join the ladies for dinner, which consisted of a b'stilla (pastella) as well as another chicken tagine (this time with some kind of tomato sauce). It turned out to be one of the better tagines that we had, and it was a fine way to cap off the trip.
At 8:50pm, we were done eating, then we slowly walked back to our room. Once again, Tahia was entertaining Ibtissame while Julie was comparing the Casa Hassan food to the Aladdin food from last night.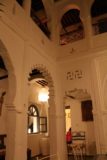 Meanwhile, Mohammed (another one of the younger hosts) explained to us a couple of the stories or myths surrounding the reason why Chefchaouen was painted everywhere (upon us asking him since his command of English was quite good).
Well, we had already heard about the story of Jewish refugees coexisting with Berbers earlier this morning. But he also told us about how the blue colors used to be painted on trees in order to prevent biting insects from nesting in them.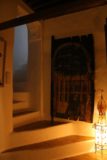 Then, he went on to say that both of these stories tended to conflict with each other, and he has no idea which one of these (or other ones that are out there) are true. So I guess it will remain a bit of a mystery about how Chefchaouen became the blue Oia of Morocco.
Finally at 9:10pm, we returned to the room. At that point, we tended to our hygienes, tried real hard to get Tahia to sleep (to help fight off her cold), and resumed packing in anticipation for our early wake-up and departure before 6am. Indeed, this was not going to be a very restful night…