Day 3: CRACKING THE RIDDLE
Once again Tahia awoke at 5:30am. Apparently even in the midst of a Yosemite trip where Tahia's routine was all thrown off, she remained consistent about waking up at this time. I guess her circadian rythms had already been established.
It took us a while to get things ready for the day. We weren't in any hurry given the forecast for bad weather so it wasn't until about 8:30am when we finally left Yosemite West.
The plan for today was to visit the base of Bridalveil Fall as well as the waterfalls at Hetch Hetchy. Tahia and Julie's mom would stay back at the condo since the excursions for today weren't conducive for a baby nor for an elderly person not accustomed to long walks.
So far, it looked like we were experiencing light rain. It didn't seem like anything horrendous, and we figured since the forecast was for showers, it wouldn't make much difference if we were to be drenched by waterfall mist anyways. Of course with potentially foul weather like today, it would certainly be much cooler than if this had occurred under sunny skies.
It was about 8:55am when we arrived at the pretty busy car park for Bridalveil Fall.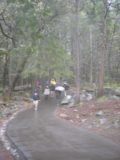 At least it was more than half full, which was surprising considering how rainy the weather was. Still, we wasted no time donning our rain ponchos and waterproof pants and wasted no time walking the nearly 0.25-mile paved walk right up to the base of the waterfall.
With Julie's old Cybershot handy, we didn't mind the mist too much since her tiny camera could still take decent photos under the bad weather. With my DSLR, I'd be constantly drying off the lens while new droplets from the sky flew right towards it.
We didn't spend a whole lot of time here, but we did manage to get the obligatory photos as well as some movies of the scene (which was something we didn't do long ago). I expected there to be quite a turbulent display of the falls blasting its mist onto onlookers at the end of the trail. But somehow this falls didn't seem too bad – at least compared to June 2002. This was despite the 200% snowpack, but perhaps it was too cold at this time so the volume on Bridalveil Creek wasn't quite there as it was still locked up in the snow (which we observed driving Glacier Point Road on Thursday afternoon).
By 9:20am, we left and proceeded to loop back around and head over to Hwy 120/140 west. The drive was pretty uneventful though we did notice a few occasions where numerous people were pulled over observing something. Julie figured they were probably looking for mountain goats (or maybe bats) on the face of El Capitan.
Earlier in the drive, there was a ranger trying to either control traffic or discourage people from getting closer to wildlife. We weren't sure what it was, but it might have been a bear. In any case, most of the people were headed back to their cars so that was a sign to me that there was nothing to be seen anymore.
As we went up the Big Oak Flat Road, we saw even more cars seemingly looking at nothing across the Merced River Canyon. Again, Julie thought they were looking at goats or some kind of rare bird.
As we passed over the bridges traversing both Cascade Creek and Tamarack Creek, we thought we could take a rain check for stopping here since we were determined to get to Hetch Hetchy to do our hike.
When we left the Big Oak Flat Entrance, the rangers there were actually checking for receipts for people leaving the park. That was something new. We weren't sure if they were making sure everyone who got into the park paid their much-needed dues or something.
Whatever the case, only collecting $20 per vehicle considering the amount of maintenance required to clean up after each visitor while ensuring the park remained wild was probably insufficient. And we could tell this was the case since the park was resorting to donations and volunteers just to keep the park afloat – a clear indication that the entrance fees didn't meet the total cost of visitation.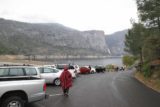 Anyways, we then drove Evergreen Road, which bridged through Stanislaus National Forest before junctioning with the Hetch Hetchy Road at Mather. The road was much rougher than I had recalled (I believe we were last here 6 years ago).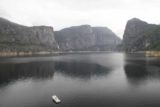 It wasn't until about 10:50am when we finally arrived at the car park near the dam in Hetch Hetchy. It was pretty busy here despite the rain, and we ended up parking quite a ways back from the dam itself.
With waterproof pants and ponchos at the ready, Julie and I wasted no time in getting on with the hike.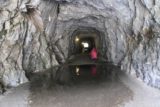 As we crossed the dam, we glanced some of the familiar interpretive signs they had. One thing that made us go BS was the "clean, renewable energy" sign. Sure this dam was harnessing the renewable resource of rainwater or snow, but we didn't think it was clean when you factor the sacrifice of Yosemite Valley's twin in order to have this scheme. It could even be argued that methane emissions from drowned flora and fauna meant a much more potent greenhouse gas was emitted.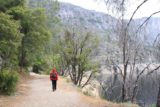 Regardless, one thing I was disappointed with when we arrived was the wispiness of Tueeulala Falls. It was reminiscent of our trip around this time last year in Switzerland when Seerenbach Falls behaved like this despite the unusually wet Western European weather they had that year. Even with the record Sierra snowpack from this year, we found it perplexing that Tueeulala Falls would still struggle to flow (even the unnamed one to its left was flowing better).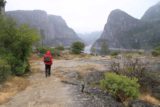 So with that in mind, we continued on through the tunnel and then proceeded to embark on the 5-mile walk to Wapama Falls. This was the first time Julie re-visited this place since our first time here back in early June 2002.
She did remember the flooding on the trail between the main waterfalls here, plus she definitely remembered how scary it was traversing the bridge beneath Wapama Falls when it was flowing with crazy volume.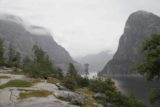 I was left trying to figure out what exactly caused the conditions we experienced nearly 9 years ago. We originally thought those were normal conditions, but now with this being the fifth time I personally was here, that kind of perspective hinted to me that perhaps our first experience here was more of an anomaly.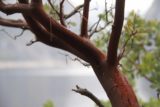 The hike was mostly uneventful though it always seemed like we learned something new or noticed something different every time we re-visited a familiar old haunt. And this one was no different. In particular, we saw some trees that looked like someone painted their bark a waxy brown. It almost didn't seem real, but we were sure it was natural. We just didn't know what caused it.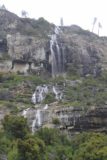 The rain started off light and pretty tolerable, but as the day progressed, the rain came down harder and harder. That kind of made the footing on some of the granite sections a bit slippery, but it wasn't too bad as long as we were watching where we were going.
Along the way, we noticed a park ranger taking his time with one of the field guides in hand. No doubt he was enjoying the subtleties of this part of Yosemite National Park and the weather just came with the territory. We could tell by the smile on his face that he was really taking it all in.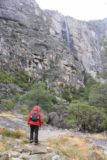 I'm sure he was supposed to be checking backcountry permits or something, but he didn't come across that way with his happy-go-lucky demeanor and his real slow pace.
For the most part, the hike was pretty quiet – at least compared with Yosemite Valley. But with this being a Summer weekend, there were still lots of people on this trail. So as "hidden" as Hetch Hetchy Valley was, it was still a pretty popular place.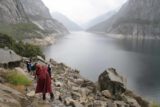 With Tueeulala Falls struggling as mightily as it was, I knew the stretch between this falls and Wapama Falls wouldn't be flooded as was the case back in June 2002. Therefore, I didn't expect it to be too terribly misty at Wapama Falls either.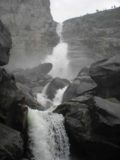 It wasn't until around 11:45am when we finally made it to Wapama Falls. There was some trail construction or maintenance going on between the footbridges of Tueeulala and Wapama Falls respectively. I wasn't sure what they were doing, but perhaps they were trying to make sure new talus that got onto the trail was to become part of the trail.
The footbridges at Wapama Falls were misty, but they were nowhere near as powerful as we had remembered back in 2002. Again, that wasn't too surprising considering how much Tueeulala Falls was struggling. Yet it was still perplexing why 200% above average snowpack couldn't reproduce the conditions from 9 years ago.
Still, Julie was having an interesting time trying to reach back into her memories to try to see where the flooded sections of the trail were. The dangers of that day were nowhere apparent on this day.
So we spent some time having Jack Links and fruits as part of our snacking before the return hike.
And as we both stood there and admired the scenery before us, it dawned on me how the conditions from 2002 could be achieved.
Basically, two things had to happen in succession. First, there had to be high snowpack, especially in the drainage that sourced Tueeulala Falls (which was apparently small according to the maps). Second, the snow in the drainage had to be quickly dissipated by a hot weather. If it doesn't happen soon enough after the presence of snow, then Tueeulala Falls would always be in either a wispy or trickling state.
Consequently, Wapama Falls wouldn't be in a flooded state.
So back in June 2002, there was a late season storm (kind of like what we were experiencing today) that produced snow at the higher elevations, including the drainages feeding the Hetch Hetchy waterfalls. And when we showed up, the weather was very warm (possibly in the 90s in Hetch Hetchy Valley), which melted the fresh snow fast enough to bring up the flow for both waterfalls.
Perhaps if this storm produces more snow and it's immediately followed by very warm weather, then the conditions from the past would occur once again. But alas, it wasn't to be on this trip.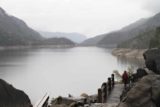 It was about 2pm when we finally got back to the car. The rain came down even harder and our rain ponchos were very wet. The clouds looked like they were getting lower and lower, and they even started to cover up the tops of Tueeulala and Wapama Falls as well as Hetch Hetchy Dome and Kolana Rock.
The drive back to Yosemite West was once again pretty uneventful. The only nuissance was that some slow drivers refused to use pullouts. There was one instance when we got past the Wawona Tunnel and we were stuck behind a long train of at least a dozen cars all because someone refused to use one of the many pullouts on Hwy 41.
This is the main reason why I think mountain driving can be dangerous because inconsiderate or unknowing drivers can force others to pass onto oncoming traffic (with blind turns and all). I couldn't imagine how bad it would be to continue like this for another hour to the Southern Entrance, and I was glad we only had to leave this caravan near the Chinqapin Junction for Yosemite West.
It was 4pm when we returned to the condo under pretty heavy rain. Julie and I hadn't eaten a decent meal since breakfast so we were really looking forward to spaghetti and meatballs. We were also looking forward to seeing Tahia again.
Yes, even though having her limited our options in terms of where we can and can't go as well as slowing us down and forcing us to have shorter trips, we always thought about her whenever we were away from her. And we'd always imagine her smiling and how cute she was in general. I guess such was the give-and-take relationship new parents must be having with their child or children. And we were no different.
Anyways, we still had lots to do in terms of packing, and I'm pretty sure we'll be stuck in traffic on our way out of Yosemite tomorrow given all that has to happen to care for Tahia. We had originally planned to visit the Mariposa Grove of Big Trees on the way out of the park, but I'm pretty sure we'll just gun it home as best we can (Tahia-willing).
So that first visit to that section of the park still remains…