Day 1: ONE DELAY AFTER ANOTHER
Tahia was fussing and crying since 4:30am. We were in the midst of trying to sleep train her and coerce her to naturally wake up at around 7am. So that meant ignoring her cries hoping she'd fall back asleep.
But on this day, she was up for good, and by 5:30am, we all decided it was time to get up and tend to her needs. In hindsight, I wished we woke up with her at 4:30am knowing that it would take a while to get prepared for our long drive to Yosemite.
Complicating matters was that we would most likely be encountering the infamous LA rush hour by the time we were out of the house.
Anyways, we did the obligatory changing and feeding of Tahia along with loading up the car (which was getting quite packed). It's amazing how much more you have to bring with you when a child is involved. Plus, we were bringing along Julie's mom to help with Tahia while also letting her experience Yosemite for the first time.
Sure enough, it was 7:30am by the time we left the house. Had we gotten up with Tahia an hour earlier, we surely would've been out by 6:30am which would've been a little more tolerable from a traffic standpoint.
So it took a while to navigate through the nasty LA traffic, but eventually when we got to Burbank, the traffic really cleared up. There were lots of CHP on the I-5 (even in the mountainous area beyond Magic Mountain), and we also saw places where at least three or four instances of pullovers were witnessed in succession. I guess California really needed the money and saw a golden opportunity to make it here.
By 9:30am, we mercifully made it to the Grapevine. But since it was time for Tahia to have another feeding (and she awoke from her nap as if on cue), we decided to pull into the Jack-in-the-Box there so we could comfortably feed and change her while having a little bit of a more substantial brekkie than the fruits and oatmeal we had at home.
It was pretty quiet and empty in there, which was perfect for tending to Tahia's needs while also adding to our sparse brekkie from earlier this morning.
It was 10:15am when we finally resumed our drive. Not surprisingly, these delays were adding up, and for sure we could no longer be on the move and into Yosemite Valley by midday like we used to. At the rate we were currently going, we would be in Yosemite West area by about 2pm only if we didn't stop. And going non-stop was not going to be likely.
The drive along the 99 in Central Valley was mostly uneventful. Again, we saw lots of cops so we made sure the cruise control was close to the speed limit and we were following people for the most part.
At 12:30pm, we made it to Fresno. I assumed we ought to fill up gas in the city since I thought it would be cheaper than around Yosemite. So we got off one of the exits when Julie noticed an In 'N Out Burger joint. Unfortunately, it was very crowded with very long lines for both the drive through and the dine-in. We eventually abandoned the effort to satisfy Julie's craving, but there was so much traffic on the way out, that we wasted another 20 minutes before even getting to the Shell Gas station across the street!
We fed Tahia on the move, and after cruising (more or less considering how many cars there were on the 41) towards Oakhurst, we started a quick grocery run there at 1:25pm knowing that it wouldn't be easy to have dinner once we were in the park (especially since we weren't staying in the Valley).
However, Julie's grocery run took much longer than expected, and it wasn't until 2:25pm (about an hour) when we finally left Oakhurst and headed to Yosemite.
The drive into the park was for the most part uneventful. A friendly lady at the gate tried to practice her Chinese with us, and even gave us one of those familiar NPS guides except this one was in Chinese. I figured Julie's mom would appreciate that.
As forecasted, the weather was partly cloudy, but it was a shame that we couldn't really capitalize on the good weather today since we arrived at the park so late. It wasn't until 3:45pm when we finally arrived at our Yosemite West condo, where we would be staying for the next three nights. However, Saturday was supposed to have 70% rain, and that only left tomorrow as the only real day to allow the quintessential Yosemite experience in Yosemite Valley.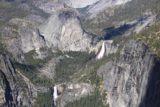 After unpacking our stuff at the condo, we decided to leave for Glacier Point at 4:15pm. We mind as well salvage at least some sightseeing on this day.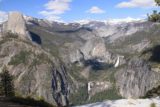 The Glacier Point Road opened on Memorial Day weekend (last week). And we could see that there was still quite a bit of snow banking the roads. So a lot of those signs marking points of interest along the road were hidden in the snow.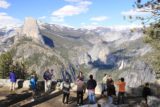 Eventually at around 5pm, we made it to Washburn Point. There, we took some photos of the backside of Half Dome as well as Nevada and Vernal Falls. Plus, we saw a part of Illilouette Fall, which a visitor to our website noted to us (and we had overlooked all this time).
I guess there's always something new and different with every visit to this place.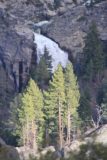 With this being June, I guess it wasn't too surprising that the car park was nearly packed and the lookouts were sprinkled with lots of people. It seemed like an indicator of things to come on this trip, and re-affirmed why I generally shied away from June visits (though June 2002 was because I didn't know any better, and June 2003 was because we had to make sure the cables were up to do Half Dome). This year was because I heard of the 200% snowpack and decided that perhaps our usual favorite months might actually be a little early.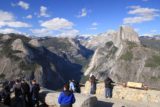 At 5:15pm, we arrived at a very crowded Glacier Point. I couldn't believe how many cars were here this late in the day as we were lucky someone pulled out in front of us though we still had to walk quite a ways to even get to the end of the car park let alone the viewing area. And if it was this crowded here, I shuddered to think about how much busier the Valley would be.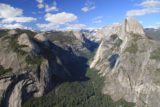 Anyways, we tried to take that much-desired photo of Tahia in front of Half Dome. Unfortunately, it was cold and Tahia didn't appreciate the intense sun too much. So with her fussiness, Julie and her mom didn't spend very much time here (which was too bad considering how much time we spent on the road). Oh well, at least we did see a pair of deer after one of the visitors spotted them and alerted us.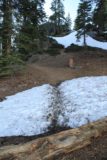 I guess being the Yosemite veterans we were, we knew that deer were pretty much a dime-a-dozen. Bear sightings would've definitely excited us.
So as the headed back to the car, I told them that I was going solo to Illilouette Fall, which was a 4-mile return hike but was an upside down hike. And since I was going solo, I knew I could gun it for the most part so perhaps I could return to the car in less than two hours (this hike typically would take me 2.5 to 3 hours leisurely given the elevation changes and upside down nature of the hike).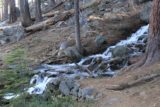 The hike was mostly in shade, and I did have a little trouble finding the trail thanks to the patches of snow concealing the Panorama Trail. But eventually I got on the right path and didn't have too much difficultly doing the familiar trail.
Of course conditions were a little different this time around as some of the snow melt caused some minor creek crossings and trail flooding. But by and large it was peaceful and quiet as I could hear some sounds that I wasn't sure if they came from deer or bears. They sounding like some kind of ogling sound. Either way, they weren't seen. Plus, I could hear some of the familiar bird songs (like the one that says "fee-bee-bee") I hadn't heard in so long.
When it's just you and Nature like this, it's easier to take the time to notice the things around you. In this case, the Giant Stairway was always commanding my attention on my left. I figured I was probably beneath Washburn Point by this point.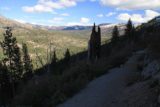 I only saw about three other people going the other way on the trail. It made me wonder if I had gotten too late a start.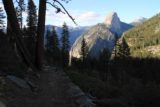 The lengthening shadows darkening the trail and all the immediate surroundings this side of Illilouette Creek also amped up my sense of urgency not to tarry for too long to avoid hiking out in the dark. The only things being lit up now were the distant landscapes further east and higher up in elevation. Clearly, the sun's rays were hiding behind the mountains at this time.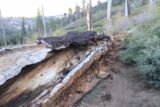 Somewhere before the last of the switchbacks descending down to the overlook of the familiar waterfall, I noticed a long fallen tree that served as both a trail marker and part of the trail itself. I didn't recall this on any of my previous visits here, but then again, that was at least six years ago!
Eventually by about 6:15pm, I made it to the familiar (albeit precarious) overlook for Illilouette Fall.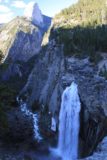 I didn't quite remember the exact configuration of the sloping ledge where I was able to get very unobstructed views of both Illilouette Fall and Creek, but from where I was standing it was close enough. The view didn't seem quite as commanding as I had recalled, but at least the whole waterfall was visible at this spot.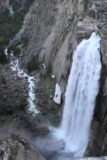 Another cool thing that I hadn't noticed earlier was that I was actually able to capture both Half Dome and Illilouette Fall together! Good thing I finally had a DSLR camera with wide angle in Yosemite for a change! I was still wishing that stupid EOS 20D had shown up BEFORE we went to Yosemite in February 2006 so we could've used it to get the firefall! That was the last time we were here.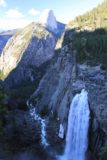 I was also able to take some movies of this waterfall, which we also hadn't done in the past.
By 6:35pm, it was time for me to go. The shadows were growing even longer and I could see that the sun was painting the granite peaks around me a darker shade of orange.
It was all uphill on the way back so I methodically worked my way up (as opposed to my trail running on the way down).
Somewhere near the half-way point, I encountered a trio of Romanians who wanted to get to the waterfall and back up to Glacier Point in time for sunset. Even though they seemed young and energetic (during our small talk, they said they were studying at Berkeley), I let them know that they still had a ways to go and they probably wouldn't catch the sunset in time.
I guess since I was decked out in hiking attire, they also asked me about the Mist Trail and the Four Mile Trail. I gave them the low down on the realities they would be facing on these trails, but also offered them some alternatives (like the JMT since they weren't equipped to handle the mist on the Mist Trail nor the dropoffs on the Four-Mile Trail).
Anyways, I eventually made it back to the car at 7:45pm. Apparently, Julie, Tahia, and Julie's Mom never left the car. I guess Tahia kept everyone busy the whole time I did the hike.
At 8:25pm, we finally made it back to Yosemite West. Now, we could finally unwind, shower, have dinner, and hopefully get some much needed rest.
And hopefully, tomorrow won't turn out to be as delayed (nor even rushed towards the end) as today – especially since it might be our last day of good or fair weather on this trip…