7-June 2003:
Now that the
proposal
was over, the task before us was the physical challenge. With logistics out of the way – campground reservations made 24 weeks ago, coordinating with friends for camp food arrangements, and getting to the park safely, we now faced the big hike we trained two months for. It was 5am and the moment of truth was upon us…
During the previous night, the group enjoyed great pasta for dinner and smores over the campfire for dessert. All of this was under a cool star-filled sky with a bright moon. It was the way camping was supposed to be – hanging out with good company while Mother Nature was in a good mood. And even though we stayed in the nearest camp sites to the Happy Isles Trailhead in the busy Upper Pines Campground, the commotion here wasn't too overwhelming. Perhaps we were so caught up with each others' company that we didn't pay any mind to what else was going on around us.
It was quite a relief to get the logistics of this trip out of the way – such as:
campground reservations made 24 weeks ago
coordinating with friends for camp food arrangements
bringing the gear we knew we'd be needing on the hike
getting physically fit to give ourselves a chance to succeed
and of course, getting to the park safely.
The group consisted of Andy, Stacey, John, Lillian, Chris, Julie, and myself. The group would pretty much split up this day. While Andy, Stacey, John, and Lillian would ride their bikes and have a relaxing day in the Valley, the rest of us would do something more ambitious.
Now that the proposal was over, the task before us (at least for Julie and I) was the physical challenge. Yes the big hike that we trained two months for was upon us – Half Dome.
As our alarms went off, it was 5am and the moment of truth was upon us…
We were delayed for a few minutes because we had to get a groggy Chris – who wanted to join us – out of his tent.
Once we were all set to go, we immediately went to the Happy Isles Trailhead and started hiking on the John Muir Trail.
I was amazed at how many people already started hiking this time of day. You couldn't even tell it was only 5am in the morning – before the sun came out – with all the foot traffic already.
And so we continued onwards – letting faster hikers (which seemed like most of the hikers we encountered) – go past us. We determined we were going to go up the Mist Trail and come down the John Muir Trail. We figured the Mist Trail was easier to go up with its steep and unforgiving granite steps, and it was considerably shorter than the JMT. We also thought the JMT would be easier on the knees for descending since we wouldn't be pounding our legs on unforgiving granite when we're already tired from the long day of hiking.
We anticipated the entire hike to be about 16 miles with 4000ft of elevation gain. We were all anxious about the infamous cables in the last quarter-mile of the hike, which we knew about from previous trip reports and hiking books.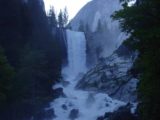 It was about 7am when we made it to the Lady Franklin Rock viewpoint of Vernal Fall. It was quite a nice, direct view of the symmetric waterfall though everything was still in shadow as the sun had yet to breach the granite cliffs around us.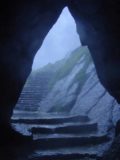 After putting on our ponchos and continuing up the wet and misty Mist Trail, we made it to the top of Vernal Fall at a little before 8am. Still, we knew what we had to do so we didn't toil and kept moving.
Next, we hiked alongside the raging Merced River. It wasn't long before we saw a footbridge that traversed the river. Just after crossing the bridge, we couldn't help but notice the top part of Nevada Fall towering over the trees in front of us.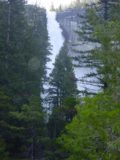 We completely neglected the full view of the waterfall (which I was aware of because I have an old black-and-white Ansel Adams photo taken from that spot) and headed right up the next series of granite steps. This long series of steps was what I'd call Mist Trail #2 even though this part of the Mist Trail wasn't misty at all.
By 9am, we had made it to the top of Nevada Fall. So far so good. It seemed like we were making good on time.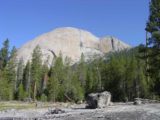 Now, the early sun was on us as we started to hike through the foot of Little Yosemite Valley – passing by some turnoffs for backpacker campgrounds. The trail continued to gently ascend, though it seemed mostly flat. We also got to see unusual views of the backside of Half Dome. Even though it didn't have its distinctive shape so familiar to onlookers from the Valley, it was imposing nonetheless.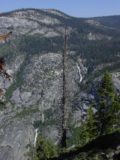 It was about 9:45am when we kept left at the junction with the Little Yosemite Valley trail to stay on the path to Half Dome. Now, the trail started to noticeably ascend up several switchbacks. This part was pretty tiring since the trail kept switching back non stop. Many more hikers who got later starts than we did would pass us here.
I could also sense that Chris thought we were going a bit slow. So there I was trying to encourage Julie, who tended to stay behind, and trying to keep Chris company who was leading the trio.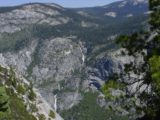 After passing by a trail junction that led to Cloud's Rest, we finally made it to a busy "rest" area, which was a clearing that offered our first views of Tenaya Canyon, parts of Snow Creek Falls, and the Pywiack Cascade. Also from this angle, we looked ahead towards our destination, and we could see the imposing Half Dome before us.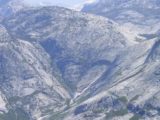 So onwards we went…
With each passing minute, the imposing granite loomed larger as we got closer to it. By the time it was 11:45am, we had made it to another series of granite steps. This was what I called the Mist Trail part 3.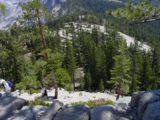 Now, Chris started taking off. I was still waiting for Julie who was laboring to keep up. After about five minutes, I decided to start moving so I could keep in contact with both of them. Though I worried about how Julie would react and I had already sensed the was unhappy with me.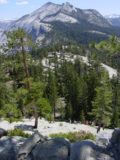 Anyhow, this Mist Trail 3 was brutal. We were getting close to 8000ft in elevation so the air was getting thin. The granite steps were relentless and steep. There were also worn sections of the trail where pebbles on exposed granite surfaces made for slippery footing with potentially dangerous results if one were to slip and fall.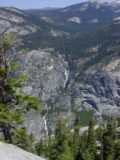 This section really took a lot out of us. At least during the ascent, we were encouraged by the fact that Snow Creek Falls was revealing a bit more of itself with each passing step. It still appeared disjointed, but the section of cascade bridging the two disjoint sections were starting to come into view, especially since we were climbing higher.
Anyways, in our tired physical and mental state, we finally made it to the top of Mist Trail #3 at 12:30pm. And as we became aware that we had made it to the top of the saddle, we looked ahead and there it was…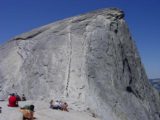 …the infamous Half Dome cables!
We took a moment to catch our breaths and get caught up with each other. Julie reached into her pack and get her gloves out (kind of like batting gloves). I reached into my pack and grabbed the climbing gloves. We compressed our hiking sticks and secured them to my pack so they won't fall out. Chris went straight to the base of the cables and grabbed a pair of worn gloves that were just lying there in a pile.
Now it was time to move forward.
We were able to make it to about a third of the way up before our progress stopped completely. We were now officially part of the log jam of humanity on the cables.
Apparently, there are always people on the cables who have underestimated their fear of heights (let alone their erosion of their confidence) in proceeding. Thus, they'd freeze as they were literally paralyzed with fear. This ultimately stopped traffic in both directions since there were only two sets of steel cables with wooden planks spaced ten feet part in between these cables.
Sometimes I wished there would be a third cable with the planks extended or added to so traffic can move in two lanes instead of being jammed in one.
So as Julie, Chris, and I were stuck on the cables, we noticed numerous hikers passing on the outside of the cables. Chris decided to join them and leave us behind. I was ready to do this too, but Julie urged me not to do this.
Well I definitely couldn't leave her behind here so I refrained from moving forward. And so our calves would burn and get tired as some of the slope was quite steep – so steep in fact that sometimes I'd slide downwards while holding on to the cables if I wasn't resting on one of the planks.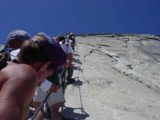 The wait and slow progress was excruciating. When we weren't moving, I even seized the moment to take the camera out and shoot photographs one-handed to show the log jam of humanity before us.
Finally, it was 1:15pm when we made it to the top. There was Chris waiting for us at a nice little sheltered spot in direct view of the scary-looking Diving Board. Of course he asked us what took us so long, and we relayed to him the traffic jam at the cables.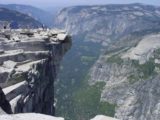 Well we would spend at least an hour up here to recover, bask in our accomplishment, fight off squirrels so we could eat our lunch, and change our socks.
The picnic was probably one of the more satisfying meals we could recall in a while. If it weren't for the aggressive squirrels eroding our piece of mind and the thought of having to do the long hike back before dark, we could've chilled out here for much longer.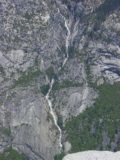 When we were done picnicking, we decided to head towards the Diving Board, which seemed to get the most attention amongst the folks who made it up here. When it was my turn to take that photo nearby the Diving Board, I couldn't help but notice the full view of Snow Creek Falls down below – finally!
The falls was raging enough that we could hear the muted roar from up here. There was also one small slice of the cascade that was at the right angle with the midday sun for a cross-sectional rainbow.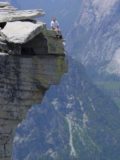 Shortly thereafter, Julie joined me and we had a few victory shots (though I recalled one photo where I was the one leaning on Julie).
Then, it was Chris' turn for a photo by the Diving Board. And as he made his way over there, he went well beyond where Julie and I dared to go. In fact, he went all the way to the edge of the Diving Board where he actually dangled his legs over the abyss – flirting with death. He horrified the onlooking ladies standing behind us as they would openly say to anyone listening, "Oh my God! What is he doing?!?"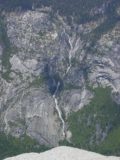 Anyways, it really did feel like we were on top of the world up here. There was Yosemite Valley and Tenaya Canyon way below us. I stole more glances of the full view of Snow Creek Falls in its entirety (which was my ulterior motive for doing this hike in the first place).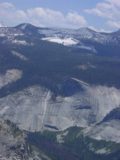 Behind us, we could see the round Mt Starr King with some interesting-looking cascade tumbling down a bare granite cliff. I knew not what its name was nor could I confidently identify it on my topo map, but it was pretty cool nonetheless. To the east, we could see Cloud's Rest.
There were lots of other people up here, which testified to the popularity of this hike. Even with that said, we felt like we had made quite an accomplishment. It was almost as if we finished a marathon (not that we could relate since we've never done one) since we trained for this hike, and now we'd finally done it!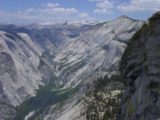 Of course the thought of going back down the cables was always foremost on our minds. We didn't want to be caught in a traffic jam again so we certainly weren't looking forward to it.
So even though we made it to the top of Half Dome, we were technically only half way done with the hike. We still had to make it back to camp in one piece and have a story to tell.
Increasing the sense of urgency was the building thunderstorm to the east. The clouds were getting bigger and darker. We knew this was not the place to be if lightning were to strike. Moreover, we knew the cables were steel! No matter how we sliced it, we definitely didn't want to play the role of lightning rods.
At 2:15pm, we started to head down the cables. It wasn't long before we hit the traffic jam again.
Once again, Chris passed on the outside and started making his way down. I think Julie finally caved in and decided to pass on the outside as well.
At first glance, it seemed harder to go down due to the fear factor and the lack of friction between the shoes and the granite. However, we learned as we passed on the outside to put our backs to the dropoff and make our way down as if we were essentially rock climbers going backwards. Before we knew it, we made it to the bottom in probably 15 minutes (as opposed to an hour on the way up).
As we were starting the hike back, I couldn't help but notice how the line grew well past the pile of gloves at the base of the cables. Moreover, we could hear rolling thunder from that looming thunderstorm. I had some concern for the poor folks caught on the cables at the time, but I guess it wasn't really our problem so onwards we went…
Complicating matters was the fact that I had just run out of water. Julie was just about finished. Chris also had run out of water.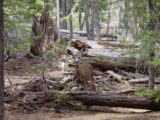 Since the hike was mostly downhill, we had pretty much made good progress. Even with our increased pace, other folks were still hiking faster than us (at least 4 miles per hour I reckon). Somewhere along this stretch, we saw a deer real close to the trail. I took this opportunity to photograph it, but I had the sense it could lash out and attack at any moment as it was giving me an unflinching stare.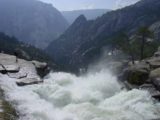 By about 4:45pm, we had finally made it to the Little Yosemite Valley Campground area. This was our opportunity to fill up on some water. I had an MSR Waterworks II filter so the water was quite refreshing and fresh-tasting.
We easily took about an hour filling up and quenching our thirst.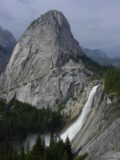 At 6pm, we made it to the top of Nevada Fall again. Now, we decided to take the John Muir Trail. Chris was already long gone and well on his way back to camp.
The John Muir Trail offered us great looks at the Liberty Cap as well as Nevada Fall. The melting snow from the Panorama Cliffs had showered us and kept the trail wet. We took the opportunity to take photos here since I thought the best views of Nevada Fall were here.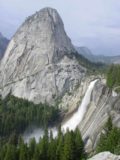 At 6:45pm, we went past the turnoff that would've connected us to the Mist Trail (which I believed was called Clark Point). As we continued down the JMT, it was mostly featureless. There were still snow patches in the shady areas at several of the switchbacks. It made for some tricky hiking, but we made it through them nonetheless.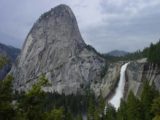 However, given the lack of features and the slipperiness of the hike (due to the gravel on the exposed granite sections), Julie took her frustrations out on me. She was quite angry at me for leaving her behind at Mist Trail 3 (leading up to the Half Dome saddle).
This was an example of how women tend not to forget things and not let them go. The lesson learned here was that you're only as fast as the slowest hiker in the group, and it's not fair to her/him who's left behind. I definitely had to remember that for all future excursions I had planned for.
Finally, it was 7:45pm when we finally returned to our campground in Upper Pines. Chris, Stacey, Andy, John, and Lillian were already preparing for the night's dinner.
Since Julie and I didn't shower the night before, we were quite smelly and sticky with our sweat mixed with dirt and DEET. When we went to the Curry Village showers, we had to wait in line so this further prolonged our agony. It reminded me why Summer really wasn't the time to come to Yosemite Valley, but at the same time, I had to make sure the Half Dome Trail was open by the time we could go on this trip.
Anyhow when all was said and done, we returned to camp and had another great dinner. This time it was steak with veggies and leftover pasta. John, Lillian, Stacey, and Andy sure knew how to make car camping fun and satisfying.
And so all seven of us traded our day experiences amongst ourselves. Of course we had to talk about Chris' death-defying experience on the Diving Board while freaking out the onlookers. We capped off the night with smores over the camp fire. Once again the night was starry and the moon was bright. There weren't too many mosquitoes to bug us, and we had all slept well – exhausted from the eventful day.
When we look back on today, Julie and I still can't believe that we actually made it to the top of Half Dome and back. We were quite proud of our accomplishment. I could easily see why some people do this year after year. It was almost the same mentality of why some runners do marathons year after year. Anyhow, we knew in our hearts that no one could take this away from us (gee I must sound like I won a World Championship or something like that). We deliberately trained with gradually longer and tougher hikes (both physically and mentally). And we ultimately accomplished what we had set out to do when we made the campground reservations back on January 15.
So given all that happened, we'll never forget the day that we bagged Half Dome…
Visitor Comments:
Got something you'd like to share or say to keep the conversation going? Feel free to leave a comment below...
No users have replied to the content on this page