The goal of this weekend trip was to expose my nephew to our favorite haunt – Yosemite National Park. Tahia had been here before, but we also wanted to keep both the kids engaged by allowing them to keep each other company while getting the benefits of being in Nature like this.
My parents also came along on this trip.  When Mom and I were up for an early morning hike or an ambitious hike, we broke from the group and did our own excursions. Meanwhile, Julie, Dad, and the kids did more of the laid back things to stay relaxed and not endure some of the physical challenges that Mom and I were partaking in.
I'd say this trip probably would be more in line with a typical long weekend trip to Yosemite, especially it was Summer time. That also meant crowds, but I'd say all in all, we managed it quite well, and everybody had a good time.  Even when we returned home, my nephew Joshua started drawing pictures of his experiences on this trip!
Here are some highlights and how we managed to pull this long weekend…
Trip Highlights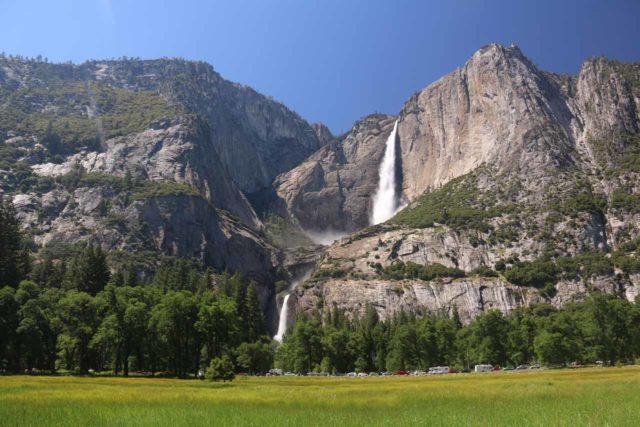 Yosemite Falls – this is the obligatory attraction of Yosemite Falls, and yet it never seems to disappoint when it's flowing. Not only were we able to experience it from the misty base of the Lower Falls, but we also got to see it from several vantage points (as well as Half Dome, Sentinel Rock, and others) from the numerous trails criss-crossing the meadows surrounding the Merced River. Even the kids enjoyed playing in the calmer parts of Yosemite Creek as they're always drawn to the water.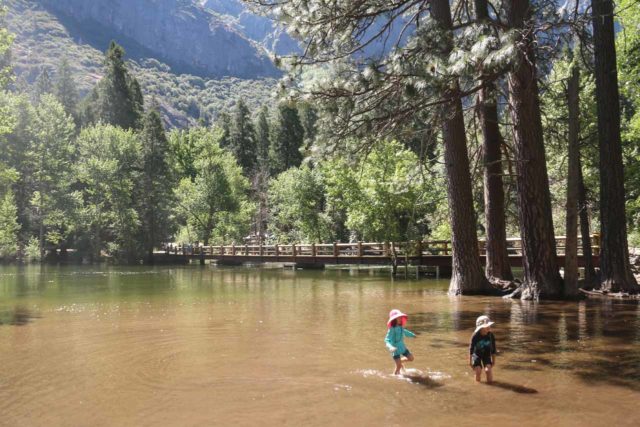 Swinging Bridge – while you could argue that this is another way to experience Yosemite Falls, I'm including this as its own entry because of what the kids were able to do on the other side of the Merced River. You see, there was a calm section where the kids could play and not be as exposed to the risk of being swept away. It wasn't crowded, and it seemed like not a whole lot of people knew about this little play spot.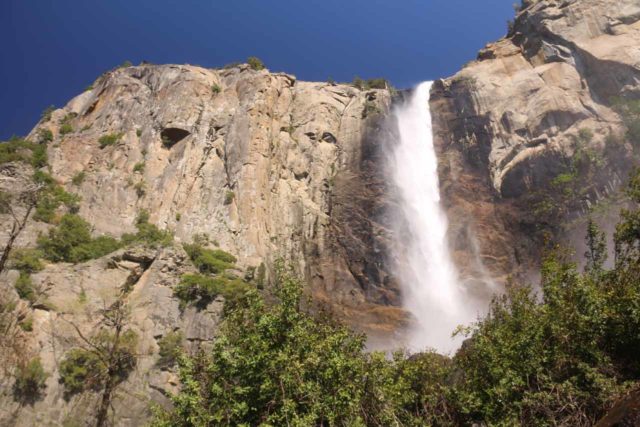 Bridalveil Fall – just about every visitor to Yosemite Valley witnesses this waterfall, but on a hot Summer day, it was worth trying to find parking and walking up to the misty base of this towering 620ft waterfall. As if that wasn't enough, the kids also found some calmer play spots on Bridalveil Creek to play in the water some more!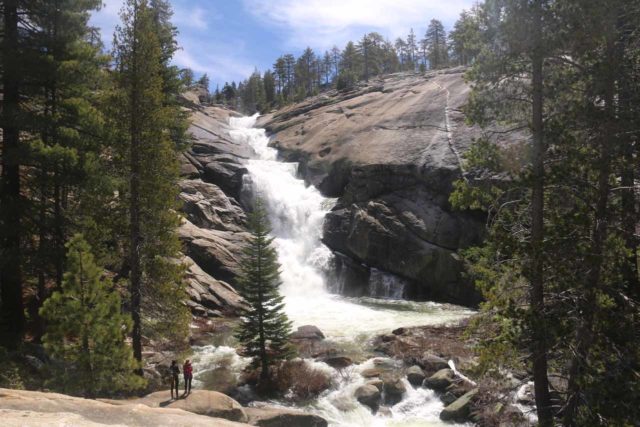 Chilnualna Falls – for a bit of a challenge yet a nice way to escape the Summer crowds, Mom and I did this hike, which took in around 8 miles round trip. So we got an early start, made it to the end, then enjoyed each waterfall once again as the day became hotter but we were descending back to the trailhead as that was happening.
[expand title="MORE" swaptitle="LESS" trigpos="below"]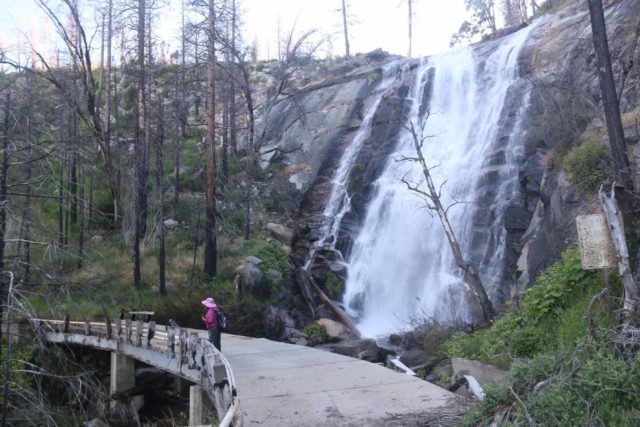 Foresta Falls – it doesn't get more hidden and lesser known in a park like Yosemite than this impressive waterfall near the community of Foresta. Mom and I managed to get an early start and only shared it with a couple of other early hikers and joggers.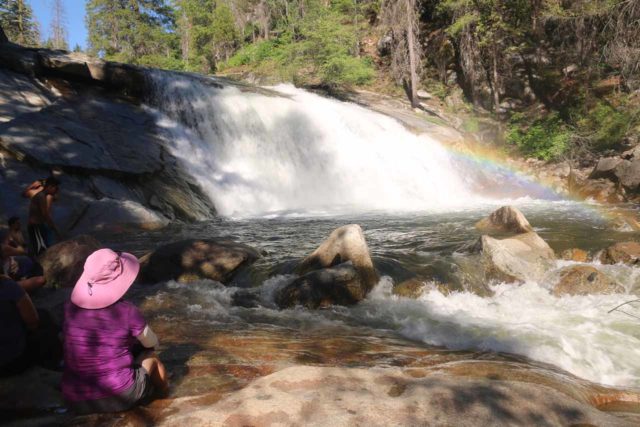 Carlon Falls – although the trailhead to this waterfall began in Stanislaus National Forest (on the way to Hetch Hetchy), the waterfall itself was within the boundaries of Yosemite National Park. Over the years, this obscure waterfall appeared to have gained many more visitors than I had remembered in the past, but it was a nice place to share the experience with other perfect strangers all looking for the same thing as Mom and I.
[/expand]
Trip Advice

Generally, I don't like visiting Yosemite in the Summer, and especially on a Summer weekend. However, when you are dealing with kids, you don't really have much choice in this matter. So given the circumstances, what do you do?
Here's a quick summary of the lessons we learned from this ill-timed trip. I'd imagine it gets worse the deeper into Summer you go…
Consider Condos: Over the years, we've found that scoring campsites have become much harder to get. I still remember the times when we'd make somewhat last-minute campground reservations in March, April, and even May roughly 2-3 weeks prior to our trip back around the 2003-2005 time frame. The only exception was scoring an Upper Pines Campground Reservation 24 weeks in advance because that trip was for the first week of June. Now, it seems that any choice campsite in Yosemite Valley are unattainable or 24-week advanced planning.
However, on this trip, we always had the Yosemite West condos as the fallback. Even though it was about a 20- to 30-minute drive to and from Yosemite Valley, the amenities of cooking our own food, having enough space for three children, two grandparents, as well as Julie and I, and enough parking made the trip much more enjoyable and less stressful as far as our accommodation was concerned
Traffic and Crowds: Since everyone is out of school, both the drive to get to and from Yosemite was full of traffic. And it got worse inside Yosemite Valley mostly because parking was so hard to score. We ultimately spent the better part of our lone full day here always grudgingly getting back to the car because we knew it would be hard to find parking at the next spot we wanted to go to. So we wound up finding some shoulder parking not far east of the Yosemite Lodge at Cook's Meadow, then either walk or catch one of the Yosemite Valley shuttle buses.
All I can say is that if you're coming here during peak season or during some holiday, don't expect to do everything on an aggressive itinerary. You really have to pare back expectations under such circumstances.
Good weather Generally throughout California, we get dry Summers. This usually means good weather (although it can get quite hot) throughout, but it also means waterfalls start diminishing the deeper into Summer you go (depending on the snow pack from earlier in the year).
Divide and Conquer: Because we had two vehicles and enough people on this trip, Julie and Dad did all the kid-watching activities while Mom and I got to do some of the more aggressive and demanding excursions like hiking to Chilnualna Falls or even going out to Carlon Falls. That meant the two different groups could go at their own pace (slower and more relaxed in Julie and Dad's case while Mom and I stuck with the seize the moment mentality).
Avoid the Crowds by Avoiding the Valley Although we didn't employ this strategy on this particular trip, the hectic scene within Yosemite Valley reminded me of why we tend to avoid Yosemite Valley in the Summer. Instead, we'd go to the high country trails along the Tioga Road, which aren't as busy (though they're by no means uncrowded). Even Hetch Hetchy Valley (a twin of Yosemite Valley if not for its flooding by the dam) as well as the lesser known sights of the southern end of the park around Wawona would be a nice break from the crush.
Less Water Depending on the snowpack, there waterfalls may be on the decline or they might be booming. Basically, the deeper into Summer you get, the less water flows over the waterfalls. By late Summer (around August and definitely around September), Yosemite Falls will be dry (unless it had an unusually high snowpack from the Winter).
Mosquitoes Also as the snow and waterflow diminish, they start to pool and stagnate, which are breeding grounds for mosquitoes. Definitely bring insect repellent to minimize the chances of contracting things like West Nile virus (which have spread to California in recent years).
Travel Itinerary

Day 1: Drive from Los Angeles to Yosemite West
Overnight: Yosemite West Condos (Yosemite West, California, USA)
Because this trip was timed with the last day of school, we had to wait until the kids got out before we could make the drive. This meant that we had to deal with traffic on the way out of Los Angeles County. Therefore, we had no time to do any sightseeing other than to make it to our accommodation and check in. We did make a grocery run in Fresno, however, knowing that things would get much more expensive the closer to Yosemite we'd get (but the ice cream didn't do so well even with the ice cooler). We promptly took advantage of the kitchen in our condo to have our own self-cooked dinner.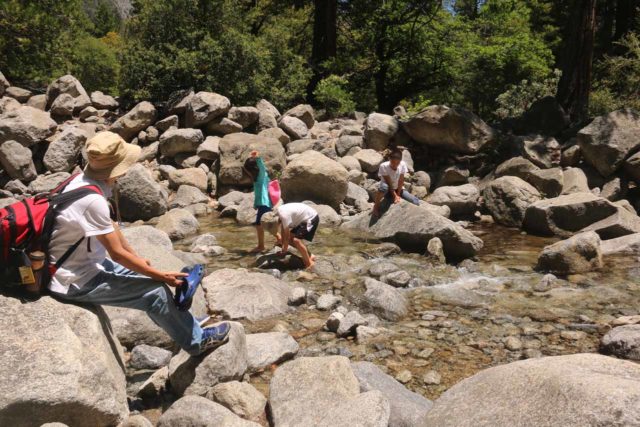 Day 2: Yosemite Valley
Overnight: Yosemite West Condos (Yosemite West, California, USA)
Mom and I began this day visiting Foresta Falls before returning to the condo to join the rest of the family over breakfast.
After the meal, we spent time together visiting Yosemite Valley checking out the usual haunts like Swinging Bridge, Yosemite Falls, hiking the meadows, Bridalveil Fall, and finally having a dinner in Yosemite Village before returning to the condo.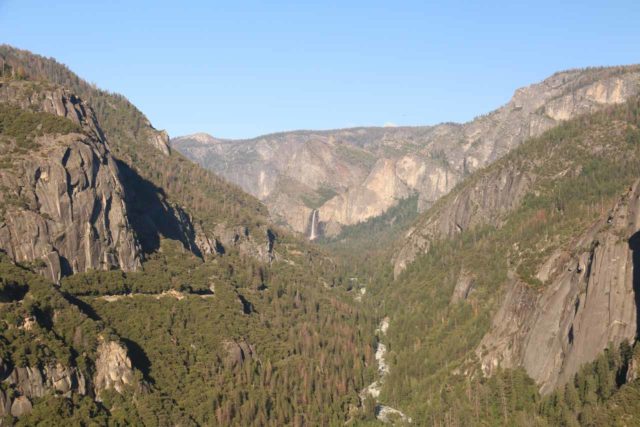 Overnight: Yosemite West Condos (Yosemite West, California, USA)
This was a divide-and-conquer day where Mom and I ditched the Yosemite crowds and split up from the group to do a pair of hikes. Meanwhile, Julie, Dad, and the kids did their own thing checking out some play areas near Wawona as well as doing the touristy thing at Glacier Point.
Regarding the hiking that Mom and I did, we first got an early start to beat the heat (knowing we were going on a hike that was over 8 miles round trip). We hiked the Chilnualna Falls, which took us all the way into lunch.
After lunch, we then did the hike to Carlon Falls, which was another one of the hikes that we hadn't done in about 13 years or more. After this hike, we rejoined the family for a last self-cooked dinner before heading home tomorrow.
Day 4: Drive Home
This was an uneventful day as we packed up, had breakfast, and checked out of our condo. We celebrated Father's Day as a family when we got home to savor ever last bit of this weekend.
Related Trip Reports
Waterfalls included in this itinerary
Visitor Comments:
Got something you'd like to share or say to keep the conversation going? Feel free to leave a comment below...
No users have replied to the content on this page