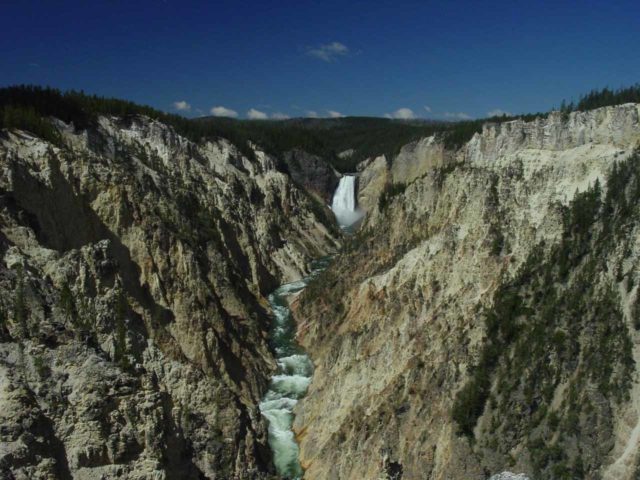 21-June 2004 to 24-June 2004:
So Julie and I merrily hiked along this mostly flat trail, which lasted the first 2 miles. We didn't really pay attention to the fact that the skies had suddenly went from fine weather to ominous and foreboding as dark thunderheads quickly overtook us.
Then, we started to hear thunder. Along with the thunder, we started to see flashes of lightning suddenly popping up in the sky with alarming frequency.
I was amazed at how quickly it went from sunny and fair to the lightning show we were now experiencing. Then, I quickly realized the danger we were in when I noticed there wasn't anything but grass and low-lying bush around us on the trail. With the lightning flashing with such frequency, I wasn't sure what we should do…
Day 1: A GRAND CANYON OF ITS OWN
When Julie and I awoke at around 5am the first thing we noticed was how bright and blue the skies were! It was actually promising to be a good weather day!
We had ourselves the usual power breakfast of some power bars along with some instant noodles using the backpacking stove set and pocket rocket I had brought on this trip. And so with that out of the way, we were then tending to the errand of getting ready to check out and go.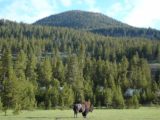 So after breaking down our camp and putting things away and into the duffle then rental car, we drove off in the direction of Canyon. We were actually looking forward to sleeping on a bed tonight, but before that happens, we had to do a little sightseeing first.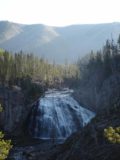 As we drove northeast of the Madison Junction, we had another opportunity to check out Gibbon Falls at around 7:30am. This time, however, the sun was kind of against our line of sight so the harsh lighting against the dark shadows made photography quite suboptimal at this time of day.
We took a couple of photos of the falls from a spot where the view of the falls was more direct. But we skipped the main overview since we had done that under better lighting conditions on our first day in Yellowstone.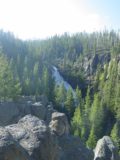 We then headed east of the Norris Junction we then took a one-way loop road for the Virginia Cascade. The road was narrow, but we had no problems going slow as we were looking around at the scenery while also keeping our eyes peeled for the Virginia Cascade.
When we finally did start to see the impressive waterfall on the Gibbon River, we had a little bit of trouble trying to find a suitable place to stop so we could admire the waterfall from outside our car.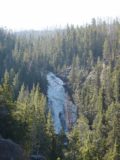 We'd eventually find some makeshift pullout a little further from the falls, and then walked back on the road until we got views of the cascade again. The waterfall was still mostly in shadow but the morning sun didn't quite wash out the remainder of the scenery.
There was a lot of forest around the waterfall itself so we never really got a very clean look at it. We weren't sure if there was a way to get closer to the falls, but given that there weren't sanctioned or decent places to stop the car around this lookout, we were under the impression that there was no safe way of getting there.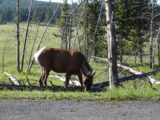 After having our fill of Virginia Cascade, we continued on the loop road and Julie spotted a pretty large elk grazing alongside the road. By this point, the road entered a flatter and prairie-type terrain instead of the rugged canyon near Virginia Cascade. And after trying to photo the elk without disturbing it (i.e. not getting out of the car), we then were back on the figure-8 Grand Loop Road.
At about 8:30am, we were in the Canyon area and we then headed onto the one-way loop road leaving Canyon Village and going alongside the north rim of the Grand Canyon of the Yellowstone River.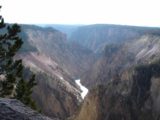 As we were slowly making our way from one roadside stop to the next, we pretty much followed along Janet Chappel's guide to Yellowstone just to gauge what the worthwhile roadside stops were. We ended up stopping for Grandview Point and Lookout Point on this go-around.
The Grandview Point didn't have a view of the main waterfall – Lower Falls. However, it did feature a downstream view of the yellowish canyon in which the park got its name (from the yellow rocks of this canyon).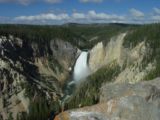 At Lookout Point, that was when we got our first satisfying view of Lower Falls. With the mid-morning light, all the cliffs were lit up the bright yellow. The waterfall itself was thundering even though we were watching it from a distance.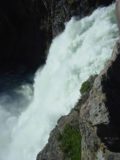 After having our fill of this loop drive (vowing to return and actually do the hikes around here later), we then drove over to the brink of the Upper Falls car park arriving there a little after 9am. From there, we walked a short distance to the very top of the Upper Falls (of which we still had yet to see a more satisfying frontal view of it).
From here, we could certainly feel the power of the Yellowstone River rushing by below us. That kind of made us wonder what the brink of the Lower Falls would be like.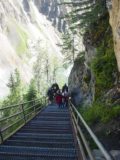 Next, we then headed across the Chittenden Bridge and onto the road following the South Rim of the Grand Canyon of the Yellowstone River. The first car park we stopped at was for the Uncle Tom's Trail at around 9:30am.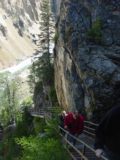 We figured that we mind as well get a much closer look at the major waterfall of the park, but we were also interested in experiencing the exhilaration of walking on elevated steel walkways where we could actually see through to the bottom. I'm sure that might make some people a little queazy for those fearful of heights, but I also thought it would make us fully aware of the degree of steepness the Grand Canyon of the Yellowstone possessed.
I couldn't imagine what the difficulty would've been like had the walkway not been built and scrambling was the only way down to get close to the waterfall.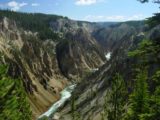 It didn't take long before we were at the overlook for Lower Falls. We came just in time to see some rainbows though photographing them together with the giant waterfall wasn't easy, especially given the limited real-estate on the walkway.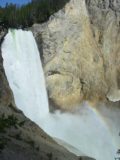 Speaking of limited real estate, the endpoint of the Uncle Tom's Trail was a little bit crowded. There was a large Chinese tour group that was here and we pretty much had to try to fit our way in and then wait until the tour would eventually rush out of there (knowing how Chinese tour groups tended to operate).
There was one Chinese lady in particular who thought she owned the overlook as she shoved people out of the way of her photo (me included), which left me with a bit of a sour taste. But I guess I kind of understood that mentality of just seizing the moment and throw courtesy out the door when you're on limited time (hence why I hate being in large tour groups) since my grandma had a bit of that in her.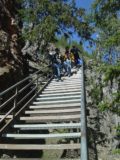 I guess when you live in poor conditions in rural China, that's what you had to do in order to survive. So even though I stewed for a bit, the moment passed, the tour group left, and we were finally able to enjoy this lookout without as much stress (though individual visitors would trickle in and out of here continuously).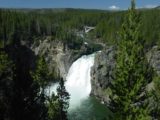 So with that, we were back up to the car park and then decided to see if there was a little more to the Uncle Tom's area especially regarding views of the Upper Falls as well as Crystal Falls (as mentioned in the Yellowstone Treasures book).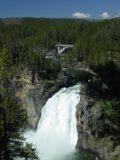 Sure enough we managed to get a pretty satisfying frontal view of the Upper Falls (at around 10:30am) as we walked a little bit west of the Uncle Tom's car park. We didn't go further beyond these views of the powerful 110ft waterfall, which was very bright in the mid-morning sun and kind of tricked the camera into darkening everything else around it.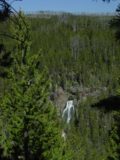 Just before we returned to the car, we also noticed a much smaller but also pretty waterfall known as Crystal Falls. The view from here seemed kind of partial and that reminded us that maybe we should get a closer look either this afternoon or tomorrow.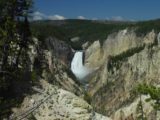 Then, we got into the car and drove further east towards the car park at Artist's Point. There were definitely lots of people here, including large tour buses. And as we walked to the overlook, we could see why.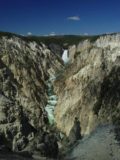 This particular viewpoint might be a distant one of Lower Falls, but it featured the Grand Canyon of the Yellowstone River dominating the landscape. Given the yellowish colors juxtaposed with the white of the waterfall and the blue of the skies with some green from the trees in between, it was no wonder why they called this lookout Artist Point as we could easily envision artists wanting to paint what they see here.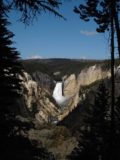 There was definitely no solitude in this place though it kind of planted the seeds of perhaps catching a sunrise here tomorrow. Maybe it might be a good place to see a sunrise accompanied with this view for some solitude. Food for thought.
Next, we headed back towards the Canyon Village so we could finally check into our lodge and drop off our stuff. However at around 11:30am, as we were on our way, we noticed a bit of a commotion as lots of cars and people were gathered near a meadow where there were some antlered elk grazing.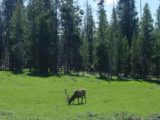 Honestly, we couldn't tell the difference between elk, deer, and moose, but there was a ranger that was here to make sure no one got too close to the elk. And so we asked him what it was and he said it was elk. When I asked him what the difference was between the megafauna, I wasn't sure I got his explanation about the difference between deer and elk. However, with moose, the droopy ears and the big nose or snout would definitely give it away. He also said they're in the swamps in the south part of the park.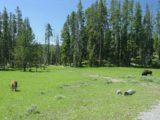 I started thinking of Rocky and Bullwinkle, but the ranger was definitely on guard as he immediately yelled at someone who was approaching the elk.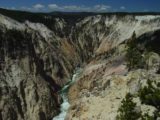 It turned out that it was still a little early to check in so we next drove a spur road past Canyon Village towards Inspiration Point. We'd get there around 11:50am where we caught some more grand views of the Grand Canyon of the Yellowstone though Lower Falls was way distant in the shadows.
After having our fill of this viewpoint, we then stopped at the trailhead for Silver Cord Cascade. I recalled there was a large boulder near the trailhead that kind of helped us to identify this stopping point.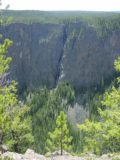 And with that, we laced up our boots, and went for a 2-mile round trip hike to see one of Yellowstone's taller waterfalls.
The walk itself was pretty shady and forested as it skirted the north rim of the Grand Canyon of the Yellowstone. It was mostly featureless for most of the mile as we weren't even able to see the canyon itself until we got close to the view of Silver Cord Cascade.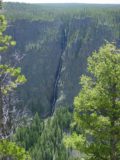 And when that happened at around 12:30pm, we admired the thin cascade where it seemed like we were here at the right time of day so as to ensure that the falls wouldn't be darkened by shadow while everything else around it was bright.
There wasn't a whole lot to do in terms of changing up the viewing experience do so we just took our photos and then left. Sure, we could've continued walking what would then be the Seven-Mile Hole Trail, which was said to be more than 7 miles return and it was hard upside down hiking into the canyon and then back out. But we had enough of this trail and were anxious to check into our lodge and have a lunch.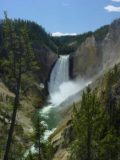 After taking a bit of a break with the logistics and the lunch, we then drove the loop road past the familiar viewpoints on the North Rim of the canyon. This time however, we stopped at the Red Rock Lookout, where we hiked onto the paved descending trail towards a more frontal view of Lower Falls where we were even able to feel sporadic droplets of spray traveling downstream to us.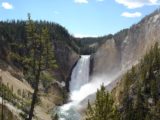 I recalled there was an Indian guy showing us how we used his DSLR to take photos of this waterfall after we commented on his nice camera. I knew at some point I would have to commit to a DSLR, but I just hadn't found the budget nor the will to commit to it yet.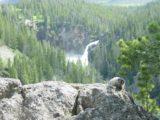 As we made our way towards the back end of this loop road, we then tried to make it to the brink of the Lower Falls, but alas, that trail was closed. So we could only settle for the distant and partial view of Lower Falls. Bummer.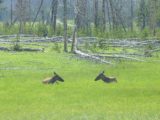 On the way back to the Canyon Village, we saw another pair of elk looking at one another. We couldn't tell if they were looking past each other of if they were genuinely looking at each other. Whatever the case, it was a little fun photo moment (kind of looked like an elk stare down), and then at around 4pm we were once again back at the Canyon Village to take a bit of a siesta while also unwinding on this eventful day.
Day 2: THE TILTING LAKE
Julie and I had an uneasy sleep even though it was the first time in nearly four days that we had finally slept in a bed. The issue was that it was frigidly cold in the cabin last night and the blankets didn't seem to do the job in terms of keeping our body heat while we were asleep.
So based on that, we had no trouble waking up early and getting out of the cabin by around 6am. During the process of getting ready for the day, we found out that there was a heater in the room. I guess it was too late for last night, but certainly for tonight we would make use of it.
The first thing we did once we left the cabin was to return to Artist Point. And when we got there at around 6:15am, the sun had still not breached the horizon though the Grand Canyon of the Yellowstone River was only lit up around Lower Falls while the rest of the canyon was in shadow (i.e. it wasn't very friendly for taking photographs).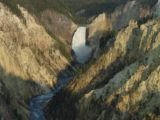 While we were waiting for the sun to come up, Julie and I were practicing the Lindy Hop (something we had been taking lessons for in Pasadena), which was kind of fun, but without music, it was kind of like just going through a bunch of patterns. Our dancing together never really flowed like it could, and I would imagine that over time, our interest in this dance would probably fade given that she was really not that into it in the first place (even though East Coast Swing amongst friends was how we ended up meeting for the first time).
Slowly but surely the sun eventually came up, and we would linger around Artist Point until just before 7am. But it wasn't all that great as I had hoped, and we had to wait another 2.5 hours before the sun would be angled in such a way that we ought to see rainbows from here. And that was something we weren't going to do.
Still, we enjoyed the solitude as I would imagine it wouldn't be this quiet here until after sunset (when it would be too late).
Next, we drove over to the car park for Uncle Tom's Trail again. We got there just a few minutes later after leaving Artist Point. And all we did there was to take a few more morning photos of the Upper Falls (still mostly in shadow at the time). It wasn't a good time for photos at this spot so we took off and headed back towards the drive along the North Rim.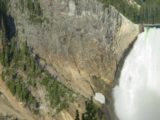 We stopped at Lookout Point and went straight onto the paved but steep descent onto Red Rock Lookout. From down here, the morning light allowed us to see some people already on the Uncle Tom's Trail looking like ants compared to the massive Lower Falls.
It would've been nice to see a rainbow from here, but the angle still probably wasn't right. Still, we had a nice and quiet time here before we headed back up and regained the car at around 7:30am.
Next, we then drove towards the far end of the car park for the brink of the Upper Falls. That was where we found a trail that would ultimately get us closer to Crystal Falls. The trail we were on actually kept going along the rim, but we weren't interested in going any further than the spur trail for Crystal Falls.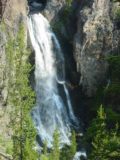 While at Crystal Falls, we could get pretty satisfying top down views from across the small canyon that contained the falls. However, it looked like there was a trail that went steeply down to its base but there were plenty of warning signs and barricades discouraging further progress. I guess it was just too risky for the park to want to maintain.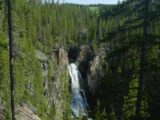 So by around 8:45am, we were back in the car. Now with the rest of the day ahead of us before returning to Canyon, we tried to figure out how we should be spending today. And with the Chittenden Pass between Canyon and Roosevelt closed during our visit due to road construction, we decided to make a bit of a short day trip through Hayden Valley all the way to the West Thumb Geyser Basin before heading back.
This day trip would be kind of our excuse to check out Lake Yellowstone, which was a lake that was said to be tilting as the Yellowstone supervolcano's surface below would bulge from time to time with activity. In terms of a natural arch in the park, there was a Natural Bridge near the Lake Junction that we were hoping to see.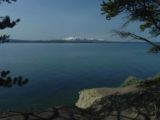 As we were heading through Hayden Valley, we ended up deciding that maybe we should just go straight through this valley and then come back for wildlife sightings once we got the higher priority sights out of the way.
So the first stop was for the Natural Bridge once we passed through Hayden Valley and hung a right turn when we saw Yellowstone Lake. It looked like there was some lodging and even some boating near the developed part by the Lake Junction, but then we headed east of there in search of the car park for Natural Bridge.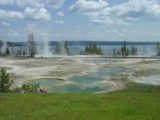 Unfortunately, when we got to the car park for Natural Bridge, we found out that the short 0.5-mile trail to the Natural Bridge was closed due to grizzly bear activity. So that was a real bummer as I was really hoping to see a natural arch in the park.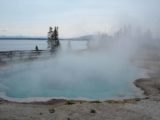 So we continued on in the westbound direction before we'd eventually reach the West Thumb Geyser Basin at around 10am. There were boardwalks and hot springs around here, but the real draw of this area was the chance to see geothermal features in a lakeside setting (something that the previous geyser basins we've been to couldn't claim).
I suppose we could've come here earlier when we were driving between Flagg Ranch and Old Faithful, but today seemed to be as good a day as any to check out the geyser basin with the weather being as sunny as it was.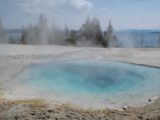 So we took our time doing a loop walk that passed by numerous hot springs that exhibited greenish or bluish colors. But with the backdrop of the lake, we thought it was just that unusual combination that really made us want to take our time here.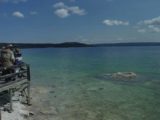 As we got to the shores of Yellowstone Lake, we saw a vent protruding out of the lake surface while surrounded by the lake waters itself. It was a pretty cool sight, but I somehow doubted that this particular vent would spew out a geyser. Plus, this particular feature was quite popular as there were always crowds of people wanting to get close to this feature to take photos.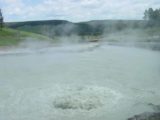 After having our fill of the West Thumb Geyser Basin, we then drove back to the east and then up in the direction of Canyon again. However, we made a stop at the Mud Volcano geothermal area at around 12pm, which was a particularly active area featuring strong sulfur odors, very acidic bodies of water, and churning mud pots and vents (including the namesake Mud Volcano itself).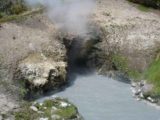 It definitely felt like the ground came alive in this place.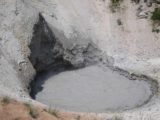 Then, after having our fill of the Mud Volcano, we then drove through Hayden Valley once again. This time, we noticed that there were long expanses of rolling green prairies, which I'm sure would be ripe for wildlife viewing. The interpretive signs along the way at various vistas and pullouts seemed to corroborate this observation.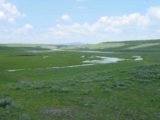 However at this time of the day, it seemed like most of the wildlife were not within sight of the road as they had probably retreated to cooler places for rest or to hide from top predators like the grizzly bear or even the wolves.
Perhaps I should've slowed down and visited this place first before West Thumb instead of doing it in the other order in hindsight. Oh well. You live and learn.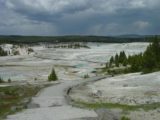 When we returned to Canyon, we then went west where we'd eventually stop once again at the Norris Geyser Basin at around 2pm. However, on this go around, we were going to explore more extensively its network of boardwalks passing by numerous volatile geothermal features as well as plenty of other dormant ones.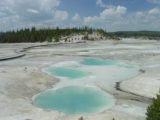 I had recalled in the park website that there was actually activity going on in this basin and that they even had to re-route part of the trail (or close sections of it). I was secretly hoping that the Steamboat Geyser (the largest one in the park, supposedly) might make one of its rare eruptions given the new development in increased activity here.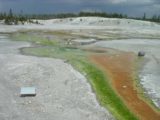 We ended up exploring the part of Norris that was known as the Porcelain Basin. I'd imagine it got its name because the panoramic appearance of the basin really looked like a large expanse of white mixed in with some colorful springs and pools.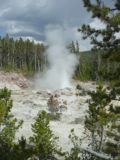 So we ended up passing by some features such as the Echinus Geyser with its red-fringed borders, the churning but not erupting Steamboat Geyser, the Pinwheel Geyser, and many others whose names escape me.
As we were exploring the place, the hot sun was gradually giving way to pop up thunderstorms which were building and very quickly started to spawn some pretty dark-looking clouds.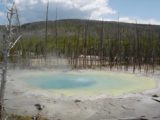 By the time we were done visiting the Norris Geyser basin, the dark clouds nearly overtook us though there was still sun highlighting the colorful scenery of the geyser basin. We'd end up leaving Norris at around 4:30pm, and then we headed back to our lodge in Canyon where we'd chill out for a bit before dinner.
While we were in our cabin, the thunderclouds definitely took over and even dumped its load in a short thundershower filled with lightning and thunder. But just as soon as it came, the weather dissipated pretty quickly by the time dinner time rolled around. And it was almost as if the brief thundershower never happened.
Our dinner was pretty much a affair of standard food served at one of the cafes in Canyon Village. It was nothing spectacular, but it was adequate enough for us to be fed.
And for a change, we were finally able to shower and brush our teeth without having to drive or hike somewhere. But come tomorrow, we'd be back out in the bush again as we were booked to camp at the Mammoth Campground tomorrow.
Day 3: LIGHTNING CRASHES
It was freezing cold in our cabin at Canyon Lodge when Julie and I awoke at 6am. After packing our stuff and checking out at the front lobby, we were off to Mammoth to try to secure campground reservations (knowing we this day we didn't pre-book anything).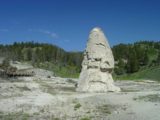 We arrived at the first come first served campground at around 8am. We got our campsite without any problems and quickly pitched the tent under the fine, cloudless weather.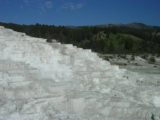 Then, we headed back towards Mammoth and towards the terraces. The terraces were quite impressive, but the majority of them were a ghostly white and brown. This included the famed Minerva Terrace, which was pretty much dead except for a little bit of color at its very top.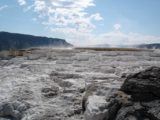 I guess we were a few years too late in terms of seeing the full color of this terrace, which was a bummer because a lot of the postcards showed this very terrace in full color and vigor. Oh well, that's life sometimes.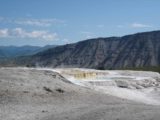 It turned out that Minerva Terrace wasn't totally dead even though the vast majority of it was white. Actually, the very top of the terrace was still active and had some color. Still, it seemed like this terrace had seen its best days, and I guess that comes with the ebb and flow of Nature.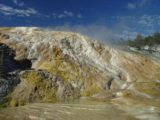 However, there were some other live and colorful springs. Particularly memorable were the Canary Spring, Palette Spring, and Orange Mound.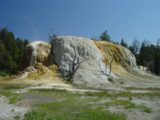 The Canary Spring wasn't quite as shapely as the Minerva Terrace, but the hot water spilling across the rounded cliffy mounds providing that orange and reddish color to the surface certainly made this section perhaps the most interesting of the terraces that we've seen on this trip.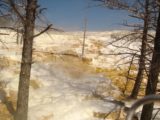 On the short one-way drive in the Terrace area, we also saw the Palette Spring and the Orange Mound, which also had color though they were far smaller in scale than the Canary Springs and Minerva Terrace.
By the time we were done visiting the terraces, it was about 11:15am and still sunny and clear.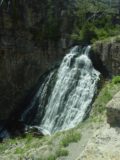 Next, we intended to see Osprey Falls so we parked the car at its trailhead at the base of Bunsen Peak. But before we started on this hike, we walked along the Grand Loop Road to get closeup views of Rustic Falls.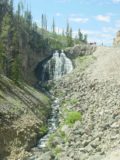 We were able to park the car near the top of this waterfall, then walk along the road as we gradually went from an angled profile view of Rustic Falls to a more direct view of the 50ft bulbous waterfall rippling alongside the Grand Loop Road.
It was a little past noon when found trailhead parking and we started the hike to Osprey Falls. The skies remained sunny and wildflowers were growing all over the four-wheel-drive track converted hiking trail. The trail passed through an open grassy field as it went around the base of Bunsen Peak.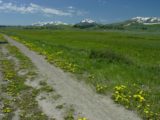 Evidence of the forest fires were evident around the trail as there were numerous pockets of burnt stumps with new saplings growing in high densities right around them.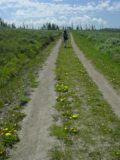 So Julie and I merrily hiked along this mostly flat trail, which lasted the first 2 miles. We didn't really pay attention to the fact that the skies had suddenly went from fine weather to ominous and foreboding as dark thunderheads quickly overtook us.
Then, we started to hear thunder. Along with the thunder, we started to see flashes of lightning suddenly popping up in the sky with alarming frequency.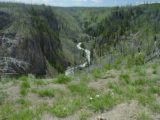 I was amazed at how quickly it went from sunny and fair to the lightning show we were now experiencing. Then, I quickly realized the danger we were in when I noticed there wasn't anything but grass and low-lying bush around us on the trail. With the lightning flashing with such frequency, I wasn't sure what we should do.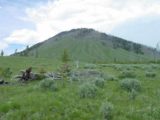 So Julie and I continued walking along the trail. We knew there were other people on the trail too and wondered what they would've done in this situation. I especially wondered about those folks on Bunsen Peak during this storm (as I noticed some people were also on the peak itself earlier on in the hike).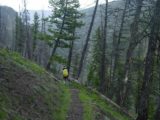 Anyhow, the lightning show persisted, then it started raining intermittently with thick droplets. It seemed like it took forever, but eventually the lightning show passed.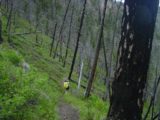 It was around that time that we finally made it to the spur trail that descended into the steep Sheepeater Canyon. The trail was narrow and the dropoffs ramped quickly towards the Gardiner River far below. Burnt trees were everywhere, reminding us of the consequences of the lightning show we saw firsthand.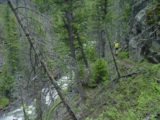 Once the switchbacking descent ended, we then followed the Gardiner River upstream towards the waterfall. The trail still remained narrow, however, we wondered how much trail erosion must be going on given how much fire damage might have reduced the amount of foliage that would've retained the stability of the soil.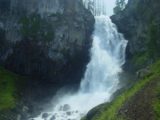 It was almost 2pm when we finally made it to the base of the impressive 150ft Osprey Falls. The trail got steep towards its end beneath the falls. There was even a natural overhanging shelter which would come in handy should the skies dump rain again.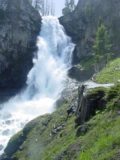 It wasn't easy taking a satisfying photo of this falls because the waterfall twisted on its way down. So even though it was quoted as being 150ft tall, it sure felt quite a bit shorter than that. Nonetheless, the sun started making a reappearance while we were at the falls.
Anyways, we enjoyed this falls and left when the next large party of hikers made it to the falls.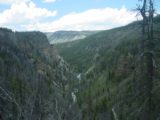 Now that it seemed like the coast was clear concerning sudden thunderstorms and lightning strikes, the hike back out was long, but at least we got to do it in a relaxed state of mind again. When we got up to the top of the climb and rejoined the trail around Bunsen Peak, we could look back into Sheepeater Canyon and be amazed that we had actually climbed in and out of that steep canyon!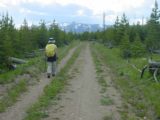 Fortunately, the remainder of the hike around Bunsen Peak was pretty flat. And now that we were headed back in the other direction (west), we started to notice the snow-capped mountains in the distance that we suspected were part of the Absaroka Ranges.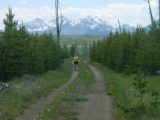 As we got real close to the trailhead, the mountain scenery that kept teasing us as we headed west got even better as the sproutlings on either side of us started to clear.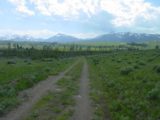 It was after 4pm when we returned to the car park and fortunately no further incidence of lightning in the open occurred (though it was always on our minds). As a matter of fact, the weather started to clear again and afternoon sunlight prevailed.
Julie and I spent the rest of the afternoon taking a shower in the Mammoth Hotel (something that wasn't advertised when I did my trip research). Then, we had a nice dinner in one of the restaurants in town.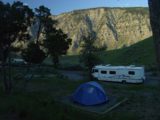 It was 8:30pm when we returned to our tent in the Mammoth Campground. There was still late afternoon light at this hour. Both Julie and I spent time reading and tending to our personal hygiene. We both marveled at how nice their restroom facilities were. We figured it probably had to do with being close to the National Park Headquarters 🙂
When night time fell, we both peacefully slept in our tents. The moon was full and I swore I could hear howling that woke me up from my semi-conscious state in the middle of the night. I couldn't tell if they were coyotes or wolves, but either way, their eerie howls somehow reminded me of werewolves. And with that thought, I eventually drifted back into my subconscious and slept the night away…
Day 4: THE REAL CELEBRITIES
When we awoke there seemed to be some inversion layer of fog in the immediate area. Nonetheless, we determined that on this day, we were going to do a day trip out to the Roosevelt and Tower area and maybe even do an out-and-back detour through Lamar Valley and up to the northeast entrance of the park.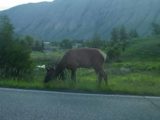 Just as we were leaving Mammoth at around 6:15am, we noticed there was an elk grazing next to the road. It turned out to be one of several elk grazing in the Mammoth area, and they seemed to be very comfortable staying in the protection of the settlement here.
It's like the elk were smart enough to realize that instead of being food for wolves and grizzlies, why can't they just stay amongst the humans for protection?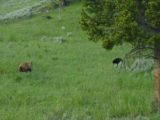 Anyways, we then continued east in the early morning. We'd eventually get close to the Roosevelt area where we noticed some commotion going on by the road. And when we got closer to see what the commotion was about, we saw a pair of small bear cubs playing on a hillside near the small town.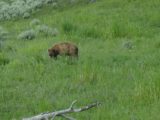 It was early in the morning so the "bear jam" that was created here wasn't that bad, and we even got some pretty choice viewing spots of the bears in action. I guess Mom's saying that the early bird gets the worm certainly was true in this case.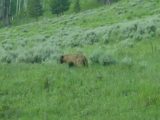 When we were done having our fill of being papparazzi to the real celebrities of the park, we then continued on our way towards the trailhead for Tower Falls getting there a little before 7am.
The first thing we did was to go right to the overlook of the waterfall, which had a somewhat disappointing view as most of its base was blocked with overgrowth. So that merely strengthened our resolve to get to the base of the waterfall where we knew the best view of it would be.
And as we descended the steep but paved path towards the bottom, we were then met by a barricade that prevented further progress along Tower Creek towards the impressive 132ft waterfall.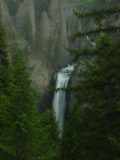 Since it was early morning and not about to be denied yet again by a closure, we went through awkwardly through some slight openings in the barricade and were on the final bit of the trail to its end at the base of Tower Fall.
We saw that there was a section of the trail where it looked like it was sliding into Tower Creek. I guess over time, the whole section of the trail will eventually go in there, but truthfully, it didn't look all that bad. In fact, we had seen far worse than this (maybe they shouldn't have paved this part of the trail in the first place), and perhaps it was still a functioning trail but if you allow thousands of visits a day here, then perhaps the remaining life of this trail would be expire that much sooner.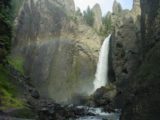 When we arrived at the base of Tower Fall at around 7:15am, there was a faint but high rainbow going besides it in the mist. The rainbow was faint because there was still some haze and some early morning fog or clouds that the sun had to get through. But nonetheless, the view here was pretty, and Julie and I spent some time down here taking people shots while also trying to make the most of what we knew might be forbidden territory going forward.
So after having this stint at Tower Fall, we returned to the car and then went to Roosevelt Lodge where we wanted to check out Lost Falls. We knew the waterfall trail started behind the lodge, and when we got there before 8am, the first thing we did was to look for that somewhat hidden trail.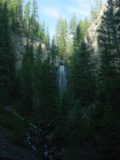 Once we found the trail register at the junction of the waterfall and the Lost Lake Trail, it was then only a 1/4-mile or so walk before we got into the dark recesses of the small gorge containing the light-flowing waterfall. Julie was worried about bears given how quiet the trail was, but in the end, we were able to scramble on the chunks of flaked off basalt and get right up to the base.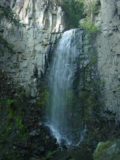 After having our fill of this rather obscure waterfall, we then returned to the car. The photography book we had just picked up at the store in Mammoth yesterday indicated that the best time to photograph Tower Fall was around 8:30am-ish or so. And since it was getting to that time while the sun was getting even brighter in the morning, we decided to return to Tower Fall.
At around 8:45am, we were back at the familiar car park, which had a handful more people but was still quiet at this time of day.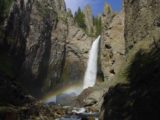 Julie stayed behind while I quickly made my way down to the barricade and then through. I came armed with a bear spray since I was going this solo. And sure enough, when I got to the waterfall, I could see a bold bright rainbow arcing across the base of the beautiful Tower Fall.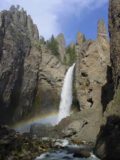 Boy was I glad I came back here for this!
So I took a bit of time taking as many photos as I could while always keeping my mind cognizant that I could get fined or busted for being here. But oh this view was way better than the sanctioned one at the top, and this was one of those times where being a rebel paid off.
As I was running back to the barricade and back to the part of the trail I was supposed to be on, I accidentally sprayed my side with the bear spray (I had one hand on it just in case, but I guess a misstep at that uneven part caused me to fire at myself)!
So the side of my shirt had this orange stain, but the worse part of it was that it was really hot and stingy on that side. And apparently (not sure of how I was supposed to calm down the effects of the pepper-spray-like bear spray), it would be something I'd have to live with for the rest of this day!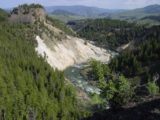 By about 9:15am, we were back together in the car. We made an out-and-back detour going towards the Chittenden Pass while seeing some overlooks along the way (such as Calcite Springs Overlook). There were also some interesting volcanic features alongside the road.
When we were done with this quick detour, we then headed back to Roosevelt and eventually northeast into the Lamar Valley.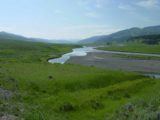 The drive through the valley was similar to Hayden Valley in that it was a large expanse of prairies with herds of wildlife grazing about in the large plains. We were hoping to see some wolves here (as the park's chatrooms had been raving about this place for a bit), but as we made our way through the valley, we didn't spot any of the famed wolves.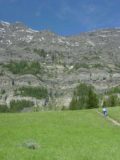 We'd eventually drive almost out to the far northeast entrance of the park where the terrain became more mountainous and rugged. We'd ultimately get to a spot where we saw many people with spotting scopes checking out bighorn sheep high up on the cliff-like Barronette Peak before us.
We came here because our Yellowstone Waterfalls book said there were a pair of waterfalls here, but they really looked like nothing more than typical temporary mountain cascades. So we took what photos we could of the rather wimpy waterfalls here, but then one of the folks with the spotting scopes asked if we wanted to look through his scope.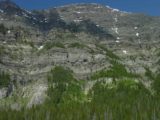 We said sure, why not, and sure enough, we could see the bighorn sheep through the powerful zoom of those scopes. That was really nice of that guy to share the experience with us, and we were starting to get the rush of why wildlife enthusiasts also like Yellowstone.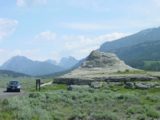 So with that, we left the area and passed through Lamar Valley once again. Even though we were hoping a wolf sighting might occur on this pass through, we were actually taking our time to check out some of the features of the valley (e.g. Soda Butte).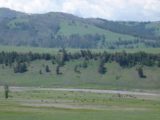 We ended up seeing more herds of bison and elk, but no grizzles and no wolves. Perhaps in hindsight, we should've gone here first before checking out Tower Fall. But you see, that's the thing with places like Yellowstone. There's simply too much to see in such limited time, and you really have to allow yourself time and some luck to get those prized wildlife spottings combined with the geological features to round out the overall experience.
We'd eventually be back at the Roosevelt Lodge at around noon, and we decided to have ourselves a bit of a barbeque lunch at the lodge. Since this place had a bit of a western theme and history to it, we figured it would be as good a place as any to have this kind of a lunch.
After the satisfying meal at Roosevelt Lodge, we then headed back towards Mammoth. On the way out of Roosevelt, we were caught in a bit of a traffic jam, and it turned out that the bear jam from this morning grew a bit more (apparently the bears didn't move from their play spot) so there were rangers trying to direct traffic.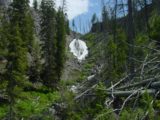 Having already had our fill of these bear cubs (hoping they were grizzlies), we just kept going. Eventually, we'd get to the trailhead at Lupine Meadow for Wraith Falls at around 1pm. That was where we then embarked on a quick out-and-back 1-mile round trip hike to the bulbous Wraith Falls.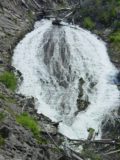 I often wondered how this waterfall got this name, but perhaps that bulb shape might appear like an apparition suspended on the sloping cliff like a ghost would. So hence the name, I guess?
Anyways, the official end of the trail had a rather distant view, but I saw that there were more defined tracks beyond the small barricade and so we went forward and got ourselves a bit of a better view. We didn't go all the way up to the falls like they did in the Yellowstone Waterfalls book, but the view we got was good enough.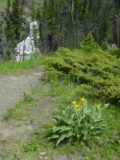 Then, we returned to the car and continued further west where we ended up at Undine Falls just before 2pm. This particular waterfall was more of a roadside look-but-don't-touch kind of waterfall so we took what photos we could up here without many options to do much more with it (truthfully we didn't try real hard to look for alternative views though).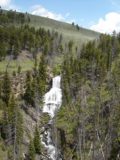 And after having our fill of Undine Falls, we then returned to the campground at Mammoth where we were able to shower at the Mammoth Hotel. My side was still burning from spraying myself with the bear spray, and the hot water from the shower seemed to have amplified the burning effect. I wasn't sure what to do about it other than to let the pepper wear off over time. But in the mean time, it was pretty uncomfortable to deal with it. But at least I got to change my shirt so I wouldn't be constantly exposed to the pepper that was on the previous shirt.
After the shower, we then ate at the Mammoth Hotel, which had a surprisingly good dinner as well. I recalled having some kind of bangers and mash dish while Julie had some local fish.
We even engaged in some friendly chatter with the Austrian waitress who was here for the Summer. It was always good to hear about the experiences of people from different walks of life. It just adds to the variety that we've come to realize that travel tends to provide.
Visitor Comments:
Got something you'd like to share or say to keep the conversation going? Feel free to leave a comment below...
No users have replied to the content on this page