About Kuhflucht Waterfalls
---
Hiking Distance:
about 3km round trip (main waterfalls only)
Suggested Time:
90 minutes (main waterfalls only) or 3 hours (to spring)
---
Date first visited:
2018-06-27
Date last visited:
2018-06-27
---
Waterfall Latitude:
47.52589
Waterfall Longitude:
11.13249
---
The Kuhflucht Waterfalls were a series of waterfalls near Farchant said to have a cumulative height of 270m making this one of Germany's tallest waterfalls. In my experience, though, it was hard to corroborate considering that there wasn't a view that allowed me to see them all in one shot and evaluate whether they should be counted as one or as separate entities joined together by less steep cascading sections. In fact, there were several individual small drops that I witnessed in route, so I'm not exactly sure why the literature claims there wee three waterfalls in all.
In any case, this was one excursion where I wished I could do again because there was quite a bit of head scratching moments when I did it on our Germany/Austria trip in 2018. I'll get into why later in this writeup, but the bottom line was that I started the hike from the wrong trailhead, and I didn't go far enough to see the uppermost drops of the waterfall at the Kuhfluchtquelle, which was a spring where the start of the series of waterfalls gushed out of a hole in a cliff wall.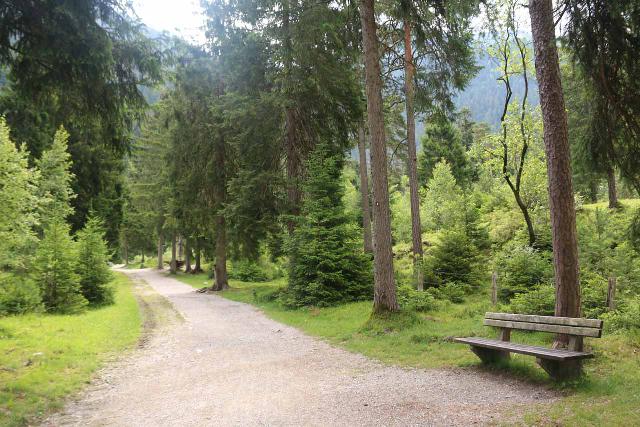 As for the hike to experience the waterfalls, I'll describe the way I should have done this hike before getting into the particulars of why I screwed up.
From the Kuhflucht Waterfall car park (see directions below), a trail went through a fence and followed along a gradual incline through a lightly forested path with some benches along the way. I noticed some mountain bikers were in this stretch of the trail given the gentle terrain. This stretch lasted for a little over 500m before it reached a trail junction with the Oberau Kuhfluchtwasserfälle Walderlebnispfad (I think it might also be referred to as the Philosophenweg or Philosopher's Path), which was a separate trail from a different car park.
Continuing straight towards the fencing and going past a sign suggesting the falls was a mere 25 minutes away, I followed the Kuhfluchtgraben upstream (keeping right and not crossing the bridge over the stream). At this point, I encountered some blue interpretive signs suggesting that the trail now coincided with the Königsweg (King's Path) as apparently King Maximilian II hiked here in July 7, 1858 (at least that's what I gleaned from reading the signs in my limited German).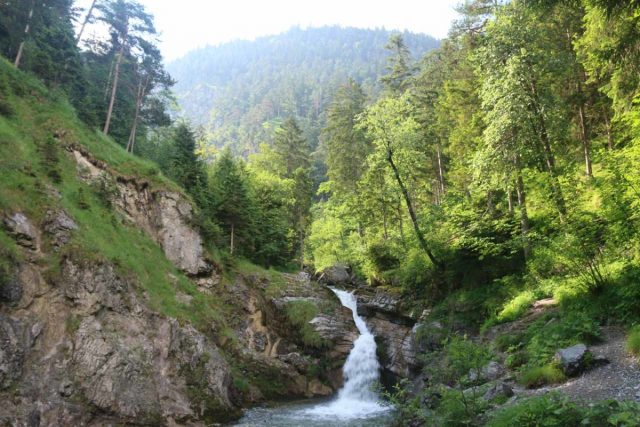 In any case, the path then continued further along the Kuhfluchtgraben revealing a series of small waterfalls (probably disputing the claim that there were only three if you count these). At this point, the climb became a bit steeper in order to get above these waterfalls and continue following the increasingly turbulent creek. There were also some side spur trails descending from the main trail in order to get a closer look at some of these smaller waterfalls and cascades.
After about 750m from the trail junction (or a little over 1.2km from the closest trailhead), the trail then crossed a bridge over the Kuhfluchtgraben, where there was an attractive lower section of what appeared to be a significant waterfall on the left and a lighter flowing cascade coming down a gully on the right. Beneath a crucifix, there was also a spur trail climbing up to a lookout shelter, but it was closed during my visit as apparently the soil beneath the shelter was unstable. Had I been allowed to go up there, I'd surely get a nice frontal view of the series of Kuhflucht Waterfalls that I was only able to see part of from the bridge.
Beyond the bridge, the trail then climbed up a steep series of steps before continuing its ascent up several switchbacks. Then, the trail branched, where the right branch went into a dead-end within a gorge revealing more of the Kuhflucht Waterfalls.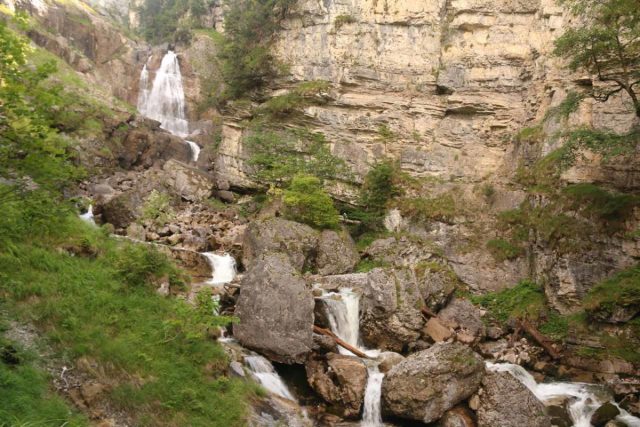 Backtracking and continuing up the increasingly narrow and steep trail, there was another branch, where keeping right went to another dead-end revealing the uppermost of the waterfall series of what I'm calling the main Kuhflucht Waterfalls (at least this was probably what the signs were referring to when they said it was 25 minutes of hiking to get here).
Knowing that there was a spring further upstream (but not knowing how far I had to go), I backtracked and continued up the still increasingly narrow and uphill path. At this point, the trail seemed to be significantly sketchier as it went up one switchback and steep incline after another. The further up I went, the more it seemed like the trail was going away from the Kuhfluchtgraben, which started to make me doubt that I was going to see the Kuhfluchtquelle and that I somehow missed the spur trail revealing it.
In any case, I wound up caving into my doubts as the trail continued to climb with seemingly no end in sight and the trajectory of the trail continuing to veer away from the gorge and creek. In hindsight, I believe that I should have persisted higher up on this ever-so-steep incline and ultimately make it up to an overlook with a spur trail that would then cut across to the Kuhfluchtquelle. According to a German trip report, it should have been around 30 minutes of exhaustive climbing before reaching the lookout and spur trail, but I think I wound up doing about 20 minutes (though it seemed like longer) before turning back.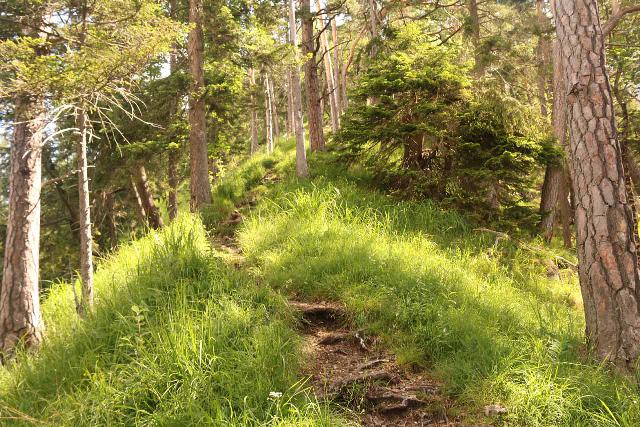 Overall, had I done the whole hike in this manner, I'd estimate that hike would have taken about 2.5-3 hours. It would have taken around 1-1.5 hours round trip to just get to the main Kuhflucht Waterfalls just upstream from the bridge and crucifix and back.
The way I wound up doing this hike was from an alternate trailhead (see directions below). I then went to what appeared to be some park with a bunch of trails intersecting with each other. I then followed a sign pointing the way to the Oberau Kuhfluchtwasserfälle Walderlebnispfad (which might be called the Philosophenweg according to a sign going in the other direction), and I took this easy path full of quizzes and apparati to engage kids in Nature for about 850m (350m more than the closest trailhead).
I then only went partially up the steeply climbing trail before turning back as I gave into my own doubts about whether the trail would take me to where I needed to go or not. Obviously in hindsight, I should have kept going.
In the end, I wound up spending about 2.5 hours on the trail. But the extra 700m or more of hiking from the wrong trailhead (which took away my sense of how long this hike should have taken) didn't help my cause. In hindsight, I should have spent an additional hour overall and then I would have made it to the promised land of the Kuhfluchtquelle.
Finally, we've been referring to this waterfall as the Kuhflucht Waterfalls, but in the literature, it keeps translating as the "Cow Escape Waterfalls". This is one example where the Google Translate fails because kuhflucht was said to have Roman origins and was supposed to mean "confluence" perhaps referring to the joining of the Kuhfluchtgraben with the Loisach. I've also seen this waterfall referred to as the Kuhfluchtwasserfälle and the Kuhflucht Wasserfall in German.
The Kuhflucht Waterfalls were close to the town of Farchant. So I'll describe the driving directions from the city of Garmisch-Partenkirchen since that was the main center. Reaching the city from further away would be pretty straightforward via apps like Google Maps.
From Garmisch-Partenkirchen, we drove north on the B2 (Münchner Straße) until we reached a roundabout intersecting with the B23 and the start of the E533 freeway. It's very important that at this roundabout, you take the exit for Hauptstraße (first exit if heading north from Garmisch-Partenkirchen or keeping right at the fork and taking the second exit if coming in from the B23) to head into the town of Farchant.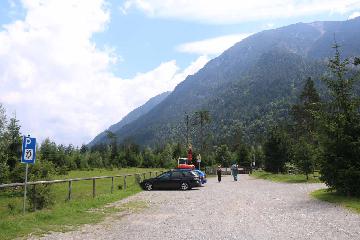 If you don't and you wind up continuing on the B2, then you will go onto the E533 freeway that then goes into a long tunnel that bypasses Farchant, and you won't have an opportunity to exit and turn around until you're 6km further north in Oberau. In fact, the Kuhflucht Waterfalls Trail actually climbed over this tunnel though you wouldn't know it as it would be well below the mountain's slope.
Anyways, once on Hauptstraße, we then continued for about 2km as we entered into the town of Farchant. Then, at the traffic light, we turned right onto Bahnhofstraße and drove east for about 450m as the street became Mühldörflstraße past the train tracks and the street crossed the Loisach.
Once on the other side of the bridge over the Loisach, we kept right past Frickenstraße but then we would turn left onto the easy-to-miss Kuhfluchtweg at the next intersection. The road would then dead-end at the trailhead car park after another 200m.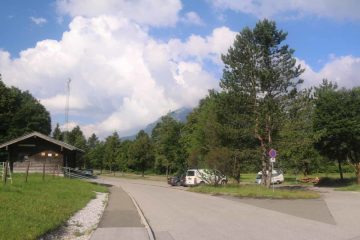 Of course, we actually missed the turnoff for Kuhfluchtweg and wound up parking at a fairly large lot another 600m further on the Estbergstraße. Starting the hike from here would add about 700m round trip and would probably cost an additional 15 minutes or more.
Assuming you went the correct way, this drive should take less than 10 minutes from the center of Garmisch-Partenkirchen. However, if you make a similar mistake as we did, then the detour could easily turn this into a half-hour affair or longer.
For context, Garmisch-Partenkirchen was about 23km (around a half-hour drive) northeast of Ehrwald, Austria, 59km (about an hour drive) east of Füssen, 64 km (a little over an hour drive) north of Innsbruck, Austria, and 89km (well over an hour drive) south of Munich.
Find A Place To Stay
Related Top 10 Lists
No Posts Found
Trip Planning Resources
Nearby Accommodations
Featured Images and Nearby Attractions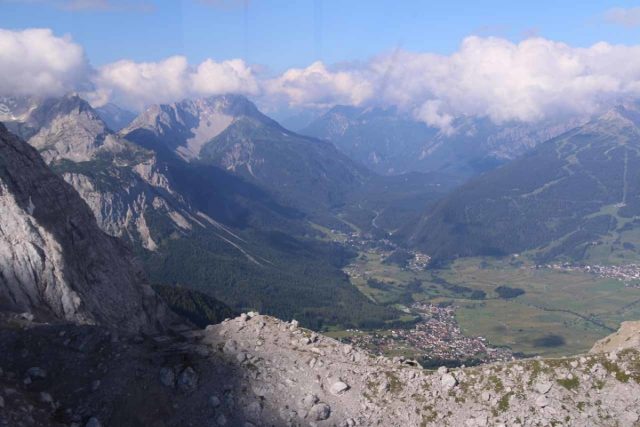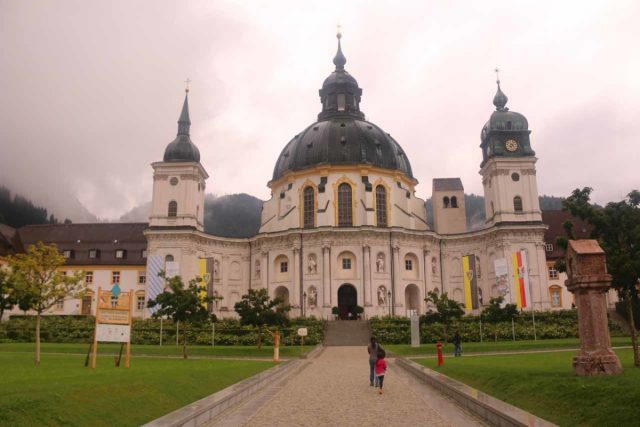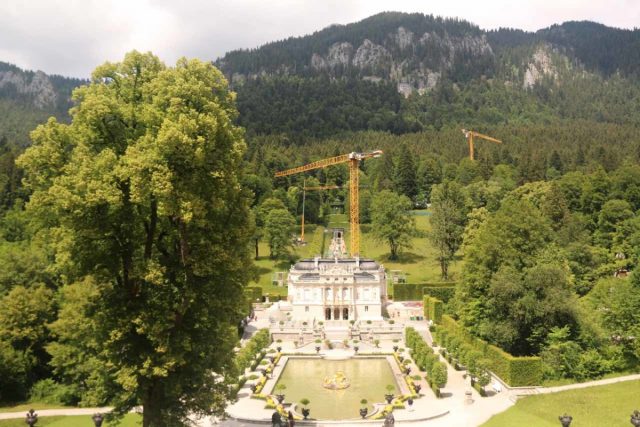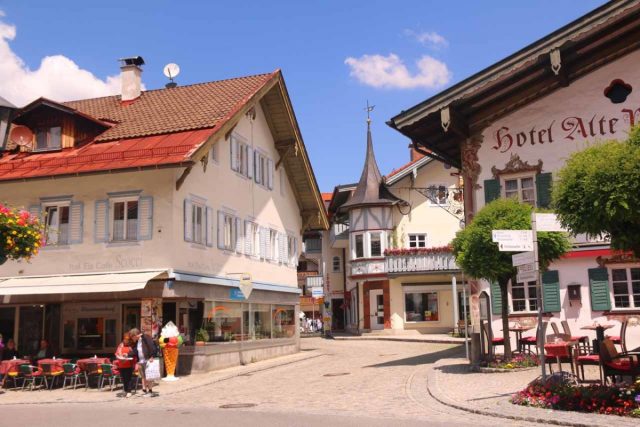 Tagged with:
farchant, garmisch-partenkirchen, zugspitze, germany, waterfall, kuhfluchtquelle, kuhfluchtgraben, philosophenweg
Visitor Comments:
Got something you'd like to share or say to keep the conversation going? Feel free to leave a comment below...
No users have replied to the content on this page
Visitor Reviews of this Waterfall:
If you have a waterfall story or write-up that you'd like to share, feel free to click the button below and fill out the form...
No users have submitted a write-up/review of this waterfall