About Thi Lo Su Waterfall (Nam tok Tee Lor Su)
---
Hiking Distance:
3.6km round trip
Suggested Time:
90 minutes
---
Date first visited:
2009-01-03
Date last visited:
2009-01-03
---
Waterfall Latitude:
15.9259
Waterfall Longitude:
98.75351
---
The Thi Lo Su Waterfall was probably Thailand's biggest waterfall in terms of the cumulative amount of space containing falling water. I've also seen claims that it was the tallest waterfall in Thailand though we weren't sure if that was accurate. In any case, the signs here said there were three distinctive waterfalls comprising the overall waterfall ensemble dropping a total of some 200m, 300m, and 400m, respectively. Again, we couldn't vouch for the lofty 300m and 400m height estimates though.
Julie and I thought the best of the three waterfall segments was the series of distinctive plunging leaps to its left side as we were facing the falls. The lowest leaps of the leftmost watercourse had pools where we saw many people swimming, bathing, or just cooling off in general. The middle drops of that leftmost course had much taller and thinner appearances, which might have also acted as barriers for most people in terms of trying to climb up or alongside the vegetated cliff face responsible for these waterfalls.
As for the other two waterfall segments falling in parallel more or less, the middle segment consisted of thinner yet taller drops. These weren't conducive to swimming like the leftmost series of drops. Similarly, the rightmost drop was perhaps the most ephemeral (i.e. temporary) as it fell far off to the right of the middle segment. Given how spread apart these waterfalls were from each other, there was no way I was able to reasonably compose a singular photo that encompassed all of them from any of the sanctioned lookouts.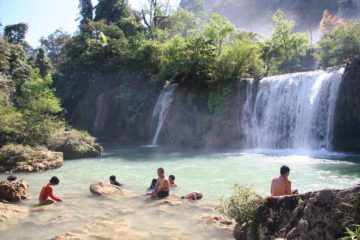 Speaking of which, photographing the Thi Lo Su Waterfall was indeed difficult for us. That was because we were constantly tempted to try to capture it all in one shot, but it was simply too wide to fit it all in. All of our attempts at doing this resulted in awkward and unbalanced photos that ended up being candidates for the recycle bin or at least to be overlooked and ignored.
It turned out that the best photos we took of this falls involved just focusing on the more concentrated series of cascades on the left side while ignoring the thinner and somewhat separated cascades on the far right. That would at least help you get the intended effect of focusing on the most interesting parts of the waterfall instead of being distracted by the quantity and grandeur of it all.
Other factors that conspired to mess with our photos were the sun and the crowds. Around midday or early afternoon (when we arrived at the falls), we were looking directly at the sun as we tried to view and photograph the waterfall (see photo at the top of this page). In order to take better photos, we had to wait until late in the afternoon when the sun hid behind the cliffs. It was a good thing that we camped here for the evening so we could stay very late.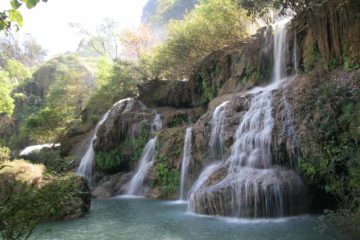 And as for the crowds, we had to really exercise our patience as there were heaps of people walking in and out of our line-of-sight while other groups would take some of the choice viewing spots hostage. Again, it was a good thing we were camping on the night of our visit because it wasn't until later in the afternoon when the day-trippers had to leave that were we able to have a few moments to enjoy the falls in relative peace.
Speaking of the crowds, that was real surprising to us given how remote the Thi Lo Su Waterfall was and how much trouble we had to go through to even get here (see directions below). But we've observed that many Thais love waterfalls and that Thi Lo Su seemed to be known by just about every Thai person. In fact, they not only knew about it, they actually made it a point to come here. And this was further exemplified by the main campground complex containing a ticket office, park office, a cantine, a very busy camping area, and even a tent providing Thailand Post!
So what we did to mitigate the crowd and suboptimal lighting situations was to explore the trails leading higher up the waterfalls. In addition to finding more swimming holes and getting up close to some of the individual tiers that made up the overall Thi Lo Su Waterfall, we also found that it got much quieter and more secluded the higher up we went. We eventually went as far as one of the tall middle-tiered waterfalls where further progress was not possible, but we were able to enjoy staring at the plunging water across from a very wide plunge pool that was empty of people.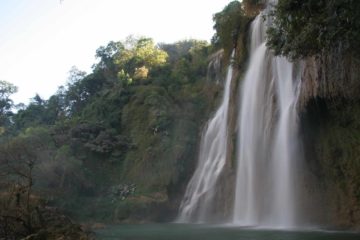 From the car park and campground complex, we walked across a wide open grassy area towards an entrance gate with kiosk where the grassy area started giving way to trees again. Once we paid the admission to continue, we were then walking along a trail that was mostly a mix of concrete and boardwalk for about 40 minutes. Like the campground, the walk was quite busy with large groups. And given that the trail was somewhat narrow relative to the amount of traffic on it, we probably went slower than normal due to the limited opportunities to pass while remaining on the developed paths.
Finally, because there was not a standard way of romanizing Thai pronunciations to English text, there were many spellings of the Thi Lo Su Waterfall. Excluding the way we've been spelling it, we've seen Namtok Tee Lor Su (also as one word "Teelorsu"), Namtok Thilawsu, Namtok Ti Lo Su, Namtok Ti Lor Su, Namtok Thi Lor Su, etc. Indeed, the spelling permutations could easily get out of hand without that standard romanization method (at least not one standard method that we're aware of).
We did this waterfall as an all-day escorted tour from the village of Umphang, but before this, we were driven from Mae Sot to Umphang along the so-called Death Highway (this took us about 6.5 hours with a few waterfall stops and breaks along the way). The escorted tour from Umphang began with a morning raft along the Mae Klang River (which apparently continues on to Kanchanaburi ["kahn-CHAHN-uh-bur-ee"]), which took about 2.5 hours. Along the way, we saw the Thi Lor Jor Waterfall.
Then, we took a songthaew (basically a pick-up truck with a cover used as a 4wd taxi; pronounced "SOHNG-tauw") for the next hour. Since it was on a rugged 4wd road, this ride was quite bumpy. This car ride ended at the car park and campground for the waterfall, which was also the trailhead for the roughly 40- to 60-minute walk to access the Thi Lo Su Waterfall itself.
Finally, even though we ended up going with a tour based in Umphang that organized an overnight tour, there were other options. We knew there were day tours out of Umphang, and from what we could tell, there was certainly no one to stop you from going there yourself assuming you're properly equipped, have the admission fees ready, and arrange for transportation. We saw a group of hardy Europeans actually walk the road that we took the songthaew on.
Speaking of which, in the wet season, the roads become too muddy and flooded for vehicular traffic so that would mean that you'll have to walk that road by foot to get there under such conditions.
For geographical context, Mae Sot was 351km (5 hours drive) south of Chiang Mai. Chiang Mai was roughly 700km north of Bangkok. It would take around 9 hours to drive or a little over an hour to fly between the cities.
Find A Place To Stay
Related Top 10 Lists
Trip Planning Resources
Nearby Accommodations
Featured Images and Nearby Attractions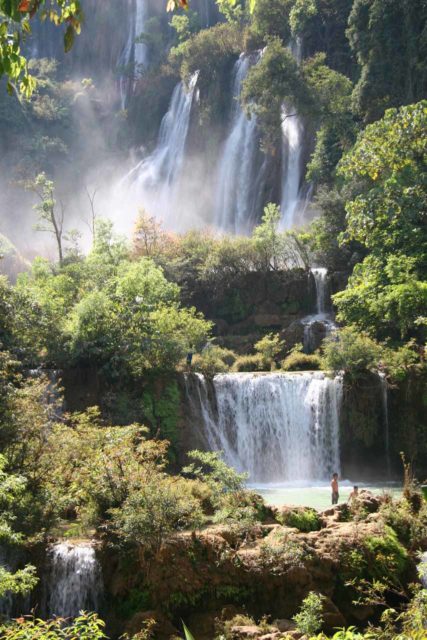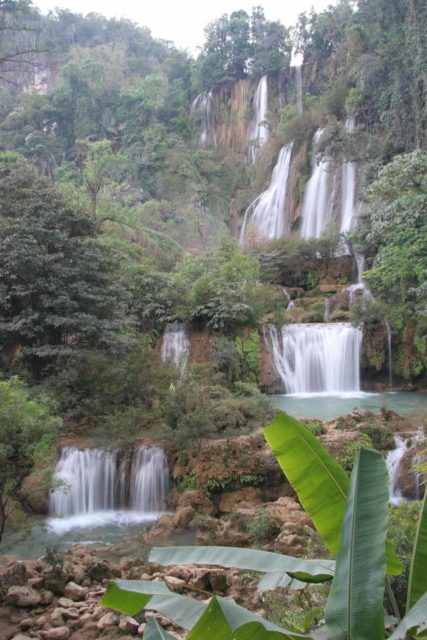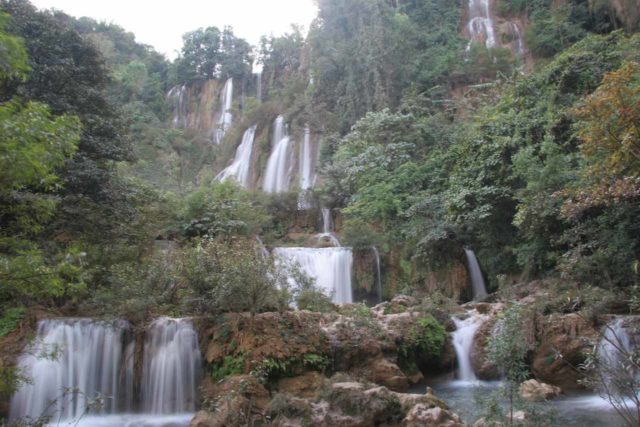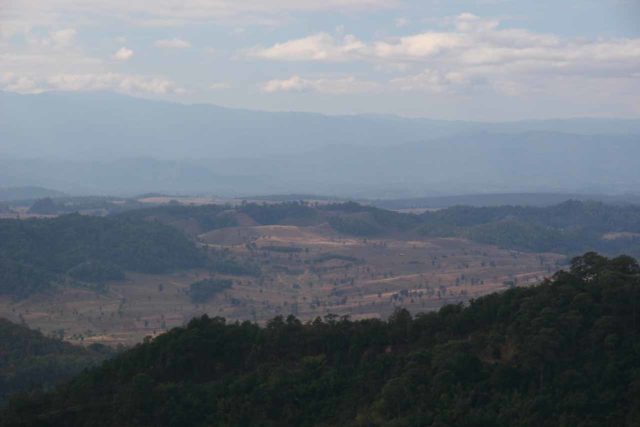 Tagged with:
ti lo su, thi lor su, thi lo su, ti lor su, tak, lee lor su, umphang, wildlife, sanctuary, central thailand, thailand, waterfall, thilawsu, palantha
Visitor Comments:
Got something you'd like to share or say to keep the conversation going? Feel free to leave a comment below... Monopoly by local transport
July 28, 2017 12:28 pm
-
It now seems that to get to the falls you have to use their own transport facilities. Even those with full 4x4s are not permitted to make the journey. This means that anyone wanting to camp up on the site using their own vehicle equipment cannot do so anymore. ...Read More
Visitor Reviews of this Waterfall:
If you have a waterfall story or write-up that you'd like to share, feel free to click the button below and fill out the form...
Private vehicles banned (Thi Lo Su Waterfall)
November 6, 2017 4:52 am
-
If you are thinking of taking your own vehicle to the waterfalls - forget it! Even if it is a 4x4 you are no longer allowed access to the campsite - You HAVE transfer all your gear and take the "local" song Teaw" the official reason is "Because policy of Tak Governor ,he wants the… ...Read More