Julie and I felt that the time has finally come to put out a list of the Top 10 Best New York Waterfalls.
After all, when it comes to a state that has a city that never sleeps as well as an attitude where you either go big or go home, how could we not take our fairly extensive survey of the waterfalls in the state and share our favorites in this list?
And in the case of the New York Waterfalls, the state certainly had no shortage of very high quality waterfalls.
In fact, quite a few of them have made some of our other top 10 lists.
On top of just the sheer size and magnitude of some of the larger waterfalls in the state, the state also featured those that charmed us with the Autumn tradition of Fall Colors.
So with such variety of waterfalls spread out all over the state, Julie and I consider ourselves lucky to have been in the state often enough to even come up with a list like this.
Speaking of this list, we had to limit the waterfalls under consideration to only those that we've personally visited.
After all, we don't feel like can make this list without having been there ourselves.
So I'm sure some deserving waterfalls will be left off this list because we hadn't been there yet, or because they just didn't make the cut for one reason or another.
That said, this is a living list so it can easily change as we add more waterfalls to our survey of the Big Apple.
So without further ado, Julie and I present to you our Top 10 New York Waterfalls in reverse order…
This impressively large waterfall was actually an urban waterfall within the heart of the city of Rochester.
Yet even with the urban chaos and hydro infrastructure built in the immediate area, there was no denying the character and beauty of this waterfall despite all that was going on around it.
We were able to see its entire face from an urban road bridge as well as a trail that gave us a more angled view from its brink.
We even saw some locals angling at the base of the falls. So there were plenty of ways to enjoy this place, which is always a plus when it comes to ranking waterfalls like this.
What made this waterfall stand on this list was the unusual juxtaposition of that historic-looking railway tressel bridge standing high above this 40ft falls on the Genesee River.
Julie and I visited this falls twice (once in Summer and once in Autumn). Being one of the easier waterfalls to see, our Autumn visit with the Fall colors around it made this falls really captivating.
We saw this falls with the Middle Falls from a lookout taking in the whole gorge along with the explosion of Fall colors.
That ever-so-rare juxtaposition of exploding Fall colors with a pair of waterfalls in one spot really solidified its spot on this list.
This waterfall was known to be regulated so possessed a Jeckle-and-Hyde characteristic. That meant that could completely dry up or gush depending on the whim of the power company regulating the Ausable River.
Fortunately for Julie and I, we happened to see it at its gushing best. As you can see from the photo here, we got the best views for free from a road bridge right above the gorge.
Of course, we also had the option of extending our visit here by joining one of the chasm excursions.
So the combination of seeing this falls doing its thing while also seeing Autumn colors around it really stood out to us.
So given these things put together, it managed to make this list of NY Waterfalls.
Of the waterfalls that feature on this list of New York Waterfalls, this one stood out to us because it possessed a certain character that wasn't as prevalent in other waterfalls.
Plus, it was nice and tall, and it was possible to experience it an assortment of ways via a loop hike that would allow people to check it out from both sides and from top to bottom.
When Julie and I made our visit here, it was also very tranquil, which further added to the waterfall's scenic allure and overall experience.
Thus, we had to make room for this falls on this list.
This tall and thin waterfall possessed one of the tallest drops east of the Mississippi.
But even with its light flow during our visit, the tranquility of our experiences with this falls helped compel us to include it on our list of New York favorites.
In addition to the hike, we also got a nearly theater-like experience from an overlook taking in the whole context of the falls. Meanwhile that "theater" also provided the potential for viewing the spectacle of Fall foliage colors together with the waterfall.
Taking these things together, it made sense to us to include this falls on the list.
Julie and I have seen a handful of glens within the Finger Lakes region. And they all possessed scenic allure as well as the accessibility to bring rugged gorge scenery within the grasp of both Nature lovers and city slickers alike.
But of all the glens that we saw, it seemed like Watkins Glen stood out the most to us. The waterfalls within definitely enhanced the magic of the gorge as they were both photogenic as well as impressive.
Plus, it didn't hurt that the gorge trail took us besides, behind, above, and beneath many of these waterfalls. Indeed, the sheer number of them ensured that we remained giddy with photo ops at almost every step of the way in the gorge.
One of the more popular waterfalls in upstate New York, we can certainly understand why, especially after our Autumn visit.
With its 260ft height over two dramatic plunges, we relished our visit to this rare waterfalls possessing both size and character.
Plus, we happened to see it surrounded by near peak Fall colors, which further added to our impression of this place.
The only caveat was that we had to earn our view with a hike. Plus, we had to resist the temptation to follow where others had lost their lives by trying to ledge walk to get up to the upper tier.
Nevertheless, even from the base of the falls as you see in this photo, it was a sight to behold. Thus, this falls certainly deserved a spot high up on this list.
This waterfall, which sat near the college town of Ithaca in the heart of the Finger Lakes region, was one of those waterfalls that was both pleasing to the eye (i.e. photogenic) as well as pleasing to the body and soul (i.e. a nice place to cool off and relax).
Julie and I managed to experience this falls in the height of a muggy Summer's day as well as the waning hours of daylight when the falls took on a totally different personality.
It was a highlight of our stay in Ithaca when we toured the Finger Lakes extensively, and we still think about this spot when we look back at it.
Thus, it deserves a high spot on this list.
To Julie and I, this was the signature waterfall of Letchworth State Park, which also housed a couple of other nice waterfalls on the Genesee River.
What stood out about it was both its side and classic rectangular shape. It was also a friendly waterfall for photographs both professional (long exposure with tripod) and amateur (for that selfie shot before the falls).
Further adding to its scenic allure was the Fall colors flanking the river when Julie and I made an Autumn visit on our second time here.
Plus, there were plenty of trails and lookouts to see the falls in many different ways and in its best appearance.
So we just had to give this falls its props by placing it high up on our list of NY Waterfalls.
Julie and I think of this waterfall as the Granddaddy of the waterfalls in the United States.
So it should come as no surprise that if we're considering this one of the world's top 10 waterfalls, then it ought to top this list if we're restricting the candidates to the state of New York!
What else is there left to say about a waterfall that already surpasses others in the state (let alone the country) in terms of grandeur and size?
Indeed, we can totally see why this is one of the most popular waterfalls we've personally seen, and we don't foresee other waterfalls in the Empire State knocking it off its throne anytime soon!
Looking for more of our favorites?
Below are a few more Top 10 lists of the waterfalls we've visited.
Visitor Comments:
Got something you'd like to share or say to keep the conversation going? Feel free to leave a comment below...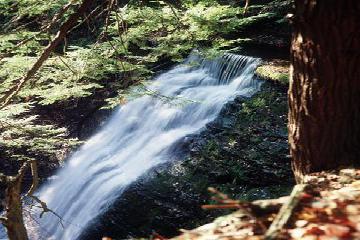 You only scratched the surface of New York Waterfalls
May 23, 2018 4:44 am
-
I can't argue with Niagara Falls as the top waterfall in State of New York. This is one of the top waterfalls in the world. Your photo was taken from New York, but it shows the Horseshoe Falls which are in Ontario. At night the American Falls are the star because the Horseshoe Falls are… ...Read More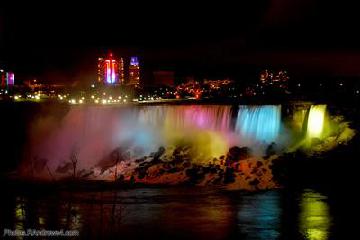 Let's show the part of Niagara Falls in New York. High Falls in Rochester should also make the list.
May 23, 2018 3:56 am
-
I can't argue with Niagara Falls as the top waterfall in State of New York. This is one of the top waterfalls in the world. Your photo was taken from New York, but it shows the Horseshoe Falls which are in Ontario. At night the American Falls are the star because the Horseshoe Falls are… ...Read More