In this itinerary, we covered the familiar Society Islands of Tahiti (also more formally known as French Polynesia). Thus, we spent time on Tahiti Island, Moorea Island, and Bora Bora Island.
This trip was also a test of what we could and couldn't get away with when bringing our daughter along on our trips.
So here's a brief summary of what we managed to do on this trip…
Trip Highlights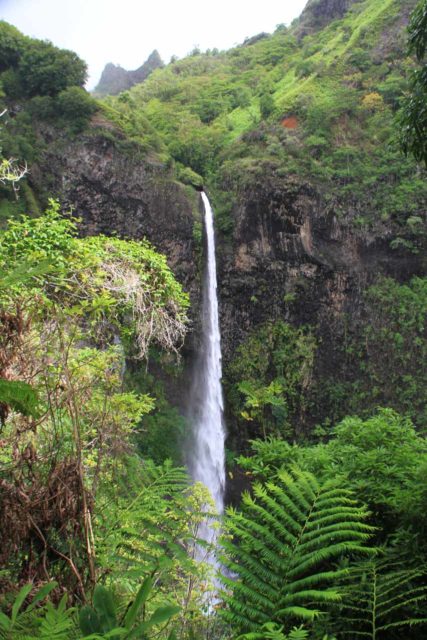 Cascade de Fachoda – This could very well be Tahiti's tallest waterfall and it was certainly worth the effort to get to. Perhaps the one regret I had about this adventure was that I didn't take the time to go all the way to its brink where there were ruins of a fort as well as a reported swimming hole. Plus, it would have been quite a vertigo-inducing experience to see how far down the river plunged from that vantage point. Hopefully, there's a next time to do it right, but even without that experience, I still considered the parts I did do to be quite the waterfalling highlight of French Polynesia.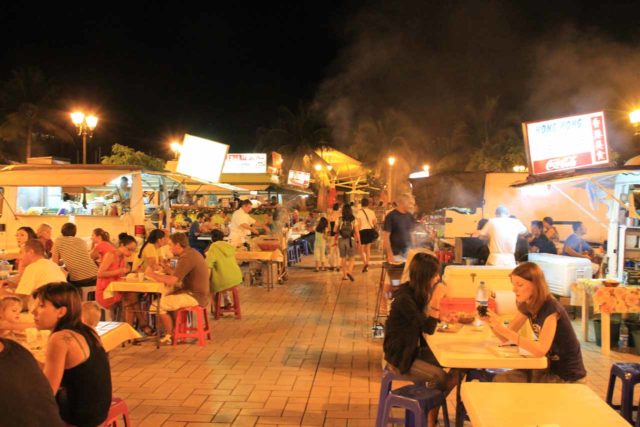 The Roulottes Experience at Tahua Vaiete – Although Tahiti has that reputation of being one of the most expensive places to eat let alone travel to, one way to offset that was to sample the different local and quick comfort foods (especially poisson cru) at these roulottes, which were basically food trucks. Not only did we get to eat for more reasonable prices, but there was a festive ambience that further made this experience in Papeete all the more memorable. Besides, these food trucks had been around long before the food truck craze really took off in the US.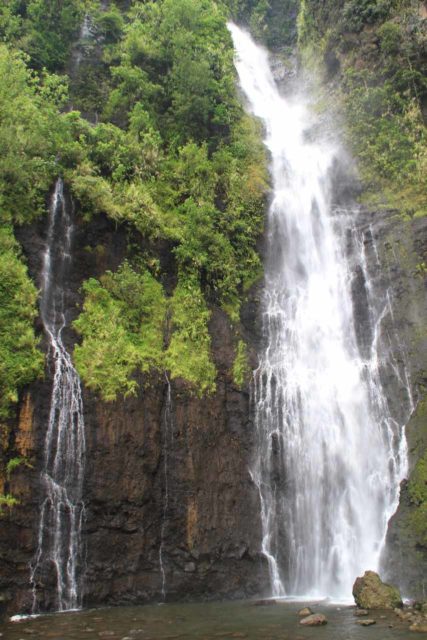 The Faarumai Waterfalls and Arohoho Blowhole – Learning from the pain of trying to take public transport out this way, we self-drove to this familiar spot on this particular trip, where we also weren't denied seeing the other two waterfalls in addition to the one pictured here. And while we couldn't get as close to the nearby Arohoho Blowhole like we could the first time around (probably because it was too easy to get swept away by a rogue wave), we were still able to watch it blow from a higher vantage point than before.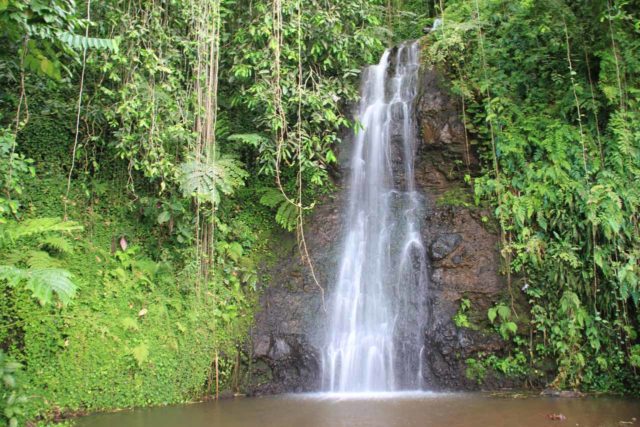 Vaipahi Falls – For a more intimate waterfalling experience, the Vaipahi Garden in the less visited southeastern part of Tahiti Nui seemed to do the trick. I ever heard that this waterfall was visited by some members of the Beattles who traveled out this way in the past. And if that's true, I can certainly see why they were drawn to this place.
[expand title="MORE" swaptitle="LESS" trigpos="below"]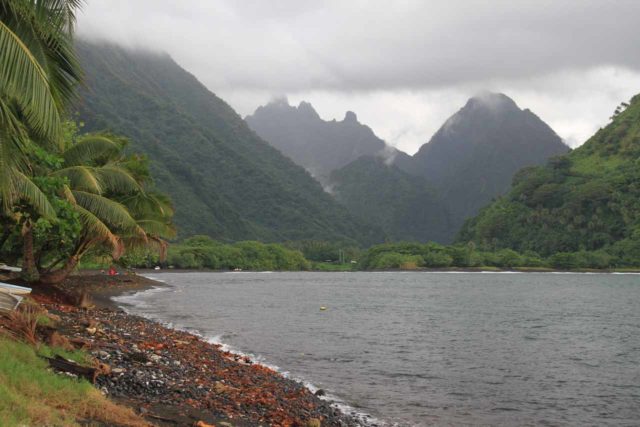 Tahiti Iti – There seems to be an air of mystery surrounding the smaller part of Tahiti Island as it was definitely far less touristed here. Our visit just so happened to have occurred during a rain storm so at best we got to see this place in an even moodier state than before. I'm sure one of these days, I'll look to do a hike here to explore more of the unknown (at least unknown as far as the typical tourist is concerned).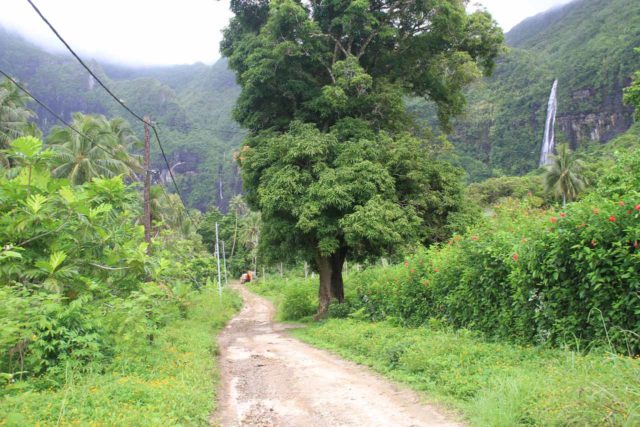 Afareaitu Waterfalls – Near the town of Afareaitu in Moorea Island, I managed to do a pair of sticky and somewhat rough hikes to get up close to both of the waterfalls here. They're both pretty tall though I thought the Putoa Waterfall was the prettier one (as opposed to the Vaioro Waterfall).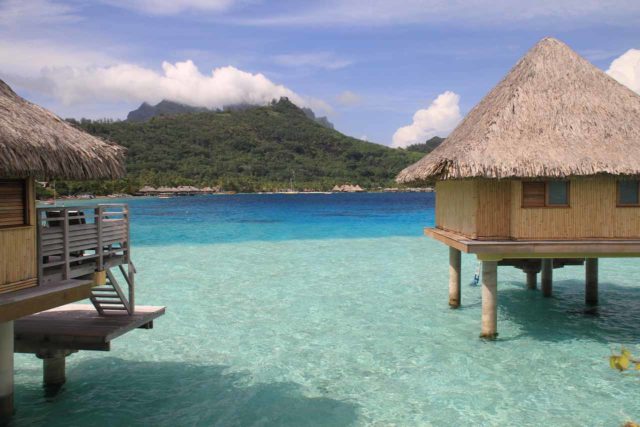 Staying at an overwater bungalow – It wasn't until our second trip to Tahiti did we finally get to see what it was like to stay in one of these overwater bungalows. While I have mixed feelings about the environmental impact to the coral reefs for constructing these accommodations, there was no denying that it was a cool experience even if we were only able to do it in Low Season when we were also socked in by lots of downpours.
[/expand]
Trip Advice
I'm usually keen on visiting the South Pacific at the start of the Dry Season (which coincides with around the month of May). However, in this case, we happened to visit smack in the middle of the Wet Season because we managed to capitalize on a deal that was only possible in this low season. At other times of the year, what we were able to do from a transport and accommodations standpoint would have been cost prohibitive.
In any case, here's some more lessons learned from this trip…
You are rolling the dice in the Wet Season: On this trip, we happened to get socked in by persistently bad weather for just about all of the days we were here except for a couple. Indeed, we were faced with downpours and flash floods, which tended to not bring out the gorgeous lagoon colors since the sun was hardly out. While we've had our share of seeing the South Pacific being sunny (albeit very hot and humid) in the Low Season months, this was a case where we rolled the dice and it wasn't in our favor. So be very cognizant of why there's this low season in the first place!
Staying Overwater: For the first time in our visits to Tahiti, we were able to stay in an overwater bungalow. The way we pulled this off was to sign up for the Intercontinental Hotels Group Royal Ambassar Membership, which costed an additional $250 at the time. That allowed us to have a free upgrade of any category if available. And in this case, we managed to get upgraded from a Garden Bungalow into an Overwater Bungalow at the Intercontinental Le Moana.
That was a huge saver for us in that these bungalows typically cost over $1000 USD per night. So imagine the cost savings already gained that more than paid itself off from the Ambassador membership. Plus, it was the membership was good for 12 months so we were able to ask for free upgrades for any other IHG property (e.g. Holiday Inns) on any of the future trips we took in that time.
Two-year-old Flying Almost Free: With Air Tahiti Nui, we were able to bring our daughter whose plane ticket was only 10% of normal cost. The catch was that we don't get an additional seat and instead she slept in a baby bassinet that attached to a wall as we sat in the front row of the economy section of the cabin.
And while it wasn't too much drama on the way to Tahiti, on the red-eye flight back, our daughter was the one crying all night thereby pissing off a lot of passengers trying to get shuteye. The issue was that she was not feeling well (possible airsickness) and she vomited a few times. So not only did were other passengers unhappy with us, but some flight attendants seemed to be unhappy with us either. And to add insult to injury, neither Julie nor I got sleep on that flight, either.
Know When Not To Fight Mother Nature: The heavy tropical rains actually created some serious tension and drama when we did the short flight from Papeete to Moorea Island. Unfortunately, there was so much turbulence and lack of visibility from the bad weather that the landing had to be aborted and we returned to Papeete. The fallback was that we took a ferry across the channel to Moorea Island. But in hindsight, we were very glad that we made it because there was a plane crash that happened years ago where I'm imagine that under similar circumstances, a similar decision was made but it ended up not working out.
Later on in the trip, another weather-related incident caused me to abort a waterfall hike when I saw a stream that looked too turbulent to cross. So I thought better to not push it and turned back. Fortunately on the next day, I was able to do the hike, and thus not fighting Mother Nature definitely paid off in this instance.
Low Season Closures: One thing we weren't expecting was that places like Bloody Mary's in Bora Bora was closed. There were other tours that couldn't run given the bad weather. So consider this as another lesson learned and possibility when trying to save money with a visit in the low season.
Travel Itinerary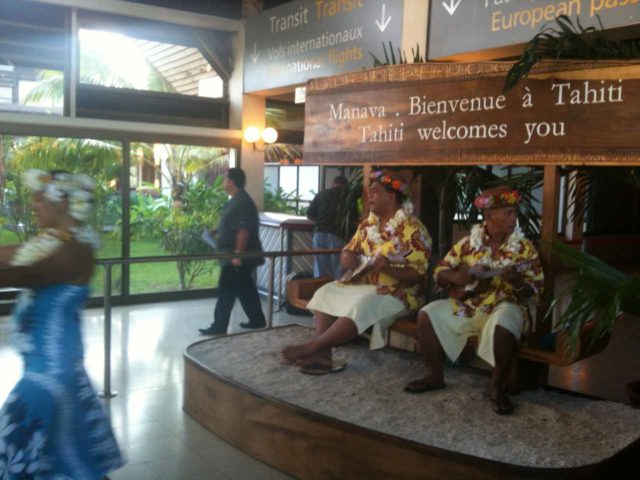 Days 1-2: Fly to Papeete
This was a travel day where we flew into Papeete, picked up the rental car, and then drove to our accommodation to check in. Afterwards, I did solo excursion to check out the Bain Loti and then hike the Cascade de Fachoda. In the evening, the family hung out at the Tahua Vaiete to try out some of the food trucks there (roulottes) for some more reasonably-priced eats.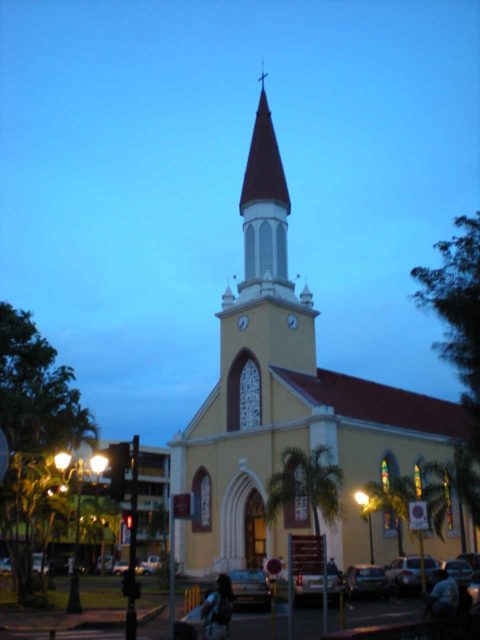 Day 3: Driving Around Tahiti Nui
On this day, we did a driving loop to some of the familiar haunts in Tahiti Nui like the Arohoho Blowhole and the Faarumai Waterfalls (i.e. Vaimahutu Falls, Haamaremare Iti and Haamaremare Rahi Waterfalls). We then went further past Taravao to the southern side of Tahiti Nui (unchartered territory for us) where we visited Vaipahi Falls before returning to Papeete for the evening, where we briefly checked out the Notre Dame Cathedral as well as a brief dinner (as Tahia wasn't feeling up for it and let everyone know about it).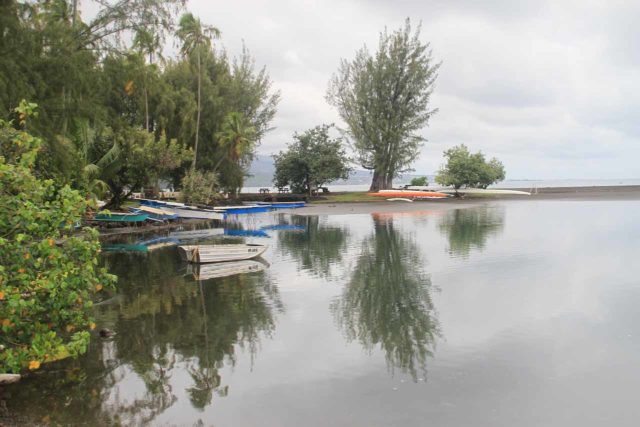 Day 4: Driving to Tahiti Iti
This was another day of exploring Tahiti Island, but this time, we continued driving east of Taravao and into both ends of Tahiti Iti. On the north end, we went as far as the road's end by Tautira and Pueu. On the south end, we went all the way to Teauhupo'o (pronounced like "chopu"). Unfortunately, it rained all day so there wasn't much in terms of sightseeing other than surprise waterfalls.
[expand title="MORE" swaptitle="LESS" trigpos="below"]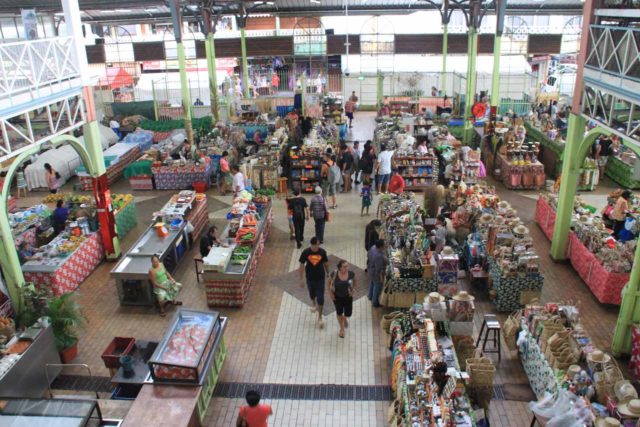 Days 5: Transport from Papeete to Moorea Island
While waiting for our early afternoon flight to Moorea, we had time to kill so we visited the Papeete Indoor Market. Then, we returned the rental car, and caught the flight except it wasn't able to land safely in Moorea. So we had to fly back to Papeete, and then take a very bumpy ferry ride. Once there, we eventually got to our accommodation towards evening.
Day 6: Moorea Island
On this day, we had the whole day to sight-see Moorea Island. While Julie was doing some property visits, Tahia and I were just killing time enjoying the water. Later in the afternoon, I attempted to go to Putoa Falls but was thwarted by flooding due to heavy rain.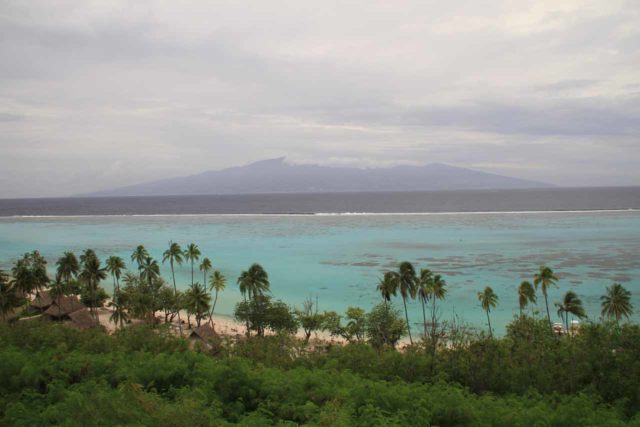 Day 7: Moorea Island
With calmer weather on this day, I solo'ed two hikes in the morning. One to Putoa Falls and the other to Vaioro Falls (i.e. both the Afareaitu Waterfalls). We then did a circle island self-driving tour of the island (taking in the famous Belvedere), which revealed some unexpected waterfalls. For old times sake, we then returned to the Sofitel Moorea (formerly Sofitel Ia Ora) and relaxed at the beach there.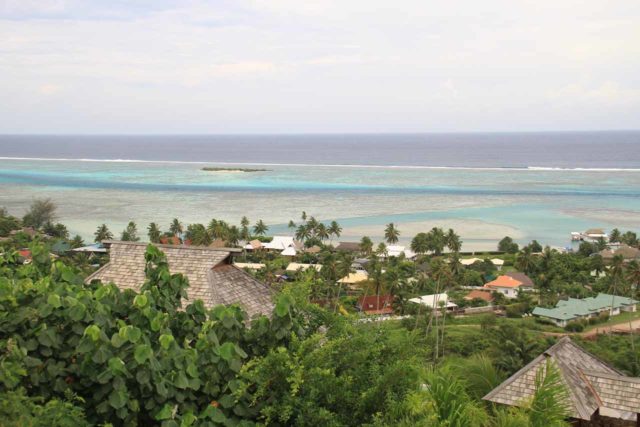 Day 8: Fly from Moorea to Bora Bora
We had some time in the morning to kill so we watched a dolphin feeding and just explored a little of the area around the resort in the morning. Then in the afternoon, we returned the rental car, caught a transport back to the airport, and flew to Bora Bora, where we'd water taxi to our resort.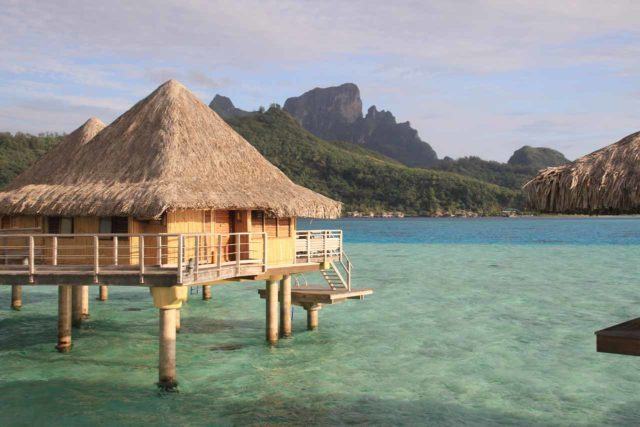 Day 9: Bora Bora
This was a day at leisure in Bora Bora, but Julie did more property visits. Since Julie was intending to visit the Four Seasons Resort, Tahia and I went to play in the water there while Julie did work. The rest of the day was pretty much spent back at our own resort relaxing.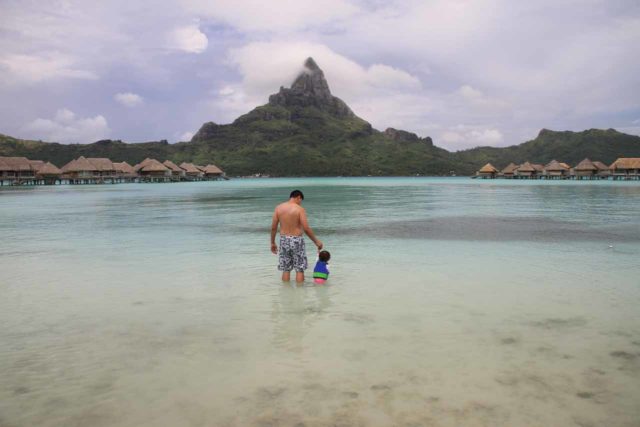 Day 10: Bora Bora
This was another day at leisure in Bora Bora, but Julie did yet another property visit. This time, Julie went to the Thalasso Resort, where Tahia and I did the same thing (playing the water and just relaxing) while Julie did work. The rest of the day was pretty much spent back at our own resort relaxing.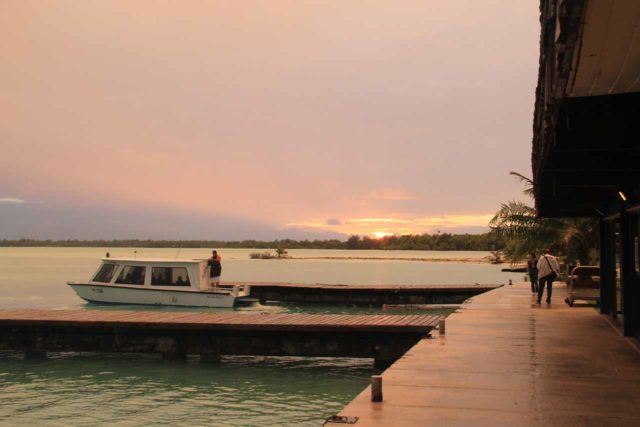 Days 11-12: Return Home
This was basically a day of not doing much except relaxing at the resort as we waited for our late afternoon transport to the airport. Then, we caught a red-eye flight back home to Los Angeles.
[/expand]
Best Places We've Stayed At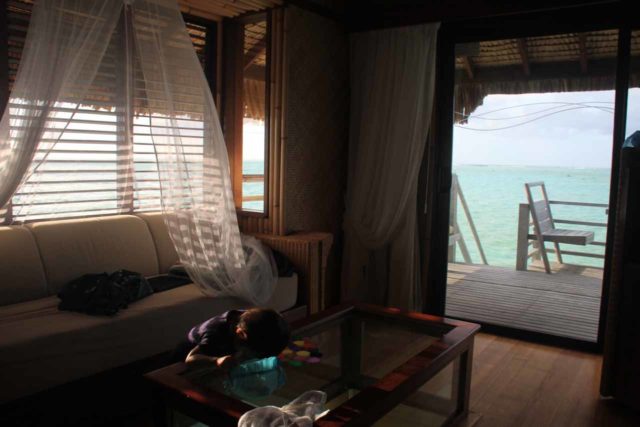 Intercontinental Bora Bora Le Moana Resort – Basically every resort has an overwater bungalow in Bora Bora (or so it seems), but I'm including it here because it was the only time that we stayed in such an overwater bungalow as a family. The room was very spacious, it had that signature "Tahitian TV" (i.e. a glass coffee table that lets us peer right down into the lagoon), and views out the window of the lagoon and back towards the island as we were in one of the furthest bungalows from the land.
While experience of being over the water was a treat, I do have mixed feelings about the ethics of doing this due to the impacts to the coral in the lagoon. There was also the risk of Tahia going out by herself and falling into the water, especially since the doors were not child proof (i.e. you can always turn the lever and open the door from the inside regardless of whether it was locked or not). So we always had to keep an eye out on her ever since the scary moment when she had opened the door that first time!
Other than that, we had a pretty good time even though the rains continued to persist and linger. We were discouraged from hiring a car to drive around Bora Bora Island on this trip because the concierge said that Avis had a monopoly and thus they charged an unreasonable rate. So we didn't get to explore the island much and got to know the property quite well (perhaps a bit too well).
What To Bring
In addition to the equipment that we bring on all of our trips, we've also found the following items were especially useful for this particular trip.
Keens: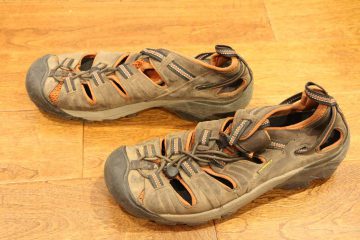 Generally in tropical environments, I tend to bring these because they're light, they have toe protection, and they're flexible in that I can use them on hikes (especially if there's water so I don't have to ruin hiking boots) and when out and about in the cities or the beaches.
They also worked for use on the plane though I had to wear some pretty thick wool socks to ensure that my feet wouldn't freeze in the cabin at over 30,000ft up in the air. Still, it's versatility meant that this was the de-facto shoe to use on trips like these and I could keep things light by not needing to bring anything else for footwear.
Ergobaby: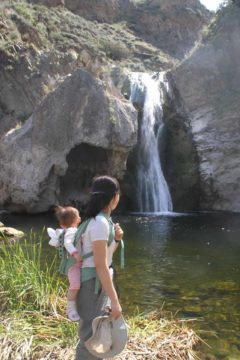 Because our daughter was too little to be sitting in a framed child carrier, but too big to be carrying around with our arms, the Ergobaby child carrier was the tool that did the job in terms of carrying around Tahia hands-free. Plus, it was small, light, and easily carried onto the plane so we didn't have to deal with bulk issues.
In fact, the bjorn was useful for us on just about all of our local trips when we were trying to figure out what we could and couldn't do with her as she was still developing into a toddler.
We were able to strap her on our back as well as wear it backwards if needed.
Trip Reports
Waterfalls included in this itinerary
Visitor Comments:
Got something you'd like to share or say to keep the conversation going? Feel free to leave a comment below...
No users have replied to the content on this page