This was one of our more unusual trips in that it was the longest trip we've done involving a party of seven people. Of course, three of them were children as they all had the same Spring Break schedule. My parents also came along to help drive the additional two kids while also looking after them.
In a nutshell, the sights seen on this trip were pretty much repeats for Julie and I as we did a large loop encompassing Northern Arizona and Southern Utah. However, it seemed that over the years, the once obscure sights have now become very popular and busy.
Still, we managed to find some peace and fun in some still somewhat off-the-beaten-path locations. Even our daughter got into Native American culture as she was making the connection between the books she was reading and what she was observing.
Here are some highlights and how we managed to pull this trip off…
Trip Highlights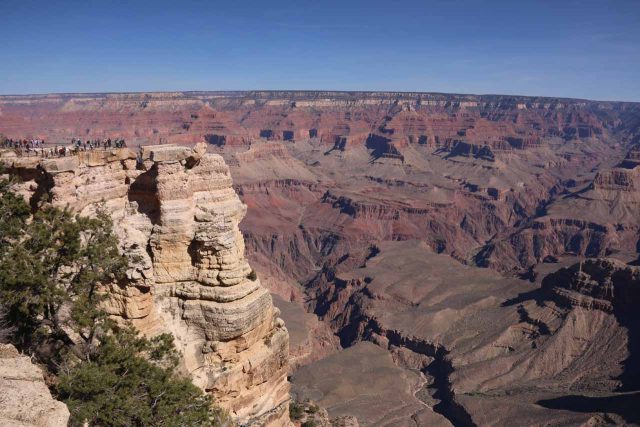 Grand Canyon – the family spent the better part of a day to explore the usual sights of the South Rim, which was also the busiest part of this National Park.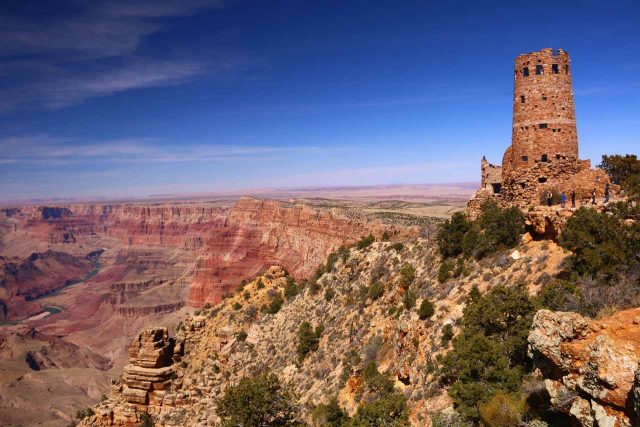 Desert View Watchtower – after visiting the main parts of the South Rim, we made a fun stop at this watchtower, which the kids really enjoyed. Not only were we treated to views of the Colorado River and east end of the Grand Canyon, but we also checked out some of the Native American art inside the tower itself…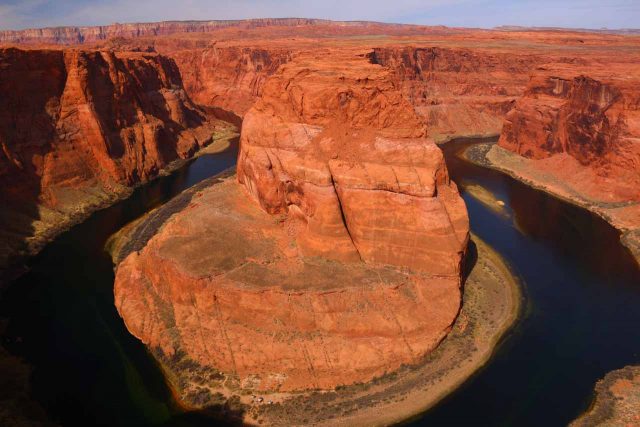 Horseshoe Bend – this gooseneck of the Colorado River near Lake Powell had become quite the attraction over the years. Seventeen years ago, this was pretty obscure, but now it was an international attraction. The kids also took it in though we had to be mindful of the dropoffs…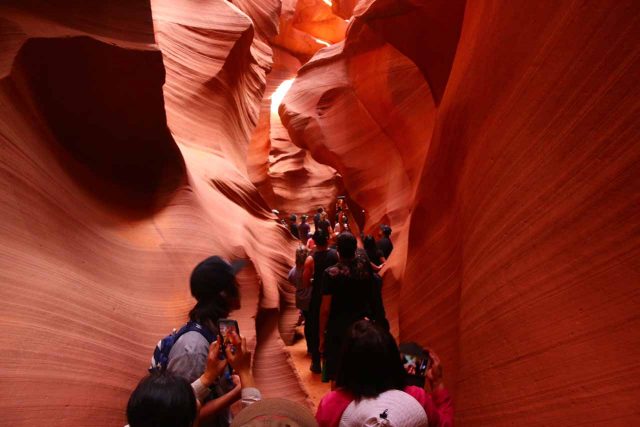 Lower Antelope Canyon – although the photogenic Upper Antelope Canyon was fully booked out well in advance, we found the longer, and more adventurous lower canyon more engaging and quite different from our first time here when we self-toured by going in then out the way we came. These days, you go on a much longer guided tour and work from the bottom to the top in a one-way route.
[expand title="MORE" swaptitle="LESS" trigpos="below"]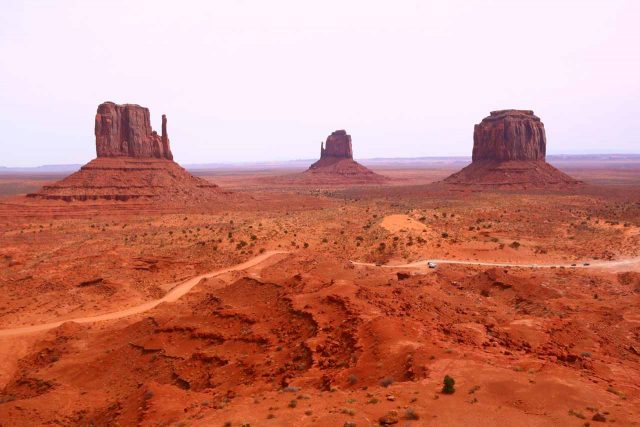 Monument Valley – they've changed the main lookout area to require a fee to enter, but they've also opened up the loop drive to extend a sightseeing visit here and taste a little bit of the backcountry. Our daughter's interest in Native American culture was heightened as she spend a good deal of time reading in the gift shop there.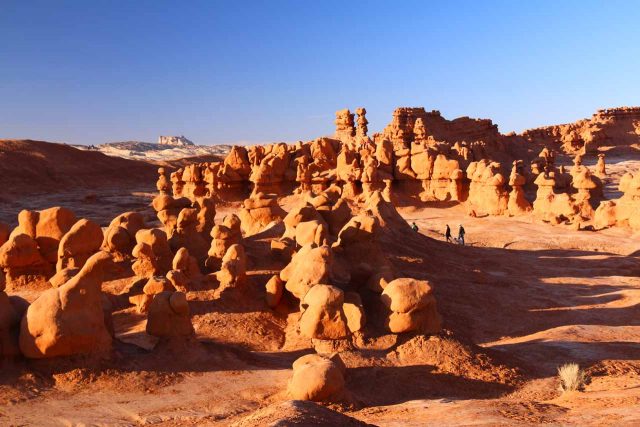 Goblin Valley State Park – the surprise hit of the Spring Break Trip was this remote reserve, where the kids were playing hide and seek amongst the countless rock formations that resembled many goblins. The didn't want to leave!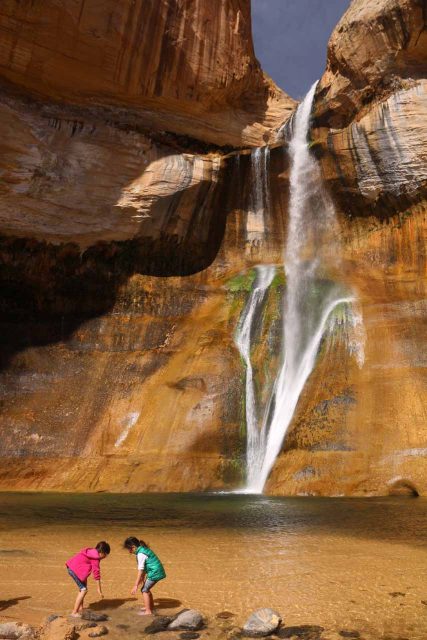 Lower Calf Creek Falls – even after all these years, this waterfall has never disappointed us. On this visit, the kids made the six-mile round-trip hike to earn their play time in the icy cold pool, which they didn't seem at all bothered by. They even noticed pictographs from the trail. Indeed, this still remains our favorite waterfall in the state of Utah.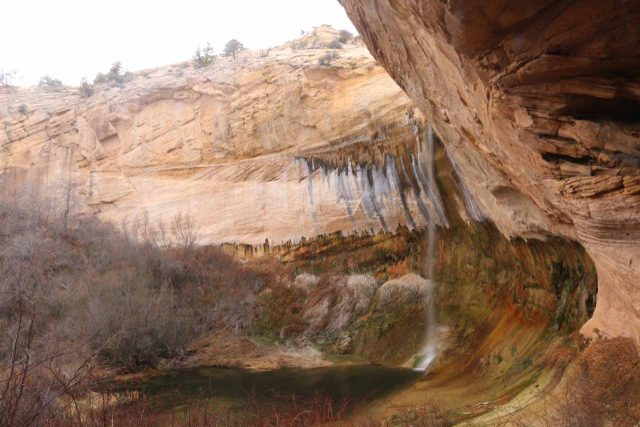 Upper Calf Creek Falls – More elusive than the Lower Calf Creek Falls, it seemed like there's more signage and more visitors though it still remains obscure. We even made it to the top of the falls, which was something we hadn't done before. So Mom and I definitely enjoyed the peace and quiet as well as the adventure to get here.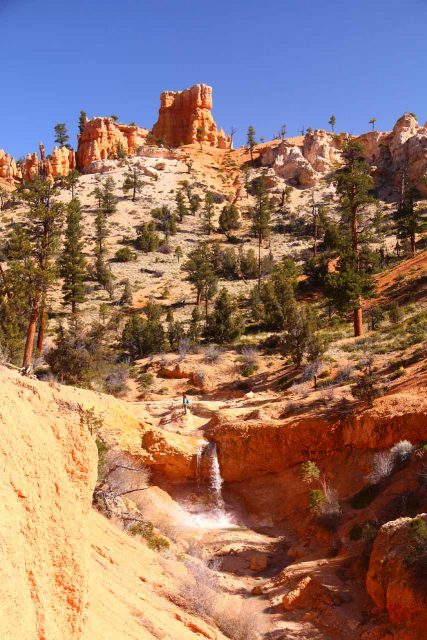 Mossy Cave – we were quite surprised to see the waterfall at Mossy Cave flowing. In fact, the kids even went further upstream to chuck snow and rocks at a plunge pool beneath a small snow-fed cascade. Of course, the namesake alcove with icicles within was also still there, but the Scooby-Doo arch formation appeared to have collapsed over the years.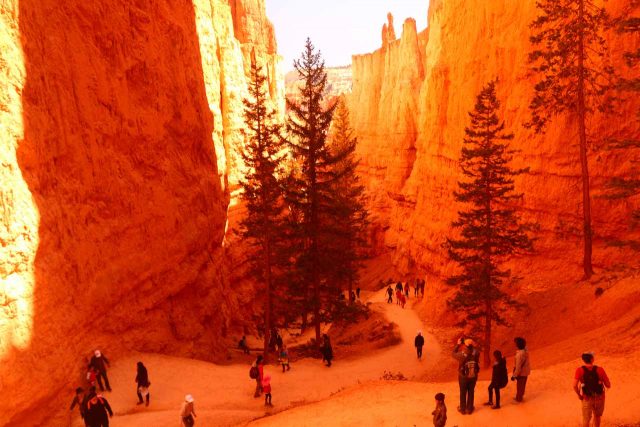 Bryce Canyon – it was very busy at this scenic National Park, but we still managed to squeeze in a loop hike taking in Wall Street, the Twin Bridges, the Queen Victoria Formation, and other surprise natural arches. I always contend that experiencing Bryce Canyon from below and up close with the hoodoos is the way to go!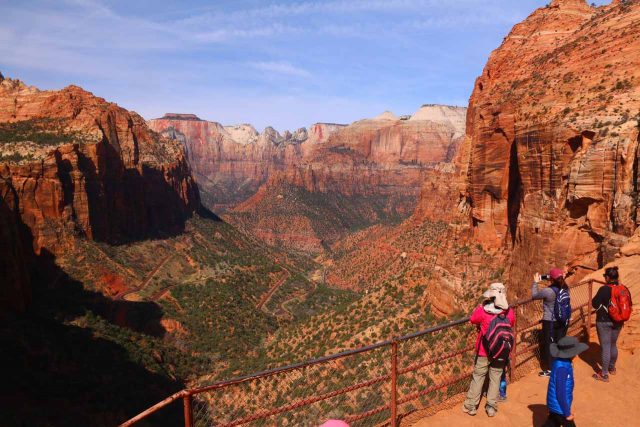 Canyon Overlook Trail – it has been nearly 17 years since Julie and I last hiked this trail. But the second time around was so much more fulfilling as the family managed to get by all the dropoff exposure to earn this regal view of Zion Canyon. We even spotted some bighorn sheep to boot!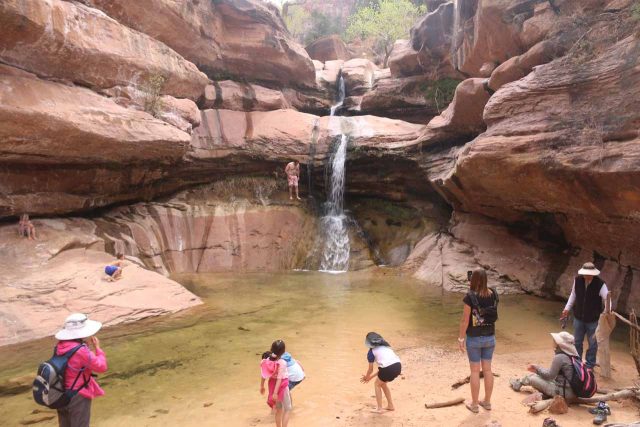 Pine Creek Falls – it was quite the adventure to earn our visit to this falls, but the whole family managed to make it past the hazards to play in the water. This was the first time Julie and I came back here in nearly 15 years!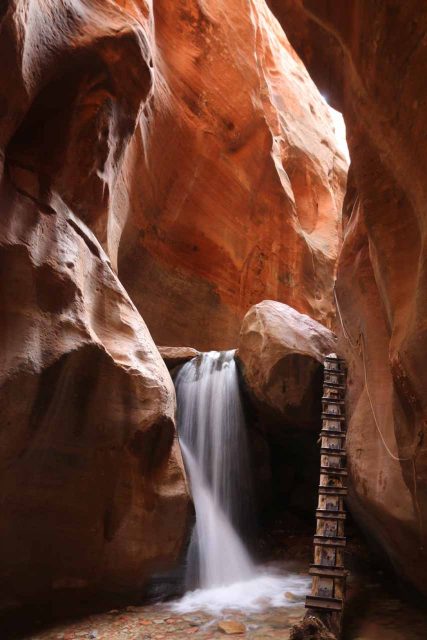 Kanarraville Falls – my mother and I viewed this watery excursion as a nice alternate to the Zion Narrows. After wisely renting canyoneering shoes and neoprene socks, we comfortably waded our way up several waterfalls while enjoying beautiful slots canyons en route.
[/expand]
Trip Advice

It seems like the secret about the American Southwest and its National Parks is out, especially during Spring Break. Indeed, the scenic wonders that were once obscure attractions are now pretty much busy and well-known thanks to social media and the lemmings effect. That seemed to be the theme of this trip, but there were also some other lessons learned, which I'm summarizing here…
Crowds and Parking: Even though Spring Break schedules are staggered throughout the Nation, it seemed like everyone knew about the Mighty Five National Parks in Utah as well as the Lake Powell area. Thus, finding parking, dealing with traffic, and dealing with crowds were certainly an issue. I remembered trying to visit Pine Creek Falls in Zion National Park, but trying to find parking along the road up to the Zion-Mt Carmel Tunnel was difficult because parking had overflowed out onto the highway and they were all parking for the Zion Shuttles! They weren't even for going into the Pine Creek gorge!
Speaking of Zion, we also took advantage of parking at our accommodation then use the shuttles or just walk to get from place to place. The road construction that was going on there threatened very bad delays, but it didn't seem all that bad during our trip.
As for the crowd at the Grand Canyon, we only mitigated that by getting there early enough to park and then take the shuttle to get from stop to stop. Unfortunately, the queues were so long that it wasn't unusual to be waiting at least a half-hour before finally getting onto a shuttle bus.
The parking situation in Bryce Canyon required us to drive around in circles before the person blocking vehicles from entering one of the popular lots had gone away for the moment. This was in the mid-afternoon when we would have expected some people starting to retreat to their accommodations!
Avoid the crowds by going off the beaten path: While I'm lamenting about crowds and parking, we definitely had moments of uncrowded places like Goblin Valley State Park (a hit with the kids) and even Lower Calf Creek Falls (at least given our early morning start).
Good weather and beating the heat: The desert southwest was starting to heat up, but it was still mild and comfortable throughout as the temperatures didn't break 90F. It was even cold enough to still see snow and ice in the higher elevations like at Bryce Canyon, where temperatures could still drop to below freezing overnight.
Native American Sites Makeover: We noticed dramatic changes at both the Lower Antelope Canyon in Page as well as Monument Valley Tribal Park. In Lower Antelope Canyon, they now had the tour going in one direction from the bottom up. It used to be you go down as far as you could then hike back the way you came back when we first went in 2001. So now we could see why the entry prices were far higher than they were back then, but they were also very popular and this change made a lot of sense in terms of line management.
As for Monument Valley, it used to be that the overlook was free. Now, to even get to that overlook, there's a kiosk where cash payment is required to proceed (despite conflicting signs saying credit card was accepted). In any case, the Navajo Nation have a right to manage their land as they see fit, but given this, it might be more worthwhile to take the time to do the loop drive to see some of the more obvious sites yourself. Back on our first visit in 2001, we hired a Navajo guide to visit some of those backcountry spots, but the natural arches still remain only accessible by guided tour.
Travel Itinerary

Day 1: Drive from Los Angeles to Flagstaff
Overnight: VRBO Rental Home (Flagstaff, Arizona, USA)
After the kids were finally out of school, we had to brave the rush hour traffic before finally moving smoothly once we headed east from Barstow on the I-40. We'd eventually, make it to Flagstaff fairly late at night.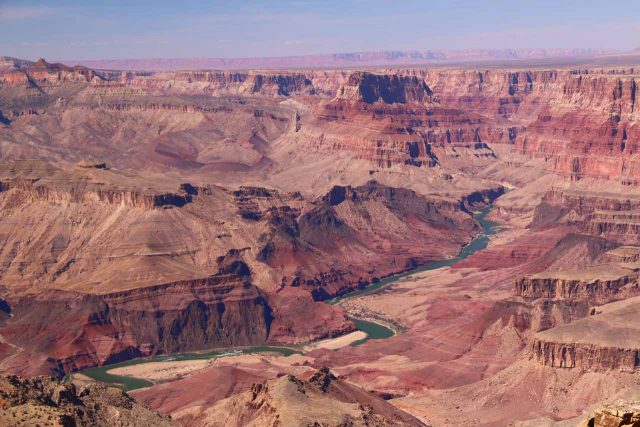 Day 2: Grand Canyon South Rim
Overnight: VRBO Rental Home (Flagstaff, Arizona, USA)
We did a loop drive that encompassed the better part of the day visiting the Grand Canyon's South Rim. On the drive back to Flagstaff, we made a stop at the impressive Desert View Watchtower. Mom and I then tried our luck visiting the Grand Falls, but it was dry this time around.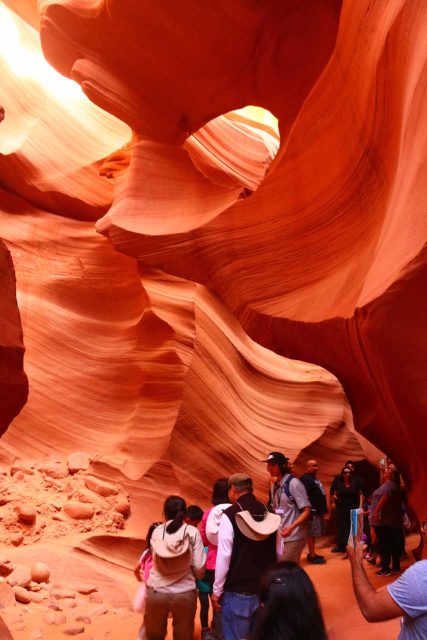 Day 3: Sightseeing around Page
Overnight: Suites On 10th (Page, Arizona, USA)
This busy day allowed us to take in familiar sights like the Horseshoe Bend and Lower Antelope Canyon. At the end of the day, my Mom and I visited Wire Pass though a bouldering obstacle kept us from making it to the Buckskin Gulch Narrows.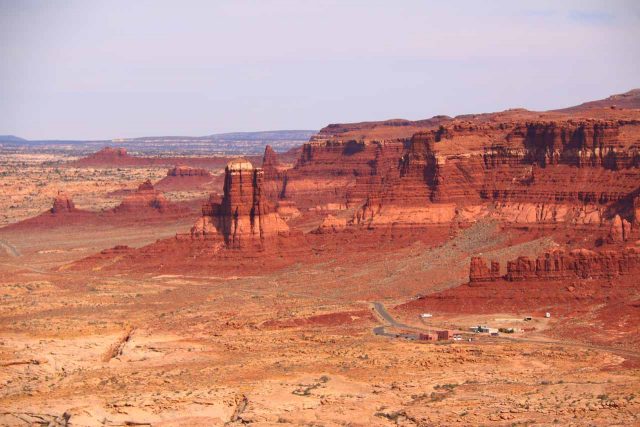 Day 4: Drive from Page to Hanksville
Overnight: Whispering Sands Motel (Hanksville, Utah, USA)
We made a very long drive out east to Monument Valley, then continued to the northwest along the Bicentennial Highway 95 towards Hanksville. We managed to squeeze in views of Lake Powell near Hite as well as a game of hide-and-seek at Goblin Valley State Park.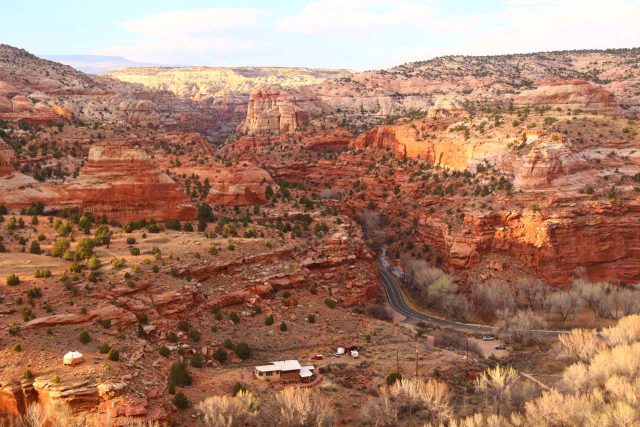 Day 5: Drive from Hanksville to Escalante
Overnight: Circle D Motel (Escalante, Utah, USA)
This was another long driving day, but we managed to fit in two hiking excursions – one to Lower Calf Creek Falls and the other to Upper Calf Creek Falls. The whole family went to the famous lower waterfall, while Mom and I did the more adventurous upper falls on our own.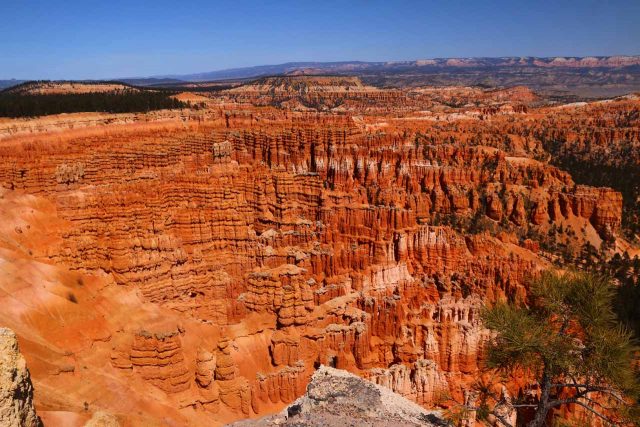 [expand title="MORE" swaptitle="LESS" trigpos="below"]
Day 6: Drive from Escalante to Bryce Canyon
Overnight: Air BnB Rental Apartment (Bryce Canyon, Utah, USA)
We continued our drive west towards Bryce Canyon National Park, where we visited Mossy Cave en route. We then spent the remainder of the day checking out some overlooks before hiking within the amphitheaters of Bryce Canyon itself.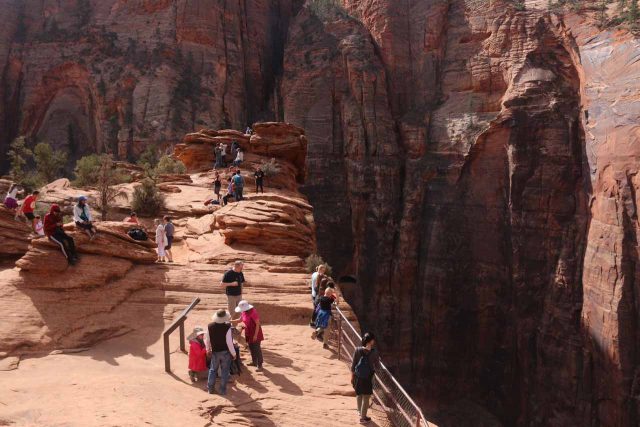 Day 7: Drive from Bryce Canyon to Springdale
Although the drive from Bryce Canyon to Zion National Park wasn't too long, we had to contend with delays related to road construction as well as a difficult parking situation due to the crowds. However, we broke up the drive with a hike to the Canyon Overlook as well as a visit to the obscure Pine Creek Falls. Then, we spent some time enjoying the pool at the Cable Mountain Lodge.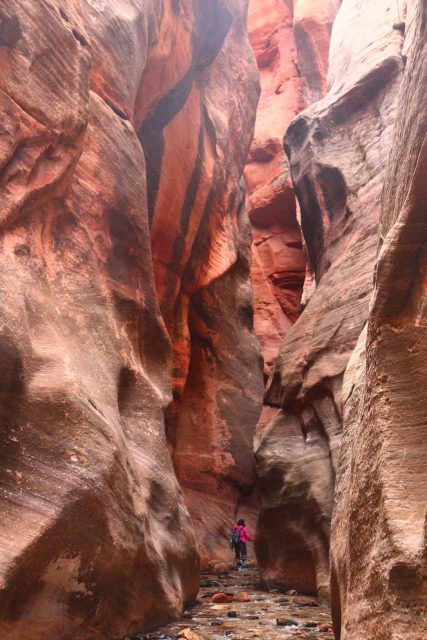 Day 8: Full day in Zion Canyon or Kanarraville Falls
This was a divide and conquer day where Julie, Dad, and the kids all visited Zion Canyon in the morning. Then, the kids got to play in a kid-friendly pool at the La Quinta that the parents stayed at. While all that was going on, Mom and I did the adventure on Kanarra Creek to see the Kanarraville Falls.
Day 9: Long drive from Springdale to Los Angeles
On this final day of our Spring Break Trip, we did the long drive from Springdale all the way to Los Angeles. The drive was timed to avoid the weekend traffic of the I-15, and we even had time to visit Julie's cousin in Las Vegas.
[/expand]
Best Places We've Stayed At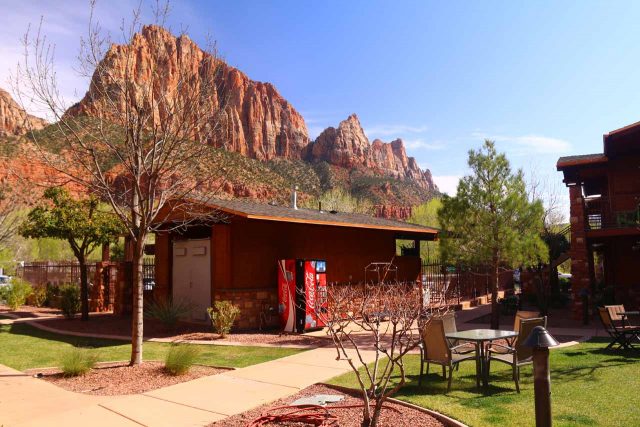 Cable Mountain Lodge – When it came to this well-stocked condo/apartment-style accommodation, Julie really appreciated the spaciousness, the charm, and its prime location. It was hard to believe that when we were last in Zion together back in 2003, this used to be nothing more than an old RV Park with showers.
Now, it's one of the most sought-after accommodations in Springdale as it's mere walking distance to some eateries, the entrance to Zion National Park, and even an outfitter to make wading in the Narrows (or Kanarra Creek like Mom and I did) much more comfortable.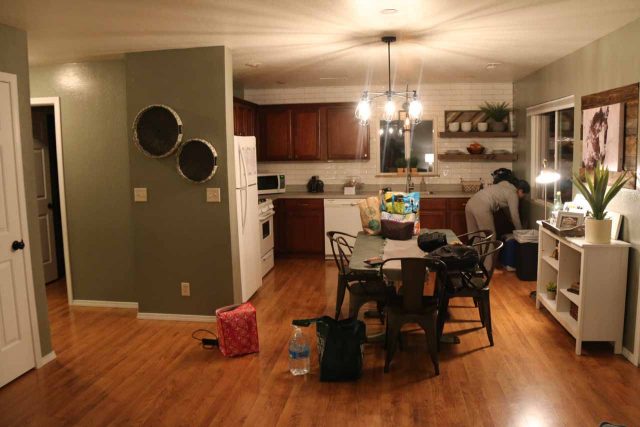 VRBO Rental Home, Flagstaff – This was one of the smarter choices that we made even in terms of accommodation choices as the kids enjoyed staying together in one of the three bedrooms. My parents got another one, and Julie and I got the downstairs one.
More importantly, the place was spacious, it had a well-stocked kitchen, and it the place had that womanly touch where it was clear that the owner had impeccable attention to detail. In fact, she said that she used to live in it so the love and care definitely showed. She even gave us huge fresh-baked cookies, which the kids (and adults) gladly ate up.
What to Bring

In addition to the equipment that we bring on all of our trips, we've also found the following items were especially useful for this particular trip.
Canyoneering Shoes and Neoprene Socks: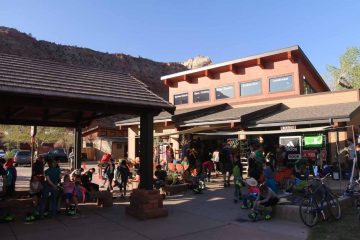 There were a handful of outfitters in Springdale who rented out canyoneering shoes, which were very handy due to the grippiness of the soles of the shoes. Without such specialized gear, the obstacles found while hiking in rivers and creeks like the Zion Narrows and Kanarra Creek were much more difficult due to the lack of grip.
On top of that, the rental also included neoprene socks
and a wooden hiking stick. The neoprene socks were especially important due to how cold the water was. Yet when we wore the socks within the canyoneering shoes, our feet never felt cold.
Indeed, Mom and I were able to hike on Kanarra Creek and negotiate obstacles and conditions that turned back many other unprepared hikers.
Trekking Poles / Hiking Sticks: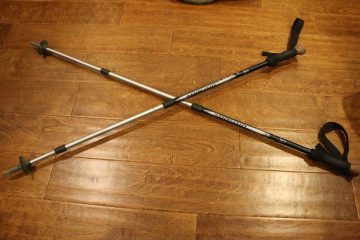 Even though we could have used the wooden sticks provided by the outfitter, Mom and I actually used our own hiking sticks. But regardless of which stick you use, these are good for maintaining balance, especially in terrain as tricky as hiking in a river or creek. Indeed the balance attained by having trekking poles
definitely helped me to maintain balance to prevent damaging things like my camera (from getting dunked in water).
Related Trip Reports
Waterfalls included in this itinerary
Visitor Comments:
Got something you'd like to share or say to keep the conversation going? Feel free to leave a comment below...
No users have replied to the content on this page