This itinerary covered the remaining 32 days of an epic six-week trip covered the countries of Morocco and Spain. Each country could be considered in their own separate itineraries, which was how I've broken it up to better modularize the trip logistics.
Even though I've broken this out into two itineraries, there were definitely considerations to make jointly between the two countries. After all, this trip took place right at the end of Spring and the start of Summer. So we knew that it would get hot the further south we were. Thus, we essentially started in the south (in Morocco), then worked our way up north eventually to Northern Spain.
Below is a summary of the highlights and trip logistics of how we made the Morocco leg of this epic trip happen…
Trip Highlights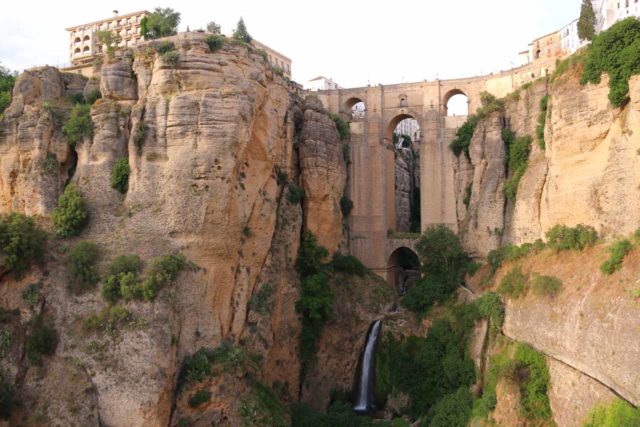 Ronda – when you have a town perched atop a cliff with a signature waterfall spilling underneath an arched bridge, you know you're at a special place in Andalucian Spain. In addition to the waterfall, there was also an interesting bullfighting ring (one of the oldest in existence), Plaza Socorro, as well as an opportunity to sample tapas from this region.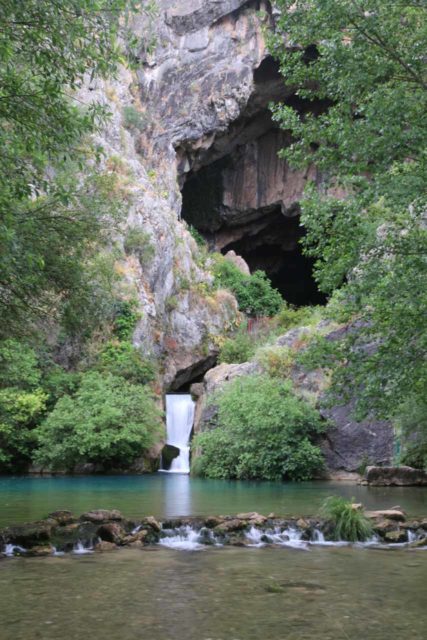 Cascada de Cueva del Gato – Although it was the waterfall that provided us with a region to visit this, the cave was interesting itself (even though we couldn't go inside of it). We were able to get views from an overlook near the road as well as getting right up to the mouth of the cave via a short (but slippery when wet) hike.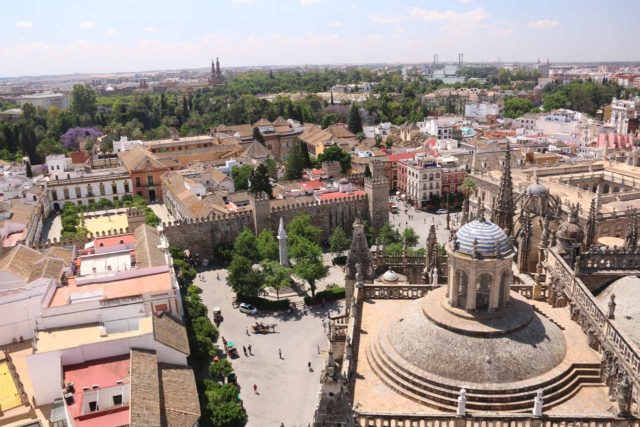 Sevilla – this was one of Spain's premiere cities and it certainly possessed that mix of Moorish and European influences as exhibited in the Real Alcazar and the Catedral de Sevilla (where the Giralda Bell Tower was worth the climb for the views). The city also featured grand architecture like the Plaza de Espana, which might look familiar to Star Wars fans. Indeed, there was lots going on in this city, and we probably could have used another full day to experience more of its sights.
Granada – Another city that possessed a mix of its Moorish roots as well Catholic history mixed together, it also featured grand buildings, happening plazas with food courts, views of the otherwordly Alhambra, and much more. As for the Alhambra itself, that's a separate attraction we're calling out below as it involves quite a grand tour that easily can take the better part of a whole day…
[expand title="MORE" swaptitle="LESS" trigpos="below"]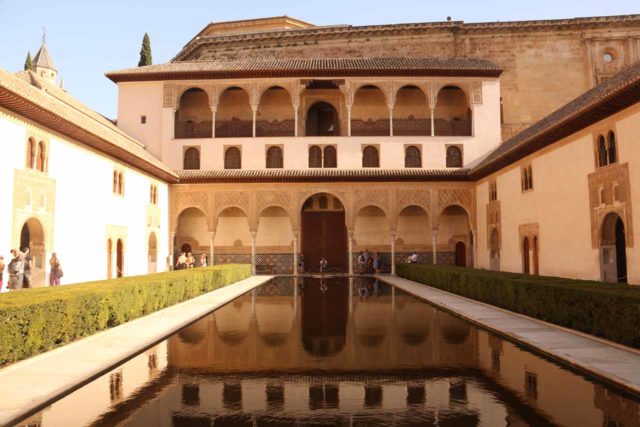 Alhambra – It doesn't get much grander than this Moorish-influenced palace that also has an extensive garden area as well as regal overlooks towards the rest of the city of Granada. It took the better part of a whole day to truly experience this place, but we also had to pre-book our tour of the Palacio Nazaries well in advance before our trip to Spain then show up at our assigned time). And indeed, this grand palace was a series of atriums, fountains, and many other structures seen in Morocco.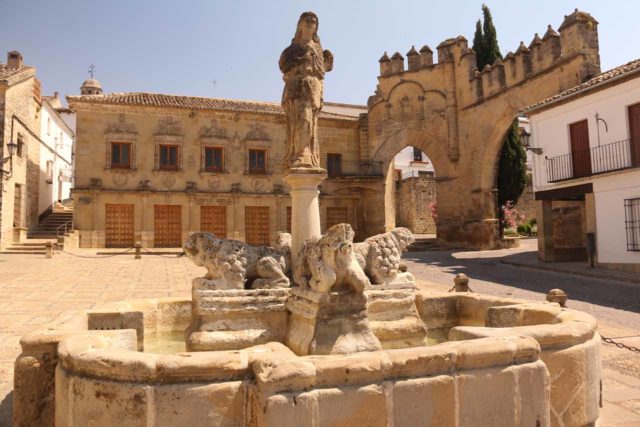 Baeza – For something a little more off-the-beaten path, this UNESCO town along with Ubeda felt more low key and intimate, which was perfect for avoiding the tourist crush. This also meant that we had to use more of our Spanish, but that's a small price to pay for the kind of authentic experience that tends to go missing in well-touristed places.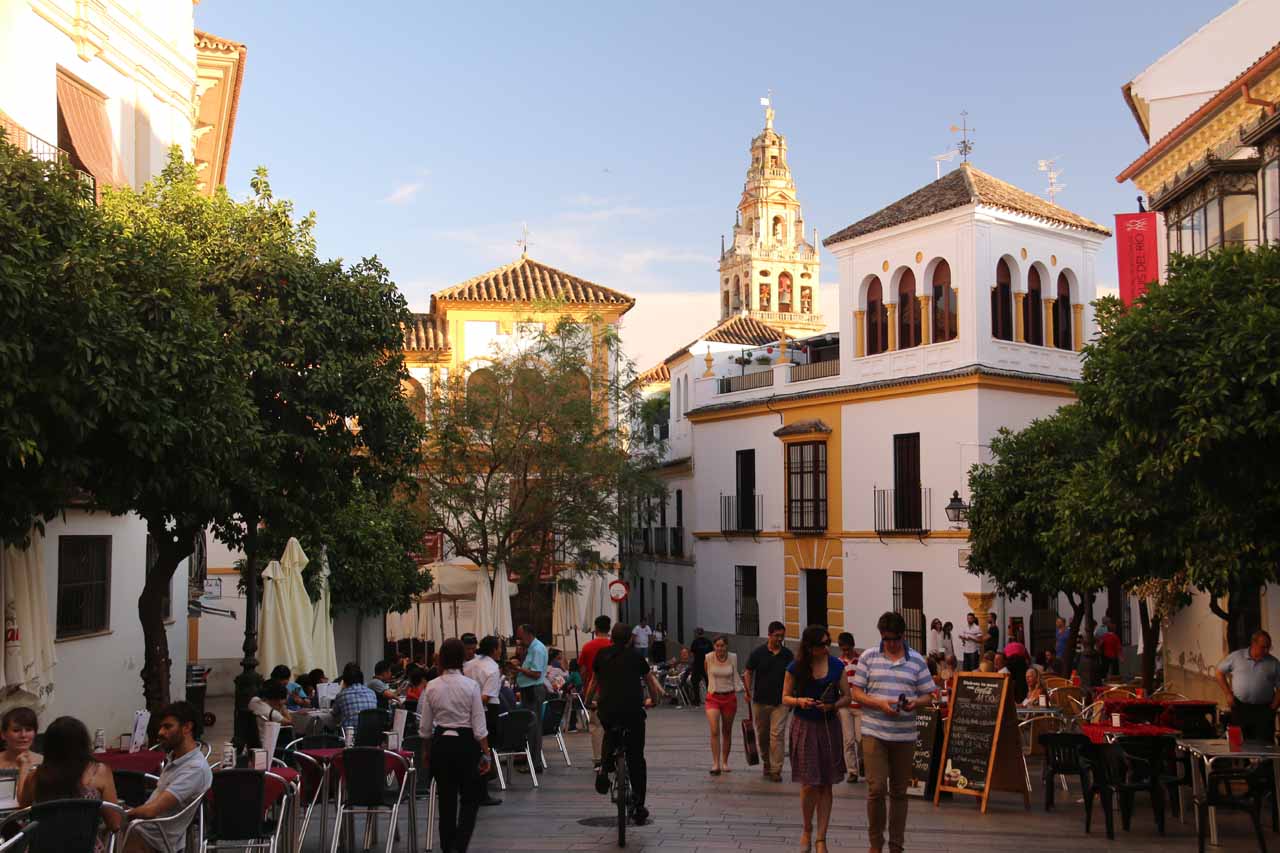 Cordoba – this was the last of the great Andalucian cities that we visited before making our way further north into Central and Northern Spain. This city featured a Jewish Quarter with tight alleyways flanked with shops as well as other palaces and gardens to check out like the Alcazar de los Tres Reyes Cristianos, and the Roman Bridge.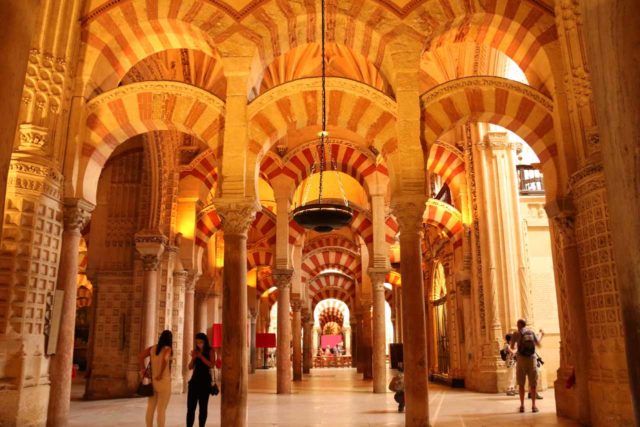 La Mezquita – This was perhaps one of the most visually stunning churches (or is it a mosque?) that we had ever visited because it had this crazy juxtaposition of Muslim mosque with a Catholic church built right within it. Often times we think the most interesting places culturally are where cultures clash, and there's no better example of this than this mosque-turned-cathedral.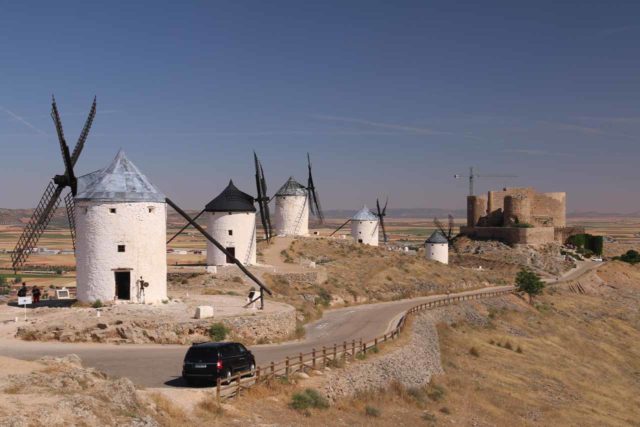 Consuegra – If you're looking to channel your inner Don Quijote, look no further than the windmills (los molinos) standing at Consuegra. This remote town seemingly in the middle of nowhere was the break we needed to help split up the long drive from Cordoba to Toledo.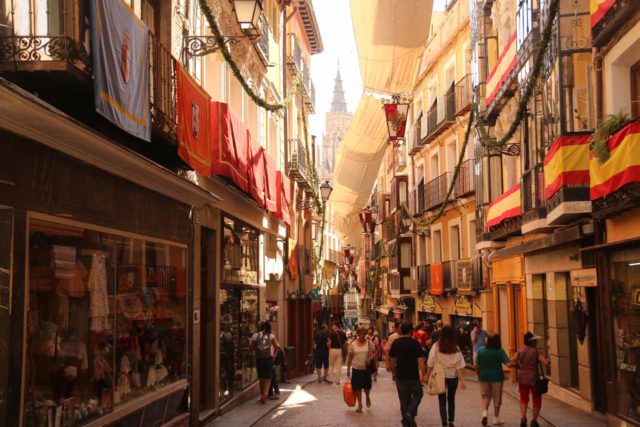 Toledo – This compact city possessed an old world charm as well as a very grand cathedral. Since we spent a night here, we got to experience a kind of ambience that most day-trippers miss, and we even got to glimpse a free concert held by the Spanish rock band Asfalto right in front of the cathedral itself.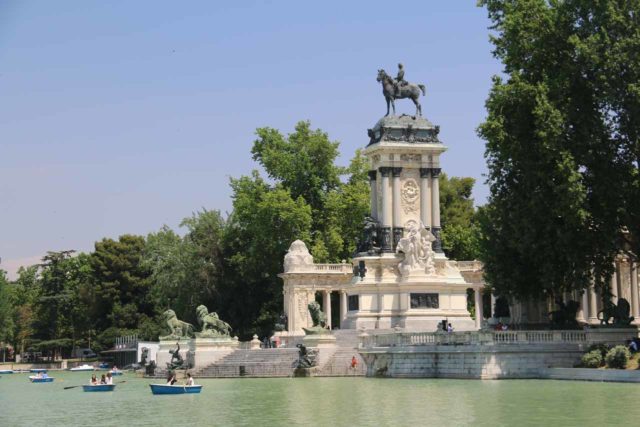 Retiro Park – This was kind of the Spanish version of Central Park except it sat in a greenspace within the city limits of Madrid. It was quite an extensive park and it was easy to spend the better part of a whole day here. In fact, in our brief visit, we realized after the fact that we might have missed some parts we were meaning to see but totally forgot about. So that gives you an idea of how extensive these grounds are.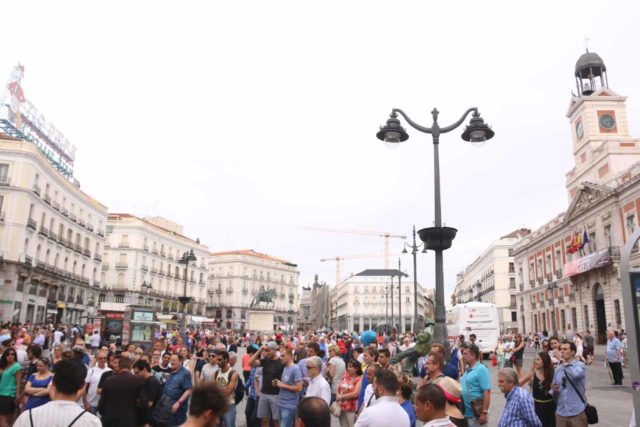 Madrid – This city in the heart of Spain possessed a certain energy in its crowded plazas but it also had the variety of experiences as well. After all, we visited an alcazar, a grand cathedral, sampled tapas at a market, and we even had some of our best meals of the trip here (e.g. an authentic pizza place as well as a very good crepe place). Plus, we visited a few museums so Tahia got her fix while Julie got her art fix.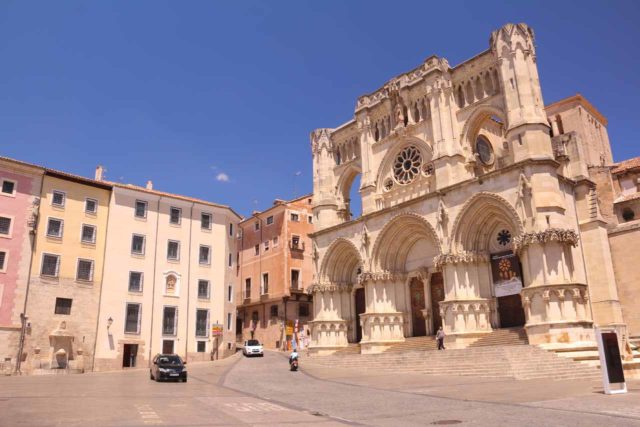 Cuenca – While this town was known more for its buildings perched precariously on the edge of a bluff (i.e. Casas Colgadas), we found the Plaza Mayor to have the right amount of small town charm as it wasn't overrun by mass tourism yet still retain the authentic Old World Spain feel to it. We came to this town mostly because we also sought out some waterfalls like the Nacimiento del Rio Cuervo.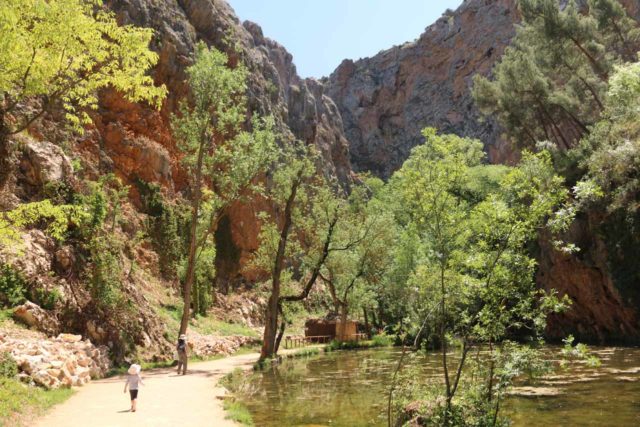 Monasterio de Piedra – The extensiveness of this park with its network of waterfalls was what really stood out to us about our experience here. While it was a long drive to get here from Madrid to Zaragosa, it was well worth the effort as we were quite waterfall-saturated by the end of our visit here. But it also featured calm reflective ponds, tall cliffs, the namesake monastery, and even a misty cave behind one of the tall waterfalls!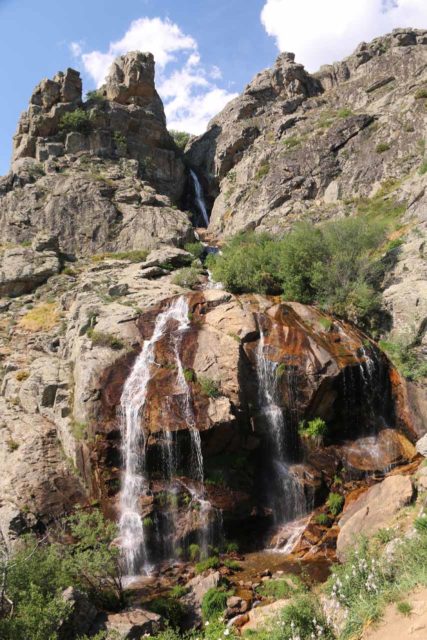 Cascada de los Litueros – this waterfall was off-the-beaten path even though it was very close to the highway between Madrid and Somosierra. Its unmarked and unassumed nature ensured that we had this place to ourselves, and as you can see from the photo, the waterfall itself was not bad either!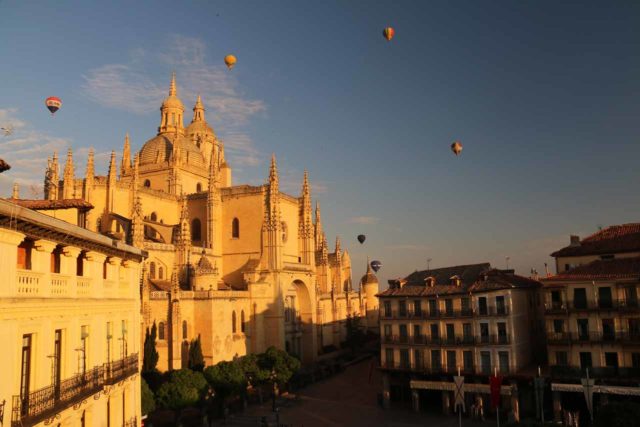 Segovia – This compact city seemed to have a lot going for it – it had a Disney-like castle, a charming square, a grand cathedral, a Roman aqueduct, and views to boot. It was a joy to stroll around the town both at twilight and during the day, and we also enjoyed the cochinillo asado (apparently a specialty of this region).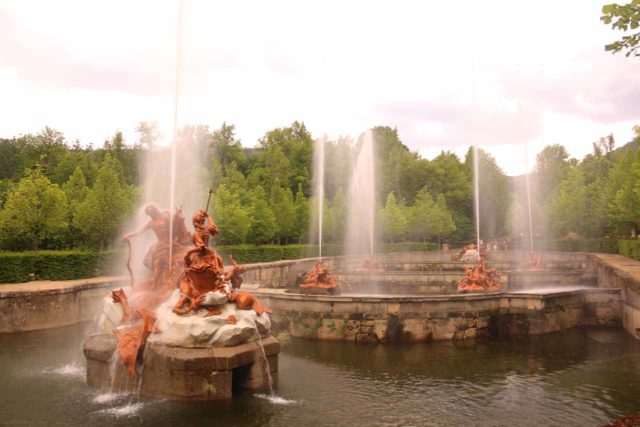 La Granja – Just on the outskirts of Segovia, we visited this Spanish version of Versailles at La Granja de San Ildefonso. We also happened to be here during some kind of Renaissance Fair, which further added to the unexpected atmosphere, and it made us wish we could have spent more time here before returning to Segovia for the evening.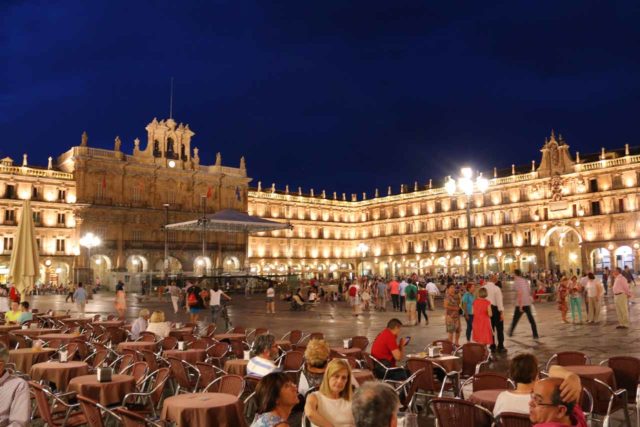 Salamanca – This town really seemed to hit its stride in the twilight and evenings when the Plaza Mayor came to life and the interesting lighting throughout the city created a kind of warm ambience to it. The best part of all was that even though we were out and about at night, we never feared for our safety, which is a testament to its youthful university vibe as well as pride in the community. Plus, the cathedral tour was well worth it as we got to stroll about its upper rafters and walkways with views back towards Salamanca.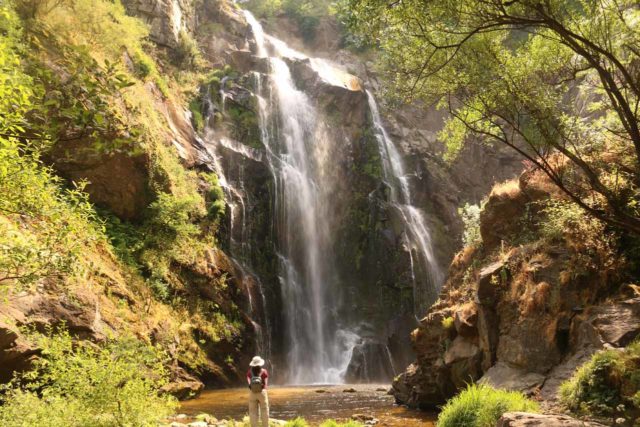 Fervenza do Toxa – this was one of the impressive waterfalls that we encountered in Galician Spain. Up in these parts, it seemed like there was more of a Portugese influence on the language as well as having a bit more humidity since this region was said to be like the Pacific Northwest of Spain. Indeed, there were plenty of ferns and greenery in these parts.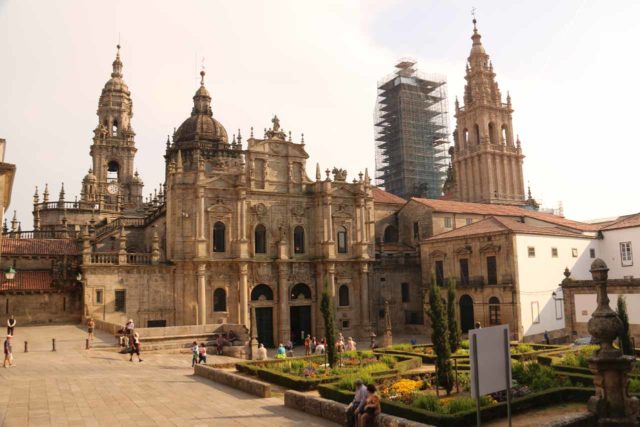 Santiago de Compostela – It was a bit out of the way to make it to this outpost of Northwestern Spain. Many walkers use this as the destination of the long walk from the Basque Region to here (much like St James did it back in the day). Of course, the small town feel and the massive cathedral with its huge incense urn hanging down was also a treat.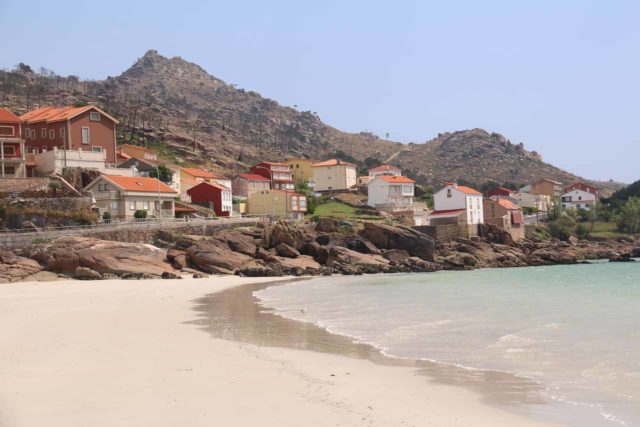 Fervenza do Ezaro and Ezaro – It had only been a few years since they allowed this watercourse to flow once again (as it was held up and diverted for hydroelectricity). It was a good thing because this was also one of the better waterfalls in this part of Spain, especially when you consider the nice seaside scenery on offer here.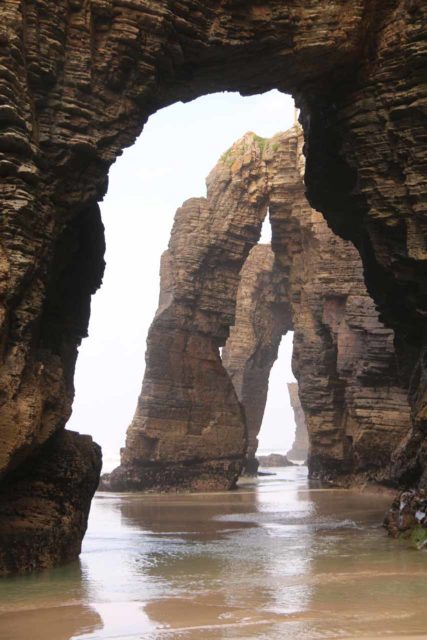 Praia As Catedrais – this series of sea arches was the main draw of this attractive beach on Spain's Northern Coast. We had to time our visit because accessing it required wading through seawater when the tides were low. Indeed, the reward for such effort and timing was well worth it as far as we were concerned! Oh, and to add to the ambience, there were bagpipe buskers taking advantage of the acoustics in some of the caves on the beach here!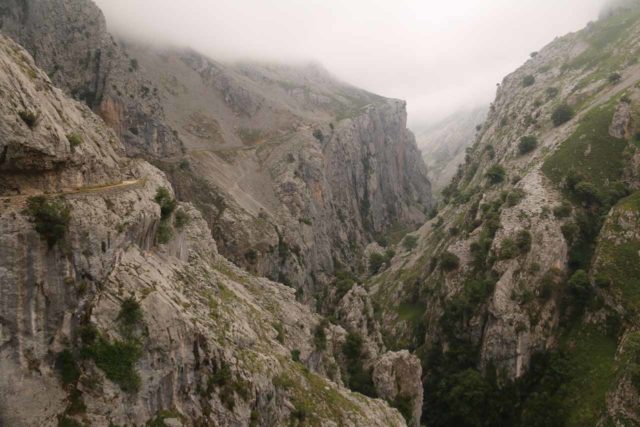 Cares Gorge – if you want to know what it might be like to be a mountain goat, perhaps the Ruta de Cares is the best way to see what it's like. After all, it was where hiking along a series of water channels, tunnels, and cliff-hugging ledges as well as bridges in the precipitous Cares Gorge was possible. Just be sure to allow yourself plenty of time as it's not a short walk to get the most of it.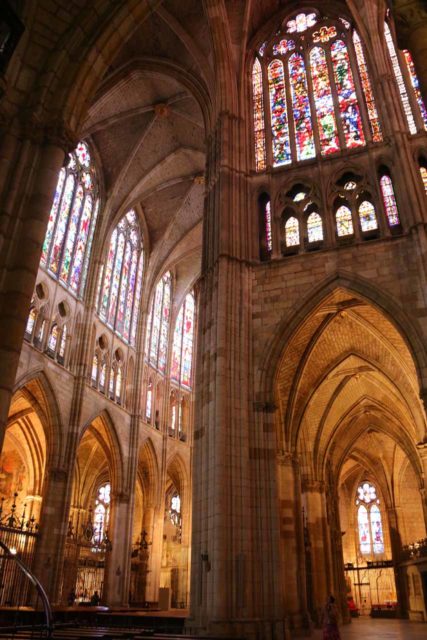 Leon – This city was best known for its stain-glass-rich cathedral. We had to see it for ourselves, which was definitely different from most of the other European cathedrals that we had seen. We also experienced the charming pedestrian walkways as well as eateries in the charming city center as well.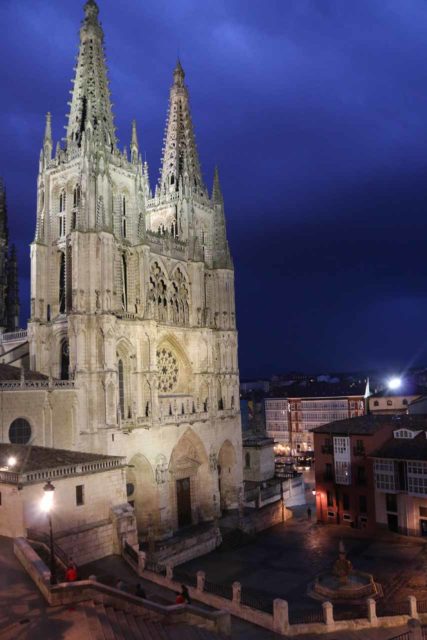 Burgos – We mainly used this city as a stopover on our way towards the Basque Country, but it also featured more Spanish charm on its own with an impressive cathedral as well as a handful of busy squares rich with people sitting and people gazing. We also checked out a bridge outside the city walls for a quieter experience.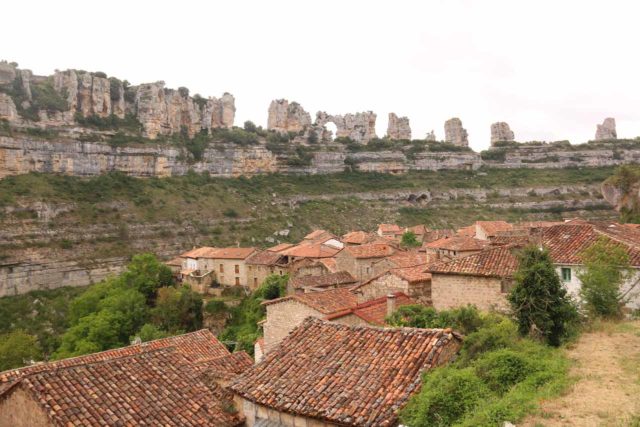 Orbaneja del Castillo – It's not often that you have a remote town that features an attractive waterfall running right through while being surrounded by impressive cliff formations (including a natural arch perched atop one stretch of these cliffs). Indeed, these are the kinds of things you can only experience by self-driving, and we were certainly glad we went out of the way for it.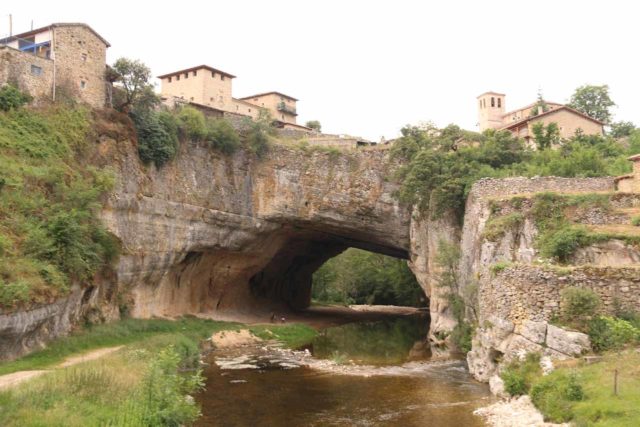 Puentedey – Seemingly defying logic as to where a town should be built, here we have a town actually build on top of a natural bridge! How many places in the world can you say that about? Also nearby was the Cascade La Mea, which further kept us around a little longer to really get to experience this part of rural Spain.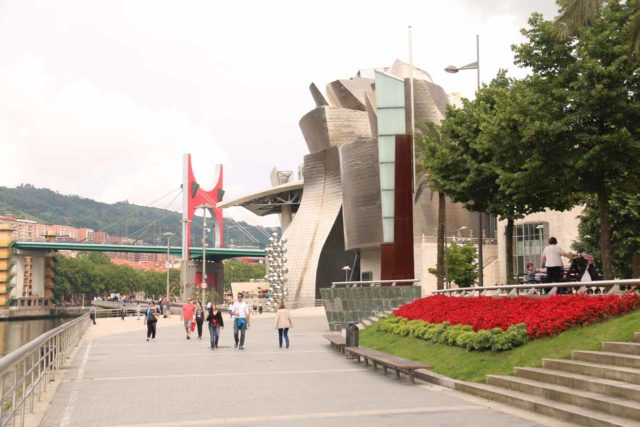 Bilbao – this was a modern Basque city whose main draw was probably the modern-looking art building Guggenheim Museum Bilbao. Not to be outdone, the city also featured a Casco Historico section where plenty of locals strolled the narrow streets or had themselves some tapas, alcohol, and a smoke while mingling with friends and/or family before the actual late night dinner.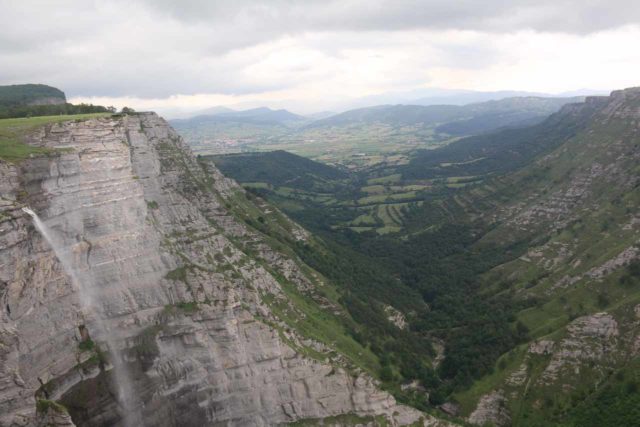 Salto del Nervion – This cliff-diving waterfall right on the border of Basque Country required a bit of a hike to reach, but the scenery was dramatic and the passing thunderstorm also upped the drama factor. While it seemed like this part of Northern Spain had waterfalls struggling to flow, this one definitely put on a show.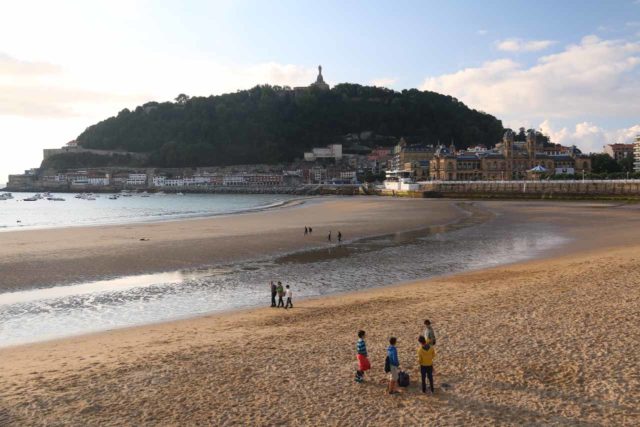 San Sebastian – Based on a recommendation of a co-worker who used to live and work in Spain, we were appreciative of the heads up as we were treated to a sandy crescent-shaped beach with an almost Rio de Janeiro-like vibe in this part of the Basque Country of Northern Spain. This place was also known for good food as well as their own kind of cider.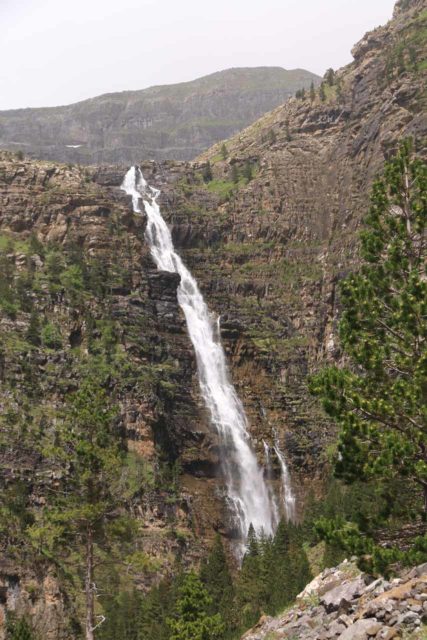 Cascada de Cotatuero – This waterfall wasn't easy to see, but it was certainly was of the taller and more impressive ones found in the remote Ordesa National Park deep in the Pyrenees Mountain Range bordered with France.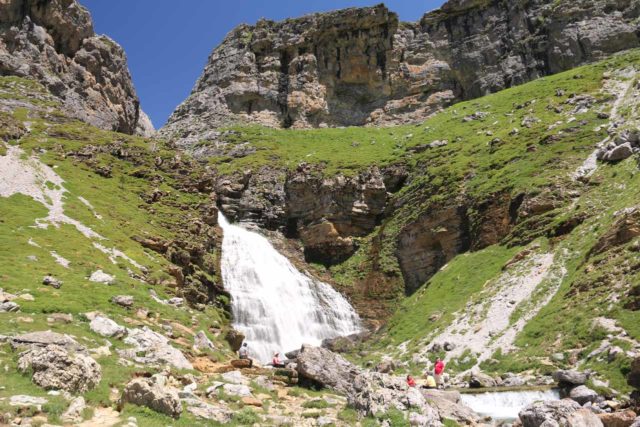 Cola de Caballo – This was probably the one hike that epitomized the Pyrenees experience in Spain as it involved a nearly full-day hike to the Horse's Tail, which sat right at a glacial cirque. Along the way were at least four other major waterfalls on the same river system, which left me seeing waterfalls even long after I was done with this alpine hike.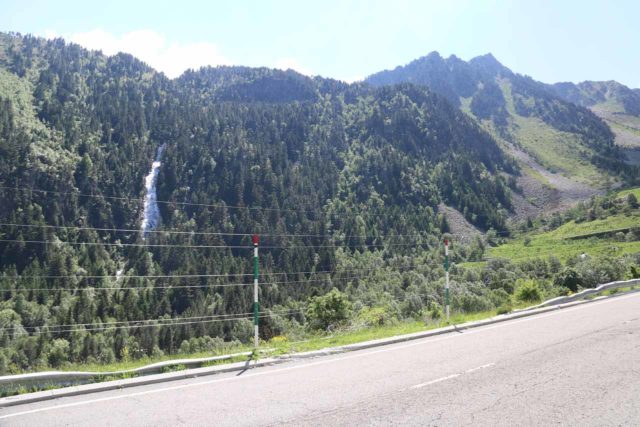 Cascada de Gerber – This waterfall was a surprise as we made the dramatic drive from Ordesa all the way to Espot via Ainsa. This gusher was best appreciated from a distance as the misty lookout was way too close to really appreciate its beauty. Again, this further showed the kind of dramatic scenery to be found in the Pyrenees, and I was well aware that we only scratched the surface of what there was to see and do in our pass through here.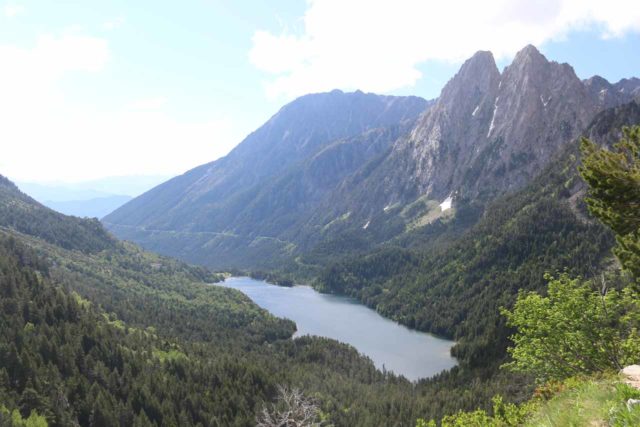 Cascada de Ratera, Estany de Sant Maurici, and Aiguestortes National Park – This was the last of our adventures in the Pyrenees before ending the trip in Barcelona. It was a bit off the beaten track as far as foreign tourists are concerned, but we were rewarded with waterfalls, scenic lakes, and a one-way hike with the aid of a 4wd taxi.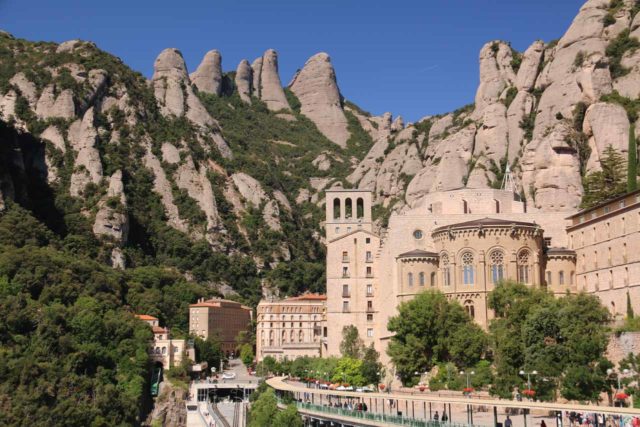 Montserrat – This cliff-hugging monastery was very well-known and easy-to-visit as transport options to get here from Barcelona were plentiful. It really felt otherworldly as we were treated to birdseye views of the surrounding plains as well as being captivated by the knobby cliffs towering over the big monastery here that seemed to blend in well with its surroundings.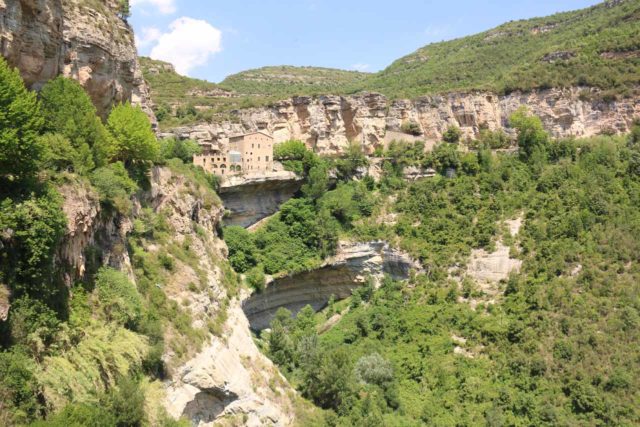 Sant Miquel de Fai – This remote monastery about a couple hours drive north of Barcelona was an interesting blend of religious structure built right into the precipitous horseshoe-shaped cliffs complete with waterfalls and caves. The overall experience was a relaxing contrast to the busy energy of the international touristed city of Barcelona.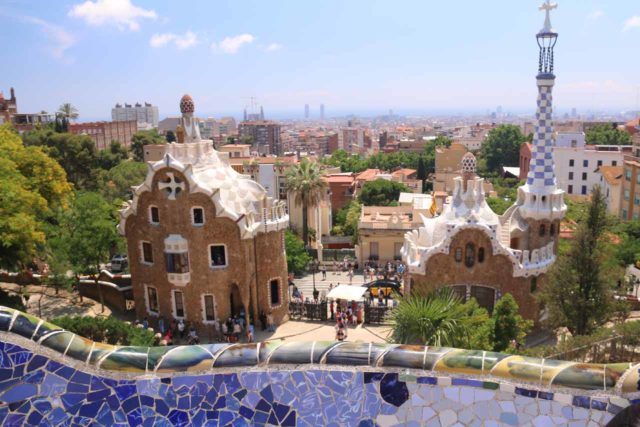 Park Guell – While this whimsical series of Gaudi structures in a park-like setting was worth the trouble to get out here (the lack of transportation options to get here was surprisingly bad), it was worth the advanced reservations to visit and really experience the twisted curves and shapes that are not likely to be found elsewhere in the world.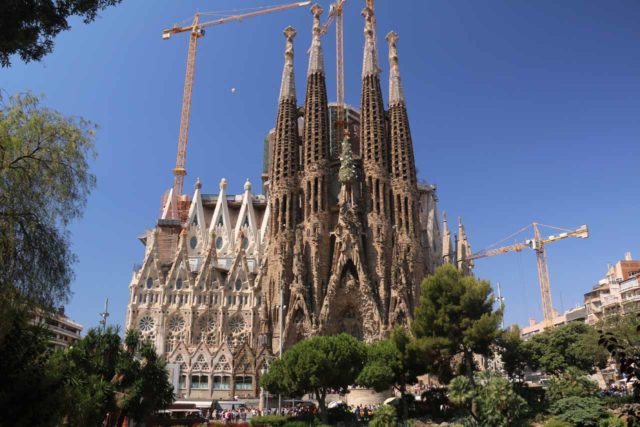 Barcelona – This world class city has Gaudi's fingerprints all over it as seen from his apartments, the Sagrada Familia, and even a tour of the roof of one of his apartments. As if that weren't enough, there was the happening buzz of the Ramblas de Catalunya where thousands of people converge to experience the energy and festivities that seem to be an everyday occurrence in this city. Plus, there's a scenic waterfront with a beach of its own as well as a dynamic foodie scene. Indeed, there's so much to see an do here that even the three nights we spent still might not have been enough time to truly experience it all!
[/expand]
Trip Advice

Because we were covering almost the entire Iberian Peninsula with this trip in a span of almost 5 weeks (and combine it with a visit to Morocco prior to arriving in Spain), we were at the mercy of a limited shoulder season while at the same time not being able to be in multiple places at the same time. Here were some of the other things we learned on this trip…
Travel Insurance: Since this was a long trip with a lot of potential things that could go wrong, we actually bought this insurance in the event the unthinkable happens. Case in point, when our ferry to Spain was delayed and caused us to miss our ability to hire a car in Algeciras (more on this later), we actually had to pay out-of-pocket for a taxi to take us to Malaga for an alternate car hire location. That taxi expense could have been claimed by the travel insurance.
Auto Europe: Given the unforeseen delay with the ferry from Morocco to Spain, which in turn pushed our arrival at the Europcar Agency during siesta on a Saturday, we were either going to be out of a car for 2 days (and out the accommodation costs along the way), or we had to try to contact the car hire agency to rectify the situation. As panic was setting in when no one from Europcar was picking up the phone (and the recordings were in Spanish), we then called the consolidator that we booked with – Auto Europe.
That was when we talked to someone who spoke English, explained the situation, and they made arrangements with their network of partners. As a result, we were able to pick up the rental car in a different city, and once we got the rental car, we were on our way to finally resume the trip.
We also had a little incident where the rear-view mirror broke off in a parking structure. And once again, we called Auto Europe to work things out. It was a good thing that our rental included full coverage insurance. The moral of the story here is that booking with the consolidator paid off for us in times of need, and we're convinced that this is the way to go to do car hires instead of direct with the rental agency when in a foreign country where you don't natively speak the language.
Low Flow Waterfalls– It seemed like many of the waterfalls we encountered in Central and Northern Spain were struggling to flow. Surprisingly, the ones in Southern Spain and Morocco had the healthiest flows even though the north was supposed to be wetter. Go figure. But I guess in the grand scheme of things, Spain does have a similar Mediterranean climate that we are used to back at home in Southern California. So they, too, can have dry years (meaning little or no rain even in the Winter).
Siesta – Spain (more than any other country we've visited) observes the afternoon siesta, which meant that availability of services was severely limited during those times. This actually hurt us when we tried to pick up the rental car at the start of the trip when a late arriving ferry caused us to miss our pick up as it coincided with siesta and wouldn't be re-opened until 2 days later (see the Auto Europe entry above). Other inconveniences meant we had to go without lunch until dinnertime.
Crowds and Pickpockets – Fortunately for us, we didn't have to deal with petty crime, but considering that we were in the peak season, the crowds were definitely in full effect. And that's when opportunistic thieves try to steal from unsuspecting tourists not privy to their professional group tactics of distraction and snatch. I know co-workers who have lost their belongings in this manner so the threat is definitely real.
As for the crowds, that usually meant queues to take taxis, advanced bookings being mandatory (including for accommodations), and a less-relaxing time to take pictures as people tend to get in the way. On the flip side, however, this is how you get the energetic vibe in places like Las Ramblas de Catalunya (Barcelona) that you simply don't get elsewhere when you're in the moment.
Late Dinners – Another aspect of Spanish culture is the late meals. If you go to any establishment, you'll find that most Spanish people do not have dinner until well after 9pm. If anyone goes to a restaurant to eat before then (and it's not standing around having tapas), then you know there's a good chance you'll see nothing but North American tourists at that time. I guess this is one of those things where you have to be flexible and try to do as the Romans do (as they say), which is all part of being in the moment to get the most of your trip.
Travel Itinerary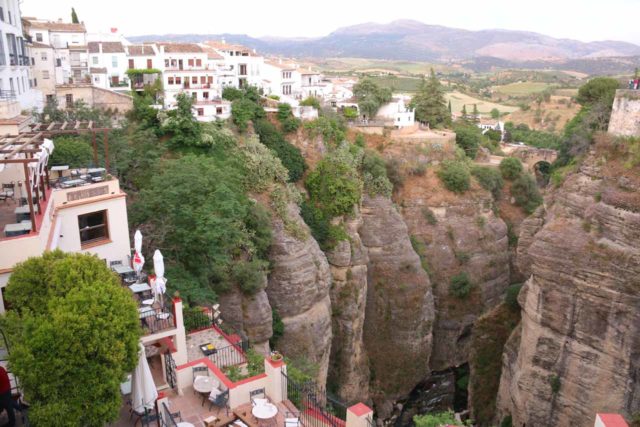 Day 11: Drive to Ronda
This turned out to be a drama-filled day where our rental car pick-up happened in Malaga instead of Algeciras after or ferry from Morocco was late and it caused us to miss our pick-up due to siesta. Eventually once we got the rental car, we then drove all the way to Ronda to experience the last light of the day, especially checking out the Cascada de Ronda in the Tajo Gorge.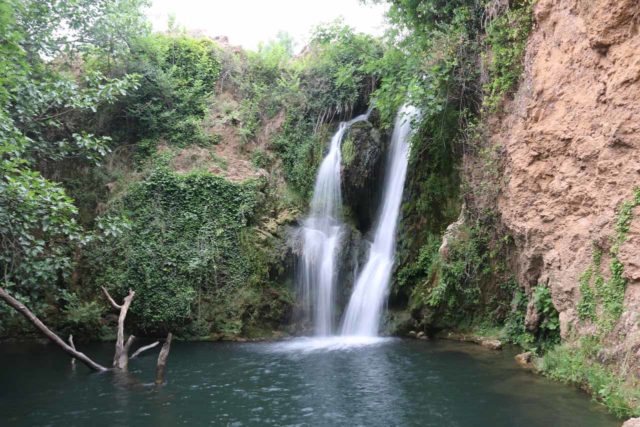 Day 12: Drive from Ronda to Sevilla
This was a busy day that started with a brief visit to the Ronda Bullfighting Ring, then a visit to Cascada de Cueva del Gato. Next, we drove to Sevilla, where we checked in and explored the city a bit. Then, we spent the afternoon driving out to see the Cascadas de Huesna.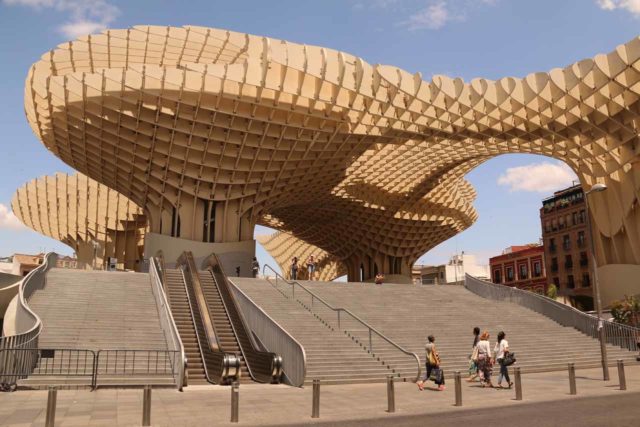 Day 13: Exploring Sevilla
This was a day at leisure without needing to drive. We started off by visiting the Real Alcazar before visiting the Catedral de Sevilla and its Giralda Bell Tower. Then we went to the Metropol Parasol as well as the Plaza de Espana (of Star Wars fame) before sitting in on an authentic flamenco performance.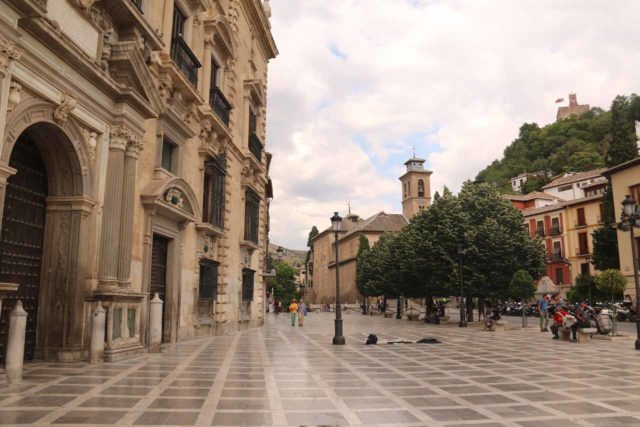 Day 14: Drive from Sevilla to Granada
This was a driving day where once we arrived and checked into Granada, we then explored the Albayzin Quarter (the Muslim side of town) after briefly scouting out the Mirador San Nicolas.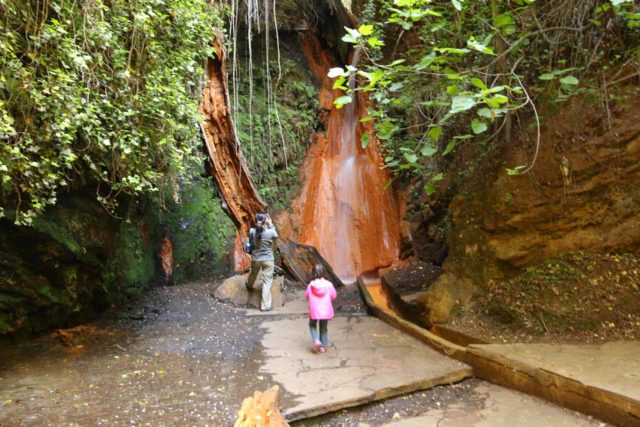 Day 15: Driving to Las Alpujarras then returning to Granada's Albayzin Quarter
We started the day driving to the mountains where the mountain towns of Las Alpujarras resided. We visited Fuente Agria and went as far as Travelez before driving back to Granada. We then spent the rest of the evening waiting for sunset and the magic hour lighting the Alhambra.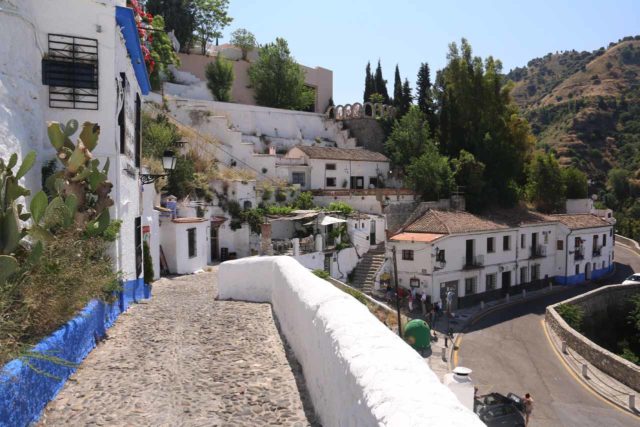 [expand title="MORE" swaptitle="LESS" trigpos="below"]
Day 16: Granada's Greatest Hits
This was another day focused on Granada, but this time, we did a plethora of sights starting with the Museo de Cuevas del Sacromonte, the Great Mosque, Basilica de San Juan de Dios, La Madraza, Capilla Real, and Plaza Bib-Rambla. Then we spent the majority of the afternoon and early evening visiting the main attraction – Alhambra. There, we experienced the Generalife, Alcazaba, Charles V Palace, and the very beautiful Palacio Nazaries (the very reason why we had to wait since our tickets were timed for this afternoon).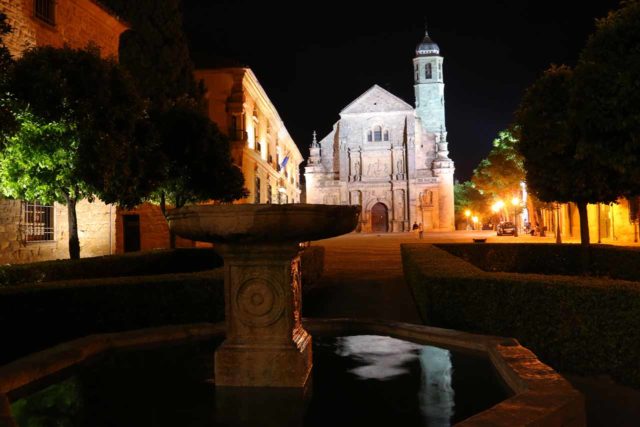 Day 17: Drive from Granada to Ubeda
After leaving Granada, we drove out to see the Cascada de Linarejos before returning to Ubeda to explore the quiet UNESCO town for a bit. Unfortunately, this was also the day I happened to break the passenger-side rear-view mirror in a car park so we had to scramble to find duct tape to keep it functioning until we could get a replacement rental car. Good thing we took out total coverage insurance.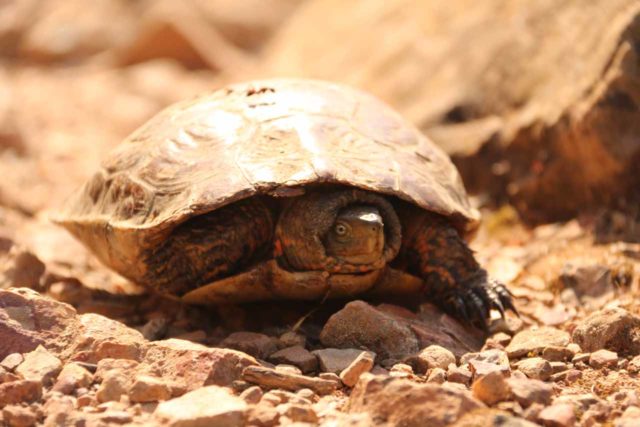 Day 18: Day trip to Cascada de la Cimbarra before visiting Baeza then Ubeda
We started the morning driving out to see the Cascada de la Cimbarra. Then, we drove back towards Baeza to experience this charming little UNESCO town. Finally, we ended the day exploring parts of Ubeda that we hadn't seen to this point.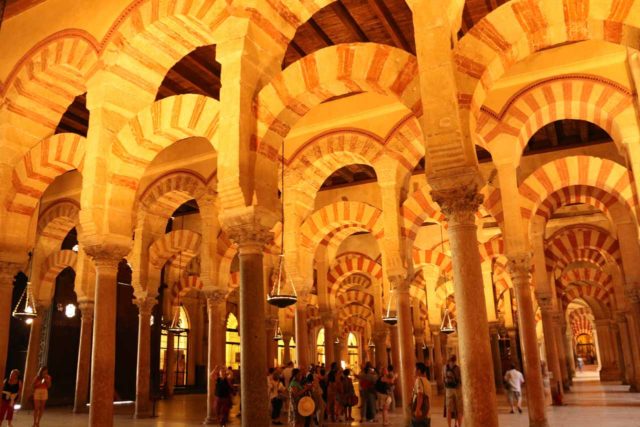 Day 19: Drive from Ubeda to Cordoba
On this day, we drove out to Cordoba, where we exchanged rental cars. Then, we checked into the hotel and finally spent the rest of the afternoon touring the historic center of the city as well as the visually-stunning Mezquita. After the Mezquita, we visited the Alcazar de los Tres Reyes Cristianos as well as the Roman Bridge and Jewish Quarter.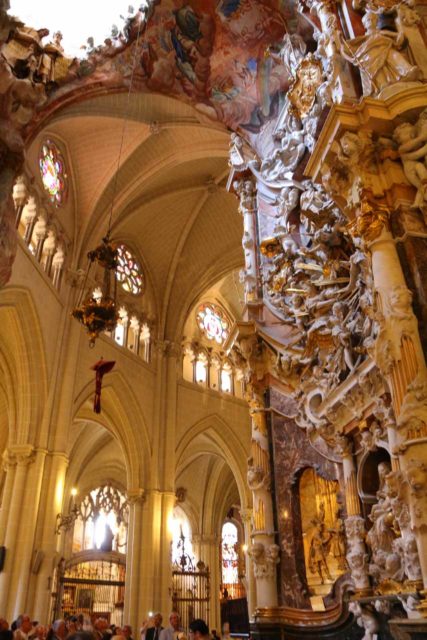 Day 20: Drive from Cordoba to Toledo
This was a very long driving day where we managed to break up the drive with a visit to Consuegra, where there were windmills in the middle of nowhere. This was where we could really imagine ourselves as Don Quijote de la Mancha.
Day 21: Drive from Toledo to Madrid
After starting the day overlooking Toledo, we then drove into the city center of Madrid. From there, we parked the car and walked around the city to really explore places like the Plaza Mayor, the Cathedral, and the Royal Palace.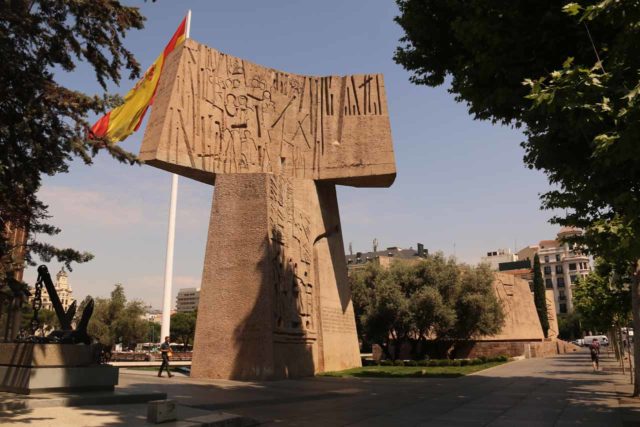 Day 22: Day at Leisure in Madrid
This was a day where we didn't need a car. Instead, we spent time exploring a couple of museums in the Archaeological Museum (MAN) and Museo de Reina Sofia. And, we spent a good part of the day exploring Retiro Park.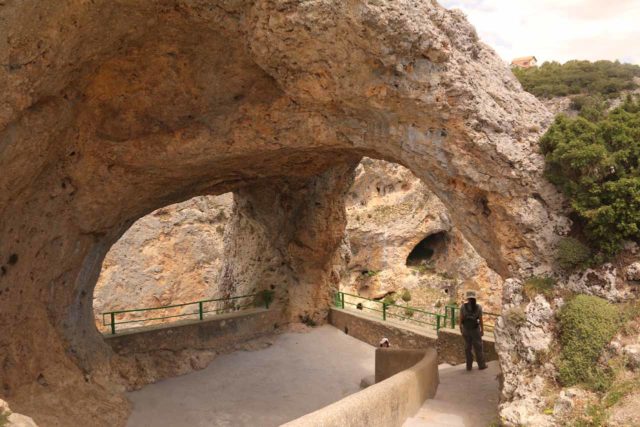 Day 23: Drive to Cuenca and back
This was a long day trip as we drove a few hours east towards Cuenca, where we then detoured to visit the Nacimiento del Rio Cuervo and Cascada del Molino as well as the eccentric Ventano del Diablo. Later in the afternoon, we spent a good deal of time exploring the charming town of Cuenca including the Casa Colgadas and Plaza Mayor.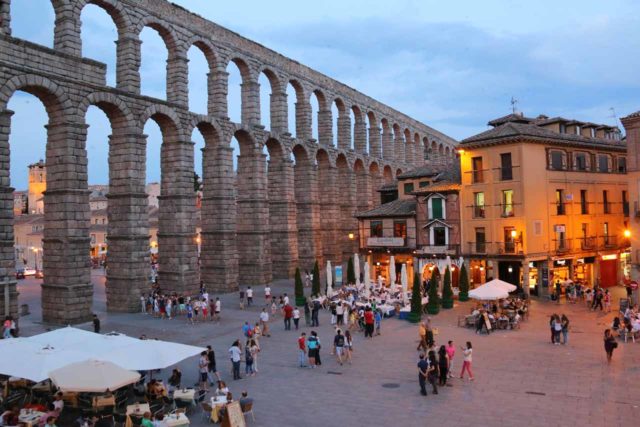 Day 24: Drive from Madrid to Segovia
Even though Segovia and Madrid were geographically close, we actually made a long detour out to see the Monasterio de Piedra (which consumed the better part of the day) before driving back towards Somosierra to see Cascada de los Litueros. We then ended the day exploring Segovia in the evening.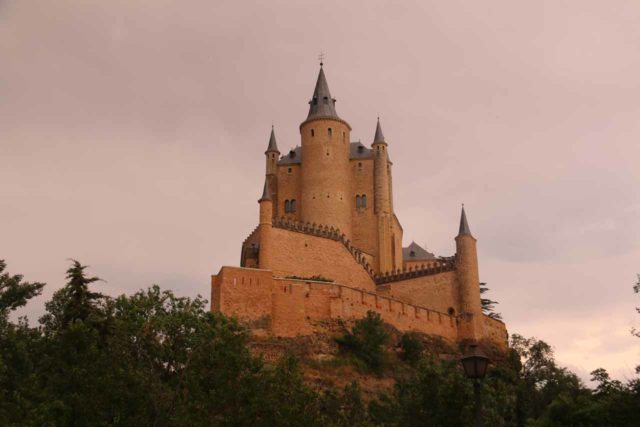 Day 25: Segovia and La Granja
We began this day visiting the Alcazar in Segovia and the city's cathedral before jumping back in the car and driving out to nearby La Granja de San Ildefonso. That was where we experienced the Mercado Barroco, the Royal Palace and Gardens as well as checked out the fountains that happened to go off while we were there. There was also some kind of Renaissance fair during our visit, which further added to the atmosphere.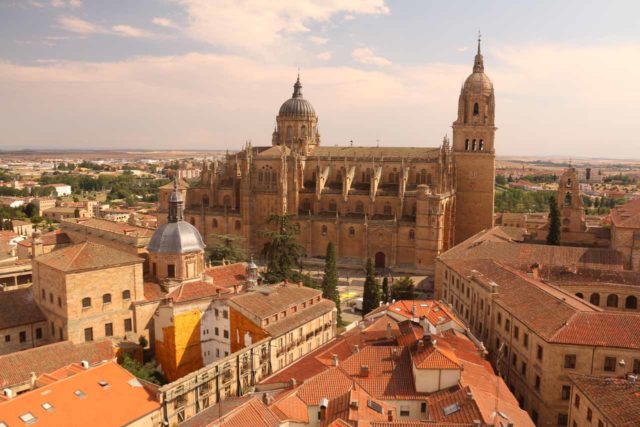 Day 26: Drive from Segovia to Salamanca
This was another long driving day that included a detour near the Portugese border to Pozo de los Humos which we saw from both sides. Then, we settled into Salamanca to enjoy its twilight and evening ambience, especially at its Plaza Mayor.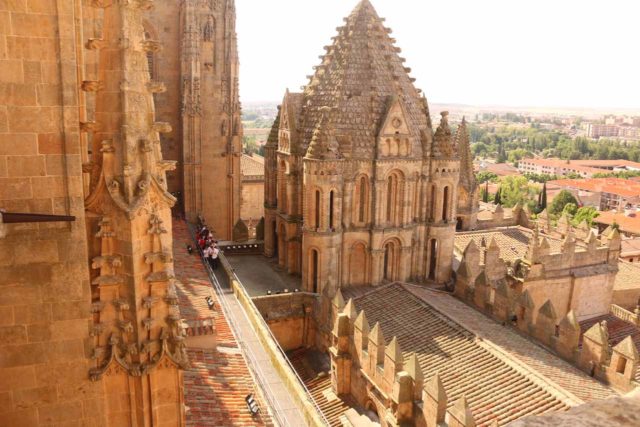 Overnight: Hotel Montenegro (Santiago de Compostela, Spain)
Because the cathedral's upper rafters (Ieronimus) was closed to observe Corpus Cristi yesterday, we had to make this visit today which meant the long drive to Santiago de Compostela happened a bit later than we wanted. Still, we had time to visit Fervenza do Toxa as well as visit the Praza do Obradoiro and Catedral. After dinner, we strolled about the old town.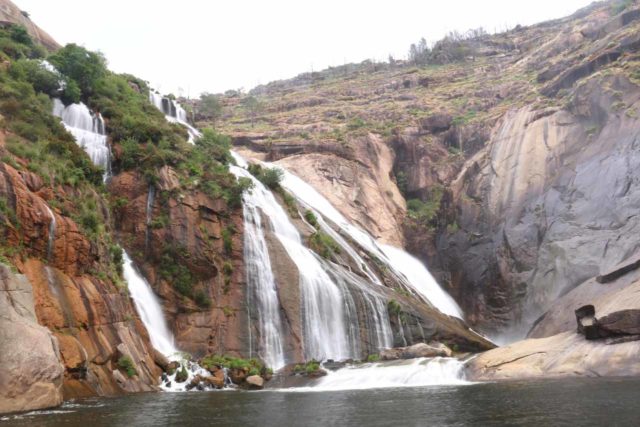 Day 28: Loop drive to Ezaro and back
Overnight: Hotel Montenegro (Santiago de Compostela, Spain)
We started the morning visiting the Mercado de Abastos before driving out to Ezaro where we visited the Fervenza do Ezaro and spent the rest of the evening checking out Santiago de Compostela one more time.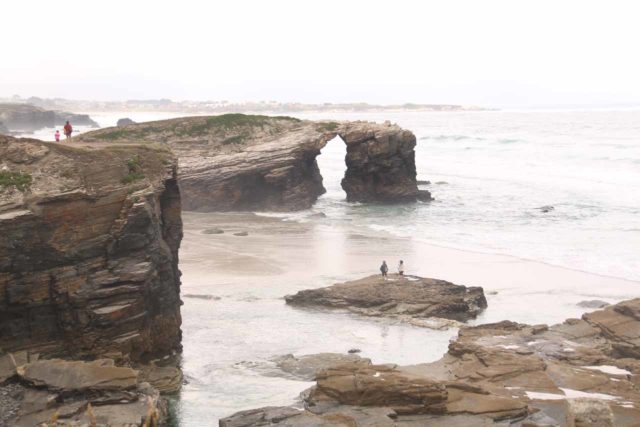 Day 29: Drive from Santiago de Compostela to Ribadeo
We drove to Mondonedo to visit Salto do Coro then we continued to the Praia As Catedrais to visit the plethora of sea arches at the beach there. Finally, we spent the evening exploring the quiet town of Ribadeo, especially the Plaza de Espana and the Waterfront.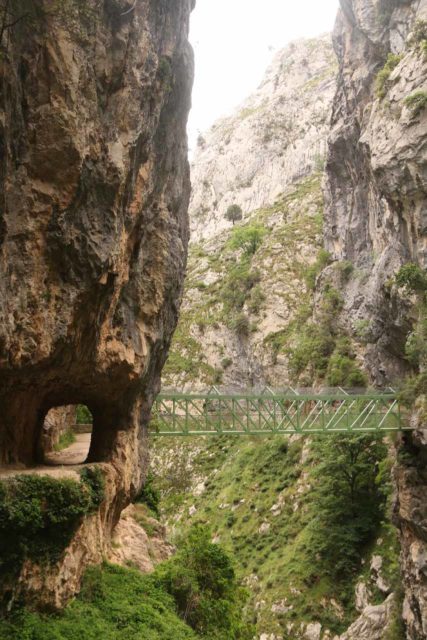 Overnight: Tudor Court Hotel (Cain de Valdeon, Spain)
This was a long driving day mostly because of the mountainous Picos de Europa. Eventually, we settled in at the south end of the Cares Gorge at Cain de Valdeon, and that was where I solo'ed the long out-and-back hike to explore as much of the Rutas de Cares as I could in an entire afternoon.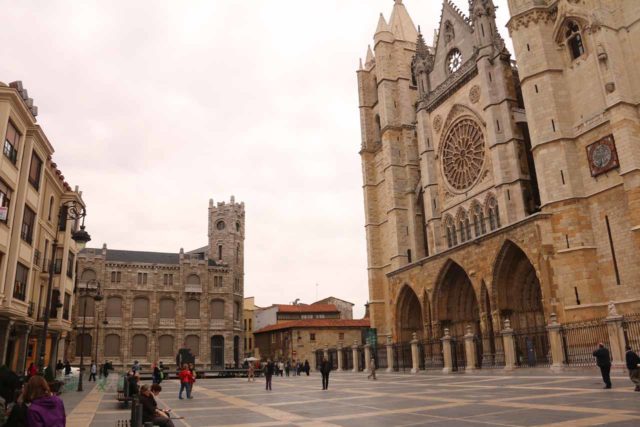 Day 31: Drive from Cain de Valdeon to Burgos
This was another long driving day where we visited Cascada de Nocedo before spending the better part of the day in Leon (visiting Catedral de Santa Maria and Museo San Isidro de Leon). Then, we settled in on Burgos, where we did a little more exploring of its cathedral and Plaza Mayor.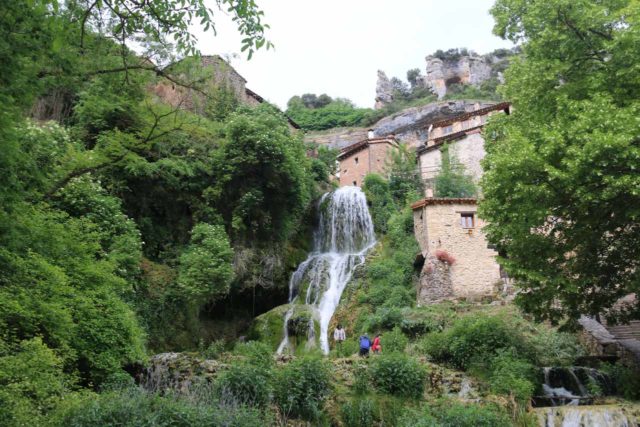 Day 32: Drive from Burgos to Bilbao
This was a big waterfalling day as we were making our way to the Basque Country. During our drive, we visited Orbaneja del Castillo, Puentedey, Cascada La Mea, Cascada de Pedrosa de Tobalina, and Cascada de Penaladros. Once we finally arrived in Bilbao, we then visited the Casco Historico de Bilbao as well as the Guggenheim Museum (just in time before a big storm showed up)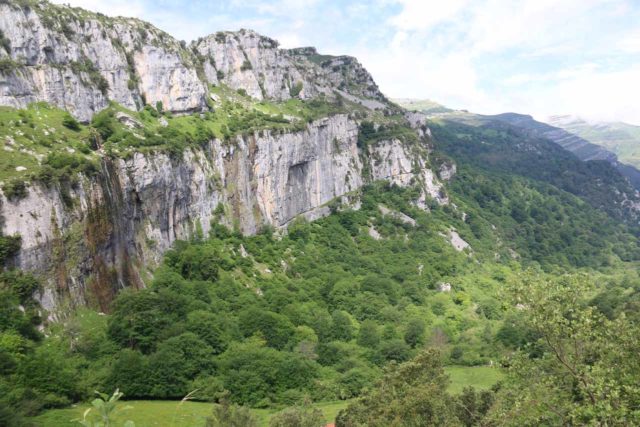 Day 33: Drive from Bilbao to San Sebastian
Overnight: Hotel Niza (San Sebastian, Spain)
This was another waterfalling day as we backtracked to visit Cascada del Rio Gandara, Nacimiento del Rio Ason, Cascada de Gujuli, and Salto del Nervion. Once we finally arrived in San Sebasian (or Donostia in Basque), we then explored the Playa de la Concha and the Casco Historico.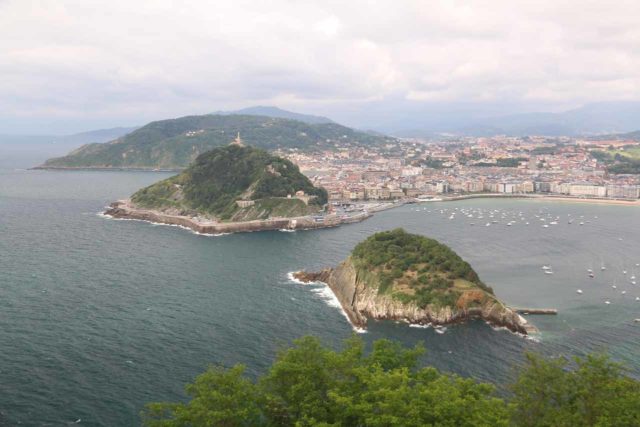 Day 34: Day at Leisure in San Sebastian
Overnight: Hotel Niza (San Sebastian, Spain)
This was supposed to be a day without needing to drive, but it was dampened by all-day rain and the need to take care of balding tires on our rental car (especially since we were going into the mountainous roads of the Pyrenees tomorrow). Once the errands were done, then we visited Monte Urgull, Playa de la Concha, and returned to the Casco Historico for our last night in this part of the Basque Country.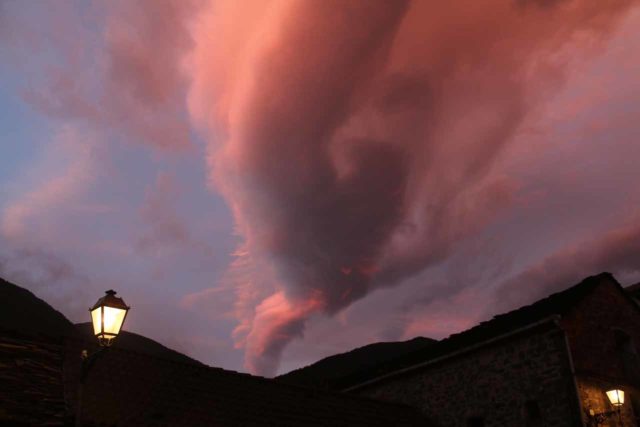 Day 35: Drive from San Sebastian to Torla
This day, we entered the Pyrenees Mountains, where we ultimately arrived at Ordesa National Park to hike the Cascada de Cotatuero then caught a surreal sunset at Torla.
Day 36: Ordesa National Park
This was a divide-and-conquer day where Julie and Tahia stayed in Torla while I solo'ed the long hike in Ordesa National Park to reach the Cola de Caballo while seeing numerous other waterfalls en route.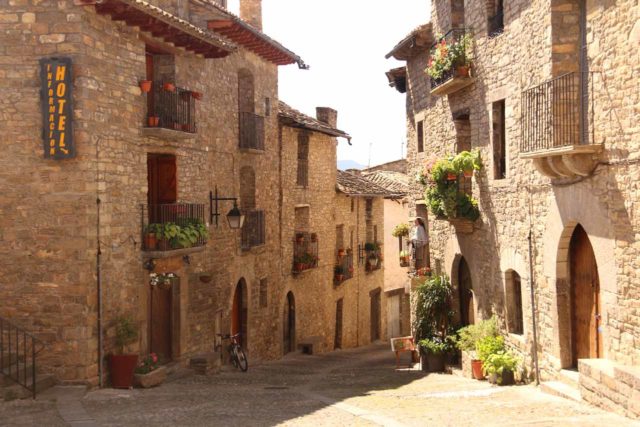 Day 37: Drive from Torla to Espot
Overnight: Roca Blanca (Espot, Spain)
Continuing to drive further east on the Pyrenees, we visited the quaint town of Ainsa before passing through the mountain passes at Val d'Aran. Then, we made a spontaneous stop at the Cascada de Gerber before finally arriving at the Catalonian town of Espot.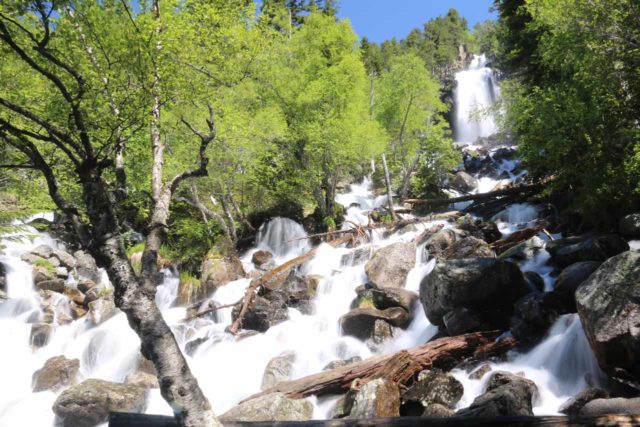 Day 38: Drive from Espot to Barcelona
We started the day with a 4wd excursion to the Estany de Ratera before doing a one-way hike taking in an overlook of Estany de Sant Maurici, the Cascada de Ratera, and the Estany de Sant Maurici itself. Then, we drove all the way to Barcelona to get settled and explore the Ramblas de Catalunya.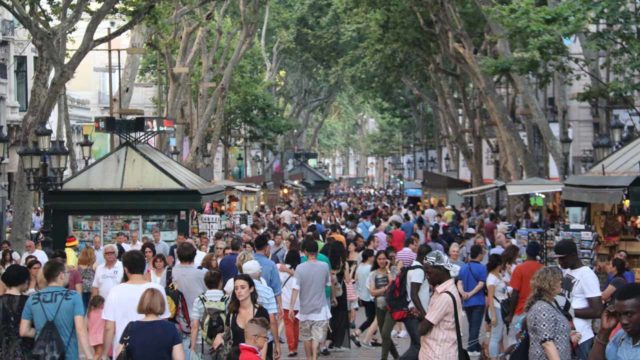 Day 39: Montserrat, Sant Miquel de Fai, and Barcelona
This was the last day of driving in Spain so we took full advantage of it by driving out to Montserrat first. Then, after visiting this cliffside monastery, we then drove out to Salt de Tenes and the Sant Miquel de Fai monastery. Finally, we returned to Barcelona to return the rental car and do more exploration of the Ramblas de Catalunya.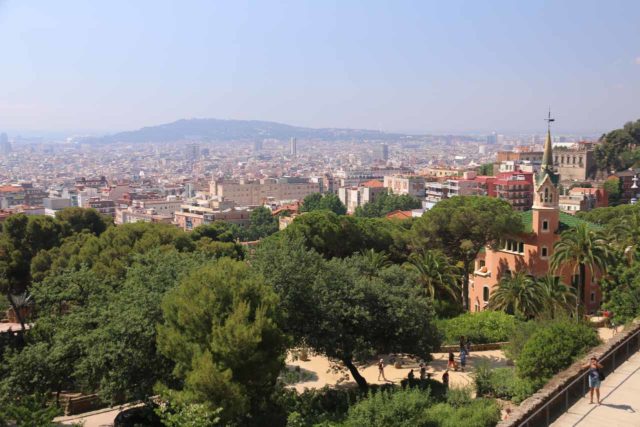 Day 40: Barcelona
On this day, we spent the better part of the day visiting Park Guell as well as one of Gaudi's apartments (Casa Batllo). We also went to the Cosmocaixa, which was a museum to keep Tahia's interest after the stress of finding transport from Park Guell.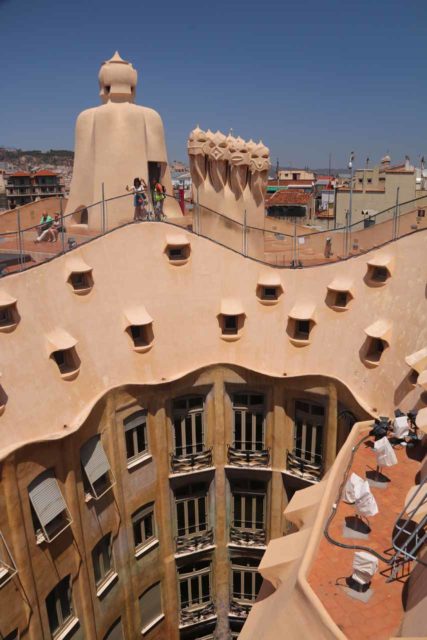 Day 41: Barcelona
This was the last day of touring Barcelona so we made it count with visits to the city's signature attractions – Sagrada Familia, Casa Mila (La Pedrera), Barri Gotic, Catedral de Barcelona, Ramblas de Catalunya, and Ramblas de Mar).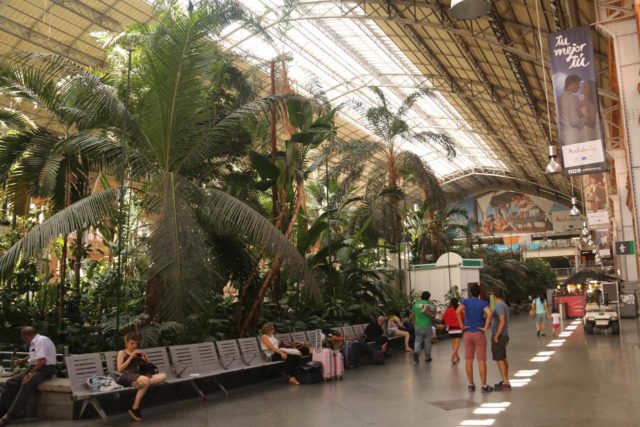 Day 42: Train from Barcelona to Madrid
This was a strategic travel day as we sought out an accommodation right by the train station so we could take it to the airport tomorrow. During the rest of the time we had in Madrid, we went looking for a last go at tapas and foodie places that we liked. We also visited the Museo del Prado.
Day 43: Fly from Madrid to LAX
This was the long travel day home, where our strategic location at the train station meant that we could get to where we needed to go by foot.
[/expand]
Best Places We've Stayed At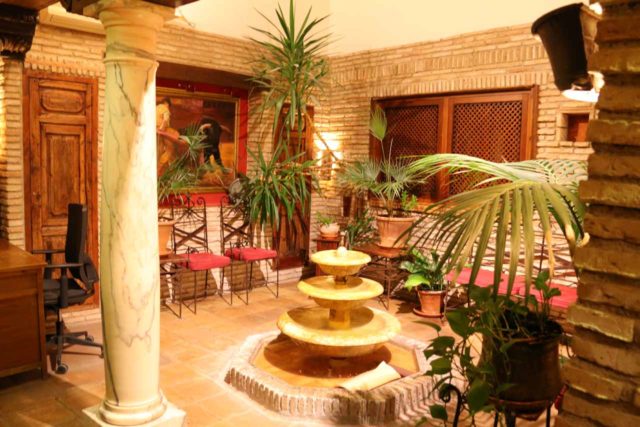 Arte Vida Suites (Granada) – This accommodation had a lot going for it – the central location, the free laundry in the room, spacious interior, and even an atrium with running fountain that reminded us of our stays in the riads of Morocco. It was nice that we spent three nights here, which was just right for touring Granada as well as enjoying the amenities that this place had to offer.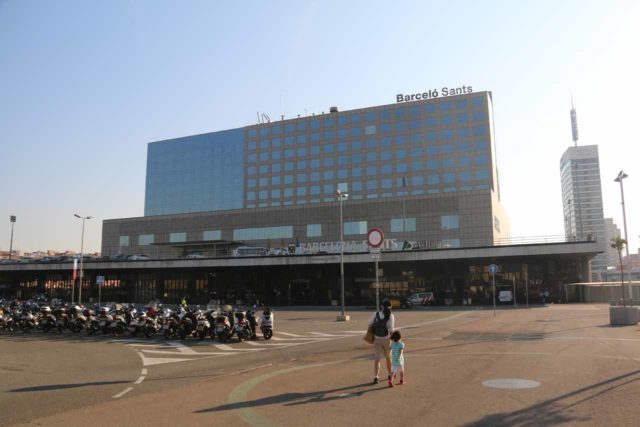 Inside Barcelona Apartments Sants – This accommodation was very conveniently located by the Sants Train Station in Barcelona. The apartment itself was spacious and had all the amenities we could have asked for. So it was great that we were able to spend four nights here. Perhaps the only bad thing was the nearest parking lot, which charged an outrageous amount of money per night (I guess that's the price paid for valuable real-estate).
What to Bring
In addition to the equipment that we bring on all of our trips, we've also found the following items were especially useful for this particular trip.
Child Carrier: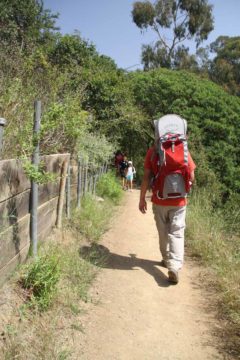 Because we brought our daughter along on this trip when she was over four years old, this framed carrier was very handy because it freed up my hands to take pictures, lug a pair of rolling luggages, and it ensured that our daughter stayed with us the whole time. It was certainly way more flexible than using a stroller. Plus, when our daughter wanted to sleep, she could while Julie and I could still tour.
The only downside was that I had to carry her weight the whole time, which was harder on my knees, especially as she was growing. In fact, my knees started hurting when we were in Sevilla (about a week into the Spain leg of this trip). From that point forward, we just used the carrier more like a regular backpack, and we made Tahia walk more (despite her protests).
Car Seat: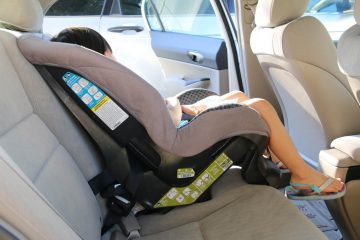 Since we had around 5 weeks of car rental time on this trip, we opted to use our own car seat (which actually came in handy when we were in Morocco). Not only did this save us around $20 per day or so, but it was also more sanitary since we knew what went into this car seat.
A key benefit of the particular car seat that we brought along was that ours had a five-point harness, which ensured Tahia wouldn't be flying out of the seat should there be an accident.
Car Seat Bag: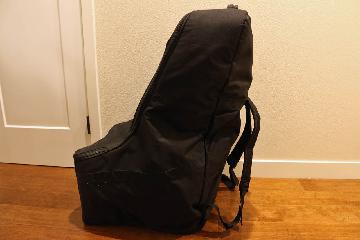 Since we brought our own child seat, we also needed a car seat bag. The key feature of the car seat bag (besides protecting the child seat) was that it had backpack-like straps. Therefore, we could sling the car seat on our back, which freed up our hands to do other things. This was especially handy when we were at the airport as well as in the mass transit systems (trying to get from place to place on foot).
Related Trip Reports
Waterfalls included in this itinerary
Visitor Comments:
Got something you'd like to share or say to keep the conversation going? Feel free to leave a comment below...
No users have replied to the content on this page