Kind of on a whim, I decided to take advantage of the Memorial Day Weekend while Julie was also out-of-town on business. So I was accompanied by my Mom on this very spontaneous trip to some familiar haunts in Southern Utah.
We went as far as Monument Valley on the Arizona-Utah border in the Navajo Tribal Lands. We also wound up seeing many natural arches and bridges that we probably wouldn't have pursued otherwise. However, when it came to waterfalls, we had just one to show for it while the other was a fail.
What was most memorable about this trip was that I wound up with a really hard lesson about how haste makes waste. Case in point, I got two speeding tickets on the same day, which kind of put a cloud over this entire trip. So not only did I get precious time with my Mom amongst some gorgeous scenery, but I also got quite a bit of a life lesson in the process…
Trip Highlights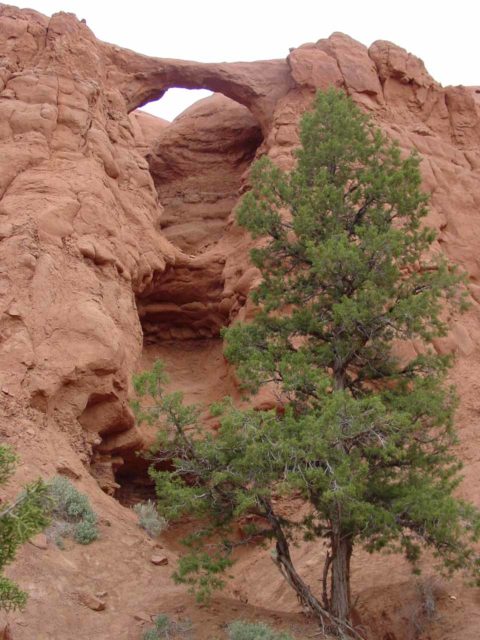 Kodachrome Basin State Park – This was my second go at visiting this small reserve near Cannonville, UT. This time however, we hiked to the Shakespeare Arch in addition to watching the Grand Parade and other interesting-looking phallic formations.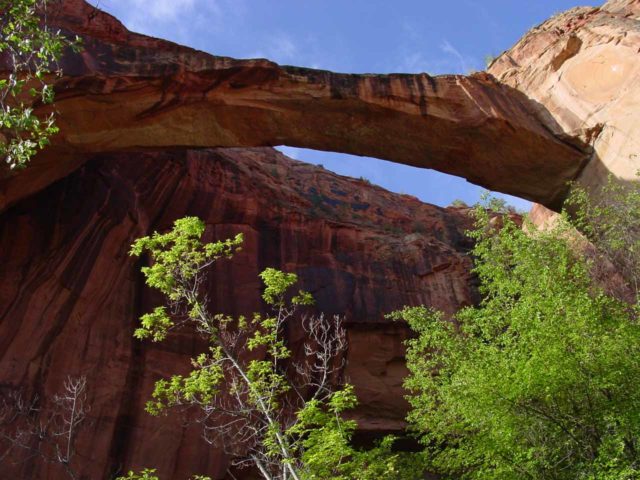 Escalante Natural Bridge – This hike involved crossing the Escalante River several times, but peering up at the sky through its impressive span really made us appreciate just how big most of the significant natural arches and bridges are in this state! Surprising both Mom and I, we couldn't linger down here for long because there were quite a few mosquitoes eager to draw blood from us.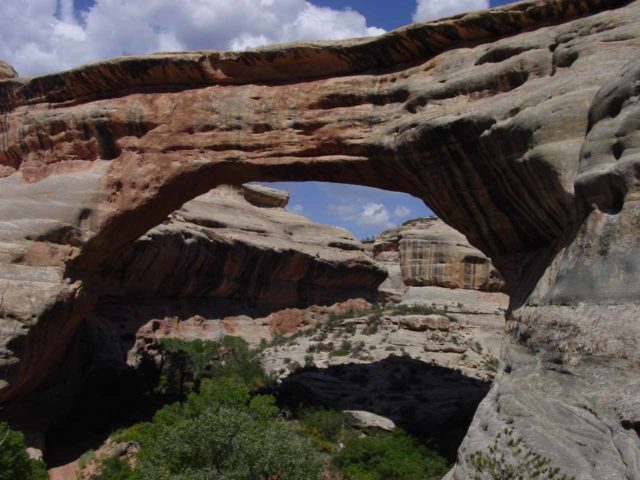 Natural Bridges National Monument – On this trip, Mom and I actually had time to do some hiking to get down to each of the three main natural bridges in this remote reserve in southeast Utah. And doing it this way was way better than just driving along the road just looking at these bridges from the top down and from afar. Plus, we were better able to appreciate the size of these spans from being so close to them.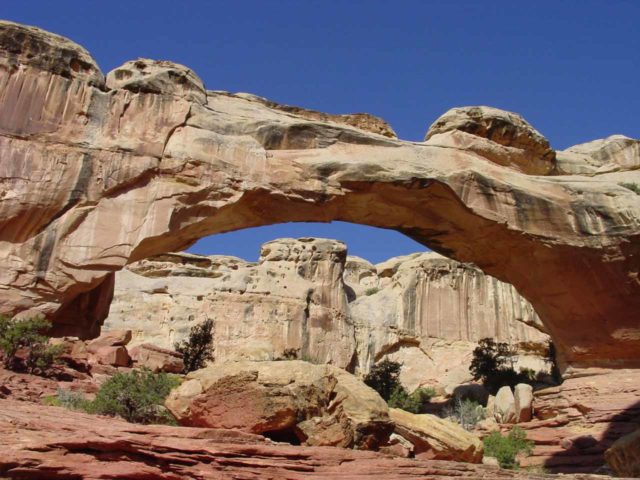 Capital Reef National Park – This reserve was one of those places where it's easy to just drive right through and wonder what the fuss was all about. Indeed, she only reveals her secrets or treasures only if you leave the car. And that's what Mom and I did here. So we wound up visiting places like the impressive Hickman Bridge, the Fremont River Falls, and even checking out the Capital Dome or other interesting formations.
We didn't have the vehicle nor the patience to go to the really remote Cathedral Valley, however. I'm holding out hope that one of these days we'll make it there to truly be away from civilization amongst sandstone monoliths.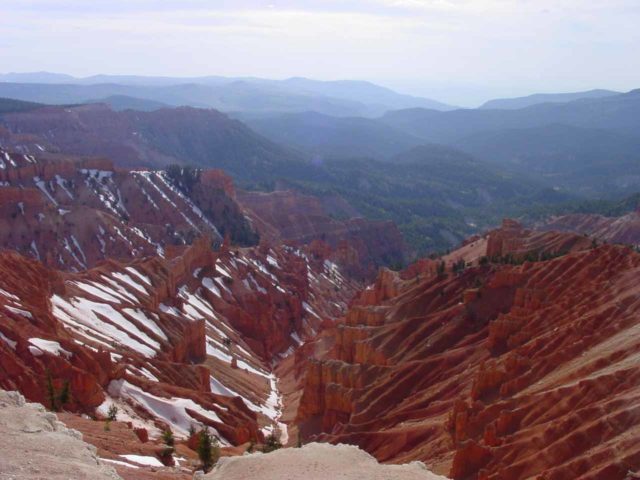 Cedar Breaks National Monument – This seemed to me like a miniature Bryce Canyon as it featured red wrinkly cliffs with expansive vistas from a really high elevation (no wonder why it's covered in snow for a good chunk of the year). It was the grand finale of our trip before we had to make the long drive home.

Monument Valley – This place seemed like a staple of cowboy western movies but it was really all about the imposing buttes like the mittens and Merrick Butte as well as other spires and even natural arches within its backcountry. We only had time to catch a sunset at the main overlook, but we definitely enjoyed a Navajo Taco for dinner on the way back to Hanksville (in keeping with the Navajo theme of this part of the trip).
Travel Itinerary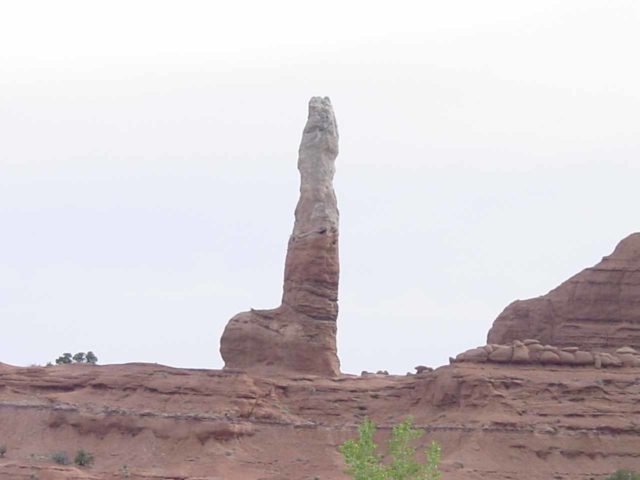 Day 1: Drive from Los Angeles to Escalante
Overnight: Prospector Inn (Escalante, Utah, USA)
After getting a bit of a later start than I was hoping, we eventually headed out towards Escalante with a stop at the Kodachrome Basin State Park to do the Shakespeare Arch hike. And unfortunately in my haste, I managed to get two traffic tickets on this day.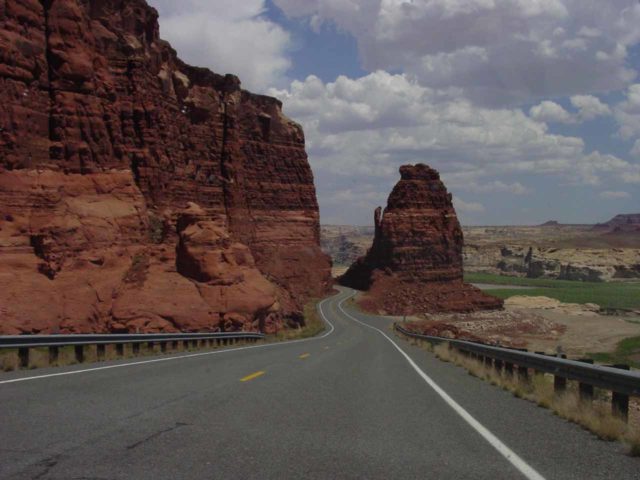 Day 2: Day at leisure in Hanksville
We began the day with a wet hike to the Escalante Natural Bridge. Then, we drove towards the Hite Marina Overlook where we had a friendly chat with a Navajo family that just happened to be there sharing the views with us. Then, we went to the Natural Bridges National Monument to hike to the bottom of each of the natural bridges there. Finally, we caught a sunset at Monument Valley before driving back to Hanksville late at night to crash.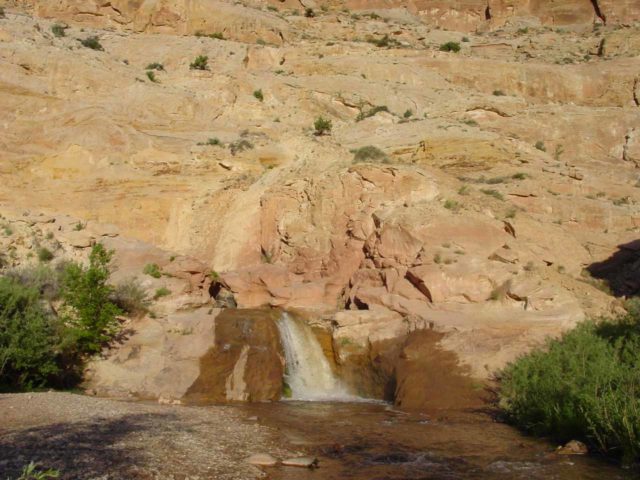 Day 3: Drive Home
On this day, we got an early start and promptly visited the Fremont River Falls before arriving near the Capital Dome to hike to the Hickman Bridge. Next, we made an attempt at visiting the Upper Calf Creek Falls, but we got lost and were not successful as we wound up at a cliff ledge with seemingly nowhere else to go. Our efforts were further cut short by an incoming thunderstorm. In hindsight, we wound up taking the incorrect trailhead.
In any case, we drove further west with a stop at the Cedar Breaks National Monument in the afternoon. Finally, instead of spending money for a night somewhere in Springdale or in Las Vegas, we decided to just make the marathon drive home. So Mom and I took turns, and she took the long stretch from Vegas to home while I did the mountain drives back towards the I-15.
Trip Reports
Waterfalls included in this itinerary
Visitor Comments:
Got something you'd like to share or say to keep the conversation going? Feel free to leave a comment below...
No users have replied to the content on this page