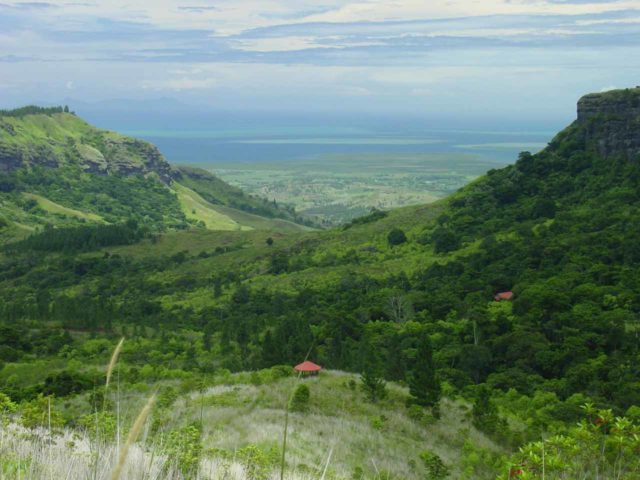 26-December 2005:
As we started to leave the base of the Savu-i-One Waterfall, Julie started to notice that her left arm was starting to feel numb. We weren't quite sure what had happened since she didn't feel a sting nor did she recall brushing up against a plant. So to the best of her ability, she tried to ignore her predicament but I was sure she was a bit freaked out about having one arm larger than the other…
Julie and I took a flight that left Los Angeles late Christmas Eve. When we arrived at Nadi Airport, it was 4:45am on December 26. We had lost a day crossing the international date line so it was basically a Christmas Day that we missed. The bright side was the plane was practically empty and Julie and I each took an aisle row for ourselves.
Once we got to Nadi, we waited at the baggage carousel for what seemed like an eternity. Picking up the checked luggage always makes us anxious. It was probably due to the misrouting of a bag I brought to Salt Lake City on your Yellowstone Trip a couple of years ago. We had to spend an extra night in SLC just so we could pick up the luggage the following morning.
We were hoping this wasn't the case, especially now that we're far away from any big continent.
Finally at 5:45am, our baggage showed up on the conveyer belt, which we prompty picked up. Now the next order of business was getting our rental car. That also took a while, but at least we were out of Nadi Airport by 6:35am.
The first order of business was to get to Abaca to see a waterfall in the national park over there. We planned on doing this before driving back around the west side of the island all the way to the Hideaway Resort, which sat a few minutes east of Sigatoka.
So we headed east from Nadi to a town called Lautoka, which was actually the second largest in Fiji next to Suva. We had gotten to Lautoka at around 7am, but we had trouble trying to figure out how to get to Abaca. In the mean time, we bought a local calling card at a petrol station in case we needed to use it.
We probably spent at least some 20 to 30 minutes driving around town trying to figure out what we were supposed to do. We noticed that Lautoka was practically a ghost town. Nothing was open and there were hardly anyone on the streets.
Finally, we ended up parking in front of the Lautoka Hotel and went inside to ask the receptionist how to get to Abaca. That was when we were told that we shouldn't even think about driving up there on our own because it requires a 4×4. Eventually, one of the ladies hooked us up with a person who could transport us to Abaca. While we waited for the transport, the receptionist told us we could park in their tiny car park for a fee, which we did. It was a little after 8am when our ride showed up.
And so we took road in this guy's old SUV up into the mountains behind Lautoka. As advertised, the road was rough going and it was certainly inappropriate to take a passenger car up this road.
By about 9am, we arrived in the remote village of Abaca. Up there, we paid the admission fee (for Koroyanitu National Park – the park we were about to hike in), paid the driver for taking us, and picked up a map of the area. We were told by the driver that he would return at 1pm, but we weren't sure if that meant Fijian time or 1pm sharp. So we determined to get back here on time. 15 minutes later we were dropped off, Julie and I were on our own and started hiking.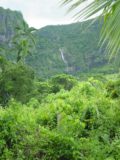 The hike at first continued along the 4×4 road past the visitor center. From the first few minutes of walking, we could already see the Savu-i-One Waterfall way off in the distance. It wasn't long before we reached a very large clearing. Just beyond the clearing was a sign indicating the falls were about an hour away.
So Julie and I continued on the walk. The trail actually a little more strenuous than average because it had a few hilly sections that required some steep scrambling. In a couple instances, we not only had to watch out for slippery muddy rocks but we also had to use our hands to propel ourselves up.
We also noticed these yellow and black caterpillar-like worms all over the trail. We weren't sure what they were, but since we were hiking in Chacos, it was inevitable at some point that our feet would squish some of them.
As we got nearer the waterfall, the skies had also darkened and started to pour rain. Julie and I came prepared with our rain ponchos, but we were already wet from sweat anyways.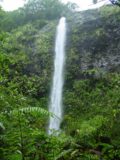 By 10:15am, we made it to the base of the Savu-i-One Waterfall. From here, the falls looked smaller than from afar, and that was because we were only looking at one of its tiers.
The footing continued to be slippery around the area, and we dared not cross the stream and climb up some steps carved into the slippery embankment on the other side. So we couldn't make a loop out of this hike like the map suggested and we turned back.
As we started to leave the base of the Savu-i-One Waterfall, Julie started to notice that her left arm was starting to feel numb. We weren't quite sure what had happened since she didn't feel a sting nor did she recall brushing up against a plant. So to the best of her ability, she tried to ignore her predicament but I was sure she was a bit freaked out about having one arm larger than the other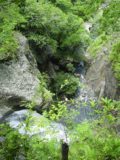 We made it back to the clearing at a little after 11am. Julie and I then took a spur trail that headed to the Vereni Falls. By 11:15am, we were on the crickety wooden platform that looked down upon the top of the waterfall. There was no safe way to get to the base of this tall waterfall.
At this point, Julie was already weary of the hiking we had done so he headed back up to Abaca. I continued to hike into the creek towards the other side of the loop that ultimately headed back to the Savu-i-One Waterfall, but I wouldn't go all the way. My goal now was to get to the Kokobula Bure to see if I could get more fuller views of the waterfall we hiked to.
The hiking at first wasn't easy because I had to go into the stream. The water for the most part was shallow and the footing (although slippery) was sure enough that I didn't fall over. Finally, I found the signed trail at the other end of the stream and I continued walking uphill into a wide open and grassy area.
By now, the sun came out again and it was getting hot.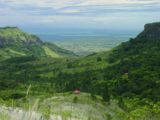 By 11:45am, I reached the Kokobula Bure, which was a hut that provided interesting views of the ocean looking towards the northwest of Viti Levu. Still, I wasn't happy with the view of the Savu-i-One Waterfall so I continued towards the top of the hill before me.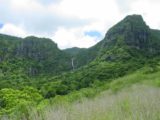 Twenty minutes later, I got my view of the falls. It was still distant and there were some shapely mountains around it, but I had my fill of the hiking here and now it was time to go back.
I quickly made my way back to Abaca by 12:30pm, where Julie waited patiently at the Visitor Center.
While we awaited our 1pm transport, we were talking to some Fijian kids who didn't seem shy at all. Julie asked them questions like how old they were and their names, but I got the feeling they were yanking her chain not really given the answers she expected. It was kind of comical.
One of the adult female villagers noticed we were sitting there and asked if we wanted to have kava. We politely declined, but we did notice many villagers were out playing volleyball.
The atmosphere was very family-oriented and festive. Julie and I could tell it Boxing Day, which was a holiday that Oceania seemed to celebrate. We weren't quite sure why Boxing Day was a big deal nor what it meant, but someone back at the Lautoka Hotel told us it had to do with opening gift boxes the day after Christmas. Well, whatever the reason, this might have explained why Lautoka was a ghost town this morning.
At 1pm, our transport arrived. Apparently, he wasn't on Fiji time as he was quite prompt. By 2pm, we were back at the Lautoka Hotel.
Julie and I promptly got into the rental car and headed back to Nadi. We thought we could find something to eat in town, but we had trouble finding a place that was open that was recommended in Lonely Planet. Anyways, we ended up settling for subpar Chinese Food and took it to go since the service was slow and we still had to get back to our accommodation, which was 90 minutes away.
It was about 5pm when we left Nadi and continued south along the main road towards the Hideaway Resort. After the advertised 90 minutes of uneventful driving, we arrived at the Hideaway.
There, we promptly checked in and went to the restaurant in the resort. Eventually the Chinese Food we brought would go untouched and would ultimately spoil.
The food in the restaurant was very ordinary. I think we were eager to try some kind of blend of Indian and tropical Fijian flavors, but it really didn't live up to our expectations. I guess our time in Tahiti really made it unfair to compare anything to it.
Anyways, we at least headed back to our ocean view bure and ended our Boxing Day Adventure with a long overdue rest in a bed.
Visitor Comments:
Got something you'd like to share or say to keep the conversation going? Feel free to leave a comment below...
No users have replied to the content on this page