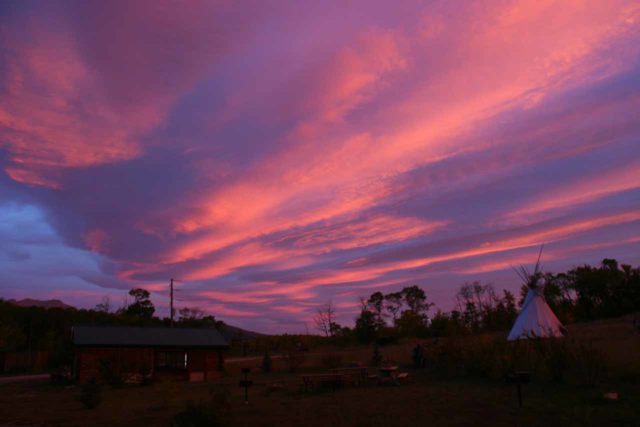 23-September 2010 to 25-September 2010:
Sure enough, the clouds looking to the west looked menacing and even the winds remained as fierce as they were yesterday.
As we drove west of St Mary and up the Going-to-the-Sun Road, it didn't take long before we went right into the weather where we were getting sporadic heavy rains with a mix of calm sprinkles and moderate showers in between. It was as if Mother Nature couldn't decide how miserable she wanted to make our day…
Day 1: BLOWN AWAY
It was about 11:45am when we finally left Waterton for good. The drive further south was mostly uneventful except for a couple of stops to try to see the skyline of the Crown of the Continent (i.e. the Rockies) acting as a backdrop to prairies and ranches.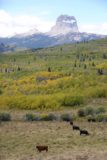 We eventually reached the Chief Mountain Customs stop at around 12:45pm where we were asked the usual questions about where we'd been and where we were going as well as what we had bought in Canada that we were bringing back into the States. It seemed like the worker here knew that most people passing through this station came for sightseeing both the Waterton-Glacier National Parks (the only jointly-run park between two different countries apparently in a sort of "international peace park").
When Julie mentioned that she had bought a pair of gloves and a beanie to keep warm while complaining about the cold weather, the customs guy said that we hadn't even seen what cold was. Well, we'll just take his word for it because from a pair of Southern Californians, our experiences in the Canadian Rockies on this trip definitely exposed us to cold weather in September (which we were still in disbelief about the weather considering it was still the borderline between Summer and Autumn).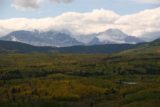 In any case, we were allowed through where we then proceeded to do more driving and sightseeing as the winds were howling and the clouds looked like they threatened to overtake the sunny skies to the east. In the mean time, we were also dodging cows which were freely roaming the pastures here as well as the roads.
Another thing that I noticed was how the speed limit signs went from metric to English. Thus, the car I was driving (which had metric units) required me to do some rough calculation in my head since it didn't have English units (at least I had to do that when the GPS
wasn't helping to remind me what the speed limits were in the metric equivalent).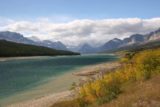 Ultimately, we turned right at Babb onto the Many Glacier Road. The road was a bit rough compared to most of the roads we had driven through in Canada but it was still paved and it seemed like there were workers there actively filling in potholes with tar.
As we drove further into this road, we noticed there was a dam that was holding up a lake (which I think was called Sherburne Lake). I wasn't sure why this was done, but it was definitely an eyesore. Not much further, we saw one of the entrance stations for Glacier National Park.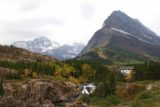 It was here that we paid the $7 for our weeklong pass to the park. Of course, Julie and I were struck at the price disparity between American National Parks and Canadian National Parks (our $136 annual pass for a family in Canada was way more than the $80 per vehicle price for America's annual pass).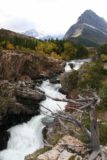 I figured the price difference had to do with the larger population and wider disparity between living standards within the country. Perhaps it was necessary to keep the National Parks prices low in order to not price out a large chunk of the population who would be relied upon to support these parks. But at the same time, I wonder whether the lowered prices would also yield greater costs on maintenance and resource depletion. I guess Canada's lower population made this less of a problem, but they too have issues with environmental degradation (though not nearly to the extent that we're experiencing, I'm imagine).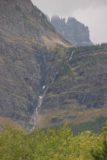 Anyways, the lady at the kiosk gave us our receipt and reminded us to try not to get blown away (from the pretty crazy winds).
I was hoping to do the Grinnell Glacier hike on this day, but the windy weather and the presence of bears made Julie very uneasy about this plan. In any case, we made a few roadside stops to spot some waterfalls that we noticed on both sides of the valley as well as one cascade draining the lake near Many Glacier Hotel (which happened to be closed).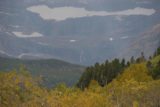 I believe we also noticed Grinnell Falls on the way into this section of the park (though a serious telephoto lens was needed to bring that falls closer to view) as well as Ptarmigan Falls near the Swiftcurrent Motor Inn car park.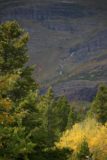 When we arrived at the trailhead for Grinnell Glacier at 1:45pm, both Julie and I noticed that it was 5.5 miles each way to the viewpoint of the rapidly disappearing glacier. There was no way we were going to do 11 miles of hiking with grizzly bears marauding the area looking for berries that were in season at the moment.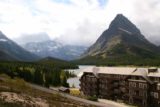 So we conceded on this excursion and did some more sightseeing near the Many Glacier Hotel. Pretty soon, we started to get the feeling that this park was going to be nothing more than a series of roadside stops without any hikes to really get a feeling for the place. But that was until I realized from one of the map signs near the Grinnell Glacier that perhaps we should do Apikuni Falls, which was said to only be a mile each way.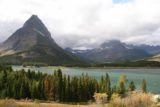 Some time during this interlude of miscellaneous sightseeing, Julie noticed that the car door on her side wasn't closing properly. We weren't sure what caused this, but we suspected that perhaps the wind might've had something to do with it. So now we were stuck with a situation where there was a draft on the passenger side of the door. Hopefully, we wouldn't run into a situation where the door would just stop closing altogether!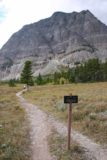 So at 2:15pm, we arrived at the Poia Lake trailhead which was also shared with the Apikuni Falls hike. Julie didn't feel like doing the hike so she reluctantly let me do this one solo.
I tried to take all the precautions that I could by carrying my backpack where one of the side pockets served as my holster for the bear cannister that I had just bought. I guess the CAD$42 I paid for it was at least giving me some piece of mind just in case things took a turn for the worst and I happened to get attacked by one.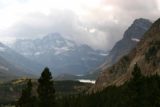 Anyways, the hike was pretty much all uphill the entire way. It started off in open area before ascending amongst the trees rustling in the wind. It was this part that I was particularly fearful of bears since I didn't think they'd hear me singing or talking to myself just to make noise (thanks to the gusty winds).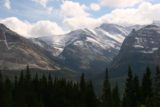 About half way up the hike, I saw a pair of guys heading back down. They said told me the falls were wonderful and that gave me hope that maybe this falls was worth doing. After all, there was no indication there was even a waterfall up this way since we couldn't see any water coming down from the cliffs on this side of the valley near the car park.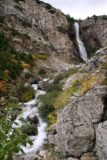 Eventually, after making it up to the top of this seemingly endless incline, I finally got a glimpse of the falls, and I could see right away that this one was impressive. It was certainly a pleasant surprise especially considering I didn't even plan on seeing this falls on this trip.
In any case, this hastened my steps as I continued to get right up to the cascades just downstream of the tall two-tiered waterfall. At this point, I had to do a little more steep scrambling in order to get a better view, but it was definitely manageable. Ultimately, I was fairly close to the base of the falls where I spent quite a bit of time taking photos and movies of the falls.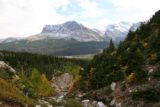 Looking downstream, there were some gorgeous views across the valley of some snow-topped mountains with hints of glacial valleys in between. Even though there were clouds threatening to drop some rain amidst the winds (in conditions reminiscent of our Laguna de Los Tres hike near El Chalten in Patagonia), there was definitely a certain moodiness to the scenery here.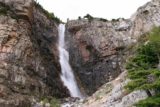 Anyways, once I had my fill of the falls, I swiftly made my way back down the trail to the car park. Since it was all downhill, it didn't take much time to make the return. However, I had to be very cognizant of turning my ankle due to the presence of lots of rocks on the trail and that going downhill meant I had to put more weight on each step I took.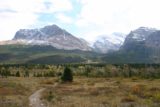 Eventually by 3:20pm, I was back at the car. The 2-mile trail pretty much took me a little over an hour, which was a little longer than I wanted to keep Julie waiting. However, it was the type of hike that I was looking for to ensure that my visit to Many Glacier was more than just autotouring.
So now that it was getting a little late in the afternoon, we committed ourselves to driving towards St Mary and the visitor center at St Mary so we could get a little more information about closures and the weather.
During the drive, Julie was scoping out restaurants since there didn't seem to be a whole lot of places to eat here. We saw the Two Sisters Cafe, which she had read about on TripAdvisor prior to the trip. However, the Park Cafe was closed as was one of the two gas stations in St Marys. Indeed, Glacier National Park definitely had that dead feel to it as things were either closing or had already closed for the season.
We even learned after the fact that the Going-to-the-Sun Road was closed between Avalanche Creek and Logan Pass thanks to road construction. Usually the road was supposed to be open until October 18 weather permitting, but they started a five-year construction project which meant that these abridged opening and closing times as well as the associated delays would persist in the near future (5 years worth at least).
Once we got to the St Mary Visitor Center at 3:55pm, I learned that there wasn't even the possibility of walking the closed part of the road. So I guess that meant we'll have to return to the park at some point to at least see the waterfalls we wouldn't get to see in Haystack Creek Falls, Oberlin Falls, and Bird Woman Falls. Whether we come back in time before the glaciers would be all gone would still be something up in the air…
At 4:25pm, we left the St Mary Visitor Center with a fairly good idea of how to spend tomorrow (since it was predicted to be rainy). For sure it was going to be a waterfalling day. And thanks to the help of one of the park rangers working there, we had a pretty good idea of which waterfalls to do.
At 4:45pm, we checked into the Glacier Trailhead Cabins. This was where we'd be spending our last two nights on this trip. But unlike all the other places we stayed at, this one was more rustic (i.e. no wireless internet). Still, that was fine since we just needed an affordable place to rest. Plus, it was roomier and less dingier than the place we stayed at yesterday in Waterton.
So we spent the rest of the evening getting settled and having dinner at the Two Sisters Cafe. It turned out to be more of a truck-stop-like cafe (almost more like a fast food joint) than the hippie decorations out front would suggest. So they served heart-stopping food, but at least it was pretty tasty.
And even during that dinner, we learned that we came just in time before they'd close that cafe for the season on Sunday. Again, closures everywhere. No wonder why we just got the feeling that things in the park just seemed dead…
Day 2: THE GLACIER GRIND
It was 7:05am when we awoke. Normally, I'd get up much earlier than this, but I guess we were comfortable enough in bed that we slept in a little longer. I guess the sound of rain from last night didn't exactly instill any rush for us to get out there and go waterfalling. After all, we knew the forecast would be crummy on this day so that was what we were setting out to do.
But having had our share of bad weather throughout this trip, the energy of today was kind of sucked out of us. We were ready to go home, but that wasn't until tomorrow. So we had to grind it out today by seeing as many of the park's most reasonably accessible and worthwhile waterfalls that we could find despite all the road construction, the closure of the main section of the Going-to-the-Sun Road, and the threat of grizzly bears on any of the hikes we had planned on doing.
Since we were still staying one more night at the Glacier Trailhead Cabins, it didn't take us long before we were in the car and ready to go at 8:15am.
Sure enough, the clouds looking to the west looked menacing and even the winds remained as fierce as they were yesterday.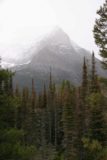 As we drove west of St Mary and up the Going-to-the-Sun Road, it didn't take long before we went right into the weather where we were getting sporadic heavy rains with a mix of calm sprinkles and moderate showers in between. It was as if Mother Nature couldn't decide how miserable she wanted to make our day.
It wasn't until about 8:35am when we arrived at the car park for the Sunrift Gorge. We couldn't tell at first if this was the right stop for Baring Falls. But from the markings on the paper map we had in our possession thanks to a ranger at the visitor center yesterday, it seemed like we were at the right place.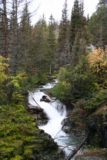 However, it was raining and we were the only ones here. So that didn't instill very much confidence in Julie that we wouldn't have problems with grizzly bears looking for berries on the same trail that we'd be on.
Fortunately, it was supposed to be a short hike, and after going down the stairs next to the road bridge, a sign indicated as such saying it was only 0.5km each way to the falls (or 0.3 miles). But as Julie and I walked the trail, Julie was constantly complaining to me about how uncomfortable she was even doing this short of a trail.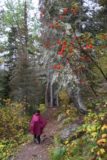 So the hike seemed longer than it should've been, and I swore the trail was longer than the 0.3 miles stated on the sign. We even saw lots of red berries flanking the trail, and I figured it would only be a matter of time before a grizzly saw this berry bonanza.
Anyways, we eventually got to the Baring Falls, which looked pretty forceful but not particularly tall (I'm guessing maybe 20 or 30ft or so). Then again, we didn't scope out all the ways we could've seen this waterfall since Julie couldn't wait to get back to the car park. So we hastily took what photos we could before we went back uphill towards the car.
We eventually got back there at 9:15am. By this time, the weather calmed down somewhat so we didn't really need our rain ponchos anymore. And so we drove for about 5 minutes further west towards the next stop which was for St Mary Falls. And once again, we were the first ones at this car park, which heightened Julie's phobia of grizzly bears.
In any case, I had my backpack on expecting to do the full hike out to Virginia Falls and back (with St Marys Falls en route). In one of the side pockets was the bear spray as a precaution as well as both our rain ponchos in the mesh pocket in front of the pack.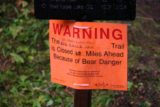 As we descended down from the car park, we were struck by the beauty of the mountains rising up over the trees surrounding the trail. Even with the threatening clouds and gusty winds, the mountains seemed majestic and pointy. We even saw some waterfall between the trees in the distance, and we thought it was Virginia Falls.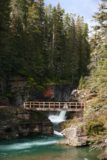 Towards the bottom of the descent, there was a trail junction as well as a neon orange sign indicating that the trail to Virginia Falls was closed about 1 mile west of this point (and Virginia Falls was 1.2 miles west of the point). That was due to grizzly bear activity.
So I thought that was a bit of a letdown and so we had to adjust our excursion to only go as far as St Marys Falls. Of course, Julie was relieved that we didn't have to go all the way out to Virginia Falls.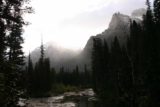 Anyways, the hike went on pretty uneventfully though we were constantly on the lookout for bear signs like claw marks on the ground, scratches on the tree bark by the trail, and the presence of berries.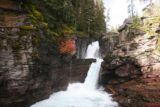 Ultimately, we made it to the bridge where we could see the two tiers comprising St Marys Falls. The falls itself didn't seem terribly spectacular except there was colorful foliage flanking it which made it more photogenic.
Since we gave up on the idea of continuing on to Virginia Falls, we headed back. And it was during this hike back out that we noticed many more people making their way down. I guess this was a pretty popular trail after all.
As we got near the car park, we took one last look between the trees in the foreground towards the direction of Virginia Falls. There, we saw a tall waterfall in the distance, but we couldn't be sure if it was the upper tiers of Virginia Falls or just some other tall mountain cascade that wasn't Virginia Falls. I guess that'll have to be reconciled with a Topo! map while comparing our GPS
waypoints and tracks.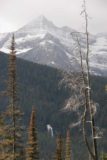 At 10:30am, we were back at the car where the weather now became sunny albeit still windy. So at that point, we started to drive out east where we made a spontaneous stop at a large car park (under construction though) for Sun Point.
After a quick restroom break, we made a quick nature walk to a signpost numbered "3" which we thought was for Sun Point. The view of St Mary Lake was quite beautiful as the greenish-blue lake full of rippling white caps were backed by tall mountains rising ominously against the dark clouds draped over them. The winds remained fierce and my hands were getting numb handling the camera while taking photographs from the wind chill.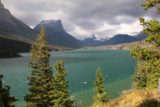 I could've sworn that I also noticed some tall waterfalls in the distance where one of them appeared to be St Marys Falls though I couldn't be sure. Even though we had already seen the base of the falls, I wondered if the falls was actually part of a larger taller cascade. Then again, I could be totally off base and it could've been another waterfall altogether.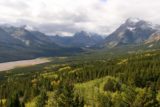 Once we were done with Sun Point, we made a very long drive back towards the 89 and then south towards the Hwy 2. At 12:30pm, we made a quick lunch stop at Brownie's Bakery in East Glacier, but little did we know that it was also a Youth Hostel. We couldn't tell from the signage at all, but once we used the restroom upstairs, then it became apparent.
Continuing on with the drive, we'd eventually get to West Glacier where there was yet more road construction. At least that didn't cause any unnecessary delays. However, we ran into more road construction as we got closer to the viewpoints for McDonald Falls and Sacred Dancing Cascade.
The delays at this construction zone were a bit annoying and long since there didn't seem to be any real rhyme or dictating when they'd let one direction get moving. Besides, we also noticed that the stops for McDonald Falls and Sacred Dancing Cascade were within the construction zone so we weren't totally sure how they'd manage the traffic in that situation.
Eventually, we made it up to a dead-end (due to road construction) at Avalanche Creek. However, we didn't bother doing any day hikes in this area. I guess we were a bit underwhelmed by Lake McDonald as well as the mountain scenery up to this point though it did appear that the scenery was about to improve. But it was too bad that they closed the best part of the Going-to-the-Sun Road thanks to road construction.
Ordinarily, it was supposed to be open until October 18 or until the first accumulation of snow. But since they were one year into a five-year project to do the road construction, the schedule was abridged to only September 20 for the foreseeable future. And since it was already September 24, there was no way we could do it.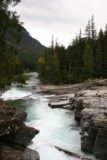 I suppose we could've forced the issue by visiting Glacier when we first showed up to Calgary back on September 15 so we could've at least tried to drive the entirety of the Going-to-the-Sun Road. However, Glacier National Park was seeing Winter Weather Advisories at the time so I wasn't regretting that we did the Canadian Rockies part first when I knew there were predictions of at least one fine day of weather before the weather turned for the worse.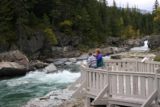 In any case, we turned around at Avalanche Creek despite the numerous cars that were already parked there. Then, we headed back downhill towards the West Glacier Entrance with the intention of stopping for Sacred Dancing Cascade and McDonald Falls en route.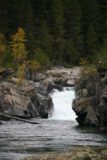 However, sure enough we were once again stopped by the road construction going the other way at the other end of the same zone. This time, we waited even longer (probably closer to 15-20 minutes or so) before we were finally allowed to proceed. And it was only when we were able to proceed did we find the pullouts for the Sacred Dancing Cascade which was right in the heart of the construction zone. We weren't sure how this worked if we had to get moving with traffic going the other way, but I guess we'd just play it by ear.
Anyways, there were actually a pair of pullouts for what we thought was this cascade. One was right above the uppermost of the falls that we saw. The other was closer to the series of cascades and rapids with a more frontal view of that cascade that we saw from its top.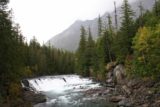 We then left the cascade at about 2:35pm and proceeded for a few minutes further west, we then found another pullout where our GPS
indicated was next to Sacred Dancing Cascade. And after pulling out and doing a short walk to a bridge over the river draining towards McDonald Lake, we got a look at the attractively wide albeit short waterfall that I was sure was the Sacred Dancing Cascade.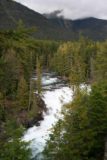 It was starting to rain as we were taking photos so we hastily documented what we could before going back up to the car to continue driving west. Ultimately, we reached the pullout for McDonald Falls. Actually, none of these pullouts were signposted which did make it a little difficult to know whether we were at the right place or not.
But I was sure this was it because the GPS
indicated as such. Plus, there was a short little path to a viewing area for McDonald Falls, but it was too bad that the trees in the foreground were blocking the line-of-sight towards the otherwise fairly attractive waterfall.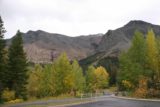 By 2:50pm, we were back in the car and headed west before going back in the other direction towards East Glacier and then Two Medicine Valley. As we left the park, I couldn't help but wonder if we had just wasted our time making the long two-hour drive each way to get here from St Marys. For this side totally lacked the drama and intrigue that the eastern side of the park had on offer.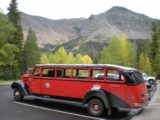 Finally at about 4:20pm, we reached a well-signed and established car park for Running Eagle Falls. There was a red tour bus in the old-school vehicles that were probably around during Franklin D. Roosevelt's time (at least that was what the body of the car would suggest), but it was on its way out.
So Julie and I found ourselves once again alone on this trail to the falls, but at least we knew it was a short 0.3-mile hike each way.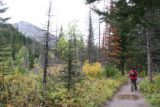 It was nice to get out of the car and do a little walking. And within a few minutes of flat walking, we saw the waterfall which seemed to have a rather strange characteristic about it.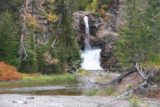 You see, most of the falls was gushing out of a cave-like tunnel but there was a much taller but thinner piece of the falls spilling over the outflow opening of that tunnel. Upon further inspection, we came to realize that this must be one of those rare natural bridge waterfalls. And the more I thought about it, the more I realized that this could very well be only the second natural bridge waterfall in which we saw the water flowing through its span (the other being Natural Bridge in Queensland).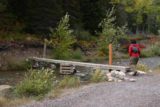 Anyways, it looked like there was a trail that continued beyond the viewing deck. But once I took a closer look, I realized that there was good reason to close that section of the track. That was because there was a landslide just in front of the viewing deck and then there was a major rockfall or cliff collapse further ahead.
So eventually, we got back to the car at 5pm and then continued driving out to the end of the road in Two Medicine Valley (getting there 10 minutes later). And that was when we got gorgeous views of the lake backed by tall peaks. Of course, the weather made this spot really cold and windy, and every so often, I'd feel sprinkles from rain over the mountains in the distance being blown in our direction by the fierce winds.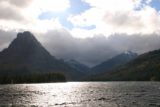 Julie and I were reminded of Milford Sound in New Zealand with a pointy peak framing the body of water to the left and other mountains flanking the lake to the right.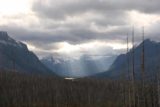 Eventually, we left a few minutes later and we were on our way back to the St Mary area. Along the way there, we couldn't help but notice god beams breaking through the clouds. I guess phenomena like this were one advantage of having clearing bad weather.
We arrived there at around 6:10pm where Julie and I had ourselves one last dinner before going home tomorrow.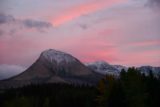 The food wasn't exactly overwhelmingly good, and I managed to get an "Indian taco," which was like the Navajo taco (i.e. fry bread topped with lots of chili). I figured it was best to get something local and that was what I could think of despite its health detriments.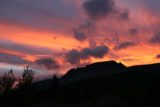 When we finished eating, it was just in time for sunset. I noticed the fiery red skies lit up by the long fading light of the sun. That created a few photo ops before the fleeting moment was engulfed by the darkness of the night.
And while the homesickness had already kicked in at the start of the day or maybe even at the start of the Glacier National Park leg of the trip (exacerbated by the fact that everything seemed to be either closed or dead as well as the heavy grizzly presence [even though we didn't spot any] which were unnerving for our hiking excursions), I wasn't exactly hurrying to get back in the rat race.
But tomorrow, we were determined to finally make it up to Logan Pass rain, fog, or shine. We'll have to see what happens next…
Day 3: GLACIER RETREAT
It was 6:30am when I awoke. Julie woke up at about the same time. Since we were leaving for LAX this evening, we were determined to have one final go at driving up the Going-to-the-Sun Road from the east side up to Logan Pass. The rest of the interesting part of the road between Logan Pass and Avalanche Creek was closed for road construction (lucky us that this was the first year of at least five years they started to abridge the season for this).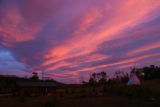 In any case, we were busy packing our stuff in preparation for both the drive back to Calgary as well as the flight back to LAX. It was during this time that the sun was about to rise, and that was when I looked out our window and noticed the clouds were colored pink and purple!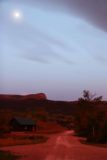 So I quickly put on my windbreaker, grabbed my camera, and hastily went outside in my Chacos to take what photos I could of this fleeting moment. I guess it was only fitting that last night I caught great views of the alpenglow of the setting sun coloring the clouds near St Mary. Now, the clouds were putting on a pre-dawn show.
It was funny how all the crappy weather we had been getting throughout the trip could sometimes yield moments of brilliance like what I was experiencing now. There was even a full moon shining brightly opposite the rising sun!
By 8:25am, we were all packed and ready to go. We loaded up the car and headed out of the Glacier Trailhead Cabins bound for Logan Pass.
Even though the forecast from two days ago said that today was supposed to be a clear day with possible record temperatures expected, we could see that it was clear as we looked towards the mountains of Glacier National Park, but the clouds stubbornly stayed over much of the eastern plains thereby blocking out the sun.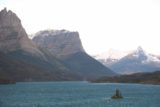 In any case, we made it past the gate and stopped the car at a pullout for the Wild Goose Island overlook. This particular spot featured a view of St Mary Lake with a tiny island in much the same way that the Phantom Ship stuck out of Crater Lake.
It was quite scenic, but the muted colors due to the absence of the sun kept this photo from being all it could be.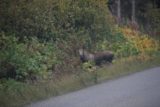 As we pulled out and continued heading towards Logan Pass, we rounded a corner and stopped just before a pair of moose! I think we scared them because they started moving away from us.
And as they were doing this, I reached for my camera while Julie was taking blurry photos with hers. Eventually after adjusting the settings, I aimed the camera just before the younger moose went off the road.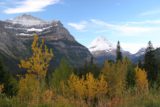 By that time, a couple of other cars just showed up behind us, but I think they missed the show. Once the moose were off the road and down the embankment, there was no way we could track them from the road, and there was no way I was going to get out of the car (and risk getting charged by the bigger one).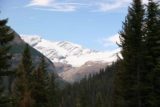 Next, we stopped at the Jackson Glacier overlook. To be honest, it was hard to tell where the glacier was and the snowfield began. I guess it was indicative of just how much the glacier has retreated due to Global Warming.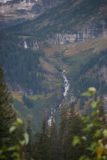 We had seen other signs such as the one for Grinnell Glacier at Many Glacier, and it was clear that the glacial retreat in this park had accelerated in the last decade or so. It was real sad to see, but it was also a sobering reminder of just what is happening in the world and the fate of our future despite what global warming deniers, politicians, and greedy business types are saying.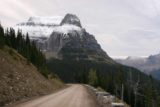 Anyways, we then continued further up the drive where we started to notice more waterfalls that we hadn't noticed before. One of them was the Deadwood Falls I think, which seemed to be an impressively tall waterfall, and there was even a trail to get to a view of it, but it was 1.3 miles each way and Julie was totally against us doing a hike with the grizzlies out munching on berries that were ubiquitous throughout the park.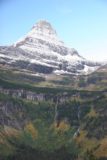 By 9:40am, we got to a part where the road became unpaved and there were construction artifacts and vehicles everywhere. We were delayed by one of those ubiquitous flaggers who'd keep us waiting for 15 or 20 minutes at a time. But the difference with this particular roadblock was that we were able to get out of the car and right over to the embankment where we could photograph more unexpected waterfalls along with attractive peaks and buttes.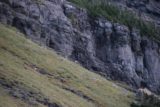 Of course we were still fighting the gusty winds, but I figured that if there was a place to be delayed by road construction, this was the place to be.
Meanwhile, one guy who stopped behind us spotted some bighorn sheep high up the mountain. He was trying to point it out to me, but I wasn't sure if I spotted it or not.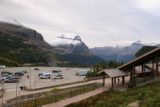 Finally after we got going, we made a beeline for Logan Pass Visitor Center. Along the way, there was an attractive cascade that we wanted to stop for, but the pullout was on the other side. Maybe we could try to stop for it on the way back down.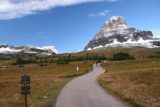 At the Logan Pass Visitor Center, we spent some time up here trying to soak in the views while briefly embarking on some of the short nature walks. There was a 3-mile return walk to Hidden Lake Overlook, but we were short on time and Julie didn't want to do it (both for bears as well as the high altitude, which wasn't good for the baby).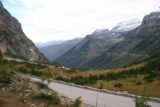 Inside the visitor center, I overheard a visitor ask a park ranger who had been here for 5 years how much had changed over the time she was here. It was sobering to hear her talk about how much the glaciers have receded in that time frame. Plus, she also talked about how much the population had exploded thereby increasing the number of consumers exponentially and putting more pressure on the earth's resources let alone its energy demands (and hence the after effects of energy production – i.e. CO2 emissions).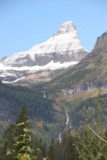 Of course if Global Warming became accepted as fact, then the next thing would be denying whether humans had anything to do with it. Again, I wish most people would just wake up and face the facts, but not everyone can go traveling to places like this where you can see the effects firsthand on what we're doing to the planet and how we're putting the foot on the accelerator towards the edge of the cliff.
I'm sure if more people saw what's going on and process the input from their own senses, then perhaps there might be some hope in turning the Green Movement into a mass movement rather than on the fringes where the impact is minimal at best.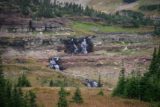 In any case, after going crazy taking photos, I realized that there wasn't enough time to really take in this place and go for a walk. We'll have to come back here later (hopefully before the glaciers are all gone), and we'd have to do this anyways since we couldn't go through the Going-to-the-Sun Road.
At 10:45am, we were back in the car and followed the caravan of cars through the construction zone. I saw the pullout that would've allowed us to take a photo of the cascade I wanted to check out nearby the pass, but then one of the workers further down the road was screaming at me to keep moving!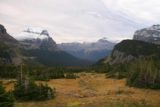 I couldn't believe that we couldn't even make a quick stop for this at a designated pullout because of this construction zone. I guess that was a hint for me to not even bother visiting this park until the construction is done (again, seemed like road construction was the theme of this trip). But at the same time, I'd have to hope against hope that the glaciers would still be there…
At 11:35am, we were back at Wild Goose Island Overlook. This time, I got the tripod out so Julie and I could take our last couple shots (something we hadn't done a whole lot on this trip). The clouds were still persistent and kept the sun from adding color to the lake and the mountains surrounding it.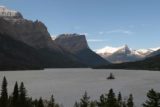 By 11:55am, we were back at St Mary filling up gas and making another pit stop. And that pretty much marked the end of our time sightseeing. For now, we were making a beeline straight north towards Calgary.
We went through customs at 12:30pm (it was funny to hear the slight differences in the American English versus the Canadian English at the pair of border gates there), and eventually made it back to the Calgary Airport at 3:30pm.
There was still plenty of time to go for our 7:35pm flight, but at least we could take our sweet 'ol time finalizing our packing and taking care of whatever else needed to be done here before we had to face reality once again…
Visitor Comments:
Got something you'd like to share or say to keep the conversation going? Feel free to leave a comment below...
No users have replied to the content on this page