While there are thousands (maybe millions) of equipment and travel lists out there, I've found them to be pretty generic and not particularly helpful or induce a kind of paralysis by analysis as you wind up frozen with too many choices and things to think about.
We've been there and done that, and we even have a section of our garage where we have gear that has been collecting dust that we thought we needed at the time but ended up not using.  So we can appreciate how costly buying up a lot of equipment can be, and how costly they can be when they take up a lot of luggage space.
So we're doing things differently in this list.  We're only highlighting what we've noticed that we bring on just about every one of our waterfalling trips both home and abroad.  So these not only prepared us for the great outdoors, but they also served us well on our travels abroad in both urban and rural environments.
Since our travels have now spanned two decades, clearly, there was something essential about these items time and time again.
Want to see what they are and why?  Read on and find out!
Sturdy Hiking Boots
Having rolled an ankle or slipped and fell or accidentally kicked a rock or tree limb a few too many times, we can't understate how important a good pair of boots can be.
Since your feet are probably one of the most important parts of your body that you need to keep healthy on a trip (let alone a hike), having a sturdy shoe with ankle support and traction was good for this purpose.  I also tend to wear boots with Gore-tex so we can get through creeks and streams that are lower than ankle-deep (which happens more than you think) without getting our socks wet (which can cause blisters as well as fungal overgrowth).
Julie and I learned how quickly a pleasant outing can turn into an ordeal with one misstep or fall.  For example, we witnessed one person in Australia who broke her ankle and had to sit there for hours until medics arrived at the remote location.  On some hikes where we were alone in the bush, we can easily envision how an injury like that could quickly degenerate into a survival situation.
Bottom line is to not take your mobility for granted, and good hiking boots or day-hiking shoes certainly helped to prevent injuries.
Now you may ask, how would I pack something this heavy for trips abroad?
Well, our trick is to wear them onto the plane instead of packing them (since we know they're bulky and heavy).  We tend to leave the boots unlaced and tucked beneath our feet while wearing them when trying to get through security.  That way, we can easily slip them off and put them back on without taking the time to unlace them and re-lace them.  However, we did have to be mindful when the laces would come loose around escalators.
GPS Vehicle Navigation
Waterfalling generally means that we have to go to remote places, which further means that we have to drive almost everywhere we go.  However, not everywhere has cell phone reception so I tend to favor these navigation systems, especially since I can do some pre-trip research, map out where we're going, and then upload the waypoints (as well as routes sometimes) to a unit like the Garmin Nuvi
.
While there are downsides in that updating the maps aren't as frequent (and in some cases, they cost additional money to get the latest maps like in Australia and Japan, or even buying a separate GPS unit like in the case of Taiwan), I still find the combination of the Garmin Nuvi unit and Mapsource / Basecamp software to be indispensable for both trip planning, real-time navigation, and trip logging.
The SD cards
are useful for adding maps that don't come standard with the unit (or has too little space in its internal memory) as well as storing your own waypoints and routes.
Chemical Protection: Sunscreen, Lip Balm, and Insect Repellant
Admittedly, I've been sloppy about the sunscreen and lip balm so Julie's usually the one who brings this.  But regardless of who brings what, I'm often glad that she does because I have the sun spots and moles on my skin to make me keenly aware of the potential for skin cancer from the sun.
I've also had painful cracked lips so the lip balm is another thing that I've borrowed from Julie who swears by this as well.
Since Julie's very sensitive about the chemicals used in products, she often favors the cleaner products like Badger and California Baby for sun protection as well as Burt's Bees for lip protection.
Lastly, I always keep 100% DEET with me just in case there are mosquitoes, sand flies, midges, tse tse flies, ticks, or just about any other biting insect that can carry and transmit diseases (especially in the jungles as well as the swamps).  Especially with the rise of insect-borne illnesses around the world, the tradeoff between chemicals versus the likelihood of a debilitating or life threatening illness by insect bite is definitely not one to take lightly.
Physical Sun Protection: Hat and Sunglasses
This kind of goes with the chemical means of sun protection (i.e. sunscreen), but with a broad-brimmed hat and sunglasses together with the sunscreen, that really minimizes the chances of contracting skin cancer from the sun's ultraviolet rays as well as the lower likelihood of damage to the eyes (resulting in cataracts and cloudy vision; something that Julie's mom suffers from).
The hats that we prefer tend to have the back-of-the-neck protection, which can get a little hot at times, but it also means that the exposed skin back there are protected and they're less likely to get sun-burnt and even require less sunscreen.
Even with the hat, we've learned that we still need the sunscreen because bright surfaces tend to reflect light or result in incident light that doesn't get blocked by the hat.
As for the sunglasses (or "sunnies" as they say in Australia), we prefer the protective ones that filter out the ultraviolet radiation while also providing polarization to cut out the glare in what we see.  I find this especially useful while driving when I need to see and react to everything, which would be enhanced when I see things clearly.
Wool Socks
Socks are also a very underappreciated aspect of hiking as well as travel abroad.  We don't just bring any pair of socks, we swear by wool socks.
Why?
Because they wick moisture away from the feet thereby minimizing the likelihood of blisters (even if we're hiking in hot weather), and they also keep the feet warm in cold environments like at 30,000ft in an airplane or in the mountains where the weather and temperatures can change rapidly.
Now since I love wearing sports sandals abroad while being too lazy to remove the wool socks, I have noticed my feet have cracked due to the moisture wicking property.  So that's definitely something to keep in mind when the boots are removed and yet you still wish to walk a lot, especially while sightseeing abroad.
Reusable Water Bottle
Some may argue that this is more of an optional item, but this is definitely something we carry around with us everywhere we go.
For ethical reasons, we find that they limit our use of plastics as we've seen plastic bottles littered around waterfalls as well as at beaches, oceans, and roadsides.  Most plastics that comprise the ubiquitous bottled water typically take hundreds of years to break down, and when they do break down, they release cancerous chemicals that wind up in our food supply.
However, we do this because it makes sense for our health.  After all, the same plastics that contaminate our food supply, also leaches into the water (especially when it's warm), which goes right into our system when we drink the contaminated water.
With an increasing number of places (like shops and public parks) having filtered water dispensers to fill up our water bottles for free, we've found that they have saved us money where they were available.
In the past, we used to have very lightweight and nearly "bomb-proof" Nalgene bottles, but we've learned that anytime you're dealing with plastics, you have to deal with chemicals, and with the Biphenol A (also known as BPA) scandal, we've steered clear of even re-usable plastic bottles in favor of stainless steel bottles.
While stainless steel bottles do dent, we've found that thermal sleeves help keep the water thermally insulated as well as lessen the blow of impact if they drop (potentially resulting in an annoying dent or two that prevent the bottle from standing up by itself).
Finally, we do recognize that this option isn't always available, especially in developing countries where water quality can be a serious issue (believe me, I've had enough diarrhea and vomiting because of this) and so bottled water may be the only way to have a greater assurance of water quality.  That said, we still have re-usable bottles to dump the water in to minimize the chemical leaching that would take place if the bottled water sat out in the heat for too long.
Waterproof Gear: Rain Poncho and Waterproof Pants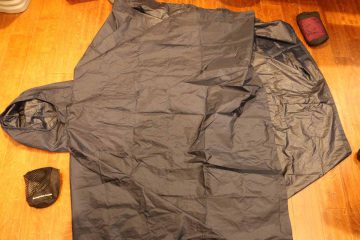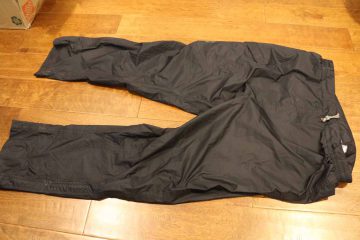 These are items I always leave in my day pack even when left in storage awaiting the next outing or trip.  The reason why is because you never know what Mother Nature throws at you (e.g. a pop-up thunderstorm in the middle of a hike, or a sudden downpour from a squall from a clearing storm, or braving a storm that you're currently in for better or for worse).
Since they're already lightweight to begin with, I always carry around my own as well as Julie's and Tahia's rain gear in my day pack just in case.
And even if we weren't caught in a storm, sometimes the waterfalls we've visited threw up enough mist that the rain gear helped to keep most of our clothes as well as the sensitive electronics (e.g. camera and phone) from getting drenched.
The only downside to the waterproof gear is that since they're usually made of Gore-tex or non-breathable plastic materials, you can still get you wet from your own perspiration from the inside out.  So that's definitely something to keep an eye on when you find that it's starting to get hot while donning these items.
Day Pack
Personally, a good day pack makes the difference between having all the necessities you need in the field (even those you would have forgotten to pack if they weren't already in the pack to begin with) and dealing with greater risks of not having what you need when you need it in the field.
In my case, my day pack has side pockets big enough to carry a 32 ounce re-usable bottle on either side of my pack for on-the-go hydration as well as other compartments for smaller necessities on our list (like sunscreen, bug repellant, sunglasses) and some larger necessities like rain gear (e.g. waterproof pants and rain ponchos; where I tend to carry Julie's and Tahia's just in case).
My day pack also has a hip belt to at least alleviate some of the load onto my hips instead of my shoulder and back.
While my day pack doesn't have a frame, I think that might be overkill if you're not overnight backpacking or hostel backpacking (I'm personally past the age to go hostelling now).  While frames are good for load bearing and making sure the weight distribution is on the hips and leg muscles (the strongest muscles in the body), the bulkiness makes them inflexible as travel gear unless the intent was to treat it as portable luggage anyways.
Either way, this ensures we're prepared for waterfalling excursions as they're always pre-loaded with necessities that I know I always forget to bring if I had to remember what to pack all the time.
Outdoor Clothing: Cargo Pants, Hiking Shirt, and Jacket
One of the most critical items on this list comes down to what you're wearing.  After all, your clothing needs to be flexible enough to handle the extremes that Mother Nature can throw at you.  Otherwise, you could find yourself having an overstuffed luggage full of clothes that are too specific for too many occasions.
When it comes to outdoor clothing, the things we look for are how quick-drying they are, how many pockets they have (and whether they have zippers and/or velcro), and how multi-purpose they are.
Of course, the quick-drying property means they tend to build up static charge when washed or moving about in low humidity, but the pros far outweigh this con as far as I'm concerned.
Regarding our pants, we prefer the type of cargo pants
they sell at REI or other outdoor specialty shops because they have zippered pockets, they have a zippered pant leg (so they can convert into shorts when it's hot), they're quick-drying, and they just last a long time.  Heck, it seems like more often than not, it's the zippers, velcro, and pockets (i.e. holes) that fail sooner than the pants themselves, and we typically hold onto our pants for at least 10 years or more!
As far as the outdoor shirts are concerned, I generally keep both long-sleeved and short-sleeved shirts.  That said, even when it's hot and steamy, I would still wear the long-sleeved shirt to minimize the chances of a disease-carrying mosquito bite (even after sweating off the DEET) as well as minimize skin exposure to the sun.  I also like the pockets on the long-sleeved shirts so I could carry a notepad and pen with me in one of the pockets.
I tend to refer to the long-sleeve shirt
as "Les Stroud Shirts" to pay homage to Survivorman
, who would wear these types of multi-purpose shirts when he's out simulating a survival situation for at least seven straight days with no food, no water, no shelter, etc. and do this all while filming himself.  If such shirts are good for a guy who can get through a dire survival situation, then it must be good for me going through something far less dire.
Finally, the jacket is another critical article of clothing to overcome the extremes of Mother Nature.  My preferred travel jacket
is actually one I bought in Scotland after my old lightweight Columbia jacket was flaking off material from the inside out.  I've found that my Scottish jacket was actually designed to be used by motorcyclists who would have to ride in wet and rainy conditions (something they're quite used to thanks to gear like this) in addition to fell walkers (i.e. hikers) also braving the elements.
The jacket is not only waterproof with enough pockets to keep other small items dry, but it's also flexible enough and fashionable enough to be useful even when city touring or eating out in restaurants come dinner time while traveling abroad.
Survival Situation Essentials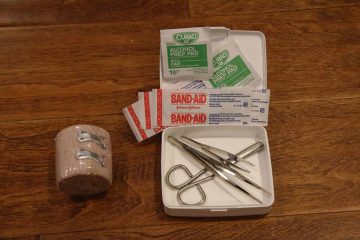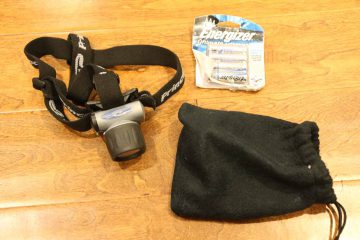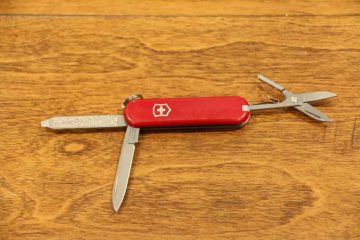 You never know when calamity strikes, but it definitely helps to overcome mishaps with some basic tools like first-aid, night lighting, and a Swiss Army Knife, just in case.  After all, you wouldn't want a little mishap like an injury or being out after dark to blow up into a life threatening survival situation!
Indeed, I've had nosebleeds, gashed an arm from a sharp limb or broken branch from a tree, or even gotten cut by sharp rocks after falling.  In each instance where Julie was with me, we made use of her first aid kit
to minimize the chances of a debilitating infection.  Heck, she even used a tweezer she had with her to extract a tick from my thigh moments before it would have really dug its head deep into me and transmit whatever diseases it might have carried.
Julie's kit typically includes a handful of spare bandages, rubbing alcohol (to clean a wound and minimize the chances of infection), gauze, and the aforementioned tweezers.
For those instances when we were caught out after dark (whether unintentionally or intentionally), a lightsource was vital.
I've been caught out in the dark on a couple of occasions – once in Yosemite's John Muir Trail and another time intentionally hiking in the dark to see lava on the Big Island.  Needless to say, a torch (as they say in some parts of the world) were very necessary under such circumstances.
I tend to prefer a headlamp
for hands free lighting, but I also keep a compact flashlight in my day pack just in case as well.
Finally, the well-known Swiss Army Knife
is a multi-purpose tool that always comes in handy when we least expect it.  Heck, we've used it to cut up fruit, file or clip a nail, uncork a bottle, or even cut paper or cardboard.
The only catch with bringing this around was that it won't get through airport security so we either had to remember to put it in our checked luggage (then not forget to take it back out and into our day pack when we arrived at the destination) or else get it confiscated (we've lost one of our better ones for exactly that reason).
Note Taking and Blogging Tools
Then, I always bring these blogging tools with me, which includes the low-tech but trusty pen and notepad for note taking in the field.  And it also includes the compact laptop with portable hard drive and global travel converter to help support the electronics regardless of which country we're in.
Regarding the notepad and pen, you can call me old school, but I always write notes and musings wherever we go because there are some things that just can't be captured by the camera at the moment.
Having such moments captured on paper helps me relive my exact thoughts as they were happening while also giving us a tool to write down phone numbers, emails, or other details that come up.
If you think our website has pretty accurate and detailed information, this is a big reason why.  Of course, if the voice transcription apps on phones ever gets to the point where I can talk at normal speed on a whim and capture my thoughts in memory as both text and sound files, then I might finally ditch the good 'ol pen and pad (though there's still the risk of running out of charge or straight up losing it from theft).
Like an old Ronny Chiang: International Student episode reminded me, sometimes the old-school method never runs out of batteries and never crashes.
As for the laptop, while it may be vogue to be just relying on mobile phones and maybe tablets to a lesser degree, I still find the flexibility of a laptop to be useful as far as typing up notes or journals at the end of the day or the following morning.
It's also important for me to offload pictures from the camera memory onto a portable hard drive, and often times it's just better to browse the interwebs on a WiFi connection with a laptop than on the limited screen size of mobile phones and tablets.
Thus far, I've been using an ASUS Zembook Laptop
with a WD 1TB Passport
, and this combo has been lasting me between 4-5 years though the laptop is definitely on its last legs now, and I'm in the market for a replacement that's just as small, reliable, lightweight, and flexible.
Finally, whenever electronics are involved, I always keep in my day pack a global travel converter. Well over a decade ago, we bought one of these all-in-one multi-country electrical converters
as an emergency measure since we were missing plugs during a trip.
Since that time, I've always kept it in my backpack everywhere we go (just in case), and it has been a life-saver when we've gone overseas. It was even handy when Julie needed to use some converters to charge her phone or Kindle, and I still had this as backup! 
Honorable Mentions
Before we end this article, there are a few more items I wanted to mention though they didn't technically make our primary essentials listed above.  While they're not "essential" in that we could probably make do without them on our trips (though you could argue otherwise depending on your point of view), I've found that either Julie or I have also brought these things on just about every one of our trips or waterfalling excursions.
DSLR Camera and accessories – it can be argued that your trip is only as good as the memories you associate with them, but without the pictures to document your experiences, those memories fade with time.  And the better quality the pictures, the better the memories can be, especially if they're more likely to be shared.  That's why I always bring along a DSLR Camera
even though it's bulky and heavy, and they break very easily (I've abused at least three or four of them on our trips).
It also means that I carry around a camera bag to protect the camera while also housing essential accessories like spare batteries, spare memories, additional filter lenses, and lens cloth/sponge.
Mobile Phone with sim card – Julie and I have found that it's far more convenient and even essential to stay connected with mobile coverage by buying a sim card with a short-term plan (typically 30 days with 10GB).
That allowed us to send and receive text messages with accommodation owners (especially if there was an emergency), read reviews in real-time, check trading hours (i.e. store or business hours), and even map out distances that I didn't have pre-programmed or weren't available in our GPS navigation unit.
Snacks – this is something Julie swears by.  She always brings dried goods like Larabars, trail mixes, broccoli chips, banana chips, and sometimes jerkies.
Given that she has some severe food sensitivities these days, she finds these self-picked snacks especially useful on travel days whether it involves flying or a long drive.  Since she bought these snacks herself, she knows that they're low on sugar (especially refined sugar) and they're not processed.
The snacks are especially useful when Tahia gets hungry and needs something to keep her from becoming a terrible nuisance both in the car and on our trips in general.
Handheld GPS – you may be wondering why this is important, but even without an embedded map in the unit, I've found where I might have veered off track when looking at the unit against where I had gone before (as the GPS traces where you've been).  This happens more than you think, especially if the trail is easily lost.
I also use the data from the handheld GPS
to superpose against my topographic maps when I return home from a trip to truly see where I've been when there was no cell phone reception.
This helps immensely with maintaining the accuracy of the blog as well as spot mistakes made in missing out on particular sites during the trip (though I'd wish I would've caught the mistake without having to go back and do the trip again).
Conclusion
What did you think of our list?  Anything you think we missed, or that you've found particularly helpful for your own travels?
Let us know and keep the conversation going by commenting down below…
Visitor Comments:
Got something you'd like to share or say to keep the conversation going? Feel free to leave a comment below...
No users have replied to the content on this page