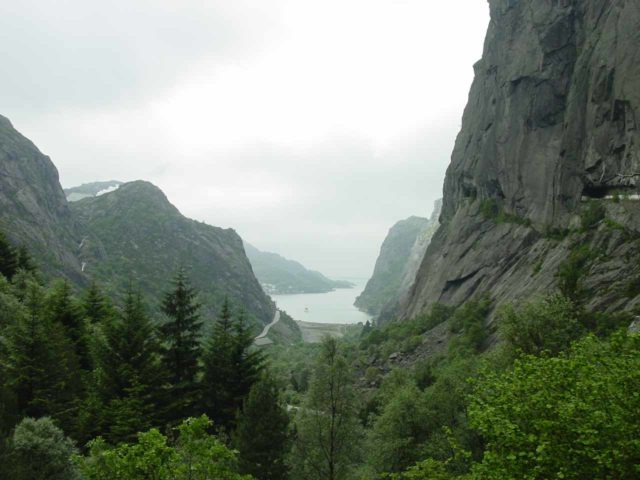 21-June 2005 to 23-June 2005:
It was almost 5pm when we finally arrived at the visitor center at the mouth of Lysefjorden. From my travel research, I knew this fjord featured the famous Preikestolen (aka the Pulpit Rock or more literally the Priest's Chair) and Kjerag (the place with the rock wedged between two precipitous cliffs). However, when I had to choose between waterfalls and these features, I chose waterfalls. I mean, I had to since we were out on the hunt for waterfalls. It was one of those painful decisions that had to be made given the paltry vacation hours (at least compared to Europe and Australia) we get from corporate America…
Day 1: SERIOUSLY JETLAGGED
It wasn't until around late morning that Julie and I finally arrived in Oslo. After the usual stress of queueing up for passport control, then hoping our luggage made it here with us as we waited patiently at the conveyor belts had come to pass uneventfully, the next order of business was to figure out how to get from the airport to our hotel in Oslo. We were kind of on our own on this trip even though we had pre-booked accommodations throughout, and we didn't have a rental car until tomorrow morning in an attempt to save money (knowing that we wouldn't be driving on this day).
Julie and I were pretty alert but also pretty dead tired. We had just flown on three different flights with two connections. I wondered whether we really had to do this in order to get to Norway, but in any case, I really looked forward to coming here knowing that there were waterfalls galore in this country.
Besides, we made it here in one piece. That first leg where we flew from LAX to Chicago's O'Hare Airport was scary because it was the roughest landing we had ever been on. The plane actually bounced hard on the ground, then briefly went in the air before finally landing. All the oxygen masks went down and a lot of us on the flight were kind of looking at each other like, "what just happened?"
Over the PA, the main pilot threw the co-pilot under the bus by apologizing for the rough landing and saying it was a pilot in training that did that landing. Well, at least the remaining flights went by pretty uneventfully, where we had to fly all the way out from Chicago to Stockholm, then catch one last short flight from Stockholm to Oslo.
Eventually, we found a bus that took us from Oslo to a terminal station near the center of Oslo. From there, we got our luggage, then rolled it around looking for the place we were supposed to stay at.
At first, we had a little trouble not being very oriented at all with this place. Also, the signs were all written out in Norwegian, and I kind of immediately got the sinking feeling that all those Pimsleur lessons in Norwegian didn't help one bit as they made it seem way too easy to pick up the language when in fact, there was a lot more vocabulary and practice that I needed than what those lessons were putting out. What a rip off!
But eventually, some people would see that we needed help, and they eventually pointed us to the right street. It was a good thing because the street we went to was pretty obscure. But we eventually checked into the Edderkoppen Hotel some time around 1pm. And after dropping off our luggages, Julie and I immediately headed into town looking to do a little sightseeing.
We ended up meandering the streets of central Oslo though our top priority was to pick up some software and a road atlas. We ended up finding some 1:250k scale Garmin Mapsource of Norway. We were hoping to be able to use this software in conjunction with our Palm Pilot unit hooked up to our Garmin eTrex GPS. We also went to another shop in town to pick up a Norwegian road atlas, but truthfully, we were looking for the Statens Kartverk map and couldn't find it. So we ended up spending money on some imitation that we would eventually find out it wasn't as useful.
Then, we continued to meander about aimlessly in the streets of Oslo. I recalled we went to some main eating area around 3pm where we ultimately bought ourselves some $7 ice cream scoop! Ouch! I guess that was our first initial taste of how expensive things were in Norway.
Julie was getting really tired at this point, and even though she suggested we should check out a Viking Museum, we gave into our jetlagged state and returned to the hotel by 4pm. We both slept, and it wasn't until around 6pm that we forced ourselves awake and went back into Oslo for dinner.
We eventually found some place not far from our hotel, and we ended up eating reindeer and some other thing I couldn't remember. It wasn't until around 8pm that we finally left the restaurant (though the restaurant bill turned out to be on the order of some $80 USD). Again, we were hit in the wallet!
When we left the hotel, we strolled around the waterfront for a little bit. Even though it was almost 8pm, there was still quite a bit of light left. Once again, we thought we could do the Viking Museum, but now it looked like they were closed.
And by this time, Julie and I figured that there would be no way we could be doing any more touring in our jetlagged state. We went back inside our hotel room, and Julie simply crashed in bed. Meanwhile, I was worrying that my plan of getting the Palm Pilot working with our GPS unit wasn't coming to fruition! On top of that, the lap top that we had used in New Zealand last year, wasn't communicating with our GPS. In fact, it seemed like the serial port was not working! Argh!
I had a sinking feeling that we were screwed, and we would have to navigate through the country the old fashioned way… by good 'ol paper maps, road atlas, and a lot of reading signs…
Shortly thereafter, I too crashed in bed with Julie. Lesson learned from this experience – book an extra night in the first place you stay whenever you head east. That jetlag was a real killer. Oh well, I guess there was a first time for everything…
Day 2: COMING UP EMPTY HANDED
It was 6am when we woke up and got ready. We would eventually get all packed up and ready to go though I was still spending a bit of time trying to salvage the GPS-laptop solution. The only saving grace was to do the GPS-Palm Pilot solution, but somehow it seemed like we didn't quite have the software we needed for the Palm Pilot solution so all we were doing was logging our coordinates in the Palm Pilot and then saving the logs to a spreadsheet. There was no map to give those tracks any meaning as the newly bought Mapsource didn't seem to be compatible with it (plus I wouldn't know how to load the CD into there, especially with the serial port of our Dell getting busted somehow).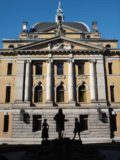 At 7am, we went downstairs to have a Norwegian breakfast. It consisted of a lot of salted cured fish that we were supposed to spread some kind of sauce onto while eating them with a variety of breads. It was pretty simple and basic. We also had some eggs, milk, and other things. But the included breakfast was definitely not something we were used to.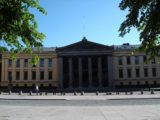 Next, we killed some time touring the city center of Oslo for a bit as the Avis office didn't open yet. So we merely meandered the streets around the Ring Road vicinity where we checked out the Parliament House and some other statues and parks in the area. Truthfully, we didn't really know what we were looking at, nor did we even know what were the must-see sights in town.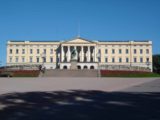 Eventually as it got a little after 8am, walked over to the Avis to pick up the rental car. It turned out that they didn't have automatic transmission in their vehicles so that meant that I would be the one driving as Julie couldn't drive stick shift. So I told her that she would have photo responsibilities if we happened to go someplace interesting while autotouring (something we realized last year in New Zealand that could happen quite frequently).
After picking up the car, we had a little trouble finding parking near the hotel. So after finding some illegal parking near our hotel, I stayed in the car while Julie went to pick up some groceries nearby. And after loading up the car with those, Julie then brought down our luggages one-by-one. There wasn't a whole lot of space in the car for our luggages, but we eventually made it work. Julie then checked out of the hotel, and we finally left Oslo at 9:45am.
Initially, the drive was a little chaotic as we tried to navigate out of the city streets and onto some kind of highway taking us in the direction we wanted to go. But fortunately, the traffic was light when we left and we would eventually make it onto the E18 headed west.
I originally thought we could drive a few hours east to some obscure waterfall found by the Swedish border, but the more I thought about it, the more I realized that it probably wasn't going to work given where we had to go on this day. So we continued west and turned a blind eye to the east.
We had a choice of driving the coastal route towards Kristiansand or head inland. We ended up going inland because I thought maybe it would be cool to check out Rjukan and its big waterfall. I had seen it in the pre-trip literature, and I was anxious to see if it would be flowing. Although I kind of read that it was hydro'ed, maybe the high Spring runoff of this late Spring might allow it to overflow so there would be a waterfall.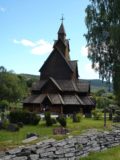 So the decision was made and we took the E18 to the E134. Although I was being blasted with a plethora of foreign sights from the Norwegian road signs, the speed cameras, the mountainous scenery, and more, it was also started to induce road fatigue. Thankfully at 11:50am, we arrived at an interesting-looking wooden house that had some kind of a medieval flavor to it.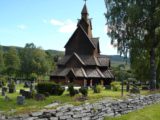 It turned out to be the Heddal Stavkirke (stav church), but Julie and I were so waterfall-focused that we didn't take the time to go inside to see what was going on in there. So after about 10 minutes, we continued about on our way.
Shortly after Heddal, we then took the Road 37 towards the town of Rjukan. Before we entered the town, we started noticing some impressive waterfalls though they seemed to be unnamed. They looked big and significant to us, but who knew if they were really something to brag about?
We'd eventually arrive in the town of Rjukan at around 1:20pm. We visited their turistkontor (Tourist Counter) and that was when we learned that the famed Rjukanfoss would only flow at specific times of the year, and today wasn't one of them. Bummer. But we did pick up some maps and free literature while we were there.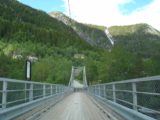 After leaving the visitor center, we then drove across a high bridge that looked scary and narrow. It was single-lane and for sure there'd be no way multiple vehicles would be supported on it (or so I thought). In any case, after crossing this bridge, we then drove towards the Vemork Power Station, arriving at around 2:20pm. Once we left the car, we weren't sure what we were supposed to do other than to look at some interesting waterfall across the valley that we knew wasn't Rjukanfoss.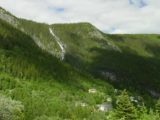 In fact, I didn't recall even finding Rjukanfossen. Where was it? Even if it was a bare wall, I would have at least liked to have seen what it would look like…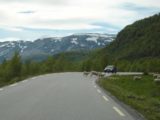 But alas, we left the power station pretty empty-handed, and for that matter, we left Rjukan in a similar state.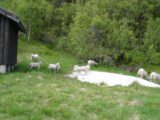 We would continue the rural driving (the roads were definitely narrower at this point as it was more like 1.5 lanes or something) as the Road 37 eventually joined up with the Road 45. We took the Road 45 into Setesdal Valley, but not before spotting a few more miscellaneous waterfalls from the road as well as trying to avoid running into sheep that would cross the road from time to time.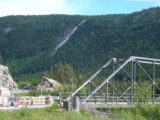 Eventually at around 5:30pm, we would finally descend into the valley, join up with the Road 9, and check out from a distance the Kallefossen waterfall. We merely bagged this waterfall by taking photos of it, but we didn't try to get any closer to it.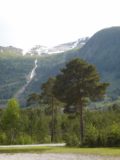 When Julie looked in the other direction, she noticed some other waterfall tumbling down the mountain. Could it be the Gloppefossen (something I'm speculating later as I thumbed through a useful book about Norwegian Roads that we'd pick up later on in this trip)? Well, whatever it was, Julie captured it, but I still couldn't give it a name or a geography to it.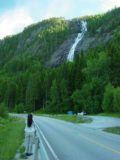 Next, we continued driving south on Road 9 until we'd eventually reach a significant-looking roadside waterfall called Reiarsfossen. At first, there was a car park by Road 9 but the views from here looked like it was a bit too close to the impressively tall waterfall. So we spent some time walking back along side the road until I was able to get a cleaner look at the impressively tall falls in full.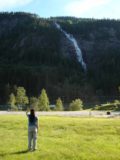 When we returned to the car, we then saw that there was a turnoff to our left that promised to give us more contextual views of the falls from its front. However, we were looking against the afternoon sun so the lighting wasn't the best. Still, we made a brief stop to take these photos before continuing on.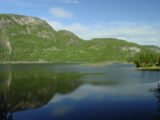 It was getting late in the day as today's long drive dragged on. While the scenery was very beaufitul in the Setesdal Valley, Julie and I were looking forward to checking into the our next accommodation in Kristiansand.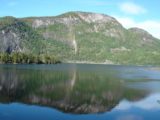 It wouldn't be until around 8:55pm that we would finally find the Rica Hotel Norge in Kristiansand where we would finally be able to check-in and drop off our luggage. Unfortunately, a lot of places were closed this late in the evening. Strangely enough, there was still quite a bit of evening sun at this time. I guess being here in the Summer had its benefits.
We would eventually settle on this somewhat busy place on some wharf where there were some restaurants that still seemed to be open. Thankfully, we went on one of these places (I forgot its name) and had ourselves a pretty delicious and fresh seafood dinner.
While Julie and I were relaxing over the dinner, we looked around and were still feeling a bit surreal as to how foreign this place felt yet was so beautiful. As the day was winding down, we were looking out towards the water and were in kind of a chill state of mind.
But given the late dinner, it wasn't until about 11pm that we finally got back to the hotel, cleaned up, and slept.
Day 3: DECISIONS, DECISIONS
It was 4am when I awoke. Both Julie and I had slept quite well after a peaceful and enjoyable late evening dinner in the 11pm twilight in an outdoor restaurant on the coastal waters of Kristiansand. I intended to do a little morning waterfall hunt while Julie slept peacefully. I figured I'd be back before she'd get up in time for the 7am smorgasbord breakfast that Jerry, the president and acting travel agent at Nordic Company, insisted we had every morning (even though we asked not to have this on our itinerary).
Anyways, I was in the car hire by 4:25am and was off to Flakksvann in search of both Flakkefossen and Teinefossen.
The morning light had already started to shine even though the sun didn't quite break the horizon. Kristiansand was very quiet except for a sparse scattering of cars and big rig trucks making deliveries.
After briefly driving through a pair of tunnels then a lengthy narrow 1.5-lane road (supporting bi-directional traffic) to Birkeland, I had arrived in the still-sleepy township by 5am. The town looked like a happening place, but I was on a mission.
So with my topo printout in hand (which I made prior to the trip using the Norgesglasset online map courtesy of Statens Kartverk), I slowly and carefully made my way through town in search of a sign or hopefully some indication that I'd find the waterfalls I was after. Still, I ended up overshooting the turnoff I was supposed to take and after a brief 15-minute detour, got on the right track.
And so I took a narrow road that headed to a bridge over the Tovdal River (Tovdalselva). However, just before the bridge, I noticed a sign in Norwegian. I didn't have the patience to slowly decipher what the sign was saying, but it had the word "Teinefossen" in it so I knew I had found a waterfall.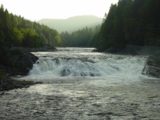 Instead of taking a primitive trail through the trees and along the shores of the river to the falls, I opted to walk towards the bridge, where I got a direct look at the wide river waterfall against the hazy early morning light. It was quite a nice waterfall, but I still had another waterfall to see.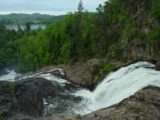 So after taking a few photos, I hopped back in the car and drove over the bridge, then made a left. By now, the road became unsealed and headed into the private community of Flakk. At this point, I was confronted with a confusing array of roads in which I couldn't tell which one was private and which one I could take. So to the best of my ability, I followed the topo map and took a very narrow dirt road that went uphill and eventually passed alongside a long cascade. This must be Flakkefossen, I thought. But there was no sign indicating such. So I just took some photos, then looked for a safe spot to make a three-point turn before heading back to Kristiansand.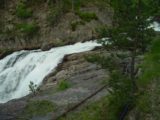 I was back at the Rica Hotel Norge in Kristiansand at about 6:30am. Sure enough, Julie was up and we were already packed and ready to get going. Meanwhile, the Norwegian breakfast was open and we treated ourselves to cold marinated herring, eggs, toasted bread, and some sour fruits all washed down with milk and fruit juices. It didn't quite live up to the varied breakfast we had in Oslo, but it fueled us up for the day ahead.
We were going to have a busy day that started in Kristiansand and ended in Sand in the Suldal municipality. It was a lot of driving for sure, and we intended to see waterfalls along the way such as Månafossen. Unfortunately, I didn't leave much time to explore the Fjord of Light (aka Lysefjorden), but I hoped against hope that somehow I underestimated the amount of time it would take to see what we wanted to see today.
So we checked out and left Kristiansand at 8am. We took a brief detour and visited the small but interesting Kvåsfossen. After about ten minutes here, we continued on our tour towards Jøssingfjorden.
Julie and I also read some signs here about some World War II history as this quiet spot was the scene of the first battle in the war on Norwegian territory (known as the Altmark Incident).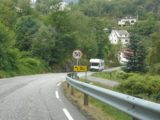 So onwards we drove. We ended up filling up some petrol and snacking up on expensive (well, we quickly found out that everything here was expensive) Norwegian treats in Egersund.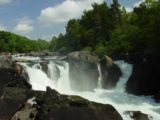 By 1:10pm, we found an unsigned cascade that looked familiar from what I had researched on the web. So I assumed this was Fotlandsfossen though I could be wrong.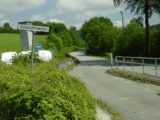 So far, we hadn't really seen much in the way of big waterfalls on the trip. But I knew Månafossen was up next and I really looked forward to seeing it. Julie started to get jaded, wondering whether we were wasting time on yet another tiny waterfall…
So we left E39, which headed for Stavanger and detoured up the R45 towards Gjesdal. During this drive, we went through a long, dark tunnel before the scene opened up towards the shores of the Fra Fjord backed by the same gnarled rocks and cliffs seen in Jøssing Fjord.
Eventually, we went beyond the headwaters of the fjord and then went through a valley before the road narrowed and started to climb. During the climb, I noticed an attractive waterfall putting out a small rainbow in the bright afternoon light. It was Eikeskogsfossen and I pulled over at a nearby pullout to take photos.
The trail was very steep. It looked like the trail was in the middle of being improved, but that didn't help us too much now. We had to rely on what stairs there were and then on chains and poles to keep us from sliding down the steep hill.
At 2:45pm, we could hear the waterfall nearby. As we hurriedly got to the edge of the cliff, we stopped in our tracks and beheld the glorious sight precariously below us…
…It was Månafossen, and a huge rainbow formed in its mist!
Excitedly, Julie and I took the best photos we could without getting too close to the edge. We certainly didn't want to fall into the turbulent abyss here.
Anyways, we took photos of the waterfall in every permutation we could think of. When that was done, we carefully made our way down the steep hill to the car.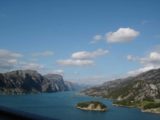 We returned to the car at 3:45pm and drove over to a ferry over the Lyse Fjord at around 4:30pm. After an uneventful and short ride across the fjord, we quickly made our way over to a visitor center.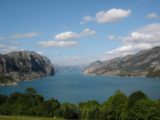 It was almost 5pm when we finally arrived at the visitor center at the mouth of Lysefjorden. From my travel research, I knew this fjord featured the famous Preikestolen (aka the Pulpit Rock) and Kjerag (the place with the rock wedged between two precipitous cliffs). However, when I had to choose between waterfalls and these features, I chose waterfalls. I mean, I had to since we were out on the hunt for waterfalls. It was one of those painful decisions that had to be made given the paltry vacation hours (at least compared to Europe and Australia) we get from corporate America.
Anyhow, the fallout from my choices was that we didn't plan this part of the trip to see Lysefjorden – at least not in an adequate amount of time. I was hoping against hope that we might be able to catch a brief afternoon ferry tour of the fjord, but alas it wasn't meant to be. That was because it was well past the departure of the last ferry for the day and we had to pre-book to bring the car along. So with a sigh of disappointment, Julie and I continued further on the drive hoping to do the Preikestolen hike.
It was 6pm when we got to the car park. And after paying the toll to park here, we laced our hiking boots, brought a backpack with water, and some rain gear (just in case – you never know). With hiking sticks in hand, we were off.
I had thought the hike took only 2 hours round trip, but it turned out that it was 2 hours one-way! It was about 7:30pm when Julie urged me to turn back, knowing we had to get to our accommodation in Sand tonight. Even with the later sunset up at this lattitude, Julie was right. And so we turned back to the car with sores from the difficult hike without anything to show for our Preikestolen effort.
Oh well, maybe next time (but I still had regrets about not seeing the famous pair of Norway's quintessential fjord attractions)…
We made it back to the car at 9pm and resumed the driving to Sand. There was another ferry along the way, and that passed without incident nor without too long of a wait. Sand was still three hours from Preikestolen so we knew we had our work cut out for us.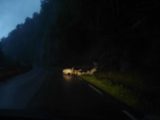 It got dark some time after 10pm and the weather started to turn towards rain. It contrasted from the fair weather we experienced thus far and seemed like a fitting end to the disappointment I felt for not seeing neither Preikestolen nor Kjerag. Julie kept her keen eyes open for wildlife, and sure enough there were some goats on the road, which we stopped in plenty of time to let them pass.
At last, we arrived in Sand at around midnight. I thought it was kind of strange that we had to drive through a residential area to get to the wide fjord-facing area where the Ryfylke Turisthotel was. Perhaps I took the wrong way, but either way, we finally made it to our accommodation in one piece.
Fortunately for us, the lobby was open 24 hours. So we checked in without any problems and got to our room. After cleaning up, we quickly slept.
There was no more time to dwell on today's disappointment nor the regrets I had for not planning this day better. I intended to do more early morning exploration while Julie was asleep starting at 4am so that left me with about 2 to 3 hours of sleep…
Visitor Comments:
Got something you'd like to share or say to keep the conversation going? Feel free to leave a comment below...
No users have replied to the content on this page