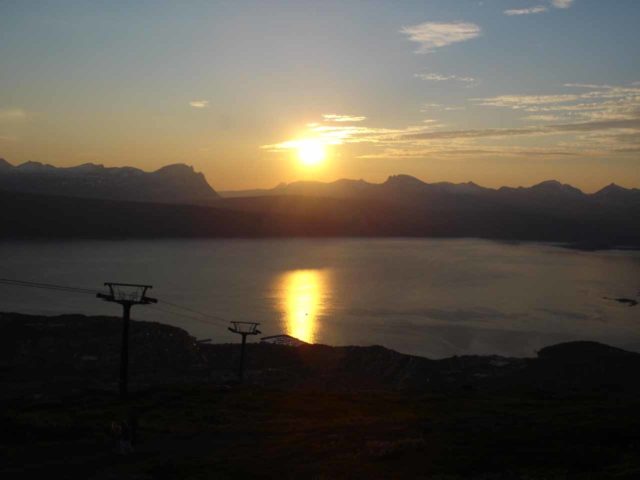 6-July 2005 to 9-July 2005:
By now, I was getting tired of driving. Just how much longer did we have to drive until we arrive at Storslett? Complicating the situation was that I badly needed a restroom break and there simply didn't seem to be any places in sight that we could do our deed!?! So with my bladder painfully pushing against my sides, we finally just pulled off a seemingly quiet road and did what we had to do – hoping nobody would see us…
Day 1: WITNESSING THE MIDNIGHT SUN
At 6am in Mo I Rana, Julie and I awoke at the Comfort Hotel Ole Tobias and did our usual routine of packing up and loading the car. Then, we had our 7am koldtbord breakfast (this one was one of the more disappointing ones) before we checked out, filled up petrol at the bensinstasjon (petrol station), and headed north on the E6 by about 8:30am.
About half an hour later, we reached a signed turnoff leading into Plurdalen. We were already familiar with this area because yesterday we checked out the Grønligrotta cave as well as Bredekfossen further north.
I expected this detour to not take too long, but the road eventually became unsealed and a bit slow going. Since Rago National Park was on my mind for today, I didn't want this to take too long.
Well, we finally made it to
Sprutfossen at around 9:25am. But this was a very disappointing waterfall as we could only see the top part of it and we didn't really have the patience to search around for a way to get closer.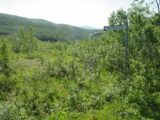 Even though there was a sign pointing the way to the waterfall, it seemed like the way it was pointing went into the bush or went to the cliff. It just didn't seem at all obvious that there was a way to get a closer look at the waterfall below us.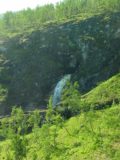 We certainly weren't in an exploratory mood and the thought of bushwhacking for this waterfall wasn't appealing. In the end, we just took whatever partial views of the falls that we could get, and we had to declare this somewhat costly detour a big dud.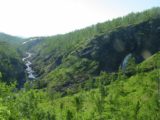 So it didn't take long before we headed back towards the E6 and by 10am, we were back on the main highway (for a fruitless one-hour detour).
Now with much of the morning gone, we still had to get past Hjartåsen, which was where yesterday's Bredekfossen hike started. Only then could we say we went into new ground.
After a long and tiring drive (I had been averaging 4-5 hours of sleep and Julie couldn't drive stick), we eventually made it towards the moors again. There was still a little bit of snow, but the elevation was much lower than Fjord Norway. I reckoned it was the latitude now that made it seem like we were higher in elevation than we really were. It was almost as if we were heading into tundra country or something.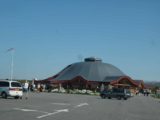 At 11:15am, we made it to the Arctic Circle (Polarsirkelen) boundary. There was a busy visitor center and loads of tour buses here. Julie wanted to have a look and use the facilities. I was in more of a hurried mood so I grudgingly stopped here.
After some more long and tiresome driving, we finally made it into a full blown town called Fauske at 12:30pm. It was probably the first sign of civilization since Mo I Rana. We were also very hungry, and we wanted to get a topo map of Rago Nasjonalpark.
So we ended up walking around town looking for a place to eat and looking for the visitor center. It was frustrating and fruitless because we couldn't decide on a place to eat so we ended up not having anything in town. Ultimately, we spent some time in the visitor center, which was really in the public library. It was kind of weird and hard to find, but anyways, we didn't really find what we were looking for. So in the end, our time in Fauske really felt like a waste of time.
With that we were back in the car at 1pm. But Julie really wanted to see the Lofoten Islands, and I hadn't really planned for it. It was another one of those decisions I made when planning this trip about whether it was waterfalls or other scenery. And given my limited vacation time, I chose waterfalls since it was our mission.
But with Julie's persistence, I eventually relented and went with her suggestion. I knew it was going to be a gamble because I wasn't sure we would be able to take the ferry from Bodø to Lofoten. You see, I knew we would need bookings to get on, especially with our car.
However, I figured we had the midnight sun working for us so it would still be like afternoon all night long, and I thought we could sacrifice a little sleep for a very late arrival in Narvik – site of our next accommodation.
So we took the hour-long drive west to Bodø. It was frustratingly slow due to traffic and road construction. Also, speed cameras were everywhere. I kept having this sinking sensation that Lofoten wouldn't happen on this trip. My mood was also continuing to sour since I knew there wouldn't be a chance to see some of the tall waterfalls in the remote Rago National Park just north of Fauske. The waterfall disappointment at Sprutfossen earlier in the day also didn't help my mood. Plus, I was tired and cranky from the lack of sleep. With the way things were going, this simply wasn't my day.
We finally arrived in Bodø at 2pm. We couldn't find parking so we just stopped in one of the parking spots and I had Julie run into the nearby Visitor Center to try to secure a ferry booking.
That was when she told me the bad news. The last ferry already left, and we wouldn't have gotten on anyways because we had to book at least a day in advance.
So the disappointing day continued. To make matters worse, a guy walked over to our car and insisted that we pay the parking toll. At this point, I wasn't going to put up a fight and we just paid up. I think we ended up overpaying though, but the guy didn't bother telling us that parking tolls no longer apply after 4pm (and we paid till about 5pm).
And with that, we just left our car and started walking around town to salvage something from this trip.
At least we had a decent cafe lunch on the waterfront. We learned once again that reasonably priced food exists in these self-help cafes where you order up front, get food on your tray, and find yourself a seat. The fish was fresh as always. Plus, this lesson learned would be invaluable for a future trip to Norway; to go for these types of meals and forsake the sit down ones. Heck, they were even more fulfilling than the expensive candies and chips we'd eat in the car.
Afterwards, we went into this mall called the Glass House (Glasshuset). It was hot inside as the glass effectively worked like a greenhouse. Not only that, it seemed that Norwegians didn't believe in AC as none of the shops had it. As a matter of fact, we hadn't noticed any AC since the good weather started back in Trondheim. We could tell from the sun burnt faces of other Norwegians that this was probably atypical weather we were experiencing.
Nonetheless, Julie and I went into a record store. We had heard a series of Norwegian songs on the radio, and we thought we might bring some home. Of course at 150 kr for a typical album (nearly $25 USD), it was hardly a bargain. Anyhow, Julie picked up some CDs from Lene Marlin, Amy Diamond, and Royksopp. I finally got a hold of a Norwegian rap song called "Tsjiriåu" (phonetic Norwegian spelling for "Cheerio") by Ravi and DJ Løv – a wonderful blend of Norwegian lyrics and an english chorus to the tune of "Cheerio, Bye Bye."
We also engaged in a political discussion with the record store owner. He asked us how we could re-elect Bush.
Needless to say we were embarrassed, but we couldn't really say anything. We had to apologize and say we didn't vote for him (for the record, we didn't vote for Bush).
But this wasn't the first time nor was this the first country we were asked this question. It seemed like we get that a lot wherever we go, and it's sad that many of folks back home simply aren't aware of the propaganda and government corruption – much of which drives the downright maddening foreign policy of ours. Anyways, this was beyond our control and all we could do was just roll with it and hope we don't become hapless victims from all this someday.
So with that, we left with our merchandise and headed back to the car. My mood improved somewhat, but it was still sour.
In terms of what I wanted to accomplish, this was a day to forget. Not only did we not have the time to see the waterfalls in Rago Nasjonalpark, but we lost our gamble that we might be able to catch a ferry to the Lofoten Islands without bookings. Furthermore, the disappointing Sprutfossen was our only waterfall experience for the day.
So now that it was 5pm and we still had to get to Narvik, which was 4.5 hours away with a ferry ride at Tysfjorden, we had to leave Bodø and backtrack to Fauske where the E6 continued north.
By now, I was not only emotionally spent but physically too. The drive felt like a long daze and I didn't quite pay as much attention to the scenery as I would have liked. It was a shame too because there were mountains around us that had all sorts of interesting shapes. It was almost a taste of what we would've seen at Lofoten.
The ferry ride was a blur for me because I used it as an opportunity to take a nap. Julie was busy taking photos, however, leaving me to catch my Zzzs.
We finally made it to Narvik at 10pm. After getting lost in town because there was this strange phenomenon where we could see street signs hidden on buildings in one direction but not in the other direction, we finally checked into the Norlandia Narvik Hotel, where we brought in our stuff to our room.
Once we settled in at the Norlandia Narvik Hotel, we decided to head up a cable car that was literally right in front of the hotel.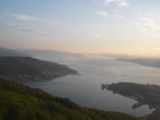 And so the cable car took us pretty high up over the town of Narvik. I didn't quite understand why the Lonely Planet book said this place was ugly, but we sure didn't feel that way.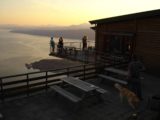 The warm glow of the late evening sun also made things a bit cheery. I was still in a bad mood, but things were looking up. At the top was this restaurant that made some basic shrimp salad with toasted garlic bread. Considering we were hungry again, it was quite a satisfying meal even though it was basic. The only thing really bothering us were mosquitoes, which were something we hadn't seen the entire trip!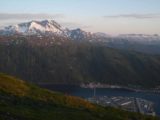 The restaurant had this strange overhanging platform with no supports at the far end of the platform. It was as if someone put a large rectangular board at the edge of a mountain and put some weight over a fraction of it – leaving the rest of the board to overhang like a spring board. When we did stand on the platform, we didn't stay on it for long. But there were other people who stood on there for ages and didn't seem to have the same reservations that we had.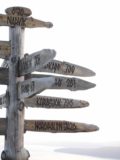 When we were done eating, it was almost midnight. The sun didn't seem to move any bit closer to the mountainous sea islands on the horizon to the west. The orange-reddish glow (from the sun's rays pinballing a long way through the earth's atmosphere) painted the building and the mountains behind us and was really calming. The skies were a dark blue and purple. The seas were calm.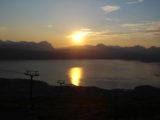 All of the sudden, the worries and disappointments of the day were forgotten. Julie and I held hands and watched the midnight sun as the clock struck zeros (midnight in military time). I don't think we had ever experienced anything as romantic as this. The surreal scene that brought peace to an otherwise chaotic and frustrating day couldn't have happened at a better time.
Now that it was starting to get cold (even with the sun up), We returned to the cable car and headed back to the hotel.
With Julie's eyepatches strapped on (she prepared us for the midnight sun) and curtains closed, we went to sleep and rested our tired bodies.
Day 2: THE FIRST AMERICANS IN TWO YEARS
Despite the relaxing and romantic midnight sun last night in Narvik, Julie and I woke up at 6am and proceeded to load the car and have a quick 7am breakfast. By 7:45am, we had left the Norlandia Narvik Hotel and embarked on a very long drive on the E6 to Storslett.
With all this driving, if I had to do things differently, I probably would make use of the Hurtigruta (a hop-on-hop-off cruise/ferry going up and down the fjords of West Norway), which would've allowed us to get on and off whatever port we wanted. If we played our cards right, we could've traveled by night (sleeping on the ferry) and have the day to explore. Oh well, that was for next time…
I was already sleepy and tired this morning as I drove deeper into North Norway away from Nordland county and into Troms county. We noticed a sign that said "Målselvfossen" and decided to check it out. This was totally unexpected and we didn't even plan on visiting this sight. I guess it couldn't have come at a better time because I was getting quite sleepy behind the wheel.
The paved highway roads to the waterfall were well signed. I thought this must be a major waterfall to get this kind of infrastructure. When we finally arrived at the huge car park at 9:35am (it had room for tour buses though we didn't see any), we got out of the car and hurriedly walked along the path to the waterfall to see what it was about.
Well the waterfall wasn't exactly anything to brag about. It was really a long series of rapids with a salmon ladder to let the fish go further upstream. But at least it was a welcome break from the monotony of driving.
Apparently Målselvfossen was Norway's national waterfall due to abundant yields of salmon. I'm not sure if it still has this status, but we saw lots of fishing signs and a supply store at the car park. So surely, it must be a popular spot for this.
By 10am, we were back on the E6 and continued to drive north towards Storslett, which was still a long way to go.
It was about noon when the E6 weaved around the Kå Fjord with a few waterfalls tumbling along its sides. Shortly beyond this fjord, we started to notice some regal-looking snowy mountains rising from the sea.
I didn't know it at the time, but they were the Lyngen Alps. Looking at these moutains jutting up sharply from the channel really reminded me of looking at the Grand Tetons over Jackson Lake. But the Lyngen Alps were longer and I could see massive waterfalls blending in with the snow out in the distance. Surely it was a place worthy of exploration, but we would have to do it on a future trip and be willing to spend lots of time there, which might be something we won't have given our limited vacation times and list of sights we still want to see.
The Lyngen Alps provided some great eye candy, but they felt so distant from the E6. So we motored on and continued towards Storslett.
It was nearly 1pm. By now, I was getting tired of driving. Just how much longer did we have to drive until we arrived at Storslett? Complicating the situation was that I badly needed a restroom break and there simply didn't seem to be any places in sight that we could do our deed!?! So with my bladder painfully pushing against my sides, we finally just pulled off a seemingly quiet road and did what we had to do – hoping nobody would see us.
Fortunately, no one did and we merrily continued the drive past Sørkjosen and eventually its neighboring town of Storslett. We arrived at the Norlandia Storslett Hotel at 1:30pm, but it was still too early to put our stuff in our rooms. So we asked if we could leave them at the front desk (which they gladly did).
We also asked the clerk if they could help us contact one of the traditional motor boat operators so we could see Mollisfossen this afternoon. At first, the clerk dialed then handed us the phone. Soon we heard someone respond in Norwegian. Unfortunately, the person we called didn't know much english so we quickly gave the phone back to the clerk and he translated our wishes to the other person on the phone (who happened to be the boat operator).
Eventually, the deal was set. However, we had to pay some 1200 kr between us even though it could support four or five people. Oh well, we weren't about to spend more time hunting down people to go on this excursion, and we weren't going to be denied a visit to Mollisfossen.
We were supposed to meet with the boat driver at Saraelv 2:40pm. There was a road (Rv865) that went directly inland towards Reisa National Park and ultimately ending at Saraelv after a fairly long stretch of unpaved roads.
So Julie and I went to the meeting spot. It was at the end of a pretty rough road that ultimately ended besides the river. There was one other car parked there but no one was around. With a few minutes to go, Julie and I stayed in the car because there were clouds of mosquitoes and wasps all around the car. We weren't going to wait outside for too long.
Finally, it was 2:40pm and I got out of the car to brave the mozzies and wasps. And there was the boat driver pulling up to shore. I asked him in Norwegian if he spoke english, and he said "Nei" (meaning nope). However, he did know a few words in english and we were able to work out a way to communicate with a mix of Norwegian and English. I was kind of excited that finally my informal Norwegian lessons were paying off!
So with that I told him in Norwegian that my wife was in the car. And I beckoned Julie out of the car. We both approached the boat and paid the boat driver in cash. He went on to say the boat ride was about 45 minutes each way. And then we left at 3pm.
The boat ride was a bit primitive. Both Julie and I sat on low lawn chairs with legs stretched out in front of us. In the back was the boat driver. It was hard to have a conversation over the noise of the motor so we basically looked around and took photos as the boat was moving.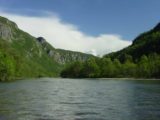 We went up the Reisa River with trees and valley walls surrounding us. The walls weren't quite as tall as what we had seen in fjord norway. This was more of the traditional river valley as opposed to the glacier-caused ones.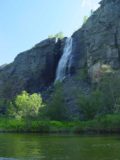 There were a few hairy spots where it almost looked like we were going to run over some rocks or shallow areas, but the boat driver definitely knew what he was doing.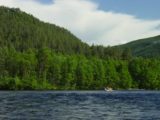 We eventually saw a waterfall plunging over one of the cliffs. No, it wasn't Mollisfossen, but it was impressive nonetheless. It was really a taster of what we were going to see next.
Shortly after this bit of eye candy, we saw another river boat going the other way. There were five passengers on that boat and they all waved at us as we waved back. Apparently, such tours like this are popular with local holiday makers.
Finally at 4pm, we could see Mollisfossen towering above the trees in the distance. Before long, the boat driver stopped the boat at a landing area and tied the boat to a pole. He gave us about half an hour to get to the falls and back, which was no problem considering it was a short walk on a flat trail.
As Julie and I approached Mollisfossen, there was another group of people enjoying the base of the falls already. There were wildflowers growing in the grass before the tall waterfall. But the waterfall itself was quite a beauty.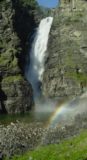 So as Julie and I took photos, I decided to scramble up a rocky hill and get a cleaner view of the falls with a wide angle lens. There was a rainbow refracting in the afternoon light and the cloudless sky provided the perfect contrast to the white of the falling water.
But as I was busy taking photos, I felt something sting through my thick wool socks. I was wearing Chacos so my foot was exposed. When I looked down, I was shocked to see a wasp clinging to my sock!
In my startled state, I frantically kicked and tried to swat at it. I think all it did was get the wasp to swarm around me. It got in another sting before I hurriedly scrambled back down the hill.
Still, I was going to seize the moment at the falls by taking a few more photos with Julie here. But hastening our departure was the fact that the wasp wouldn't leave me alone! We saw a few more wasps hovering around us, and that was our cue to get moving.
Grudgingly, Julie and I left the beautiful falls and returned to the boat where the boat driver was waiting. He had already set up a fire in a fire pit, and it seemed effective at keeping the insects away.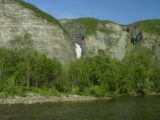 The driver asked me how I knew Norwegian, and I told him, "Jeg leser boker." (I read books)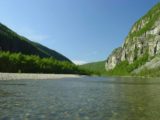 With a nod of approval, we went on to make more small talk in mostly english. Apparently, he knew a little more english than he led on. But he learned we were from Los Angeles, which I guess was unusual in these parts. He told us that he enjoyed driving the boat through the park and the slower pace of life.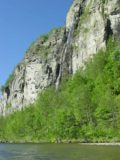 After the small talk ended, we were back on the traditional motor boat and headed back to the car park. We arrived at the car park at 5pm. But not before we exchanged final pleasantries and saying thanks ("Takk!") to him.
He went on to tell me, "Du må snakke mer norsk!"
In my limited Norwegian, I didn't process what he said in real-time so I went on to reply, "Ja!"
Of course in hindsight, he told me, "You must speak more Norwegian." It was fun practicing with him in a situation where it was actually needed. Julie chides me about this telling me I'm a show off.
And so we exchanged waves and said "Ha det!" to each other. Then, we headed back to the car.
We returned to the hotel at 6:15pm, where we promptly checked into our room and moved our belongings from the lobby to the room.
Apparently, Storslett was off the beaten track for tourists. This was because the front desk clerk at the Norlandia Storslett Hotel told us that we were the first Americans they've seen in two years. Now it made sense to me why we seemed to run into more people who didn't speak as much english as the rest of the Norwegians we had met.
Now that Julie and I were hungry, we headed into town and went to a restaurant where we ordered up front but picked a table and had the food brought to us (kind of Carl's Jr. style). Once again the price was reasonable (for Norwegian standards) and it reaffirmed the belief that this was what we should've done all along when it came to dining.
When we were brought our food, we were once again blown away by the freshness and flavor of the local grilled fish we ordered. The Norwegians really knew their fish!
As we happily ate our dinners, I couldn't help but notice the map on the paper place mat we ate on. I noticed there was a waterfall that was only minutes away from Storslett called Fosselvfossen. Since we were well north of the Arctic Circle boundary and knew we would have midnight sun, we had no problems going on this excursion before returning to our hotel room to shower and sleep.
So we left the restaurant at 8pm and noticed Fosselvfossen high up on the cliff at 8:20pm. Now we had to figure out where to park. But fortunately, the friendly lady at the camping place let me park the car on her property for free. So with a smile and a little guilt, I took her offer and hiked closer to the waterfall. Julie stayed in the car as she was tired from the food coma.
The path to the falls was consistently uphill. I tried to be quick on the hike, but I quickly ran out of breath and went back to walking as I got towards the grassy slopes with sheep on them. When I looked back behind me, I could see the late evening sun painting the grassy landscape and Straumfjorden orange.
Fosselvfossen looked so tantalizingly close, but the hills kept obstructing parts of the falls. So I did a little scrambling on the sloping grass towards the ravine to get a cleaner view – being careful not to step on the sheep dung. When I managed to get my photos, I now had the task of finding the trail again leading downhill.
It wasn't trivial, but eventually I found the trail and quickly made my way back down the hill. I was back at the car at 9:30pm. Julie commented that I was a sweaty mess, but that was ok. We were now headed back to the hotel to shower.
Back at the Norlandia Storslett Hotel, we cleaned up.
Then, we turned on the TV and noticed some commotion going on in London. The news was all in Norwegian and they spoke too fast for my comprehension, but I did hear the word "bomb" and the pictures showed a devastated subway. And from that it became apparent what had happened…
So as much as we had forgotten about the BS back at home, this bit of news was a sobering reminder that the realities of the world were never far away…
Day 3: BLACK MEAT
It was about 6:30am when Julie and I awoke. Today was going to be the last day of waterfalling (and last full day of sightseeing) on this epic trip through Norway. It felt like it was so long ago when we first came to Oslo, but it was really just under 2.5 weeks. Yet we did so much in this time, and I guess Julie and I were looking forward to returning home, especially for a little relief on my wallet from how expensive everything was out here.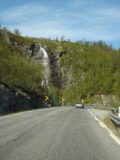 After our Norwegian koltbord breakfast (something we were now quite accustomed to at this point of the trip), we left Storlsett at 8:10am. We drove back down the E6 as we noticed another waterfall tumbling besides the highway. Indeed, the waterfalls really felt like they were becoming ho hum at this point. It just seemed like everywhere we went, we saw them. And the exercise of singling them out and identifying them seemed futile.
Continuing back down the E6, we once again checked out the impressive views across the Lyngen Channel towards the Lyngen Alps. Once again, the Grand Tetons-like view made us fantasize a little bit about what it might have been light exploring that area. But we had to keep pushing forward because it certainly wasn't going to happen on this trip.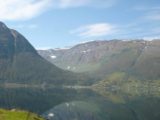 Next, we eventually re-entered the shores of the Kafjorden. And once again, we saw the waterfalls spilling into the Kafjord. Unlke the first time we passed through here, this time we stopped to get a better look at many of the waterfalls. After all, we only had one waterfall targeted for today before we would head over to Tromso.
Apparently there was a huge waterfall at the head of this fjord, which we stopped for at 9:30am, but we didn't drive much further into the valley for a closer look.
We then continued driving further south towards the town of Skibotn where we then turned off the E6 to go onto the E8 which led towards the border with Finland though it was also quite close to the Swedish border as well.
We'd eventually arrive at a narrow long pullout that was signposted "Rovijokfossen" though the sign was faded. It wasn't really easy to see and we actually missed it on the way in and had to backtrack (as we had gone about 10km too far towards the Helligskogen Forest. We stopped the car at about 10:50am.
As we walked along the walking path, it skirted the descending watercourse beneath the E8. It was hard to get a good look at this waterfall, and it was clear that we would need to walk all the way to the bottom to at least get a decent look at it.
So we followed the railings all the way down until the railings ended, then we followed a steep dirt trail that ultimately took us down to the misty base of the waterfall besides the twisting creek. It was a nice angled view of the falls and the flowing creek going further downstream, and it was a fine way to cap off this epic trip from a waterfalling sense since this was indeed the last waterfall of this trip.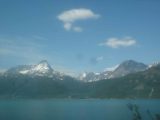 When we had our fill of the falls, we returned to the car and headed off for Tromso at 11:15am.
Ultimately at around 2pm, we arrived in the city of Tromso and checked into our accommodation. Once we dropped off our stuff, we then walked around town while looking for a place to eat.
It turned out that the most interesting place for a bit and a stroll was near some waterfront. I was a little taken aback when we were wandering around and some middle-aged dude decided to pull his eyes sideways in that derogatory anti-Asian gesture, but we thought nothing of it and kept about touring and trying to enjoy our last moments of sightseeing in the country.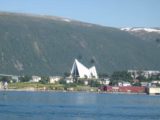 I recalled that we then caught a bus to the University of Tromso museum at around 4pm-ish, and then we checked out the museum itself at around 5pm-ish. There was a Northern Lights show, but it felt like a little bit of a waste since there was no commentary.
Anyhow, we were back in the town at around 6pm-ish, and we strolled around some more while looking for one last place to have a dinner.
This time, we allowed ourselves to splurge a bit.
We ended up eating at this place called Verthuset Restaurant, and the main claim to fame here it seemed was the whale and seal meat that was on offer here. We felt a bit guilty about wanting to try whale meat, but we instead went for seal meat.
I ended up getting some kind of sea fish (cod perhaps? I forgot) but it turned out to be a lot more bland than the seal that Julie got.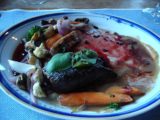 Speaking of the seal, it turned out that the meat was very dark (almost black). But it was very tender and tasty. We were told that whale meat was similarly dark, but I guess we would never know what that would taste like until we would come back and give it a try, I guess. Who knows when that will be, and who knows if whales would still be around if/when that happens?
And so when our dinner was done, we basked in the views of the waterfront which was still under what looked like late afternoon lighting even though it would've been night time in most parts of the world. It was pretty crazy that there didn't seem to be a night time since we were up above the Arctic Circle (Polarsirkelen), but this unsual scene definitely stayed in our minds and it would be one of those things that reminded us that we weren't at home.
Indeed, we would always try to get this unusually pleasant feeling of being in a foreign land doing things we could never do at home or seeing things we could never see at home; no matter which future trips we would go on…
And so we returned to our room so we could do some last-minute packing in preparation for the long travel day tomorrow. And by 10pm, we finally slept with the eyepatches on and curtains pulled.
Day 4: LONG DAY OF TRAVEL
It was about 5am when we got up, and we had an early koltbord breakfast at 6am. We would eventually arrive at the Tromso airport at 7am when we returned the car. We'd ultimately catch an 8:40am flight to Oslo, but there was a little bit of a security incident when someone found a Swiss army knife buried deep in my day pack.
I didn't even know it was there all this time, and no security person had found it until this regional flight in Tromso. Well, we ended up checking in that knife, which would get checked through to LAX.
We'd ultimately arrive in Oslo at about 10:30am, and we had plenty of time to kill for the 1:25pm flight to Copenhagen. That Copenhagen connection stressed us out because we had barely an hour to get through passport control then catch the connecting flight to Chicago.
Anyhow, we had one last go at a delicious softis in a waffle cone at the airport. We made the mistake of going through to the secured area too early though so we wouldn't have another helping of the good soft serve ice cream anymore. Bummer.
We also exchanged money back to American dollars though we really didn't have much cash left anyways given how easily we burned through our cash despite our best efforts at rationing it.
Anyways, our 1:25pm flight to Copenhagen occurred without incident, and then we arrived in Copenhagen at 2:30pm. We were then rushing through customs and passport control after it became apparent that many of the people on this flight (ourselves included) wouldn't make the connection if they queued everyone up and did the usual process.
We'd ultimately fly out to Chicago at 3:35pm, and then we arrived in Chicago at 5:30pm (we went backwards in time since we were flying west so the overall flight was about 10 hours and not 2 hours as it would appear). Once in O'Hare, we killed some more time talking to my Mom who hadn't heard from us for a while as Julie was talking to her mum.
By 8pm, we finally got on the last leg of the journey to LAX, and we'd ultimately arrive at around 10:25pm. And by 11pm, we finally regained our luggage and our car (including the loose Swiss army knife), and we eventually got home just before midnight.
Now, it was back to life, back to reality, but at least we could look forward to some semblance of normalcy…
Visitor Comments:
Got something you'd like to share or say to keep the conversation going? Feel free to leave a comment below...
No users have replied to the content on this page