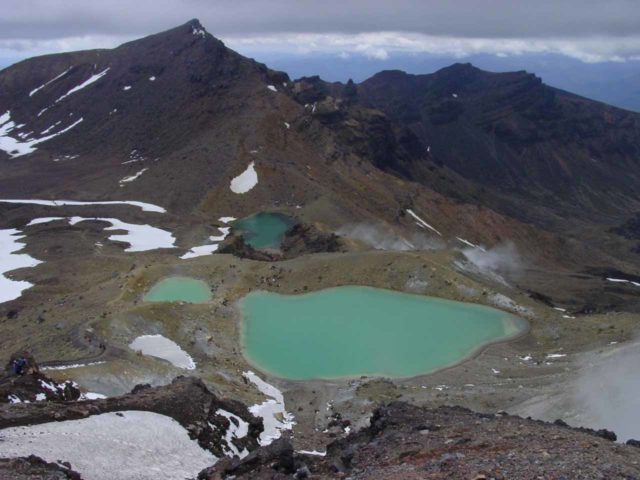 16-November 2004 to 19-November 2004:
The weather report had predicted bad weather until Friday. Unfortunately, it was Tuesday and I was worried our hoped-for Tongariro Crossing hike was in jeopardy. So I had to rearrange our plans. Obviously, it didn't look like the one-way shuttle hike was going to happen tomorrow so I thought we could explore the southern slopes of Mt Ruapehu…
Day 10: REARRANGING PLANS
Julie and I left Napier and headed to the Tangoio Falls Scenic Reserve. We had passed by this place yesterday, but we didn't have time to fit in this hike as we were checking in to the McLean Park Motor Lodge in Napier.
It didn't take long before we showed up at the well-signed reserve where we then proceeded to walk on the trail leading first to Te Ana Falls before making its way uphill towards Tangoio Falls. Along the way, there was the White Pine Bush Trail, which we ultimately didn't take since we were targeting the two waterfalls here.
After spending a couple of hours on the trail while seeing both Tangoio and Te Ana Falls, we got back to the car and went along the Thermal Explorer Highway.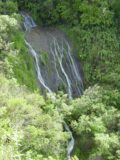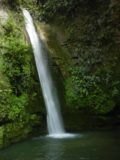 In looking back at this waterfalling experience, we'd have to say that Te Ana Falls seemed to be the more pleasing of the two falls. Tangoio Falls was taller but strandier and seemingly less accessible as we could only see it from a distant lookout.
There wasn't a whole lot to see here so we followed everyone else and zoomed along the fast-paced two-lane SH5. Of course in our haste, I noticed a Pungahuru Falls sign too late and passed it. We didn't bother trying to U-turn and check it out.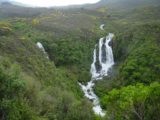 At about 11:30am, we made it to a signed turnoff for Waipunga Falls. If there was a spot to stop on this road, it was this one – and I wasn't alone in this thinking. There were heaps of other people who also made a stop here to see the triple-columned segmented waterfall tumbling some 40m below the lookout. It was quite impressive.
Continuing along SH5, we finally made it into Taupo at 1pm. We made a quick stop into the i-SITE in town. Of course what was on my mind at the time was the conditions for the Tongariro Crossing that I hoped to do tomorrow. I tried to keep things flexible so even if tomorrow was bad, we still had a shot for the day after tomorrow. However, the weather report had predicted bad weather until Friday.
Unfortunately, it was Tuesday and I worried our hoped-for Tongariro Crossing hike was in jeopardy. So I had to rearrange our plans. I was holding out hope that the predicted bad weather would clear up by Thursday, but I was doubtful.
Obviously, the hike wasn't going to happen tomorrow so I decided we ought to visit the southern slopes of Mt Ruapehu in search of Mangawhero Falls (a waterfall featured in the Lord of the Rings movie) and Waitonga Falls on that day.
Meanwhile, we had a brief lunch while checking out the busy town. It seemed like a happening place though we were going to stay in Turangi tonight.
At 2pm, we headed over to Huka Falls. This place was packed with people. It had facilities, a souvenir shop, heaps of tour buses, and a wheelchair accessible path to some of the lookouts of the 9m falls. We had to wait for some of the crowd to disperse before we could get to the fenced overlooks.
The churning Waikato River and the falls had a very powdery-blue color. Apparently there were plenty of volcanic minerals and soil saturating Lake Taupo, which fed this watercourse. That along with its power and accessibility probably made this such a big tourist attraction.
When we had our fill of Huka Falls, we headed over to the Craters of the Moon. This was one thermal area where you didn't have to pay an admission fee, but donations were accepted. I'd have to say there wasn't a whole lot special about the area after having seen other thermal features in Rotorua and earlier in the year when we went to Yellowstone.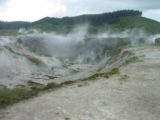 It was 3:15pm when we headed south along the eastern shores of Lake Taupo towards Turangi. We stayed at the Tongariro River Motel, which was kind of dumpy. Nonetheless, the proprietor was nice and gave us a spot on recommendation for this place called the Anglers Paradise for a place to eat. So after getting settled and unpacked, we went right to the main part of town in search of the restaurant.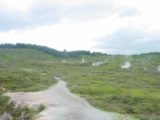 Anglers Paradise wasn't easy to find. From the outside, it was basically a humble-looking place nestled in some motel, which happened to be called the Anglers Paradise Resort. I guess once we made the association between the restaurant and motel, we finally found the restaurant and went inside. And once there, we were immediately treated to a rather unique dining experience…
We basically were asked to sit in a lounge area by the fireplace. There were a few other guests and it was really a chance to engage in small talk while deciding what to eat. Even though the empty and set dinner tables were there, no one was to be seated until told to do so.
After several minutes, people finally started to get escorted to their seats – pretty much in succession in one continuous moment. It wasn't long after we got settled when the dishes came out.
Knowing Turangi and Lake Taupo were known for trout fishing, we ordered some kind of freshwater fish dish – despite the fact that the trout here couldn't be caught commercially. So we didn't have the big trout the area was famous for, but Julie and I were blown away by the fresh fish we had eaten. I didn't think I ever had better fish than this and Julie had similar thoughts. It totally caught us off guard considering we weren't sure about the Tongariro River Motel proprietor's recommendation and the dumpy motel we had to stay in. We certainly owed him one here.
So when the pleasantly surprising dining experience ended, we returned to our accommodation. Seeing how we were on our honeymoon and we realized the motels weren't quite what we expected, we decided to splurge a little and book two nights at the Chateau Tongariro starting tomorrow (despite having already pre-booked a room at the Ohakune Court Motel in Ohakune for those two nights). Besides, I thought it might help us for the Tongariro Crossing hike I was still hoping to do. Moreover, Julie's birthday was tomorrow and I didn't want her to be disappointed.
Thus, we roughed it at the Tongariro River Motel this night. We didn't have trouble sleeping and that was good because we had to get an early start tomorrow…
Day 11: BIRTHDAY IMPROVISATIONS
When we woke up, it was already raining. So I knew Tongariro Crossing was out of the question today. Thus, we packed up our belongings and headed down the Desert Road – the only "desert" part of New Zealand – which ran along the east of the cloud-covered peaks of Tongariro National Park.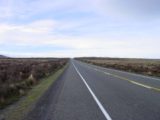 The weather actually was fine out here as it appeared to be in the rain shadow of the towering volcanoes to the west. And true to its name, the terrain out here did seem pretty flat and desolate with the odd brown shrubs and tussock grasslands flanking the otherwise straight shot road with nothing around for miles save for the views of the cloud-covered volcanoes to the west of us.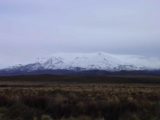 The drive persisted for another 75 minutes or so before we swung around the southern slopes of Mt Ruapehu and then arrived at the town of Ohakune. Since Julie and I had already made our decision to book with the Chateau Tongariro at the very last minute last night, we wanted to see the accommodation we had booked prior to this trip knowing that we would have to swallow the cost of it.
And when we pulled by the motel, we saw that it was yet another sleep-easy type of place that was not much better than the Tongariro River Motel in Turangi. So I guess we made a pretty good call on spending Julie's birthday living it up a bit at the chateau.
In any case we eventually made through Ohakune and drove up the Ohakune Mountain Road. There, we zoomed past the car park for Waitonga Falls and headed for Mangawhero Falls.
It was only a five-minute walk to the fenced overlook of the falls. It had quite a satisfying vertical drop as it went into a reddish amphitheater. I believe this was where the Henneth Annun was supposed to be in the "Lord of the Rings: Two Towers movie." Anyways, it was satisfying and we took our photos before we went back down the hill to Waitonga Falls.
We were one of the first to be at the car park for the falls. In addition to signs saying we had to walk around 90 minutes return to get to the falls, there were plenty of warning signs saying we were in a lahar zone.
Lahars were basically giant flash floods caused by melting ice, snow, and volcanic debris racing through a drainage after a volcano erupts. Since Mt Ruapehu was an active volcano, it was always something to keep in mind.
The walk was very well defined and mostly flat with a few hilly sections. Especially memorable was a scenic bog where a boardwalk went through it. It was the kind of scene that totally reminded me of the Dead Marshes scene in the Lord of the Rings movie even though the actual location of that spot was in some remote marshes on the South Island.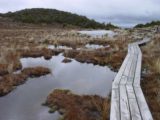 Nonetheless, the standing pools of water juxtaposed with pale and brown tussock grasslands really made me feel like we were indeed in Mordor. It further whetted my desire to do the Tongariro Crossing. If only the weather would cooperate…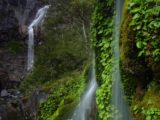 As we continued down the track, we started to see Waitonga Falls through some of the obstructing foliage. It beckoned us to walk faster down the long switchbacks. Finally we were at the watercourse and we could see the 39m falls upstream.
The view from here was not too satisfying and there were other trampers who scrambled their way upstream. So with my hiking stick, I followed them closer. Julie stayed behind.
I didn't get all the way to the base of the falls as the more adventurous dudes up ahead were able to get underneath and behind the main falls. I did, however, manage to catch some satisfying photos of Tongariro National Park's tallest waterfall along with some unnamed cascade before it. Quite cool…
When we had our fill of this place, Julie and I hiked back to the car and went into Ohakune to get some takeaways. We then proceeded to the SH47 on the western side of Tongariro National Park's boundaries as we were seeking to hunt down some waterfalls on the way to finally checking into Chateau Tongariro. We certainly hoped our last-minute booking to this place was worth swallowing the extra cost of not checking into the Ohakune Motel.
Before going up the Whakapapa Village Road, we noticed a cascade next to the road where our LP guide said the Mahuia Rapids was supposed to be. We were hoping to find another waterfall here (I think it was Toakakura Falls, but we didn't think of doing it.
Eventually, we then went up the Whakapapa Village Road where we got more views of Mt Ngauruhoe. On the way up the mountain, we made a stop at Tawhai Falls, where we engaged in a short 10-minute walk that allowed us to see the falls from its top as well as a short scramble to get a cleaner look at it from its base.
After this brief walk, we then continued going further up the mountain road before settling in at the Chateau Tongariro in Whakapapa Village. At last, we got to see if this place was worth the hype.
Indeed, the Chateau Tongariro looked like a posh hotel sitting beneath Mt Ruapehu. From what I understood, the cast of the Lord of the Rings stayed here when they had to film some of the Mordor sequences. But other than that, construction was going on so part of its facade didn't look so great. I wasn't as impressed with the rooms inside either – at least for what we paid.
Still with that said, this was the first time since Rotorua that we got to spend consecutive nights in a place. So we got unpacked and comfortable. I think Julie was too comfortable as she was content to just nap the rest of the afternoon away. It didn't help that it started raining again. I was still restless so I went solo on a Taranaki Falls hike.
With my poncho on and a willingness to brave the weather, I went out there and did the two-hour hike. If not for the pouring rain, the trail was actually quite scenic (at least from what I saw below the clouds). I was sure it would've been more scenic if the clouds weren't so low as I would've been able to see Mt Ngauruhoe throughout a good portion of the walk.
Anyhow, I finally got to see the interesting falls as it spilled through an old lava flow and into a boulder-ringed pool. There were other hikers who also braved the elements to see the falls. I thought to myself that Julie missed out again so I took photos with the mindset of trying to show her what I had seen.
It was 5pm and now it was time to return to the Chateau. Prior to the wedding and honeymoon planning, I had pre-booked a dinner at the Chateau Tongariro for Julie's birthday. So I had to get back in time to clean up and get her to the restaurant.
I ended up back at our room and cleaned up with plenty of time to spare. We ended up having a pleasant fine dining experience along with a surprise banana cake for dessert. When I looked out the window, I could've sworn I saw slivers of late afternoon light striking parts of the mountain. Could the weather be good enough for the hike tomorrow? I sure hoped so…
Day 12: THE FORGOTTEN WORLD
When we woke up, our fears were true. The weather was terrible. So much for the Tongariro Crossing on this day.
So I had to think on the fly about what to do. I had originally planned to do the big day hike today so we could drive through the Taranaki area en route to Hamilton tomorrow. Since Mother Nature had other plans, I thought about doing a very long Taranaki loop that started and ended at the Chateau. Perhaps this would give us one last shot at doing the Tongariro Crossing tomorrow…
After drawing this conclusion, I told Julie the new plan and we headed out. I guess that was the benefit of spending more than one night in a spot so we could evaluate the situation and adjust on the fly.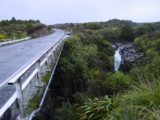 But first, when we headed back down the mountain to the SH47, we drove briefly north in search of what LP labeled Toakakura Falls, which looked to be right downstream from the Mahuia Rapids we thought we saw yesterday. However, when we looked for it, all we saw was a very small waterfall, then a red arrowed pole that pointed right into the bush. Unfortunately, after following this trail and wetting my wants from brushing against all the moist foliage in the process, it didn't seem like finding the falls was going to be trivial (or even possible?).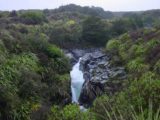 So with that, I declared defeat and then continued on the long driving day.
The long Taranaki loop encompassed a stretch of twisty highway called the Forgotten World Highway. From one of the brochures we picked up at an i-SITE, I had noticed a big waterfall that I had not seen in my research previously and was determined to see it. The directions weren't too specific, but thankfully, it showed up on our Tumonz map in our laptop so we at least had something to go off of.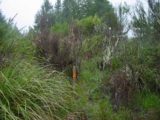 It was 8am when we made it to a township called National Park. Seeing how we were running low on petrol, we waited for the place to open shop before filling up. Then, we headed north to Taumarunui. We didn't linger long in town as we knew we had a long day ahead of us. SH43 headed west from Taumarunui and so we took this road and began our Forgotten World Highway adventure.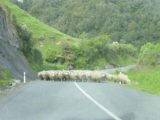 There wasn't a whole lot of literature about this part of the country. Perhaps that's why this section of the Taranaki District could be thought of as the Forgotten World. Anyways, SH43 was a twisty road that could be narrow in places, but it was always two lanes.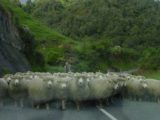 The scenery was predominantly green with patches of remote farmland and some Maori communities strewn along the way. There was also a fairly lengthy unsealed section deep in the stretch of highway as well as a sheep crossing where heaps of sheep were being herded along the highway by some rancher. They actually surrounded our stopped rental car as they passed by us with sheep droppings all over the road.
The drive continued rather uneventfully for another while until we got to an unsealed section of the highway.
When we were about to emerge from the unsealed section of road, we saw a sign for Mt Damper Falls. Encouraged by the sight of this sign, we went into another unsealed road and eventually made it to the car park for the falls at 10am.
The track initially went between some farmland with lots of sheep on it. The familiar sounds of "baahh" were prevalent. Then, we crossed a bridge with a gate that kept the sheep out of the reserve. The trail continued into a shady forest area with some slippery parts of the track as there was some muddy areas. Eventually, the terrain started to open up and we could hear Mt Damper Falls.
As we got closer to a set of stairs leading to its wooden overlook platform, we did notice a tall unnamed waterfall nestled in the back of a canyon. The view of it was distant and blocked by a hill before it so we didn't dwell on it too much.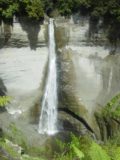 Finally, we made it to the overlook. The falls was about 73m tall and it was every bit as impressive as the brochure I had seen that inspired us to go here. It was 11am when we decided to head back and continue the winding drive down the Forgotten World Highway.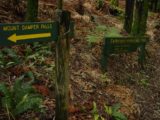 I started to get driver's fatigue as the scenery more or less remained constant. The Moki Tunnel broke up some of the monotony, but we had to drive another couple of hours before we finally arrived in the bustling town of Stratford.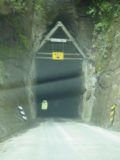 During the drive, we saw more rolling green hills, which was idyllic but also mesmerizing. I was driven by the hope of seeing Mt Taranaki as we approached Stratford. Even though it might have been a false hope, I was still motivated to stay away and keep on the lookout for a place to stop for such a view if it existed.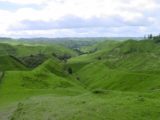 It was 1pm and Julie and I decided to have a lunch here. After the positive meat pie experience in Wairoa, we decided to have more meat pies here.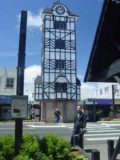 We also paid the Visitor Center a visit. Julie noticed a natural arch on a brochure that I had not seen before on my research so we were determined to see this one. When we found out that it was near Waverley and it was on the way back to Ohakune via Wanganui, we determined to go there.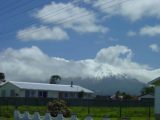 While we were in town, I was a little disappointed to see that we weren't going to get a view of Mt Taranaki from town. For it seemed like there was a combination of cloud cover, plus the town was a little built up and not really meant for taking photos of the mountain from within this bustling part of town. Plus, as we were approaching the town from the end of the Forgotten World Hwy, it didn't look like Mt Taranaki presented itself.
So with our Stratford stuff out of the way, we then had to get to Dawson Falls before moving on, since that was our waterfalling excuse to make it all the way over here.
By now, the weather had improved considerably. There were still clouds that would obscure the otherwise perfectly conical shape of Mt Taranaki. However, there was plenty of sun and warmth. The drive to Dawson Falls took over 30 minutes. The nearly single-lane sealed road up to the Dawson Falls Visitor Center had plenty of blind turns to keep us on our toes.
Finally, we parked at the Kapuni Loop Trailhead and did the brief walk to the falls. It kind of reminded me of a miniature Havasu Falls with its dual side-by-side falls, but it didn't quite have the travertine scenery nor the turquoise calcium-carbonate-rich waters to go with it. Nonetheless, it was a pleasant diversion from all the driving.
Next, we briefly checked out the Dawson Falls Visitor Center, which had some replicas of the way mountain huts were. They looked primitive to say the least, but it was quite interesting. Since we were going to do the Milford Track later on this trip, I had the feeling we were going to be staying in something like that.
We left Stratford at 3pm and eventually made it to the township of Waverley at 4:30pm. We took a detour that headed towards the beach. After some maneuvering to get to Wairoa Beach, we left the car and didn't have to walk far before Julie spotted the sought-after natural sea arch.
"There it is!" she exclaimed.
Unlike the brochure, we showed up during higher tides so we couldn't get close to the arch without going for a swim. However, we did spend time at the nice and secluded beach. For such an accessible place, I was very surprised that we were the only ones there. Anyways, maybe I was just jaded by the crowds in the beaches back in LA.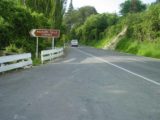 We continued our drive back to the Chateau Tongariro at 5:15pm. We passed through the city of Wanganui, which was quite impressively large. But we didn't linger and headed north directly on SH4. The late afternoon sun was telling us it was getting dark and we had to at least see Raukawa Falls before then.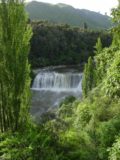 So after going through more twisty and hilly roads, we finally made it to the roadside waterfall at 6:30pm. The falls was already in shadow and we were kind of looking against the setting sun, but it was a memorably wide waterfall nonetheless.
As we made our way back home, Julie and I decided on a whim to have dinner in Ohakune. We already had our fill of the fine dining at the Chateau Tongariro so we opted to try something different for a change.
So we arrived at Sassi's Bistro in the Alpine Motel in Ohakune at 8pm. We didn't expect much out of the humble place, but the dinner was surprisingly good. Julie had some freshwater fish and I had lamb. It seemed like everywhere we went they had mussels and lamb. Still, we liked the food and happily returned to the Chateau Tongariro at 9:30pm.
Before we slept, we hoped against hope for the Tongariro Crossing hike tomorrow and called one of the shuttle companies for a booking early in the morning. Fortunately, someone picked up and told us we were good to go…
Day 13: AT LAST… MORDOR
When I awoke before the sunrise anxiously hoping the weather was good, I braced for the worst. But one look outside the window and my fears subsided…
…clear skies!
Julie was still asleep as it was a bit early (5am to be exact), but I wasted no time going outside to take some photos. There was Mt Ngauruhoe and its conical shape sitting in the distance behind the Chateau Tongariro. So this was what I had been missing the last few days! There was also the snow-covered Mt Ruapehu towering over the whole seen above Whakapapa Village.
After taking the photographs, I returned to our room to finish packing. By now, Julie was awake and she already got busy. We then loaded up the car and left it after checking out at the Chateau Tongariro. The staff said they never had anyone break in to a car on their property so I sure hoped we weren't going to be the first…
Even though we were told the shuttle would pick us up at 7am, it didn't actually happen until 8am. Since we had to get to Hamilton by tonight, I was a little worried about this delay. But we were still able to do the Tongariro Crossing and we were determined to make it happen!
It was 8:30am when we started hiking from the Mangatepopo Car Park. There were already hordes of other trampers on the track. It almost seemed like a big continuous line of people. Greeting would-be trampers were signs clearly stating that the track passes through private lands and urging trampers to respect the lands by not bathing in the sacred Ketetahi Hot Springs – or else cause the closure of the Tongariro Crossing Track. At this point, it was clear to me that those shuttle companies claiming to let you bathe in the hot springs was bunk. The shuttle company we took to get here was one of them.
The skies looked cloudless and there was Mt Ngauruhoe towering above the track against the sun. So after the initial bathroom break, we enthusiastically embarked on the tramp.
We passed through mostly brown tussock grasslands with some barren areas of volcanic rock. The track was very well defined though a bit crowded. Ephemeral streams flowed alongside parts of the track resulting in a few tiny cascades and waterfalls.
By 9:45am, we made it Soda Springs. It was a weeping spring that came out of a percolating mountain and sprayed its way between more tussock vegetation. The short detour to the falls was a bit nontrivial due to the presence of mud. If you didn't watch your step, you might end up knee-deep in it!
After this brief interlude, we had to continue. Now was the first significant stretch of climbing we had to do. We had to go up a very steep dried up lava flow and ascend what seemed like 1000ft to the Mangatepopo Saddle. We huffed and puffed our way up and eventually made it to the saddle by 10:45am.
Catching our breaths and having a brief snack, we continued onwards through the South Crater. Unfortunately by now, the clouds suddenly rolled in and instantly took away that cheery feeling we started the day with. Boy I really wished we left on time so we would've had an extra hour to enjoy it…
While in the South Crater, there was a signed detour leading to the summit of Mt Ngauruhoe. Seeing how it required at least three hours and the clouds have now obscured its summit, I saw no point in doing this detour. I think we woud've been pressed for time anyways as we had to get back to the Ketetahi Car Park in time for the shuttle pick up.
So onwards we walked. At the end of the South Crater, we had to do more climbing. The Mangatepopo Saddle climb took a lot out of us already and we had to suck it up to endure more of it.
By 11:20am, we made it to a rest stop above the South Crater. Still, there was more climbing to do to get to the top of the climb above the Red Crater. We summited the Red Crater and the highest point of the Tongariro Crossing at about 12pm.
The smell of sulfur was evident up here and we could see steam coming out of the aptly named Red Crater. Looking down in the direction of the trail, we had mind-blowing views of the strangely neon-colored Emerald Lakes. Too bad there was cloud cover because I'd bet the sun really would've brightened up these lakes considerably.
The trail descended very steeply from the Red Crater in a mix of loose volcanic scree and black pebbles. I saw lots of people slipping and sliding and falling on their behinds on the way down. Julie and I slid down to the shores of one of the Emerald Lakes in 15 minutes. There, we had a lunch and pondered the mind-boggling scenery before us.
We resumed hiking at around 12:40pm and walked through the Central Crater, which still had patches of snow. Looking back at the Emerald Lakes and the Red Crater, we could see that profile of that crater and indeed we were on its rim.
At the end of the Central Crater, we had yet more climbing to do. Fortunately, this wasn't as bad as the previous ones and it wasn't long before we were out of the volcanic moonscape and into the brown tussock grasslands of the north-facing slopes.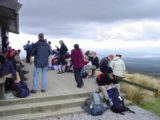 Up ahead was an expansive panorama of various lakes, forests, and farmland down below.
By 2:15pm, we made it to a very crowded Ketetahi Hut. Heaps of people were here catching a break or mingling with other fellow trampers. The queue for the toilet was very long. I didn't bother but Julie had to go.
Contuining down the track, we crossed a thermal stream. The smell of sulfur was strong here but onwards we walked. It wasn't long after this crossing that I noticed an intriguing two-tiered waterfall off to the right. No one ever said anything about this waterfall that I could tell so I took photos of it while trying to stay out of the trampers' way on the narrow track.
Not long afterwards, the track descended into the bush. It was strange to see this much green after all the volcanic moonscapes we had been through. Julie and I finally made it back to the Ketetahi Car Park at 4pm. We unwound along with the rest of the trampers and awaited our shuttle bus, which showed up exactly at 4:30pm as promised.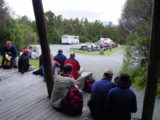 It took a little while before the shuttle took off because the driver was waiting for two more people. After about 15 minutes, we took off – knowing he'd make another stop an hour later anyways.
We returned to the Chateau Tongariro at 5pm and immediately headed for Hamilton. The drive was mostly uneventful, but both of us were tired from the just completed tramp. At one point, we did notice a sign for Omaru Falls, but thought incorrectly it was a roadside waterfall and missed its turnoff. It was only after the trip did I realize the big blunder I made and still wish I could return and do this waterfall!
Finally, we arrived in Hamilton at 7:45pm. Seeing how it was already getting late, we opted to pay for parking and walk around a bustling area where heaps of restaurants were lined up and every one of them was busy. There were lots of young folks catching up with friends or bar hopping. It was not unlike what we'd see here back in the States for Happy Hour or something like that.
Not knowing what place to eat, Julie and I settled on the Lone Star Restaurant. Kinda funny we ended up in a place down under that had to do with Texas. But anyhow, we were hungry and this one had the shortest wait. Inside, it was crowded. The television sets were showing rugby highlights, which was interesting since I was used to seeing ESPN showing NBA, MLB, or NFL highlights. Anyways, we had a hearty but pretty average meal. I got to try out a kangaroo burger, which was unremarkable.
We eventually checked into our accommodation at the Boundary Court Motor Inn, Hamilton at 9:30pm. The accommodation was actually quite nice, which contrasted some of the dumpier ones we had been to earlier on this honeymoon. Anyhow, we slept peacefully as we basked in the memory of our journey through Mordor along the Tongariro Crossing…
Visitor Comments:
Got something you'd like to share or say to keep the conversation going? Feel free to leave a comment below...
No users have replied to the content on this page