The purpose of this page is to reveal to you the resources that we have used both prior to and during our trip to New Zealand. We have reviewed such resources so we can convey to you which ones we thought were most useful as well as those we didn't find useful. Hopefully, this may better direct your information gathering efforts for your own trip…
Driving Scenic New Zealand
Overall Rating: 4/5
This was probably the first of the main resources that I consulted for my trip planning to Aotearoa. It features 58 different driving routes spread over both the North and South Islands. Each route description included a map (which seemed like they were done with Tumonz, which I'll review later, or something like it), points of interest along the way, some select photographs, and some really useful stats on drive times and distances. In fact, I ultimately consulted those estimates to help allocate time in my itineraries for trip planning, especially before we finally got our hands on a MapSource product of the country many years after our first trip.
The book was well organized and all the maps were accompanied with context maps nearby so I was quickly able to pinpoint where in the country the driving routes were covering.
Anyhow, it was because of this book that I had the idea to visit various non-waterfalling sights like the Pancake Rocks, the Bay of Islands, the Waipoua Forest, Egmont, the Forgotten World Highway, the Southern Scenic Route, and more. So its importance as a pre-trip travel resource could not be understated.
As a trip guide in the field, we didn't really consult it any longer as we had gleaned most of the information we needed prior to the trips. As for other miscellany, I found the spiral binding was also nice so I could lay the book flat when browsing through.
A Guide to New Zealand Waterfalls
Overall Rating: 4.5/5
It might seem a bit biased and disingenuous to be putting a review for our own book on our website, but what we'll say about it is that we actually put it to the test on our follow-up trip in 2009-2010 as we had revisited some of the waterfall attractions that we ended up including in the book from our earlier 2004 trip there.
And from following the book, we quickly were reassured that the directions remained relevant and accurate. In fact, prior to publishing the book back in 2005-2006, we had consulted with various employees of the Department of Conservation for fact checking, and it was probably one of the wisest things that we did in composing the contents of this book. Therefore, we had no qualms about giving it the high score because it essentially did its objective of leading the reader to the best waterfalls in the country.
The only reason why I didn't give it a full 5/5 is because it didn't quite cover as much of the waterfalls that I had hoped, which one Amazon reviewer also pointed out. That said, our website remains a pretty comprehensive source covering all of the waterfalls that we were fortunate to visit and write about (even those that didn't make it into the book), but the book has the added benefit of having this information being portable in the form of a full color book along with detailed maps, summary at-a-glance boxes, professionally edited text, directions, and even color-coded tabs so the information herein should be easy to follow while also letting you know about their context as you tour the country.
Being the type of independent travellers that we are, it's intended to be both a pre-trip resource as well as an in-the-field guide. And so even after all these years, we still stand by the product even though things change over time (like some of the unsealed roads stated in the book are now sealed, etc. etc.).
Lonely Planet: New Zealand
Overall Rating: 3/5
Over the years, we've consulted the 11th edition published in 2002 for our 2004 trip, and we also consulted the 2008 edition for our 2009-2010 trip.
The first book we consulted was pretty much one of the main resources we used for planning our honeymoon. It was probably because of this guide that I ultimately incorporated doing both the Tongariro Crossing as well as the Milford Track on our that trip, which lasted a full month. There were other sights mentioned in there like the Franz Josef Glacier as well as the Pancake Rocks, Waitomo Caves, Queenstown, and even Rotorua among others. So they helped determine or confirm some of the must-do activities of New Zealand, and thus I'd consider the resource to be pretty useful.
During our trip, we also consulted it for eating though we didn't use it so much for accommodations since we had stuck with the Golden Chain Motel Pass. Still, LP books have a certain look and feel to them, and they really need to be supplemented with photos from external sources (the ones they include are inadequate since their publishing philosophy is to talk about as much as possible and let you do the imagining or the image searches yourself). They also tend to cater to the independent backpacker market so their coverage of waterfalls were OK though I had other sources that were way better for that.
When we consulted the 2008 edition for our end-of-the-decade trip back to New Zealand, we pretty much followed the same MO of using it for trip planning research, accommodations, and foodie places. There wasn't a whole lot different from the older version though I did notice some subtle changes to some of the maps (maybe the older version wasn't accurate?).
In addition, on the later edition, I also read through the culture sections as well as the history. In fact, it was probably because of this book that we even made a quick stop in Paeroa just to see the L&P facility there since we know this really sweet carbonated drink was a seemingly a uniquely Kiwi institution.
All in all, it's a capable travel resource, and we tend to go to it by default when initiating trip planning. But it's really more of a general guide and they definitely need to be supplemented for more thorough research.
Insight Guides: New Zealand
Overall Rating: 2.5/5
To supplement the text-heavy Lonely Planet guides during our pre-trip research for the 2004 visit to Aotearoa, Julie picked up this book mainly because of the photos. I didn't actually look that deeply into the text that accompanied the photos in the book so it pretty much served as a picture guide to help us get a visual sense of what we were reading about in LP.
That said, I did notice in our 2002 edition of the book that some of the photos showed people in really dangerous spots that I'm sure would be well beyond the established walkways and barricades (e.g. some people scrambling onto the pancake rocks comes to mind). It might actually give the false impression that it's reasonably safe to do those things to get to such spots. Anyways, I thought I'd mention that warning considering it's in a published guide like this.
So besides being a supplementary trip planning resource, it really didn't serve any other purpose for us. Thus, I gave it an average score. In hindsight, I think Julie might have gotten this book more as a spontaneous buy than a calculated purchase to help with the trip planning…
AAA: New Zealand
Overall Rating: 1/5
This was probably the very first guide that I looked at when trying to get a sense of how to plan for our 2004 honeymoon in New Zealand. This was probably due to the fact that we made a visit to the local AAA office and saw these guides while trying to pick up some paper maps as well.
Anyhow, this spiral bound book had a lot of pictures and some suggested itineraries, but when I came to realize that their aggressive itineraries were neither practical nor realistic, the credibility of what I was reading in here really plummeted and I pretty much dismissed it as a resource afterwards.
Just to give you an idea of how delusional some of the itineraries were, they had advocated 4- to 5-day itineraries covering Auckland to the Bay of Islands to the Coromandel Peninsula that included round-trip day trips covering hundreds of kilometres (with a flight in there, too?!?). Their 5-day South Island itinerary that covered the Southern Alps from Queenstown to Milford Sound and went as far as Central Otago seemed even more rushed and unrealistic.
Then again, AAA is really more of a driving club, and I guess it shouldn't be surprising that they would tend to suggest itineraries that expect you sit in your car for the majority of your trip. I guess to each their own, but it certainly wasn't very useful to us, where we try to fully experience a place rather than oversimplify the experience to just looking out the window of a rental car or campervan.
Lonely Planet: Tramping in New Zealand
Overall Rating: 2/5
When I received this book and started browsing through it for hiking ideas, little did I realize that this guide really should be re-titled to say "trekking" as opposed to "tramping". All of the suggested hikes in the book were of the multi-day variety, and they covered all of the Great Walks, including the Tongariro Northern Circuit and the Milford Track, both of which we would walk part or all of. So I paid particular attention to those sections just to get a better sense of what we had signed up for regarding those hikes.
As for the rest of the book, they covered places that I knew we wouldn't have time to cover (e.g. Lake Waikaremoana Circuit, Hollyford Track, Heaphy Track, etc.). I guess it's hard to imagine reading through those chapters and getting something meaningful out of the text when in the back of my mind we wouldn't be doing those treks. And I was a bit disappointed that there were hardly any of the shorter day walks and hikes included in this book, especially since those were the more likely excursions we'd be doing.
So in the end, this is more of a backcountry backpacking or serious trekking resource and less so of a walking guide that most people would be experiencing on limited time. It was thorough, albeit very text heavy with few photographs to help illustrate what each hike was talking about. To be honest, I picked up this supplementary LP resource hoping to find more waterfall hikes to pursue, but this book really didn't have any focus on those as hiking destinations. They were more incidental attractions to larger and more involved treks.
Kiwi Pathfinder: North Island & South Island
Overall Rating: 2/5
Julie and I picked up these spiral-bound road atlases during our 2004 visit to New Zealand strictly as backup in the event that our electronic means of datalogging and navigating might fail. The benefit of having these road atlases was that they pretty much focused on cities and towns throughout the country (there were two books – one for North Island and one for South Island), where they contained street-level detail that we could follow and corroborate with our electronic maps, which didn't necessarily have good detail of such towns and cities as these road atlases.
Fortunately for us, we didn't have to consult these books under emergency circumstances and so these no frills road atlases were pretty much collecting dust for as long as the electronic means of research and navigation were working.
All of the maps in these road atlases were colored and the roads were pretty easy to follow as they were well-labeled. There was also an index containing the grid locations of each street name leading back to the correct map and location on it. So all in all, it was pretty useful for backup, but not totally needed given other resources.
Tumonz
Overall Rating: 4/5
I learned about this map product on a backpackers board while doing trip research of New Zealand prior to our 2004 honeymoon. Little would I realize that we ended up with a very well-done and thorough product that covers all of New Zealand with points of interest that you definitely wouldn't find in more available resources like GoogleMaps and even MapSource. In fact, once I got a hold of the product, it became the primary means of trip planning (for our 2004 visit) regarding our routes, the estimated distances, and it even helped me discover some waterfalls that weren't that well known to begin with (though they'd eventually wind up becoming more prominent after we published a book on New Zealand Waterfalls).
So I definitely have to credit Tumonz for putting LINZ survey information in a way that was accessible via this vector-based map tool. The only gripe I had with it was the interface was a bit counterintuitive and took a lot of getting used to. For example, not only did it take time to figure out how to move the map and not always zoom in and out, but saving tracks and waypoints to the map weren't intuitive either. That said, we were using a version that only worked with Windows 98 and perhaps they might have cleaned up the interface in later versions. In any case, all later revisions of Windows beyond Win98 rendered this software unusable (I definitely can't use it anymore with Windows 7). So at some point, I will have to pay to upgrade to their latest software in order to regain usage and access to the information therein.
I get the sense that Tumonz was really more of a GIS-type product for professionals having to require such detailed geographic information for the purposes of land surveying, real-estate, fishing, sea charting, and more.
The cover of our DVD case said the product was not to be used for navigation purposes, but we actually did do it for that purpose in our 2004 trip with success. Eventually, this product gave way to MapSource, which had the functionality and navigation as well as some decent map detail that we used for our 2010 trip (and trumped Tumonz as a useful resource for those purposes), but there's definitely value in getting the place name and location information that Tumonz possesses that other products out there simply lack. In a way, I miss being able to access such information since our old copy of Tumonz is obsolete.
So with all things considered, it's that detailed info that's not available anywhere else that I'm giving this product a high score despite its shortcomings.
Mapsource City Navigator New Zealand
Overall Rating: 4/5
During our 2009-2010 follow-up trip to New Zealand, Julie and I actually had another one of those calamitous moments where the GPS unit died on us and we had to go to a Dick Smith's to buy a Garmin Nuvi featuring both Australia and New Zealand maps right on the spot. It turned out to be a good investment, and its map contents were pretty much consistent with our actual MapSource CDROM software that we had consulted for pre-trip planning at the time.
Anyways, this review is for that CDROM, which also served us in the field as I was immediately able to download waypoints and tracks from the newly-bought Nuvi onto the laptop, where we had already pre-loaded this CDROM software before even getting to NZ. In fact, there were a couple of moments where I did some last-minute research using the MapSource software on the laptop to essentially plan out which waterfalls we'd be visiting next where the pre-trip research was lacking.
Speaking of the pre-trip research, the product had some of the waterfalls we were targeting, but this product was really geared more towards finding businesses like accommodations and restaurants. The only place names that we could search for were for obvious major sights. However, when it came to finding more exotic and obscure places on a computerized map, I think Tumonz is still far more thorough on that end.
So even though we really didn't have to use the MapSource CDROM software in the field like we had done in Australia, Japan, and later in Canada, the Southeastern US, and New England areas, it was still a valuable resource to have both for trip planning and to alleviate the GPS waypoints and tracks stored in the unit during the trip. And for that, I gave this product a pretty high score.
New Zealand Mapped GPS (PolyMedia)
Overall Rating: 2/5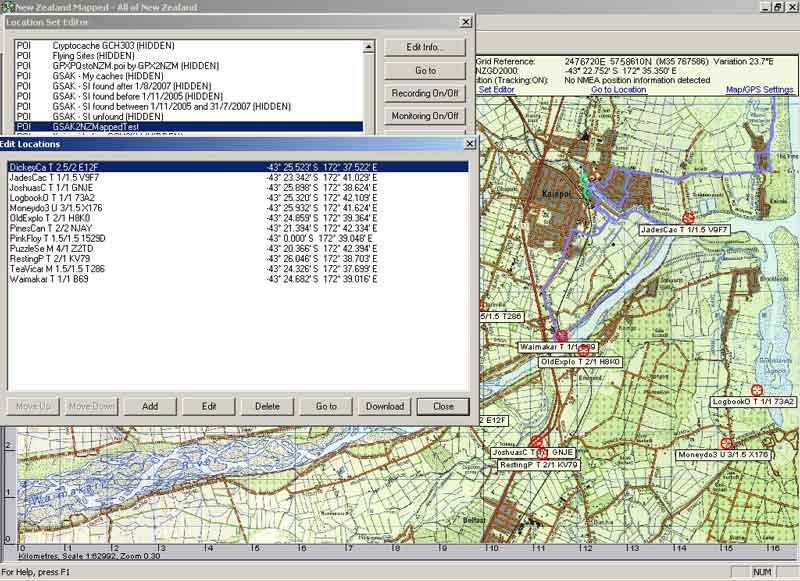 This was an alternate map product that I had used prior to our 2004 visit to New Zealand. I thought it might have been a good supplement to the Tumonz software that I had relied upon, especially considering the raster-based topographic maps in the product were on the 1:50k scale.
Unfortunately, I found the interface of this product to be very difficult to use. There were also installation issues where the product wouldn't work until after two or three installs, and it wasn't clear to me why it would suddenly start working after multiple installs.
Aside from those buggy issues, the product was pretty much unusable in my mind because of the interface. The map navigation was so small and the navigation controls dominated much of the monitor. Perhaps the one thing I did like about this product was that it included map information that wasn't in Tumonz such as the heights of some of the waterfalls. There were also some contour line detail that Tumonz didn't necessarily have either.
So taking the good with the bad, this map product had limited usage, but in the end, it would end up collecting dust. If you're still looking for this product, it appears that currently, it seems to be no longer on the market, and I think the company PolyMedia Ltd may not exist anymore.
Visitor Comments:
Got something you'd like to share or say to keep the conversation going? Feel free to leave a comment below...
No users have replied to the content on this page