This itinerary was actually one-half of a two-country, 3.5-week trip encompassing both Japan and Taiwan. In this itinerary write-up, we're only focusing on Japan since this leg of the trip could easily stand out as its own Japan self-driving itinerary covering quite a few off-the-beaten path locations.
In addition, this was one of those bucket-list trips where I got to spend precious time with my parents as Julie and Tahia stayed at home. That alone made the circumstances somewhat unusual, especially since it took everyone well off their own comfort zones while uncovering new experiences and possibilities along the way.
So here are some the highlights and the trip logistics of how we made the Japan leg of this trip happen…
Trip Highlights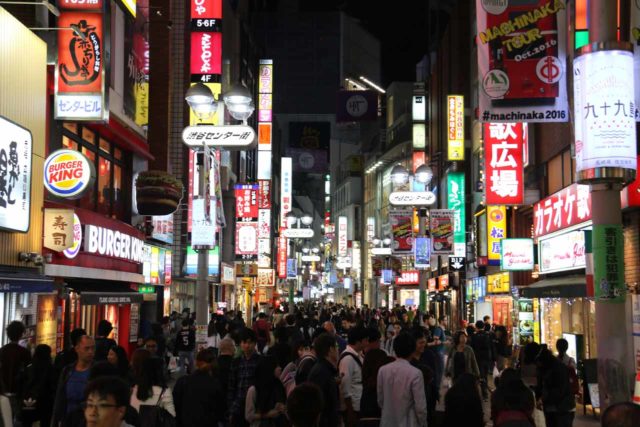 The Tokyo Night Life – if you think the energy at night in New York's Times Square is something to behold, wait until you experience the multitude of Times Square-like energy of Tokyo. On this trip, my parents and I strolled amidst the crowded alleyways and streets of the Shibuya District, and we were all swept up in the electricity and energy of the place.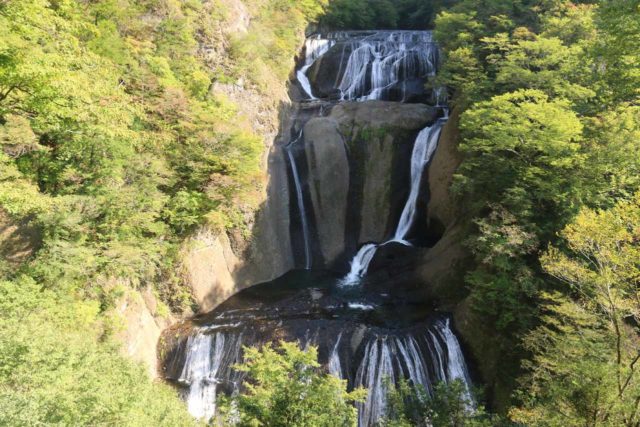 Fukuroda Waterfall – We almost screwed ourselves out of visiting this impressive waterfall because we outsmarted ourselves by catching the wrong train to Mito Station and missed our connection to Fukuroda. Fortunately, we did have a second chance a couple hours later, and we did eventually get a late afternoon visit before returning to Tokyo right during rush hour. In addition to the falls itself, there were other trails to explore as well as a couple of shrines, tunnels, and food stands along the way.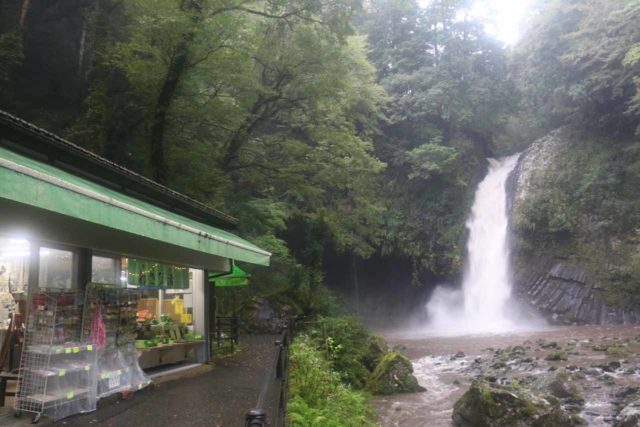 Joren Waterfall – this was our first self-driving waterfall of this trip, and it occurred under some pretty rainy weather so the conditions were less than ideal. Still, the falls was gushing, and it gave us a taste of a Natural side of Japan that most foreign visitors don't get a chance to see.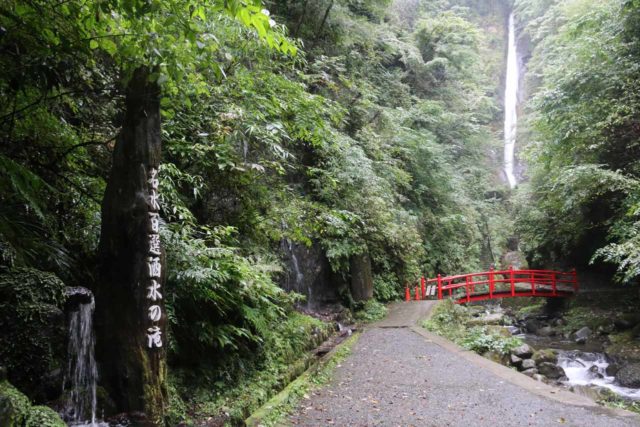 Syasui Waterfall – on the same day as our first day of driving in Japan, we also visited this "wine" waterfall, which also featured a couple of shrines along the way. We were all alone at this falls, which further added to the mysterious ambience, especially when at one of the shrines, some kind of music suddenly played when we approached it…
[expand title="MORE" swaptitle="LESS" trigpos="below"]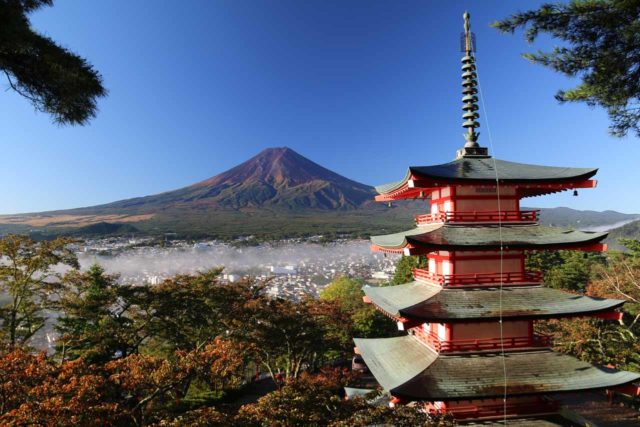 Chureito Pagoda – this was arguably the best places to view Mt Fuji, especially since we got to view the famous mountain juxtaposed with a classic Japanese pagoda. Our circumstances were even more improved with the clearing storm overnight, which presented us with a very clear view with the fog burning off down below. It was certainly one of those wow moments that stuck with us long after this trip was over. And even the stairs leading up to the pagoda from one of the lower parking lots was atmospheric itself.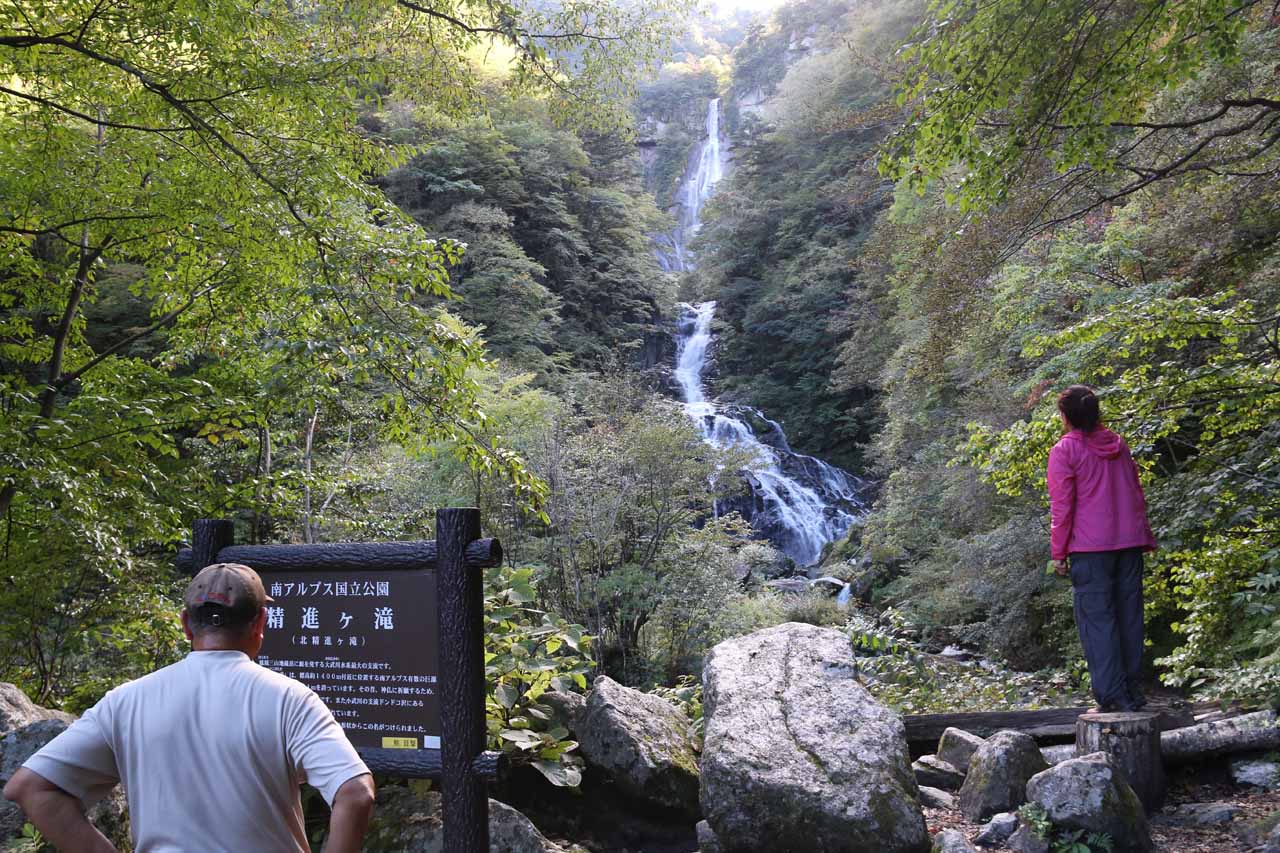 Shoji Waterfall – we took a detour to visit this fairly remote waterfall during the drive between Kawaguchiko and Matsumoto. Even after having a little trouble finding the parking lot to start the hike, we then had to do the hike itself. But the reaction from my parents upon witnessing this waterfall was a combination of an audible awe and relief that the effort was all worth it! If you see the YouTube video that I posted in the corresponding waterfall writeup, you can hear their reaction when they first saw it!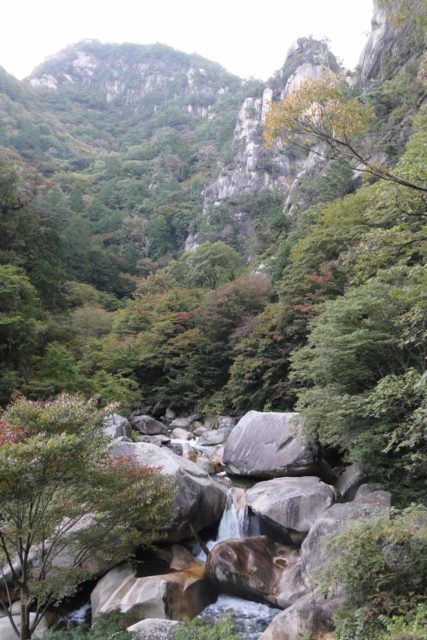 Senga Waterfall and the Shosenkyo Gorge – this attractive plunging waterfall was really our excuse to explore the impressive Shosenkyo Gorge, which was a tall and narrow canyon full of overhangs, bridges, and large boulders that managed to tumble their way down the canyon cliffs. Adding to the ambience were some shops further upstream of the falls as well as a stand that was further downstream along the Shosenkyo Gorge. It was yet another place off-the-beaten-path that not many foreign visitors get to see.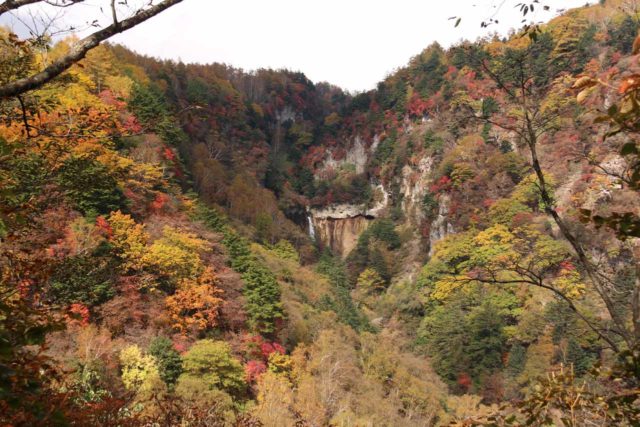 Jofu Waterfall and the koyo in the Nagano Mountains – we actually didn't make it all the way to the base of this waterfall due to a trail closure, but the drive to get all the way here as well as the distant views of the falls had allowed us to experience a more wilder and volcanic side of the Nagano Mountains. Not only that, but the koyo (Fall Colors) were definitely in full effect at these elevations both around the falls, and especially as we got closer to the city of Nagano.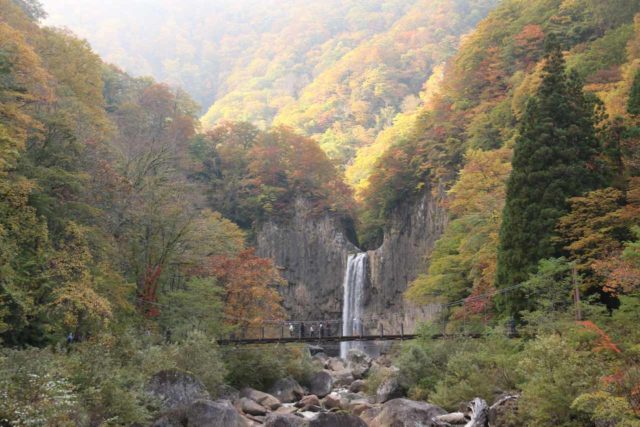 Naena Waterfall – this impressively tall basalt waterfall was further accentuated by the Fall Colors. Even though I doubted that foreign tourists would have known about this place, it was still busy with a tour bus crowd most likely from a Japanese tour. Indeed, it was well-known by domestic travelers for a reason, as you can see in the photo above.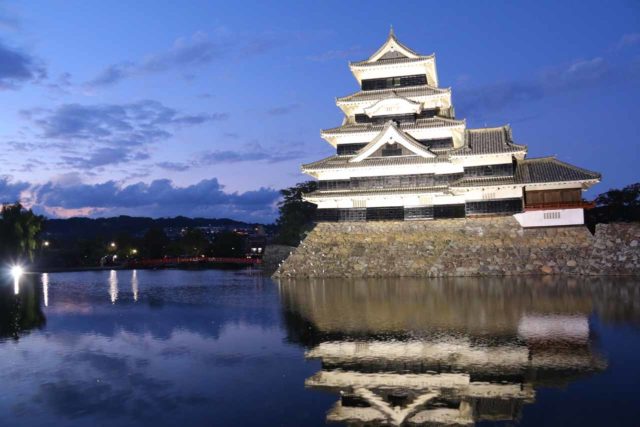 Matsumoto – even though we only had time to visit the city's famous castle from the outside and its Nakamachi-dori District at night, it was still a quaint and charming experience, especially since it was quiet and laid back. Not only did this city have good soba noodle joints, but we were even adventurous enough to try basashi (raw horse meat), which was kind of like a pub fare delicacy in this region.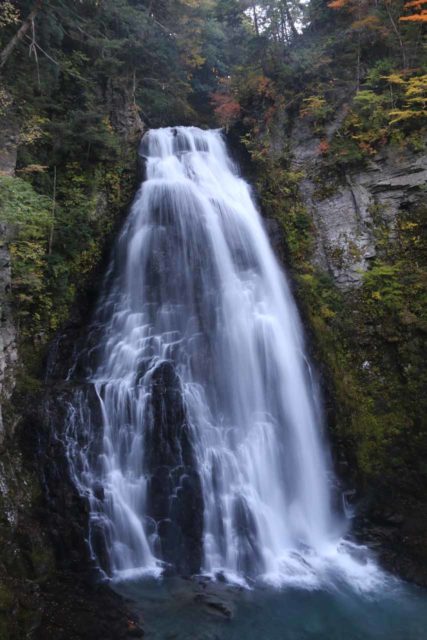 Bandokoro Waterfall – the first time Julie and I went to this waterfall, we tried to force a visit taking public transportation. Being all the more wiser on my second go around by self-driving with the parents, I found this visit to be far more relaxing and coming here in the Autumn was just perfect. While the area looked like it had seen its share of landslides and trail closures, at least the waterfall remained as accessible and as attractive as that first time we were here.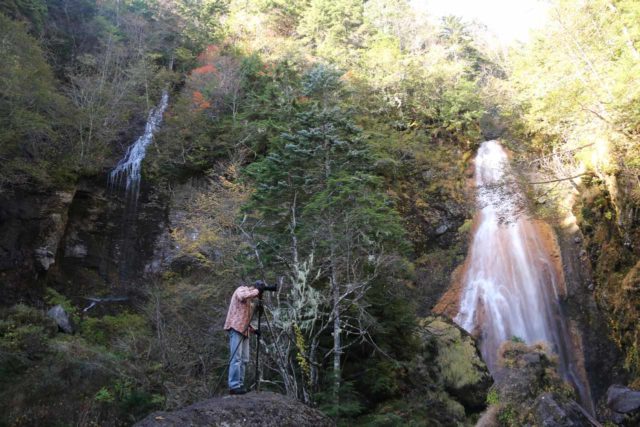 Sanbon Waterfall – true to its kanji description (i.e. interpreting the writing with our own knowledge of Chinese), this three-piece waterfall attracted quite a few tripod-wielding photographers that were out and about this early in the morning. There were also other impressive cascades en route.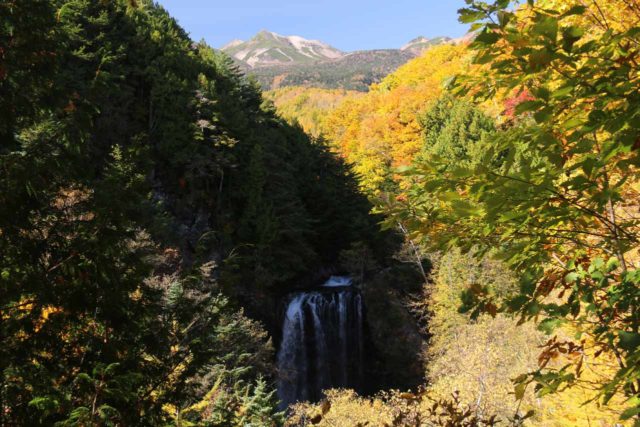 Zengoro Waterfall and the Norikura Highlands – this was the third waterfall of our waterfalling binge of the Norikura Highlands, which also exhibited some attractive koyo. Although we were starting to get waterfall-fatigued at this point, being within the refreshing spray of the falls as well as banging on the Japanese version of bear bells made this hike all the more memorable and fun.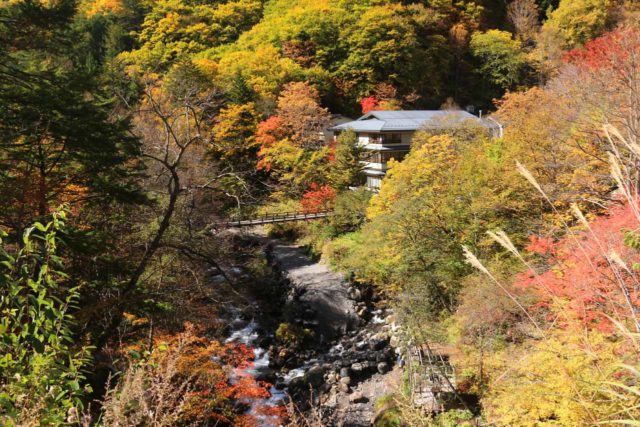 Shirahone Onsen – it doesn't get much more zen than a relaxing time bathing in the hot springs while looking right at the Fall colors (koyo) surrounded by serene mountains and picturesque temples and buildings blending in with the scenery. While vegging out buck naked with perfect strangers and my Dad, all that awkwardness just melted away once we allowed ourselves to be in the moment…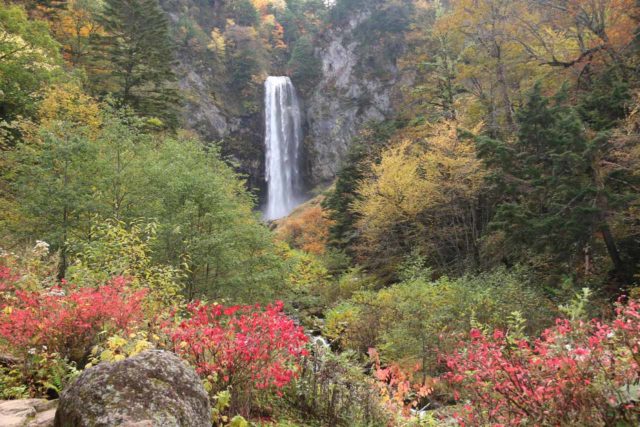 Hirayu Waterfall – this was up there as one of my favorite Japanese waterfalls (and certainly my favorite one of this trip). With all the colorful flowers and koyo surrounding this impressively tall waterfall, my parents and I totally savored the experience, even despite being the fifth waterfall we saw on this day as waterfall fatigue was setting in. That just spoke volumes about how nice this waterfall was!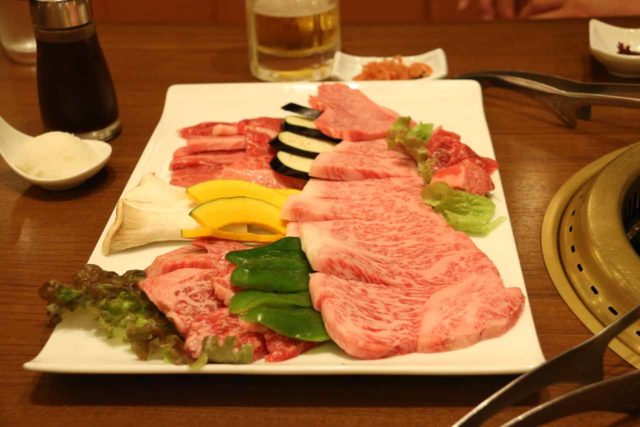 Hika Steak Dinner in Takayama – my parents and I celebrated my birthday with a nice Hida Steak dinner, which was well known in this part of north central Japan. Much like how Kobe beef done "Benihana-style" is known around the world further south by the city of Kobe, up here in the Japan Alps, they do Hida Steak like you'd do Korean BBQ – i.e. you self-cook it. We got to do exactly that with different cuts of the beef, and the fact that I got to do this with my parents in a magical spot of Japan just made the day all the more perfect!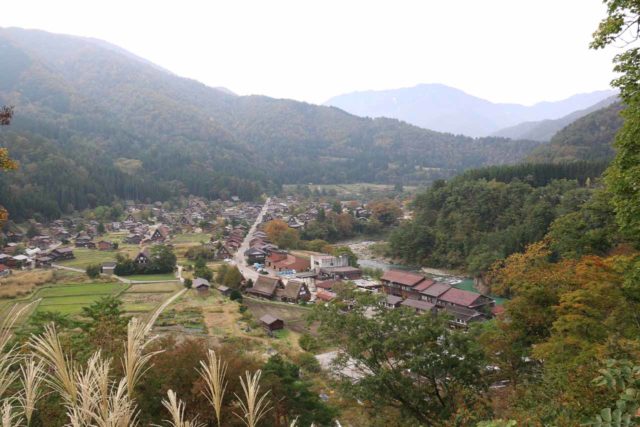 Ogimachi in the Shirakawa area – this charming town was full of the traditional thatched roof homes in the Gassho style, which was something we didn't typically see elsewhere in Japan. The town was refreshingly virtually vehicle free, which further added to the ambience.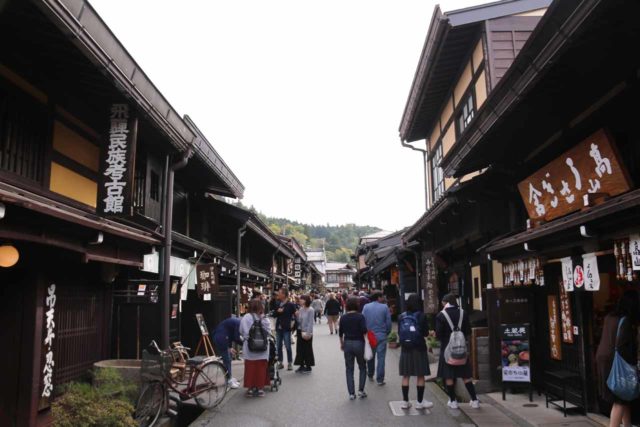 Takayama – in addition to Hida Steak, we also got to experience Soba Noodles (with real wasabi) as well as sustainable sushi served on rice crackers (no takeout styrofoam). And we managed to experience all those culinary treats while strolling the charming wooden alleyways of the Sanmachi in the city's downtown area. It was definitely a hit with tourists and locals alike as the narrow pedestrian streets were buzzing with people.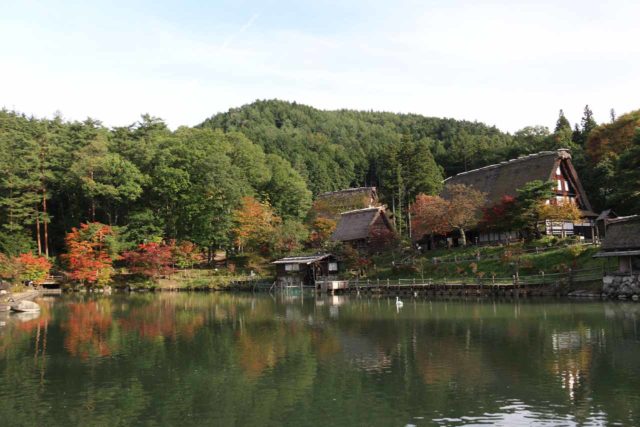 Hida Folk Village (Hika-no-sato) – this was really more of a cultural experience as the people who run this place did a great job restoring and re-creating traditional Hida-style buildings and interiors exhibiting what life was like back then. Mom and I certainly learned quite a bit here while also getting quite a bit of mountain scenery in the outskirts of downtown Takayama.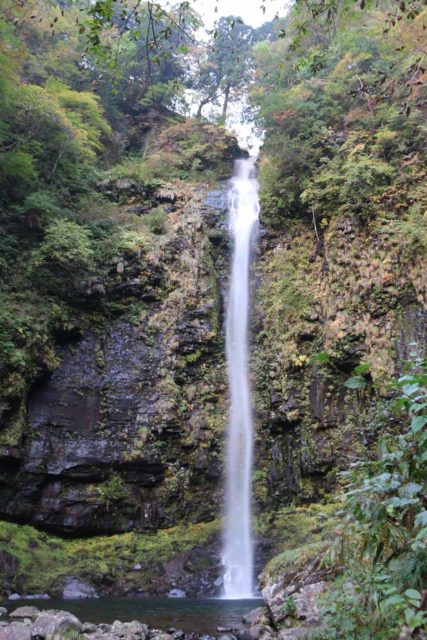 Amida Waterfall – we made the detour this impressively tall waterfall while doing the long drive from Takayama to Inuyama and eventually all the way to Tottori. Our early morning visit was perfect to set us in a relaxed mood as zenning out was becoming the norm on this self-driving trip.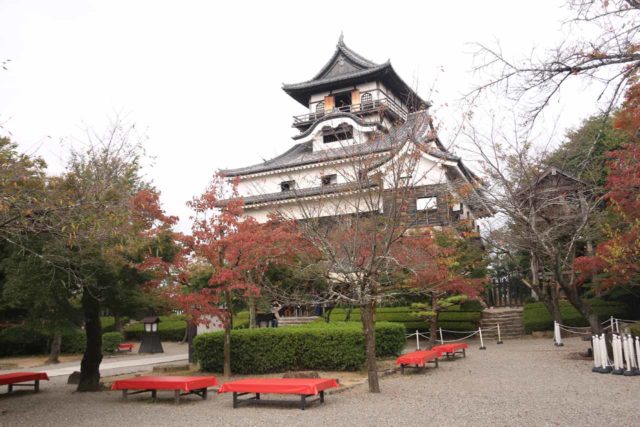 Inuyama Castle – this was one of Japan's oldest intact castles and when we climbed to its top, we were able to overlook the Inuyama River, which was said to be Japan's version of the Rhine. Surrounding the base of the hill upon which the castle stood upon were a series of attractive temples dedicated to dogs (apparently the kanji character in the castle's name was an old Chinese character meaning dog).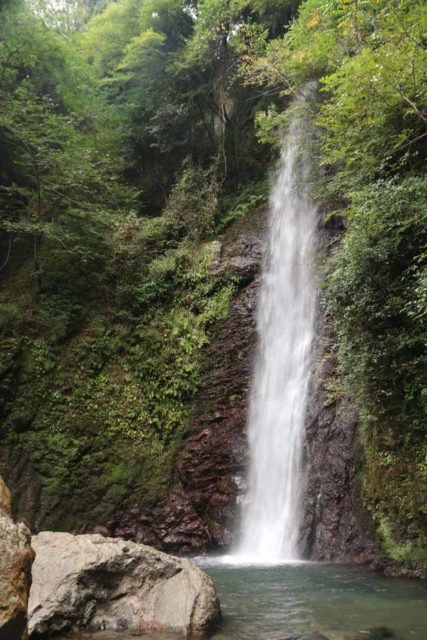 Yoro Waterfall – contrasting the intense industrialization in the flatlands to the east of the foothills containing this waterfall, this place was a refreshing (and popular!) escape. Yet even despite its popularity, we seemed to be the only foreign tourists there, which further reinforced to us that we had stumbled upon one of those gems known only to Japanese locals and tourists.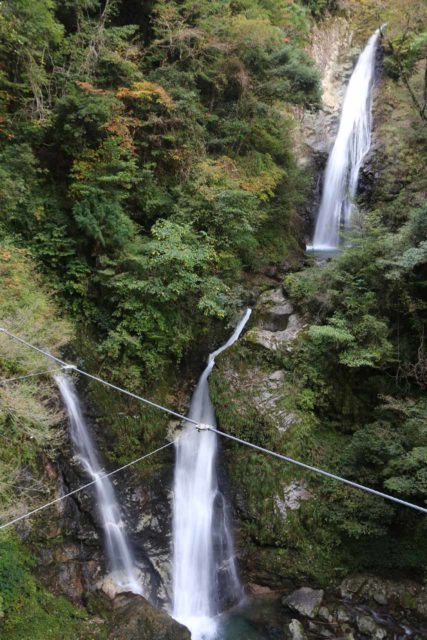 Harafudo Waterfall – this attractive multi-tiered and multi-segmented waterfall had a strange translation as something like "Stand Still" according to our interpretation of the kanji. This was definitely off the beaten path as we were essentially straddling the border of the Tottori and Hyogo Prefectures in the mountains well away from the more visited spots of Osaka, Kyoto, Kobe, and Himeiji. But that just made for a very relaxing and zen experience.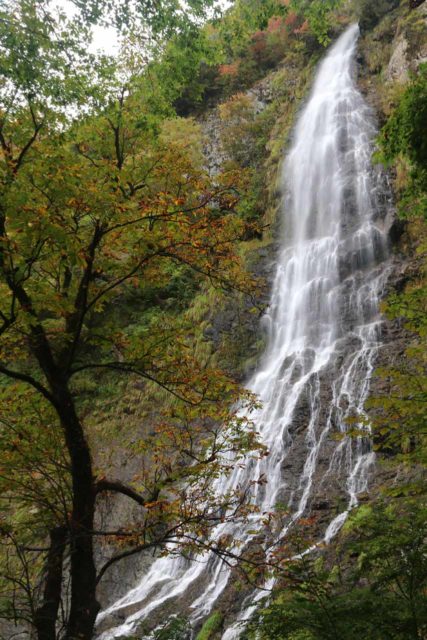 Tendaki Waterfall – translated as the "Heaven Falls", this was certainly a tall waterfall forcing up to look up at the heavens towards its top. There was a little shrine fronting the falls as well as several smaller scale waterfalls on the trail to get up here. Being in a very Naturesque and less-touristed part of the Hyogo-Himeiji Prefecture boundaries, we once again had a relaxing experience.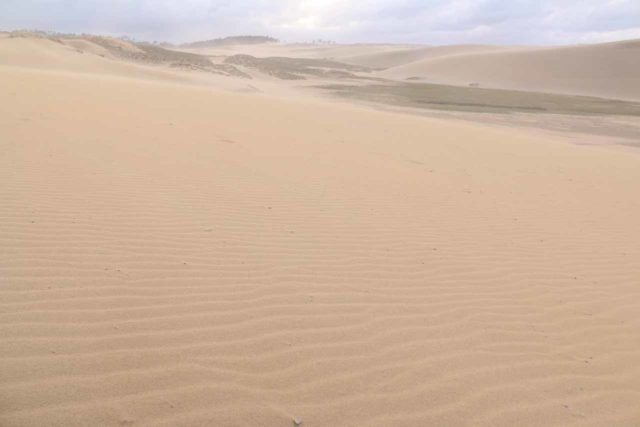 Tottori Sand Dunes – one of the more unusual experiences in Japan, the presence of these giant dunes with blustery winds kind of reminded me of the Oregon Sand Dunes, especially given their similar lattitudes and their close proximity to the Pacific Ocean. They even offered camel rides here, which had to have been one of those eye-opening scenes where you'd never expect to see camels in Japan! Once again, my parents really enjoyed their time here, and had my daughter been here, she could have easily played for hours and not be willing to leave!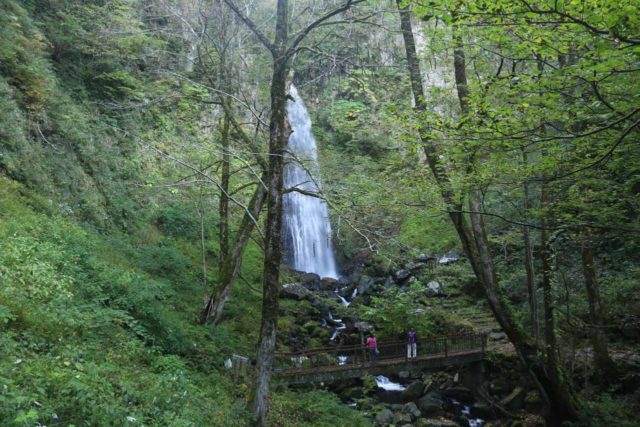 Amedaki Waterfall – well-signed from the city of Tottori to get here, this excursion actually included another waterfall as well in Nunobiki-no-taki (not to be confused with the one in Kobe). With our early start, we were the only people here, but I'd imagine that situation could easily change later in the day given its close proximity to the city.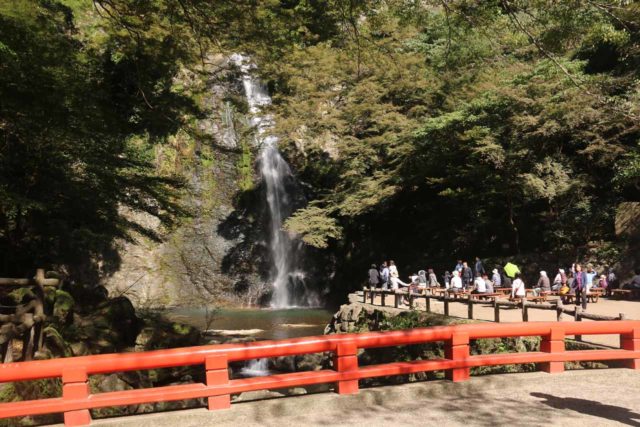 Minoh Waterfall – this attractive waterfall was a short distance north-northeast of Osaka, and thus it was quite popular. Although our visit was a few weeks too early to experience it with the koyo, the falls was still quite beautiful and certainly worth the detour. I understand it was quite easily visited via public transport though we had self-driven here so perhaps that might be an option the next time we're here.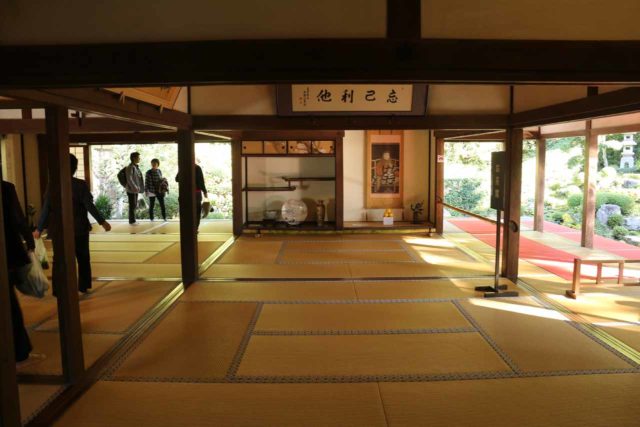 Sanzen-in Temple and the Otonashi Waterfall – this very zen-like retreat in northeastern Kyoto was one of those places where the "inside" of the temple blended in with its outdoor gardens and surroundings. It was easy to just sit here and relax in the quiet ambience, but Mom and I also hiked from here to the nearby Otonashi Waterfall, which turned out to be the last Japanese waterfall we witnessed on this trip.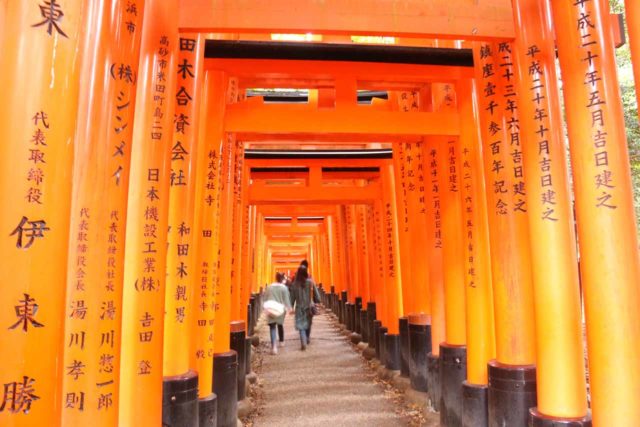 Kyoto – while calling the whole city a highlight might be shortchanging the city itself (since there were a myriad of sights to single out as highlights), we spent a rainy day taking advantage of a bus pass that allowed us to go all over the city from the rock gardens of Ryoan-ji Temple to the Nijo Castle to the torii gates of the Fushimi Inari Shrine (now a very busy tourist attraction). There was definitely much to see and do in Kyoto, and it's easily worth several days stay to truly get a feel for the place.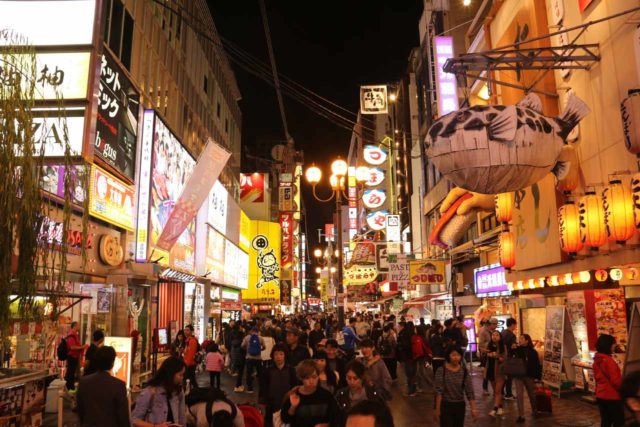 Dontombori District in Osaka – while Tokyo has its electric nightlife, Osaka has its own version of it at the Dontombori District. Even the rain didn't stop people from coming out en masse to experience the electricity of this place. My parents and I even enjoyed a final sushi dinner here to savor our last night in Japan.
[/expand]
Trip Advice

It seems like each time I've been to Japan, the experience has been pleasant; largely as a result of the sense of responsibility exhibited in the Japanese people, the cleanliness, the culture, and the Nature. In this particular instance, we showed up in late mid-October, and it made me wonder if we should have waited another 3 weeks to see the koyo…
Mostly Good Weather: While we did have our share of rainy days, for the most part, the weather was beautiful. While the temperatures weren't cool enough (except in the mountains) to produce the famous koyo (Fall Colors), that was offset by the comfortable hiking and sightseeing weather for most of our trip.
Too early to see koyo: I am probably nitpicking about this, but it would have been nice to see the koyo in the lower elevations to not only see more waterfalls with Fall colors, but also to see the signature temples and famous sights with the koyo as well.  In my estimation, we might have been 3-4 weeks too early for that.  Of course in the high mountains of the Japan Alps near Nagano, we definitely saw the Fall Colors up there.
Cash Is King: Japan is one country where credit cards aren't that commonly accepted (we definitely got the universal Japanese "no" gesture when they cross open hands edge-on like an X). So to get around this, we found that the 7-11 and Circle K convenience stores happened to have ATMs that accept foreign bank cards. Elsewhere (even in banks), we had no such luck. So definitely make sure you have plenty of cash on hand when in the country. Also, the ATMs tend to have pretty hefty bank charges to use them so that's another consideration to make.
Toll Highways: Driving in Honshu is actually quite expensive. We encountered numerous road tolls throughout the country on this trip. Perhaps the lone except was the less-touristed prefecture of Tottori, where the freeways there were actually free during our trip. Elsewhere, however, it wasn't unusual to be paying the equivalent of $20 or even $50 in one shot at a toll booth depending on how long you had been driving for.
Avoiding Driving in Tokyo or any other big city: We actually picked up the car from Odawara and stomached the one-way dropoff fee to leave the car in Osaka (we were on an open JAW trip where we arrived in Narita and left from Osaka). The reason why we took the train from Tokyo to Odawara was so I could avoid driving in Tokyo by choosing not to hire a car from there. Also in hindsight, I really wished we could have driven to the Fukuroda Waterfall instead of taking all day to use the train to get there and back.
Now while I avoided driving in Tokyo, I did drive through Kyoto, and that was not fun. Basically the GPS took us into the city thinking it was the fastest way to get to the Sanzen-in Temple from the highway. But no dice. Instead, what should have been no more than a 20-30 minute drive turned out to be well over an hour!
Japanese GPS: If you can, get the phone number for every accommodation or even any point of interest of wherever you want to go. That's because the Japanese GPS unit that came with the rental car was able to pick up locations and accurate driving directions if the phone number corresponding to the location was in the database.
If not, then you have to either enter coordinates or try your luck at entering kanji (Chinese characters) or katakana (sound characters) and cross your fingers that you'll get a match. If you enter coordinates, the GPS works on nearest distance by default, but that sometimes doesn't work with bridges, one-way streets (especially if you're not familiar with the streets), nor city traffic (which was what happened when we drove through downtown Kyoto instead of around it!).
Travel Itinerary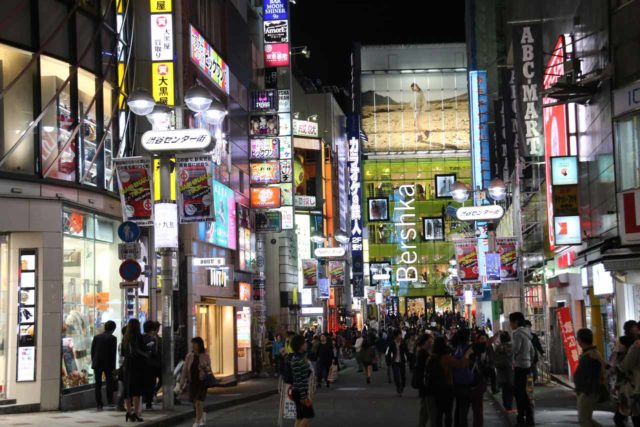 Days 1-3: Fly from Los Angeles to Tokyo
These were long days of travel as we flew to Taipei, then connected with a shorter flight to Narita Airport before taking the train into downtown Tokyo. Once we checked in, we had time to spend the evening checking out the electricity of the Shibuya District of Tokyo.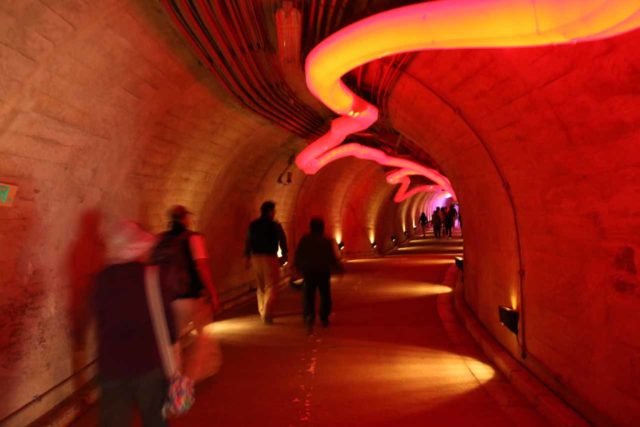 Instead of renting a car and driving out on this day (dealing with Tokyo congestion in the process), I decided we should use the public transportation system to make it all the way out to the Fukuroda Waterfall and back in a day. It would have gone to plan if not for taking the wrong train to Mito, which caused us to miss our connection and have to wait a couple of hours for the next train. This had ripple effects for the rest of the day, but at least we got to see the falls, and still make it back in Tokyo in time for a late dinner. We also got to know the town of Mito a bit better given the unexpected extra time we had there.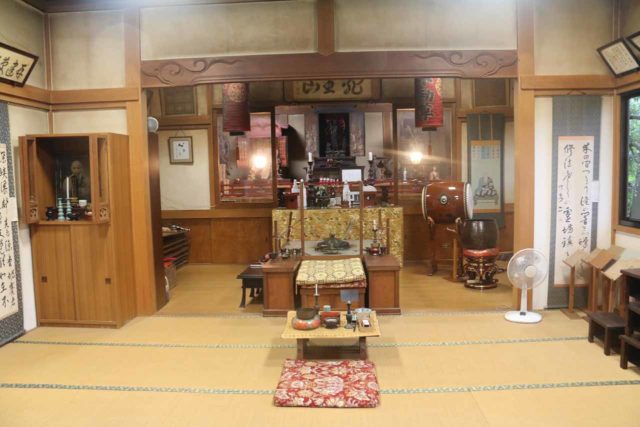 Day 5: Train from Tokyo to Odawara, then drive to Kawaguchiko
Overnight: Mizuno Hotel (Kawaguchiko, Japan)
We began this day with an early morning wakeup to try to get to the Tsukiji Fish Market for some morning sushi. We then took the train to Odawara, where we picked up the rental car and then started self-driving to the Izu Peninsula to visit Joren-no-taki before driving back in the other direction to visit Syasui-no-taki on the way to Kawaguchiko.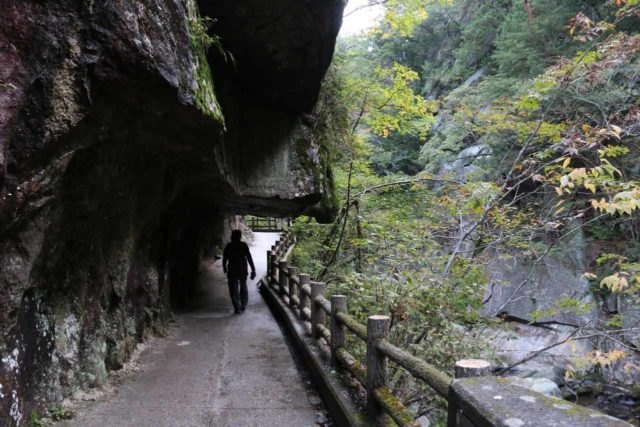 Day 6: Drive from Kawaguchiko to Matsumoto
We started this day with a gorgeous view of Mt Fuji from the Chureito Pagoda. Then we did the long drive to Matsumoto with detours to both Shoji-no-taki and Senga-no-taki, which also featured the attractive Shosenkyo Gorge.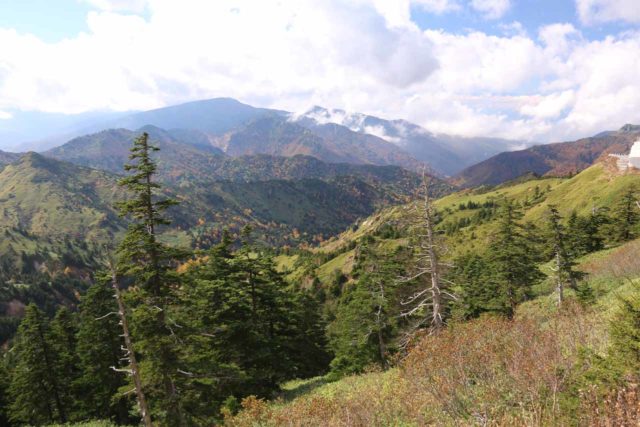 Day 7: Day trip to the Nagano Mountains
We made a long driving loop that started and ended at Matsumoto. Included in that loop was the Jofu-no-taki and Naena-no-taki. When we returned to Matsumoto, we spent the twilight hours checking out the Matsumoto Castle and the Nakamachi-dori District.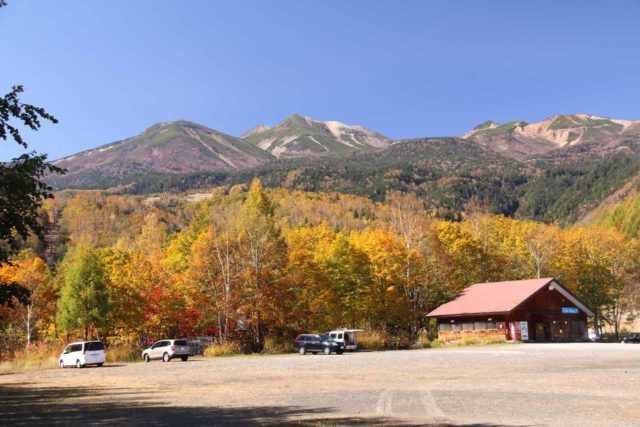 [expand title="MORE" swaptitle="LESS" trigpos="below"]
Day 8: Matsumoto to Takayama
This was a day where we learned from the past and finally got a chance to really explore the Norikura Highlands by self-driving it. Along the way, we re-visited Bandokoro-no-taki, and visited Sanbon-daki and Zengoro-no-taki.
In the early afternoon, we went to the Shirahone Onsen to relax in the onsens there while also briefly checking out the Ryujin-no-taki. Then, we ended the waterfalling with a visit to the impressive Hirayu-no-taki. The evening ended off with a celebratory birthday dinner over Hida Steak in Takayama.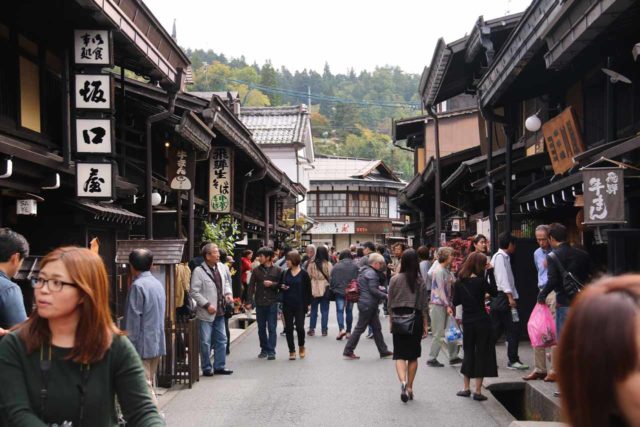 Day 9: Day Trip to Shirakawago and downtown Takayama
Getting a little bit of waterfall fatigue, we decided to make this a non-waterfalling day.
We spent the better part of the morning visiting Ogimachi Village in the Shirakawago area. Then, for the rest of the afternoon, we visited Takayama when it was buzzing with activity. In the late afternoon, Mom and I went to the Hida Folk Village (Hida-no-sato) for a little bit of a cultural experience.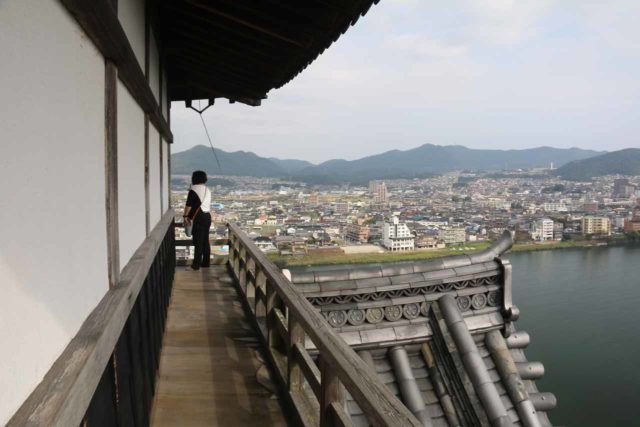 Day 10: Drive from Takayama to Tottori
This was a very long driving day. Along the way, we visited Amida-no-taki, Inuyama Castle, and Yoro-no-taki. Apparently our arrival in Tottori followed a major earthquake that had occurred less than 24 hours earlier.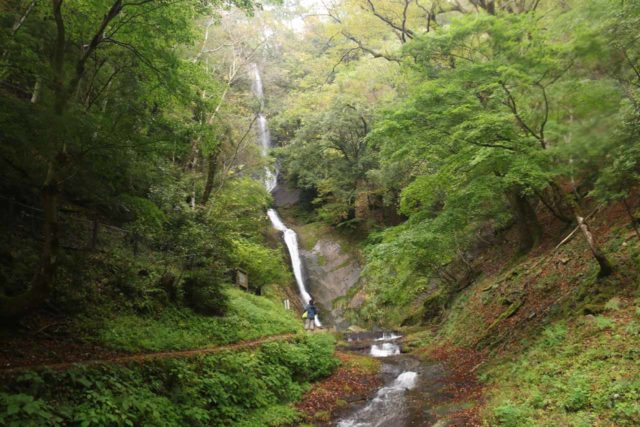 Day 11: Day Trip to visit Waterfalls
We made a loop drive where we headed south and immediately started visiting waterfalls – Harafudo-no-taki, Tendaki, and Saruo-daki. Towards the end of the day, we visited the Anami Coast and the Tottori Sand Dunes.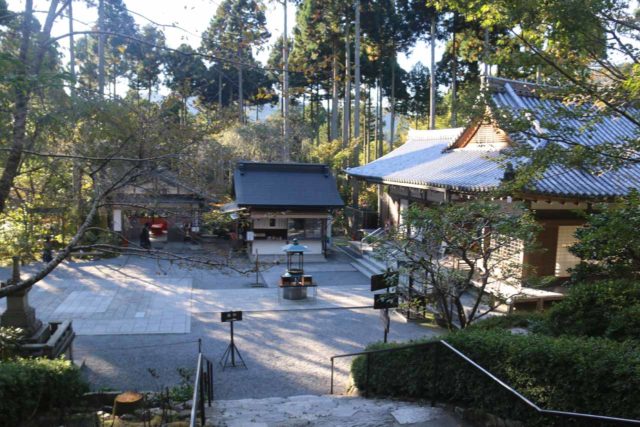 Day 12: Drive from Tottori to Osaka
This was a long drive back towards Osaka. Along the way, we visited the Amedaki and Nunobiki-no-taki waterfalls, the Minoh-no-taki, and the Sanzen-in Temple in northeastern Kyoto with the neighboring Otonashi-no-taki.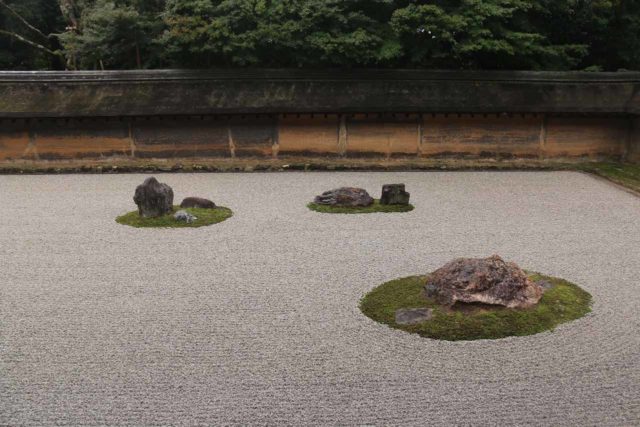 Day 13: Day Tour of Kyoto
On this day, we had already returned the rental car so we had to use the excellent public transportation system to reach Kyoto, then take advantage of a bus day pass allowing us to hop on and off the city buses to experience the city sights like Ryoan-ji Temple, Nijo Castle, and Fushimi-Inari Shrine.
Day 14: Fly from Osaka to Taipei
On this final day in Japan, we took the train to the international airport for our flight to Taipei, Taiwan to begin the second leg of our trip.
[/expand]
Best Places We've Stayed At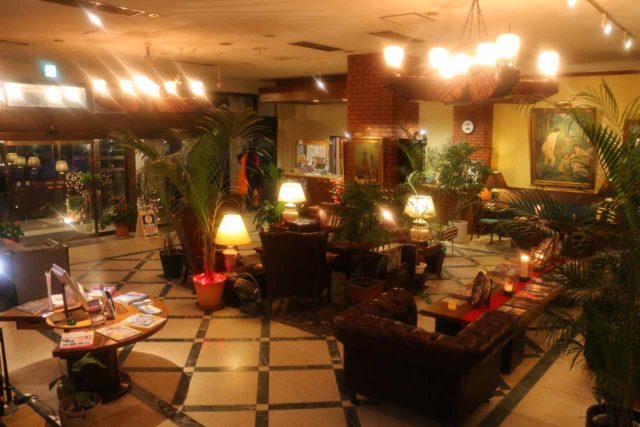 Mizuno Hotel – This accommodation was one of the unexpected surprises as it was the first tatami-style room where the living room doubled as the bedroom with mats that allowed us to sleep on the floor comfortably. The lobby area had a bit of a homey ambience to it with lots of antiques and flowers decorated throughout. There was also a bit of a kitschy bar and fusball play area along with an inviting library.
We also experienced a very nice sukiyaki dinner. The very next morning, I did a little more exploring of the premises and saw that Mt Fuji with Lake Kawaguchi could be seen from near the roof of the accommodation. Indeed, there were lots to remember this place by, and it set the bar high for the rest of our accommodations in the country.
Related Trip Reports
Waterfalls included in this itinerary
Visitor Comments:
Got something you'd like to share or say to keep the conversation going? Feel free to leave a comment below...
No users have replied to the content on this page