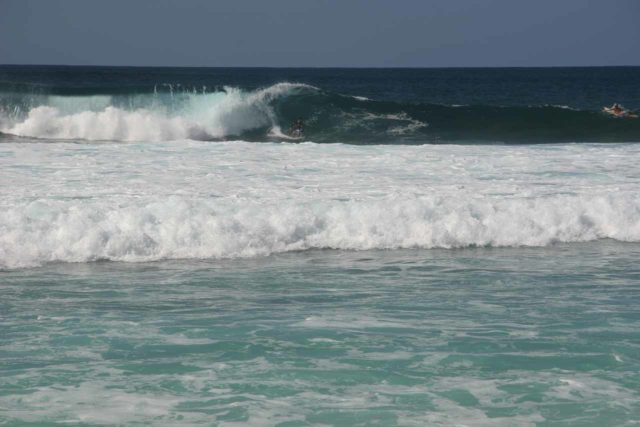 20-January 2007 to 22 January 2007:
We had our fill watching the guys surf at the Bonzai Pipeline and it was time to go. Julie decided for us to take the stairs right behind us and onto a back street instead of walking a ways down the sandy beach back to the car park. And as we walked closer to the car park, a black SUV passed by us as I was looking down to make sure no sand had gotten into the camera bag. Apparently Julie was paying attention because she immediately said, "Honey, that was Cameron Diaz!"
THE SACREDEST OF THEM ALL
After a long and rather eventful day tour to Moloka'i yesterday, we sought a more laid back touring day as we intended to slowly make our way to the North Shore via the East Shore.
As usual, we were essentially using the Blue Book as a companion, but knowing that we intended to spend most of our time on the opposite side of O'ahu, we didn't bother with the sights near the Pali Lookout nor the Diamond Head area.
The drive was mostly uneventful and we were going at a pretty slow pace. It seemed like a longer drive than what most locals would be doing I'm sure, but I figured that we needed a bit of a change of pace from yesterday's full day of events.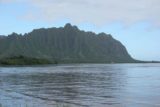 The East Shore didn't seem to get much fanfare in the Blue Book nor in general, but seeing the fluted Pali on the mountains here was kind of reminiscent of a poor man's Na Pali Coast in Kaua'i. Except in this instance, it was way more built-up.
As we passed through La'ie and swung around the Turtle Beach area, we saw that it looked like they were setting up for some kind of surf competition somewhere near Sunset Beach. Julie and I made a mental note to check this place out after going to Waimea Falls, which was our waterfalling goal of this morning.
As we approached Waimea Bay, we noticed some local surfers riding waves here, but the conditions were nowhere near the monster waves that would've given rise to the Eddie Aikau Invitational. It was fitting that I had read about the saying "Eddie would go" that was on license plates and T-shirts worn by locals. Clearly they revered this guy. But when put in context of that surf competition that only takes place when the waves exceed 35ft, I guess that would in a small way commemorate the fearlessness of Eddie Aikau when it came to rescuing people from the violent waters of windward Hawaii.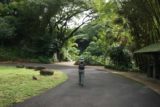 Anyways, by about 10:25am, we made it to the Waimea Audubon Center car park.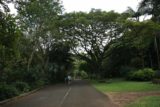 After paying our admission, it felt like we were walking into some kind of manicured theme park. Except in this instance, we were really walking into a built-up botanical garden. Most of the main walkways were essentially paved and it seemed like they were wide enough to let vehicles drive them.
Except we noticed that it was mostly foot traffic and strollers out here.
There were some more primitive trails that caught my eye, and that made me realize that it would take several hours to truly walk all the paths and hike the trails here. I could see a lot of work was put into this place because practically every nook and cranny of this park was full of flora and fauna each with interpretive signs to inform visitors of what they were.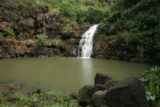 Eventually after several minutes of walking straight ahead on the paved path, we'd eventually get to a point when the pavement ended at a bend and then it curved over a bridge where we got our first glimpse of the Waimea Falls.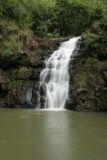 A few minutes later, we got to the waterfall and its large plunge pool. I noticed that there were changing rooms nearby as well as a life guard on duty. So I guess this was one of the more sanctioned swimming holes we had ever seen as the infrastructure here seemed to suggest to go ahead and cool off. You see, prior to this, we always got the sense that we were either unwelcome, trespassing, or taking risks with our lives to be near a waterfall (let alone swim before one). So it was quite refreshing to see at least one place where such activities were welcome.
Julie and I were content to just take photos and take in the scene. I had brought a tripod so we took some couple shots while also experimenting with long exposure photographs.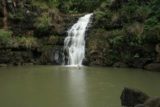 There always seemed to be someone swimming before the falls so they served as subjects to my photographs to at least show the scale of the falls.
By about 12pm, we were back in the car.
At this time, Julie had placed a call to Paradise Helicopter (since they flew without doors) to book a helicopter flight. Since it was expensive for the both of us to fly, and since we wanted maximum flexibility as we did this last minute, it was ok if I just solo and just did a photo tour.
So eventually, Julie managed to book me on a flight that would take place at around 12:30pm. We knew it would take that long to get over there so the plan was to kill some time checking out the surfing tournament at Sunset Beach, and then have Julie take over the driving while dropping me off at the helipad for Paradise.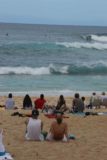 Meanwhile, she'd go on her food search looking for the best prawns on the North Shore according to the Blue Bible.
So we pretty much executed to that plan. Sunset Beach was having a junior surfing tournament and it was kind of interesting to see the kind of competition that we had only seen in movies like Blue Crush prior to this. Although in this case, the waves were moderately sized and some contestants were even trying to generate their own momentum when the waves were losing energy.
By about 12:30pm, I was left alone at the Paradise Helicopter office. It turned out that I would be one of two folks sitting in the back seat, which I knew wouldn't be optimal for photographs.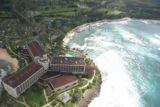 The pilot of our chopper turned out to be a young boy (probably in his teens) who happened to be able to fly and lead a tour apparently.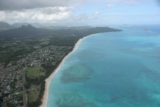 So without further adieu, the chopper tour took off and we were out flying over the North Shore as the pilot seemed content on following the coastlines.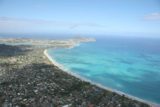 The pilot then flew us through the center of O'ahu giving us a birdseye view of some Dole Pineapple plantation along the way. And then when he made it to the south of the island, we landed us at the Honolulu Airport.
I wasn't sure what the whole point of doing that was as there was clearly nothing to see from the chopper over all the urban developed areas so far. It seemed like he didn't bother with the mountains in the far west of O'ahu, which would be a part of the island we hadn't been exposed to so far.
When the pilot was cleared to take off again, he then continued to fly over Waikiki and then over Diamond Head and the eastern shores over Kane'ohe. I started to wonder if this chopper tour would ever get into the Ko'olau Mountain Ranges, which I knew from previous chopper experiences on other islands would be where the scenic action (i.e. waterfalls) would be.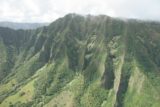 But it wasn't until he got near La'ie did I start to wonder if he might ignore the Ko'olau's completely as the tour had gone on nearly an hour and there just seemed to be nothing to come from it. I also feared that he might forget the Sacred Falls which would be an epic fail if that was to happen on this tour (as it was the only reason why I went on this tour in the first place).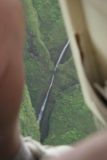 Eventually, the pilot finally decided to go into the gulch containing the Sacred Falls and that was when I felt we finally got something worth seeing on this tour.
Unfortunately, I was sitting on the outside of his circling route so I always had to look across someone in order to get a photo of the falls. He must have circled at least three times without me able to take a photo.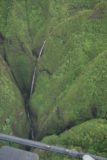 Finally, he decided to do one more circle with me facing the waterfall, but he banked the helicopter the other way so there was always some piece of the chopper in my photographs as I was looking down at the impressive waterfall (which I must say was much taller than I had initially thought).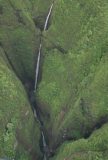 And that was when the pilot flew away and headed back to the helipad.
When the tour was over, I wasn't in the greatest of moods as I felt I got a pretty raw deal on this flight. Bad route, bad photography, and overall it just felt like a waste of time and money. I guess I could see why the Blue Book was lukewarm about chopper flights on O'ahu, but it seemed like this young pilot didn't even consider flying over the most interesting parts of the island till the end.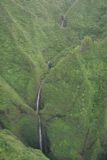 And even then, it seemed like he was essentially flying for his own views and not that of the paying customers (unless you were in the front seat).
Oh well, at least I got my shots of Sacred Falls, but it left much to be desired.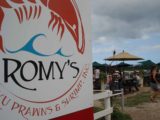 Anyways, Julie and I then went to some prawn place in Wailuku that had a fairly long line at around 2pm. We were essentially picnicking outside under the umbrella of one of the lunch tables, and we were busy getting our hands and bibs dirty as we would dig into our giant prawns ala Boiling Crab style.
We'd eventually be sated and back in the car at 3pm.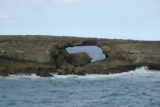 Now since Julie had booked a lu'au in La'ie for tonight, we had some time to kill to linger around the area for a little while longer. So we went ahead and checked out the arch that was created by a tsunami, and then we headed to the Polynesian Cultural Center where we walked around the premises, which was quite large.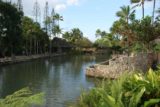 Like the Waimea Audubon Center, it was almost theme park like as there were plenty of places to walk around to. Except in this instance, we were looking more at Polynesian artifacts and displays instead of a botanical garden and waterfall.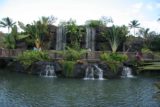 Before we knew it, it was time to get seated to have our buffet dinner and lu'au.
This particular show was pretty interesting in that it was big and they did have fire dancing. We were seated in a stadium-like formation so clearly this was one of the bigger lu'au shows that was professionally done and not one of the amateurish ones done directly at some of the resorts.
When all was said and done, it wouldn't be until 9:10pm when we'd eventually break free from the traffic leaving the Polynesian Cultural Center and drive all the way back to the Ohana Maile Sky Court on the western end of Waikiki.
Indeed, it wouldn't be until about 10pm when we were finally back to the hotel and called it a day.
URBAN ADVENTURES
After another long day yesterday, we decided that we'd focus our sights more on the immediate east and southeast parts of O'ahu.
At first, we had hoped to find the Diamond Head Trail, but they said it was closed. We had also hoped to find the Stairway to Heaven (something that my coworker said he had done in years past), but that too was nowhere to be found.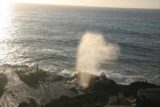 So the first stop (just before 8am) ended up being the Sandy Beach area where we were also to check out the Halona Blowhole over there.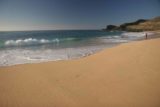 Although we were looking against the sun at this blowhole, it turned out to work in our favor because it seemed to amplify the spray of the water whenever the blowhole went off.
After we were done checking out the Sandy Beach area (which was quiet since I'd reckon most people were still in bed at this time), we then headed a little further north to see the Byodo-In Temple.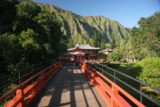 This was actually a surprisingly scenic stop as the red-painted Japanese temple actually contrasted well with the fluted green mountains backing it as well as the blue skies.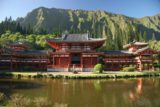 Even though the temple looked like they were about to close, it was ok for us to take photos from the outside, which was fine enough for our little photo ops that we were seeking out.
We were back in the car at about 9:45am and we took our time going back to the Pali Lookout. We'd eventually get there at 10:15am and got the usual panoramic views in the direction of Kane'ohe.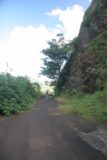 However, we had a bit of an ulterior motive in coming back here, and that was to give Stuart Balls' suggestion of getting to Likeke Falls a try.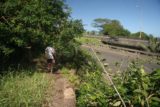 So per his route descriptions, we walked the Old Pali Highway, which quickly became overwhelmed with overgrowth as it appeared this road hadn't been used in many years. Still, we could make out the pavement from the old road despite the overgrowth.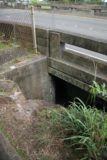 Before long, we were by the noisy Pali Highway near some tunnels. And so with some further searching, we found the rickety staircase descending alongside the highway then forcing us to squeeze our way underneath the highway itself.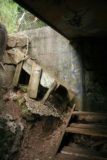 It was kind of strange walking through this little obstacle course of tight spaces with spray-painted graffiti practically in every nook and cranny of this area. Clearly young hoodlums have found this place in addition to hikers.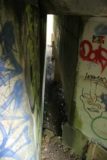 On the other side of the highway, we would regain the trail which now meandered beneath very tall pillars as parts of the highway were high above us now.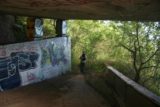 Eventually, we'd reach some old paved roads that apparently no longer support cars again. And shortly after a few more paces of walking on these roads, we found where the trail deviated from the road and became a legitimate trail.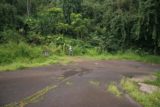 After a few brief switchbacks, we were pretty much in the bush and followed Ball's book to the best of our abilities. Clearly, this wasn't an easy hike and it was a good thing we saw some other folks here who seemed to know where they were going. That kind of made it a little easier for us to find the way, especially in the head-scratching moments.
Finally at around 11-ish, we saw the Likeke Falls, which wasn't tall. But it was pretty attractive.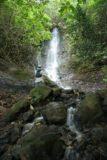 It looked like the trail kept going beyond the falls, but this was our turnaround point. Both Julie and I were already hot and sweaty messes and couldn't wait to get back to the Pali Lookout and our awaiting car.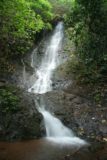 At about 12:35pm, we were finally back at the car. Now it was time to continue with our (what was turning out to be) urban-themed waterfalling adventure. Next up was Kapena Falls.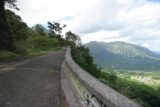 We'd eventually exit on Nuuanu Ave, which we then took to a cemetery. We parked somewhere in the cemetery and walked the path along the stream leading to the Kapena Falls.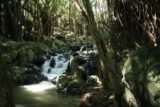 We had found a bouldery cascade that we thought was Kapena Falls (but in hindsight, it was actually Alapena Falls). This waterfall didn't look like much, and we left the area thinking Kapena Falls was a real dud.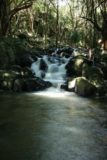 At about 1:40pm, we were back at the car, and then we navigated the confusing city streets of Honolulu in search of the Liliuokalani Garden. That was where we expected to find the Waikahalulu Falls.
Even though Kapena Falls and Waikahalulu Falls were supposed to be quite close to each other, it would still take us around 25 minutes of circling around time trying to figure out how to even get to the waterfall.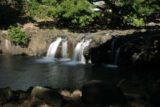 All the one-way streets and the Ala Wai Canal that cut off a lot of the roads really limited our options of which roads we could drive. But eventually, we figured out that School St was the key street to take and that we had to get on that street from pretty far east since it was a one-way street going west.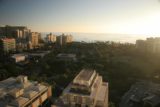 Finally at around 2:05pm, we found the Liliuokalani Garden, which was more like a city park. And there, we saw the diminutive Waikahalulu Falls. There wasn't a whole lot to see here outside of the falls so we didn't linger here for too long.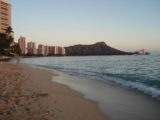 After about 15 minutes, we got back to the car and continued driving back to our accommodation. From there, we spent the rest of the afternoon walking the streets of Waikiki.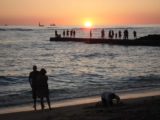 We showed up just in time for a sunset while eating at the Duke's Canoe Club, where we helped ourselves to an order of something called Seven Spiced Ahi or something like that. It was expensive, but it was fresh tasting.
And of course, all the calories we burned on this trip was more than gained back with the Hula Pie dessert.
When we were done eating, we'd continue strolling along the walkways, beaches, and streets of Waikiki going as far east as we could go on foot while all the action was going on. For this was the first time all trip long that we would finally get a true taste of the nightlife that had eluded us so far.
THE SEARCH FOR THE FAMOUS BONZAI PIPELINE
The day began very slowly as we allowed ourselves to really sleep in (we ended up waking at about 8am). We tried to finish off all the fruits, snacks, and water we had bought earlier on in the trip (apparently we had bought too much) knowing we didn't want to take them on the 11:45pm flight back to LA with us.
Since there was really nothing we had in mind to do on this day except perhaps to check out some surfing as well as pay a visit to Pearl Harbor, Julie seized the opportunity to use the Wi-Fi Internet at the lobby of the Ohana Maile Sky Hotel and get caught up on email. Meanwhile, I was busy being a couch potato watching ESPN talk about the Dallas Cowboys head coach Bill Parcels' retirement over and over and over again and then watching some Hawaiian TV channel talking about various aspects of their culture and attractions. It was a bit boring, but it was my job to make sure everything was packed and ready to go while Julie tended to her errands.
It wasn't until about 10:30am that we finally checked out of the Ohana Maile Sky Hotel, loaded up the Toyota Corolla rental car, and left for the surfing town of Hale'iwa.
After getting by the usual traffic westbound on the H-1 freeway, we eventually headed north on the H-2 and into the central part of O'ahu. It was a part of the island we hadn't seen up to this point and it really reminded us of suburbia back at home.
That was because here we were driving on a freeway before it finally ended into a highway with traffic lights. We then drove through housing communities with the familiar residential streets, roadside plants, and neighborhood shops I'm sure the locals would congregate at to shop. I could've sworn this was an LA suburb, but the Wai'anae Mountains to the west with its wrinkly forested profile as well as the Dole Pineapple Maize and Plantation reminded us that we were still in Hawai'i.
We eventually arrived at the historic Hale'iwa town at around 11:15am. We were still trying to figure out where to eat and where everything was so we decided to park in this plaza area (plenty of parking as there were numerous shops as well as a restaurant called Breakers here). We then decided to walk around town and see what else there was.
I knew Julie had her sights on having shave ice at Matsumoto's since she had read about it in the Blue Bible (i.e. Oahu Revealed).
We walked for probably about 10 or 15 minutes looking for a lunch. We ended up passing on various dives though one that looked interesting (due to its crowd) was this place called Kua'aina. Still, we walked on in the hot but surprisingly dry sun (it didn't feel real humid at all) and then Julie said, "I see Matsumoto's up ahead."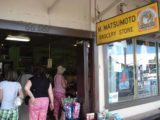 We didn't hesitate to go there despite not having a lunch yet and went into the small shop. There wasn't much of a line so we each treated ourselves to their popular shave ice. I had myself a combo of lilikoi and lychee while Julie had herself a combo of lilikoi and strawberry.
Quite nice and refreshing, but we couldn't really sit down and enjoy the shave ice on the bench in the front of the shop because there were numerous bees threatening to sting us if we didn't freak out. That made us uncomfortable enough to continue walking with shave ice in hand.
Of course without one of those plastic spoons to help scoop us the finely grains of flavored ice, we both ate from our shave ice directly. I had the misfortune of having half of my shave ice fall off the paper cone cup and onto the asphalt. I guess I could see why bees like to swarm around Matsumoto's.
So we continued walking towards the ocean end of town where the local road would eventually rejoin the 83. It was there that we saw a place called Hale'iwa Joes.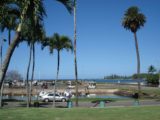 By now, we had probably walked a good 20 minutes or so and Julie didn't feel like walking back into town for one of the dives we had passed by. So we settled for this place especially since there was a view of the ocean.
So we treated ourselves to coconut shrimp and their cajun fish sandwich while trying to keep flies from producing maggots in our food. The atmosphere was quite laid back and we filled our already full stomachs (from the shave ice) with this food. I thought the cajun fish sandwich was a bit dry and bland though.
We then walked along the Hwy 83 in the direction of Waimea Bay just to see how much further the Hale'iwa town went. At this point, it was pretty much just surf shops so we headed back to the car.
When we regained the car, it was probably about 1:30pm. We then continued driving towards Waimea Bay hoping to see some giant waves. We knew from the Blue Bible that Waimea Bay was where they hold the Eddie Aikau Invitational when the waves are at least 20ft from the back (or 40ft from the front). Well that wasn't the case this time so we continued driving past this spot and looked for the famous Bonzai Pipeline.
At first, we couldn't tell where the beach for the Pipeline was because there weren't any signs indicating what it was. However, we did notice quite a few cars parked on the street as well as a mostly full car park right across the street from some school. It looked a little too busy to be nothing but we continued driving east knowing that if we had reached Sunset Beach, we had gone too far.
Well the Garmin etrex GPS hooked up to the Topo! software on Julie's laptop kind of told us that we were getting a bit too close to Sunset Beach. So we turned around and headed back towards that busy area near the school.
And fortunately (or unfortunately) for us, we didn't have trouble finding parking at the car park on this Monday. I guess that either meant the waves weren't big enough to draw enough of a crowd or maybe it was just Monday and most people were at work.
Still, we just had to see this world famous Pipeline for ourselves.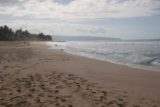 So we parked the car and walked right down onto the beach. There were certainly lots of people around and the waves were definitely bigger than anything we were used to back home (but perhaps not quite as big as the violent ones we saw at Hanakapi'ai Beach in Kaua'i just a few weeks ago).
We noticed a spot further down the beach where there seemed to be more people sitting and spectating and even a few of them with cameras armed with long telephoto lenses. In the water, we saw a handful of surfers congreated where the waves seemed to be breaking in that classic pipeline shape we were so familiar with in posters as well as in the movie Blue Crush.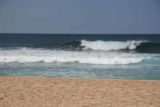 Even though there were no signs indicating that this was the famous Pipeline, something inside me told me that this was probably it.
So what's the big deal about Pipeline?
Well it's apparently one of the few spots in the world where waves break in an almost perfect barrel shape while being big enough to thrill big wave surfers from around the world. I knew folks at work and acquaintances through work who would proudly proclaim that they've ridden at the famous Pipeline. So I reckon it was almost like a rite of passage in the surfing culture.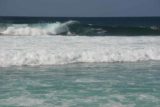 Anyways, the waves were still big enough to be over the heads of the surfers in the water when they were riding the waves. But it wasn't nearly as big as I had hoped it would be. Even with that said, there was no way neither Julie nor I would go in the water. We're mauka people and we'll stay away from the makai, thank you.
So we sat on the sand enjoying the scene while the sun beat down hard on us. I didn't know a telephoto lens equipped with me so the surfers looked rather small on my photographs.
Anyways, we lost track of time watching the mesmerizing action of the waves and the daring surfers riding them.
But eventually we had our fill watching the guys surf at the Bonzai Pipeline and it was time to go. Julie decided for us to take the stairs right behind us and onto a back street instead of walking a ways down the sandy beach back to the car park.
And as we walked closer to the car park, a black SUV passed by us as I was looking down to make sure no sand had gotten into the camera bag (during our time at the beach).
Apparently Julie was paying attention because she immediately turned to me and said, "Honey, that was Cameron Diaz! That's so cool!"
This took me off guard and I was kind of skeptical so I played along and said, "Really? So you saw her blonde hair or something?"
"She had dark hair. Come on, you don't know this by now?" she said.
Obviously I don't pay attention to Hollywood very much so of course I didn't know she changed the color of her hair. I then asked her, "So how do you know it wasn't Ashlee Simpson?"
"She looks nothing like Ashlee Simpson," she said.
"So did you make eye contact with her?"
"No, she was just chewing gum and looking straight ahead."
"Was she driving?"
"No, she was with some guy with a cap on. I've never seen him before."
"So I guess she's not with Justin Timberlake no more," I said. That was pretty much all I knew about the rumors and whatever.
"That's old news," she said.
Anyways, Julie was unusually excited about this and I guess since she follows this stuff and was a big movie fan, it was understandable. I guess I missed out on that one as I had paid more attention to my camera…
It was about 3pm when we regained our car. While we were heading back to the center of O'ahu and eventually to Pearl Harbor, Julie and I were still talking about whole Cameron Diaz sighting.
I'm sure Julie was probably frustrated with me since I didn't see what the big deal was and that I didn't anything while I did my usual, "Leave them alone. It's none of our business!" sayings.
If she really did see Cameron Diaz, then I guess this was probably the first such incidental big celebrity sighting in my life since Julie and I saw Carrie-Ann Moss (aka Trinity from the Matrix) having a lunch at Morel's in the Grove in Los Angeles while we also happened to be dining there. This probably happened some four years ago.
I also remembered before that when Michael Jackson and bunch of kids were standing right behind an oblivious grandma while she was playing slots at Circus Circus as we waited in line to check in. I can't remember when that happened but it was probably some 15 years ago or something…
So even though we spent most of our lives living in Los Angeles, I guess we can still get a little starstruck sometimes – even though it's something I don't proudly admit to.
Anyways, it probably did make sense that it was them in the black SUV because I'd bet you have to be pretty rich to own a home in one of those beachfront properties. It's either that or you'd have to pile a bunch of surfer dudes into one place and rent it.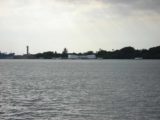 It was nearly 4pm when we finally arrived at the historical Pearl Harbor. We pretty much concentrated on going to the USS Arizona Memorial where there was a visitor center and a very distant view of the USS Arizona Memorial. So we took some time reading the signs and gaining an appreciation of how the Japanese attack here changed the course of history.
Unfortunately, it was too late to take a boat ride to get a closer look at the USS Arizona and we didn't really want to pay to walk into the docked submarine nearby the visitor center. We probably spent about an hour here before we left the soon-to-be-closing-for-the-day complex.
So there was still nearly 6 hours to kill before our flight, but our rental agreement on the car expired at 6:30pm so I certainly didn't want to be paying for an extra day. So with our limited time left, we decided to use up the remainder of our Ohana Maile Sky Hotel parking (we had until 8:15pm before our paid period ended) to have one last dining experience at Waikiki. Still, getting there from Pearl Harbor took longer than expected due to rush hour traffic.
We ended up eating at the Ezo (actually short for Ezogiku) Noodle Cafe to fulfill Julie's ramen craving. We knew we had to eat before getting on the plane since Northwest wasn't going to offer anything besides drinks.
And after a pretty satisfying dinner, it was finally time to get back on the H-1 and head to the Honolulu Airport.
We managed to make it back to the Dollar Rent-a-car lot a few minutes before the 6:30pm deadline but not before getting gorgeous looks at the setting sun as we approached the airport. It was fitting end to a relaxing day but we still had a rather long wait for our red-eye flight home – and directly back to work the next day…
CONFIRMATION
By the way, while I was at work the next morning in my semi-zombie state, Julie had sent me an email confirming that she saw Cameron Diaz. And that guy she was with turned out to be surfing pro Kelly Slater.
"See, I told you I saw Cameron Diaz at North Shore," she wrote me. Then she gave me a link showing paparazzi photos of them surfing. I guess I missed out on that one after all…
Visitor Comments:
Got something you'd like to share or say to keep the conversation going? Feel free to leave a comment below...
No users have replied to the content on this page