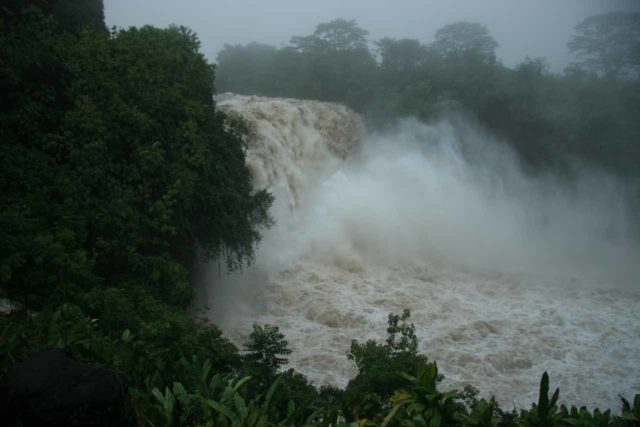 1-February 2008 to 3-February 2008:
We continued to slowly find our way towards the Inn at Kulaniapia Falls – our accommodation for this evening. Driving through large pools of water and trying not to get caught in any newly formed potholes kept our pace slow but sure. The skies were getting darker as night time was closing in, but darkness came quickly as the menacing rain clouds continued to dump its load. Sudden flashes of lightning interrupted the looming darkness. I kept trying to tell myself that this rain must be good for waterfalling (in constrast to last year's drought), but if there ever was a such thing as having way too much rain to go waterfalling, this was it! Little did I know just exactly how socked in we were…
A LOSING STREAK OF 4
Just one week prior, Julie booked us a quick weekend trip to the Big Island figuring we'd take advantage of the Super Bowl Weekend. We thought that most of America would be paying attention to the big game and thus things would be less crowded and cheaper.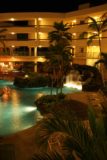 Well, it didn't really turn out that way, but I suppose it could've been far more expensive and crowded otherwise.
Anyways, we had arrived at midday yesterday in Kona, which allowed us time to get re-oriented, make bookings for a Hamakua/Kohala Helicopter ride, and treat ourselves to a nice but pricey little sunset dinner at Jameson's. It was a pretty uneventful day so I very much looked forward to today as we intended to see the waterfalls of the Big Island under better (i.e. wetter) conditions than last year.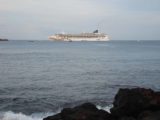 We were supposed to be on a Sunshine Helicopter tour, which checked in at 9am. But knowing it's a fairly far drive (maybe close to an hour) to go from the Sheraton Keauhou Bay to the Hapuna Beach Prince Hotel in Waikoloa (where Sunshine Helicopters was located), we had ourselves a quick breakfast of pizza pan crepe to go from U-Top-It! while trying to ignore the unsightly cruise ship (courtesy of Norwegian Cruise Lines or NCL) as we peered out towards the ocean from Ali'i Drive off the Kona Coast. We were already on our way out of Kona by 7:30am.
It was a good thing we got our early start because there was traffic on Hwy 19. We'd eventually get to the Hapuna Beach Resort smack at 9am, but that was when the Sunshine Helicopters rep informed us that the tour was cancelled due to bad weather.
Well, I guess that makes it the third time in a row that a helicopter tour was cancelled (we had 2 last year cancel on us – one for East Maui as well as one on the Big Island). Better safe than sorry, especially when Mother Nature dictates the rules.
The rep offered to reschedule me on an 11:30am flight, but I didn't want to be held hostage at the resort on a tour that may be going. So I passed on the offer.
Besides, I had hoped to get this tour out of the way so we could spend more time on the windward side of the island, and give another go at checking out Waipi'o Valley.
But with this cancellation, that all changed. And while mulling over what to do for today, Julie suggested that we make some hotel/resort visits around Waikoloa so she could better advise her clients about where on the Big Island to stay at.
Mind as well do it since I knew it must be raining on the windward side given the chopper cancellation.
And so we headed south checking out resorts such as the Fairmont Orchid, Mauna Lani, Hilton Waikoloa Village, and the Waikoloa Beach Marriott. While we did make better use of our down time, it was work and was a far cry from our original intention of this Super Bowl Weekend trip to get better photos of old waterfalls while checking out waterfalls that we haven't seen before.
While we were at Mauna Lani, we did manage to book a Waipi'o Valley tour with the company Waipi'o on Horseback. Na'alapa Stables didn't have an opening until Monday, which was obviously too late for us.
Meanwhile, I had a change of heart and decided to try again for a helicopter tour today. We did manage to book a different helicopter tour with Paradise Helicopters for 2pm. But with one cancellation this morning, I was realistic about our chances for this one. Still, it didn't hurt to try, right?
Julie and I split up at 1:05pm so she could continue touring properties while I was going on the chopper tour. Check-in time was 1:15pm so I was worried about checking in late.
Paradise Helicopters only includes Hamakua/Kohala as part of a circle-island helicopter trip that included fly overs of Madame Pele (i.e. the lavaflows) on the southeast side of Mauna Loa. They don't have shorter ones just to the Hamakua/Kohala Coasts. But they did fly Bells, which allowed you to open the window for good photos if you happened to have a window seat.
When I went to the Kona Airport as directed when I made the booking, I had some trouble finding Paradise Helicopters because I had previously thought they were Tropical Helicopters. But eventually, I got there and I awaited the tour at about 1:35pm.
The previous tour, which took off at 11:30am was running late so it wasn't until 2:30pm when we started to hear news of our tour. It was a good sign that the 11:30am tour took off (made me wonder what might have been had I took Sunshine's 11:30am offer), but that was quickly dampened when the pilot informed us that the weather wasn't looking good at the moment.
However, he said the radar indicated the rain might let up later possibly around 3pm and would be worth trying again at that time. I was worried about making Julie wait unnecessarily because of these delays plus this upcoming 2-hour flight.
But none of that mattered when 3pm rolled around and we heard that the tour was cancelled (again). So that made this the fourth consecutive cancellation of helicopter tours – a losing streak of 4, if you will. I guess it just wasn't meant to be.
So back I went to the Marriott where Julie waited for me. It was still about 3:45pm when we left Waikoloa and finally headed to Hilo.
We hadn't taken the Saddle Road on the previous trip last year, but I was aware that the state was improving the road. We didn't know how far along the work was, and we were kind of curious to see just exactly how narrow and unbanked the road was.
And so we eventually got to the famed highway that passes between Big Island's two 14,000-ft volcanoes of Mauna Kea and Mauna Loa. The summits of both peaks were shrouded in clouds so we knew rain was waiting for us on the other side of the island.
Initially, the road looked narrow, but had extended paved sections flanking it. Those extended sections looked like they still needed some work, but it wasn't nearly as narrow as I had expected. Heck, there were heaps of big pickup trucks and SUVs whizzing along this road so our gas-guzzling Dodge Calibur hatchback should handle this without problems.
Eventually we passed through the brown grazing lands of what looked like Parker Ranch property. Then, after passing by a military training base, the terrain really started to turn barren as black and brown hardened lava surrounded us.
There was no hope of catching any glimpses of the 2 volcanic summits on either side of us, but we did notice hints of snow where the clouds didn't quite sink so low.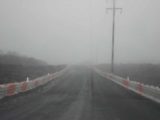 Yes, even on Hawai'i, they have snow!
It wasn't long before we started driving through drizzling fog.
As the Saddle Road descended further in elevation, that fog started turning into rain that caused me to crank up the windshield wiper to warp speed.
By this point, the road was almost a full-on two-lane highway except for an extensive 18-mile gravel stretch.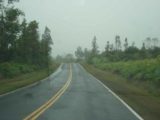 The terrain also started to shift into green, lush forests indicating that we had clearly entered the windward side of the island at this point.
The rain continued to fall harder as we finally entered Hilo Town. Street flooding was already prevalent, but our immediate goal was to find the Inn at Kulaniapia, which I had read previously that it wasn't easy to find.
It took a little while to find our way around Hilo because we had never come down from the Saddle Road before. Before we knew it, we had passed by the University of Hawai'i, Hilo, which definitely wasn't the Waianuenue Avenue, which cut through downtown Hilo, that I was familiar with.
Eventually, we found our way back to Waianuenue Ave and then started to follow the email directions to the Inn at Kulaniapia Falls.
It was easy to see why this place wasn't easy to find because we had to go through some narrow, rather hidden Hilo streets before finally seeing signs leading to our destination.
The rain seemed to fall even heavier as little streams from overflowing storm drains rushed down the sloping, narrow street leading to the private Kulaniapia Falls.
Soon, we entered what looked to be a large grove of Macadamia Nut trees.
We continued to slowly find our way towards the Inn through more large pools of water while trying not to get caught in any newly formed potholes.
The skies continued to get darker as night time was closing in, but darkness came quickly anyways as the menacing rain clouds continued to dump its load. Sudden flashes of lightning interrupted the looming darkness.
I kept trying to tell myself that this rain must be good for waterfalling (in contrast to last year's drought), but if there ever was a such thing as having way too much rain to go waterfalling, this was it!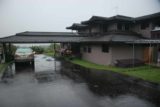 It was 5:30pm when we finally arrived at what appeared to be some Japanese-looking pagodas and houses. Apparently, this must be the Inn. We looked at the signboard just before the main residence and saw Julie's last name on it.
It seemed like getting into our room would be a bit of a self-service affair as the email printout had told us our room was upstairs and unlocked. No one else seemed to be around. Were we the only ones here?
But the rain was really going crazy at this point. Clearly, we were going to get drenched even though it was only a few steps from the canopy in front of the house to the upstairs rooms.
From the stairway, I could kind of see the raging Kulaniapia Falls. The falls were a bit too fat and gushy, and had there been enough light, I'd bet they were probably chocolate brown from all the soil erosion in the flash floods. I kept my fingers crossed that it might calm down tomorrow.
After taking off our shoes in the hallway so we could drop off our luggage in our room, we were hungry for dinner (since we hadn't eaten a full meal all day except for some shared pizza pan crepe to go at U-Top-It! in Kona early this morning).
At 6:15pm, we headed back down into Hilo Town now engulfed by darkness broken by more flashes of lightning.
By 6:55pm, we were back at the familiar local dive of Cafe 100. Oddly enough, the rain calmed down by this point.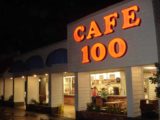 So I ended up having my $5 Super Loco, except Julie wouldn't let me have neither the gravy nor hamburger patty – thinking this stuff was worse than McDonalds. She had a point as the meal still had two eggs over rice, a Portugese sausage, potato salad, and Spam. She had herself a saimin.
And after our guilt-ridden, artery-clogging dinner, we headed back into the Inn at Kulaniapia. When we arrived, the parking lot all of the sudden was half full. We were quite surprised that we went from being the only ones there to being in a full house. Apparently this place was known by more people than we had previously thought.
After cleaning up and finishing off a lip-cutting pineapple we had bought last night on the Kona side, we went to sleep hoping the rain might let up tomorrow…
UN-HILO RAIN
It was about 7am when we awoke. We had slept pretty soundly, but subconsciously I could've sworn it had rained hard last night.
Well, it turned out that I wasn't dreaming because both Julie and I heard the rain continuing to fall hard outside.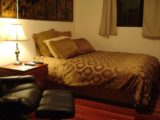 As the skies started to brighten (which took awhile due to the presence of still dark clouds), we could get a partial view of the swollen Kulaniapia Falls from our window.
Since we were only spending one night at the Inn, we quickly got packed and ready to go before going downstairs for breakfast.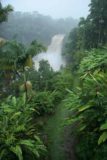 I went ahead and went downstairs to the sheltered patio area to try to get some photographs of Kulaniapia Falls. There was still insufficient light to be able to photograph without a tripod so I used the patio railing to steady the camera while fighting condensation from the surprisingly cold weather.
When I was finished taking photographs, I turned around and noticed someone inside the kitchen. When he immediately saw that I noticed him, he quickly walked into the open living room area where he introduced himself.
His name was Lenny, and I knew right away that he was the owner. He was a tall, peaceful, Caucasian guy with a taste for Asian culture, which I could tell from the pagoda-like architecture of the house and other cabins as well as the Chinese furnishings both inside our room and even inside the living room area.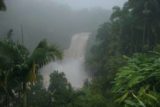 I asked Lenny about this rain, which he proceeded to tell me that this rain wasn't normal – even by Hilo standards (they're no strangers to rain). In fact, he said in all the years at the Kulaniapia Falls (15), he had never seen the falls as swollen as it was. The storm was also state-wide, and that there had been other storms since December.
When I told him that we had planned to go to Waipi'o Valley today, he shook his head and said that the gulches north of Hilo were flooded and probably forced the closure of the Hawaii-Belt Road, which we had to take.
When I asked him how much visitation he gets, he indicated to me that they actually get pretty busy. He even told me that people had filmed an Indiana Jones movie on his property. That got me in the mindset to look for Kulaniapia Falls the next time I see a rerun of one of those movies.
Finally, Lenny insisted that I treat myself to some tea as he retreated back to the kitchen.
As I prepared myself some mango tea, a lovely young lady joined me in the living room. She introduced herself as Raquel and said that she worked there. When she learned that I came from Los Angeles, she mentioned that she used to live in San Diego. We engaged in some small talk about leaving life in the big city to the relative quiet of the Hilo suburbs.
Then another woman came out to greet me, and her name was Bobby. She must've been the co-owner since she was doing the cooking of the breakfast and that she used possessive adjectives to describe the Inn as well as the rest of the land.
Eventually, Raquel saw the gushing falls and decided to take a photo of herself by the patio railing since she had never seen the falls like this before as well.
"Do you want me to take your picture?" Bobby asked.
"Nah, I'm good at this," Raquel insisted.
And there she was pointing the tiny point-and-shoot camera at herself posing before the raging waterfall by the patio railing. Bobby and I chuckled at this as it was apparent Raquel wasn't kidding about her photographic prowess.
By this time, Julie came down to take some photos of her own. Then slowly but surely, more people started showing up for breakfast.
Indeed, it really was nearly a full house here!
The breakfast consisted of tropical fruits like pineapple and guava. There were also cherries and bananas. Bobby also cooked cheese omelettes and waffles. Toast was also available.
Julie and I sat at a dining table and were joined by a guy from Denver and a couple from Vancouver, British Columbia, Canada.
The guy from Denver mentioned that the falls were actually pretty nice yesterday before the rains started to come down. I guess we missed our chance to see the falls in its normal state on this trip.
Hindsight's always 20/20, yeah?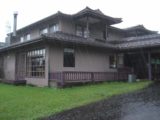 We engaged in a longer conversation with the Canadian couple talking about the rain and how life was like in the Vancouver area. I'm sure they were no strangers to cold, rainy weather. Besides, I actually contemplated moving to Canada so I was particularly interested in what they had to say.
When breakfast ended, the rain really came down hard again.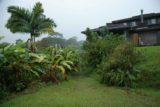 I was determined to walk closer to the bottom of Kulaniapia Falls despite the crazy conditions. So I donned a rain poncho and proceeded to walk down the soggy grass route.
While walking down the trail, I had recalled that Bobby had told me it was Lenny who used his manual labor to create the trail that I was on. It was quite impressive considering the whole area was once impenetrable jungle making it hard to get to (let alone see) the waterfall.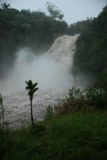 As I got further down the trail, it sloped relatively gently amongst a stream of water rushing down it from all the excess runoff. The trail eventually switched back once away from the base of the falls so I could get a more direct view. However, the mist and the heavy rain made it difficult to take a clean photo without water on the lens.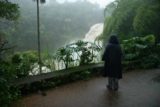 Julie eventually joined me as I was on my way back up. She decided against proceeding all the way to the base. So we took a few more hasty photos from a concrete platform bridging over a tiny stream overflowing with excess runoff before returning to the relative dryness of the Inn.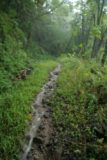 By now it was 10am, and we proceeded to check out and pay Lenny the remaining balance. Afterwards, we loaded up the car trying to keep the car under the canopy without blocking traffic while rushing on foot between our room and the car in the drenching rain.
Julie had received a message on her cell phone about the Waipi'o Tour being cancelled due to the bad weather.
So with the change of plans, we decided to head back to the familiar Rainbow Falls, Boiling Pots, Pe'epe'e Falls, and Wai'ale Falls.
As we drove towards Waianuenue Ave, we passed over a bridge that people were stopping their cars for in order to take photographs of the raging Wailuku River. I figured we could come back later to watch this spectacle as I didn't feel like blocking traffic and joining the mob.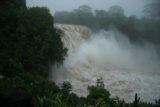 We continued to go towards Rainbow Falls arriving at 10:30am. Despite the drenching rain, Rainbow Falls was quite busy. Armed with our rain ponchos, we braved the rain and watched the muddy swollen Rainbow Falls going crazy and providing a show for the hordes of onlookers. Even locals were entertained as they came out to take photographs of a sight I'm sure they rarely see.
We proceeded to walk up the stairs towards the top of the falls, where we took more photos of the crazy waterfall from a different spot away from the crowds. The banyan trees nearby provided a little bit of shelter from the pelting rains.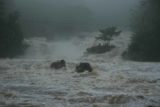 After having our fill of Rainbow Falls, we returned to the car and proceeded further up Waianuenue Avenue towards the Boiling Pots. Once at that parking lot at 11:15am, there were already a handful of cars and people at the overlook.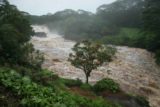 When we made our way out to the overlook, Julie and I were once again awestruck by how swollen the river was.
"Whoa!" we both said in unison.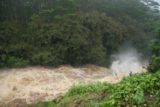 Pe'epe'e Falls now went from two narrow plumes to a giant wall of water in the distance. The Boiling Pots were barely distinguishable from rapids except for the noticeable drop of what appeared to be a turbulently cascading waterfall.
The trail I had walked last year to try to get closer to Pe'epe'e Falls now disappeared into the river. No one was nuts enough to get close to the river on this day!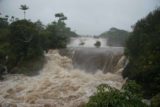 After taking the obligatory photos here, we returned to the car and then proceeded to go further up Waianuenue Ave to see Wai'ale Falls.
Sure enough, this two-tiered falls went crazy and became a turbulent chocolate-colored mess like the rest of the falls.
Heaps of locals checked out the falls. Some of them even engaged in some conversation with us breaking the ice by commenting how crazy the falls were going.
"See that?" said one kama'aina, "That used to be an island up there!"
He pointed to the trees engulfed in the middle of the river between the two tiers of the falls.
I nodded knowingly since both Julie and I were here last March.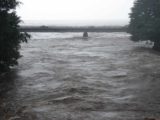 By about noon, we headed back into Hilo Town to take a few photos from the bridges above the Wailuku River.
I was struck by how close the water was to Hwy 19 when I looked downstream. Indeed, it seemed as if the water nearly lapped the underside of the bridge.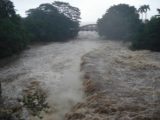 When I looked upstream, I could see other locals and tourists alike were on bridges taking photographs of the unusual scene before them.
With all the street and flash flooding, now I could easily envision why gulches would be unsafe to pass if they were rushing over Hwy 19.
Civil Defense gave regular radio announcements urging people to stay indoors and not drive if you don't have to. The mayor of the Big Island also declared a state of emergency. Closures were definitely in effect north of Hilo due to both flooding and landslides. Some roads within Hilo Town were also flooded and that created a bit of traffic.
To the south, the belt road leading to Puna and Volcano was also closed. That meant the Saddle Road was the only way in and out of Hilo.
With the rest of the afternoon ahead of us and our waterfalling aspirations dashed, Julie suggested we go to the University of Hawai'i at Hilo to check out their Astronomy exhibits.
I welcomed the idea considering that I'm a big fan of astronomy (especially all the science behind astrophysics and cosmology). Besides, I figured astronomy in Hilo is better than battling a snow storm atop Mauna Kea or getting soaked doing what limited outdoor excursions were left. And so UH Hilo was where we went.
When we got there at 12:30pm, it was apparent that other people had similar thoughts because it was quite busy. Julie wanted to see the 3-D Planetarium show about the Dawn of the Space Age, but the 1pm showing was sold out. So we had to settle for the 3pm showing.
In the mean time, we had ourselves a quick lunch and then self-guided ourselves through the Astronomy exhibits.
The planetarium show basically showcased the progression of the Space Race between the US with the Soviet Union, and how it eventually led to the collaborative effort of the International Space Station. I was hoping for something more about astrophysics and cosmology, but Julie was impressed with the 3-D show and some of the little-known historical aspects of the race.
By 4pm, we went to check in at the Castle Hilo on Banyan Drive. The rain was still coming down hard and Kamehameha Ave was closed due to severe flooding. So we took a more roundabout way to get to Banyan Drive. Then, I wasted no time dropping off Julie and the bags under the shelter of the front of the hotel lobby before I parked the car and ran through the rain to join her.
After a brief rest, we headed back into town to eat at Cafe Hilo. I worried that the place might be closed due to the state of emergency conditions in town, but when we got there, it was busy.
We ended up sitting at the bar and got to order moi and ahi tuna dishes anyways.
Eventually, we engaged in a conversation with a guy who happened to be sitting near us at the bar. He introduced himself to us and upon learning that we were from Los Angeles, he told us that he was a former Californian who ended up moving to Hilo. When the topic turned to the rain, that got him going about Climate Change.
"…and there are still idiots out there who think Global Warming isn't happening!"
I nodded my head knowingly.
He happened to know a thing or two about emissions control, and he claimed that catalytic converters actually put out more Carbon Dioxide in lieu of the visible smoke coming out of the exhaust.
I had never heard that before, but it wouldn't have surprised us if it did turn out to be true. We've learned at this point that oil-affiliated people would do anything to maintain their energy monopoly.
The conversation proceeded to turn even more political, and with the upcoming Super Tuesday elections, all sorts of crap that came out of the Bush Administration came to the forefront of the conversation.
Then, when the topic turned to Clinton, Obama, and McCain, he best summed up the latest choice of politicians with this classic saying…
"We don't have leaders anymore. We just have pimps!"
When Julie and I thought about it, what with all the campaign finance and money for favors in politics, we couldn't agree more.
Anyways, the dinner was over and the rain continued to fall as night time was upon us.
We returned to the Castle Hilo for a shower and then some TV. That was when we saw on the local news that today's situation was the main news of the day.
Of course with only the Saddle Road preventing Hilo from being completely isolated from the rest of the island, I was concerned about how that route would hold up with this persistent downpour.
Being stranded in Hilo tomorrow was a worry since we're supposed to be flying out of Kona Airport at 2pm on Super Bowl Sunday!
So with plenty of worries and sentiments of a trip lost to excess rain, Julie and I slept. Even though we came for waterfalls, we were actually looking forward to get out of town to the sunnier Kona side…
SUPER BOWL AIR
It was about 6:30am when we awoke. The weather appeared to have calmed down quite a bit, but we could see the rain approaching as the morning grew brighter.
By 7:30am, we checked out, loaded up the car, and finally left Castle Hilo. As we headed to the Saddle Road, we continued to hope it didn't suffer from any issues from yesterday's torrential rains.
Still, the rain persisted as we climbed up the saddle, but not as vigorously as yesterday. By about 8:30am, we finally made it beyond the military training base where we finally started to see sun and a hint of blue skies.
By 9:15am, we returned to the Marriott to check out their beach. I guess this was a welcome break from the chaos of the last couple days.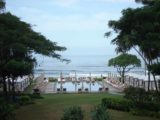 By 10am, Julie and I made one last visit to the Four Seasons in Waikoloa. The tour was actually longer than we anticipated and it wasn't until 11:15am when we were back in the car.
With our 2pm flight looming, that didn't leave us very much time to find a good lunch back in Kona. The sushi place we had eyed was closed and we didn't have time looking for a sandwich place that Julie wanted to try. So we ended up settling for Mexican burritos, which Julie complained immediately was not even close to the calibur of King Taco back at home. But we knew Hawai'i wasn't exactly a place that makes good Mexican food.
By 2pm, we had already returned the rental car and got onto our scheduled flight. There were no televisions in Kona's open-air airport so all my hopes of even getting a glimpse of the Super Bowl were dashed.
On the airplane, the captain gave scores at the end of each quarter. I had a feeling before the game that the New York football Giants would pull out this game against the undefeated New England Patriots. I always thought that you could throw away everything done in the past when it comes down to just one game – you know, any given Sunday, as they say. Still, I had no way of seeing how they'd go about doing it.
It just somehow always seemed that I miss the good games and end up watching blowouts or uninteresting games.
Eventually, the crew managed to get Channel 9 on the audio system to hook up to the YES Network's broadcast featuring the familiar voice of Marv Albert and Phil Simms. Gee, I wonder who they're rooting for?
Anyways, I managed to catch the last 8 minutes of the game through horribly crackly audio. That was when the Patriots went from being down 10-7 to up 14-7.
Then, the Giants managed to pull out the stunner in the final 2:42 of the game.
Indeed, in a weekend of such unpredictability, it seemed fitting that the Giants would keep the Patriots from having the first ever perfect 19-win season.
And with our somewhat wasted (in a waterfalling sense) trip, I had to look forward to a return trip to the Big Island under more benign conditions.
I'm sure the Patriots feel the same way about trying to close out the deal in the Super Bowl…
Visitor Comments:
Got something you'd like to share or say to keep the conversation going? Feel free to leave a comment below...
No users have replied to the content on this page