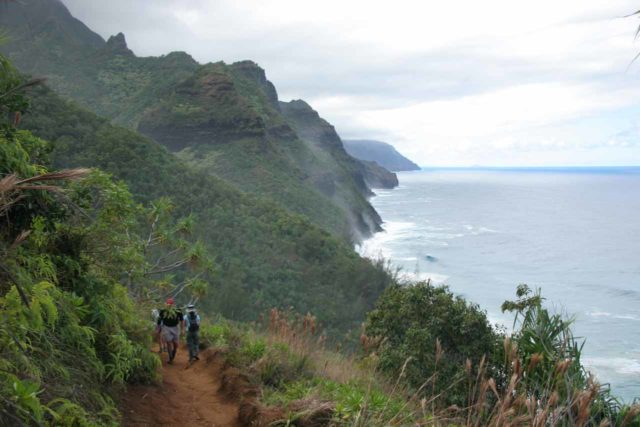 24-December 2006 to 25-December 2006:
At this point, my mind was on how good Lilikoi would taste right at this moment. I totally looked forward to Christmas dinner with Julie, but I was starting to have doubts about whether I'd make it. Heck, I was even desperate enough to drink from any stream I saw along the way – full of bacteria or not. Fortunately, there weren't any flowing streams during this two mile stretch…
Day 1: CHRISTMAS EVE RAINBOW AND A KALALAU TRAIL TEASER
Julie and I took a while to pack up and check out despite getting up at our now familiar time of 6am. But when I started lugging our stuff downstairs towards our car, the first thing I saw as the door opened was this rainbow with a full arc!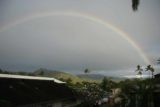 Knowing such moments like this are fleeting, I quickly got down to the car to load up what I had brought down, then I ran back up to our room to grab my camera. I was fortunate to get a few shots from around the property. Of course, the rainbow also meant there was rain (though it turned out not to be that significant of a rain). I guess the weather forecast for mainly sunny was a little off there.
At a little before 9am, we headed north towards Princeville hoping we might be able to drop off our luggage and travel light. The intention was to hike part of the Kalalau Trail to Hanakapi'ai Falls on this day but we would feel much better not having most of our luggage stored in the car where break-ins have been known to occur (and it was always a constant worry of mine no matter where we were – especially in Hawai'i).
On the way up the Hwy 56, we drove past the Sleeping Giant (basically a range of mountains that looks like a sleeping giant when seen from Lihu'e or Kapa'a). Then, we noticed the Hole-in-the-Mountain as we drove past the mile marker 15. Unfortunately, it was very far away and quite small so we didn't bother pulling over into a shoulder to take photos without a telephoto lens (which was definitely necessary to capture it). Besides, traffic was moving at 50mph and most of the views were obstructed by the tall embankments on the road.
When we got to the Kilauea township, we noticed signs pointing the way to the Kilauea Lighthouse.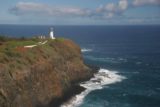 Trying to give ourselves a little variety on this trip, we took this little detour to the lighthouse and arrived at the public car park at 9:40am.
It looked like the road continued to go closer to the lighthouse but it was closed at the moment. Still, it wasn't our intention to go in and we were content to take photos of the scenic subject from the car park.
At around 10am, we left the car park and at 10:30am, we arrived at our rented condo at the Sea Lodge in Princeville. Julie got out of the car and decided to survey our condo in the hopes that we might be able to leave our stuff in the room. But, she quickly noticed shoes on the front and some clanging pots and pans (they current guests must be having breakfast) and so she returned to the car.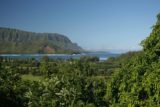 Well that wasn't going to stop us from continuing on our planned hike so we wasted no time continuing our drive to the end of the road at the Kalalau Trailhead. After passing by a scenic view of Hanalei Bay and the Hanalei town, we continued past single lane bridges and a seemingly much quieter part of Kaua'i.
It was the kind of scene we had expected coming into the island.
Strewn throughout the drive, there were numerous pullouts providing views of the big crashing waves pounding the shores with onlookers gawking at it. It was tempting to stop at these pullouts and snap photos, but we stuck with the plan and kept going.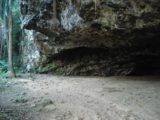 Next, we passed by a pair of impressive caves – each of which attracted heaps of visitors. But just a minute after the second of these caves, we had arrived at the end of the road.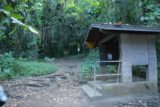 It was about 11:15am when we arrived and it was difficult to find parking. The scene was rather chaotic as people were walking back and forth either to the second cave, or the Kalalau Trail, or the nearby beach. We eventually found parking in a somewhat makeshift car park on a muddy and unsealed road. I was glad the passenger car could make it because I was totally worried about the car being stuck in the mud.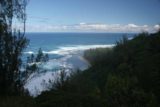 Mosquitos were already hovering about the shaded but muggy area we parked at, but they didn't stop us from preparing for the hike ahead of us.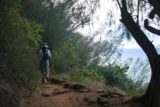 It was finally 11:40am when we got started on the Kalalau Trail, and immediately past the sign, the track ascended steeply on a rocky and muddy track. And like the other jungle hikes we had taken already on this trip, it wasn't at all surprising that the footing was slippery and we were thankful we brought our hiking sticks while hiking in our goretex boots.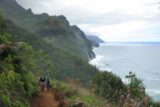 After what seemed like an unending climb and some additional slippery sections through a pair of shaded gullies, the track finally presented us with a dazzling profile view of the famed Na Pali Coast.
I wasted no time snapping photos and trying to capture the beauty of the scene – not even paying attention to whether the lighting was all wrong or not.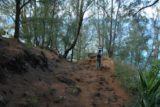 Julie and I openly mused about how Hawaiians would hike this trail to the Kalalau Valley day in and day out without shoes. But we did notice one guy who bravely backpacked in bare feet! Talk about a guy with mad skills!
Anyways the hike continued relentlessly through a series of muddy and slippery rocks with a few drier areas for better traction. It seemed like almost every step was wrought with hazards as traction was not easy to come by even with the extra two legs provided by our hiking sticks. Making matters worse was the consistent bidirectional traffic from other hikers often breaking the rhythm and momentum of our hiking. It was clear this was a very popular trail despite the difficulties.
But despite the popularity, this was no trail to take lightly. We passed by a kid who was crying after bumping his knee on a protruding tree trunk.
Moreover, the track took its toll on us and Julie didn't want to do the lengthy side trip to Hanakapi'ai Falls. She feared it was just too muddy and slippery and she just wasn't up for more of this tropical adventure.
When we arrived at the wide-but-not-overly-deep Hanakapi'ai Stream, I changed into chacos while Julie boulder-hopped with the help of sticks to stay dry.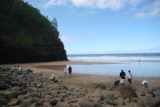 After the stream crossing, we had finally completed the 2-mile hike and made it onto Hanakapi'ai Beach at 1pm. It was here that Julie decided to watch over my boots and socks while she chilled out at the beach.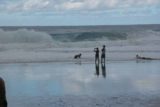 There were heaps of other people here as expected and it appeared that this sufficed for most. There was also a few others who were actually in the water's edge as the white foam from the huge breaking waves would tumble their way onto the beach. We reckoned those people were nuts.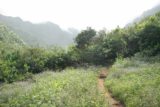 At 1:10pm, I told Julie I'd be back before 4pm and then left towards the mauka (mountain) side along the stream in search of the Hanakapi'ai Falls. There was already a pair of people hiking before me so I didn't have to strain too much looking for the correct trail. It would be 2-miles each way to the falls and I knew it wouldn't be easy.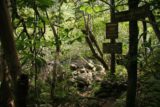 The trail was initially narrow but quite manageable. It then passed through a few stands of bamboo trees quite reminiscent of our Pipiwai Trail experience on Maui though the bamboo trees on today's trail were far fewer and not as spooky as Maui's.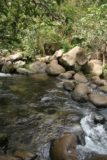 The trail would continue through more shaded forested scenery with a mix of muddy and slippery spots as well as the traditional dirt trails. For the most part, the trail was easy to follow.
Since I was hiking in chacos, the several stream crossings didn't pose much of an obstacle. Perhaps the bigger concern was getting my wallet wet (I had forgotten to put it in my pack) when the stream crossings went about knee deep.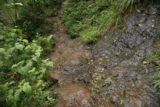 The track then degenerated into more rocky and slippery terrain reminiscent of some of the Kalalau Trail spots we had experienced. However, there were more dicey spots on this side track where a bad tumble could send you down a cliff and into the rushing stream below. But even with these tricky spots, I made it through ok and it seemed like the heaps of other people who went on this trail had no such trouble as well.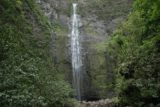 Finally at around 2:30pm, I had finally arrived at the Hanakapi'ai Falls – and oh what a divine sight it was!
Nestled in the wide opening at the head of the valley was this towering waterfall dwarfing the heaps of people swimming and gawking at the base of the falls (perhaps braving the risk of falling rocks in the process). The scene totally reminded me of Waimoku Falls in Maui though the effort it took to get here made this experience all the more rewarding.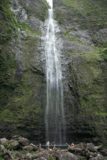 So I relaxed at this spot for another fifteen minutes over Hawaiian Sweet Bread, Cheez-Its, and water. It gave me the fuel I needed to rush back to Hanakapi'ai Beach and rejoin Julie (so she won't worry about me).
And with that, I pried myself away from the gorgeous falls and quickly made my way back to the awaiting Julie.
It was an uneventful hour-long return hike and I was back at the beach at around 3:40pm.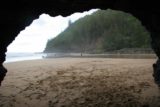 Julie and I spent a few more minutes taking photos at the beach. It was now cloud-covered and significantly darker than earlier this afternoon. But that didn't stop us from taking photos from inside the tiny cave at the beach nor of the people still foolishly in the foaming water before the crashing waves.
But all good things must come to an end and we headed off at 4pm. This time, I was back in my boots and it felt good to be hiking in them instead of chacos.
And as we negotiated the tricky Hanakapi'ai Stream Crossing over the slippery boulders, I managed to not fall despite holding onto my mud-covered chacos in one hand. Once I got to the other side, I rinsed them off and slung them into my pack.
Then, Julie and I hiked the final leg of the hike on our weary legs. My knees were already starting to feel inflamed and it started raining. But we were still able to get through the slippery trail and we ultimately returned to the car at 5:20pm – thus completing this 8-mile hike. And fortunately, our car wasn't broken into.
At 5:45pm, we returned to the Ching Young Village Center to eat at the Polynesian Cafe for a well-deserved dinner. It was now dark but the food (consisting of Blackened Ahi and Kalua Pork) was good and the shave ice was quite a treat (they certainly aren't the same as the Chinese ones with the red beans that I'm not too crazy about).
We left for the Sea Lodge condo and arrived at a little after 6:30pm. Fortunately, Julie was able to get into the newly cleaned condo and it had quite a homey and comfortable feel to it.
I reckoned Julie made a great call in booking this condo.
We could hear the crashing waves through the open windows. With the large living room and open kitchen and dining area, the place felt like home and we had no trouble getting settled in this place. The Kilauea Lighthouse was shining off in the distance to the east to break the darkness of the night.
What a great way to end off a day of strenuous exercise, but there was still tomorrow's 13-mile grueling trek back on the Kalalau Trail to Hanakoa Falls…
Day 2: DEHYDRATED AND EXHAUSTED
It was the usual 6am when Julie and I awoke to the sounds of the crashing waves emanating through the open windows in the condo. It was still dark, but it didn't take long for the break of day started to take over.
Today was the day of the big hike and I was quite anxious – knowing I would be alone and knowing it was going to be a grueling Christmas Day test.
Both of us did whatever we could to ensure I was properly equipped and prepared for this hike. I had packed 2 2L plastic bottles full of cold water plus a 4L camel bak full of frozen water. I also brought Hawaiian bread, Cheez-its, and Jack Links for food. Then of course, there was my heavy DSLR camera and GPS for trip logging as well as a spare pair of Smartwool Socks.
I was dressed up in my hiking gear and all ready to go when we left the condo at about 7:10am.
We arrived at the Kalalau Trailhead at 7:40am, and we were surprised to see how many cars and people were already here.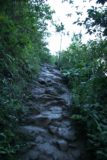 As I got all my gear together (plus stuffing my Chacos in the mesh pocket of my pack – just in case), I told Julie I expected to be back by 4pm. She was worried that I was doing this hike alone since we had anticipated that this was one of those trails that things can easily go wrong. There wasn't much I could do to allay those fears, but we both knew this wasn't going to be easy.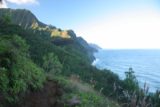 So we kissed and parted ways.
As usual the first two miles of the hike were pretty much the same as it was yesterday. The difference here was that there were far fewer people, but there were still enough of the faster folks who passed me by obviously targeting Hanakapi'ai Beach with their light gear.
With the trail being quieter this morning than yesterday, the thud of the pounding waves at Hanakapi'ai Beach could definitely be heard and felt. It was yet another reminder that Nature was in charge and it was something to be feared and respected. I even passed by that sign tallying up the number of people who died at Hanakapi'ai Beach, serving as yet another reminder of who's in charge.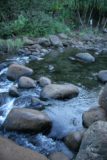 It was about 9am when I crossed the Hanakapi'ai Stream and then looked for the continuation of the Kalalau Trail. But this wasn't easy to find as the thought was to keep going straight closer to the beach. There was another pair of backpackers also looking for the continuation of the trail, but as I explored some false path that was too close to the beach, the two backpackers had already left as I backtracked to the trail. Apparently, they had already found the correct way.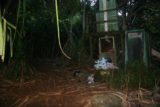 So there I was walking through long fallen leaves (looking like they came from banana trees or something) before I finally spotted a structure up ahead. It turned out to be a basic toilet, but there was litter around it as well that kind of made things disgusting.
So much for people packing out what they pack in.
But it was at this area that I found the reassuring sign indicating the way to Hanakoa. And so I began a long ascent up beyond Hanakapi'ai Beach and into parts of the Kalalau Trail that I hadn't gone to yesterday.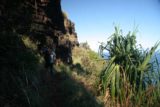 The steeply ascending track now alternated between the shade with slippery muddy spots and the bright morning sun. It was immediately apparent the trail was much narrower than the first two miles. This was definitely a trail that doesn't see nearly as much traffic as the first two miles.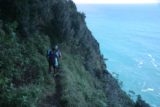 The narrowness of the track was also tough mentally as there was always a steep sloped dropoff on one side. I guess it was good that they made you get permits if you're going past the first two miles because it sure was one of those trails you need people to know you're doing it. Moreover, it was easy to see that with one bad tumble, you could end up way down the slope and possibly into the sea!
So it was sections of track like this (almost the entire four miles between Hanakapi'ai Beach and Hanakoa Valley) that really slowed me down. That was because I had to make sure I took slow but sure steps as opposed to risking it all trying to maintain a more normal 2mph pace.
Compounding the issues were the bush growing towards the trail on the mauka side. I kept leaning towards the bush as I rubbed elbows with them. The trekking poles also started to become more of a nuissance rather than a help as they would frequently get tangled with the foliage. Still, I was thankful for the poles in the more slippery and narrow parts. I reckoned it was better to have four legs than two under those circumstances.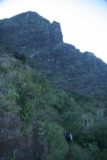 Somewhere around the three mile point, I had reached the top of the climb out of Hanakapi'ai Beach. That was when I saw the pair of backpackers I saw earlier resting and checking out the nice coastal views.
They noticed I was alone and how narrow the trail was so they invited me to join them and walk as a trio towards Hanakoa Valley.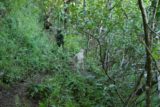 So we continued on the track engaging in a nice conversation and passing the time. I learned that these backpackers actually met at a hostel in the North Shore of Kaua'i and they teamed up to do the Kalalau Trail all the way to Kalalau Beach. One guy was from Sweden who was now studying in Honolulu. The other guy came from Colorado and is on holiday. It was nice to have company in the face of such a difficult trail. We all shared in our passion for travel as well as the wildlife situation around the world (the Swedish guy is studying this subject).
We noticed some strange pineapple-looking fruits along the track though it seemed rather dangerous to cut them down as they were perched precariously on some steep slopes we dared not go down. There were also quite a handful of goats we noticed along the trail.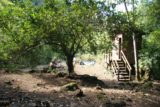 It was about 11:40am when we reached the Hanakoa Valley. On the way into the valley, there was a gorgeous view of the signature wrinkly mountains of the Na Pali Coast backing the valley. It was too bad that the sun was shining right against us so it kind of made photography difficult.
Ultimately, the pair of backpackers set up camp next to the bathroom right across from a picnic shelter. It was the only flat area they could find at the time. But it wasn't their first choice as once again there was litter strewn about the base of the basic bathroom.
So as they set up camp, I finished my last Hawaiian sweet bread and continued on towards Hanakoa Falls promising them a report on my experiences when I got back.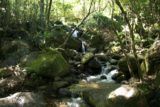 After crossing the Hanakoa Stream, the Kalalau Trail continued towards another nearby picnic shelter. It was there that I saw a reassuring Hanakoa Falls trail sign right next to it. And with that, I headed to the mauka side in search of this waterfall.
I knew this waterfall was tall from the helicopter flight earlier on the trip. So I was anticipating an even grander sight than Hanakapi'ai Falls that I had seen just yesterday.
But this trail was not easy to follow as it was really easy to lose it. It was one of those trails that I was thankful for the brightly colored ribbons tied to branches, or rock cairns piled in threes, and even signs of human intervention such as markings on trees or rock embankments supporting elevated portions of the trail.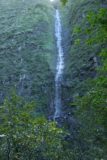 Eventually I got to the falls at 12:30pm. I was thankful for the wide angle zoom lens on the camera because it was too tall to capture it on any ordinaly 35mm camera. It was a bit shadowy here so I hoped the photos didn't turn out too blurry.
But unfortunately, the falls wasn't flowing with nearly the volume that I had seen at Hanakapi'ai Falls. I could've sworn I saw more volume from the chopper earlier in the trip. For all the trouble I went through to get here, this was a bit disappointing.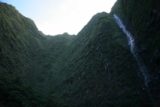 Nevertheless, I can say that I finally got to see the falls in person. The enclosed scene with tall cliffs surrounding me on three sides with this waterfall was quite impressive. I got the sense that the cliffs could fall on me at any moment making this place feel ominous yet beautiful and memorable.
Was it worth all the effort? That's hard to say. And I still had a grueling hike ahead of me. Anyways, I was getting hungry so it was time to return to the Hanokoa camp for a quick lunch and a change of socks.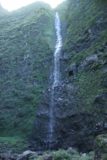 It was 1:10pm when I got back to the camp. By then, the pair of backpackers I walked with had already set up camp. I had promised them a report of the falls as well as an exchange of emails so I can give them some of the photos taken on this hike. I ended up giving them business cards instead since I didn't have a pen with me.
The lunch of Cheez-its (pretty much crushed by now) and difficult-to-chew Jack Links wasn't exactly the hearty lunch one would hope for. Compounding the issue was that these were salty snacks and they tended to dehydrate the body. So I really limited my intake of these snacks.
Speaking of dehydration, I had just finished the last of my 2L plastic bottles of water. For the most part, they remained cold. Now, I had the 4L camel bak of water to drink from for the remainder of the hike back. I took a few sips of the still icy cold water to offset the saltiness of my lunch snacks. Ahh that really hit the spot!
It was about 1:30pm when I got ready to head back to the car park. I noticed a few new mosquito bites from the fact that I wasn't moving during these twenty minutes but I didn't care. I was now worried about making it back to the car park knowing that I wouldn't come close to the promised 4pm return time.
And so I waved to the backpackers as I got up from the picnic table and slung on my sweat-moistened day pack. They wished me good luck and a merry Christmas. I wished them the same and I was off.
The initial climb up out of Hanokoa Valley was mostly in sun and it was quite hot at this time. When I got up to a familiar bluff overlooking the valley, I took a few more photos (still against the sun).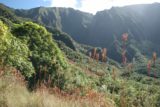 At least I was now able to see the wrinkly shapes of the mountains backing the valley this time and I could even see Hanokoa Falls in shadow from here. I guess we missed seeing it from here earlier on the way in.
The track would proceed uneventfully for the next couple of miles – all the while undulating through unforgiving uphills and bone-jarring slippery descents.
The views back towards the east of the Na Pali Coastline were gorgeous as the sun was now behind me.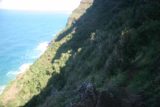 But the heat and fatigue took its toll on me and I was sipping through the ice cold camel bak probably faster than I should have. Still, it felt too good to stop sipping, but I knew I needed to ration my water as best I could for the rest of the hike. It was too bad I had no way of telling how much water I had left.
I had engaged in minor conversations with backpackers taking breaks going the other way. Some asked about the Hanokoa Falls (and I wasn't one to sugar-coat anything) but most were just content to say "Hi" or "How's it going?"
One memorable exchange was with a tall dirty-blonde female who really looked at peace with herself hiking solo. I noticed she was backpacking in flip flops, which I thought was amazing given how slippery the trail was.
Anyways, instead of saying "Hi," she said to me, "Mele Kalikimaka." I didn't know what she said at the time, but it's not often you hear that kind of greeting – especially hiking the Na Pali Coast no less (note: I learned a few days later that she said 'Merry Christmas' in Hawaiian).
The pace of the hike was frustratingly slow. The uphill climbs seemed never-ending and I was too lazy to reach back and put on my hat to shield myself from the unforgiving sun. Even the welcome sea breezes were fools gold as they were short lived. My left knee was inflamed and just lifting it up to the point where my knee bent 90 degrees was painful. This made for some awkward hiking as I practically limped and had to do some strange manueverings to ensure the left knee wasn't bent too much on the downhill or uphill sections.
I remembered going past a 5-mile marker and determined to hold out on a water break until the 4-mile marker, but when nearly an hour had passed, I couldn't wait and sipped more of the icy water.
After sipping water as I hiked along, there was another uphill stretch before me. By now, I just kept the mouth-piece of the camel bak in my mouth as I continued walking only turning on the nozzle and sipping when needed. I was too tired of reaching back for the hoze, which was why I did this.
Anyways, it was on the way up this uphill stretch that I finally saw the 4-mile marker. Damn!
Still, no rest for the weary at this point – I had to keep moving.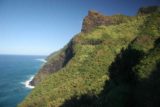 This uphill stretch was particularly grueling but eventually I would finally get into the shadowy part as the trail mercifully descended towards Hanakapi'ai Beach.
Finally at 4:30pm, I returned to Hanakapi'ai Beach. I had expected to see a crowd of people here like usual, but perhaps I had arrived too late in the day. Only a pair of beachgoers in bathing suits in the shallow parts of the breaking waters were there.
It was here that I took a few more sips of water when I realized that I had run out! Oh crap!
I guess I would have to make the last two miles without water. Already in my exhausted state, I wasn't looking forward to it. Plus, I knew there was a big uphill stretch that left Hanakapi'ai Beach and I was sure there were a couple more of these on the home stretch.
Could I make it back without water?
As I was slowly making my way up past Hanakapi'ai Beach, the symptoms of dehydration had already started to set in. My head was starting to ache, my lips and throat felt very dry, I was breathing very heavily, and I was tempted to just close my eyes and have a rest. I was really worried that I was starting to have a heat stroke.
At this point, my mind was on how good Lilikoi would taste right at this moment. I totally looked forward to Christmas dinner with Julie, but I was starting to have doubts about whether I'd make it. Heck, I was even desperate enough to drink from any stream I saw along the way – full of bacteria or not. Fortunately, there weren't any flowing streams during this two mile stretch.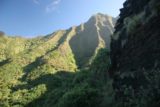 I was even starting to talk to myself cursing at the continuous neverending uphill stretches. There was a guy who passed me and obviously heard me in my nearly irrational state. He encouraged me and said that I was almost home. I had told him that I was very fatigued and that I had been to Hanakoa Falls. His brows were raised as he told me that that was quite a long hike.
Still, that was no consolation so he continued on and I trudged along in an obviously fatigued and desperate state.
By now it was about 4:45pm. I knew I still had about another hour left. But it was at the end of yet another uphill stretch that I noticed a large group of a half dozen or so people congregated and admiring the view.
Amongst the folks taking a break here was that guy who saw me talk to myself. Once again he said I was almost home, but that was when I finally told him that I was dehydrated.
Almost immediately, he offered to pour his water into my plastic bottle. Of course I took it and I felt very grateful for his generosity. He poured enough to refill one of my plastic bottles up to about half the 2L bottle. His female partner also poured more water into my bottle. By this point, the bottle was about 2/3 full.
"That should be enough to get you home," she said.
"Thank you very much," I said, repeatedly to the both of them.
And after taking a much needed drink from the newly replenished supply of water, I felt rejuvenated and continued on my way home after thanking the couple once again.
Fortunately, the trail pretty much went downhill the rest of the way at this point. I noticed a lone female backpacker with an accent (probably from Europe I reckoned – perhaps Germany or Netherlands; though I didn't ask). I had noticed she had been walking very slow and she too seemed tired.
She conversed with me about fatigue and how far we had gone. I knew with her gear that she was returning from the end of the track at Kalalau Valley. When I told her about my Hanakoa Falls adventure, she exclaimed, "In one day?!?"
Anyways, she too looked dehydrated and I asked if she needed more water. When she said she only had a few sips left, I paid it forward and emptied half of what I had left. Then, she thanked me and I was off in a hurry to get back to Julie; knowing she was probably worried sick about me by now.
It wasn't much later that I passed a mother and son. The mother asked me where they rent hiking sticks since she had seen numerous people using them. I told her I bought mine and that I use them on long hikes or shorter rougher ones where balance is important.
And with that, I continued on. Probably another 20 minutes later, I got thirsty again and drank up the rest of the water. It was still around 5:20pm so I hoped I had enough to get back to the trailhead.
So the trail continued on its relentless downhill. When I finally started to see cars at the bottom of the hill, I knew I would make it. So as I was running on empty, I had finally made it to the shadowy car park – still busy with cars and people at this hour.
Then I heard Julie call out my name as she was approaching me.
I told her about my exploits and about my bout with dehydration and possibly heat stroke. My legs were very sore and my left knee was hopelessly inflamed. I couldn't wait to get my wet backpack off me, take off the boots and socks, and rest in the car.
When everything was loaded up in the car, we headed back to our Sea Lodge Condo in Princeville at 5:40pm.
Back at the condo, Julie made pork chops and gave me leftover pasta. It was a lot of food and it was all washed down with several cans of Lilikoi.
My head was still hurting so it wasn't quite the enjoyable Christmas dinner I had envisioned. Julie was getting worried when I would fold my arms on the table and bury my head in it.
In my still exhausted state, we did the usual hygenic duties before finally going to bed at 9pm. It had been the earliest we had slept the entire trip, but I was just glad to finally get some rest and let my body recover from a nearly Black Christmas Day.
Visitor Comments:
Got something you'd like to share or say to keep the conversation going? Feel free to leave a comment below...
No users have replied to the content on this page