This itinerary was of a planned Thanksgiving extended weekend trip to the Havasupai Indian Reservation. The obvious goals were to experience the main waterfalls – Havasu Falls, Mooney Falls, and Navajo Falls.
We weren't sure if we were going to make it all the way out to Beaver Falls (turns out we didn't), and I was already kind of nervous about descending to the base of Mooney Falls in addition to the forecasted bad weather that seemed to put a damper on things going into this trip.
In fact, this was supposed to be a "double-date" kind of backpacking trip where Julie and I would be joined by another couple who had done a trip with us in the Grand Circle (or "Mighty 5") back in the Summer of 2001. But with the news of the bad forecast, they backed out at the last minute, which was a bummer.
Here's a brief summary of how this trip turned out…
Trip Highlights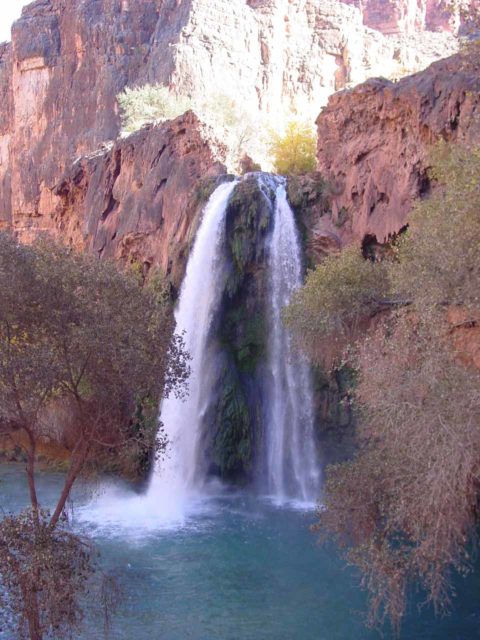 Havasu Falls – This was the signature waterfall of the Havasupai Indian Reservation, and it's hard not to see why. After all, you have the blue green waters of Havasu Creek contrasting with the red cliffs surrounding it. That combo alone made this both very photogenic as well as every bit worth the trouble to make it down to this oasis.
Over the years this waterfall seemed to change its appearance due to flash flooding from powerful thunderstorm episodes. In fact, prior to our visit, this waterfall had a taller but singular drop. And as you can see from this photo, it had a dual segmented drop upon our visit. Who knows what this will look like the next time we come here?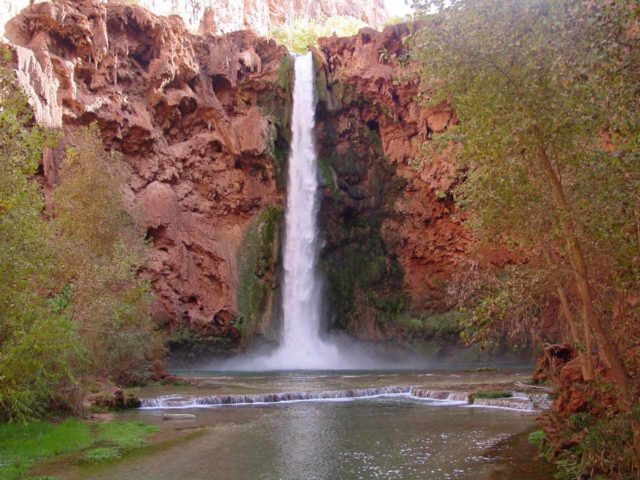 Mooney Falls – This was the tallest waterfall in the Havasu Canyon, and some might say it rivals Havasu Falls as the best one of the bunch. They're both similar in that they're surrounded by red cliffs and have travertine dams at its base. But the similarities end there.
This falls was more than twice as tall as Havasu Falls, and it had a scary tunnel with ladders descent making accessing its base not for the faint-of-heart. Nonetheless, it's nice to have diverse experiences and this waterfall certainly brings that.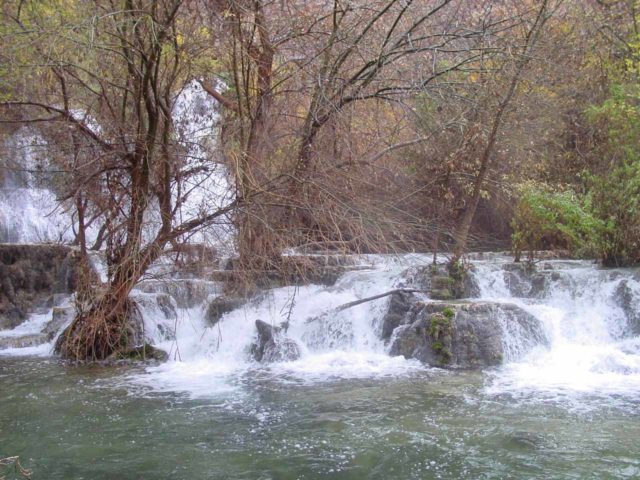 Navajo Falls – Of the waterfalls we encountered on this trip, this one was the closest to the Supai Village. This one definitely had the travertine dams going for it, plus it had lots of vegetation around it, which gave this one more of that oasis feeling.
Travel Itinerary
Day 1: Drive from Los Angeles to Laughlin
Overnight: Flamingo Hilton (Laughlin, Nevada, USA)
This was basically a long driving day. No sightseeing.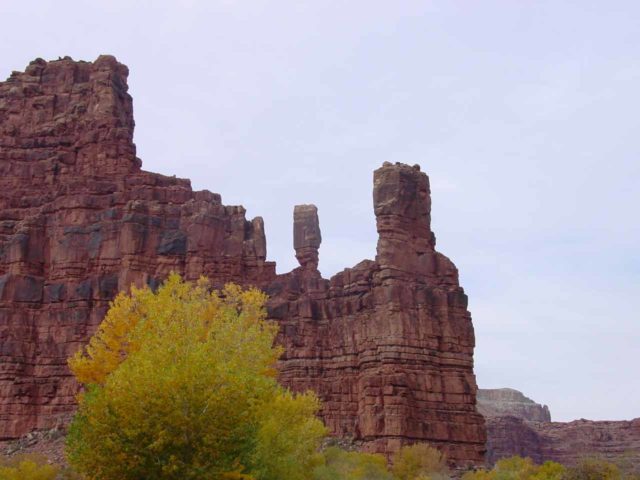 Day 2: Drive from Laughlin to the Hualapai Hilltop, then hike to Supai Village
Overnight: Havasupai Lodge (Supai, Arizona, USA)
We checked out early and drove in the pre-dawn hours to ensure we could get to the Hualapai Hilltop by around 7am. Parking was already tricky to find at this point, and I'd imagine it would only get worse later in the day. In any case, we began to pack our frame packs and hike down towards Supai Village. Once we checked in and dropped off our heavy packs, we then hiked an additional 2-3 miles to visit Navajo Falls, Havasu Falls, and Mooney Falls. We had Navajo Tacos at the Supai Village for dinner before sleeping.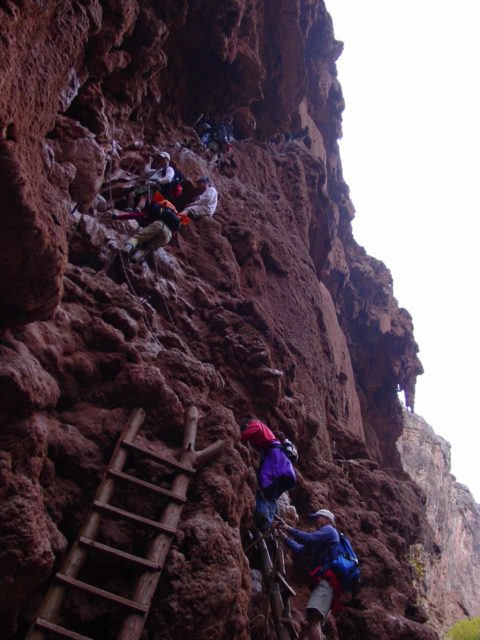 Day 3: Day at leisure in Havasu Canyon
Overnight: Havasupai Lodge (Supai, Arizona, USA)
On this day, we took our time visiting all the same waterfalls as yesterday, but we also descended to the base of Mooney Falls. We went as far as we could downstream before we saw that we had to cross Havasu Creek in order to keep going. And with the incoming rain storm, that turned us back. Eventually, the skies did open up and we found a travertine "shelter" near Havasu Falls to wait it out. Once we did that, we then returned to Supai Village, but power was out so we didn't have hot water and the diner in town wasn't open.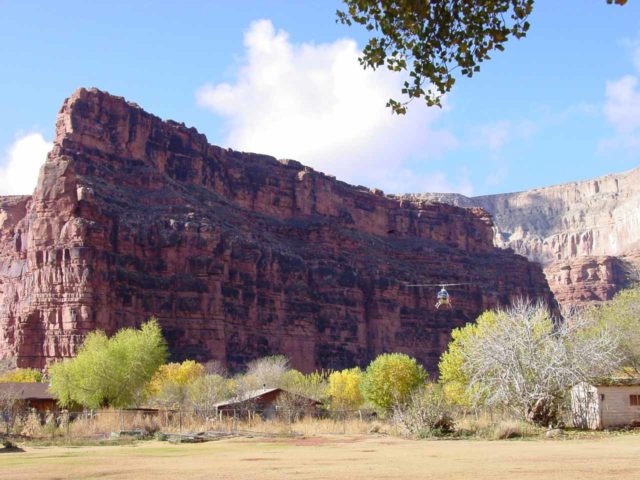 Day 4: Return to Los Angeles
After checking out of our accommodation and packing up to leave, we learned that it was possible to take the helicopter out of the village. So we went ahead and waited our turn to do that (an eight-minute right versus 4-5 hour trek with a pack). It was a good thing we did this because then we had the long drive home ahead of us. And given all the holiday traffic, we tried to avoid the I-15 by taking the I-10 and that wasn't much better either. So eventually we got home at almost midnight, and I had to work the next day.
Trip Reports
Waterfalls included in this itinerary
Visitor Comments:
Got something you'd like to share or say to keep the conversation going? Feel free to leave a comment below...
No users have replied to the content on this page